When my old TV hit the skids six months ago, Samsung loaned their latest innovation – the Serif TV – to test out in my own home. When I find a piece of kit that makes my life run smoother I'm all over it. If it is hard work, I throw a tantrum and want to chuck it out the window. So, how did I get on?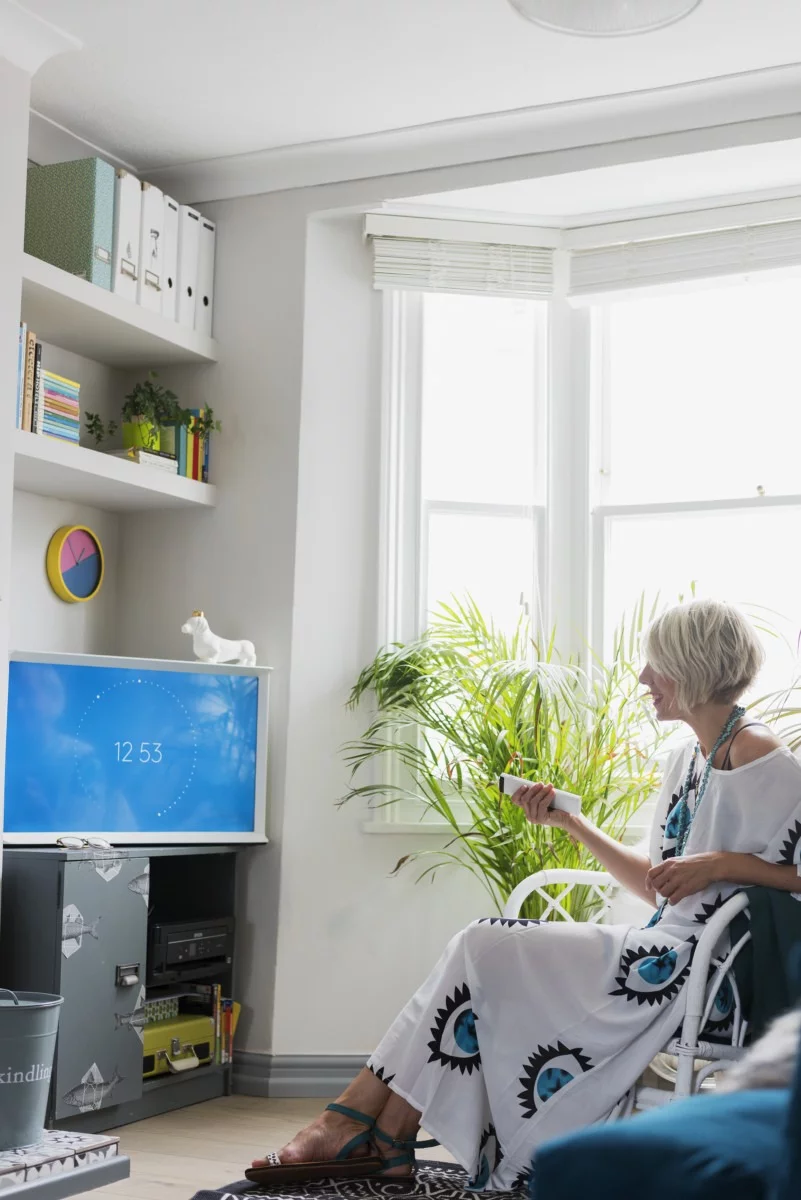 I'm no gadget or technology expert. This hasn't stopped me wanting to review Samsung's invention – the Serif TV. It's been called the 'most beautiful TV ever.' Well I thought I'd be the judge of that. This is my post cutting through all the fancy jargon to give you my low-down on the looks, tech and spec.
Hey Good Looking 😉
What matters most to me most about technology is how it looks. I know – shallow stuff. I honestly don't care if a TV can do my ironing, remember all my friend's birthdays and book my next holiday – if it looks like a big black box, I won't have it in my home.
This is where there the Samsung bowled me over. It's is probably the sexiest thing in my home. I've actually started pointing it out to visitors. It blends so seamlessly in my home, half the time they don't even realise it is a telly. That is how freaking hot it is.
It comes in three colours. I picked the white one because it matched my kaftan and grey walls. It also comes in  a dark navy blue – colour of the moment, and a burgundy red (I'm not so keen on this colour but hey ho).
The Serif was designed by two world-renowned hotshots Ronan and Erwan Bouroullec – who work with Vitra, Artek and Alessi. These guys wanted to make the TV 'a thing of beauty'. I think they have nailed it with this design. I have googled far and wide for a TV as good-looking as this and not found anything nearly as racy the Serif. I was hooked at first site.
For sexiness I give it 10/10.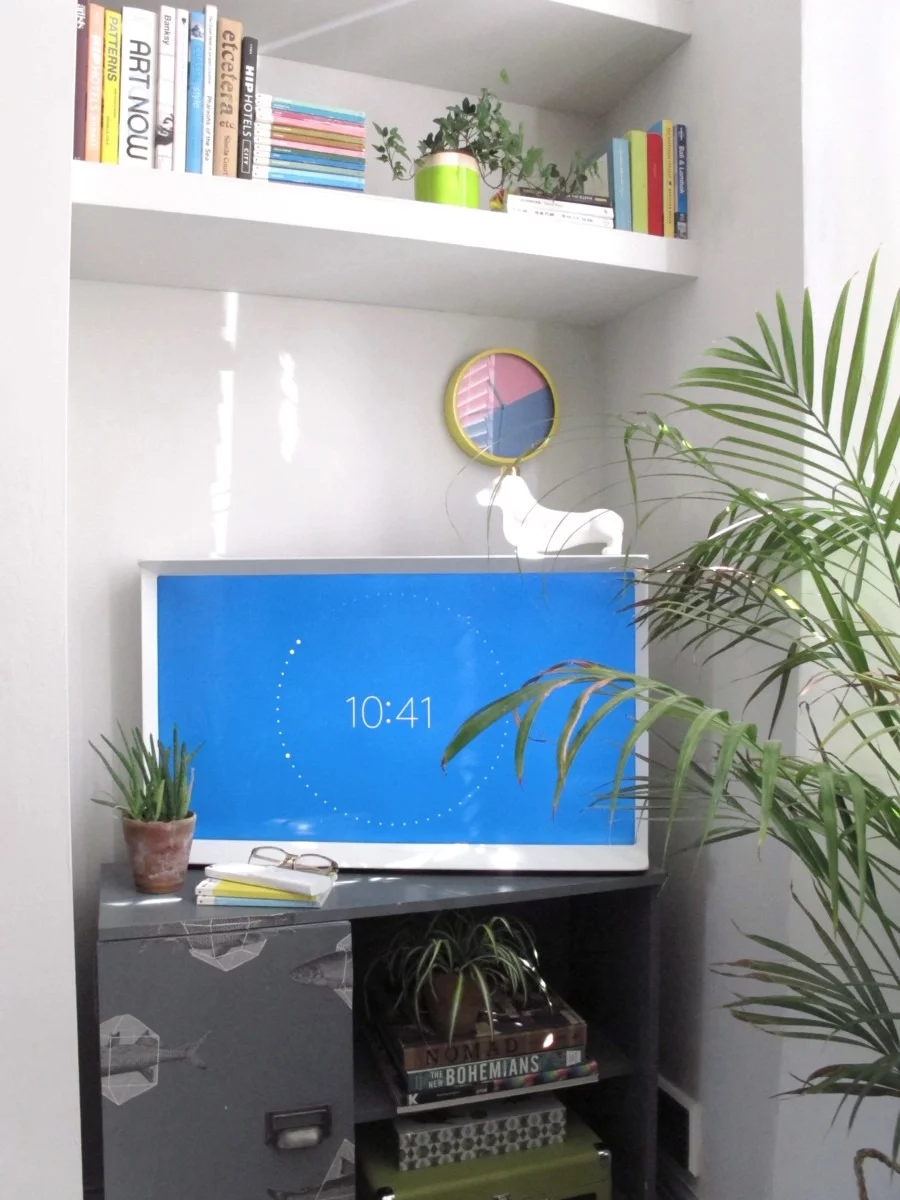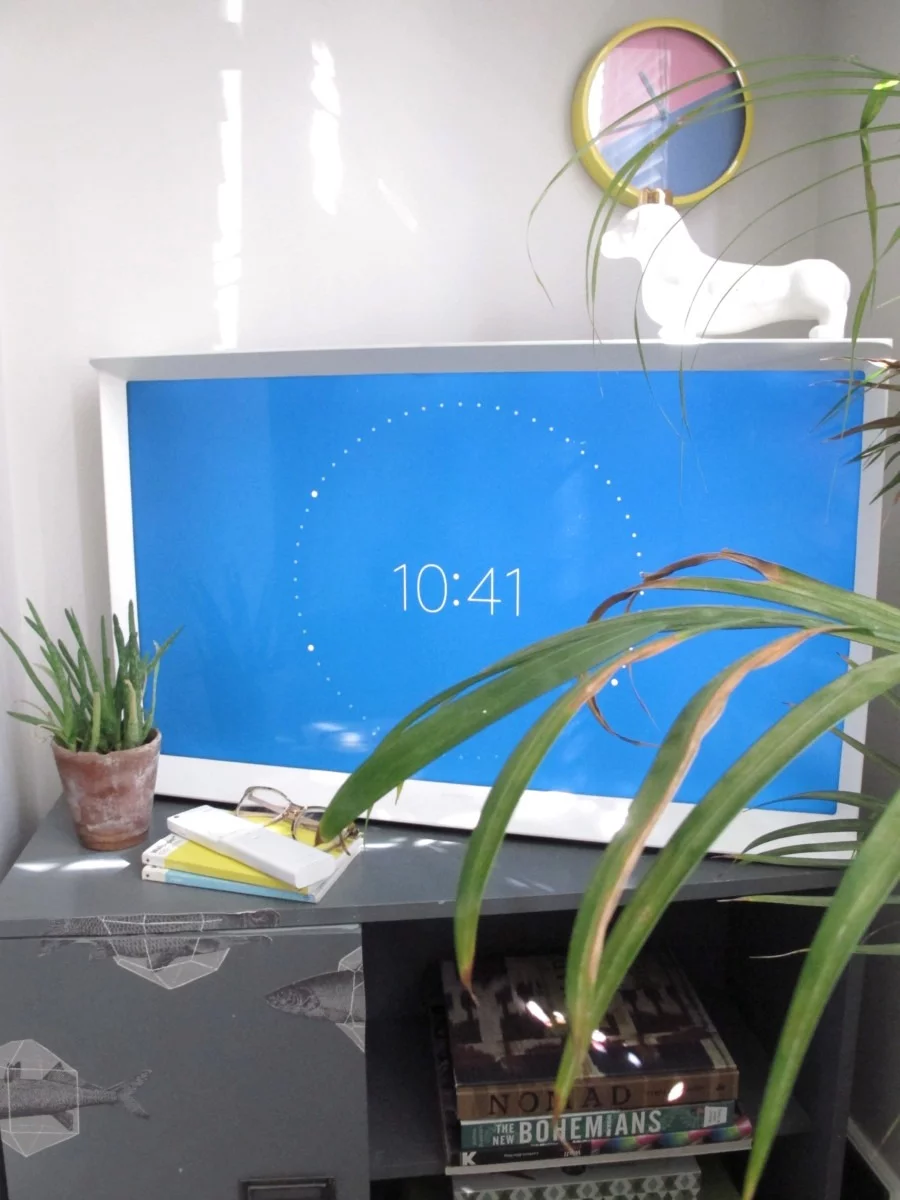 Clever Design
What I HATE most about TV's is the horrible plastic metal stands they come on. And don't get me going about wall mounting them…you might not like me after hearing that rant. This is where the Serif TV steps into it's own.
The design is based on typography, and in profile the Serif TV looks like a capital "I" shape. Serif is the name of a classic font, so I'm guessing that was the inspiration for the name too?
The 'I' shape means you can put your TV on a cabinet as it will stand up on it's base. The solid flared footing keeps it stable when placed on most surfaces.
The Serif also comes with clever little legs that you can twist into the bottom so it stands on it's own (see it here in action in littleBIGBELL's home). It reminds me of the evil Edna TV from Willo The Wisp – but in a good way.  At the back there's a colour coordinated, fabric covered magnetic panel that hides away all the wires. This means you can pop the TV in the middle of your open-plan living space as it looks good from all angles.
Design skills, I give it 10/10

Good Fit
It's slimline – no sticking out bits at the back so although my alcove is very shallow it can be at a slight angle for when I slob out on the sofa to watch lots of box sets.
It's pretty light too (I could lift it easily) which can come in handy if you want to move it about your home. It would be ideal for my sister as she could move to one end in her living room to give my nephews more room to dance when they play their fav music videos stations.
It comes in three sizes – the mini 24″, the medium, 34″ and large at 40″ inches. If you love a giant TV for that cinema experience, this is not going to work for you. For a decent size family TV, it's perfect.
Weight + Spec Sizes, I rank it 8/10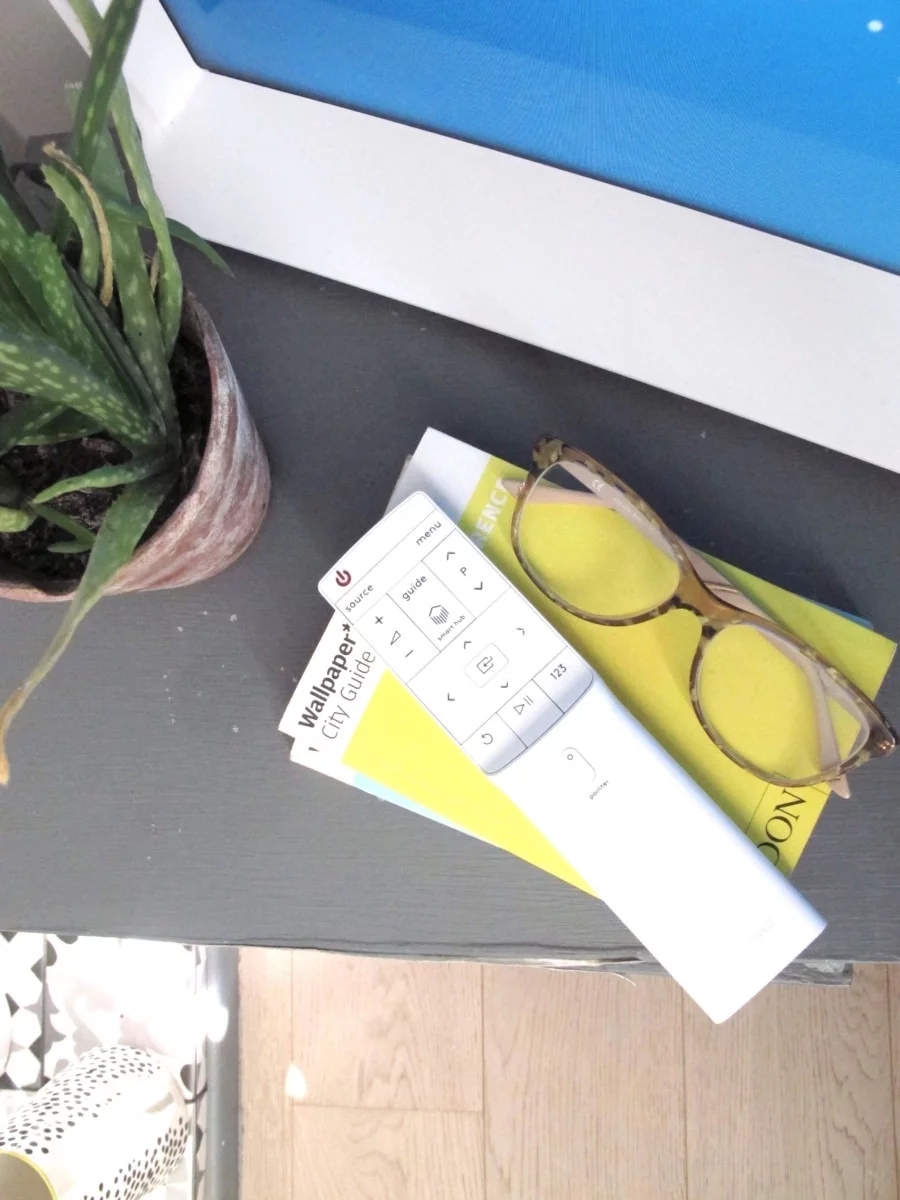 Easy Set Up
It took me less than 10 mins from packaged box to tuning into Netflix. It was so easy. It took me a while to find my way around the telly as it was so high tech for me but even I managed to connected to my wifi. I only watched telly through the apps as I don't have a TV Ariel but again it was dead easy. There are loads of apps built into the TV like BBC news and Channel4. And I signed up to netflix too ready for monster box set session. It also has built in internet access for net surfing and you can watch YouTube on it too (amaazing).
Easy? Yep. 9/10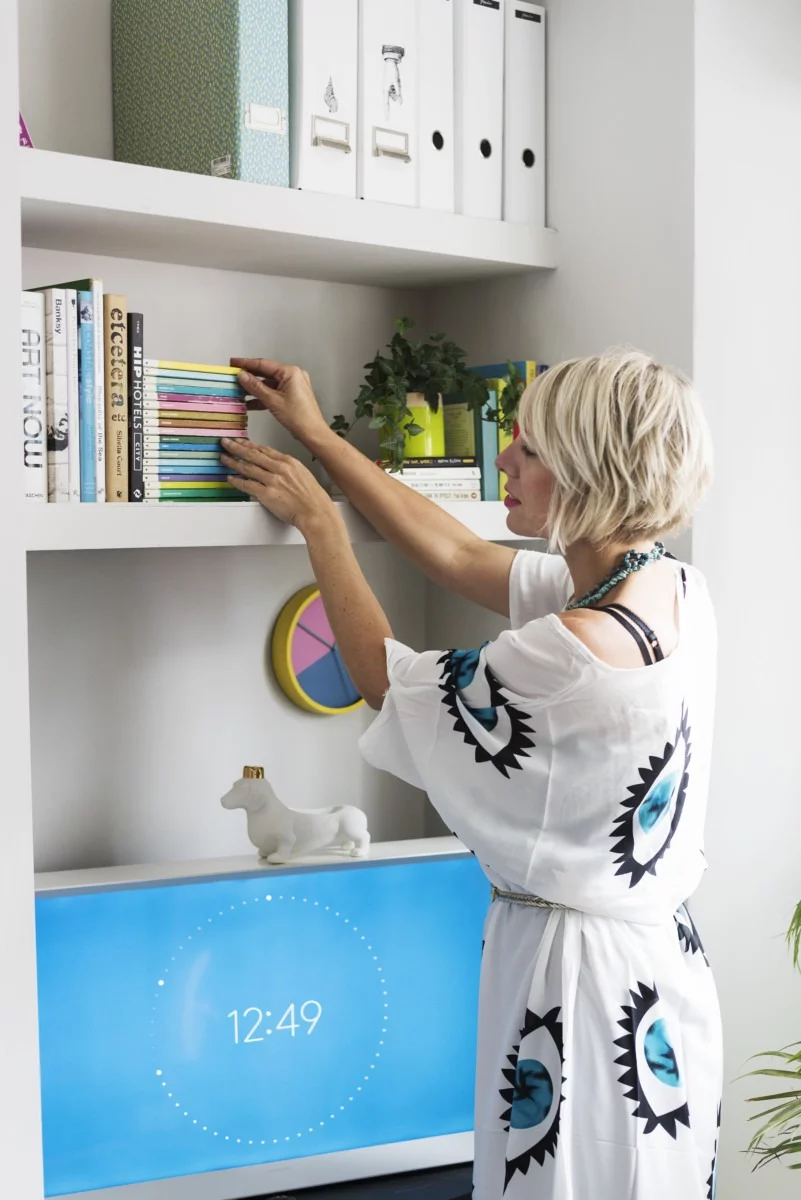 Tech Talk [ekk!]
This is the blurb from the web site on the high-tech-stuff, and I've popped my thoughts after each feature.
Sharp HD Ready Display – As pixels aren't as stretched on this compact 24" screen, the 720p resolution look simply marvelous. Its rich colour palette, dynamic contrast ratio and razor-sharp clarity ensures the picture is as brilliant as the frame that encases it.
I think I understand this bit. Basically, the picture was amazing compared to my last TV. And I loved how wide the screen was too.
Doubles As Bluetooth Speaker – Make use of this Serif's HD audio by hooking up your smartphone or tablet wirelessly through Bluetooth. At the click of a button, you can play songs from your personal library and fill your home with the 20W speakers' crisp audio. Whether you stream radio from the TuneIn app, explore playlists on Spotify or find tracks on YouTube, this TV can be your speaker too.
I never did this, as I'm far too in love with my Sonos speakers (click to read my post). But I love TuneIn and Spotify, so you could almost use it like a speaker transforming your living room into a disco – and idea I give lots of gold stars too. The sound was great – and the volume went up really loud.
Media Sharing With Connect – Share Load up your USB stick and plug it in to one of the Serif's ports to beam your own music, photos and videos on to the big screen. You can even use an external hard drive to record live TV, play it back and take the content anywhere with you.
Again, this isn't something I would ever do. But it is the sort of thing my mum and dad would love, or when my mum has little videos from her singing concerts.
Curtain Mode – Like pulling a curtain over the screen, the Serif has an 'interface' that gives a colourful abstract view of what is going on behind – whether it a TV show or a movie. When this curtain mode is active, you can give your room a clock, control your music through Bluetooth, open apps like Netflix, beam pictures from the photo gallery and use other Smart services.
It looks cool even when it's off.
For the features I used, I'd rate them a decent 8/10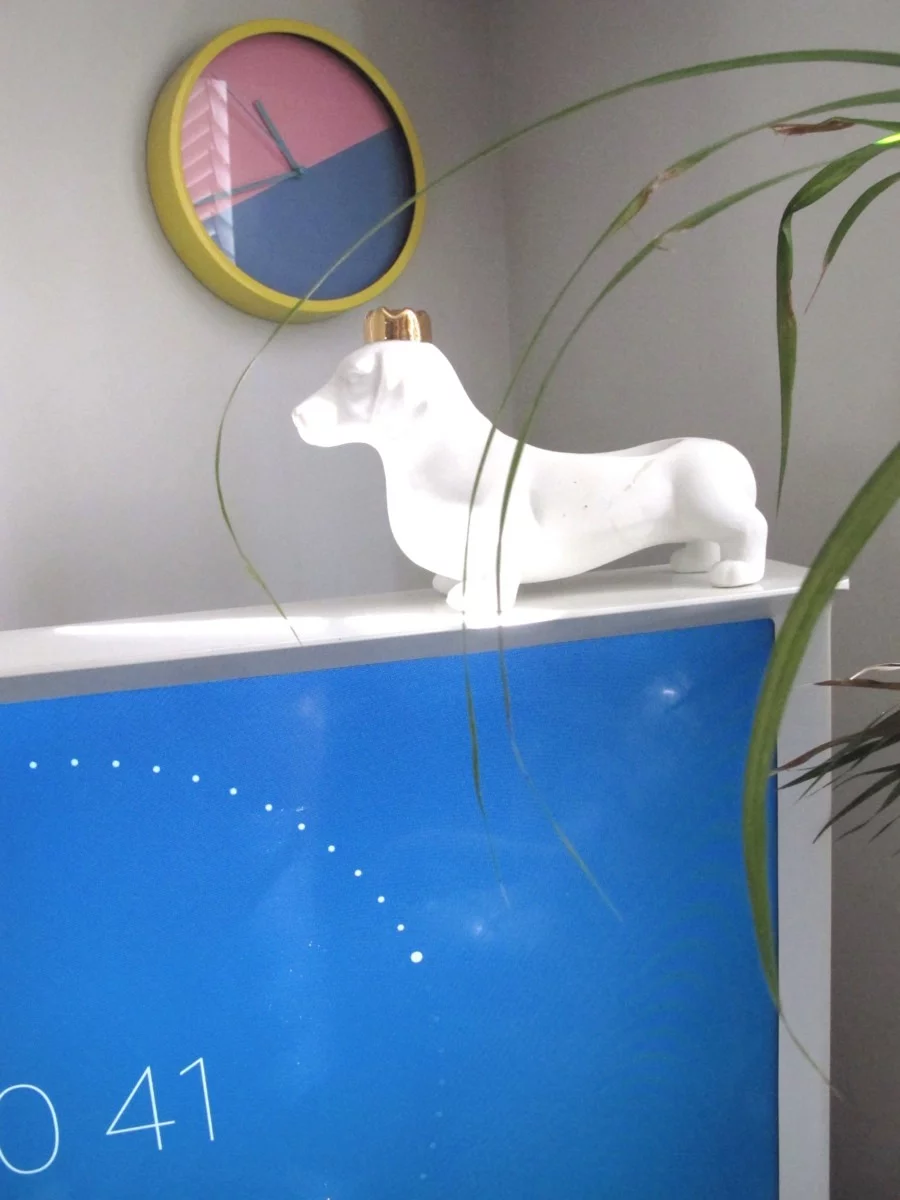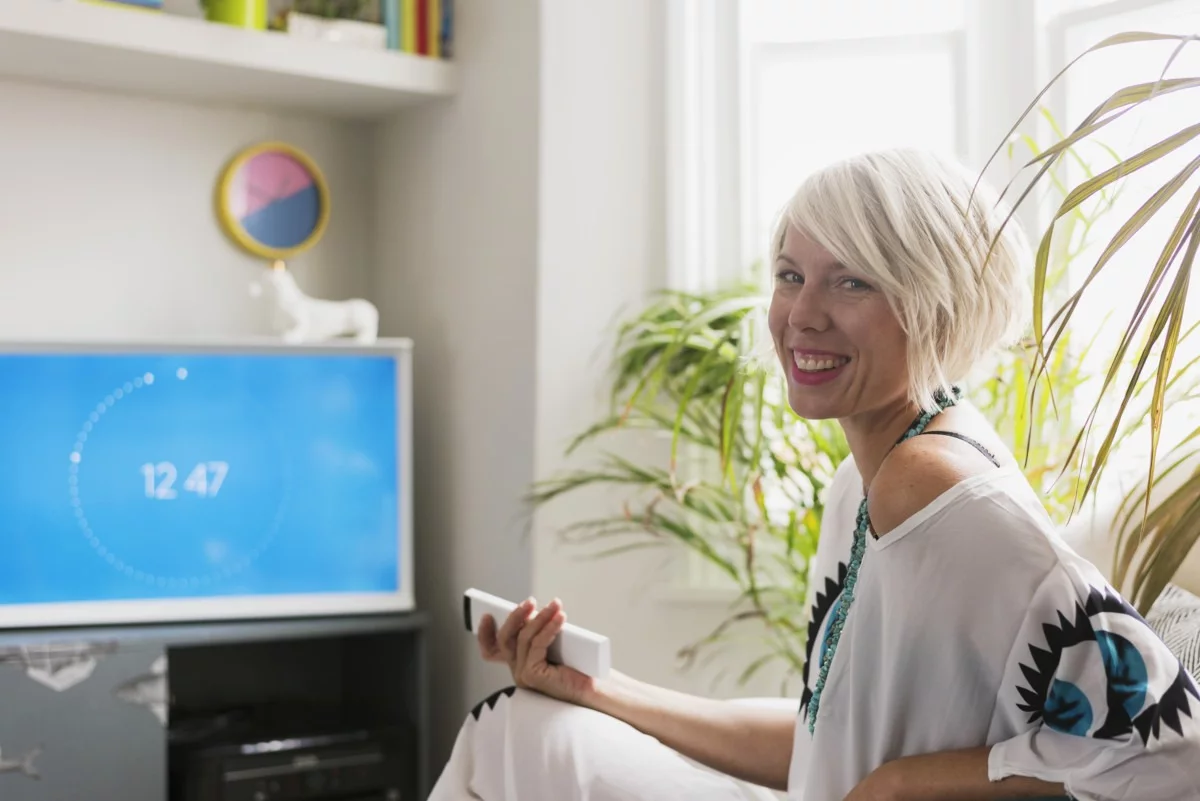 So 'The Most Beautiful TV Ever'?
Unsurprisingly, I considered it more as a piece of furniture than a TV. Yet I loved that it was dead easy to use, the picture is crystal clear and the sound is awesome. Another tick from me was that it was fuss free to set up. It looks sleek too with no wires or cables messing up my living room. I love the white frame, and size option fitted perfectly.
Cost
I have no clue about how much a TV with similar tech specs would cost but the mini starts at £499 for a mini. At first, I thought that was a hell of a lot of money to spend on a TV. But now I've had 'the most beautiful TV' in my home, I can't have some ugly black box in it's place. I'm saving up to buy one. For me it's either a Serif, or nothing. That is how hard and fast I fell in love. If you are thinking of treating yourself, learn more on their dedicated Serif website which will go in far more detail.
So…big question, how was my Home-Tech Review?
I'm going to try and do a few more like these I hope they kind of cut through the tech jargon and kind of tell it like it is (with a huge slant towards style). Like My Honest Review Of My Sonos Speakers (spoiler alert – I loved them).
Oh – and I have to say a huge thank you to my latest photographer to shoot at the WeLoveHome HQ. These beautiful shots were taken by my air bnb guest, Fanny Beckman – you can see more of her work here – www.fannybeckman.com. Lots of her shots are going to be popping up in the blog soon so will make sure I tell you which ones are hers.

***Disclaimer, I was sent the Serif TV to review for six months. I was given no payment for this post, all thoughts and opinions are my own.