Brrrrr! I'm starting to feel the cold in the air in the mornings as we drift to Autumn. I love this time of year, swapping outdoor Brighton beach life for cosy nights in with Netflix. It's also a chance for me to flex my styling skills in my own home, using some clever tricks to make it the ultimate Autumn hang out. I've raided my styling portfolio and pulled out some of my best images to show you how you too can easily prepare your home for Autumn in three simple steps.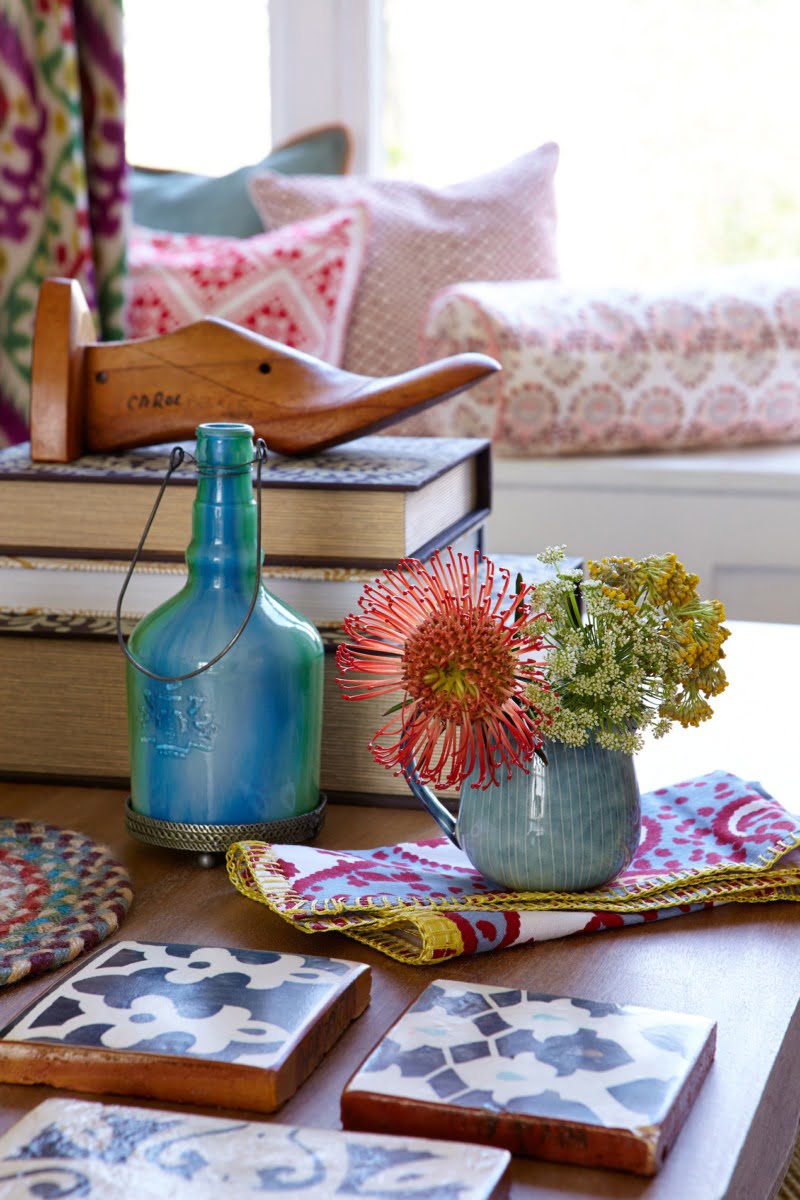 Step 1: Layer Up Your Home
My bedroom is a lovely, bright sunny space in the summer. Come winter it is a freezing cold ice-bucket. This is why only this week, I've switched over my duvet from a fluffy lightweight one for a hefty 15 tog one. Right now, I'm boiling at nighttime but that is better than wearing socks, gloves and hat to bed.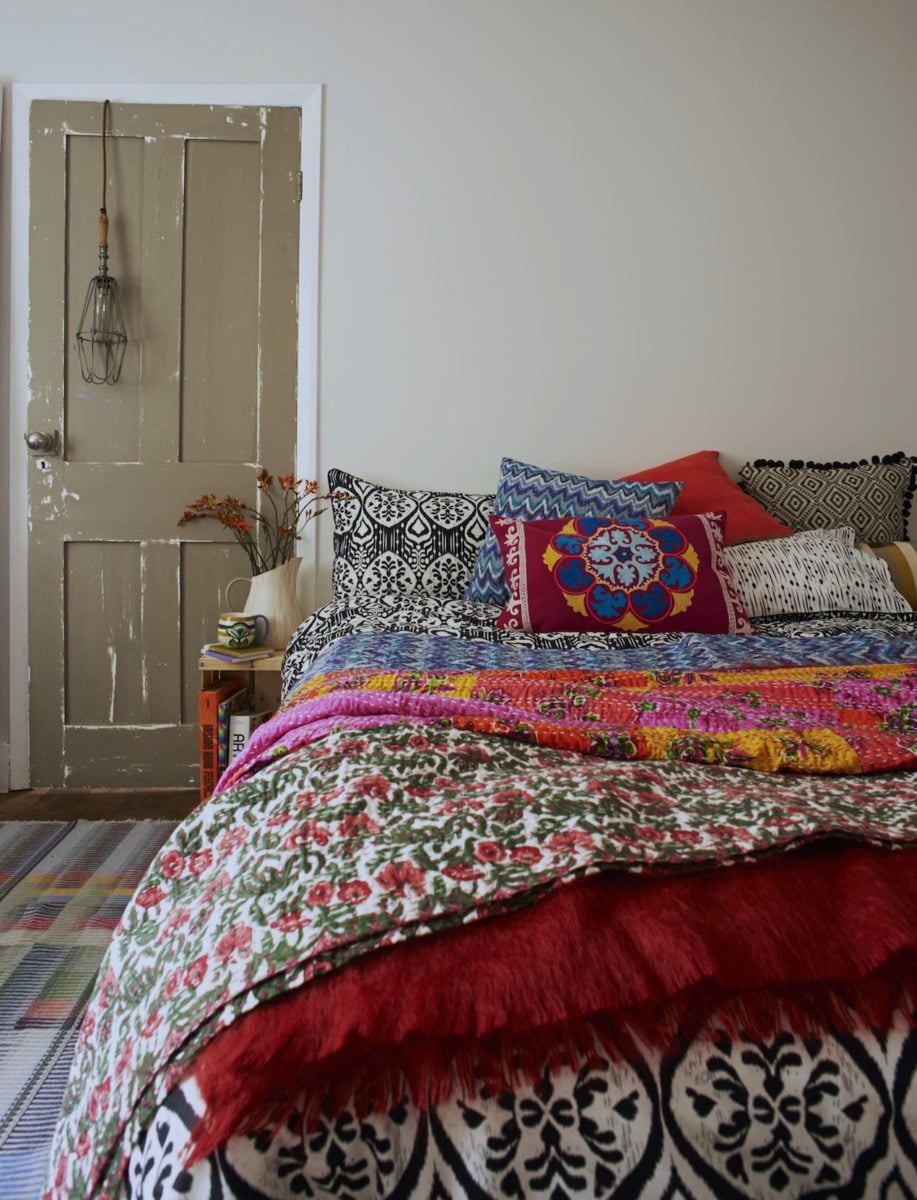 To add to this indoor heatwave I've created in my Autumn bedroom, I've thrown on a vintage eiderdown picked up from a junk store years ago. It adds floral pattern to my very vintage bedroom. I'm going to get my sister to make me some thicker curtains with a fleecey black lining to keep the heat in.  I'm in the market for a new feather mattress topper too – they are so lush to sleep in, like lying in a nest – and super warm too.
Oh, and I ordered these new Cheetah pjs from River Island. When I slouch about at home, I want to do it PJs covered in Cheetahs.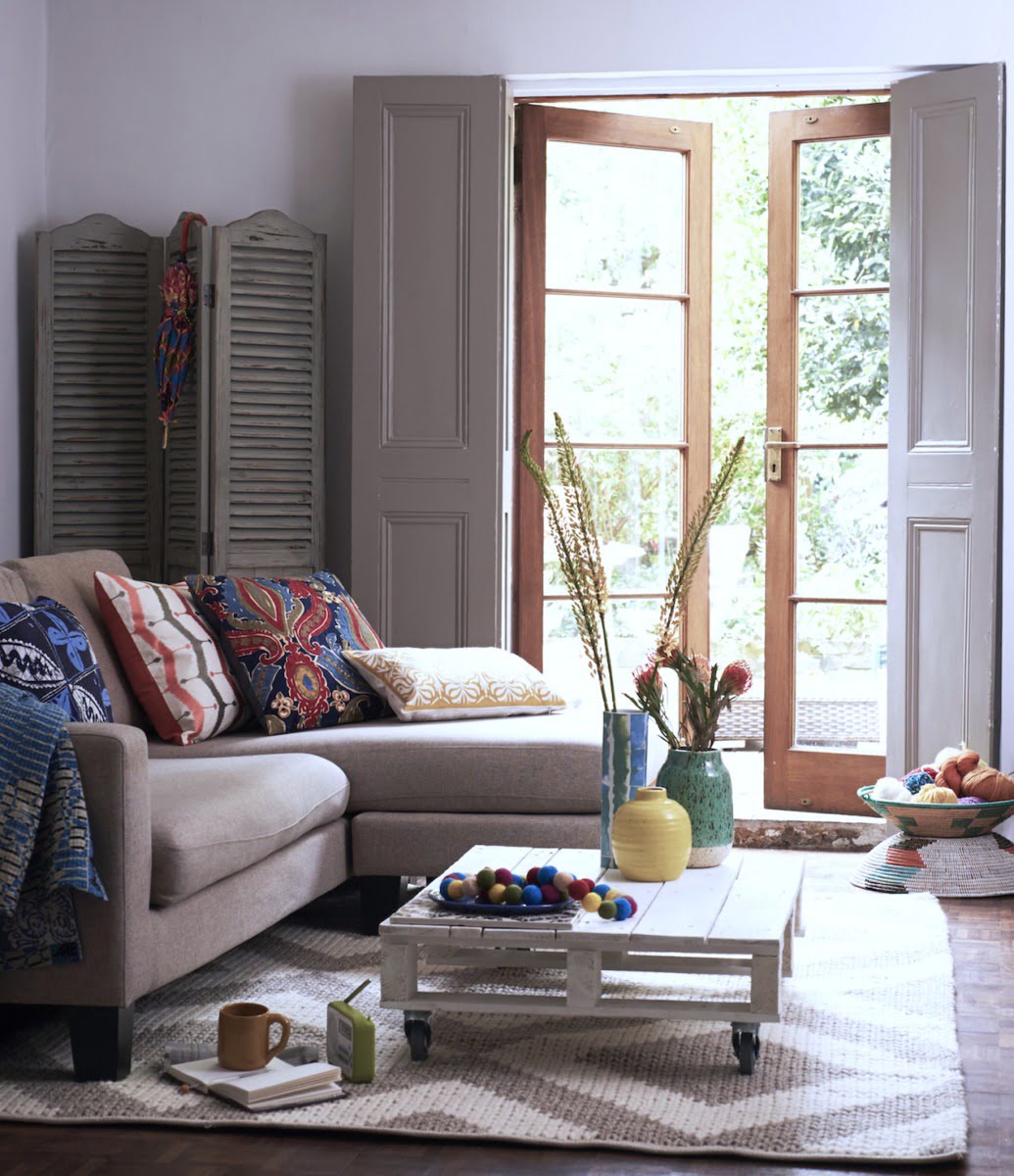 That's the bedroom sorted. Then in the rest of my home I go crazy with throws and rugs. I've just invested in two lovely hides – one reindeer and one sheepskin, that I have taken to styling around my home chucking them on my sofa and on my office chair.  I had wooden engineered Oak floor boards put down in every room downstairs. They are so lovely and warm underfoot but in Autumn need a little softening so I fling down a deep pile wool rug bought in Marrakesh. I've got two, one for me and one from Sukhi that the dog has adopted.
Step 2: Boost Your Lighting
This is a pretty obvious one but it's easy to over-look – one fail safe trick to getting your home Autumn ready is to brighten up your home with loads of light. I've done everything to brighten my home even have swapping a sash window for a new back door. Even though it lets in double the amount of natural light into my dining room, it still feels pretty gloomy inside. My top tip: dot loads of lamps around your room get you through the shorter days.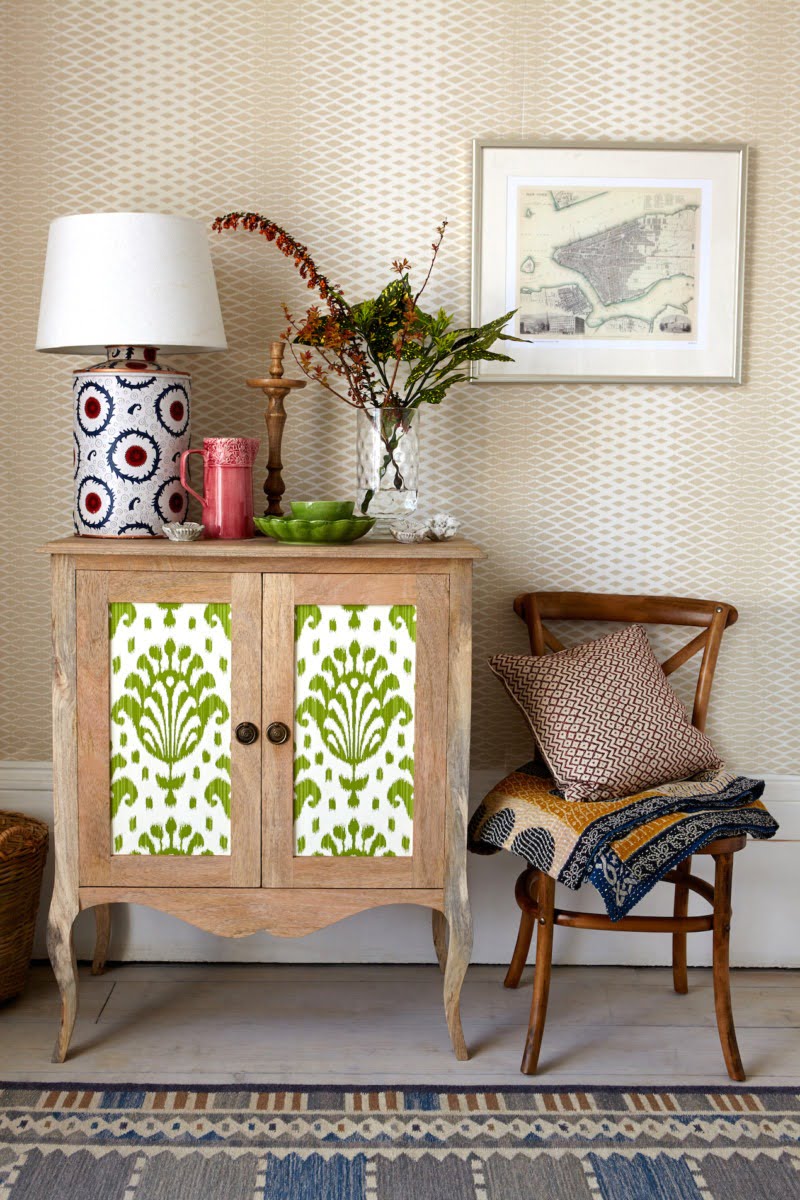 In my living room alone I have 4 table lamps and one standing lamp. Why so many you many? I don't know about you, but I find overhead lighting casts shadows downwards which isn't great for working or reading or anything, really. I had an electrician put the two main overhead lights downstairs put on a dimmer switch that I turn on low around lunchtime, then during the afternoon I brighten up corners of my home by turning on a different lamps.
This layering of lighting makes my home feel like it is slowly getting brighter rather than darker. It's all physiological but who cares it that beats the winter blues.
I'm on the look out for one more lamp in my living room to take me to six. Something like this Chelsom wall light ticks all the right boxes. I want to pop up above my rocking chair to make a little reading area. Let me know if you spot one.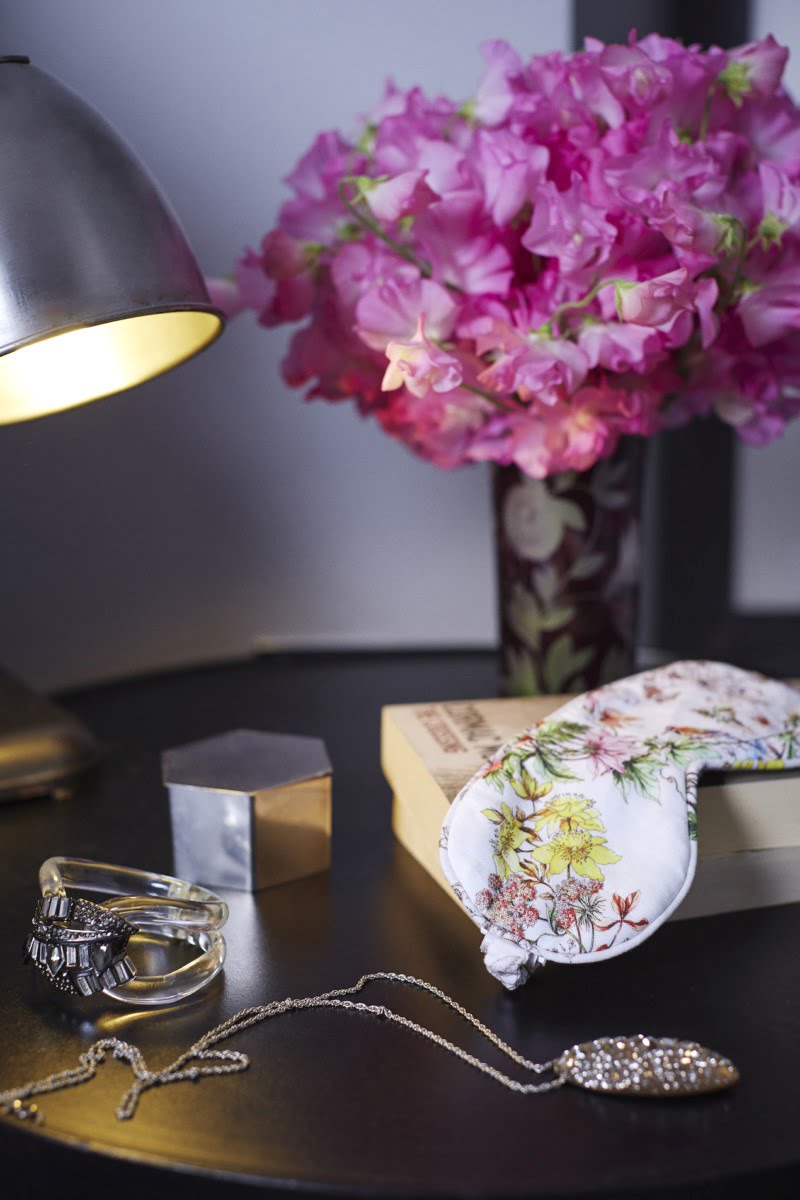 Lighting doesn't just stop and start in my living areas. At my desk I burn a candle or two to give a little warming glow and a nice scent to my work station. By my bed, I have two wall lights as well as a fluffy feathered light central light I've nicknamed the 'Chicken' from Vita. My landing is particularly dark being a window-less space. I've hung one of these Seletti Star-Wars style light sabre lights from my ceiling. It's like having sunlight pouring through my home.
Oh, and another little tip from me is to replace your old bulbs with bright LED ones – ping! Watch your room light up.  Getting the lighting right massively effects my mood. Brighter = Happier. It also makes me relax into my home.
Step 3: Switch Up Your Flowers + Plants
Blooms and leafy plants are the easiest (and cheapest) way to shift your home from Summer to the Autumn season.  I sent a close friend a beautiful gift of Autumn roses last week as a moving in gift to her new home (which I didn't believe would be possible as she now lives all the way over in Australia, but thankfully you can get flowers delivered in Melbourne by Flowers For Everyone. Lifesaver!) My friend emailed me to say how much the flowers had added warmth to her new house, and had instantly transformed her empty pad into a home for her. That is the wonder of nature.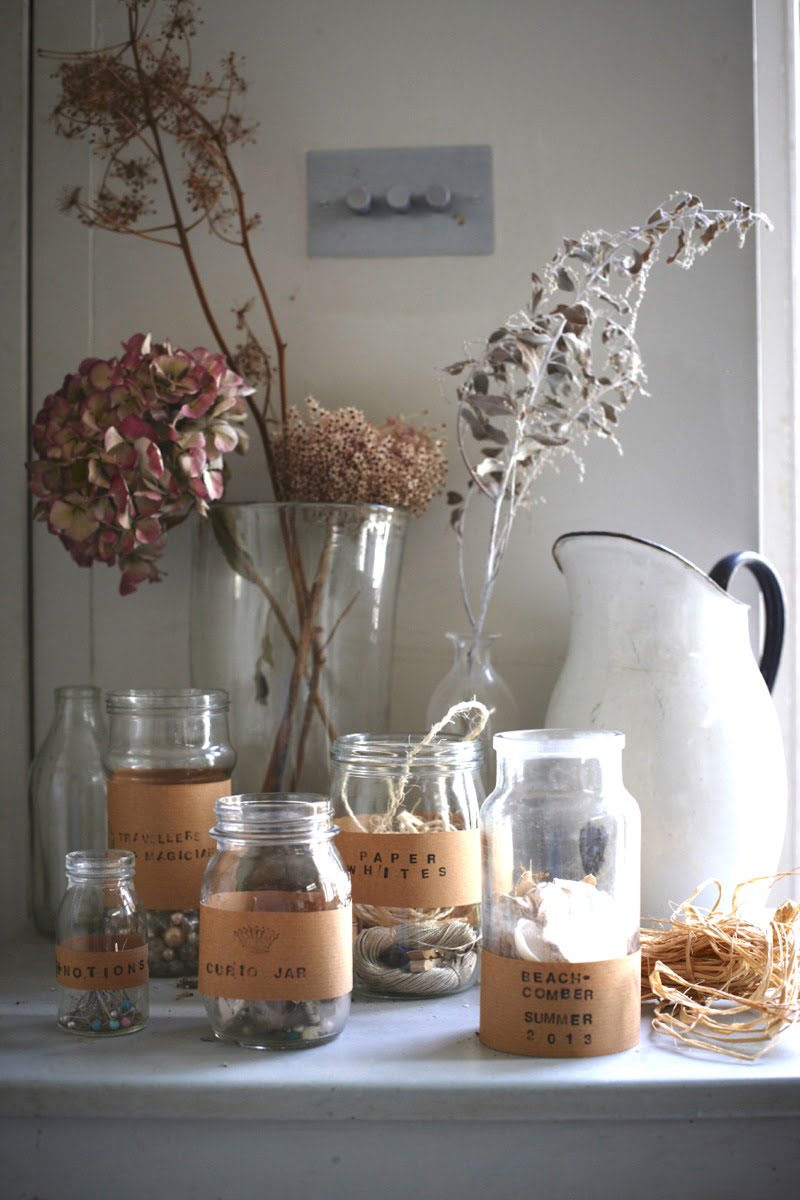 In Autumn, I look out for branches or twigs picked up on dog walks with my dog Teddy. Last year, I found a beautiful Oak branch which created a structural display on my dining table when in one of my many, many vases. At the moment, I have filled my vase-of-the moment (this horse head one from Marks and Spencer) with branches of Dragon's Paw. I get a wry smile whenI glance up at my little creation: a mix of Dragon and Horses on my desk.
I love to fill vases around the house with shop-bought flowers in Autumn colours like oranges and greens, then mix in with berries stolen from my mum's beautiful garden. If I am luckily enough to be sent flowers, then I alway split the bouquet to make little arrangements around my home using tea-cups as alternative vases.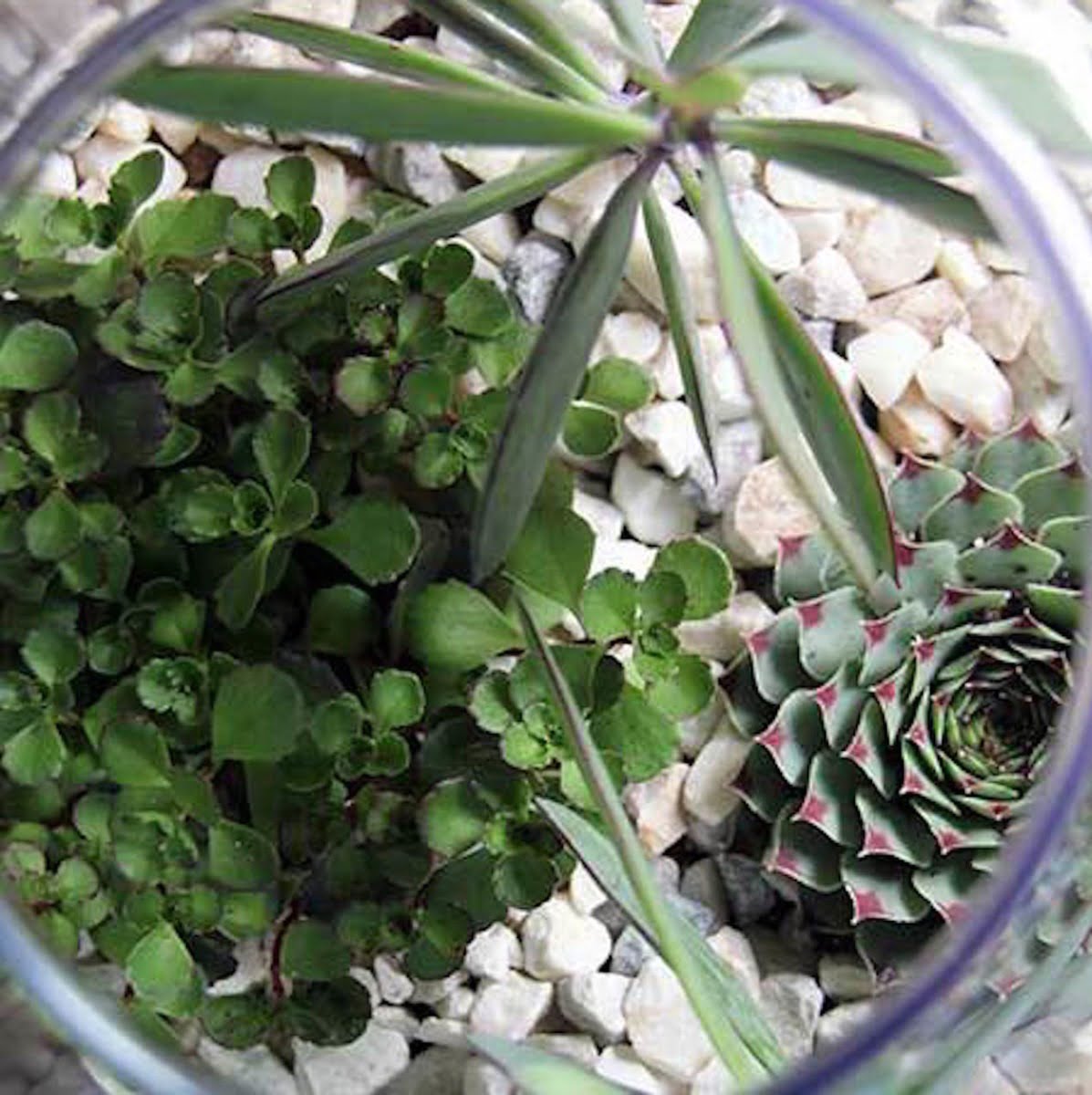 My garden goes wild this time of year. The grass is very long but too wet to cut. I just close the door on it and forget about it. The dog is the only one in our household brave enough to step out there and that is for a quick pee. When it's miserable outside, I've turned my hand at indoor gardening. I even wrote a post for Marie Claire if you want some tips on how to start your own. If you a newbie gardener, order a few succulents. Even I can't kill them as they rarely need watering. I love grouping a few together and popping on top of my display cabinet in my living room.
There you go – three easy ways to style your home Autumn ready.
It's as easy as throwing on a few more layers, turning on your lamps and bringing flowers into your home. I hope once your home is a little more cosy, it might make the cold weather a little easier to handle.
If you want some more tips on how to prepare your home for Autumn you might like post 7 Life Lessons From My Heating Overhaul which is FULL of winter-proof tips to make your home super cosy – and save you money.
Love these styling tips? Then pop your email into the subscribe box above – and I'll send you my weekly style updates.