When we got the call from IKEA to host a extra special Secret Styling Club workshop for a select group of influencers, we were so excited.  The aim of the workshop was to show how IKEA can help you style your home this Christmas in a relaxed, low-fuss way

Ikea Hosts Secret Styling Club At Christmas, 2018
IKEA wanted to create a special one-off event to give influencers the chance to experience their unusual approach to Christmas. They asked Secret Styling Club to be involved. We completely agreed with IKEA's laid-back, low-fuss entertaining ethos. Rather than telling people how they should host a festive meal, the idea of our workshop was to show them how to do it with ease.
Myself and Laurie (who made up the Secret Styling Club) love a low-maintenance Christmas ourselves, and know it can be done on a budget too. Just like IKEA, we are both firm believers that hosting Christmas doesn't need to cost a lot of money or take hours of preparation time. It's the small little touches that make the big difference.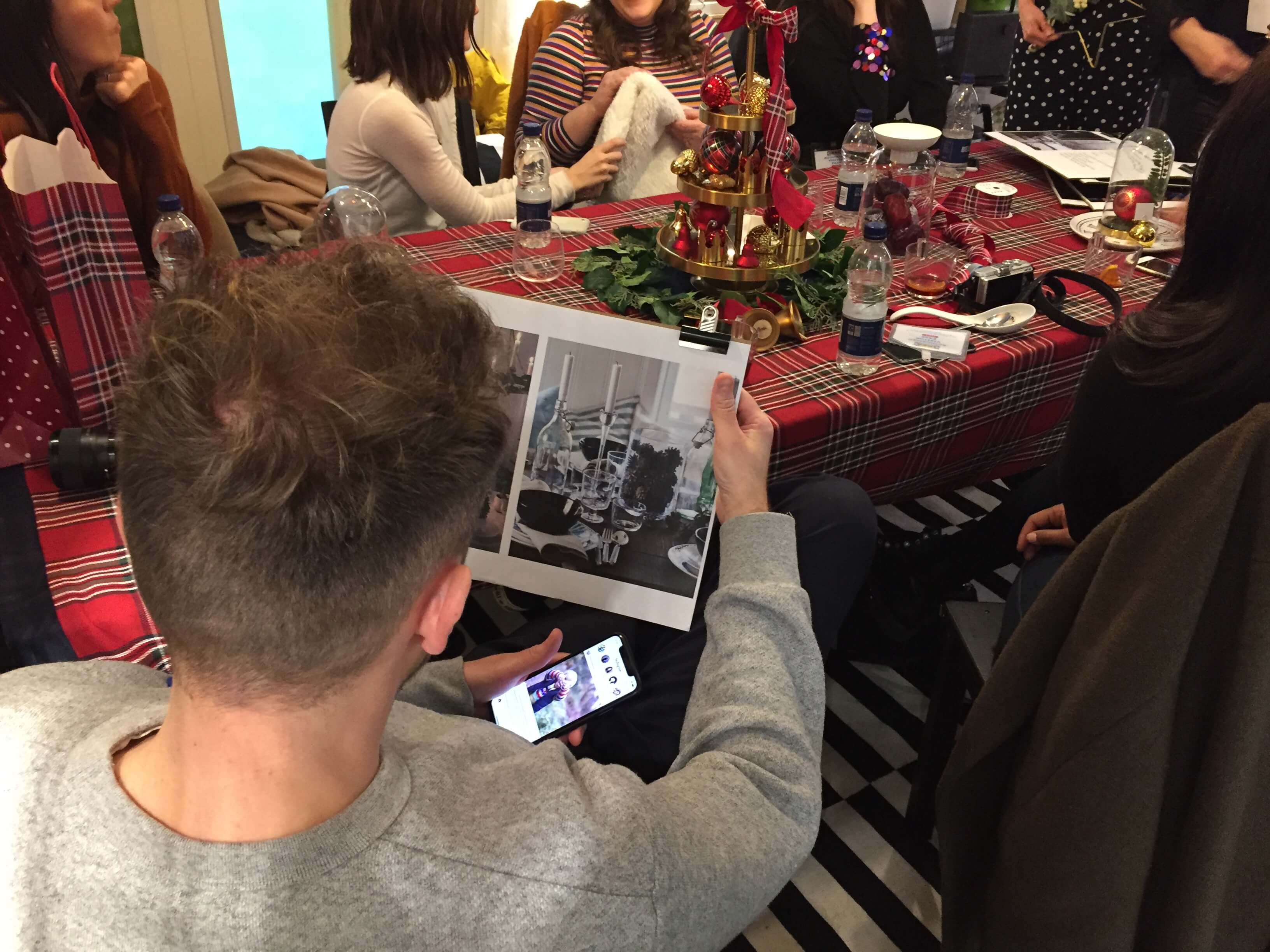 Relax This Christmas
Did you know a recent study showed that 42% of people find hosting Christmas the most stressful challenge of the year? And another suggested that people are spending up to 270 hours preparing for Christmas. Doesn't that sound exhausting?
The aim of workshop was to show how IKEA can help you relieve some Christmas stress this year, and take the pressure off hosting. Hosting doesn't need to cost a lot of money or take hours of preparation time. It is more important to spend time together. This is all perfectly summed up in the ethos behind IKEA's hashtag the #WonderfulEveryday
The workshop was set up in the Tottenham store in one of the working open plan kitchens. The open plan kitchen/dining space was used to host this festive gathering to demonstrate that it is small touches that make the difference, not large costly investments.
Our guests included were…Cassie Chung, The Savvy Mummy, Lindsey London Mama, Mamalinuk, Emma Jane Palin, Natasha Nuttall, A Day In The Life Of Dad and Love Improchori.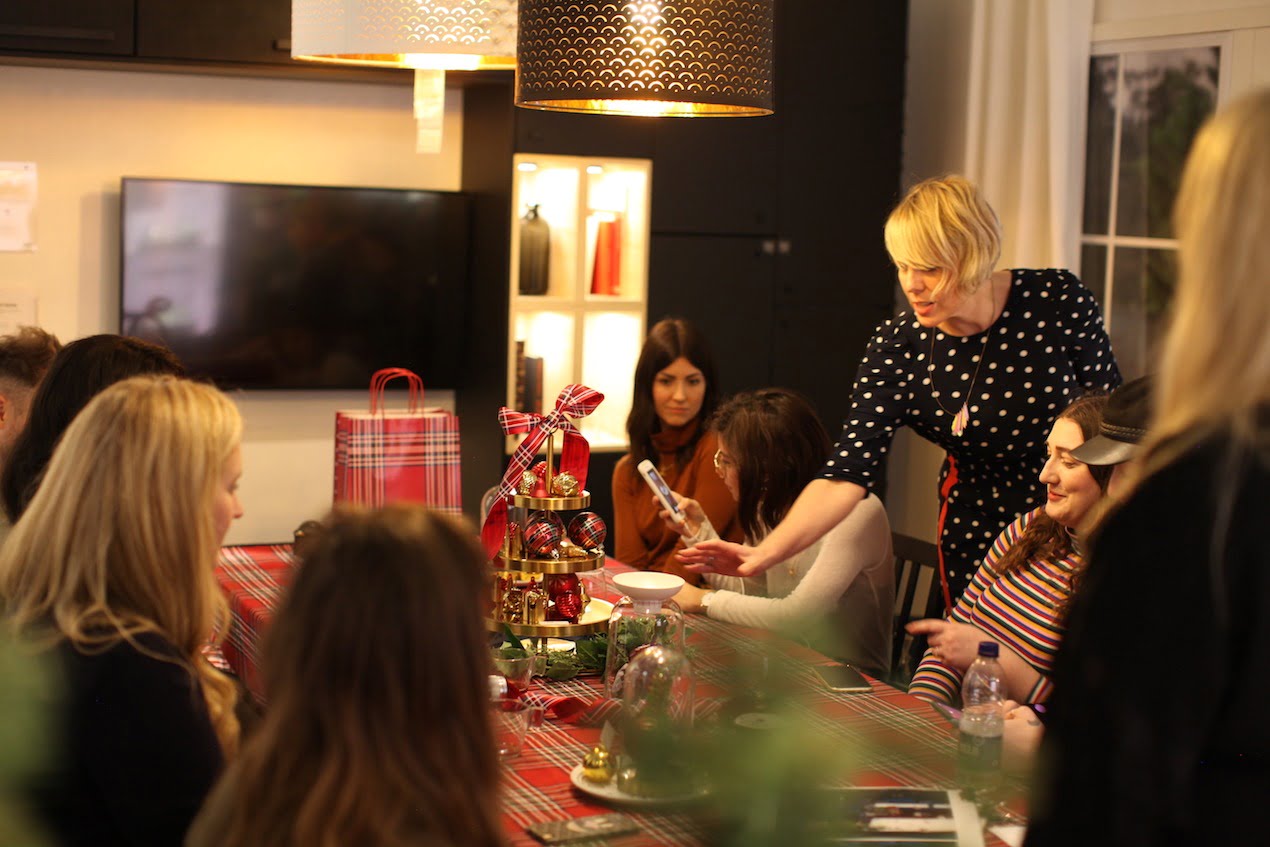 Styling The Table
All our guests helped prepare and set up the meal making Swedish tasters to enjoy with a drink before they sit down to enjoy dinner.
Then Secret Styling Club did styling demos to show them how to add homemade, personalised twists to the table decorations. Including making a cute craft. We all made little cutlery pockets by cutting up an IKEA placemat. They were very popular and the guests took away extra mats to make more at home with their families.
After the crafting, we set up a table fit for a feast with minimum effort for maximum results using IKEA latest Christmas ranges.
If you look at the room above you can see how we dressed it with decorations from IKEA's Vinter range. This glass vase/t-light holder, £7 was a firm favourite with the instagrammers.  Will filled this gold cake plate. £19. with baubles. And finished off this table with these quirky clock side plates, £2.50 each.
By the end of the event, it felt like we had invited 10 lovely bloggers around to our home. It was so relaxing.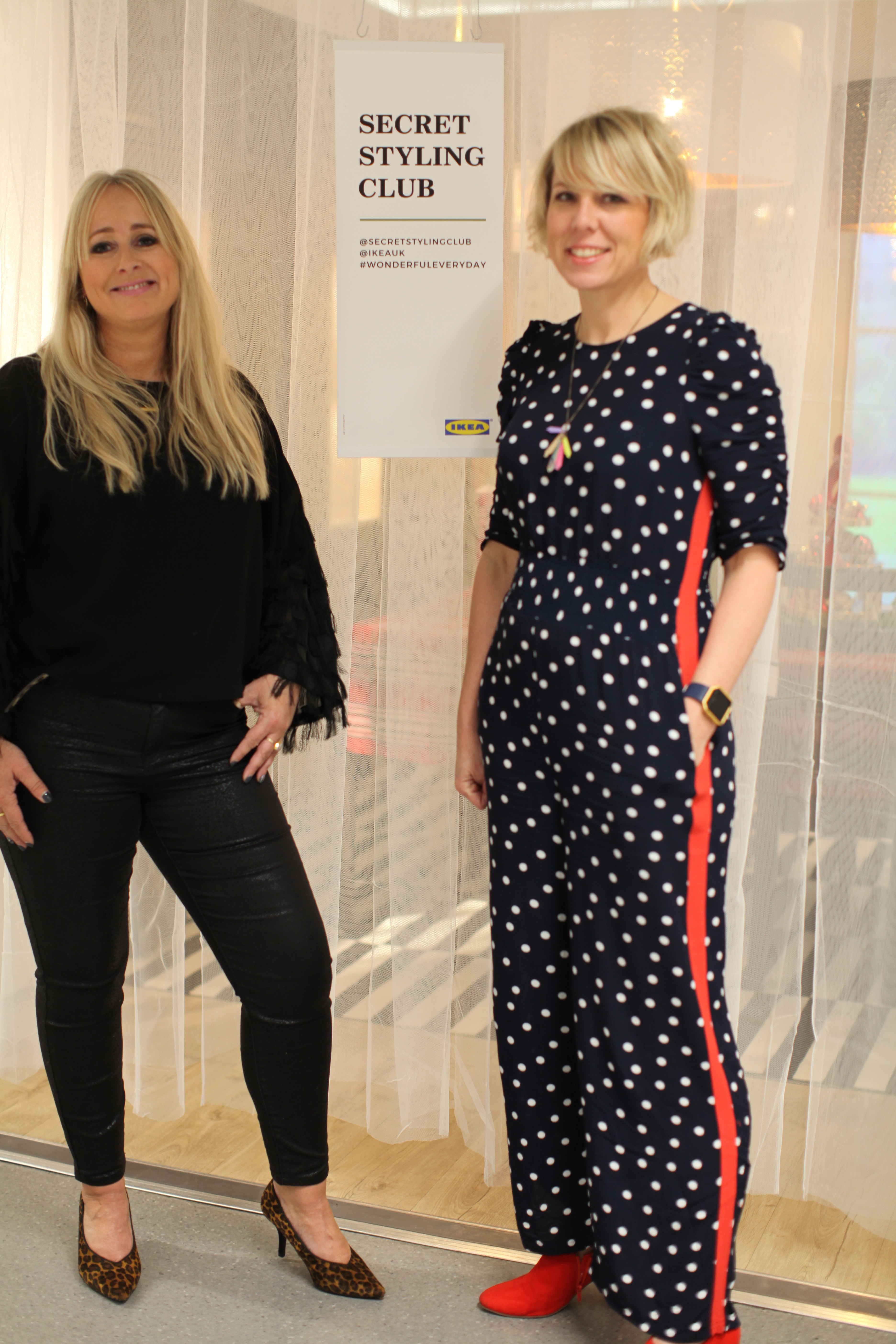 The best part of the event for me and Laurie was that we had our logo made up into an icon IKEA sign which they hung up in store.
What's new for Secret Styling Club in 2019
It was a wonderful way to finish this year. Secret Styling Club was only launched in January this year.  And we hosted our first workshop with Farrow & Ball in March. Since then we have worked with Cult Furniture, West Elm, Next, Ideal Home Show (twice) and Dunelm Mill to name a few…
We are so excited for 2019 – we have so many more plans that I'm dying to share with you.
But for now. we hope that we have shown you how you can host an amazing festive gathering without the expense and stress.
More From The Secret Styling Club
Christmas Styling Tips With Next
Decluttering Tips With Secret Styling Club & Neville Johnson
Secret Styling Club Workshop At West Elm

*** Collaborative post. All thoughts and opinions are my own.