Are you beginning to feel like Christmas cheer is quickly turning in to Christmas fear? Don't fret, I'm here with sharing my four handy tips with the help of IKEA to help you have a hassle free Christmas this year.
**Sponsored Post**
Christmas is just around the corner and I'm beginning to feel very festive. Are you? I love this time of year when the sparkly fairy lights come out, and everyone gets a little merry on mulled wine (not just me, right?).
This year, inspired by IKEA I've taken a far more relaxed approach in preparation for Christmas. And I feel so much better for it! As my schedule has been so hectic recently, I wanted to have as little stress as possible in the build up to Christmas day.
I'm sure you feel exactly the same. Don't we all want a hassle free Christmas.
Have A Hassle Free Christmas With Ikea

At this time of year, I juggling time and money with this grand goal to have the most magical Christmas ever. But in the process I cause myself so much stress, that it takes all of the fun out of it.
A recent study found that 42% of people find hosting Christmas the most stressful challenge of the year. And another survey suggested that people are spending up to 270 hours preparing for Christmas.
Doesn't that sound exhausting?
That is why IKEA want us Brits to have a chilled one this year inspired by their hashtag #wonderfuleveryday. The mantra means IKEA wants us to relax, enjoy Christmas and put the pleasure back into hosting our families.
Inspired by this ethos, I've decided to take action this year by simplifying my festive tasks, and so far, it's working wonders. In this post,, I want to share with you my top four tips on how to have a hassle free Christmas, in hope that it also helps you make some less-stress decisions.
So put your feet up, eat a mince pie and enjoy that mulled wine. And get ready to have your best Christmas ever?

Hang up paper garlands for a relaxed style
---
STEP 1/ Simplify your present wrapping
It's so easy to get lured in to buying lovely, colour-coordinated wrapping paper. Then there's the ribbon, bows and gift tags to match. All that cost time and money
I've come up with a plan, and I think you may also like to try it… Instead of using paper, I'm using an assortment of gift boxes and bags. Just pop your gifts in and go.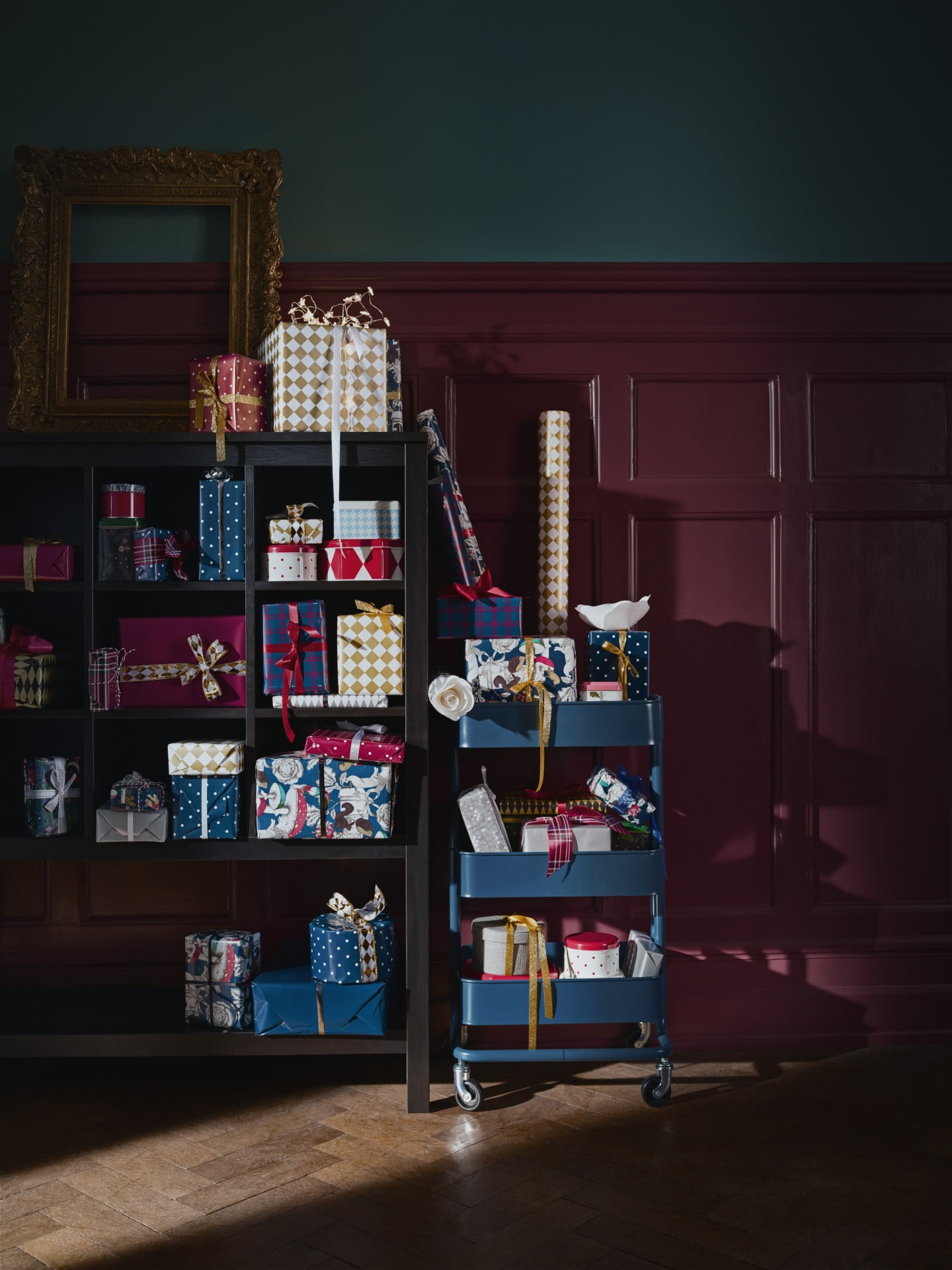 This trolley is so handy for stashing all your wrapping things in
Why use gift boxes & bags? For a start, it's cheaper . Wrapping paper and all the trimmings can end up costing you a small fortune. Gift boxes are far more cost effective, and if you find the right ones, they'll come with ribbon and labels too. Look at these gorgeous gift bags and gift boxes I found at IKEA for just £1.75! They come with ribbon too.
It's quicker to do. There will be no tangled up ribbon, no muddled up gift tags, oh and you know those peel-able bows that take 2 minutes of your time just to stick one down. And that means more time with you family.
They're eco-friendly too. Gift boxes and bags are far more eco-friendly as they can be used time and time again. While, wrapping paper just ends up in a crumpled up pile heading straight for the bin.
It's a no brainer!
---
STEP 2/ Hold back on your decorations
We all love that festive feeling of getting the decorations down from the loft, playing some Christmas classics with a mulled wine in hand, and decorating the house with some sparkle. Rather then decorating your home top to bottom, focus on one corner of your home.
Simplify your decor and hold back on some of the decorations will save you time and effort. And stress too.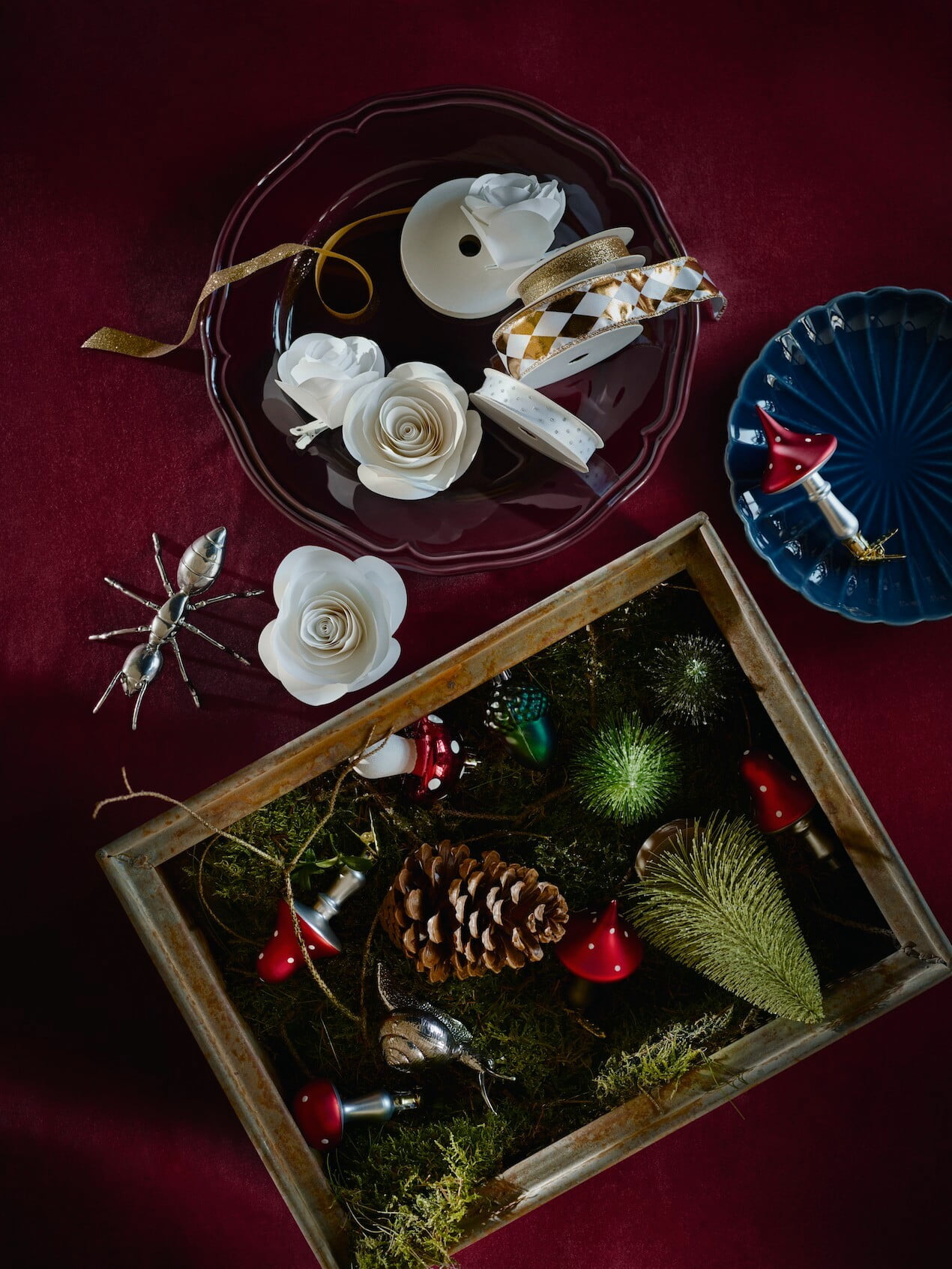 Why not ditch the tree and create a living table centrepiece instead?
That being said, keep in mind what your favourite things are about Christmas. Perhaps you absolutely love decorating the house from top to bottom, and it's a tradition for you and your family that you all enjoy and love doing. If so, then don't cut back, but consider cutting back within other areas of the house.
My style trick to decorate your table top is to use a simple garland wrapped with battery operated fairy lights which makes a fantastic centre-piece for the table. And doesn't require too much DIY.
Take a look at my own simply decorated mantle piece over HERE. I think it shows my love of hassle free Christmas styling ideas. Or you can see how I used fairy lights to brighten up my table top HERE.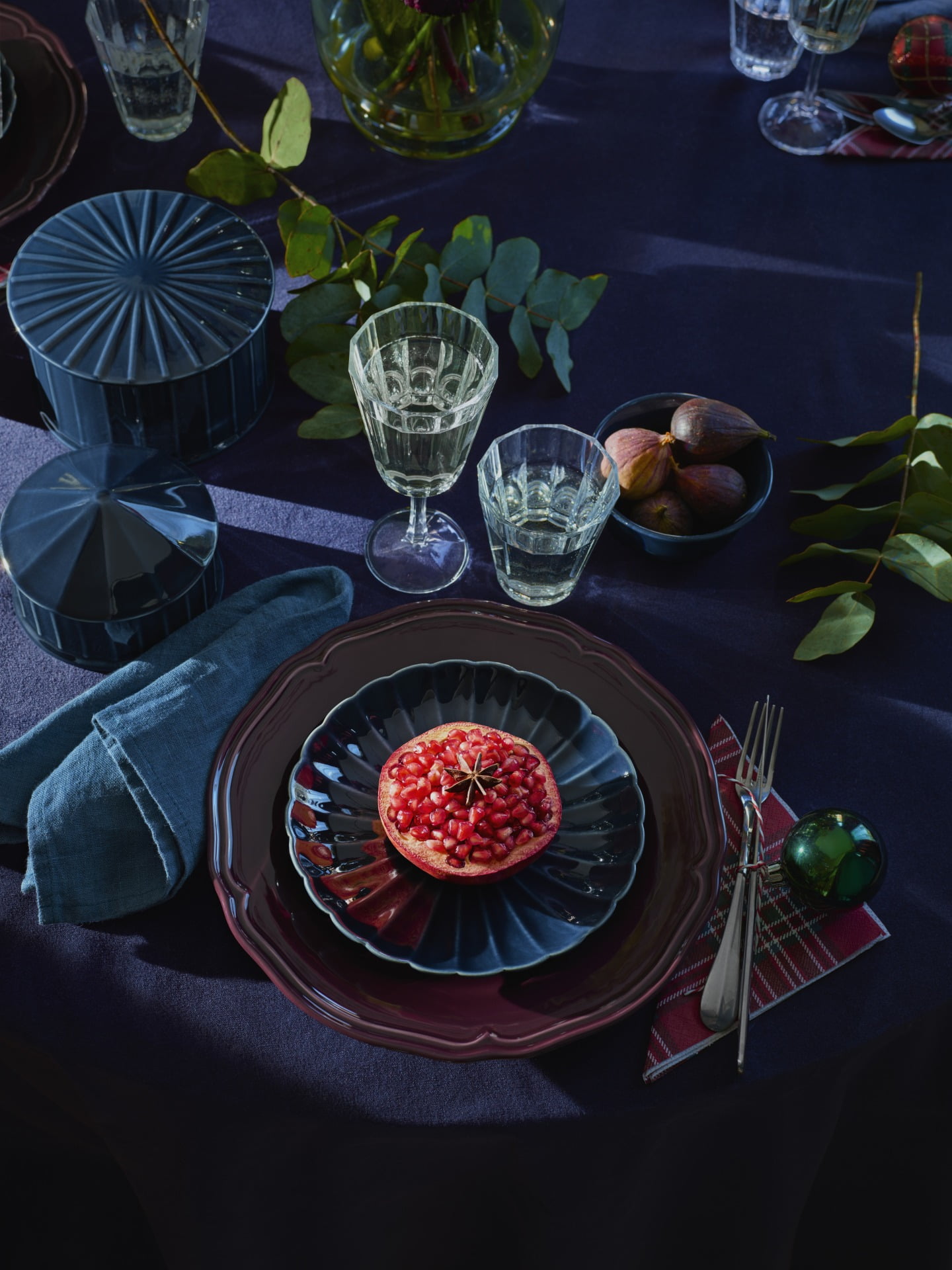 Use pretty paper napkins for your Christmas meal to save on laundry time afterwards.
You may love the string of outdoor lights but do you love the effort it takes to put it up? Or, the electricity bill at the end of the winter season?  Perhaps ditch the lights and just stick to a nice, natural wreath on your front door instead. I'm writing post soon showing you how to do this – so pop back by my blog!
In IKEA, at the moment, you spend £25 on a real Christmas tree, then they will gift you a £20 voucher to spend in store. That means you can get your tree, all your decorations (and wrapping paper) for just £25. And all from the same place too. Saving you both time and money.

Create a festive display with fairy lights
---
STEP 3/ Make Christmas cooking uncomplicated
Spending hours shopping and preparing the Christmas dinner is easily one of the most stressful things we have to do. This year, why not cheat and claw back some of your precious spare time (I won't tell anyone, I promise)
There are so many scrumptious, ready-prepared roasts that you can buy on the high street. Last year, I bought a pre-cut and seasoned vegetable portion and it was delicious. You'd certainly never tell that it was shop bought.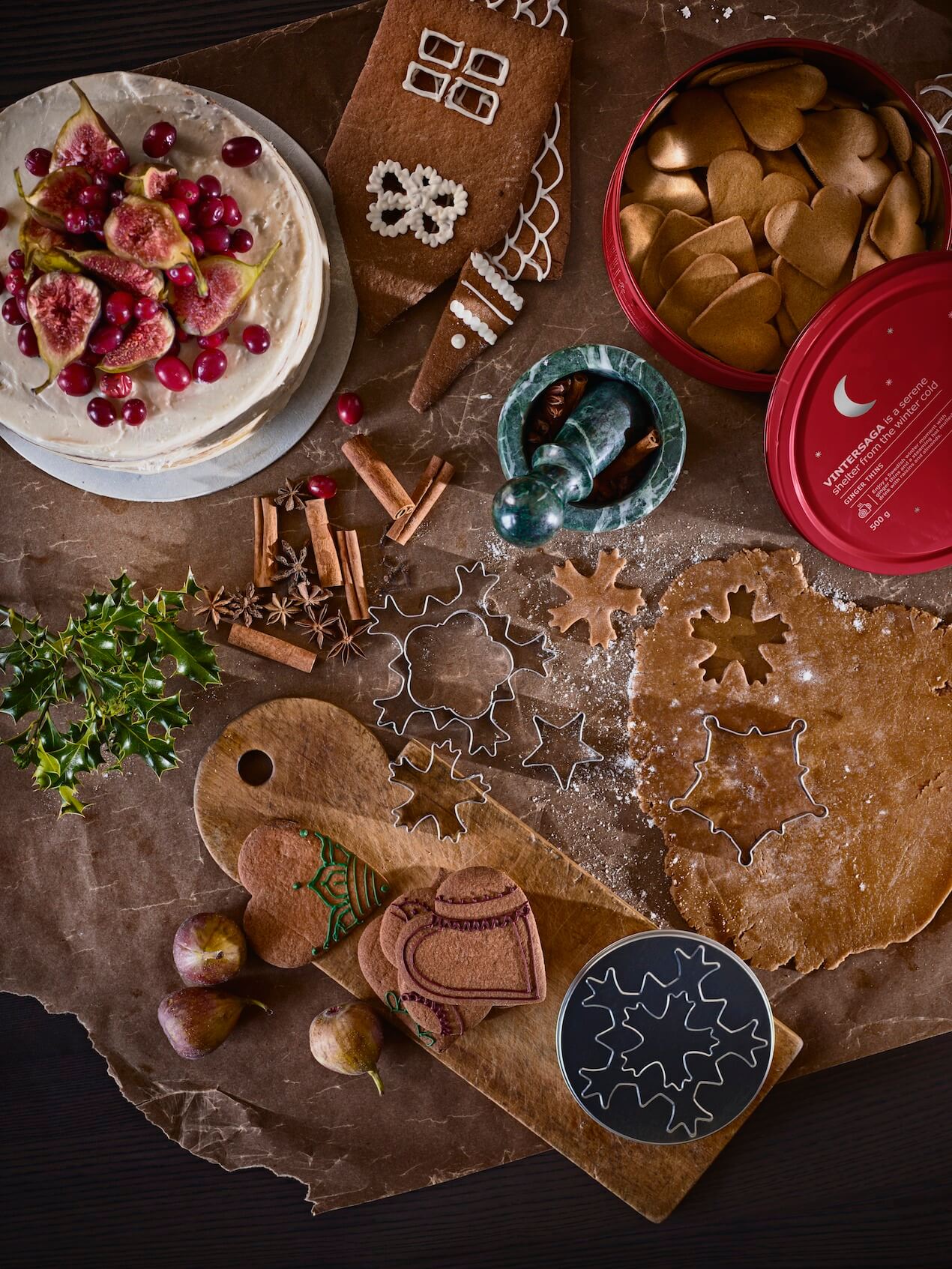 Bake a few treats but don't feel the need to make everything from scratch
Not only can you buy ready-prepped meals to ease up your Christmas day, but you can order it straight to your door. Avoid mega busy supermarkets, and steer clear of the Christmas chaos by ordering your food shop online.
It will save you money too, as you won't be distracted by something on a shelf that you don't really need.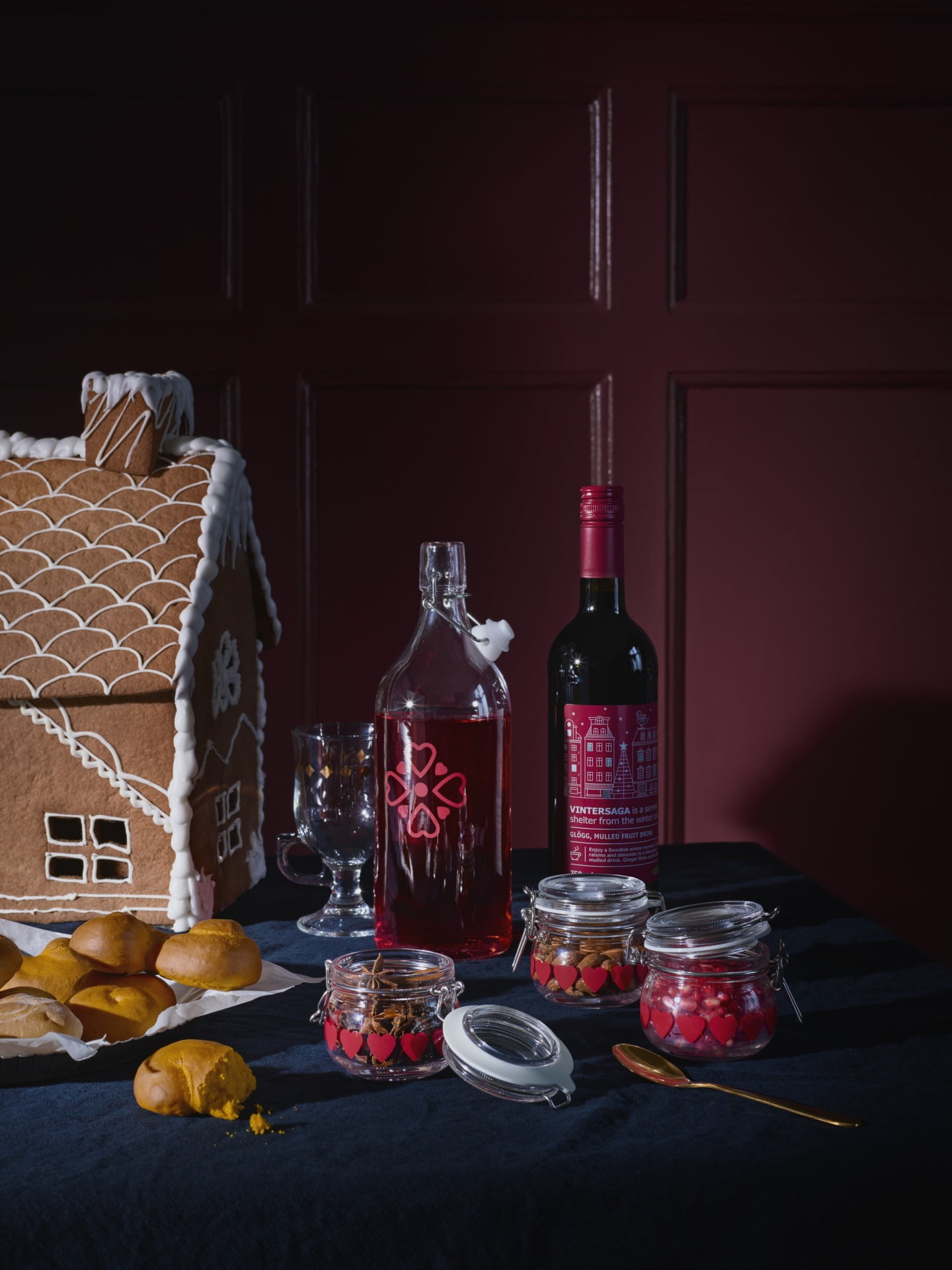 Cheat it!
Another yummy alternative that I bought for the past couple of years is ready-made mulled wine for £3.25. It definitely beats prepping the red wine blend, and letting it brew for hours. And Glogg mulled fruit drink which is alcohol-free is great for kids and friends alike (and costs just £2.95). All you do is pour it into a sauce pan, and warm it up! Add a slice of orange for garnish, and voila…
Less prep & stress for you. And it means you have more time to spend with your family.
---
4/ Invest in space saving furniture
When extra guests turn up for Christmas dinner – don't panic. Instead be prepared. Fold up chairs, tables and benches are all a great alternative, and can be stored away easily. IKEA have a huge range that are so affordable.
Multi-purpose furniture like stools that act as side tables are ideal for this busy time of year.
In addition to this, why not consider buying a small, fold-out table to extend your own dining table? Or, use it as a serving table so that your guests don't have to lean over any food when seated. This handy Raskog trolley (£50) is ideal for holding all your pickles and sauces, water and any extra glasses – freeing up space on your table top.
To claim more fridge space, keep your beers, wine and beverages in the garden. They will stay cold – and means you'll have more room to keep your veggies chilled. This Torkis laundry basket (£5) would make a great drinks bucket when filled with ice.
There you go – that's my four festive ideas from Ikea that will give you the most relaxed, happy hassle free Christmas you have ever had. If you follow just one rule, then let it be Enjoy yourself. The more relaxed you are, the happier your guests will be and the more memorable (and special) your Christmas will be.
Have you got any tips on how to save time and money at Christmas?  Or how to have a hassle free Christmas? If so, I would love to hear them in the comments box below.
In the meantime…Ho! Ho! Ho!
Like this festive post? Why not check out these…
My Lazy Girl's Guide to Christmas Decorating
3 Stylish Christmas Dining Trends
4 Ways to Style Your Christmas Dining Table with Lights
PIN THIS!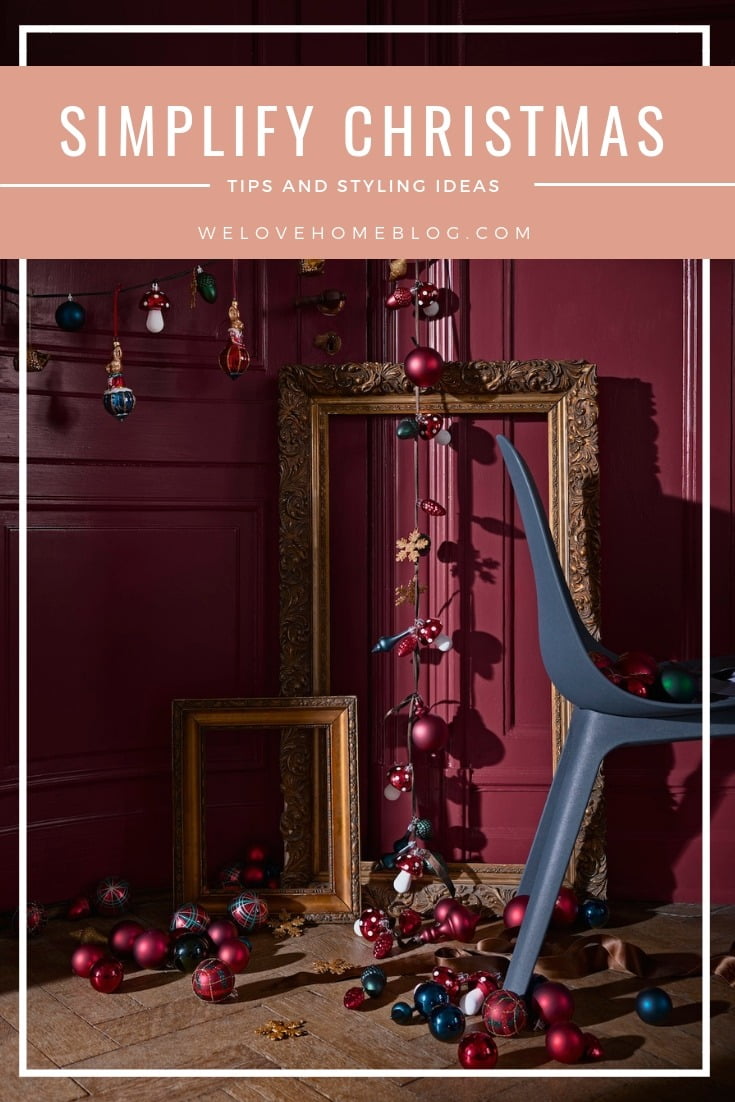 ** This was a sponsored post. All images are care of IKEA. All thoughts and opinions are my own.