I want to say a big WELCOME to the guys hopping over from Dear Designer with the #UKHomeBlogHop. Come inside, I've just opened a bumper box of Quality Street. Ooh, and regular readers are in for a right treat too because I'm taking part in a big festive-blog-get-together with 23 other top notch bloggers.  Oh – yes, it's Chriiiiiiiistmas, baby! And – this, my friends, is my 'Lazy Girl's Guide to Christmas Decorating'.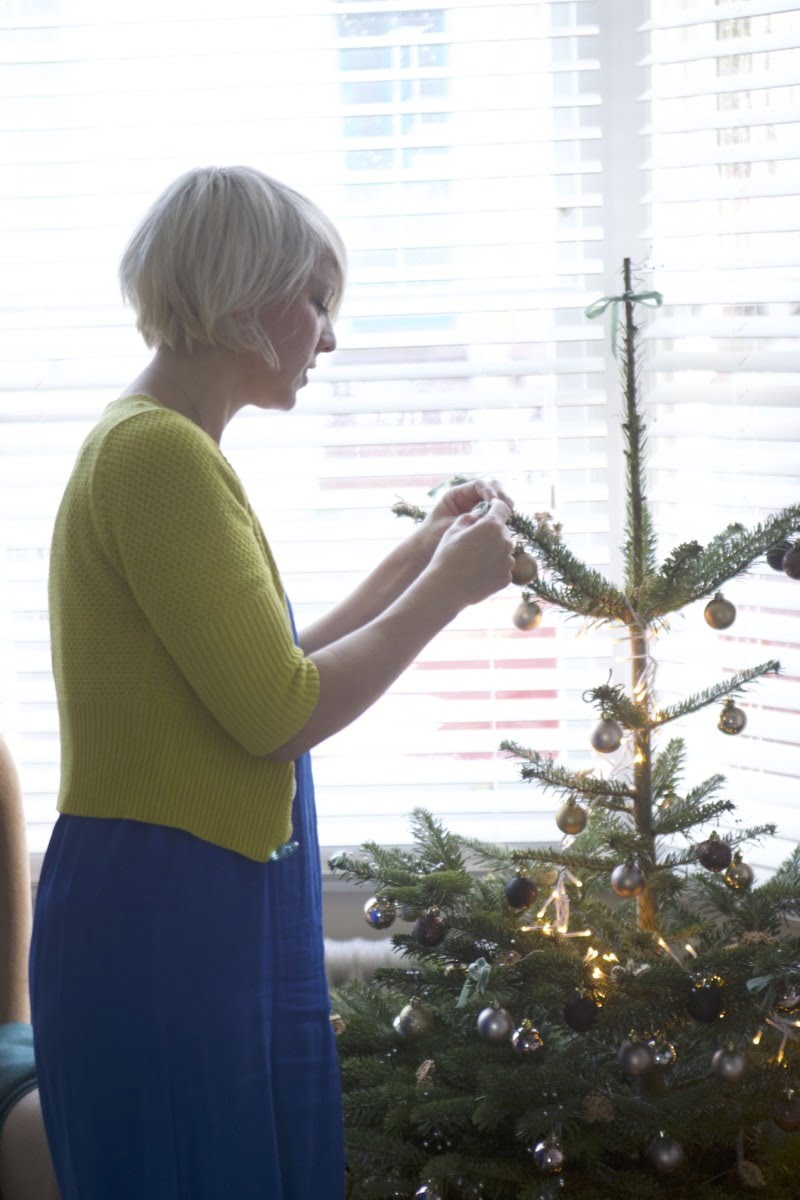 My 8 Tricks to Lazy Christmas Decorating
As an interior stylist, I can style up to  7-15 Christmas shoots in a year for magazines and tv shows (think I'm exaggerating? I did a post on my year as an interior stylist here). I'll be honest, all these shoots put me off decorating my own home in December because it feels like work, work, work to me.
That's why I've come up with bah-humbug-free plan to Christmas decorating that I want to share with you. My 8 festive will cover your home in xmas magic with the same amount of effort it take to open a packet of M&S mince pies.
Oh – and if you are snuggled up on the sofa – then, after you have read my guide (of course) click on the links at the bottom of my post to hop through a stream of Christmas ideas all from top-notch UK interiors bloggers all organised by Kimberly at SwoonWorthy.
Trick 1/ Shove your tree where no one can miss it
Don't believe the hype –  really doesn't matter if your tree is real or fake – as long it takes centre stage. I place mine in my bay window so passers-by can see it twinkling away – Bling! Bling!
You can be more subtle and place it in an alcove – just make sure no-one can miss it.
Trick 2/ Fairy lights are the Lazy Girl's best friend
Twinkling fairy lights look the bomb – and they instantly say Christmas – that's why you gotta cover every corner of your home in them.
I haven't bothered with a tree this year (bad Maxine) but have shoved lights in a plant instead (clever Maxine) which will now stay there til…oooh…about June (lazy Maxine).
The best sets have different glimmer settings which you can adjust to suit your mood – from subtle sparkle to full-on disco mode.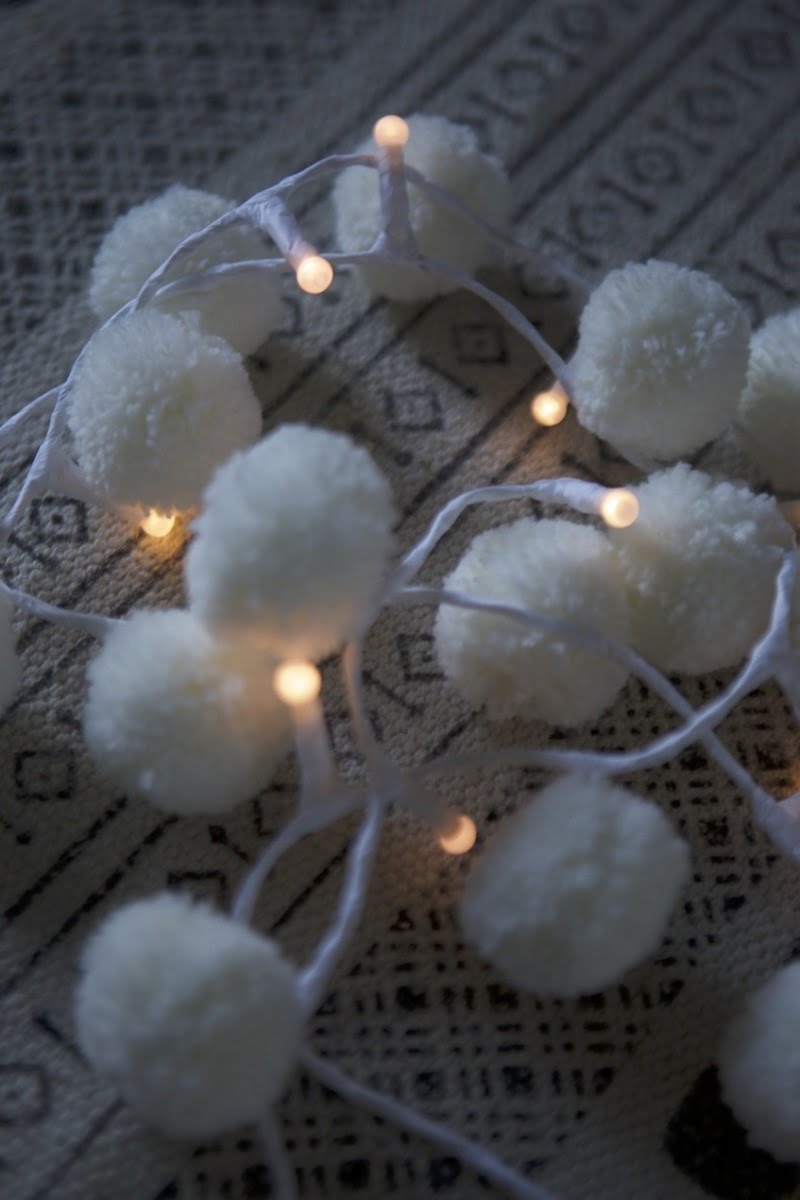 Trick 3/ Pick Up Baubles With Your Weekly Shop
The Lazy Girl doesn't have time (or inclination) to head into busy Christmas shops for decorations. Nah! Instead, she picks up a bumper back of baubles when she does her xmas food shopping – at the supermarket.
Asda, Sainsburys, Morrisons – even Lidl and Adli have BUMPER packs of 30 baubles for about £5 for a box of 30. The trick is to look out for fashion shades like black, coppers , silvers for glam pusses; red and white looks for your traditional girl or while teals and pinks for your girly-girl.
I bought two packs and decorated my tree to the brim. Just cos I'm lazy doesn't mean I want to look cheap.
Stylist tip: Don't phaff with fiddly cotton to hang your decs, instead use metal wire – paperclips are ideal. Pinch onto the branch and they will stay in place – no matter how many times your cat might try and knock them off.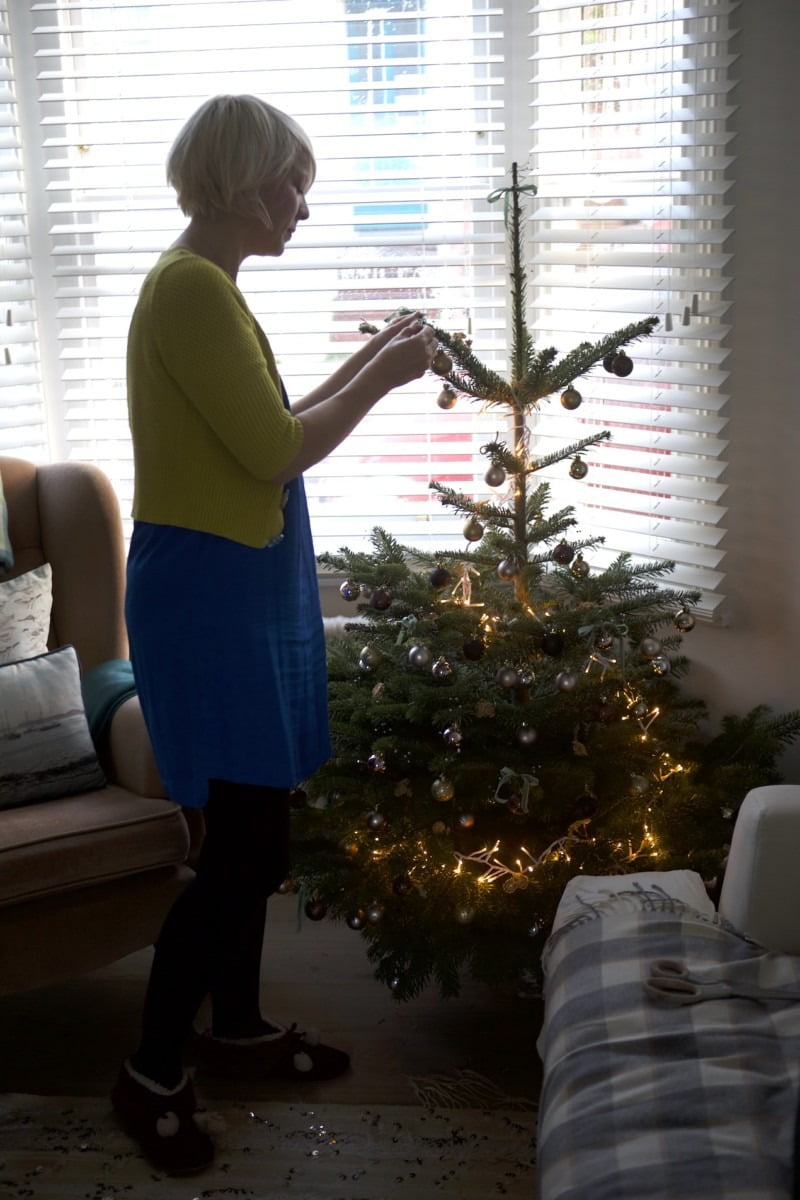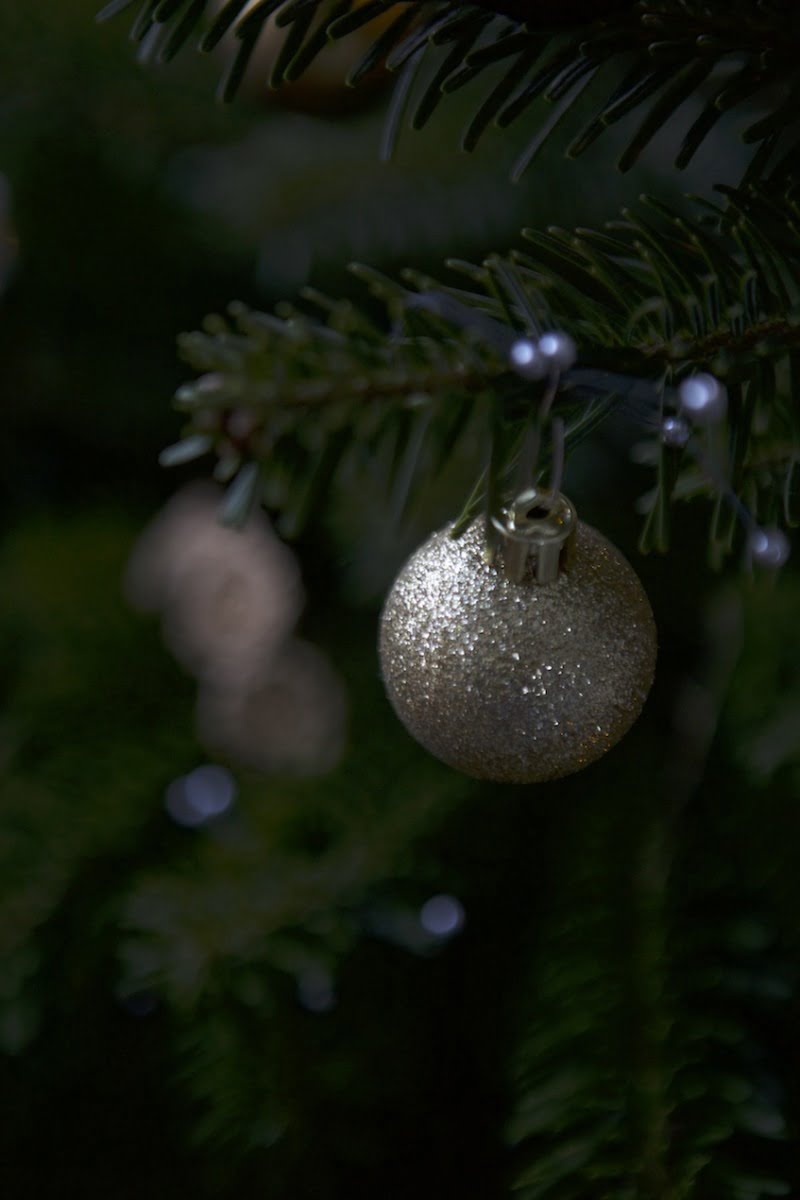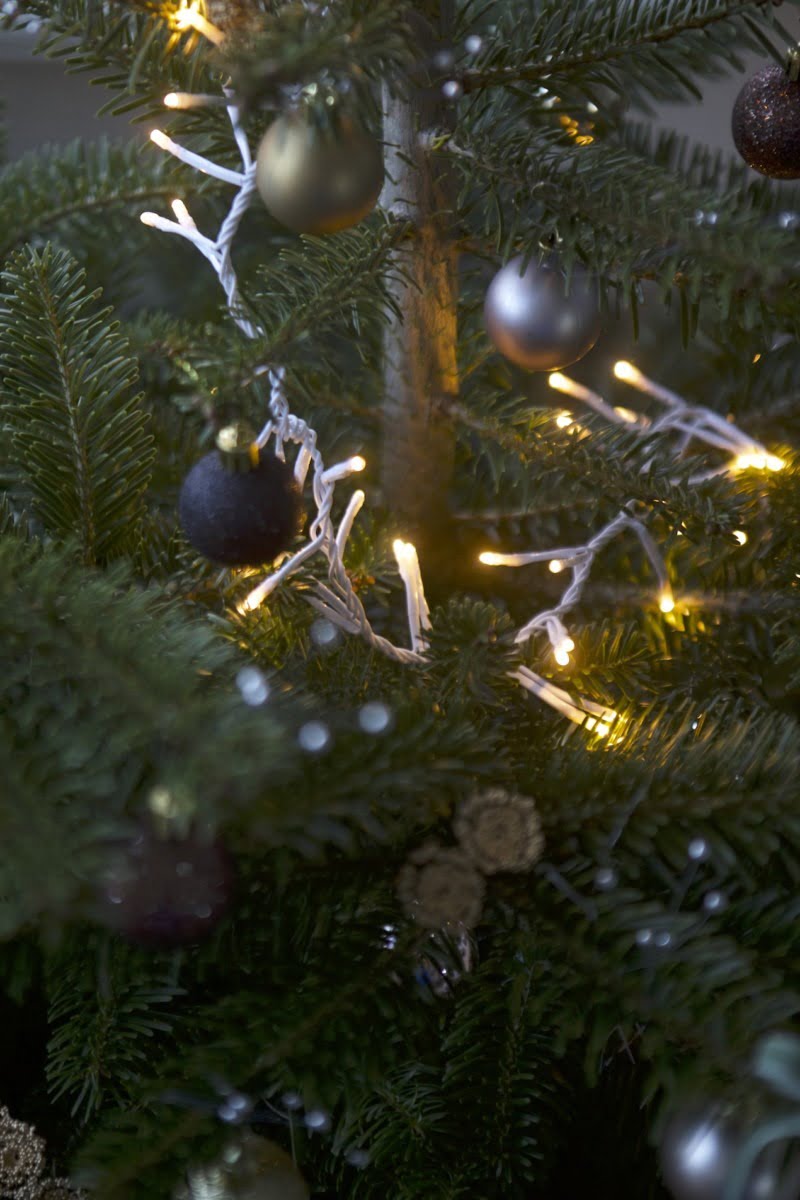 Trick 4/ Cheat that 'handmade' look
Some people spend hours making or crafting at Christmas but the Lazy Girl has waaaay too many parties to go to. Instead CHEAT! Yes, that's right – I said CHEAT! Here's how – cut small lengths of ribbons and tie to the end of branches. It will look handmade but has as much effort behind it as a lame cracker joker.
As they say, the simpler the better for an effortless look.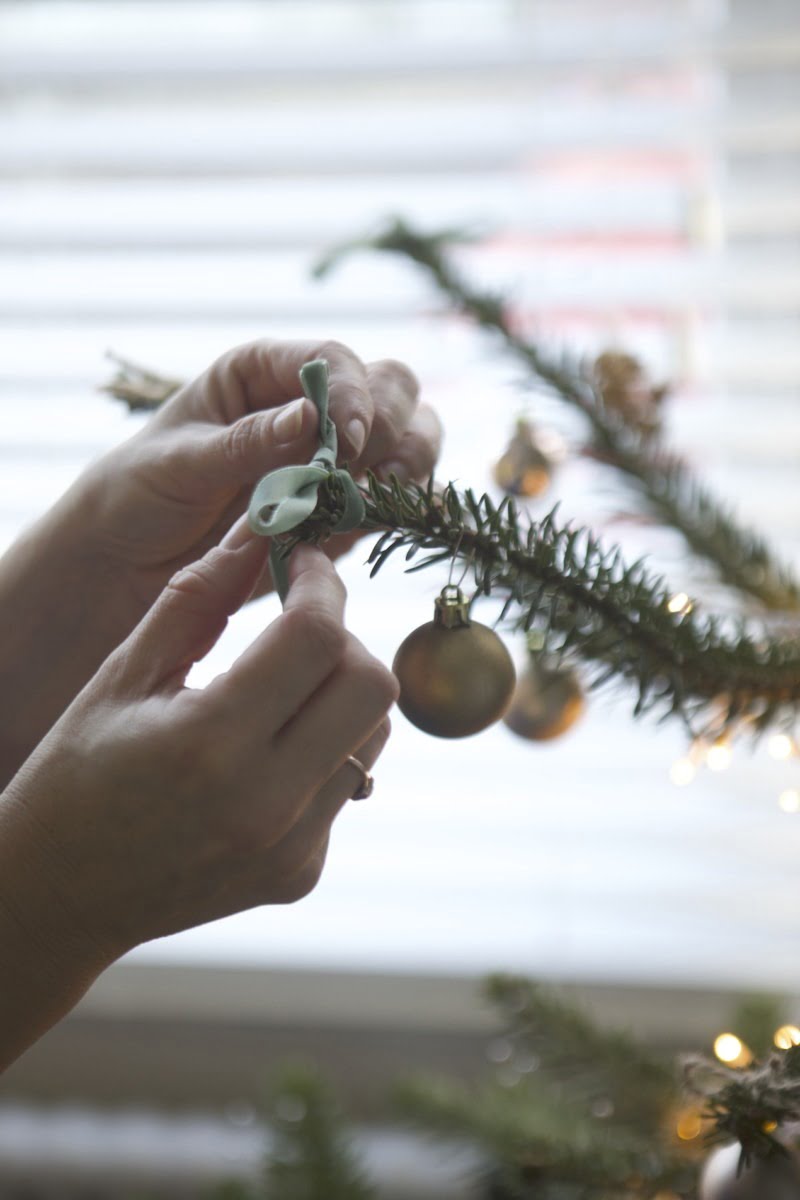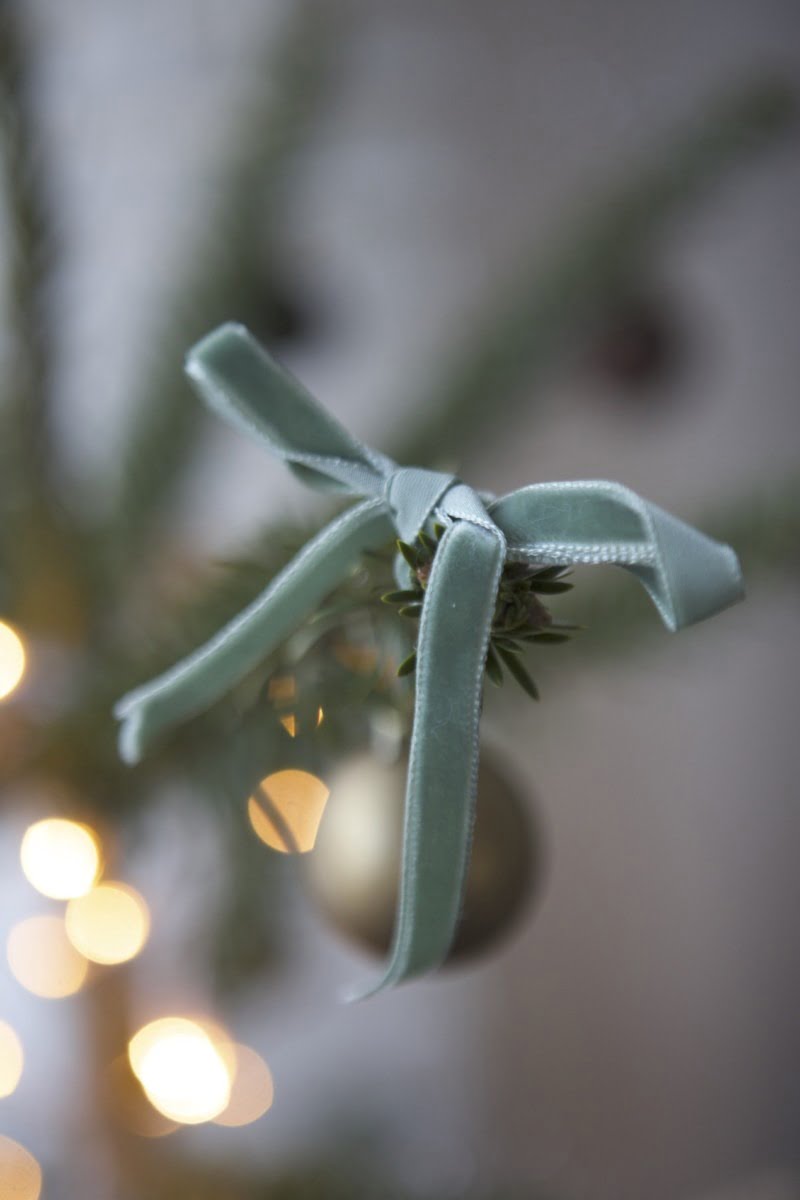 Trick 5/ Show off posh decorations
Loads of people spend a fortune on fancy decorations, only for them to get swallowed up on the tree among less cool baubles . The lazy girl laughs at this idea. Instead, she flings a whole pack of supermarket baubles at her tree BUT buys one or two cute decorations (on-line, obvs to save time) which she artfully creates a little scene that guests can not help but admire.
Here, I've placed a quirky car decoration from Rockett St George next to a 1950s tree decoration picked up from charity shop – which screams laid back effortless style. See what I did there?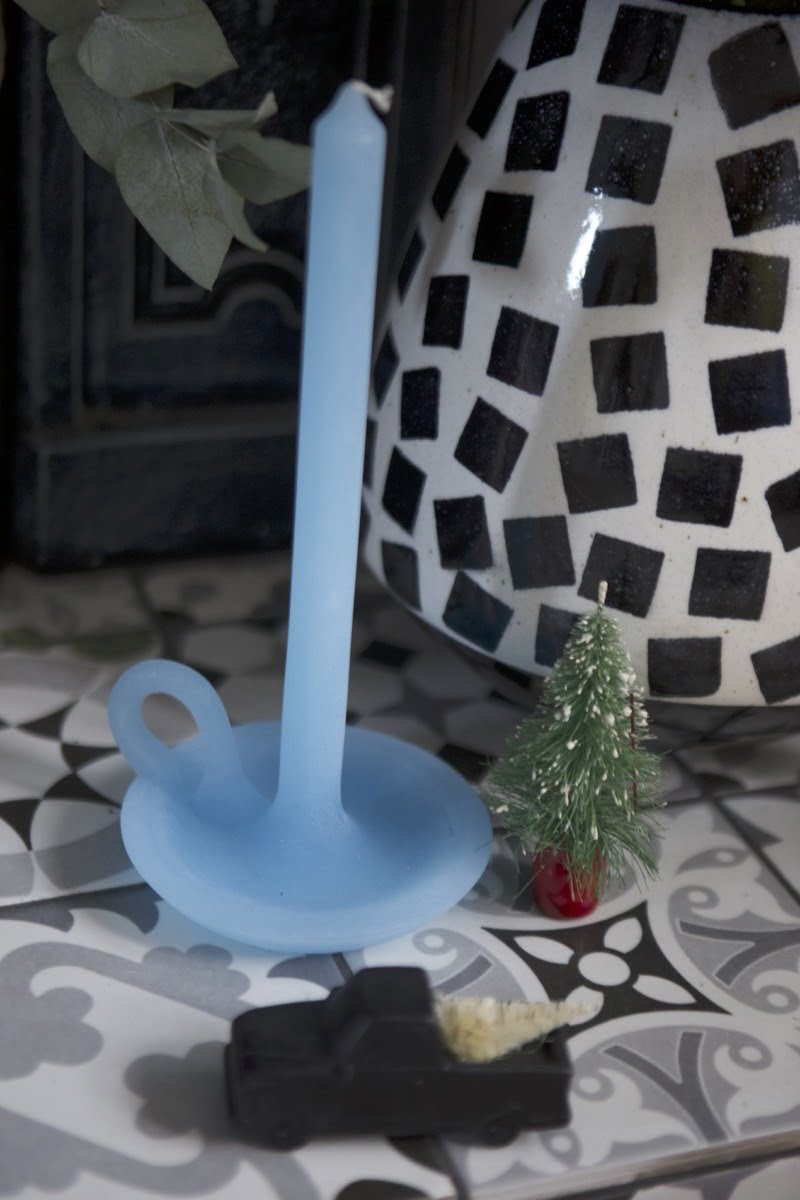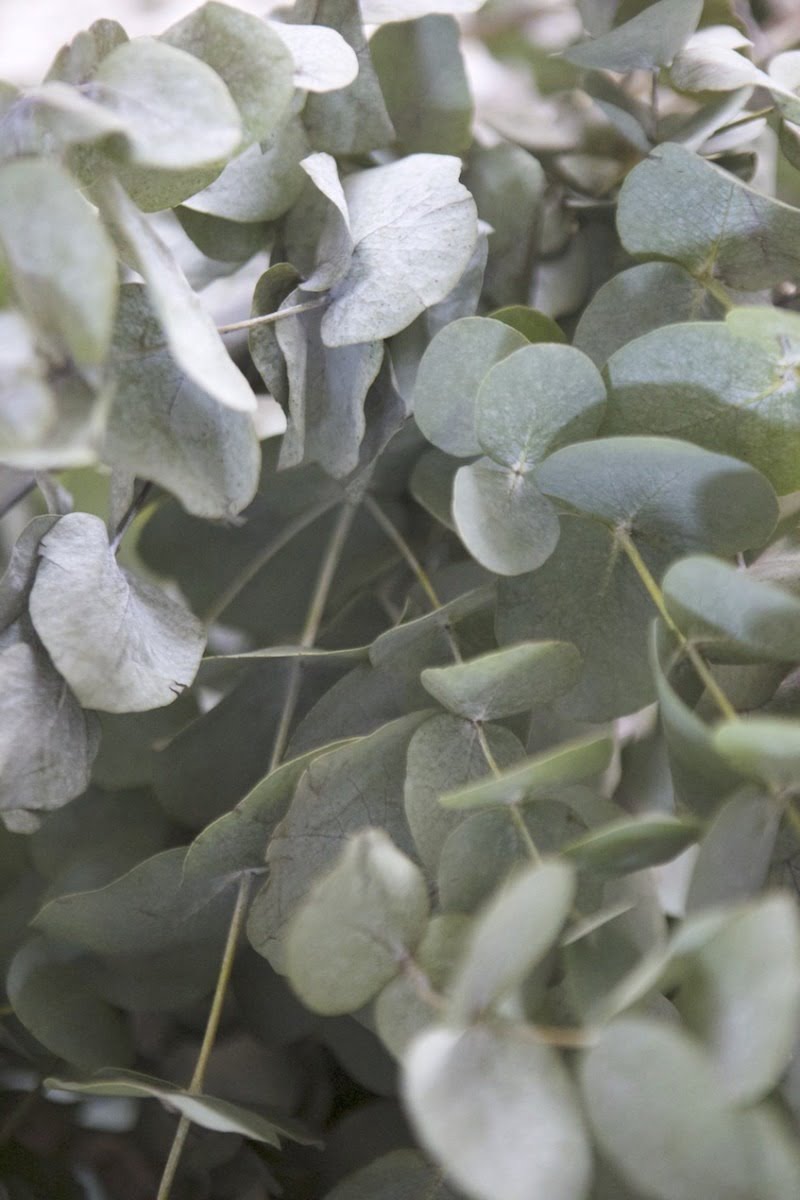 Trick 6/ Put Eucluptys – like, everywhere
When I'm on a budget, saving cash for pressies and parties, my go-to decoration for my home is a massive bunch of green leafy Eucalyptus branches. I shove springs in-between branches of my Christmas tree or fill a vase in my fireplace. A big bunch shouldn't cost more than £3 – which will be enough to do your whole home without eating in to your shoe fund.
Trick 7/ Re-use and Abuse
Have a dig around in your loft, attic or sewing basket for a bit of trim that will transform your home from blurgh to brilliant!  I had this pom pom trim left over from a sewing project I was never going to complete. I dug it out, and then draped it over my living room fireplace. It's pretty much a central part of my Lazy Girl kit as it can use it jazz-up your staircase banister or to decorate your tree.
It's a cheap and stylish Christmas finish touch, which you can use year after year.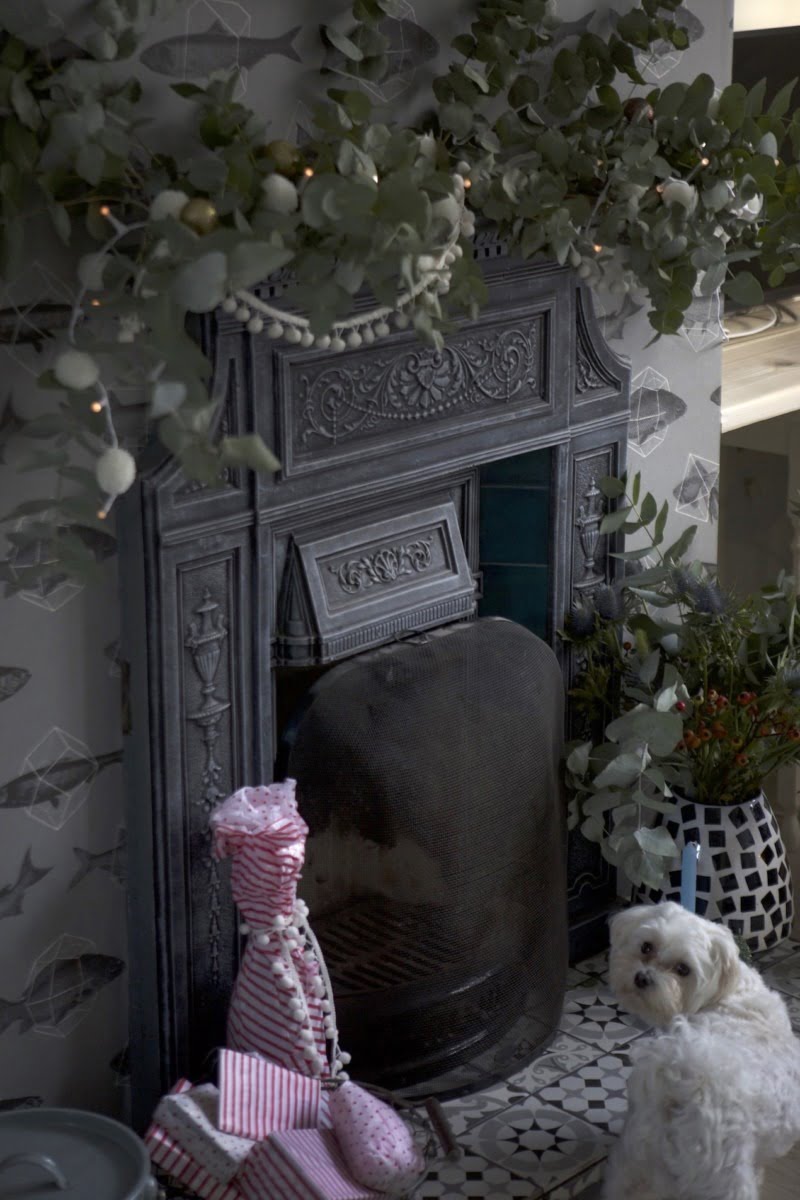 Trick 8/ Achieve Wrapping Perfection
This is my mum's brilliant niffy idea – she dedicates a single style of wrapping paper to each person – so stripes for dad, spots for me, pink for my sister and blue for the pooch etc etc. With this colour coded system – there is no need for gift tags (which always drop off anyway). And when you wrap gift this stylishly, like this they look amazing when placed under the tree – almost like in the Christmas movies. So buy bump packs of tissue wrap and GO!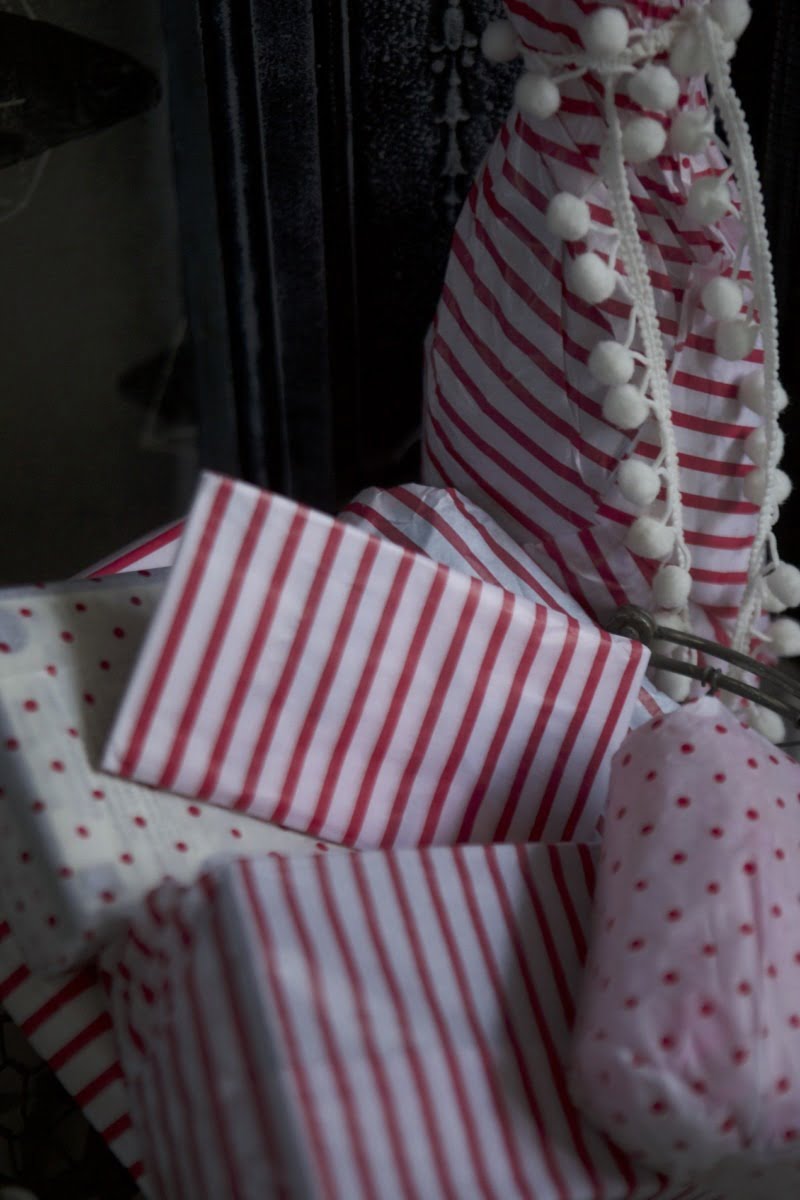 That's Christmas nailed with my 8-step Lazy Girl Christmas Guide
There are 8 fail-safe ways to easy update your home ready for the Christmas season without breaking into a sweat. If you would like to see more of my posts with ideas on how to cheat your way through Christmas, then kick back on the sofa and watch the video I did on my Christmas Mantle makeover or my epic post on the Best blogger's tips for the ultimate Christmas.
What do you think about this Lazy Girl Guide? Do you decorate in your slippers with a large glass of Baileys' at the ready? Well then you need to  discover more about me, and my blog, then why not join my my gang – and get my spam-free newsletter filled with insider decorating tips.


Love this post? Well, don't hang around!  Hop onto the next blog –  Melanie Lissack Interiors – where a whole host of Christmas ideas are waiting for you. Go on, hop on! Ooh – before you go…one more thing….
Here's 2017 #UKHOMEBLOGHOP weekly Christmas list
Pin to save for later 🙂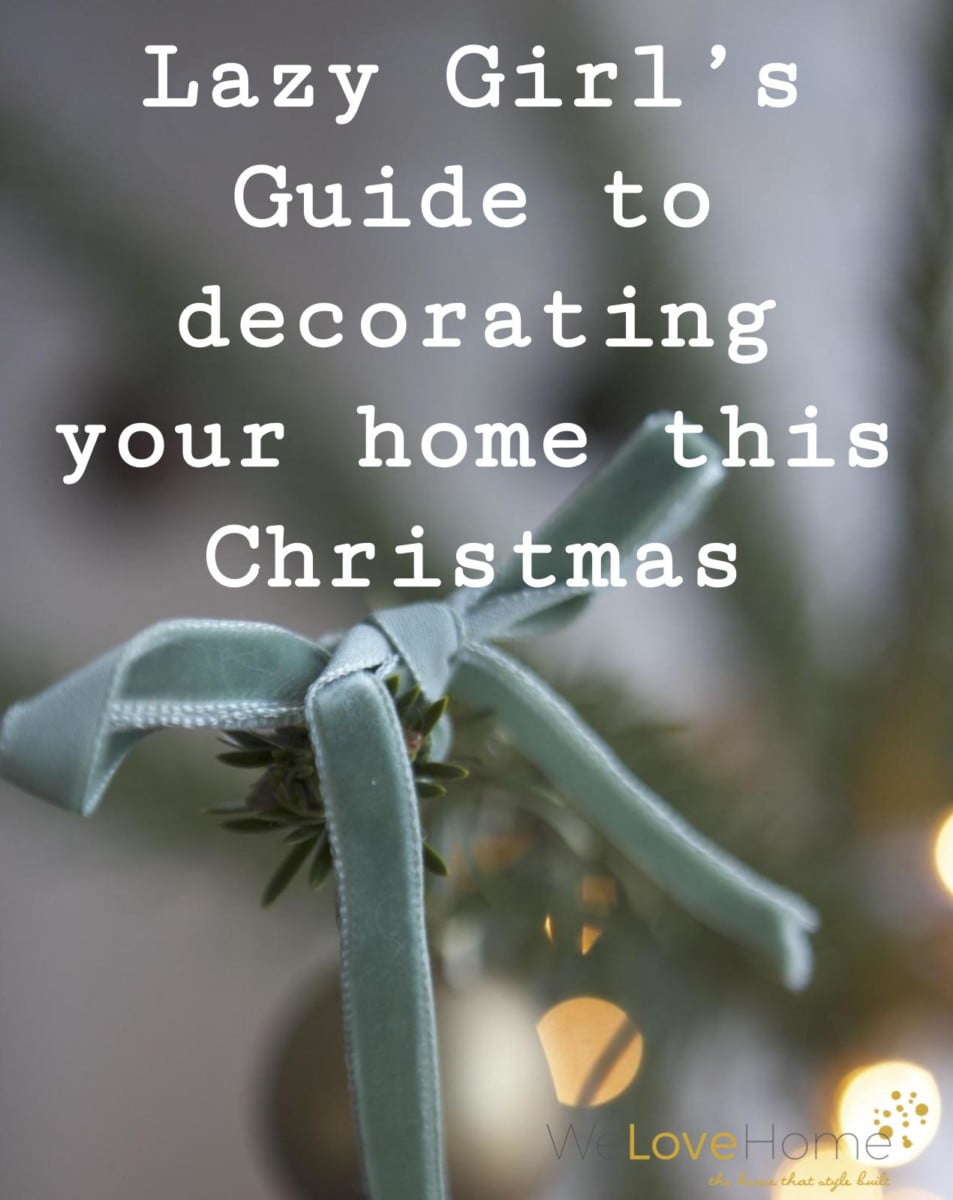 Photos by Jonathan Jones + Me. But mostly me.