Hello and welcome to Christmas 2018! This is one of my first Christmas posts that I'm sharing with you this winter. I'm going to walk you through three of the biggest dining trends for this Christmas, and give you styling ideas so you can have Pinterest-perfect dining table.
These hand-picked trends were originally shared at a Secret Styling Club event at the Ideal Home Christmas show, on November 22nd. We hosted a very special talk and this content was so good I had to share it with you via my blog.

Christmas Dining Trends And My Styling Ideas
As part of my jobs as an interior stylist, I visit the the Christmas preview shows hosted by big name high street stores. These shows start in July, usually in the middle of a heatwave. I'm usually there, eating mince piece and listing to Christmas hits while exploring the latest trends for the season ahead on the sunniest day of the year. It feels as random as it sounds!
I've been to over 30 press shows this summer, and it's it's fair to say that I know Christmas trends for 2018 inside out.
I'm sharing three really strong looks I saw emerging from these many shows, and which you'll start to see on the high streets.  I'm sure at least one of them may appear on your table top this festive season.
Let's start at the top…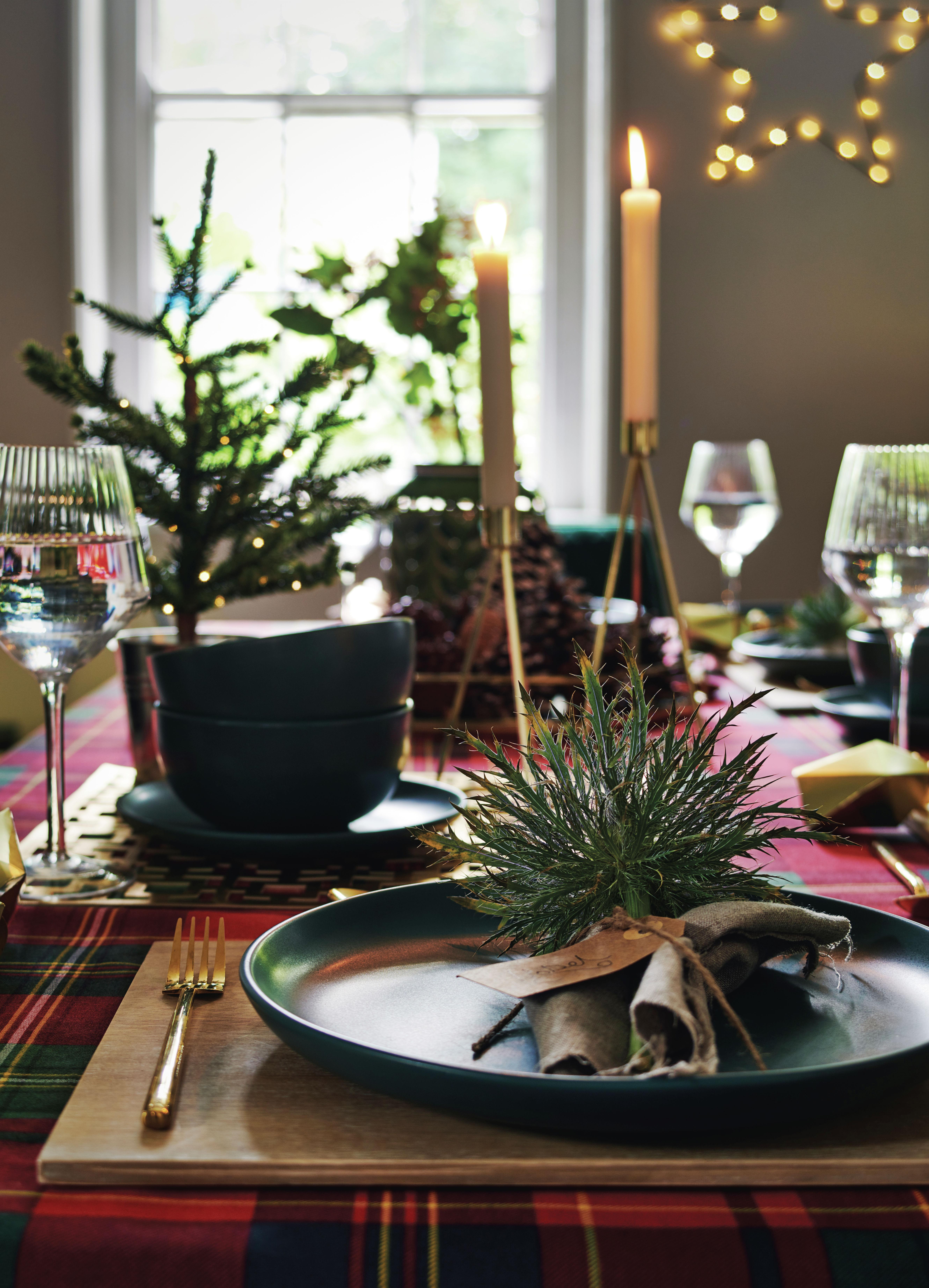 Rustic Traditions
This Christmas, ditch brightly coloured baubles and metallic tinsel in favour of a more rustic and traditional Christmas decorating scheme. This trend takes its influence from Scottish heritage with rich reds, tartan and plaids.
It's a twist on the traditional Christmas decorating scheme. It has a timeless appeal and the potential to have a modern edge if you mix in modern ceramics of geometric accessories with the plaid. You could own this trend to make it suit your home depend on how you style it. If you love red in your home at Christmas then this is the trend for you.
Think of…
Fir and berries down the table
Cute Woodland animals made from twigs
Tartan and plaid tablecloths
Rustic elements like raw wooden decorations
Dining rooms set in front of roaring fires
And chairs piled high with cosy textures
Geometrics crackers with tartan checks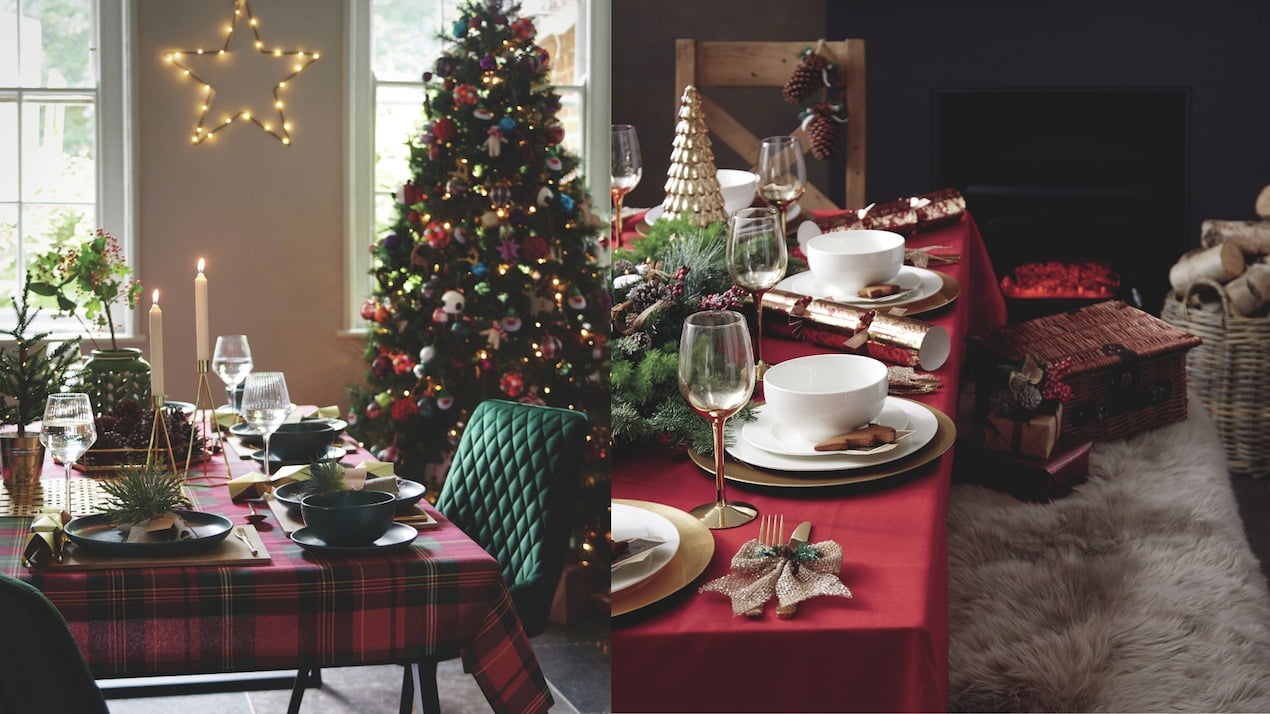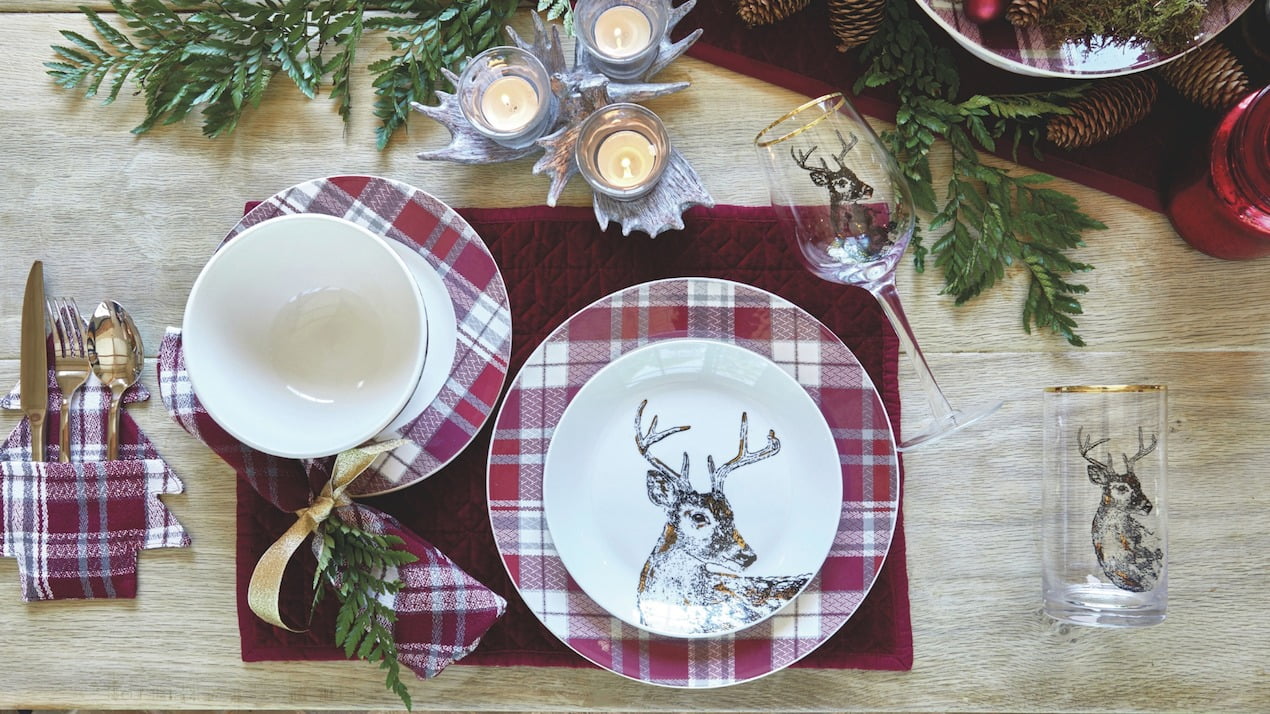 How to style this trend…
1. Soften the look of your table by using fabrics. Layer by placing a tablecloth, then a Christmas table runner, then napkins on top.
2. Try mixing and matching your crockery. To embrace this trend, go for ones with tartan-pattern plates with bold red designs or ones with a woodland motif.
3. At each place setting, tie each napkin with a length of twine and add a sprig of berries.
4. Instead of placemats, use log slices for a rustic feel. The Range sell them for £3.99 each.
5. Group together church candles, pine scented candles and sprigs of fir as a table centrepiece. Or use a wreath as a centrepiece with candles in the middle.
Shop the look…
This trend was huge at Next (the images above are from them). As well as Sainsburys Home – you could pick up baubles when shopping for mince pies! If you want to invest in new china and glasses then I would suggest you try HomeSense and Marks & Spencer for affordable pieced to give your table festive feels.
Images: Next.
Icelandic Winter
This has to be my favourite look. It's completely inspired by Nordic countries, with highlights of natural greenery, silver and brushed gold. It's a very natural, relaxed grown up look that brings the winter garden into the home with fresh foliage.
Think of…
Eucalyptus, firs and snowberries in vases on your table
Faux fur and sheepskins thrown over chairs
Simple white crockery for an elegant feel
Metal furniture if you really want to embrace this trend
Silver and burnished metallics when it comes to cutlery, vases, glassware
Snow-tipped accessories for that frosted look
Hessian, sack cloth and jute table linens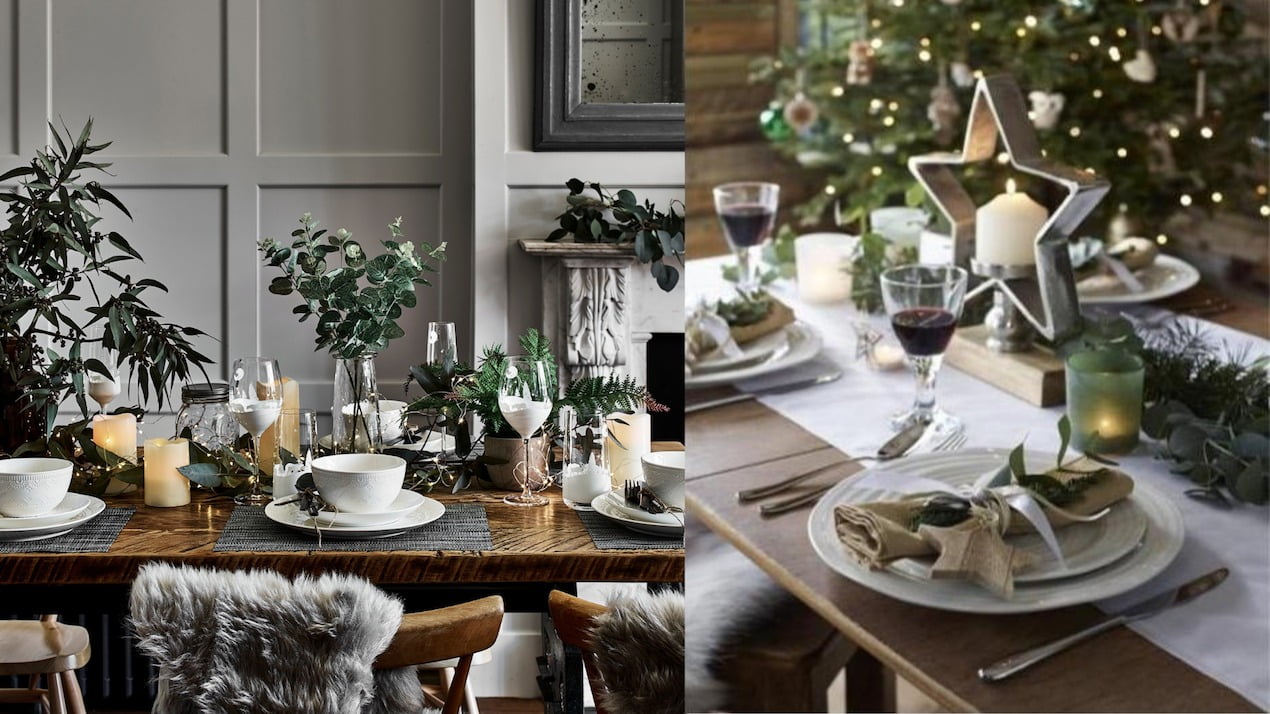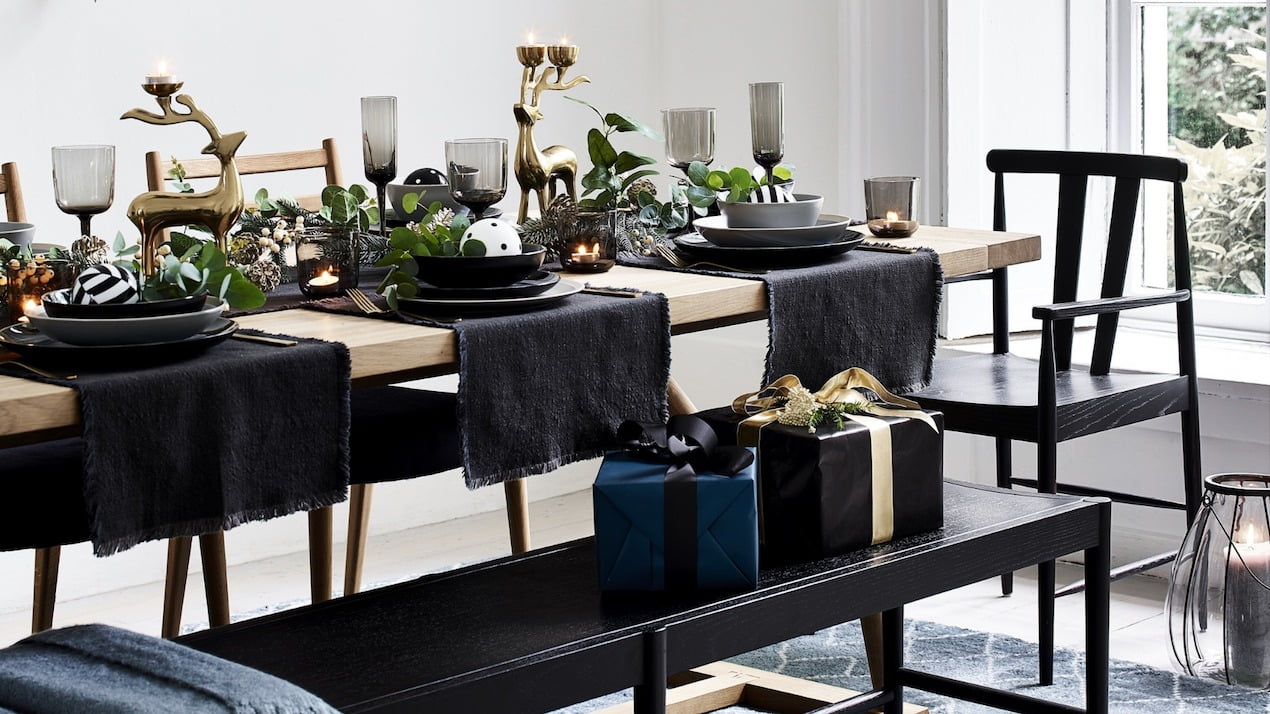 How to style this trend…
1. Natural materials are perfect for this look. Pick a few table runners in raw linen or hessian in shades of charcoal, black or white.
2. Place sprigs of eucalyptus along the centre of your table. Then wind in battery-operated fairy lights for a centre sparkle and add tealights in Christmas scents such as fir and forest.
3. This look is all about simplicity, so place bunches of foliage in glass vases in a mixture of heights in the middle of your table. You can always use small wooden boxes to place plants in for added height to the centre of your table.
4. Layer up plates, then top with a napkin. Or, put a bowl on top and pop a decoration in there for fun. Let any colour to your tabletop come from the greenery rather than your crockery or glassware.
5. Keep chairs cosy by hanging faux furs over the back of a few, and cushions on any hard seating.
Shop the look…
High street shops like Debenhams , Dunelm Mill and Zara Home all heavily featured this trend. Cox and Cox have some beautiful luxury crackers (£45 for 6) that are ideal for this trend that you can see HERE.
Images: Debenhams & George At Asda.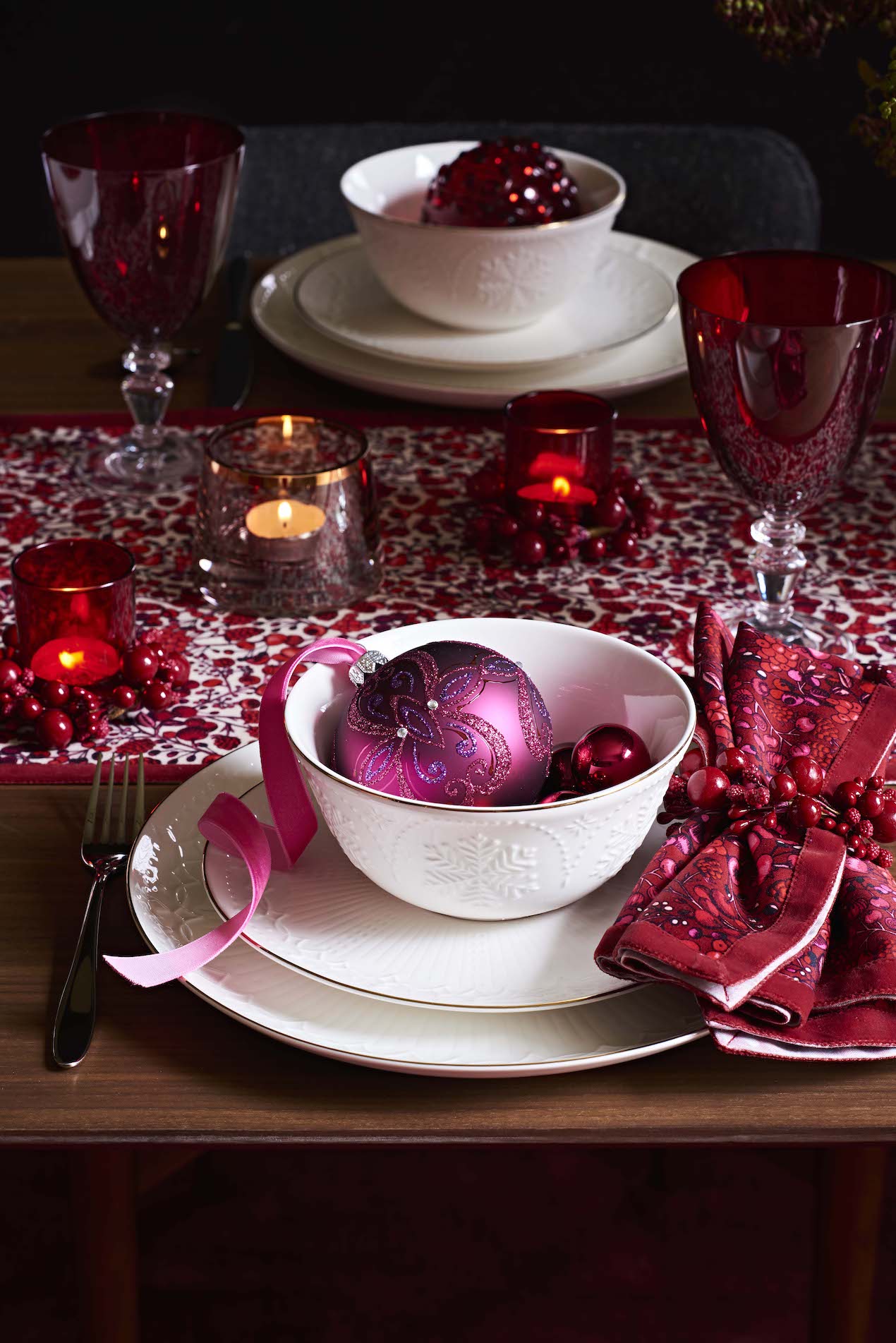 All That Glitters
This trend is so feminine, with lots of sparkle and soft pastel shades. I first saw this at the John Lewis Christmas preview in July and it instantly caught my eye.
It's all about invigorate senses with ripe pomegranates, bright berries and then indulging in rich velvety textures in bold blush tones. It's a great look if you want to switch up your dining table for New Year. This looks would work so well for a grown up Christmas where glamour is key.
Think…
Rose gold, champagne and silver flutes and goblets for your NYE toast.
Blush pink, mauve, icy blue and iridescent colourways with baubles scattered down the table top.
Lots of shine and glittery finishes on your ceramic plates, serving bowls and candlesticks
Luxe materials like satin tablecloths, silk napkins, velvet ribbons.
Embellished and bejewelled decorations, crockery and glassware – think bling bling!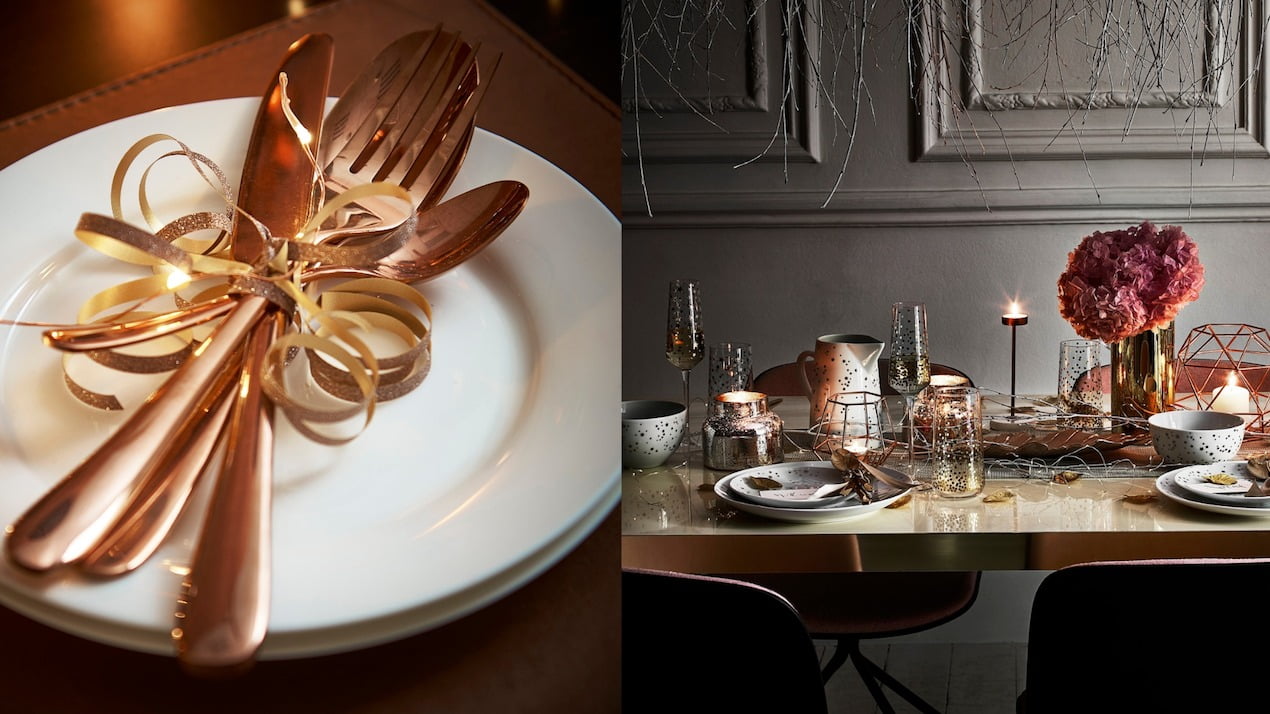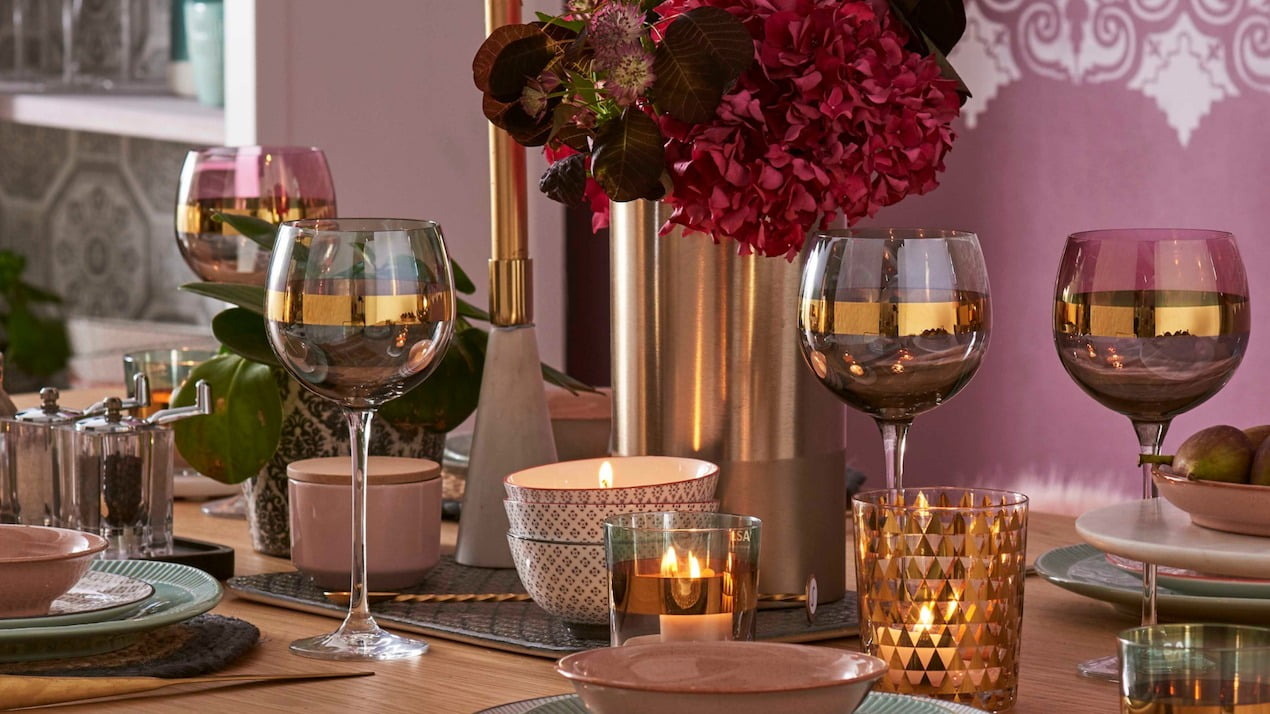 How to style this trend…
1. Layer up your table with a glittery tablecloth, followed by elegant beaded placemats. Alternatively, why not make your own placemats in a by cutting your chosen material into rounds?
2. Go all out with glitter and sparkle, from fairy lights and pink-coloured tapered candles, to glittery crockery and metallic cutlery in shades of rose gold, copper, or gold.
3. String beautiful glass decorations from lengths of ribbon and then hang onto an overhead chandelier. If you don't have a light fitting above, try suspending a large branch from hooks Instead – you could always spray it in metallic paint first!
4. Tie each guest's cutlery together with a small velvet ribbon and attach a name tag as a place-setting detail.
5. Place a large glass bowl, platter or cloche in the centre of your table and fill with a mix of your favourite baubles as an sparkly eye-catching feature. Place some of these baubles loose on the table too, clustered together.
Shop this look…
You need to look online to track down accessories for this look like Very, Wayfair or H&M all have great buys that will slot into this look. I love H&M for homewares as they are so on trend and affordable. For beautiful glasses in these colours try LSA International.
Images: John Lewis. Good Homes magazine. Wilkinson. George Home.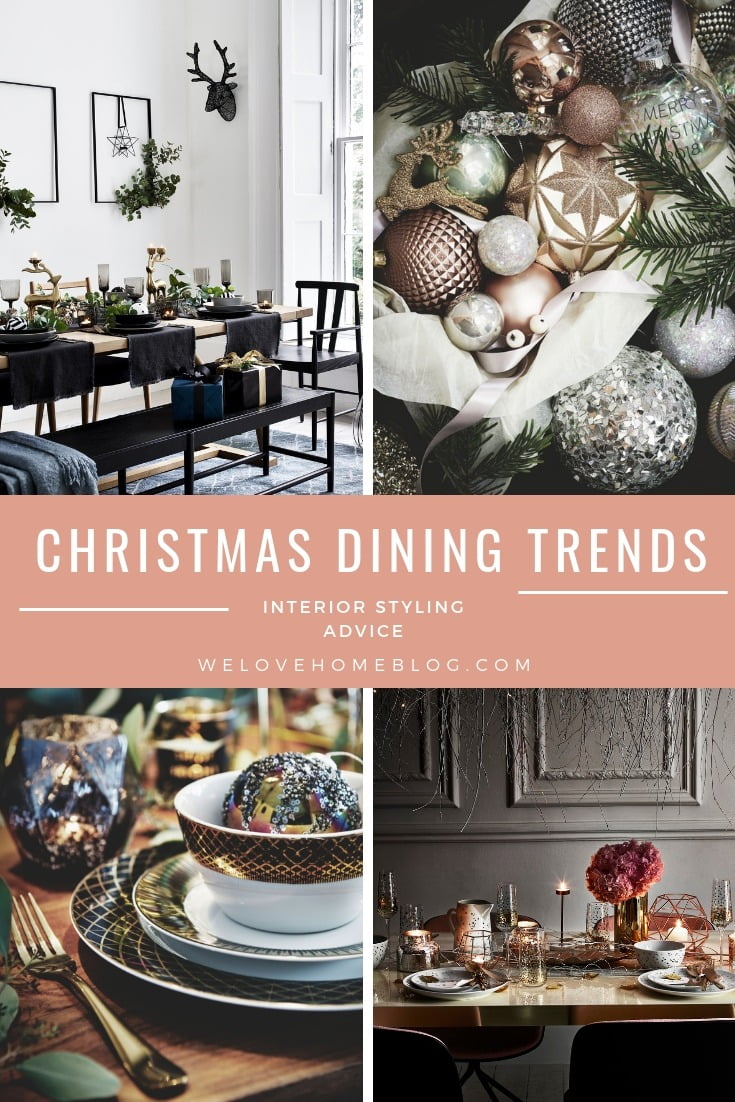 Which Christmas dining trend to you love most? I'd love to know which one is most popular. Please put your comments in the box below.
The Secret Styling Club has lots of exciting styling events in the pipeline, so keep checking back the blog HERE and I'll keep you posted. Or follow me on Instagram as I'm always sharing the news over there.
Have a wonderful time adding sparkle to your table this Christmas with these ideas!
Love
Maxine
You May Also Like
Christmas Interior Styling With Next
4 ways to style your Christmas dining table with lights