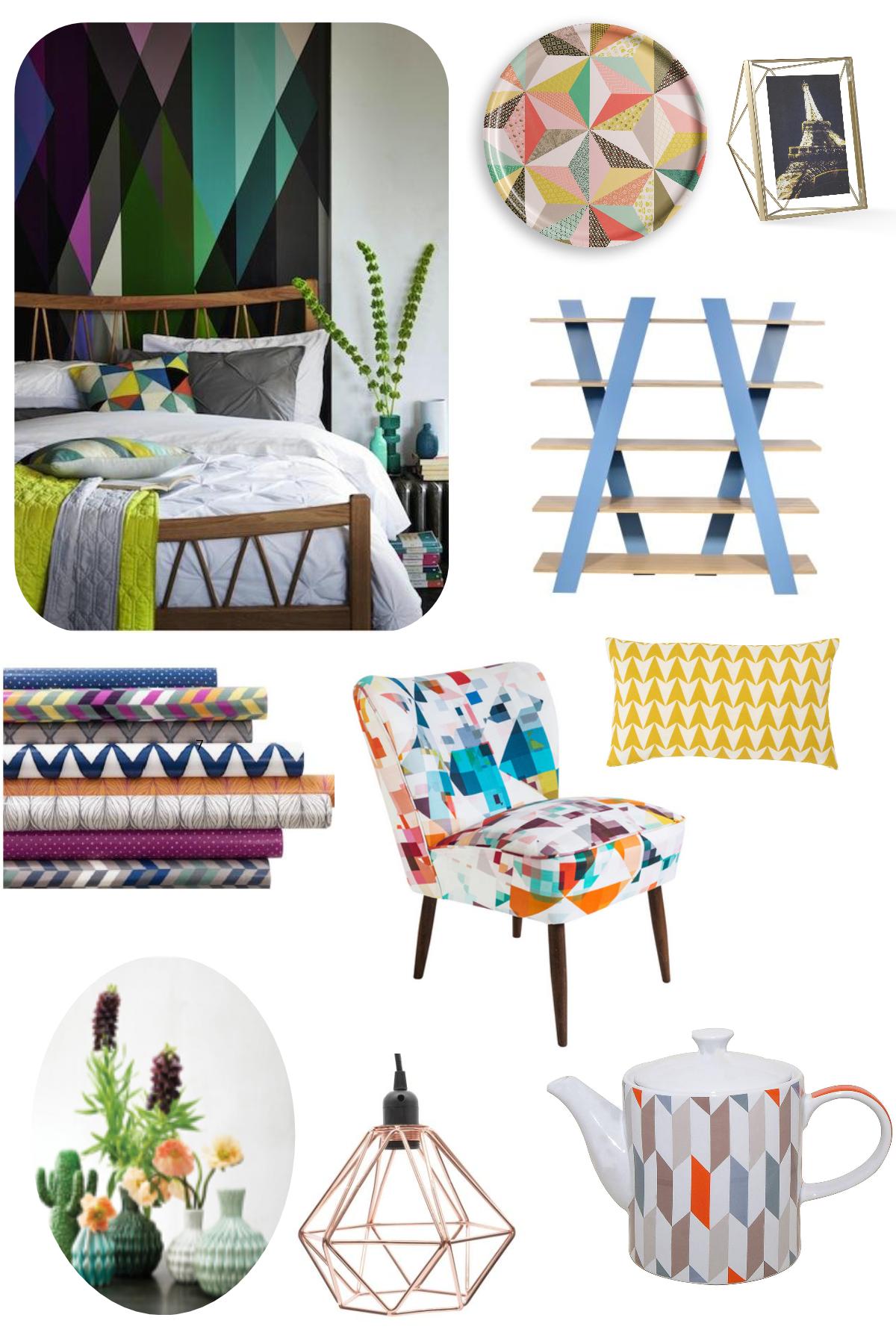 Sharp lines and cubic shapes. That is what we are drooling over this month. Geometric patterns and prints add modern patterns instantly update a home from so-so to Super-Doopa!.
[clockwise from top left]
This has to be an idea to steal, right? Painting bold geometric shapes onto your bedroom wall. Very modern. I think to get a polished look, I would look for a digital wallpaper in a similar design. Love the hit of acid yellow in the bed linen from Debenhams. The Ben De Lisi cushion is in the sale right now for £22.40 if you want an easier update!
I love a tray as a centre piece of my dining room table. This one from The Wise House will add colour and pattern for £22.50
Coppers and rose golds are still a hit for the home. I love this Frame by the design team at Dwell, £25. it will make my iphone snaps (whenever I get round to printing them out) look sharp..
I always want shelving to be answer to my clutter problems. This one is too good to put anything on! Criss Cross shelving unit, £399, Barker & Stonehouse
My beige sofa is looks so dull up until this moment. Chucking on this geometric cushion £65 from Flock has added dog-tooth style print to my settee.
I love a statement chair – and this one by Florrie & Bill is not the shy, retiring type. You can see it in a minimal setting – adding instant impact. At £595 it's not cheap – but I think it is something that will last for years.
Protect your dining table with oil cloth in geometric patterns for the modern home , £18pm, BoConcept.
I'm on the hunt for kitchen lighting for my next makeover – and I think this might be he solution. Love the simple design and it's going to look fab with my marble worktops. Pendant, Barker & Stonehouse. They are £39 each and I'm looking to do a run of three down my room
Over at WeLoveHomeBlog HQ we always have a huge pot of tea on the go to keep us going when deadlines are looming! This one from Littlewoods is sleek and modern – and only £14 in the sale right now.
In my opinion, a girl can never have enough vases in life. And the more you have, all he better the excuse to have flowers in your home. I adore the finish of these vases (from £15 each) from Graham & Green.
Slowly on Pinterest I've been gathering ideas on how to work this pattern more into my home. I can't get enough of this angular print. There's so many cool ways to add it to your space.
Follow WeLoveHomeBlog.com's board [Trend] Geometric on Pinterest.