My love of travelling in well known. I love to pick up handicrafts, fabrics and art for my home from my adventures abroad. I've got fabrics from Guatemala, art from Belize, ceramics from South Africa…yes, I'm a shoppaholic when it comes to my home.  These little treasures scattered around the home remind me of sunnier times.  But things bought abroad may not look so sharp in your home. It's a tricky balance to mix in batik prints, animal patterns, handiwork and accessories with my exisiting scheme. Here's some key tips on how to mix in your exotic buys into a home.
1/ Ingenious plant pots – Scour the shelves of your store for bright tins of exotic food packaging which you can recycle into colourful plant pots.
2/ Embellish your home – Look out for decorative wooden stamps that you can use to decorate letters or wallpaper and hand-thrown ceramics that can be used as coasters.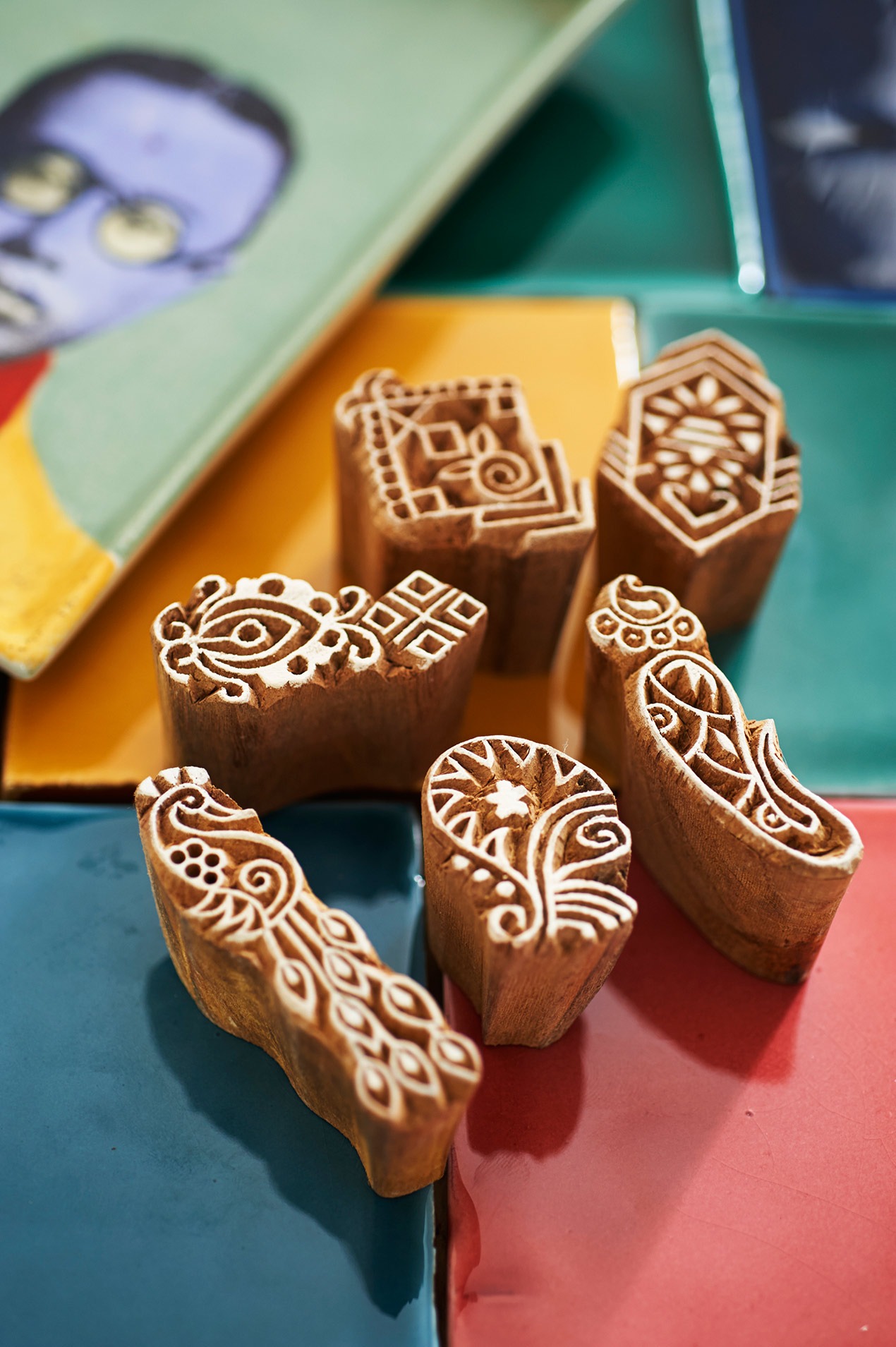 3/Layer up patterns – Display scraps patterned fabrics, bold ethnic prints, batiks and ikats on a rough wooden ladder adding colour to your home.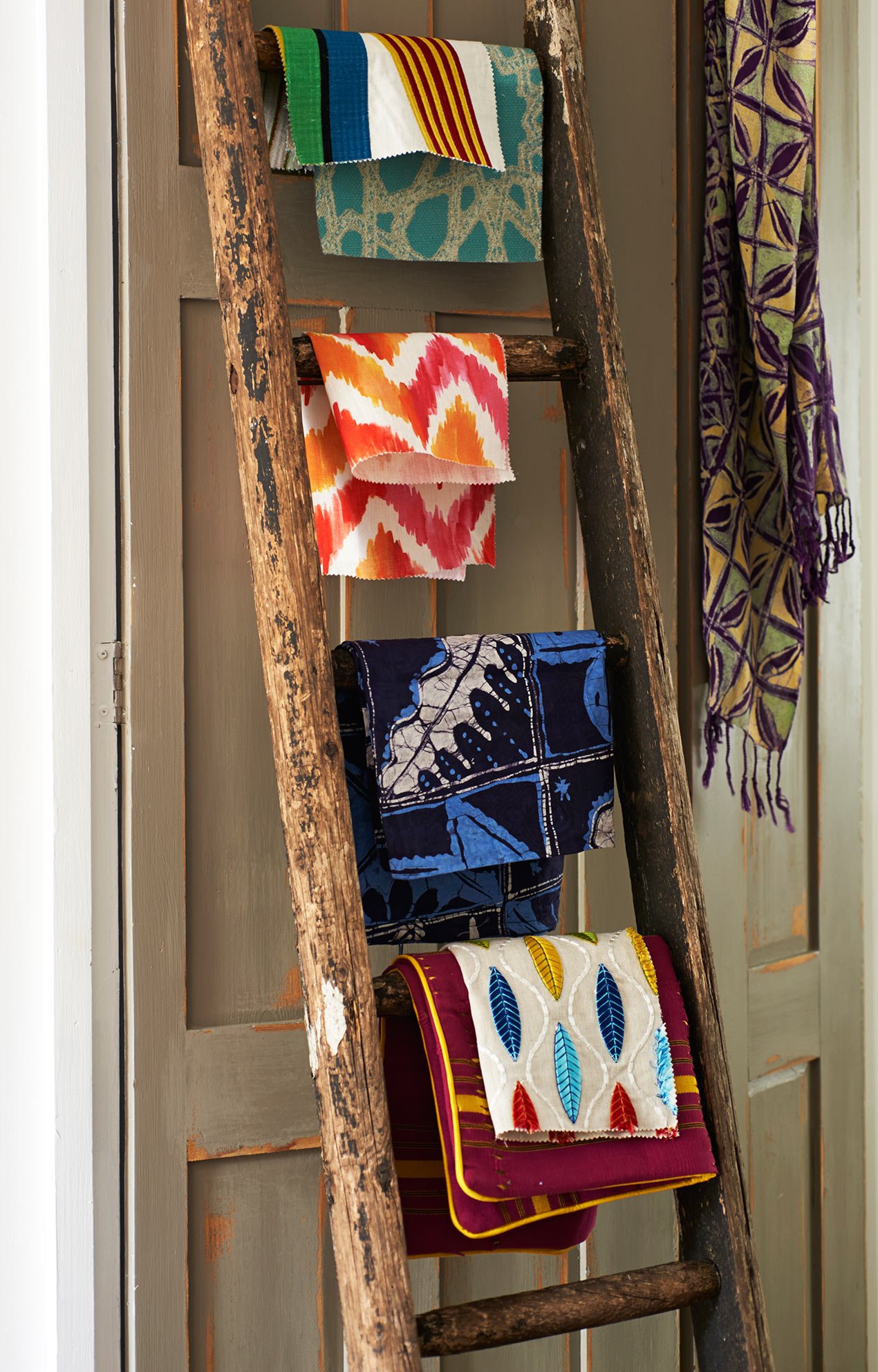 4/ Celebrate the unique – I don't like to follow the crowd. I pick up handicrafts or little characters to pop on shelves. These little characters are crafted from the seedpods of the star chestnut tree. They make a colourful little flock on a mantlepiece.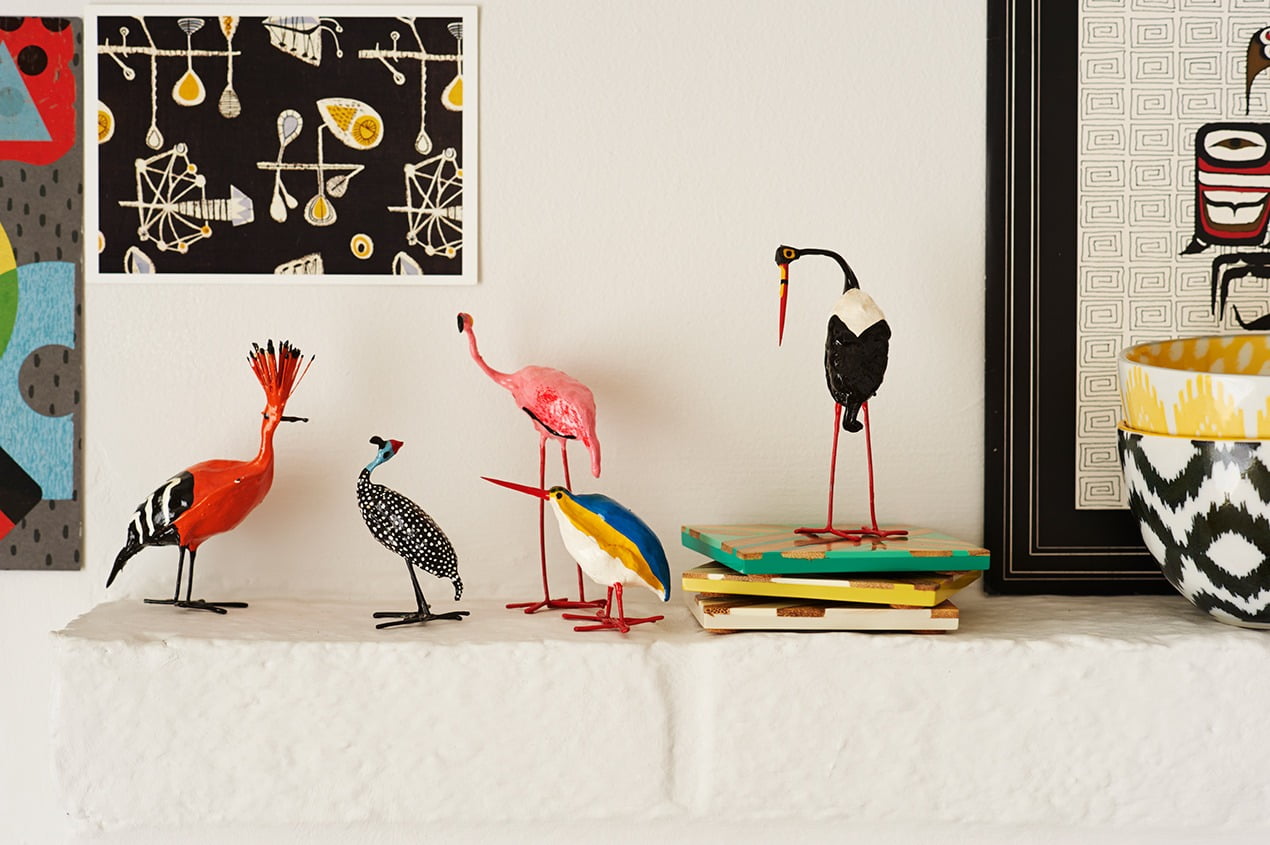 5/ Add handwoven textures – Natural textures give homes an urban ethnic edge. Simple wooden furniture layered with embroidered cushions. Stash winter woollens in woven sea grass baskets of all shapes and sizes. Give walls personality with straw animal heads.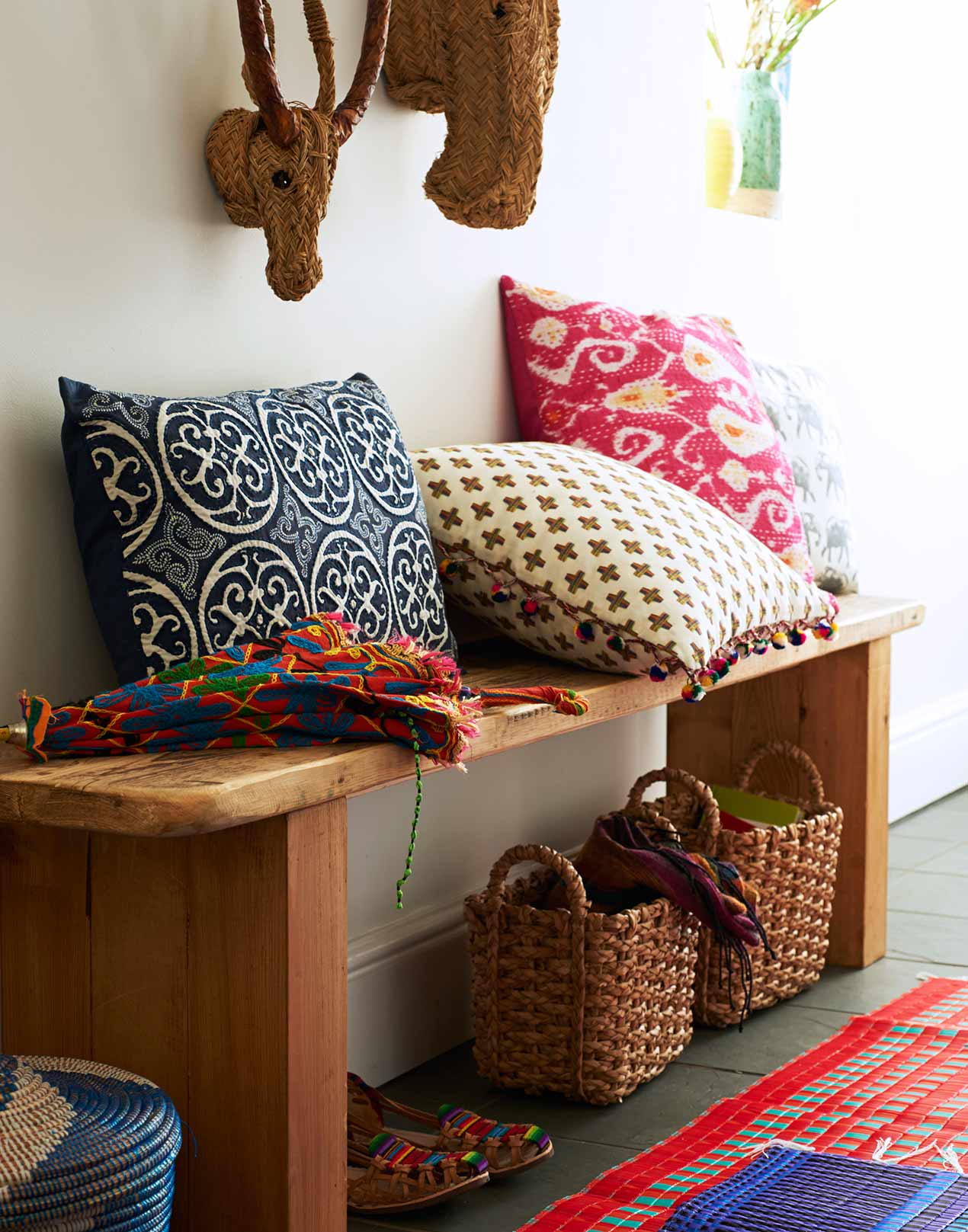 6/ Boho beautiful – God I love this bed…it looks so inviting. Give your bed a grown-up, lived in, eclectic look with beautiful textural bed linens in strong prints. I'm addicted to soft cotton hand-stitched throws from countries like India, Morocco and Africa. Don't be afraid to add more and more pattern. This look is not for the shy – embrace your inner boho with felt, pompoms and printed ceramics.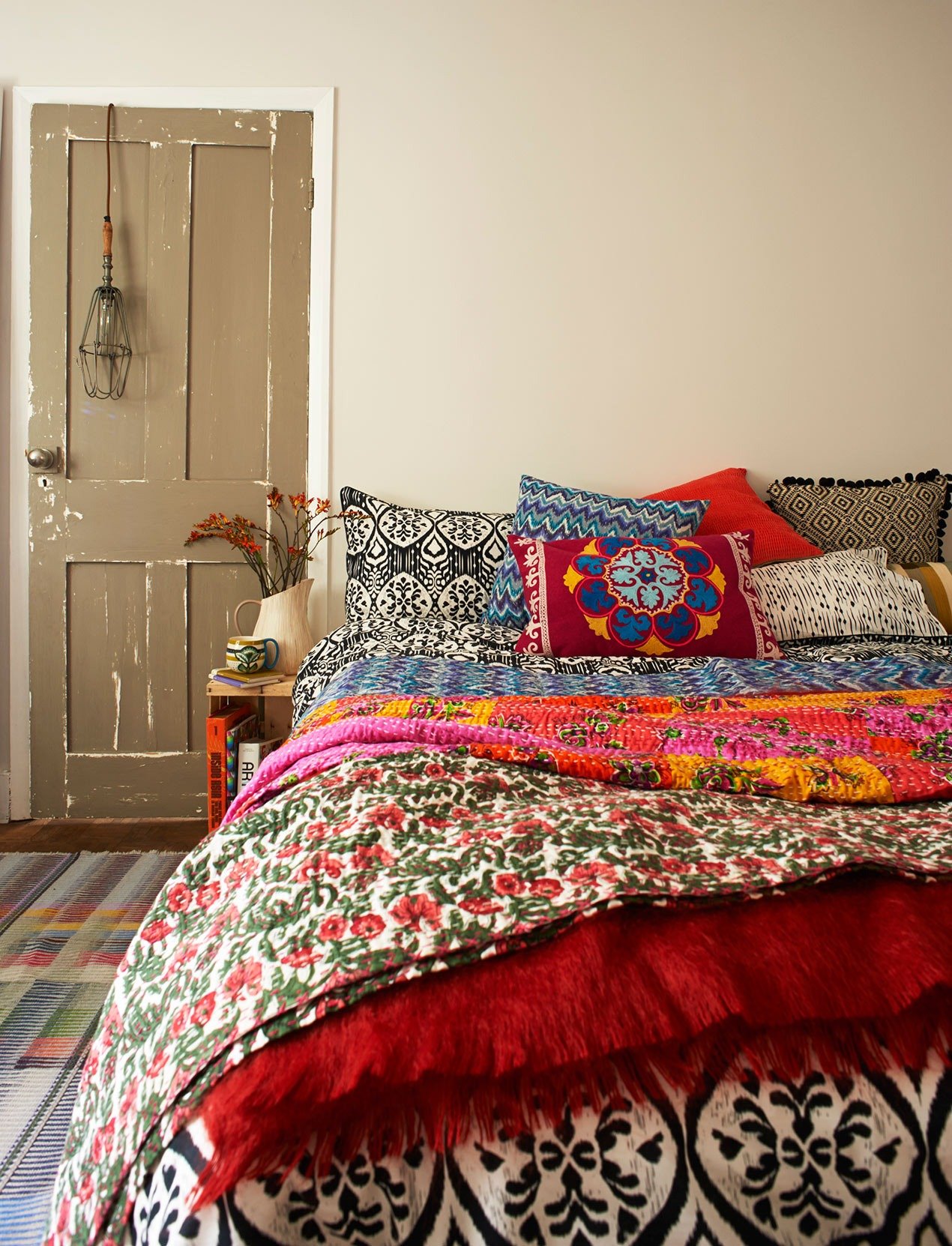 7/ Re-think plastic – Woven plastic mats will add colour and bold, vibrant pattern to wooden floorboards.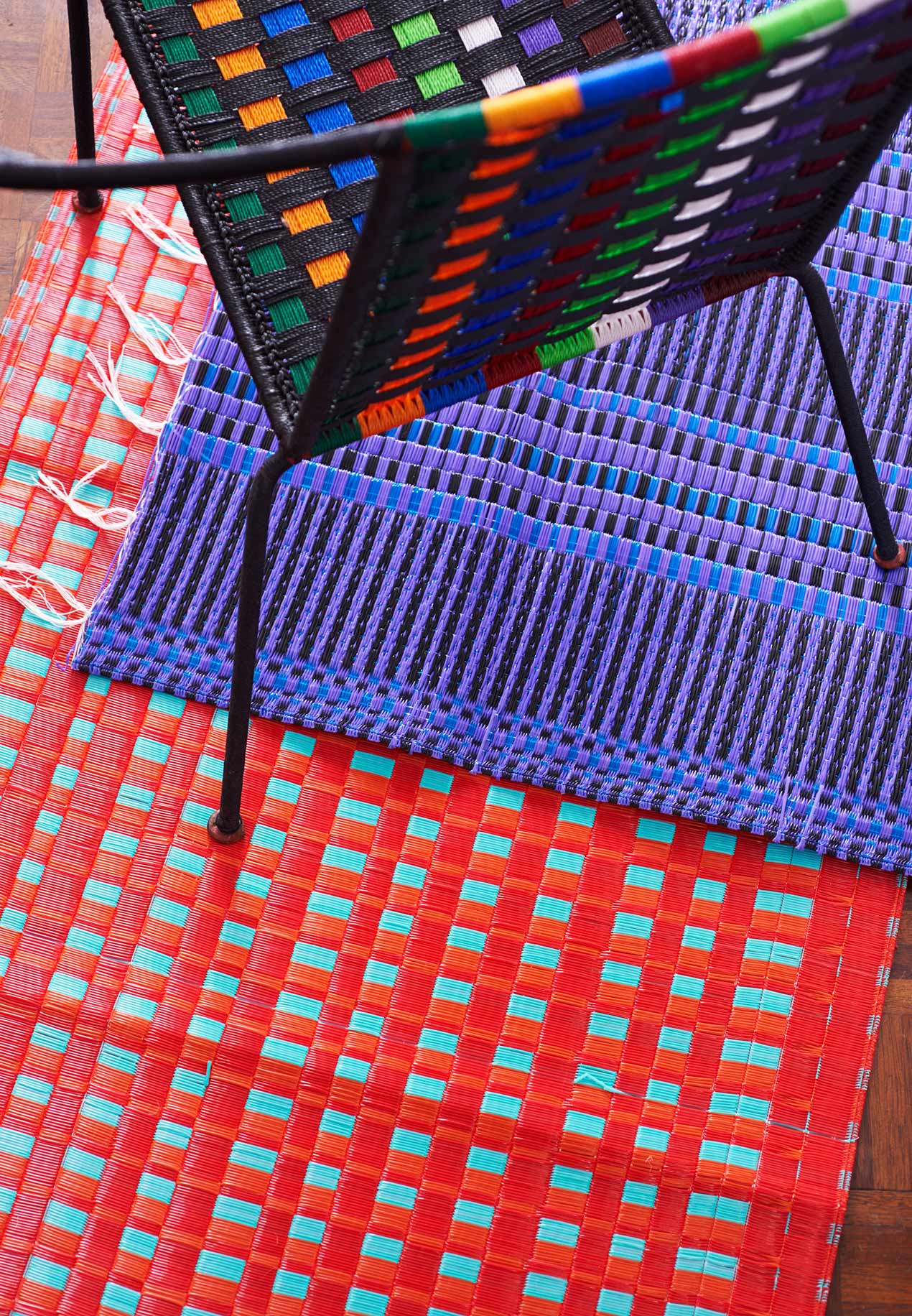 8/ Reinvent the everyday – Be clever, seek out the unloved and unwanted and create something useful again. Here a packing create has been transformed into a coffee table, an idea I saw in Cape  Town.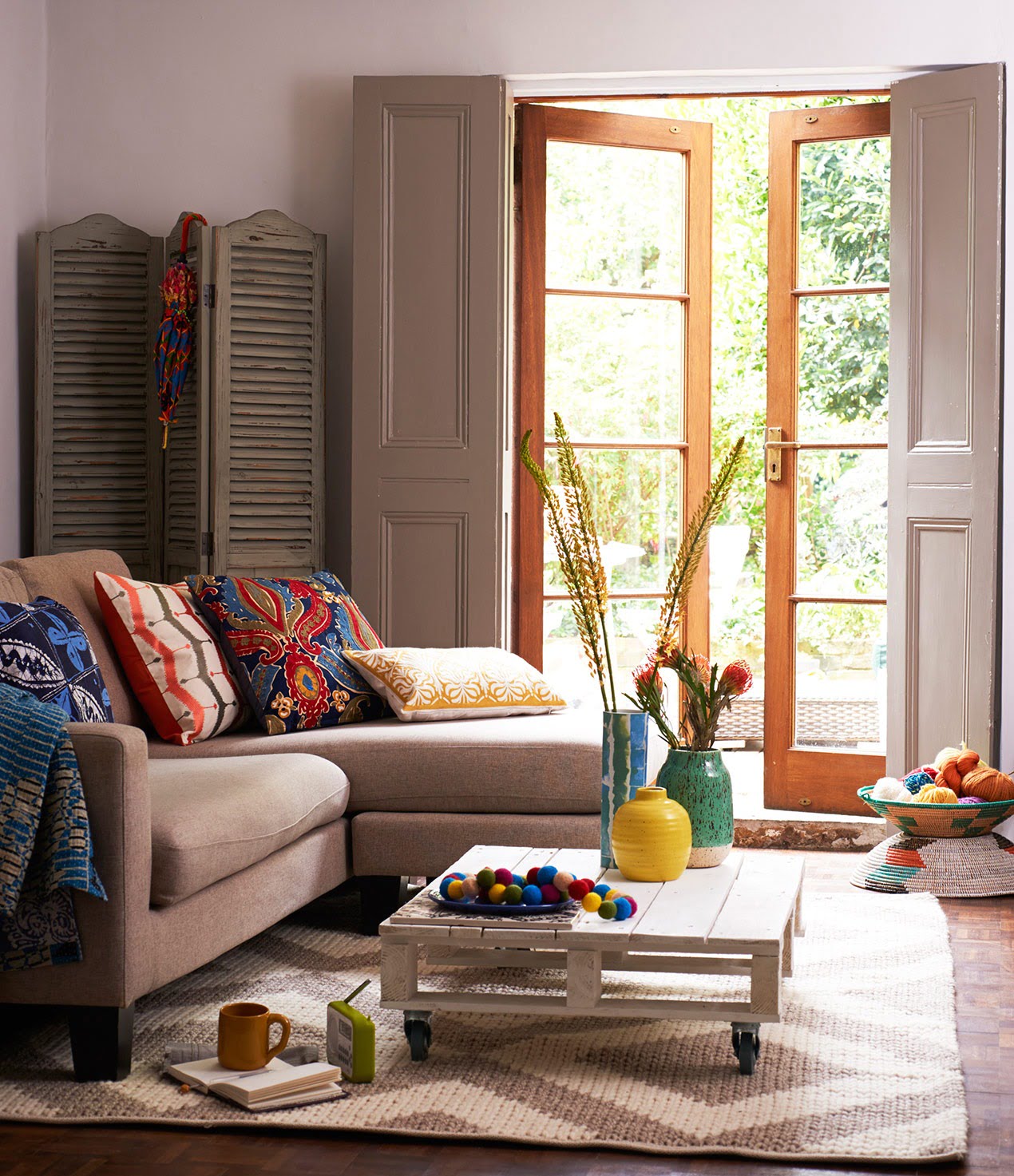 9/ Recycled treasures – I look out for recycled materials like a cola can-covered tray for a splash of colour on your coffee table.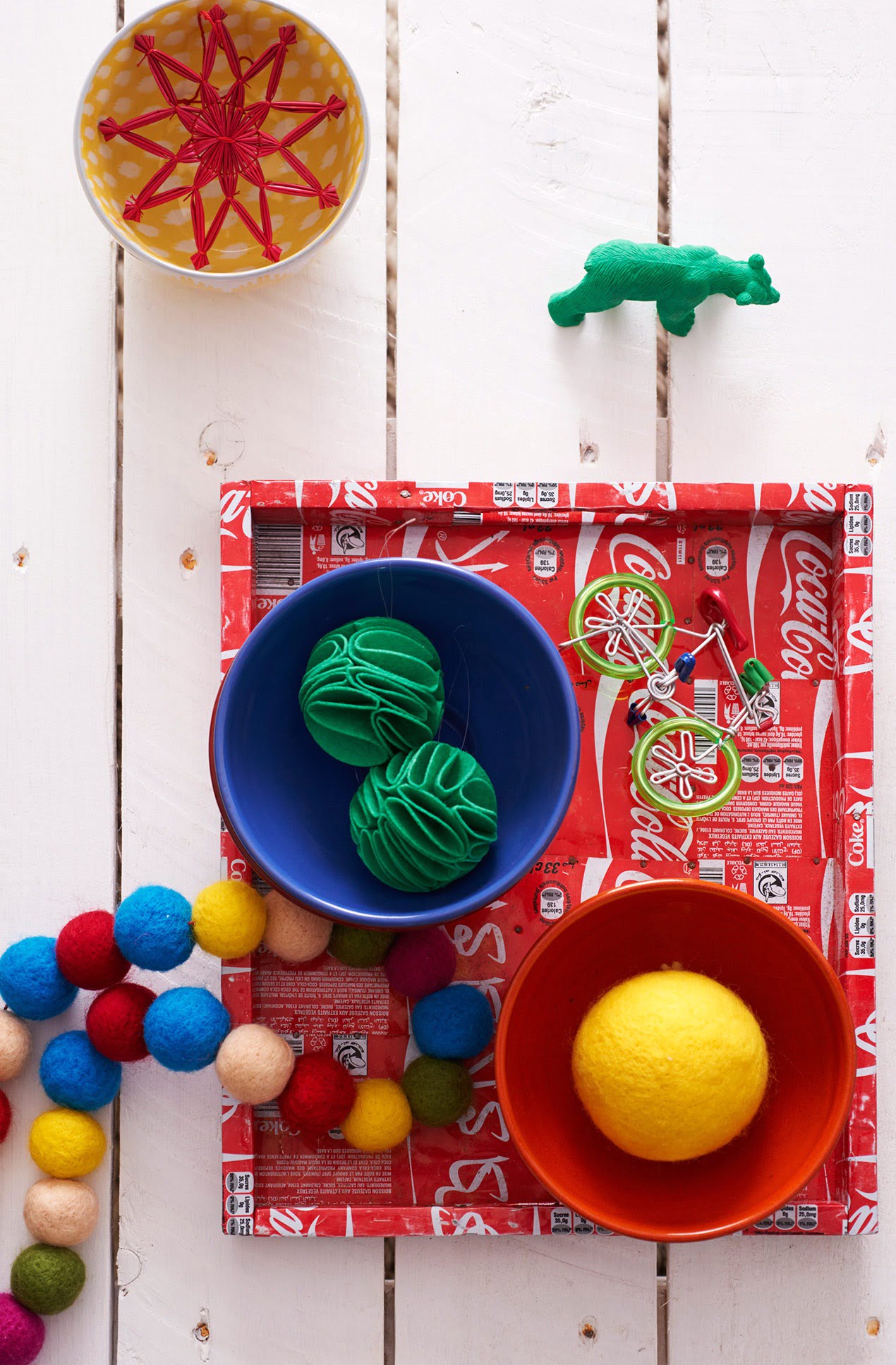 10/ Get crafty – This I made from driftwood found on the beach. I've made it a handy hook with a piece of paint and decorated with wire and wool.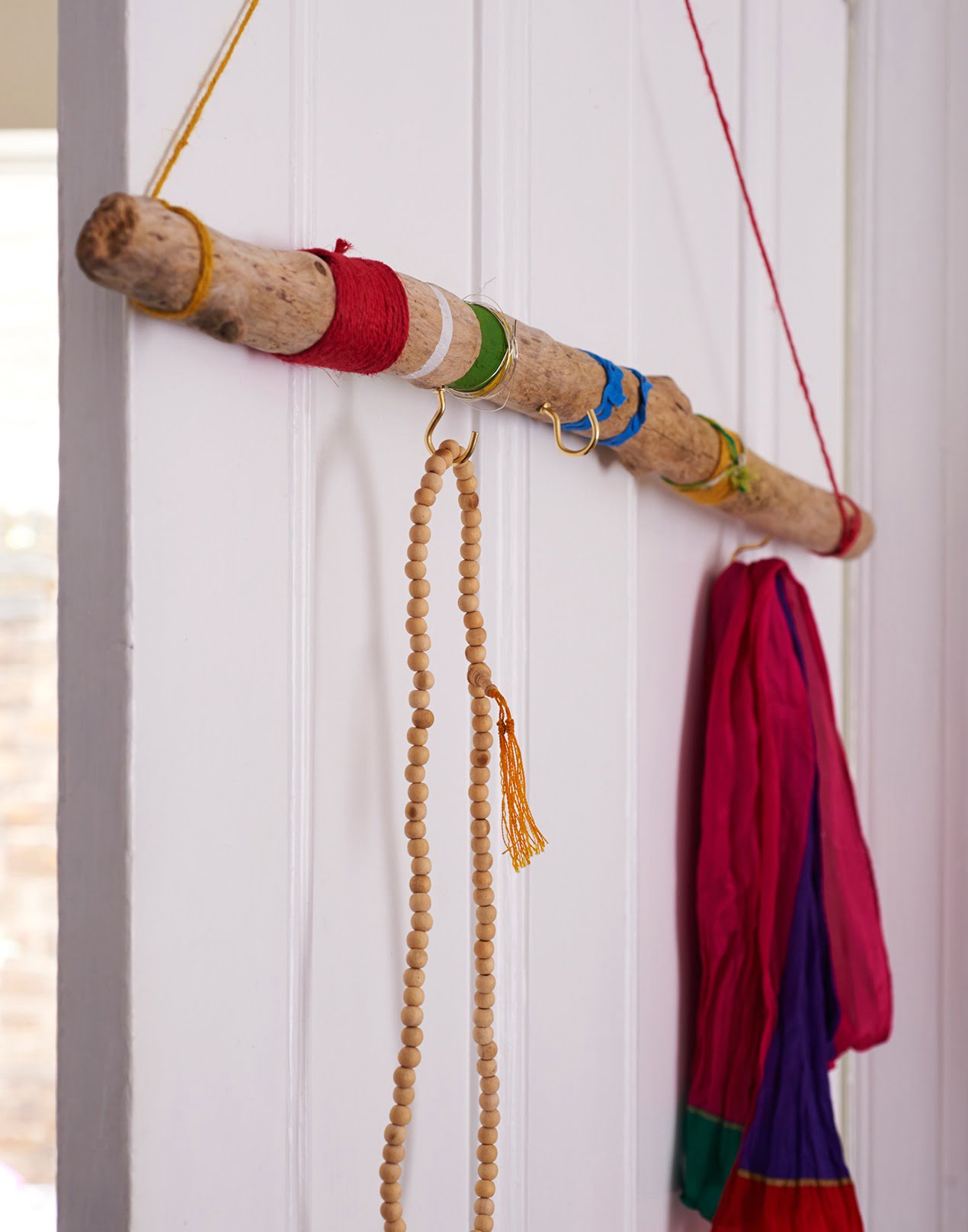 11/ Brighten up with paper mache – Handmade lampshades from paper mache bowl add pattern that will illuminate your home.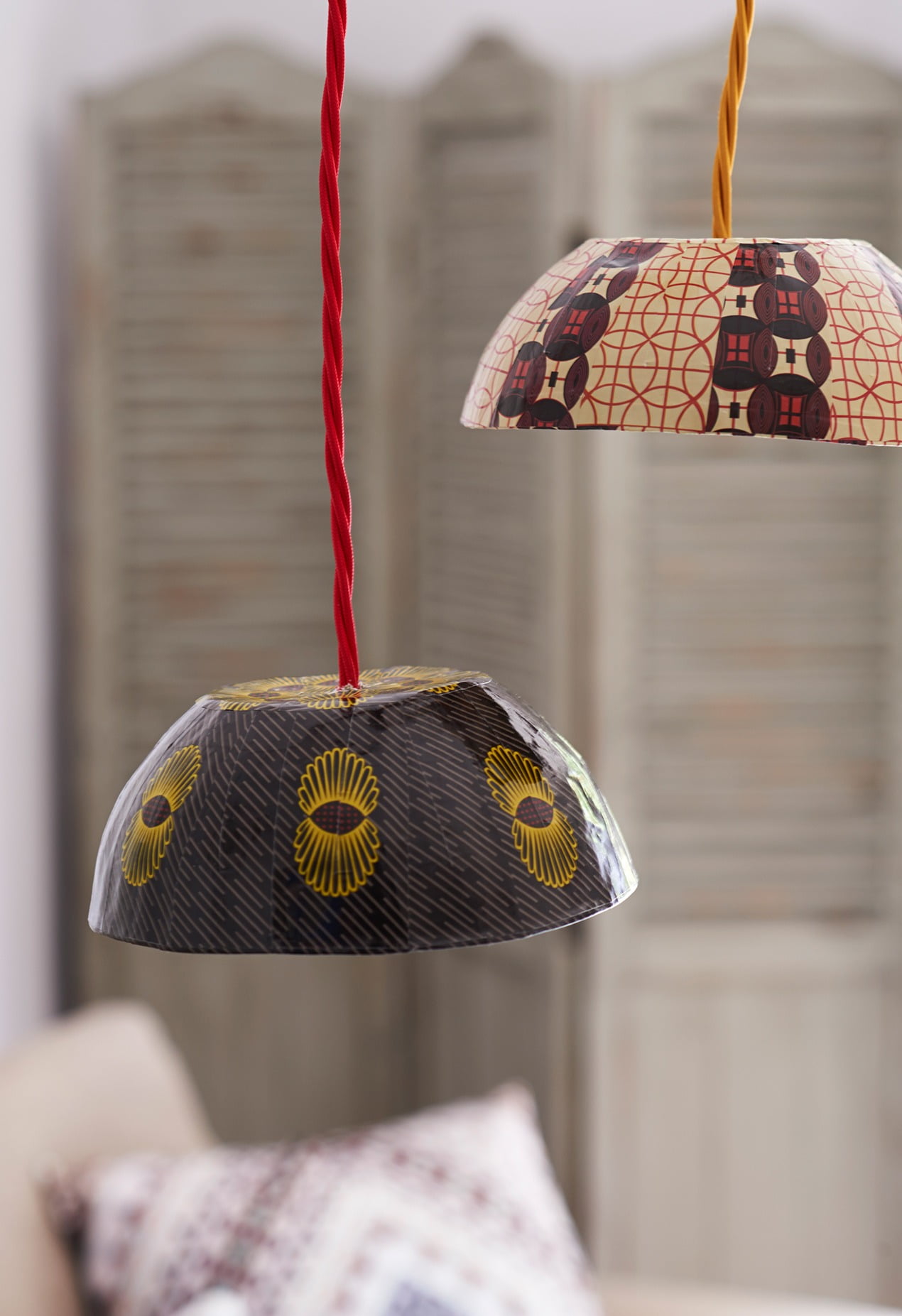 12/ Highlight a collection – Stack up beautiful coloured ceramics. Look out for bowls with a textured finish or with a hand-thrown feel.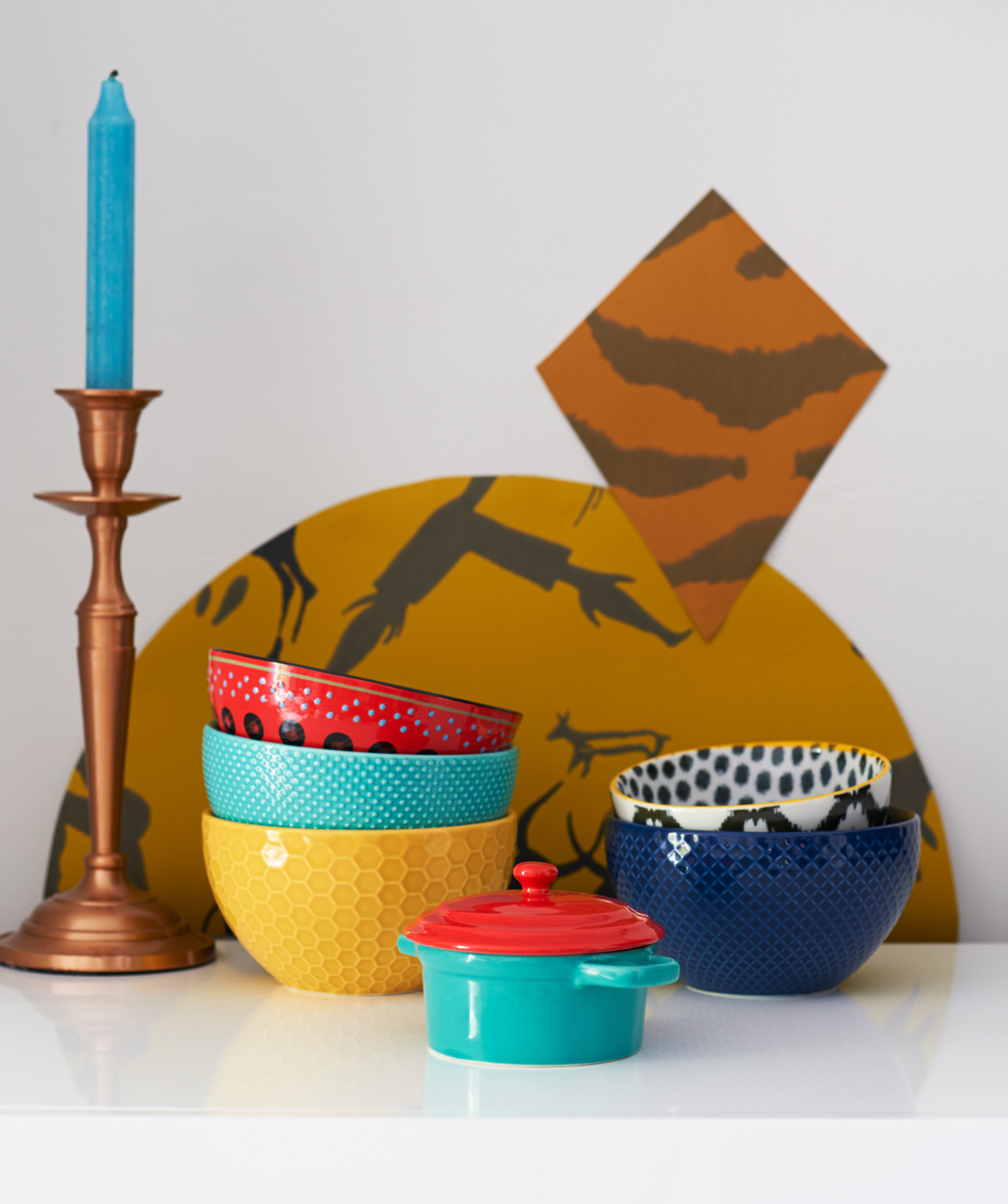 13/ Woven patterns – Group together woven baskets with warm hues to add to your home. We all love storage!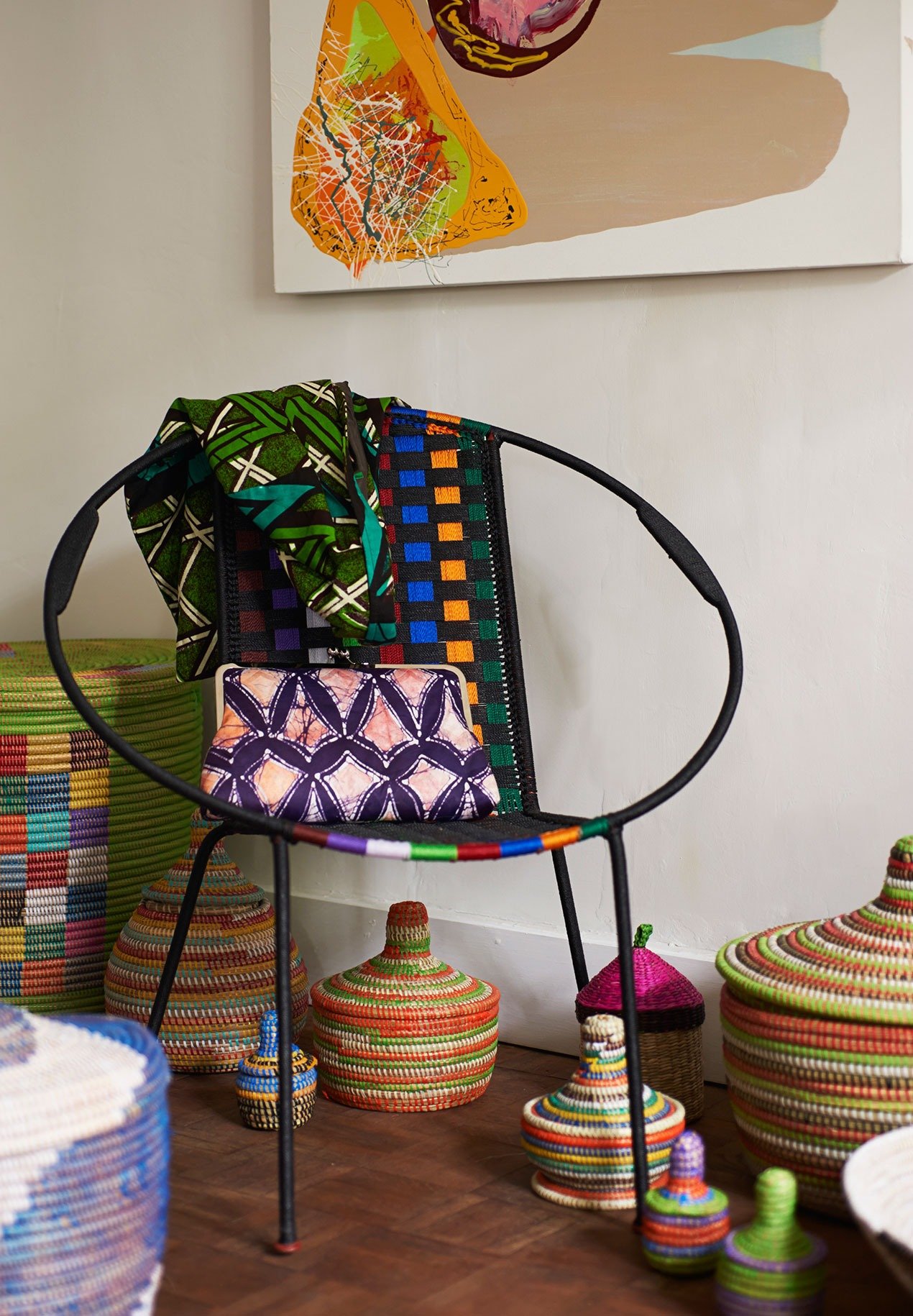 [Shop the look] Succulent cups, Chive. Stamps, Rainbow Silks. 'Cotignac' tiles, Fired Earth. Dish, Ville & Campagne. Purple shawl, UrbanKnit.com. Carriacou fabric, Pierre Frey. Tangier fabric, Donghia. Reza fabric in Raspberry by Voyage. Blue cushion cover, UrbanKnit.com. Lateef fabric, Voyage. Fuchsia cushion, Urbanknit.com. Birds, West Elm. Post cards, Paperchase. Coasters, Anthropologie. Printed bowls, West Elm. Straw heads, Re-found. Umbrella, Indian Parasols. Blue cushion, Sainsburys. Cushion, Anthropologie. Pink cushion, Graham & Green. Elephant cushion, Dunelm Mill. Basket, Malika. Straw baskets, Sainsburys. Throw, Toast. Woven mats, Malika. Vases, Habitat. Bench, for similar try Raft. Utility light, Plumo. Jug vase, Marks and Spencer. Mug, Anthropologie. Tribal bedding set, M&S. Pink cushion, blue cushion, Graham & Green. Orange cushion, Habitat. Pompom cushion, M&S. Crewel cushion cover, West Elm. Blue throw and orange floral throw, red & green throw, Malika. Orange throw, Toast. Triangle weave throw [used as a rug], Toast.  Jacket, Toast. Blue cushion cover, UrbanKnit.com. Embroidered cushion, West Elm. Crewelwork cushion, Sainsburys. Plate, Toast. Felt baubles, Sainsburys. Radio, Roberts. Mug, Toast. Book, Anthropologie. Woven baskets, Malika. Wool, from a selection at Hobbycraft.  b, from M&S.  Tray, Malika. Wire bike, Re-Found. Bowls, Toast. Straw star, Sainsburys. Bear, Tiger. Driftwood branch, Julia's Driftwood. Acrylic paint set, Hobbycraft. Bowls, Delve. Flex, Re-found.  Red bowl, Anthropologie. Copper candle holder, Sainsburys. Altamira and Bengale wallpapers, Pierre Frey. Pink Woven pot, TCL. Plastic chair, Malika. Green blazer and clutch, urbanknit.com.
With thanks to:
1st Option who helped us find the perfect location www.1st-option.com. Photos: Andrew Boyd. This feature first appeared in Heart Home Magazine in October 2014.