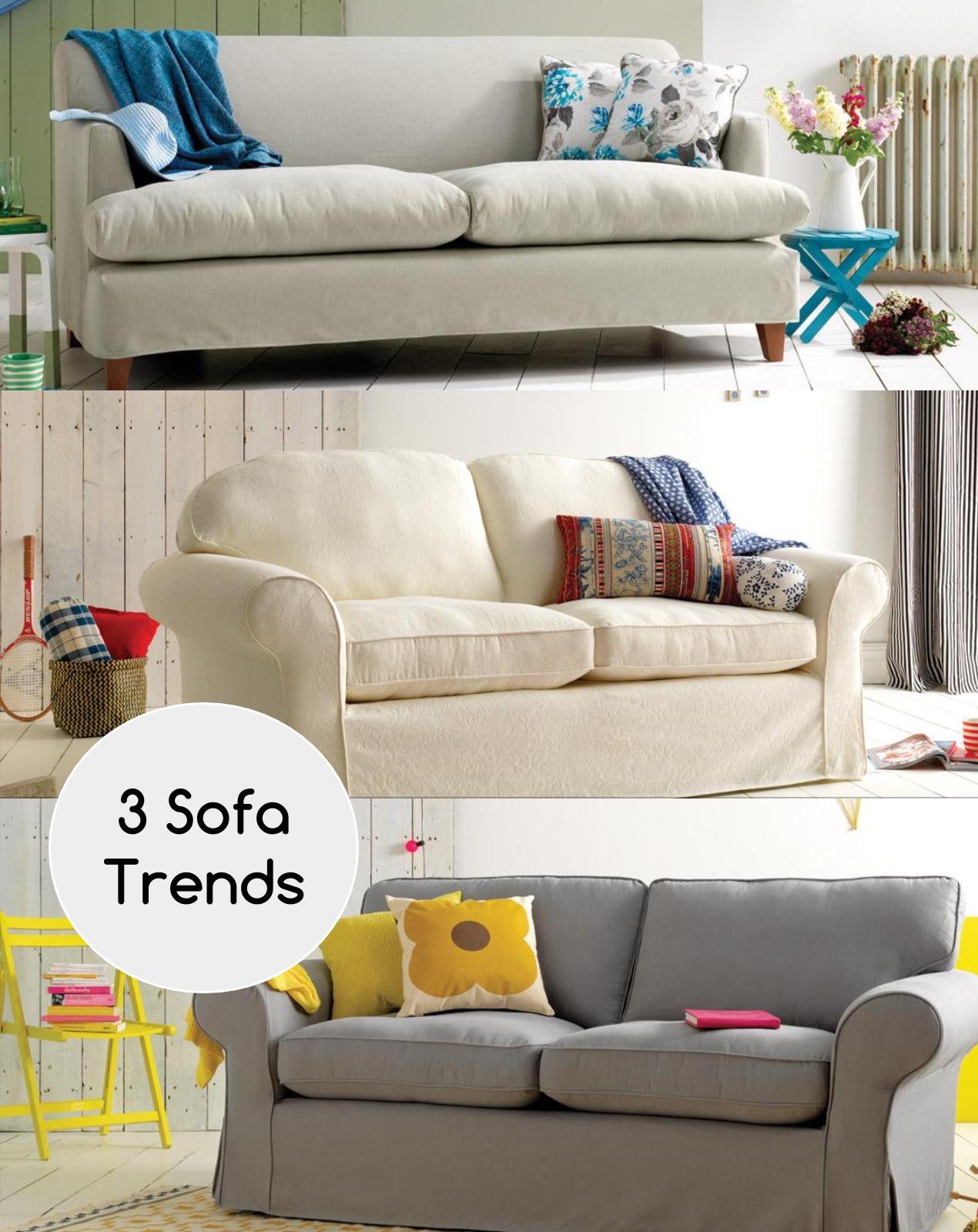 Now that my living room is almost finished, I thought it would be fun to show you a few different looks to style your space by switching around the cushions and playing around with throws and accessories. I've decided to show you three colour looks trending for summer which I know you are just going to love.

The hero of my living room is my recently updated sofa (which you can see here).  My sofa is my blank canvas where I can make a few small changes and a couple of tweaks to make a big difference to the overall look of my living room. It's really fun to chop and change things – that is why I wanted to share with you my pick of the hottest colour trends that you can try out at home too.
Go Indigo
Blue is my favourite colour of all time – that is why this Indigo trend is such a hit with me. It goes with everything and you can add so many colours to the mix like pinks, oranges or sage greens. I like to start with a chunky chenille throw to snuggle under (and to add a splash of colour), chuck on a couple of floral cushions for that country vibe. Try painting furniture for the authentic look – don't you love the green legs on that Ikea stool that look like they have been dipped in paint? I tried that in my bedroom. This sofa above is very similar to mine – I'm a big fan of squishy cushion pads and an hard upholstered back. Finish off the look with vintage accessories like the jug and rug, and you are good to go.
Feeling Brave? Why not paint your floorboards with white. It will completely change the look of your room, giving it that country vibe. I love Farrow and Ball's floor paint.
Sunshine Shades
Let the light into your living room with this bold yellow trend which is like pouring sunshine pure into your home. Start at the floor with a colourful patterned rug. I love a scatter cushions as they are an affordable (and easy) way to jazz up your sofa in an instant. Instead of a side table, use a painted chair which you can fold out the way when not in use. My favourite touch? The circus-style festoon lights dangling down the wall.
Feeling Brave? Paint half your wall in a band of colour. Go as high as chest hight to give the impression that you are swimming in yellow. My colour pick – Pursuit of Happiness by Valspar.
MODERN BOHO
You can't beat a classic colour trend like reds and creams. This look has been brought up today with an ethnic edge that I just love, don't you? The key to this look is to mix your prints, adding checks with spots and floral motifs. I'm a big fan of the stripped curtains too, adding pattern to the windows. Keep clutter under control with a couple of handy baskets to stash away all life's stuff.
Feeling Brave? Clapperboard your walls. Oh, yes – that's right, wood on walls. Using a nail gun fix wooden planks to wooden battens to make a grooved effect. Then wax with an hard wood oil (I use Blanchon – it's the best).
So what do you think? Are you feeling inspired to give your living space a little overhaul. I'd love to know which is your favourite Summer trend look.

** Disclaimer: This post was in collaboration with SofaSofa. As always thoughts and opinions are all mine ?