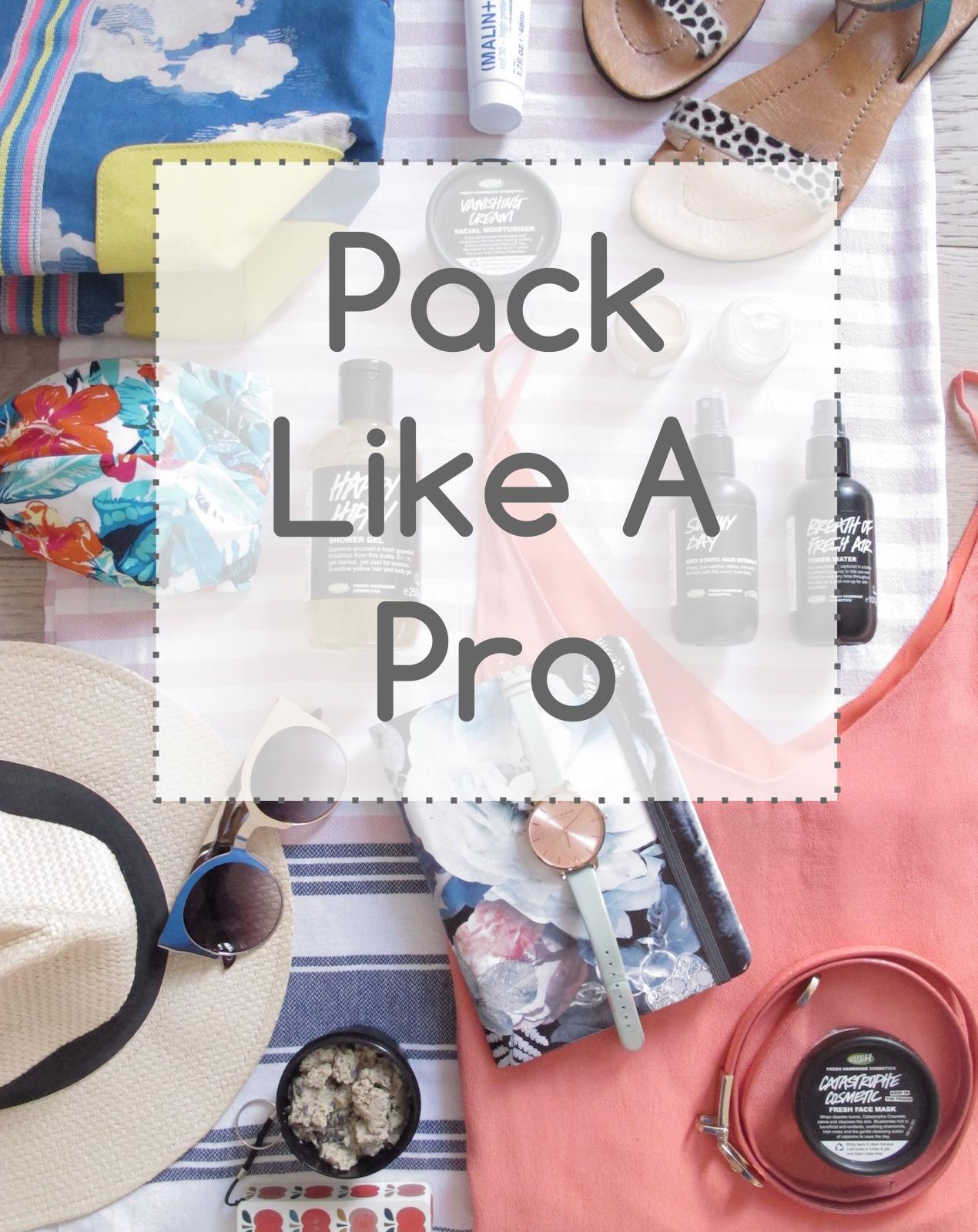 I travel A LOT for work (and fun) and I have become a bit of a pro at packing my life into a suitcase. For years, I would pack all the wrong things and turn up at my destination looking crumpled, with all the wrong clothes and missing all the things I actually needed. Not any more! I've honed my packing skills to an art form. I want to share these tips with you so that you too can achieve packing-perfection – inspired by my latest shoot with the Sunday Times – and arrive on holiday looking amazing.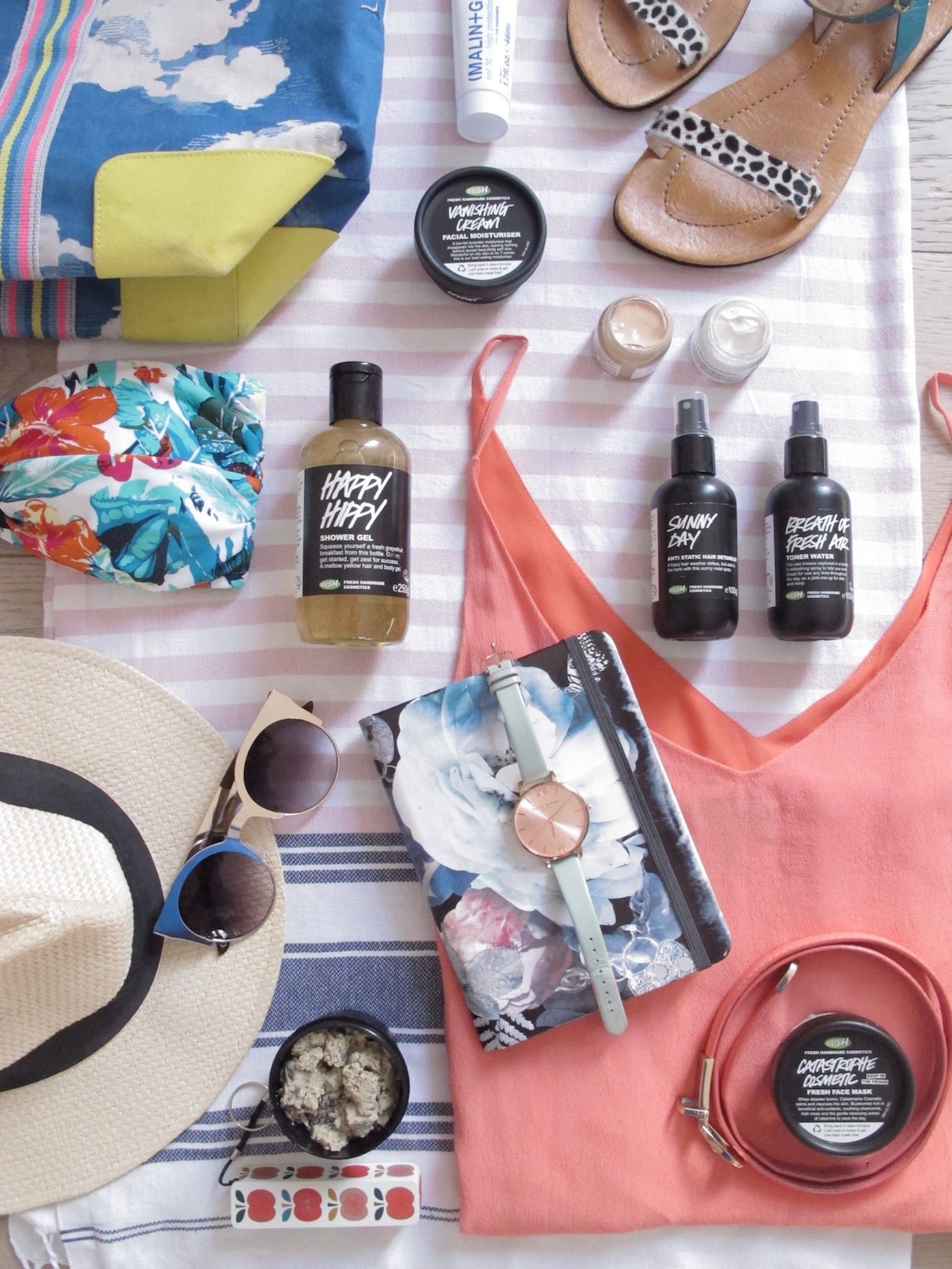 Let's start with the basics. Your suitcase. For a short UK trip I have my handy Cath Kidston weekend bag. I love my 'cloud' bag because it's waterproof, has handy shoulder and arm straps and the corners have protective yellow caps.  It folds away into a tiny bag when not in use (and the little bag it fold into I use as a cosmic bag). For weekends away, I take a small cabin bag. I'm all over Eastpak bags as they are lightweight, squishy, durable and have a ton of pockets. I'm watching a few on eBay right now. For my world-wide adventures, I have an 30L backpack which also has wheels for when I can't be bothered to lug it on my back. When going away for a two week break, I think a hard case with four wheels is key like this John Lewis one (£99). My top tip – pick a suitcase in a really bright colour or pattern – you'll never miss it on the luggage belt!
I always updating my list of things to pack on holiday to make sure I have every occasion covered. Depending on where I go, I have staples of clothes I always take. For fun, I pack a lot of glitter and sparkle. For work, I need practical comfortable stuff that I can run around in when I am on set.
On my basic packing list for holidays:
1 x denim shorts. Mine are homemade denim cut offs. Plus lots of chiffon tops in rainbow colours.
1 x straw hat (my face + scalp are prone to burning)
1 x thin cotton towel – I love Hammamas ones as they dry really quickly
1 x party dress (I've got a gold sparkly one from River island)
1 x day dress – again mine is a TopShop number which I can dress up with a belt
4 x sunnies. Yep. 4 pairs sunnies. These ones from New Look.
1 x watch. Mine was a pressie to myself from Lavender Room. A must-visit shop in Brighton
5 x bikinis. Matalan are my go-to shop for these as they are only £12 each so I don't mind if they get trashed
1 x jump suit for travelling in
3 x pairs of shoes. 'Going out' sandals, black Havaianas and trainers (I sneak in my new Hudson boots too, naughty I know)
4 x kaftans for the beach. I love the way they make me feel so glam on the beach. And they are a good cover up from the sun
Loads of suncream – I'm a big big fan of Malin+Goetz
1 x bottle of Dr Bronner's Organic Castile Liquid soap – I use these multi-purpose soap use this to wash out my bikinis or as a washing up liquid!
1 x universal charger + lots of iphone leads
1 x PJs. I love slumming out in my hotel room in cosy lounge ware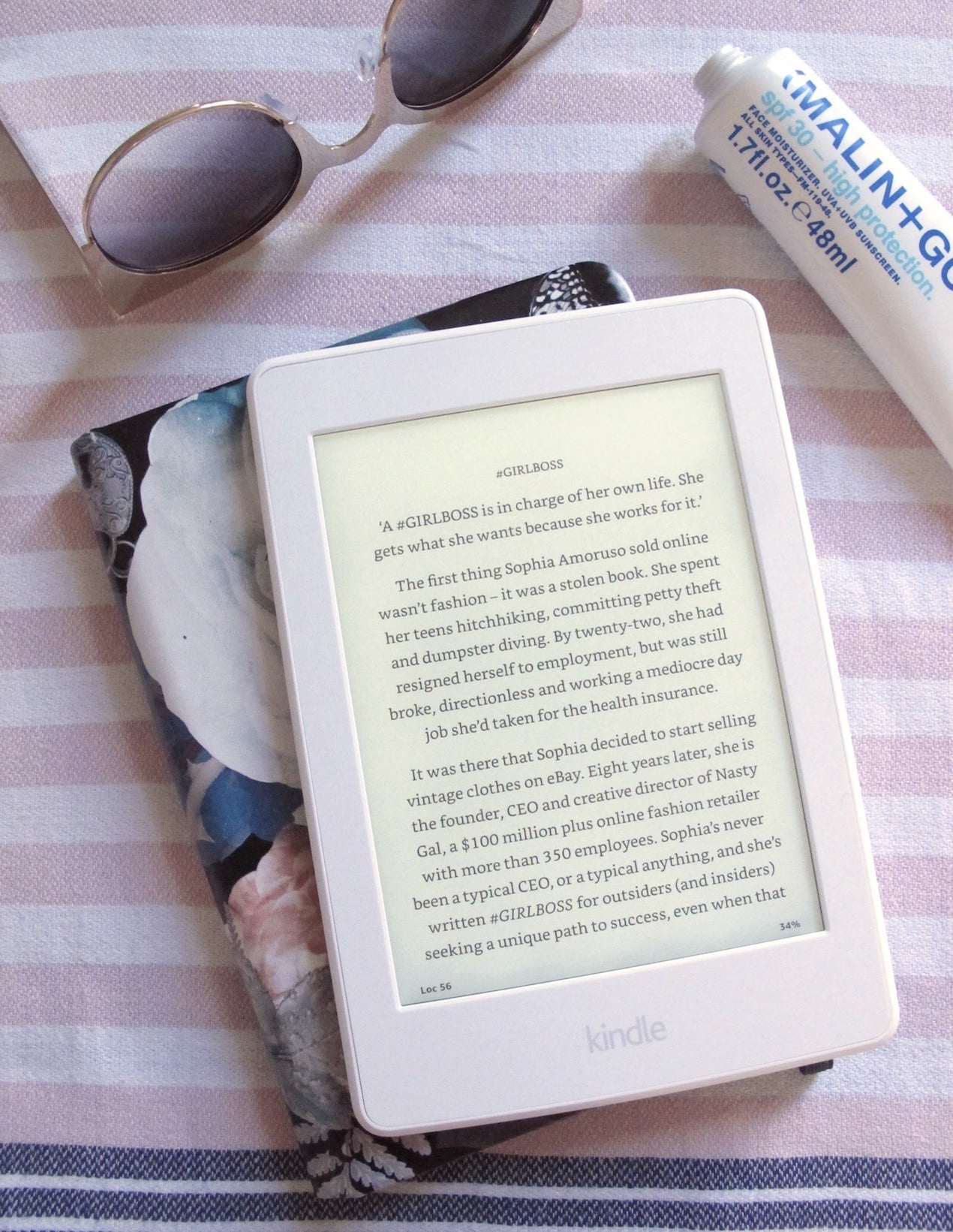 Next Tip: Go gadget heavy! My latest pro-packing addition is my Kindle. I can not tell you enough how much I love it! I treated myself to the 'paperwhite' one (£109) as I find it easier on the eyes to read as it has a 300 dip resolution and you can increase the size of the fonts too. When stuck in a hotel room – or many long train journey – it can be deathly dull. Not any more. I whip it out and have a quick read. It's so tiny, I can slip it into my handbag or overnight bag. What's great is that you can download lots of book samples so I tend to read them before I buy. My latest read – Cabin Fever – such a trashy novel about air hostesses but I'm loving it.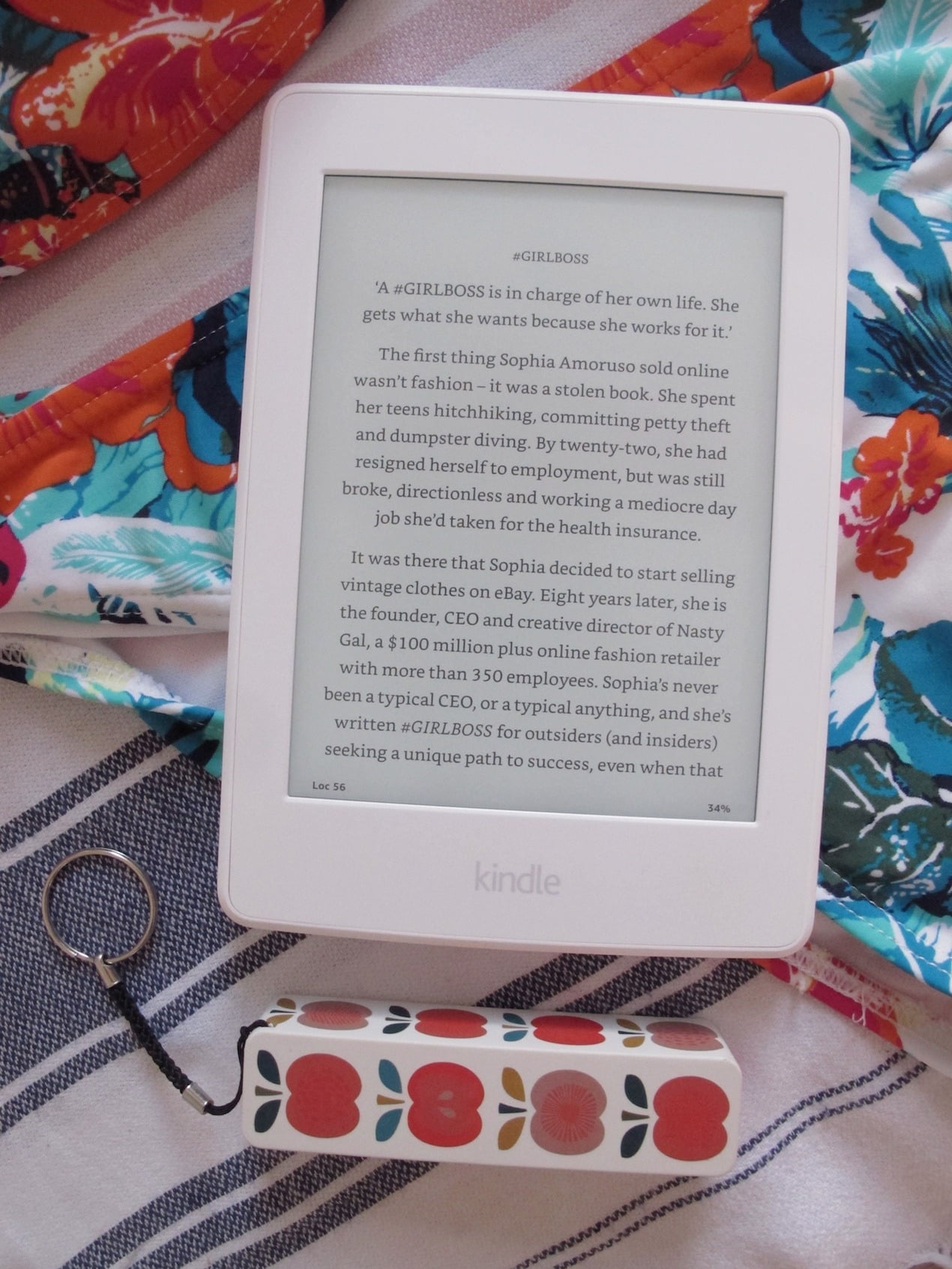 I picked up the cover from Paperchase in the sale for just £4. Don't forget a mini charger – my apple one is from dotcomgiftshop – which I have as my key ring, so that I don't run out of power in the middle of a good chapter.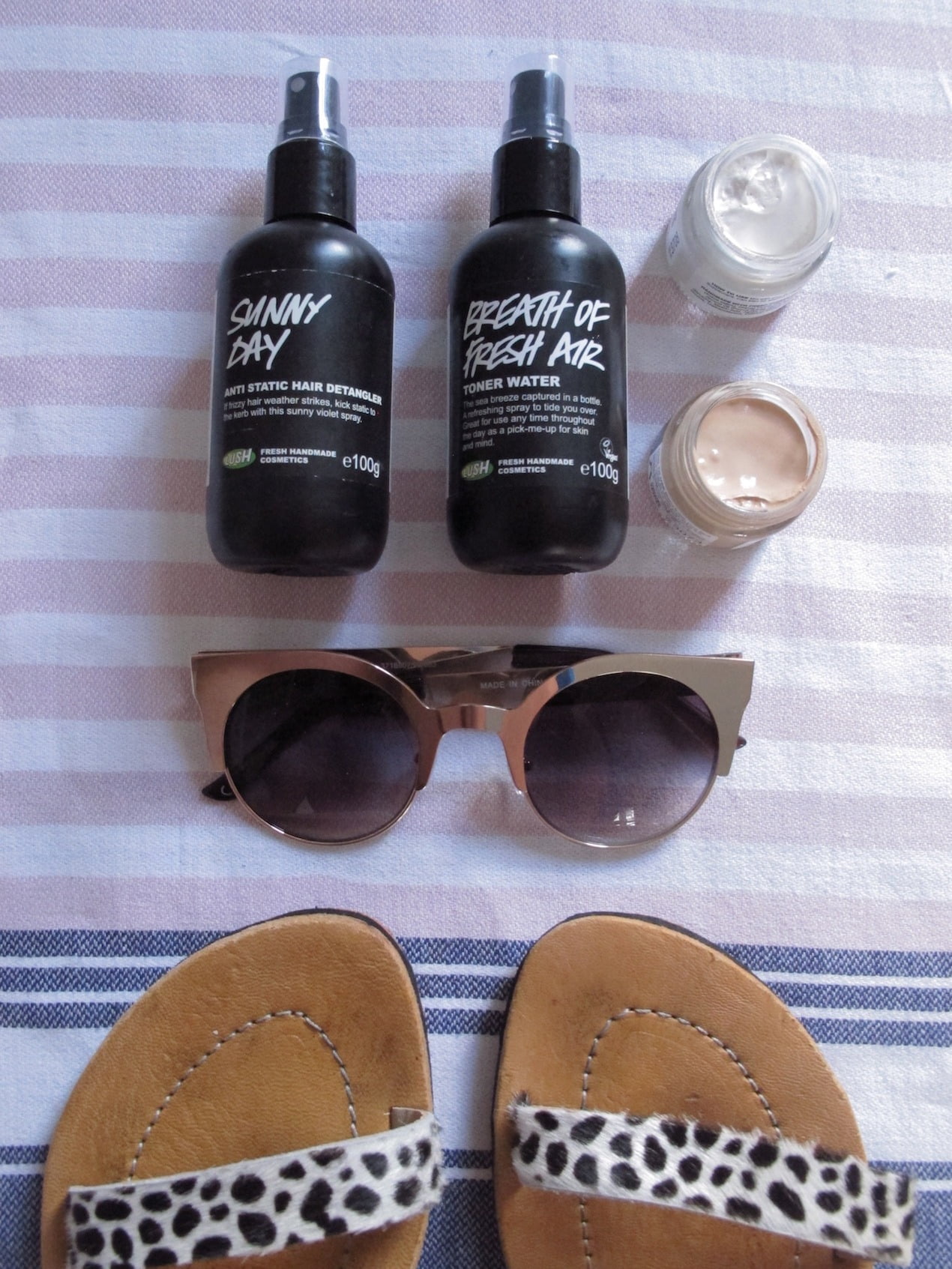 The key to packing your suitcase properly is to have trusty beauty products. Over the past couple of years, as I have become more concerned with my skin and I've been using natural cosmetics. I've been revisiting Lush for my skin care. Naively, I thought they just did bath bombs and the like, until uber blogger Kate La Vie opened my eyes to their skin care range. The staff in the shop are so helpful (just tell them your skin woes and they know the exact product to suggest – and what to avoid) plus they love Teddy in there.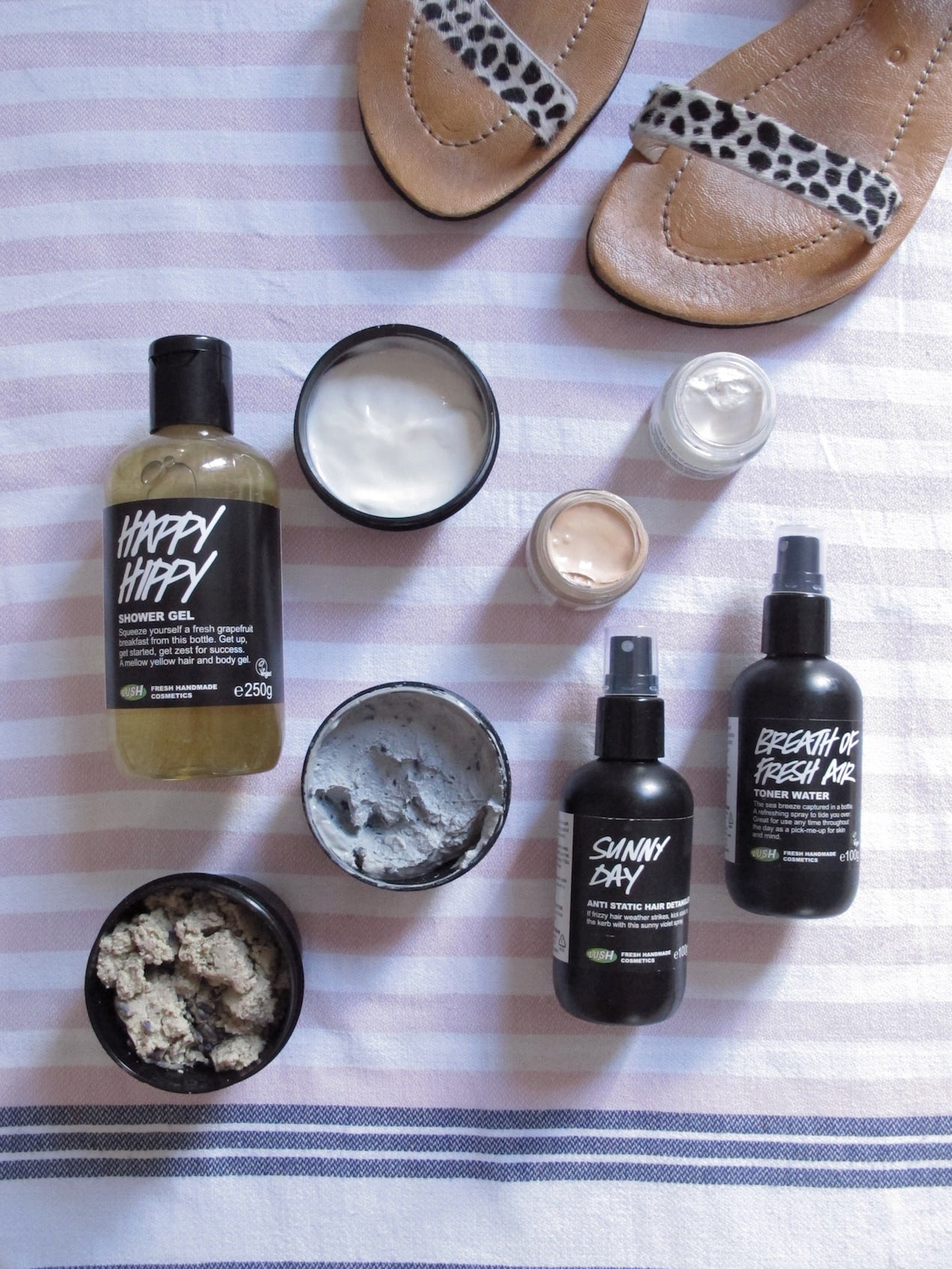 In my cosmetic bag I have started to take a face mask. My pick: Catastrophe Cosmetic. It's jam-packed with anti-detoxing blueberries. After a long day on location or post a big night out my skin needs a drink and this mask gives my face a pick-me-up, and leaves it feeling all dewy and fresh (seriously). It's the first thing I pop into the fridge in my hotel room so it is nice and cold, perfect for sun-weary skin.
I also take a tub of Angel's On Bare Skin face scrub to get the daily grime – I use it on my face, although you can use it on your body. I like this one as it is gentle It contains lavender which calms down my prone-to-red skin.
I can not rave enough about Vanish Cream. My skin gets oily more and more as the day goes (I look like I have spread butter on my face about 5pm!) This cream is really light and 'vanishes' into my skin, and again has lots of lavender in there. I just love the name for Happy Hippy – a grapefruit showergel. All these lotions and potions come in tiny sizes – again, another packing bonus.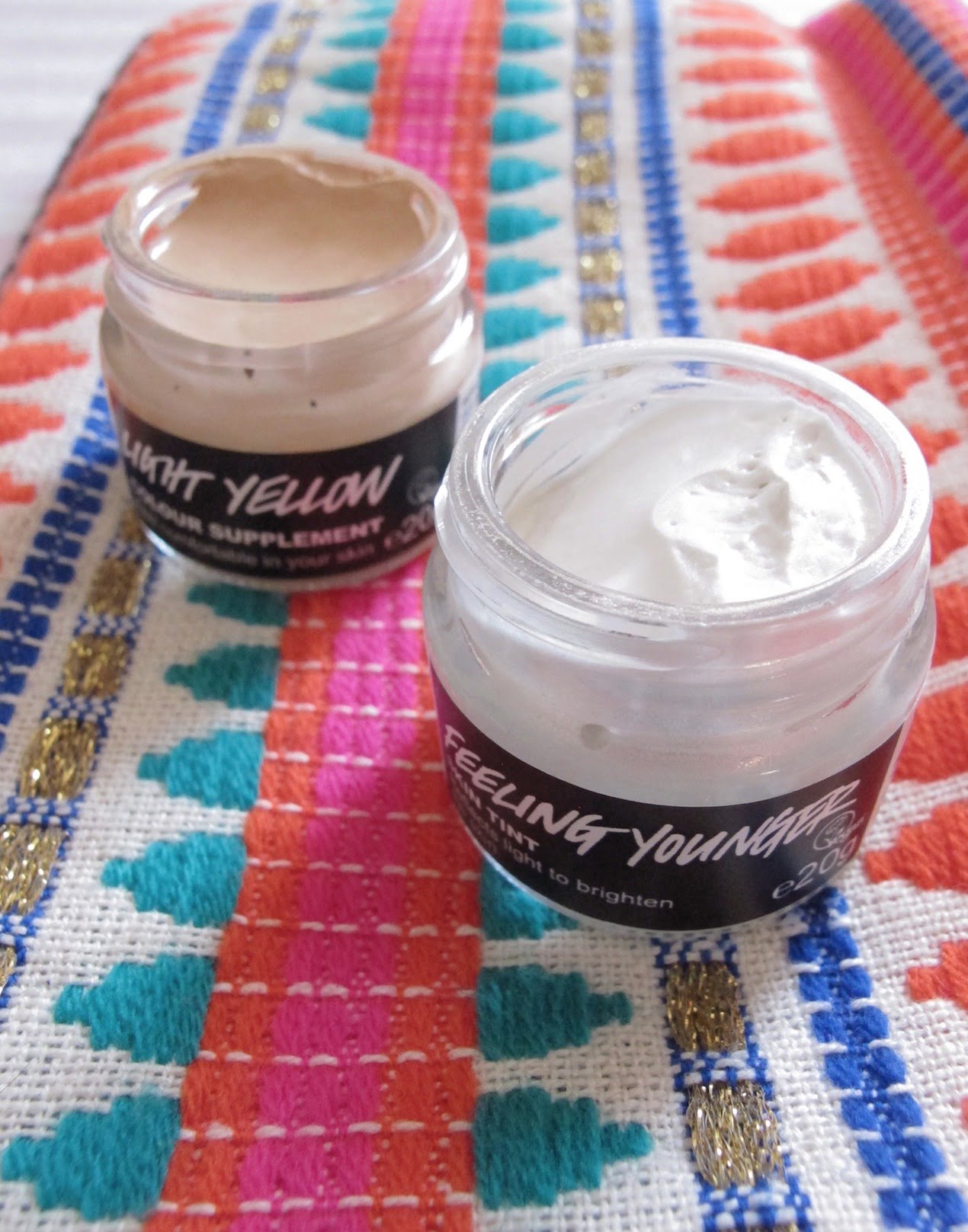 Just look at these little guys! They are my must-haves suitcase essentials. One for the day, one for night.  Light Yellow I treat like a foundation which I dab on face to cover up my eye bags and smooth out my complexion. Shhhhh! Now I'm going to share my top packing tip – Feeling Younger – it a shimmer cream that I dab on my cheek bones. It has a glittery glow which actually makes my skin look lighter and brighter. It's so handy if I have a night out when I am away – adds a bit of glitter into my suitcase. Talking of glam, I always pack a large day bag like this one from I bought in Thailand and a clutch for disco.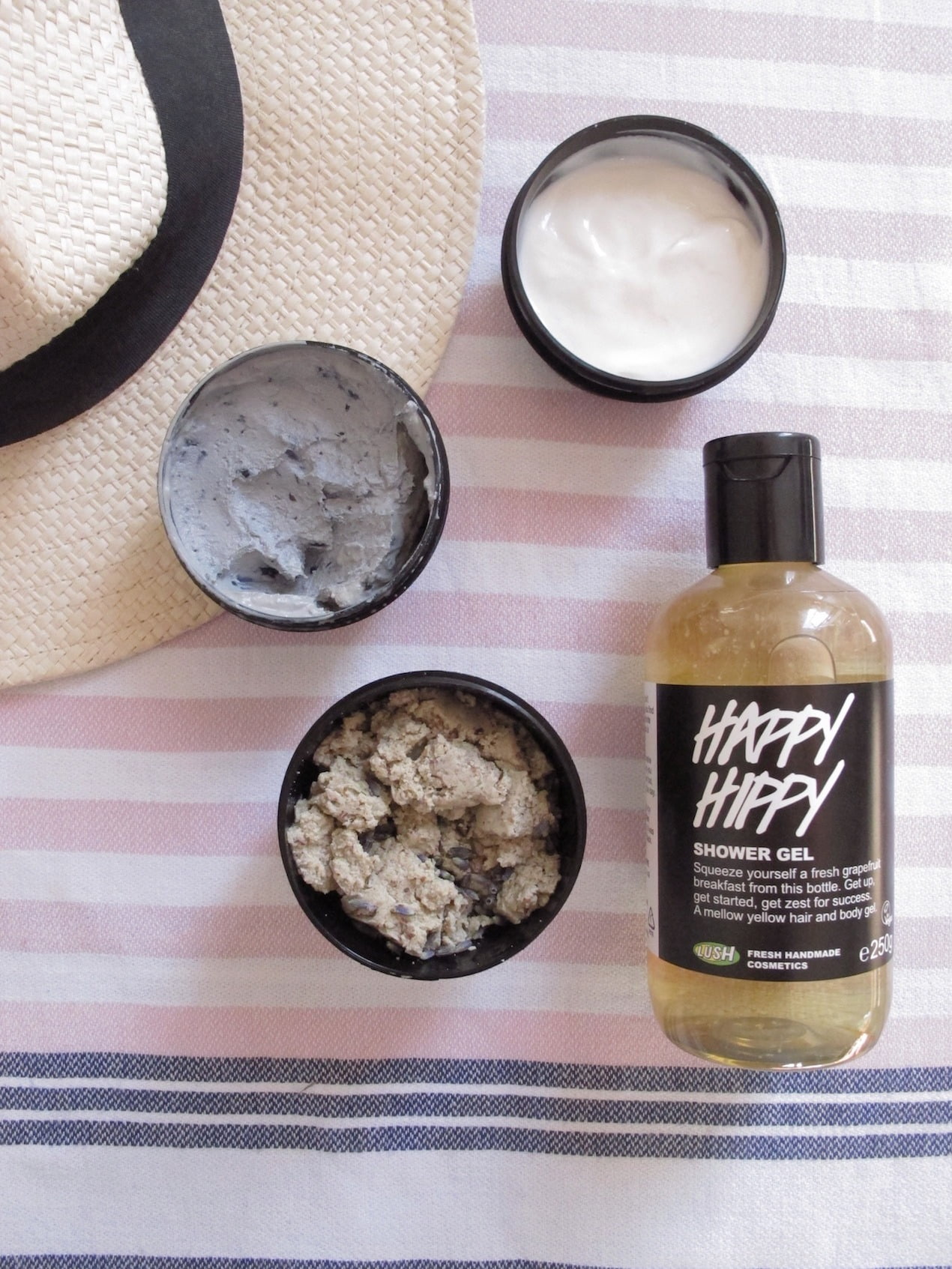 Other things i sneak into my case are my Paidon Wallpaper city guides. They are an savvy guide to world wide cities seen through one of my fav style magazine's Wallpaper. They high light architecture, design, high end stores, best places to have breakfast – to the best places to have a nightcap. I always follow the 24 hours in a city tips – and each guide is a different bright cover – I've got a growing colourful collection on my bookshelf.
Finally bikini's. Why take so many? Well I end up wearing them instead of underwear so that I am always prepared to leap into a swimming pool or sunbathe in a park. As much as I would love to spend decent money on them (brands like Seafolly last and last) but I know I'm fickle, and love having lots of swimming options. I'm seriously impressed with my latest purchases from Matalan. The bottoms cling (in a good way) and the tops have detachable straps perfect for swimming, and then you can take them off when catching rays. And all for £16 each.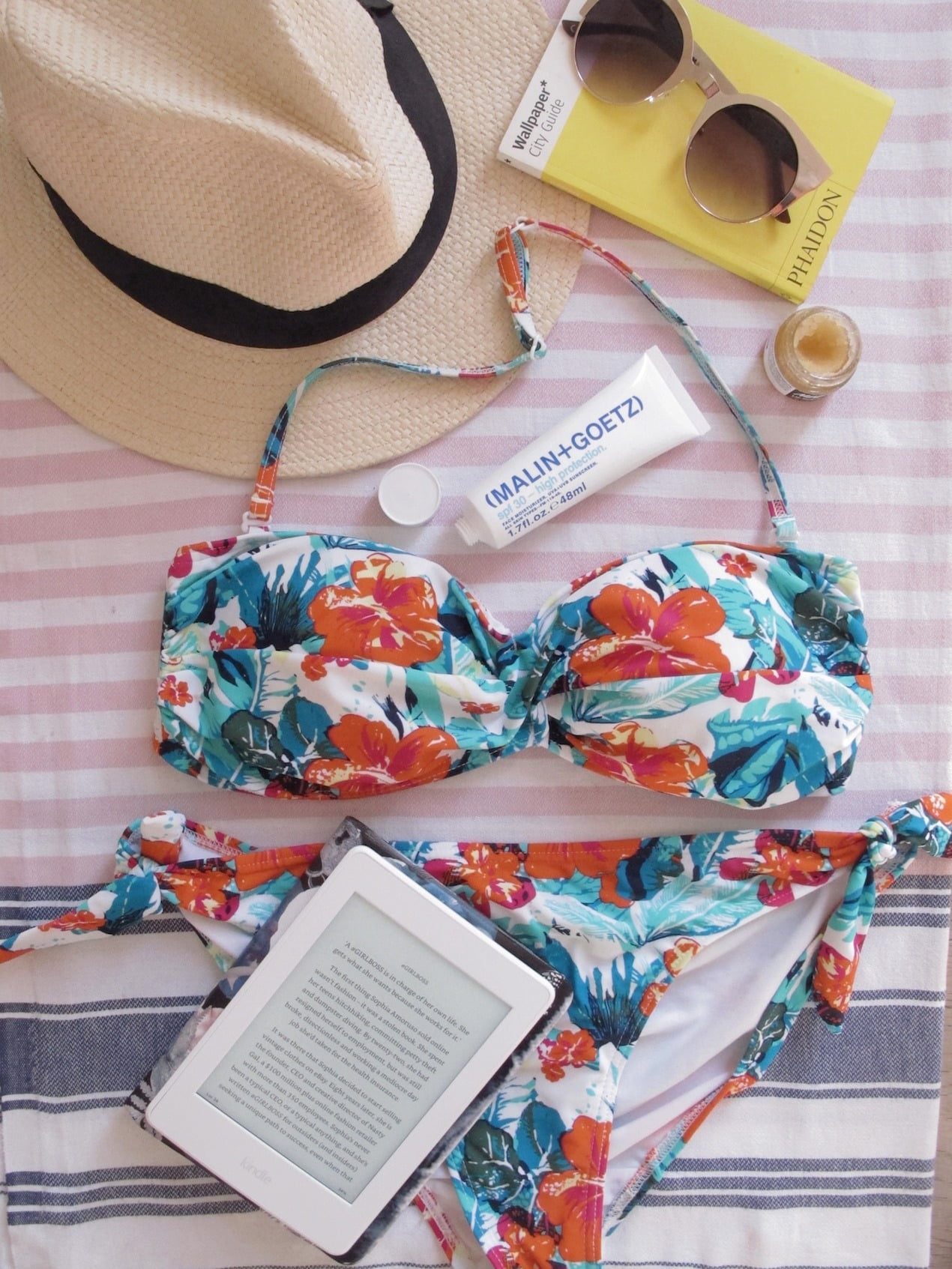 There is my packing tips. There are 100 more things I would love to squeeze into my case but I'm being better at honing it down these days. With a decent suitcase, all-singing cosmetics, a light weight towel and a few sparkly numbers to make me feel special, that's it.
Is there anything I have missed? Please let me know.
** Disclaimer: Some of these products I was given for review. As always people; thoughts, photos and opinions are all mine ?