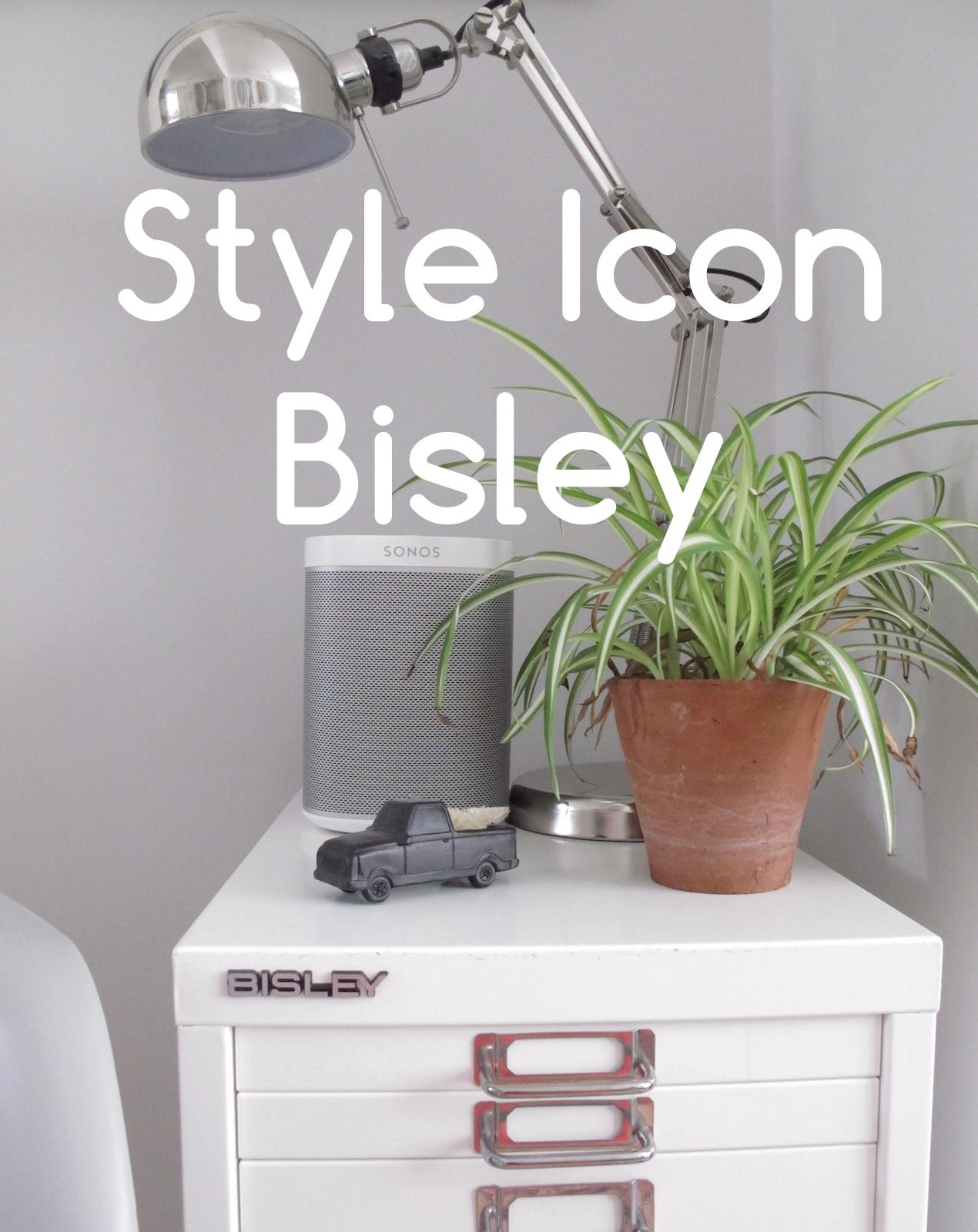 If (like me) you don't have room for a dedicated home office then it can be a struggle to keep your work clutter from taking over your home.  I've come up with the perfect solution for paperwork woes (and a way to stylishly organise a home) with an iconic Bisley filing cabinet.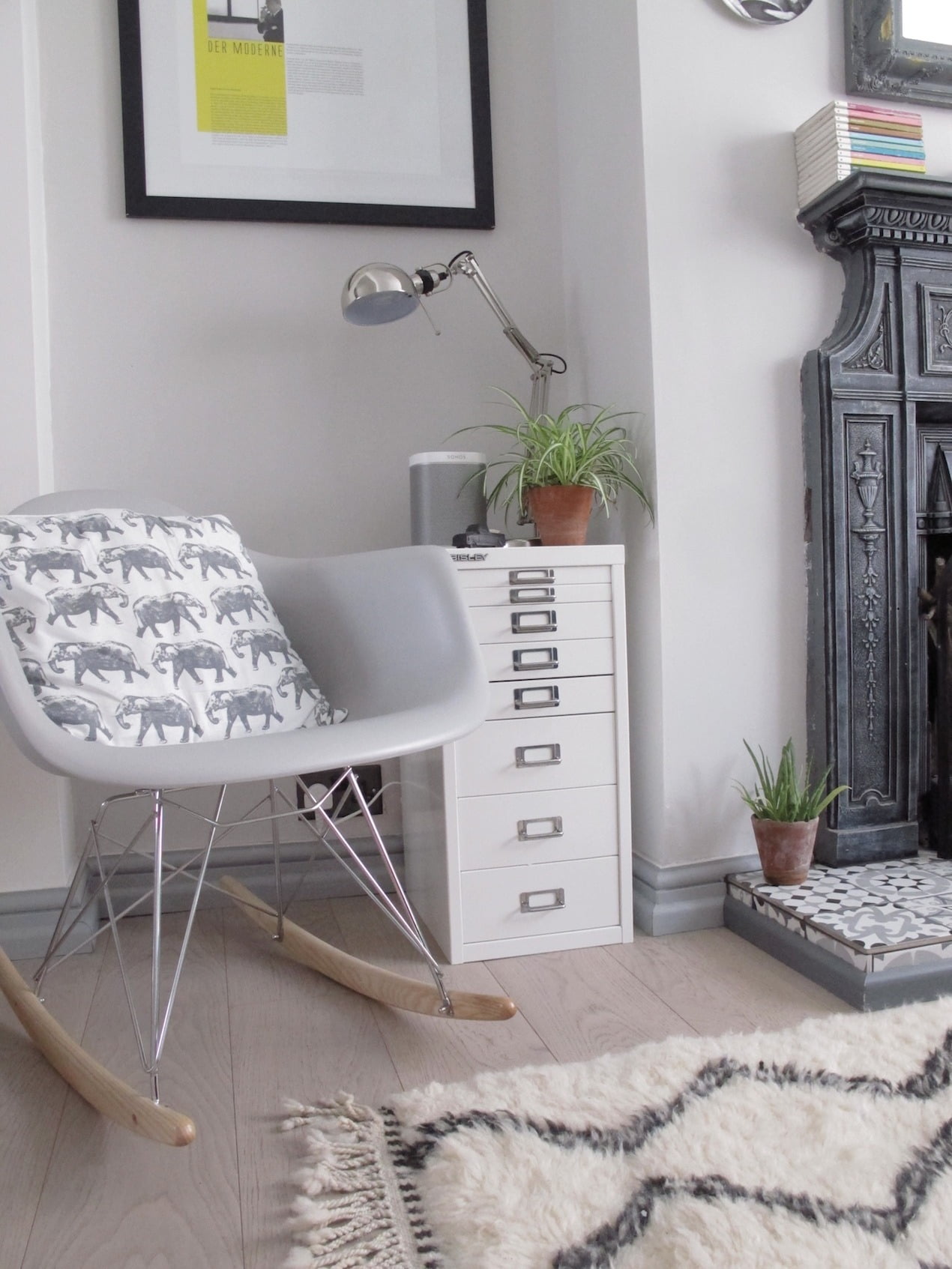 At the moment, I work at my laptop off my dining room table. But my home office 'stuff' was all over the house. I was constantly rummaging around in boxes under my bed for envelopes, paperclips and staples. Or digging out wires from inside bags in my cupboard. And hunting in my purse for stamps. Nothing was in one place. The problem solved when I came home with a white filing cabinet from Bisley. Here is it, taking pride of place in my living space.
It needed to be kept close to hand for when I was working – but I will be honest, I was a dubious about putting a filing cabinet in my open-plan living space. I was worried it would give the room an office vibe.  I played around on the positioning before deciding to put it in one of my alcoves.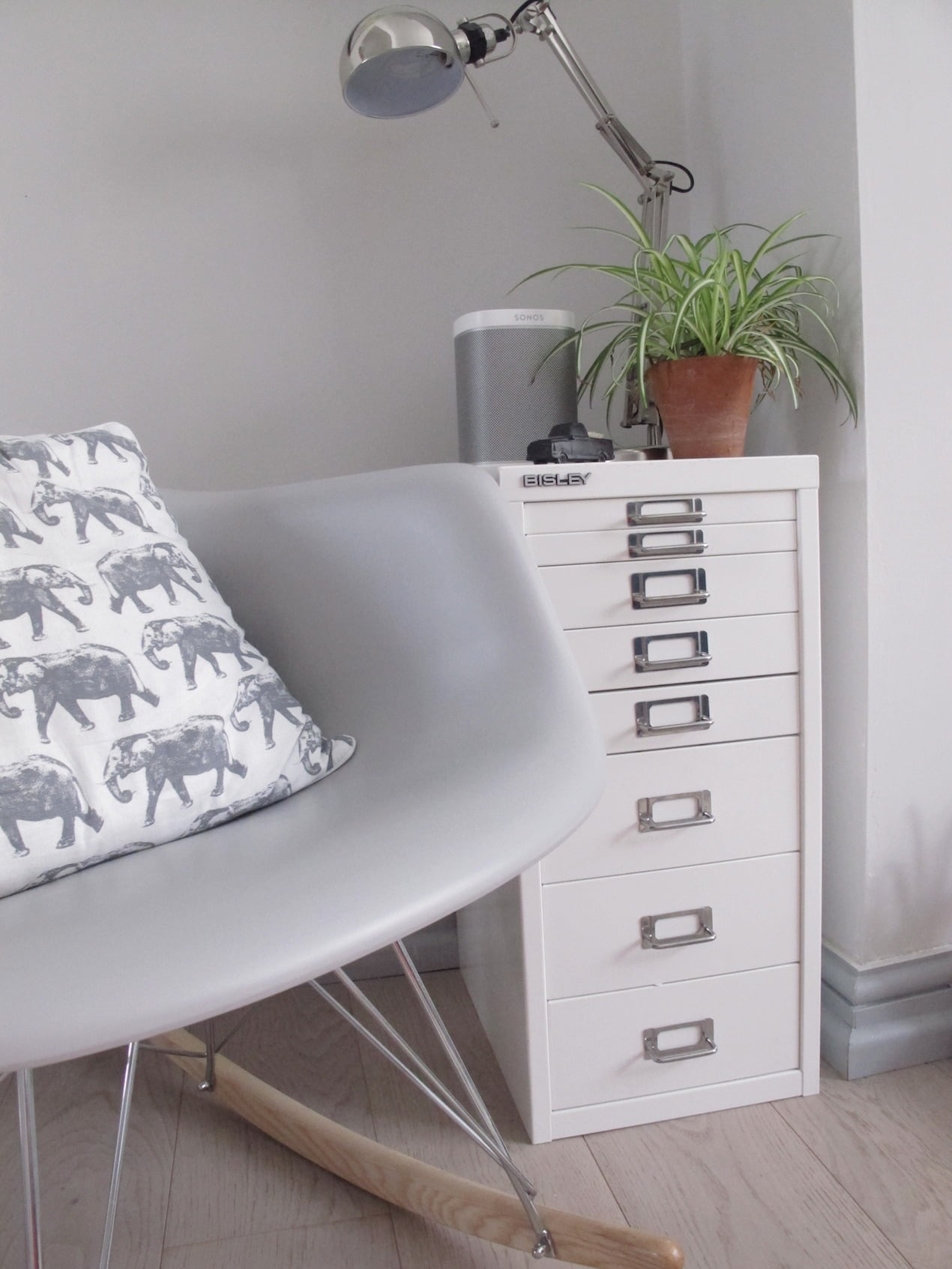 The 8-drawer cabinet slotted in perfectly and although it is very functional, the surface has become a bit of a showcase for my random bits.  I've styled it to the max with an angle poise style lamp from Dunelm (£19.99), a small potted plant my mum kindly gave me and my new Sonos speakers.  When teamed with my Replica RAR Rocker from Lakeland – £64.99 – and my Suhki rug, this little corner of my home started to look like it could have just come off Pinterest!
Why do I call it a Style Icon then? It's a quality piece for starters – you should feel the solid weight of the thing – plus the white mat powder coated finish is very appealing in my all-grey home. Bisley started making office furniture back in 1940 – and their designs have stayed pretty much the same since (old original ones for a ££££ on eBay). I like that they have never moved away from this simple design which, in my eyes, still looks modern and sleek. And it is this that makes Bisley a style icon.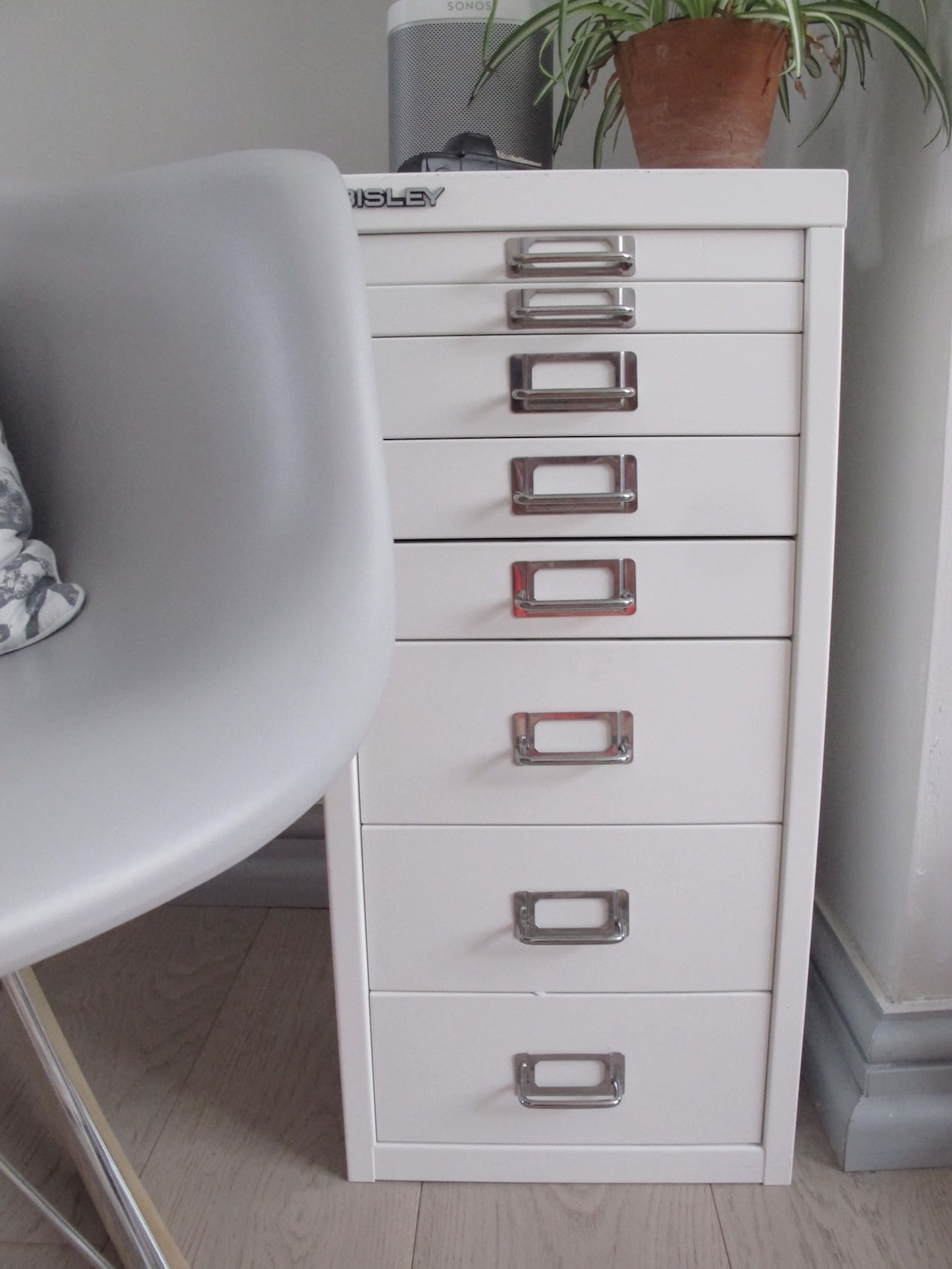 My house is woefully short on space so every piece of furniture in my home has to work twice as hard – and this beauty is has earned it's place. The drawers are filled to the brim with printer paper, envelopes, printer stuff, a drawer just for wires and headphones, one for my portfolio, another for birthday cards…you get the picture.  It's heavenly for someone as uptight about clutter as me. Don't be boring like me and go for white – the range comes in a million-trillion colours – so you can add zest to your space with acid orange, or brighten up a dull corner with a cabinet in a pop of teal.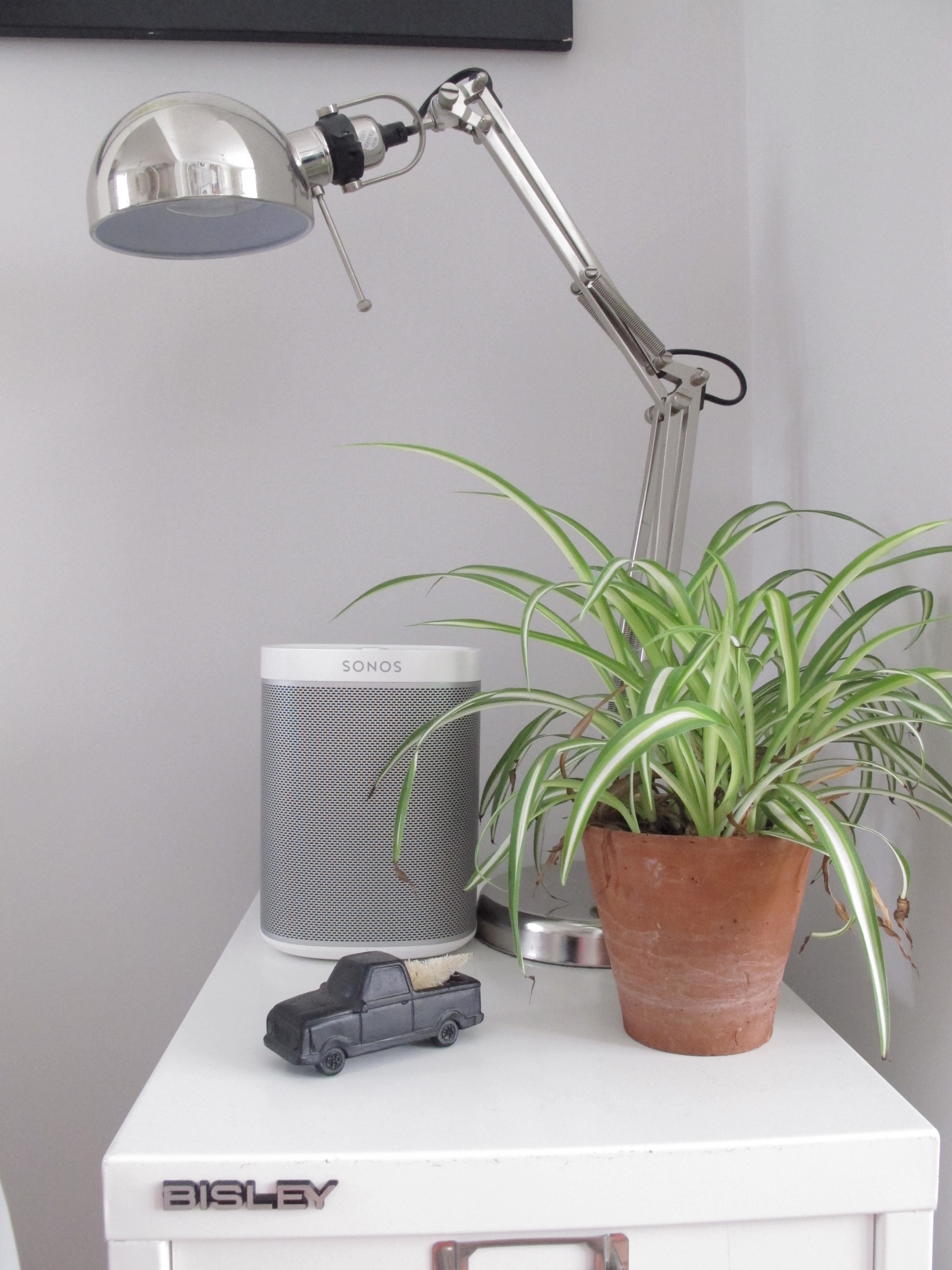 What I didn't realise was how many other home style bloggers were also in love with their Bisley filing cabinets! When I started pinning ideas on how to work it into my existing room scheme, I found 101 ideas on how to up-cycle, revamp and repurpose filing cabinets. I loved the idea of using one as a bedside table. Or grabbing a really vintage cabinet, sanding it back and then filling the drawers with plants – seriously cool hey? Take a look at all my ideas below.
My 8-drawer cabinet costs around £100. Not cheap cheap but this thing is built to last. It's going to be in my home – either in the bedroom, in the kitchen or even in my garden at some point, this little style Icon is going to be around for ever.
What idea do you love best on how to re-work a filing cabinet into your home?

** Disclaimer: Some items provided for this blog post were given for free. All opinions, views, style and ideas are mine, thank you!