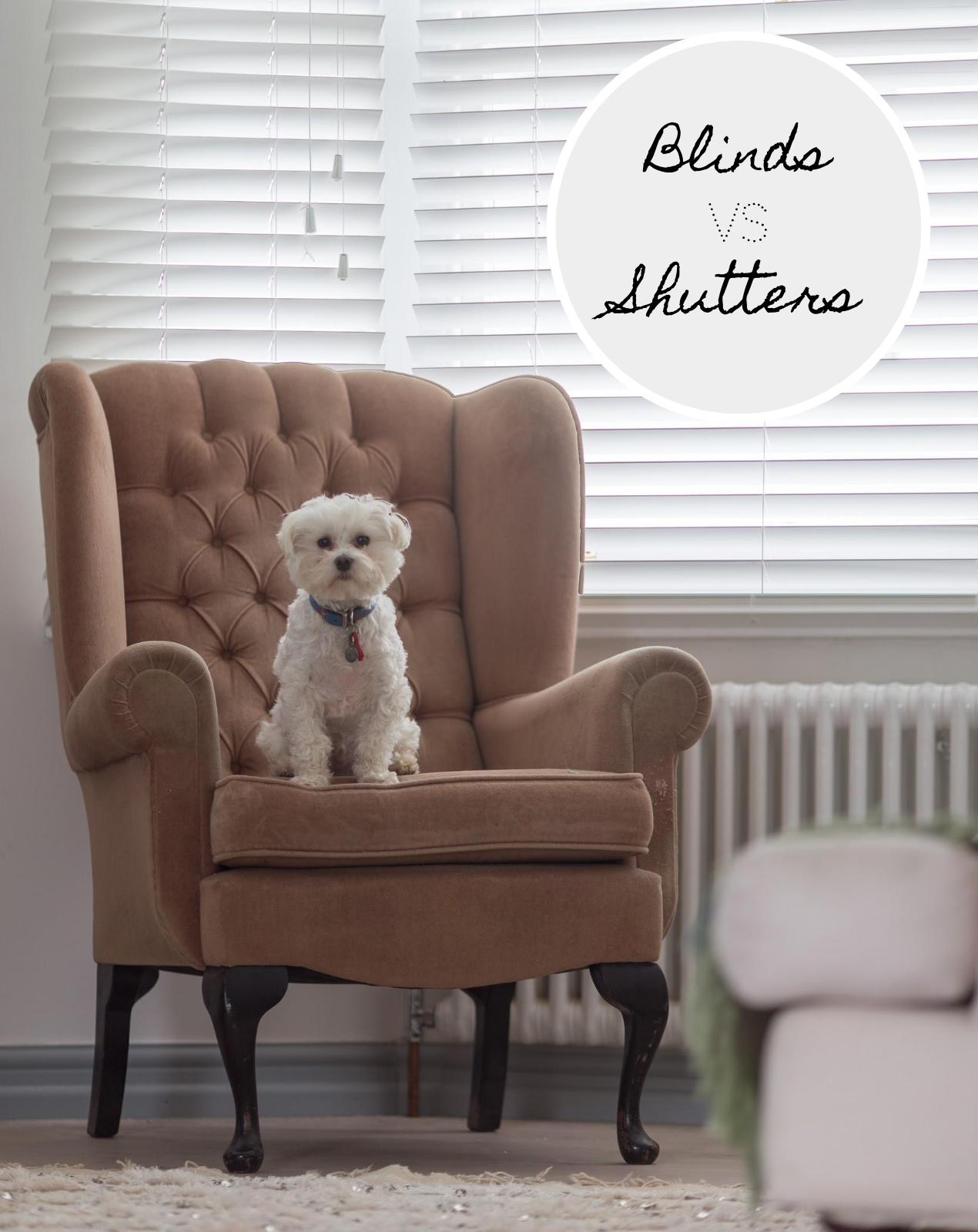 I'm going to be controversial here…but I'm a bit over shutters. Yep, I've said it. They're expensive, take weeks to make, are bulky so block out lots of light, and you have to be handy to fit them (or pay for a carpenter). This is why when it came for my turn to dress my living room windows, I wanted something a little different. Well hello! blinds. 
Shutters vs Blinds
I needed something to soften my freshly restored sash windows (see the before and afters here and here) so I did a lot of investigation into shutters. At first they seemed the ideal fit for my home. They look dead smart, add value to your home (if you believe estate agents) and can be adjusted to let in light filter. And they come in a range of colours to complement your room. So far. So good.
But (did you hear it coming?) in my small bay, shutters would take up lots of room. The heavy frame would block out a lot of light from my (rather dark) living room.  And, if I ever wanted to open them to open the windows for fresh air, I would have to move all the furniture out of my bay which wasn't very do-able for me.
Then I looked at curtains but dismissed them straight away. They were not going to cut it with the Modern BoHo look I'm aping for my home (see my mood board ideas here), that's why I started looking into wooden venetian blinds as an alternative window style idea.
If you think slatted blinds have an office environment feel then think again. They give the same impression as shutters with the sleek white wooden finish but with less fuss and they can be pulled out the way when I want to let a bit more light into my room (when doing shoots for the blog and need more day light). They come in 1000s of designs and wooden finishes. And, more importantly for me, they came made-to-fit within a matter of weeks (rather than weeks and weeks in the case of shutters). 
My Style Tip
The key to nailing the perfect blind for your window is to avoid the skinny ones that look mean, dated and cheap (sorry, but they do).  Instead, go for ones with wide slats. I picked 50mm wide venetian wooden blinds from Hillary's in 'Illusion Pure White' (the whitest shade they have in their range). The blinds themselves fix onto the ceiling of the alcove so no need for box frames which take up more light. The blinds can be adjusted to filter the light coming in the room. They also pull up out the way completely if I need to open the window.
I've resisted the temptation to layer up with curtains, and allowed my wooden blinds to stand alone in my window. For sure, it's made a style statement in my home and is often the first thing people comment on in my living space – that's how good they are!
Curb Appeal
That main selling point for shutters is the way they look from the street, giving a home real 'curb appeal' (that is why estate agents love 'em so much). Personally, I think – look into my house my wooden blinds look just as lovely. In fact they almost look like shutters to the untrained eye except one very important factor – the cost.
These three blinds added up to :
49cm W x 156cm L = £158
96.5cm W x 156cm L = £207
47.6cm W x 156cm L = £158
Bringing the total to £523 for the whole bay. That is the same cost as one shutter for one window (from the quotes I was gathering on-line) which makes them a 1/3 of the cost of fashionable shutters.


I'm so pleased with the end result. I have a classic window dressing that won't date, my home is flooded with gentle natural light, as they are made from painted wood they have an expensive finish. And they take up far less space in my tiny home. Oh, in case you wanted to ask, they do help keep the heat in my room too.
And, in my opinion, they offer something different. Not everybody has shutters and they're great for making a statement, making my home stand out from others (so I think. Do you agree?)
I hope this post has helped you take a second look at blinds. Come join me on the Blind Revolution!
**Disclaimer. I was provided product for free. All opinions and views are my own.