The SINGLE BEST THING about decorating my home is the guilt-free shopping. While I could never justify spending money on myself, I wouldn't think twice at splashing the dosh on my house. Are you the same?
On my lust list this week (among many things) is a sleek modern wall light for my living room. I've edited my pick down to 16 amazing wall lights in this complete shopping guide. And with some cost as little as £18 each so you can treat yourself, and your home without hurting your credit card.
Buyer's Guide To Wall Lights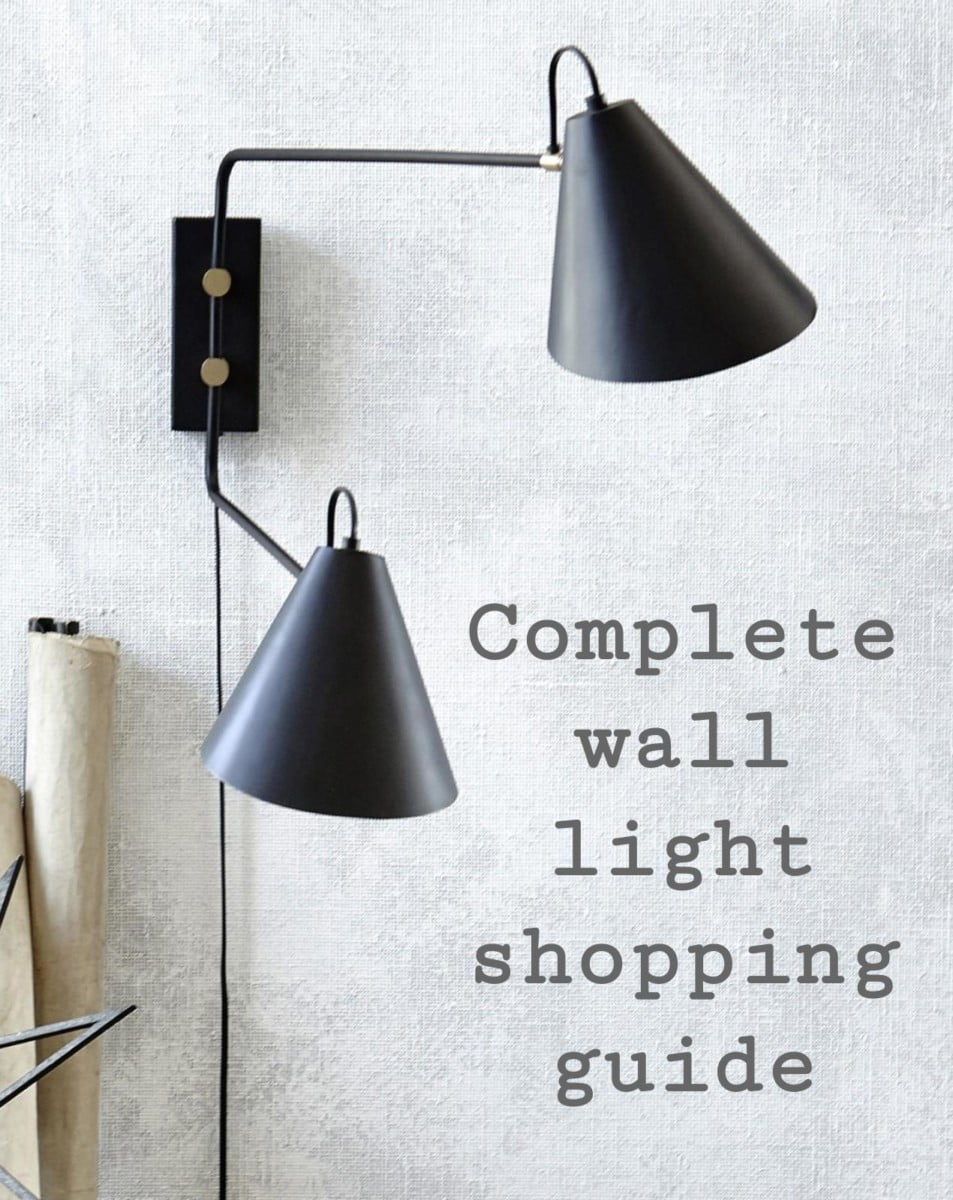 Why We All Need Wall Lights
In a small home like mine, wall lights perfect for freeing up space on side tables obliterating the need for table lamps. You can use them to lighten up dark corners in dingy rooms.
In bigger homes, they can cosy up a space or highlight a particular feature – like a group of vases.
They're a grown up finishing touch that gives your room serious game! Once up on your wall – you'll be a convert, trust me here.
Let's start with the basics: there are two types of wall lights, ones that your electrician has to 'hard wired' into the wall, or ones that you can plug in, and then fix to the wall with a fitting.
Hard Wire Lighting
During my mega-renovation last year, I didn't think about where I wanted wall lights. TBH, in the middle of the dust and mess I was happy to have walls. my mind was not on the finishing touches sadly. If I had, I these ones below would have been on on my shortlist: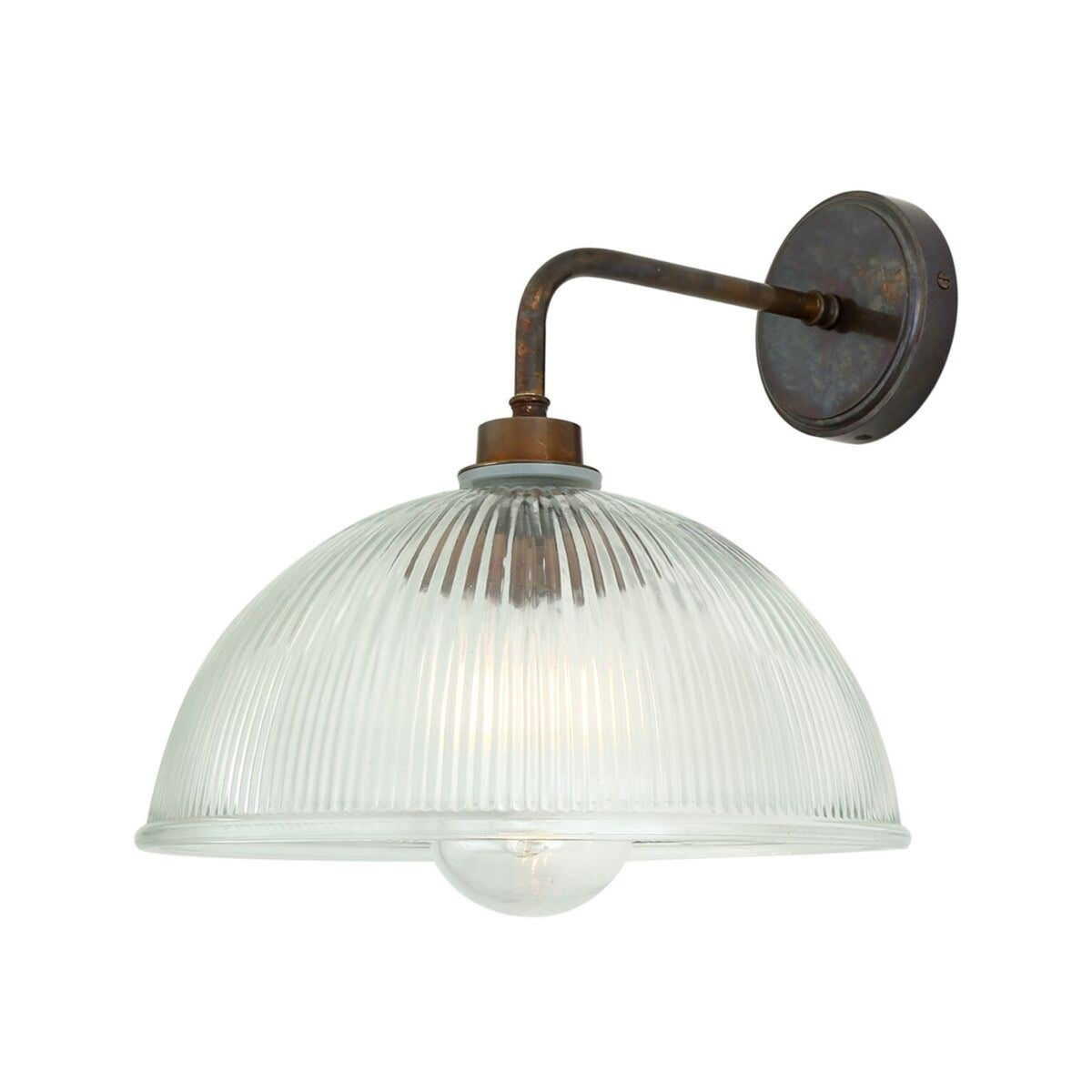 Glass And Antique Wall Light // £239 // Grace and Glory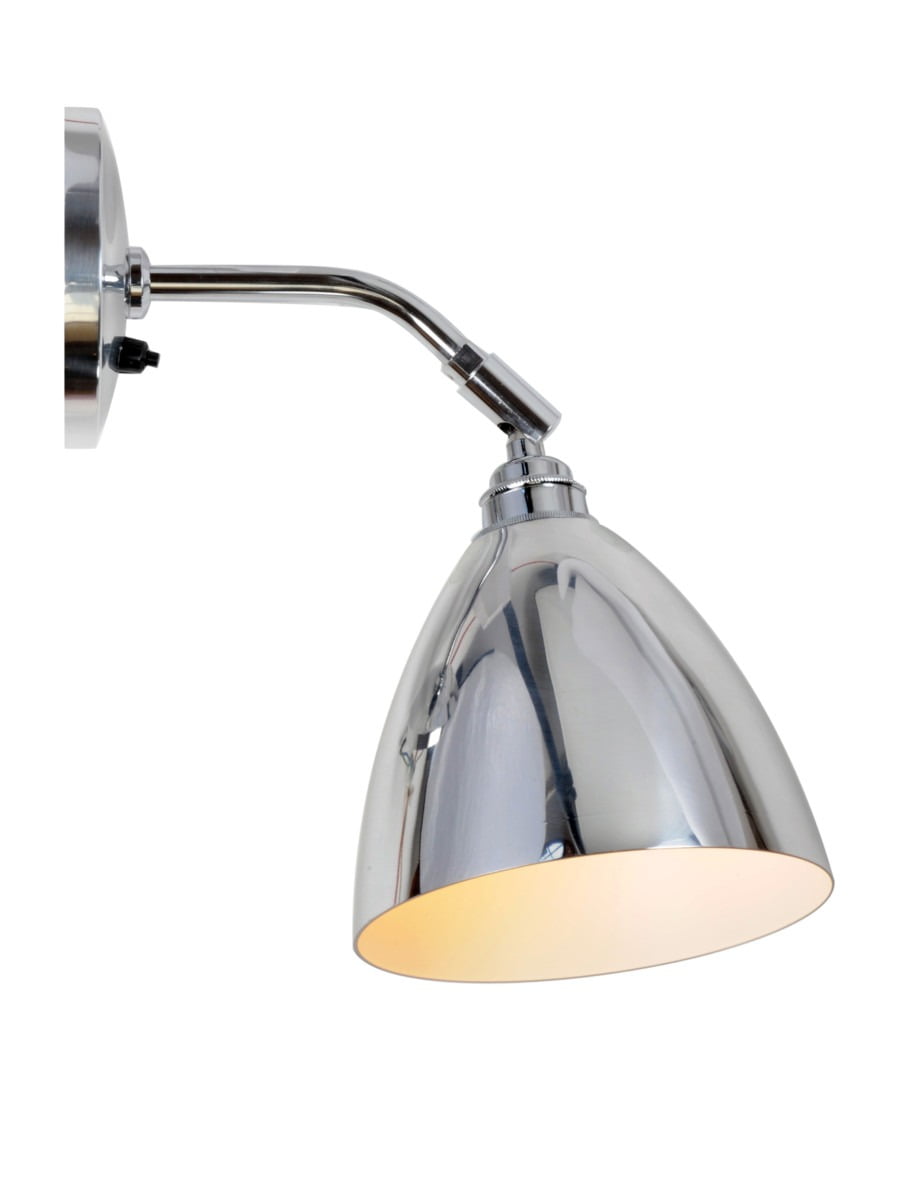 BCT Chrome Wall Light // £199 // Clippings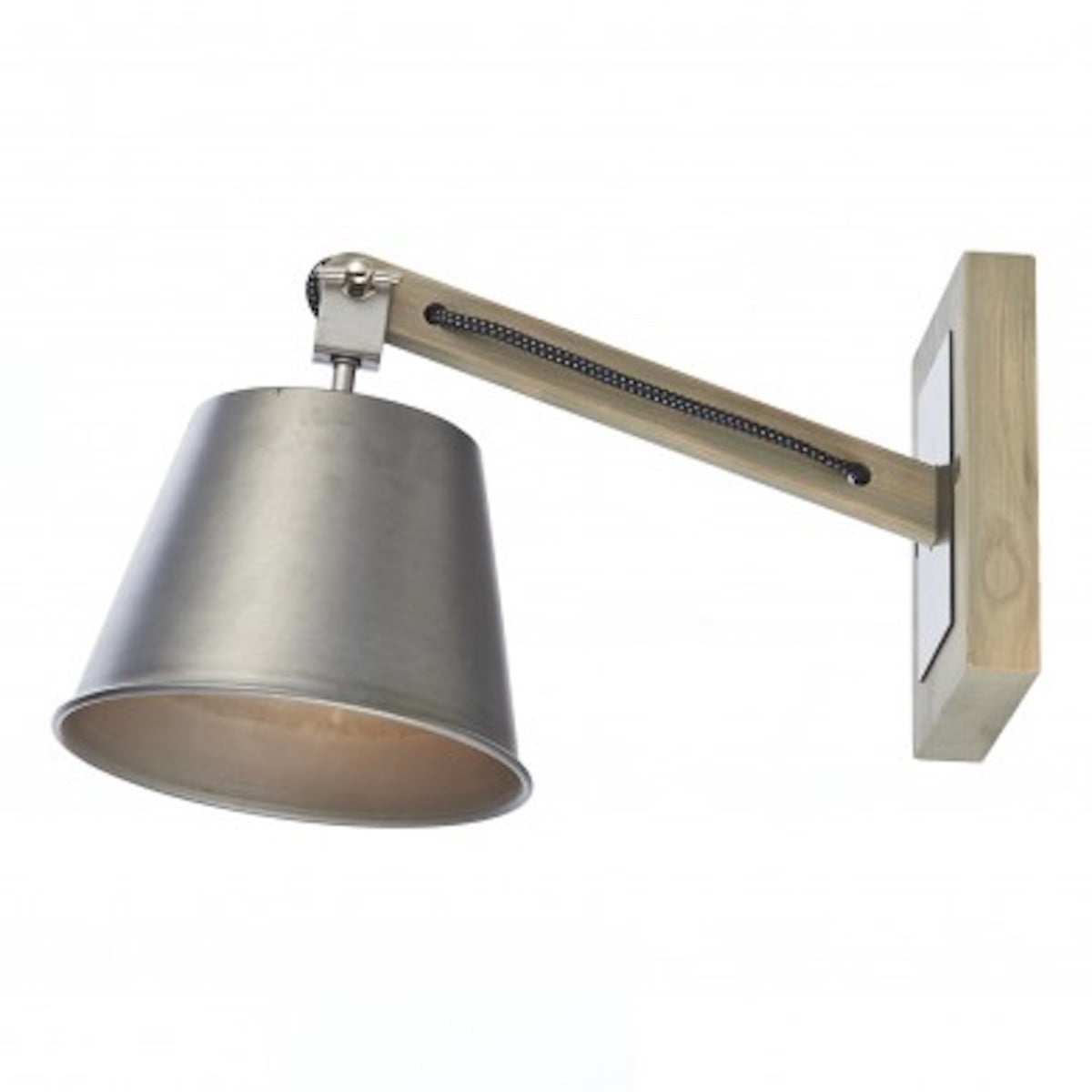 Natural wood effect wall light // £84 // FirstChoiceLighting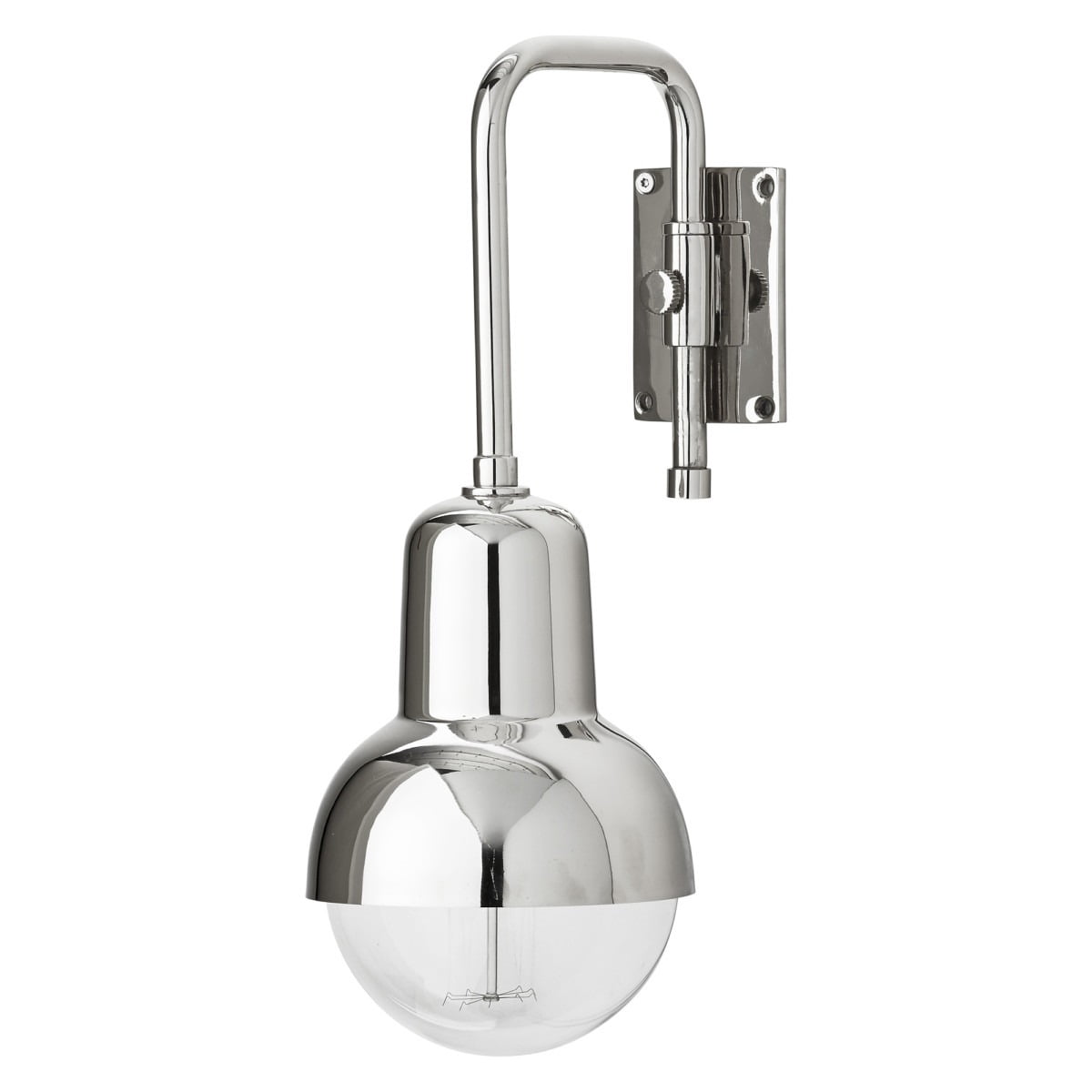 Lene Bjerre Carmela Wall Light // £115 // Houseology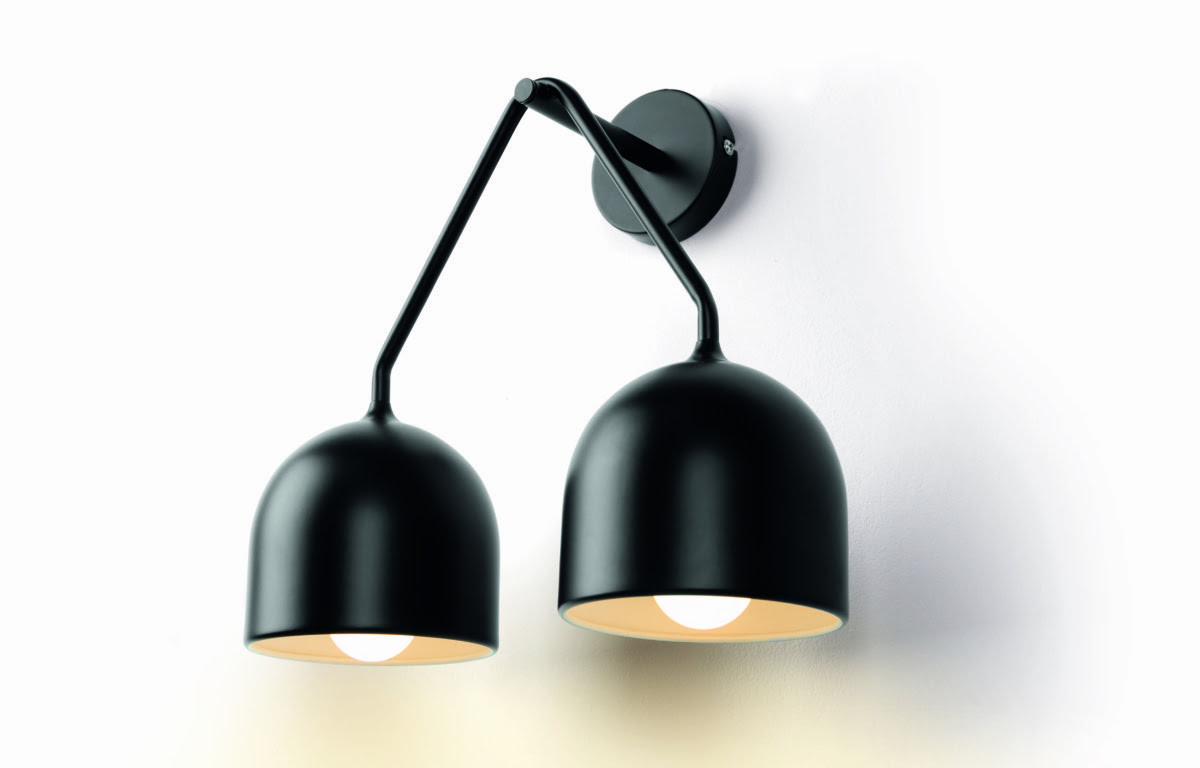 Ukon Wall Lamp // £45 // Made.com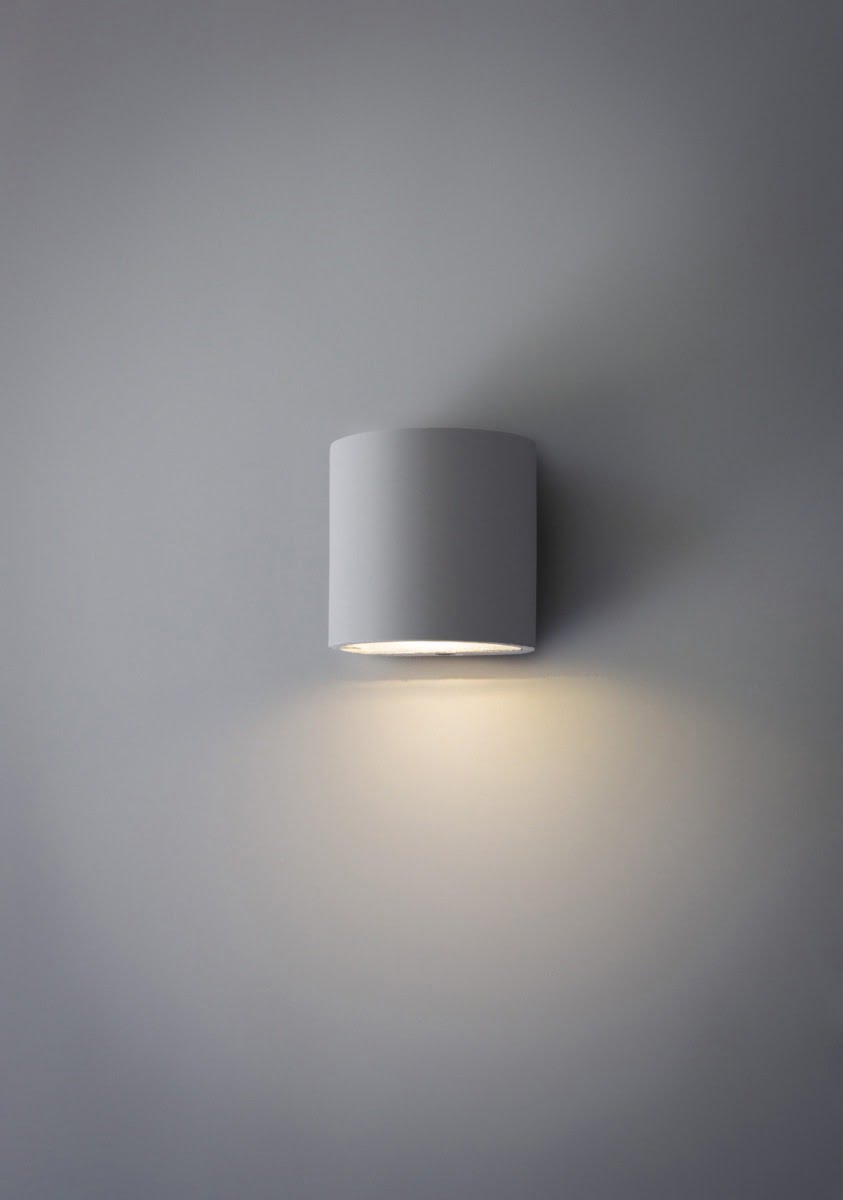 Troika Plaster wall light // £45 // Garden Trading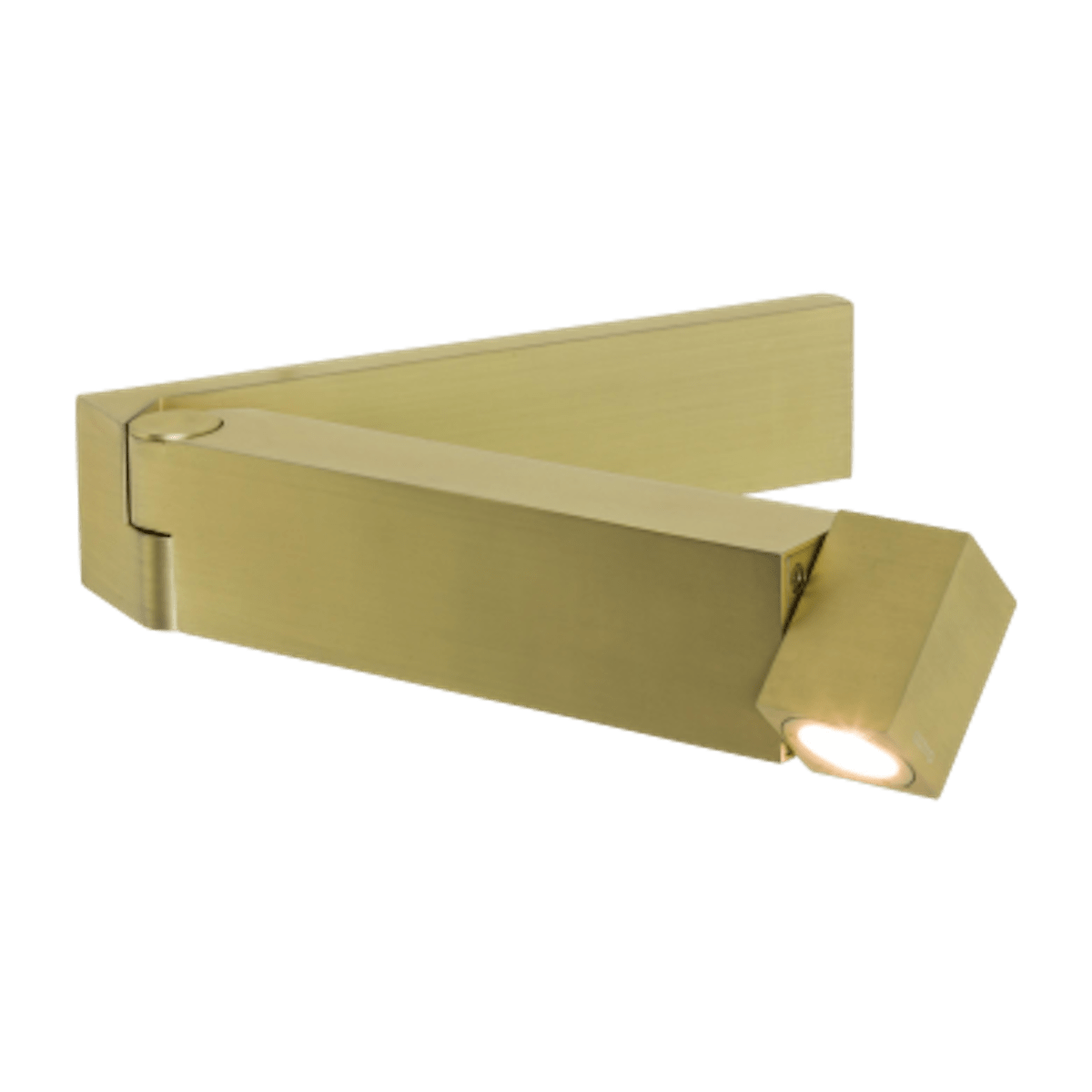 Matt Gold Reading Light // £200 // Firstchoicelighting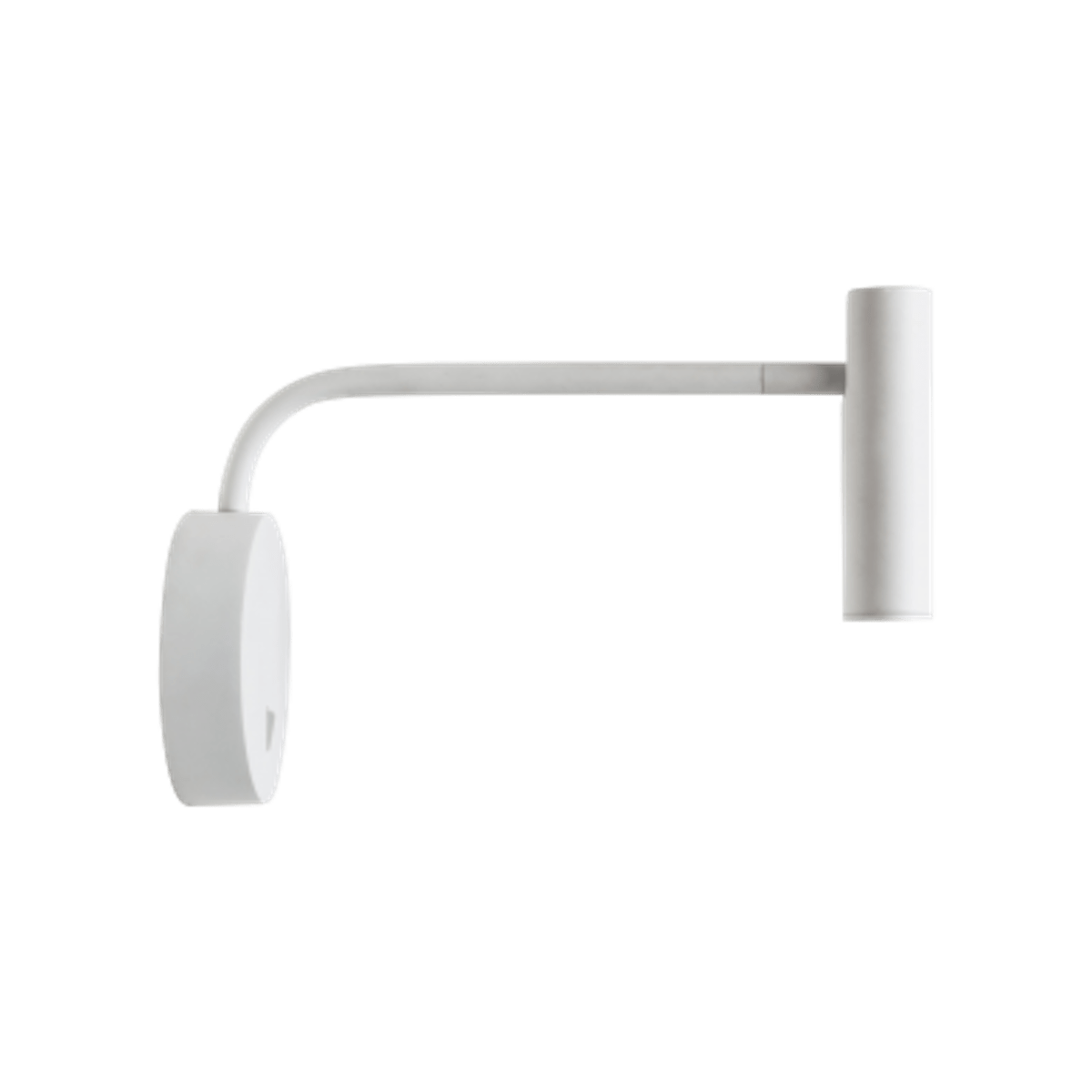 White LED wall light // £125 // FirstChoiceLighting
The glass and brass one matches my Paris ceiling pendant which is in my living room.
The chrome ones would have worked with all the metallics including the large silver metal art in my dining room.
I'm in love with the Made.com twin lights. Don't they look like black cherries? So cool, and would have gone so well with my teal sofa **sad face**.
How James Bond is that gold one? You can't even tell it is a light! And if you are looking to cut your leccky bills then it's LED all the way guys.
When having hard wire lights fitted into your walls by an electrician – don't neglect your cables. Check that your electrician uses cables manufactured using the proper international standards provided by British cable suppliers. Better be safe than sorry.
Lecture over, let's continue shopping.
Plug in and go!
If like me, you didn't do a lighting plan or are unwilling to have holes dug into your walls, then your next best option is a plug in light. In the past, they used to look really lame design-wise (all plastic and nasty clips). Today, plug in wall lights look bad ass.
I actually prefer them to hard wired wall lights as A/ you can move them around your home B/ They're an instant style fix and C/ anyone can fit them.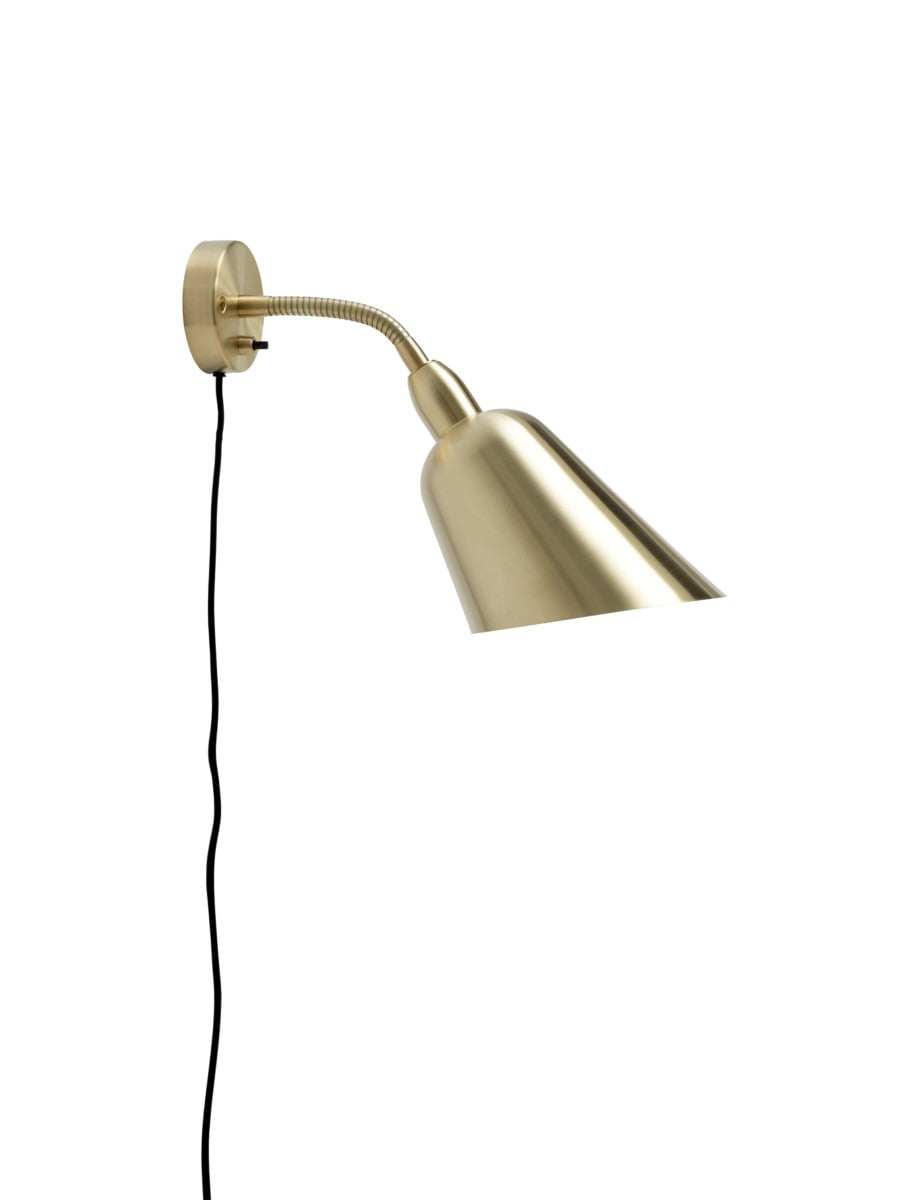 Belle Vue // £249 // Rume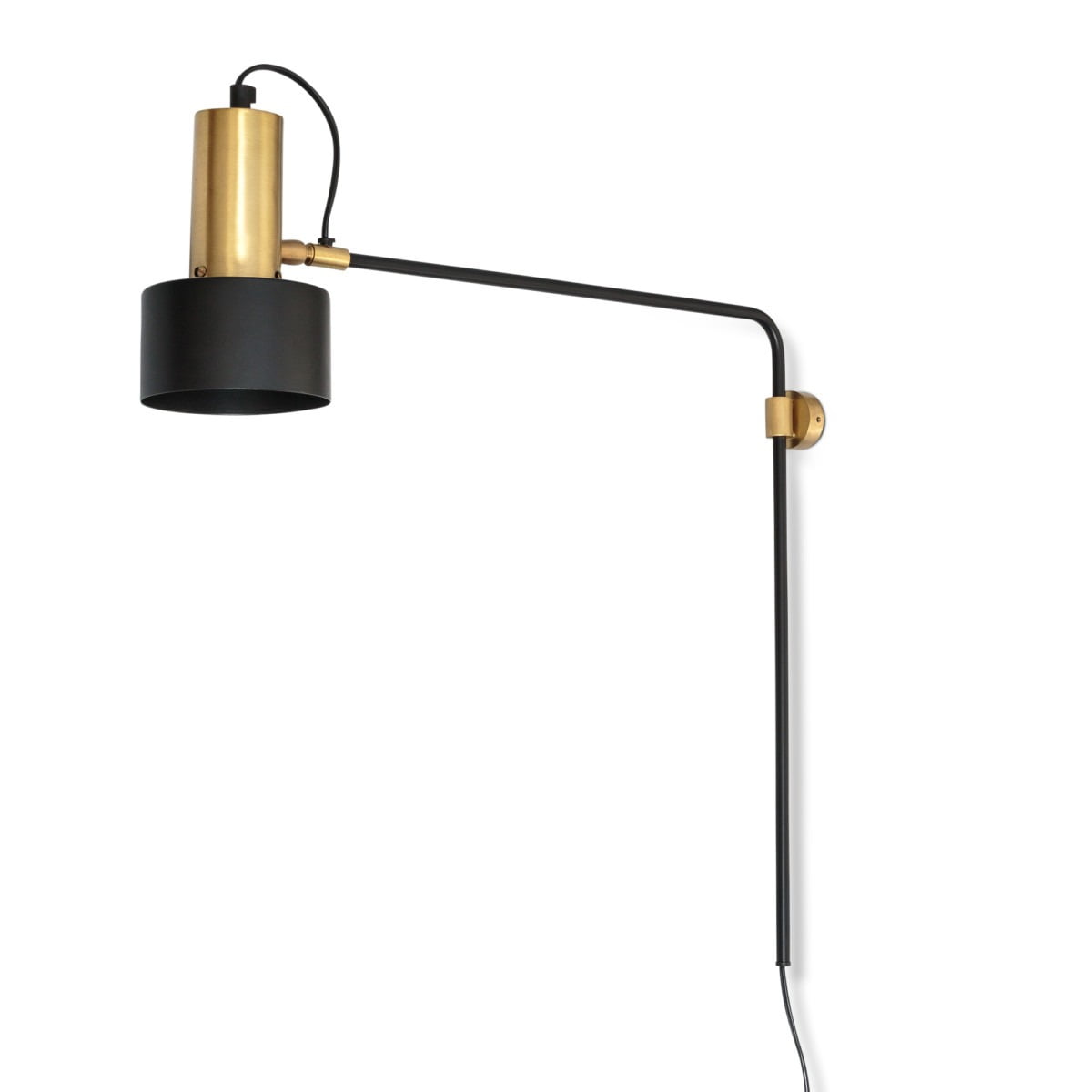 Alba wall light // £70 // Oliver Bonas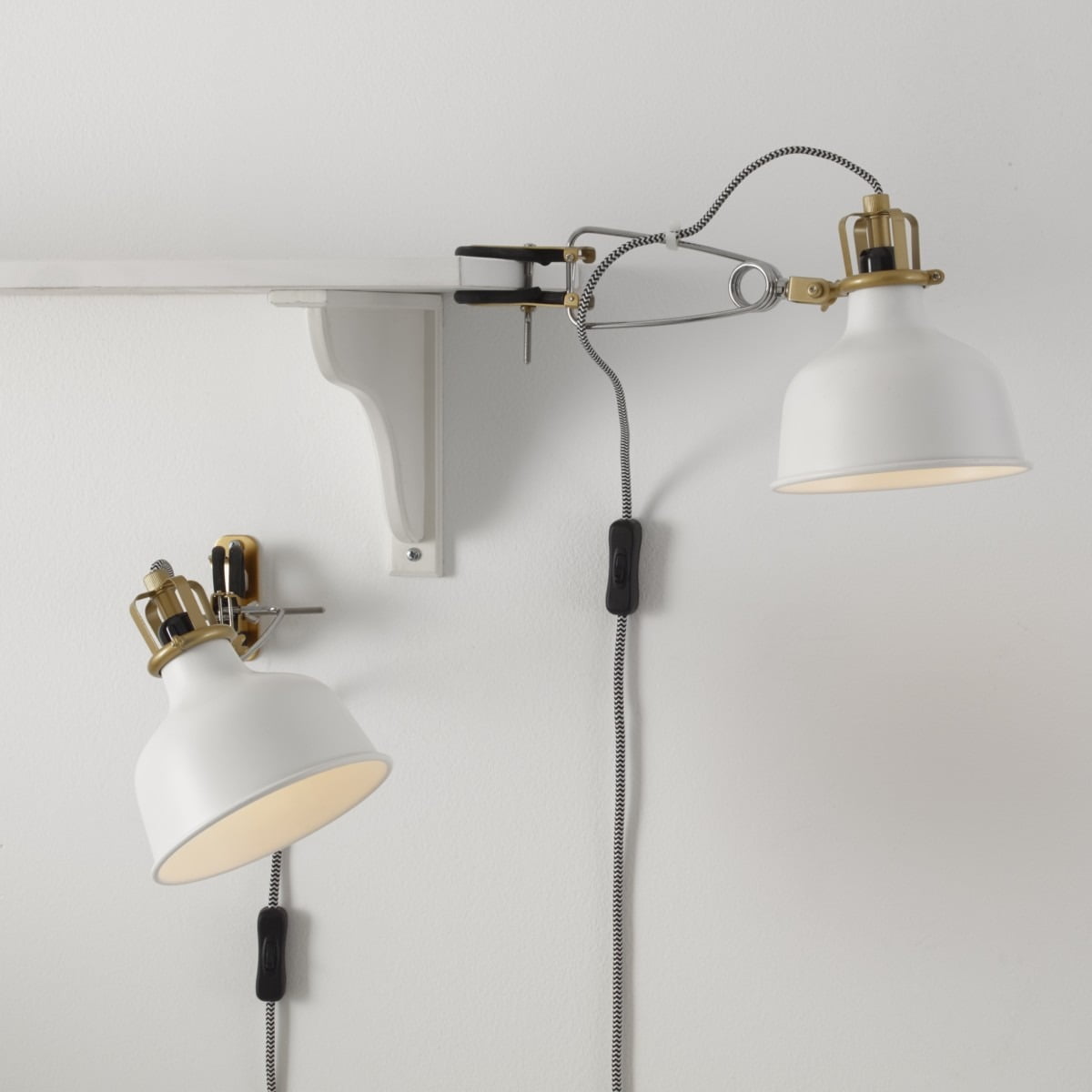 Ranarp Wall Lights // £18 // Ikea
Plug and go wall lights are so friendlier on the wallet – and don't suffer fools in the style stakes either. I love gold metal touches in all of these ones. The Oliver Bonas one is due out at the end of Feb so I'm going to be waiting to see that one in the flesh. I already have the ikea ones in my bedroom – which might be a bit matchy-matchy to continue it downstairs – but at £18 each they are too cheap to ignore.
Up and Down and All Around
If your living space is open-plan like mine, you might want wall lights that rise and fall. Pull them up when you want a brighter light during the day and then lower to create pools of light in the evenings. I've also been eying up lights that swing out into a room – great for reading and you can tuck them flush against the wall when not in use. These are all plug'n' go ones btw.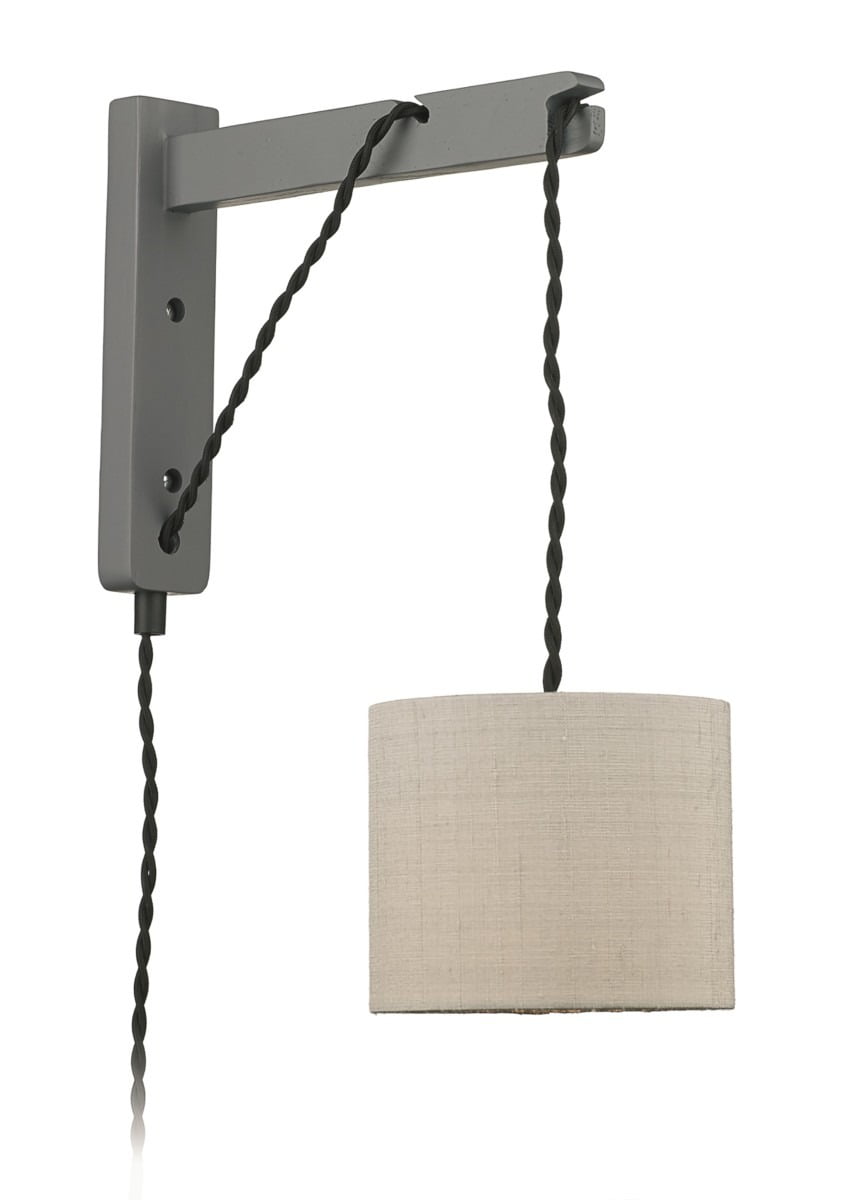 Wyndham wood light // Dar Lighting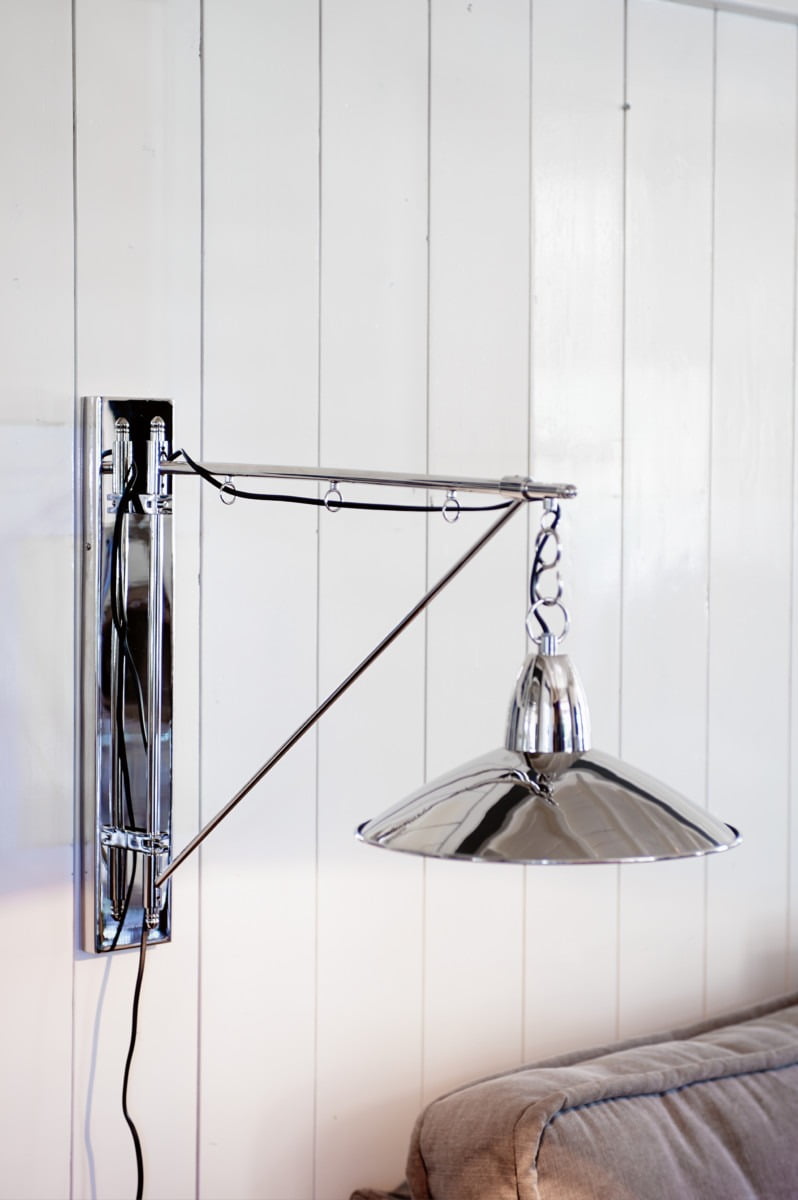 Riviera // £299 // Houseology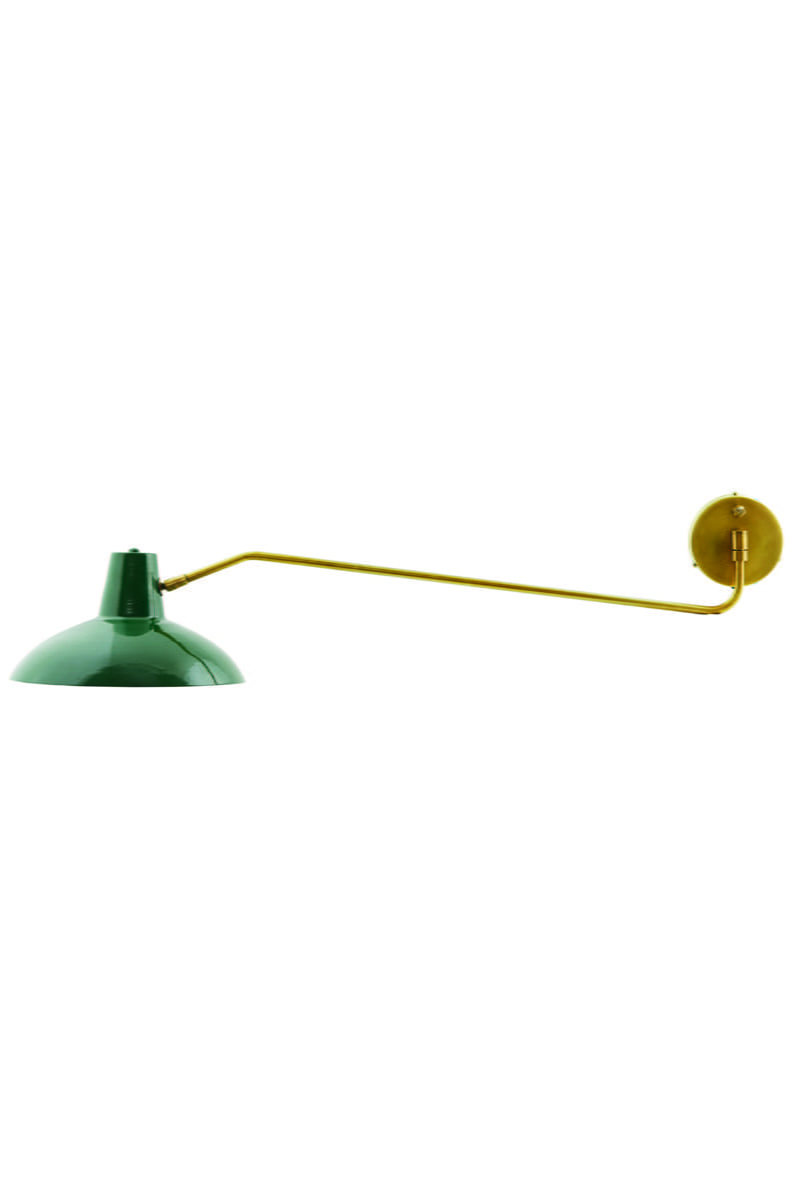 House doctor Green lamp // £229 // Ovo Home
Long Grey wall game light // £119.95 // Ovo Home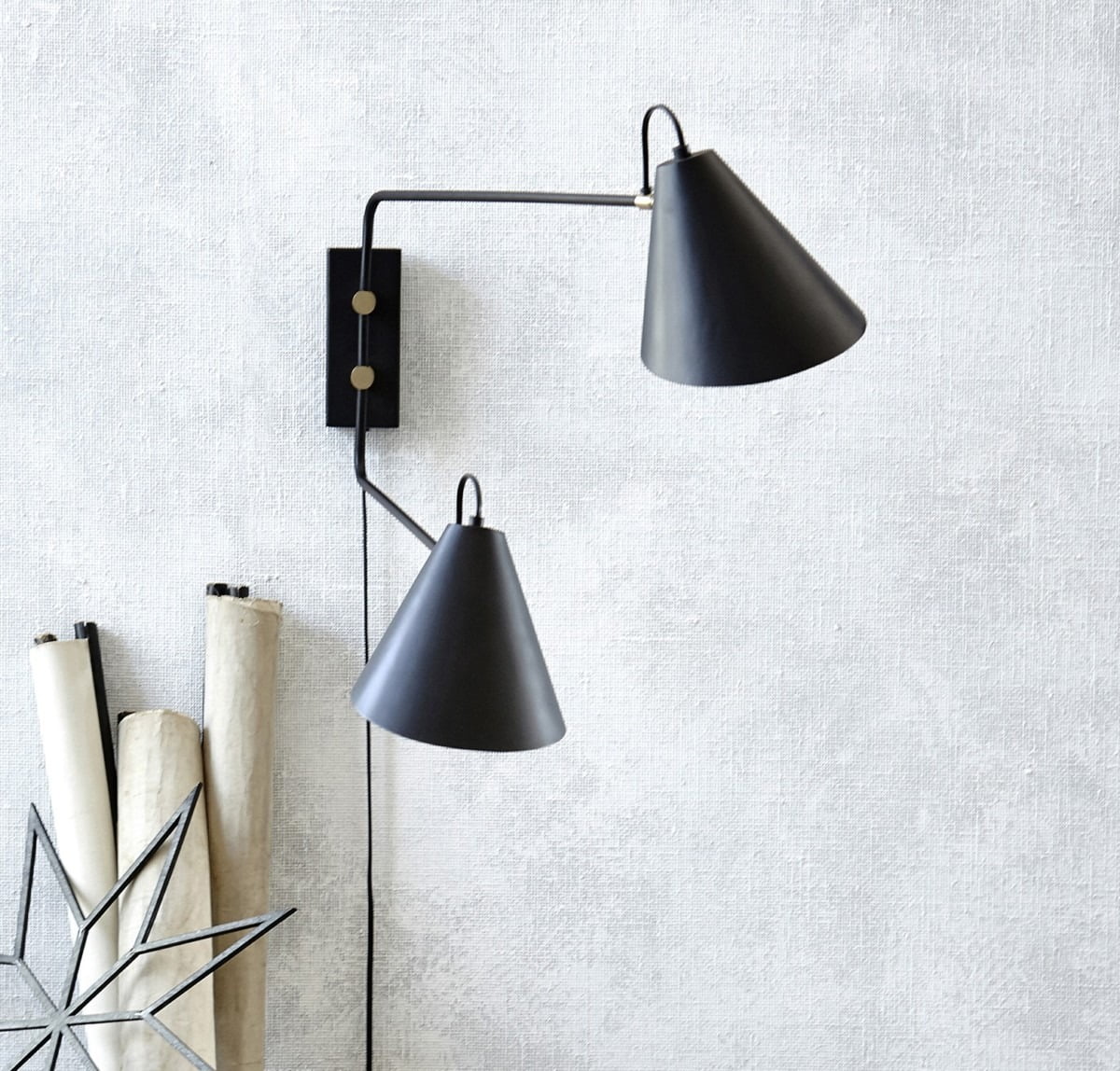 Club arm double // £195 // Abode Living
Out of the three above, I'm drawn to the black double armed one most from Abode Living. I'd pop it in an alcove or above my sofa to one side like I have seen on Pinterest.
Small Home? Look out for these dual purpose wall lights
Loads of lights do one than one thing. Which is winning for smaller homes like mine. Don't believe me? Let me show you.
Oud Bellila Oak Coat hook and Wall Lamp by Bellila SAS // Crowdy House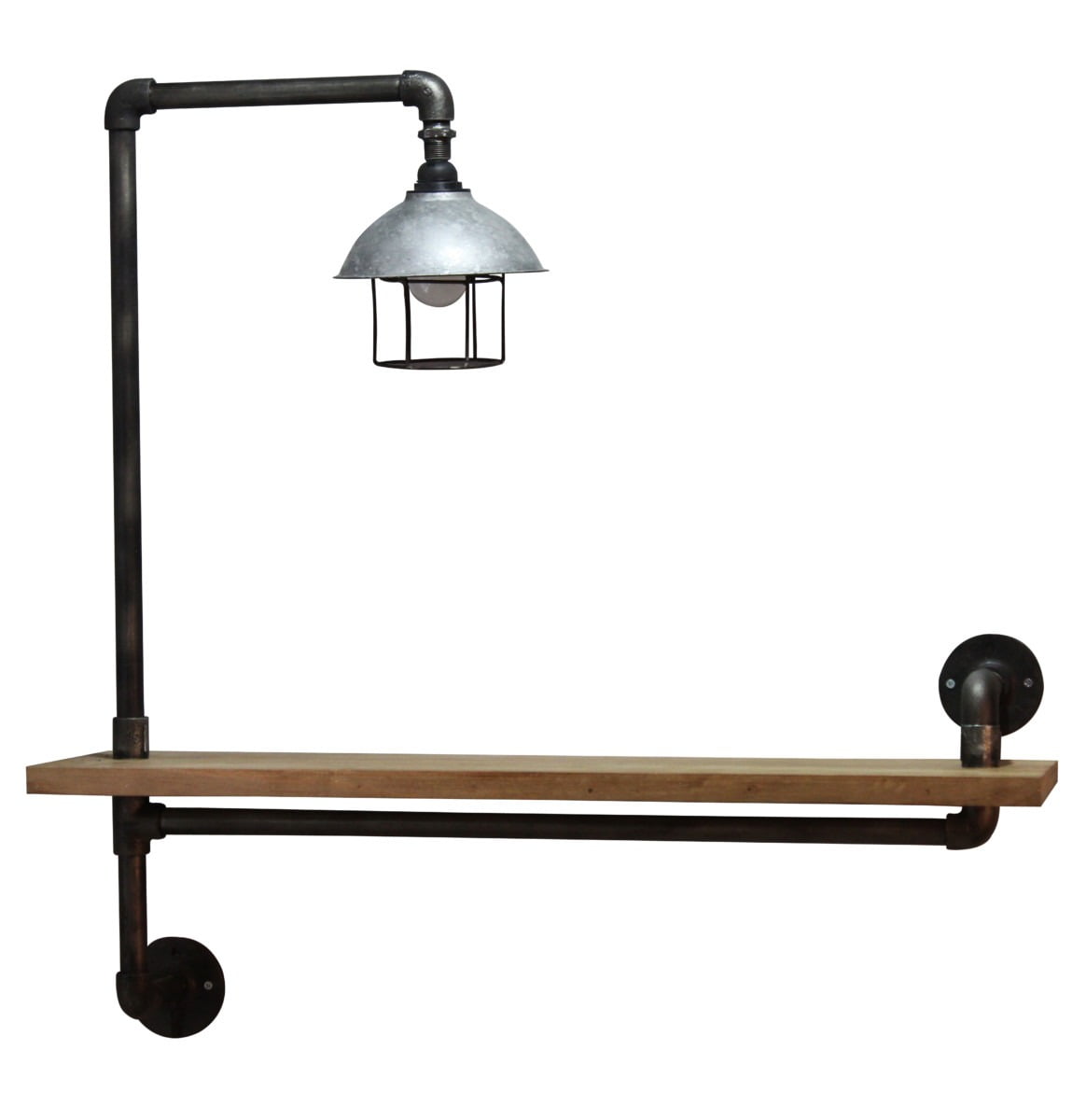 Jail House Gemini Shelf light // £257 // Alexandra and Pearl
I'd be tempted to put the coat hook light in my small hallway so there is somewhere for guests to hang their coats. The shelf one would look really good above a radiator.
 And just because…..
Sometimes you fall in love with a light which doesn't go with your room or lighten up a corner or serve any practical purpose. And then you just have to follow your heart.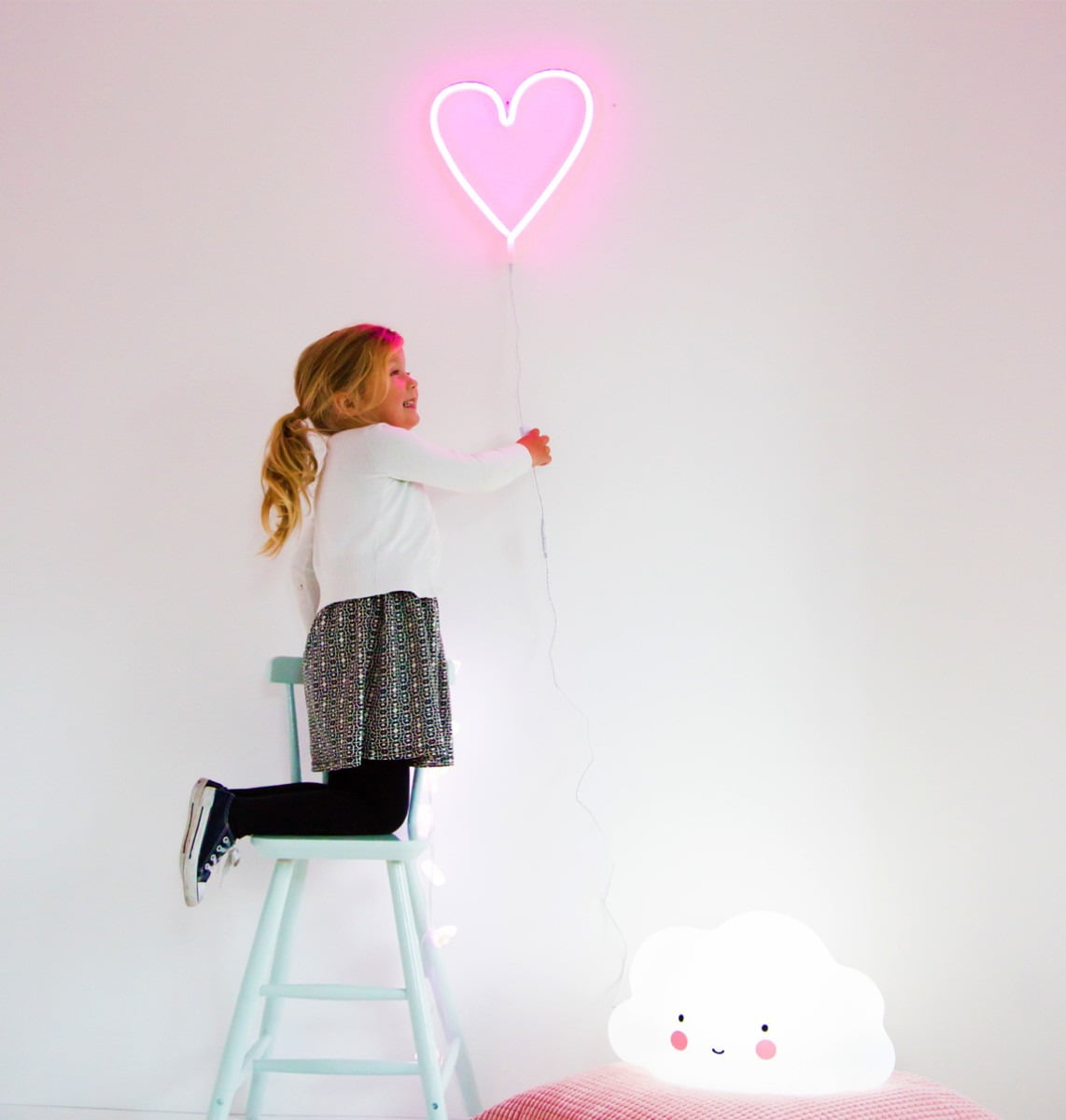 Heart light // £50 // Mini Bugs
If you love my lighting picks, then pop by my blog on Thursday for my fab competition where you can win a £100 voucher to spend on dream lighting for your home.
I'm dead nosey so please let us know which one you would pick out for your home.
Love this post? Then give it a pin to save it for later or press on one of the sharing buttons to show your friends the latest looks. Also, click here if you want to subscribe to my blog ????  – no spam (I promise) just friendly updates so you don't miss a thing from my blog.

** Disclaimer, this was a collaborative post. All thoughts and opinions are my own.