There is an exciting new trend making a stir in the interiors worlds – and it's called The New Neutrals. Breathe new life into your home with these calming new neutral room scheme ideas for every room in your home.
Main Image | H&M Home
Today, I'm sharing lots of clever decorating tips on how to use the new neutral interior trend which will transform your home from wild and unkept, to relaxed and zen.
This is a post I have been dying to write for ages. As it is not often you see a new trend come through that would work in any home. It started on the catwalks where models were dressed in layers of caramel, rust and creams in simple silhouettes And interior editors were quick to pick up the memo.
At the interior press shows for Spring Summer 2019 the collections were filled with rich, inviting shades of blush, rust, delicate off-whites and flesh tones. With flashes of teal.
The new neutral colour pallet is complemented by soft shades and simple shapes. In fact, I've dedicated a whole Pinterest board exploring all these colours and styling ideas. Take a look here.
The New Neutrals Interior Trend For 2019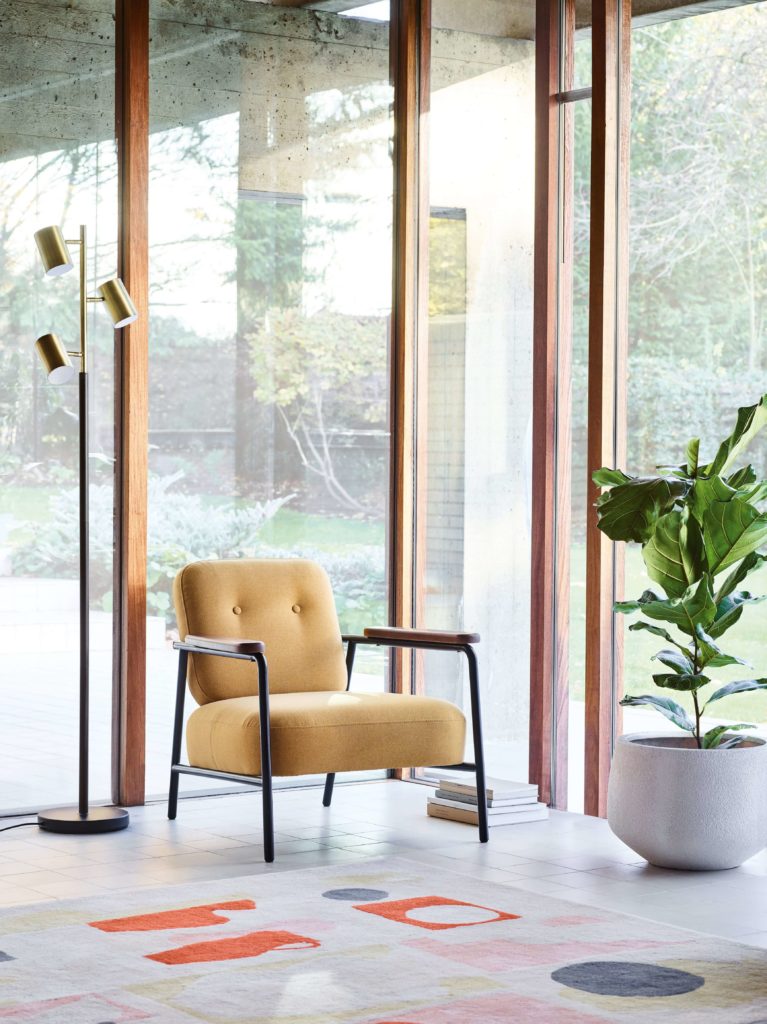 1. Keep it simple
The key to nailing the New Neutrals interiors trend is by keeping the overall look of your room simple, pared back and considered.
It's about adding a statement chair, an elegant floor lamp or an over-sized rug rather than painting every wall in your home in rust shades.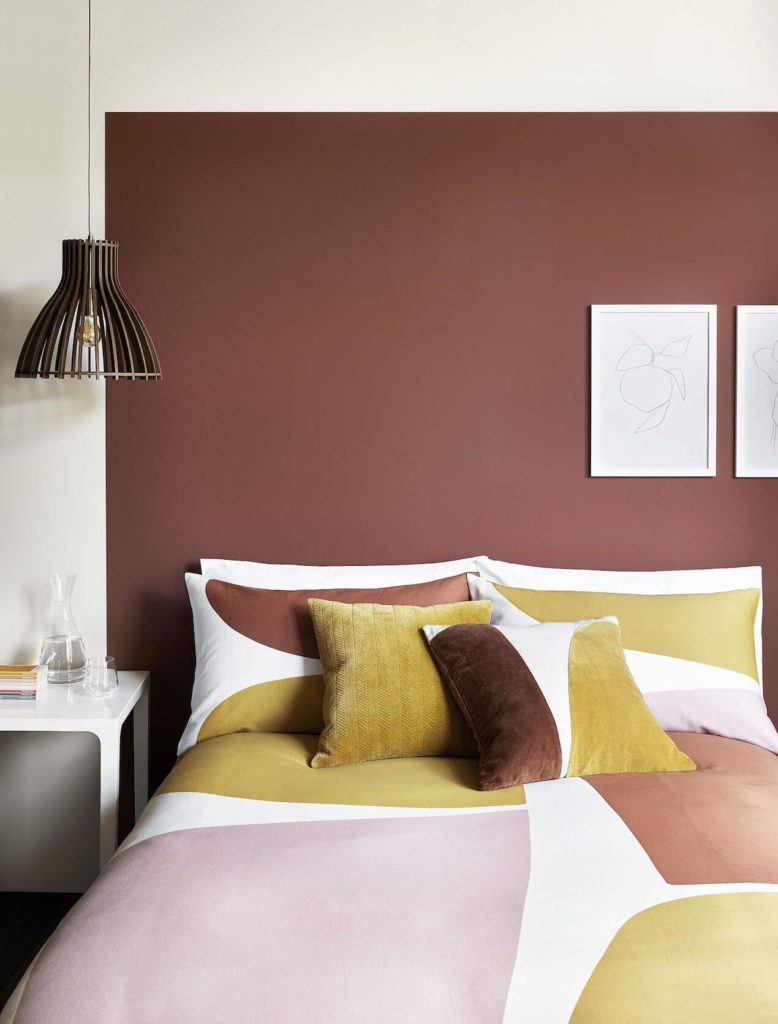 2. Invest in bedlinen
The quickest way to adopt this trend in your home is with bedlinen. Look for a set with a soft geometric pattern to add curves to your room. Add a few scatter cushions to finish the look.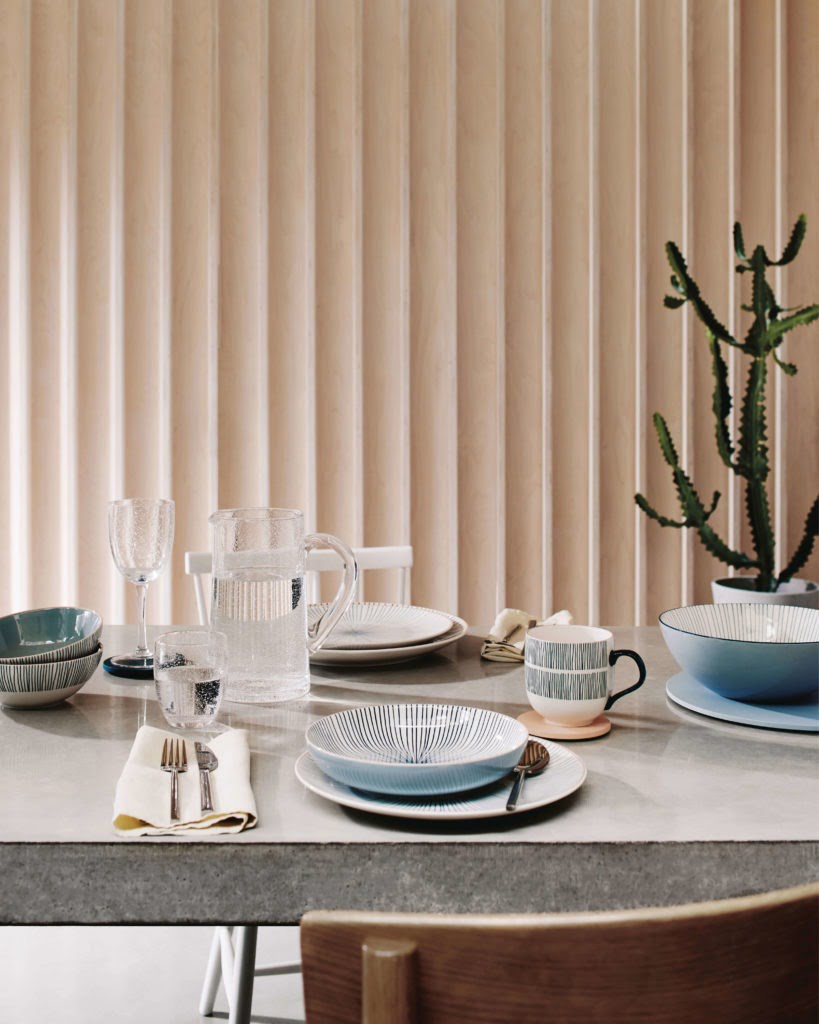 3. Bring walls to life with texture
The New Neutrals trend is not about one single colour but instead blends shades. Mix together vibrant rusty reds, warm oranges and soft blushes.
To keep things visually interesting, think about adding a textured feature wall.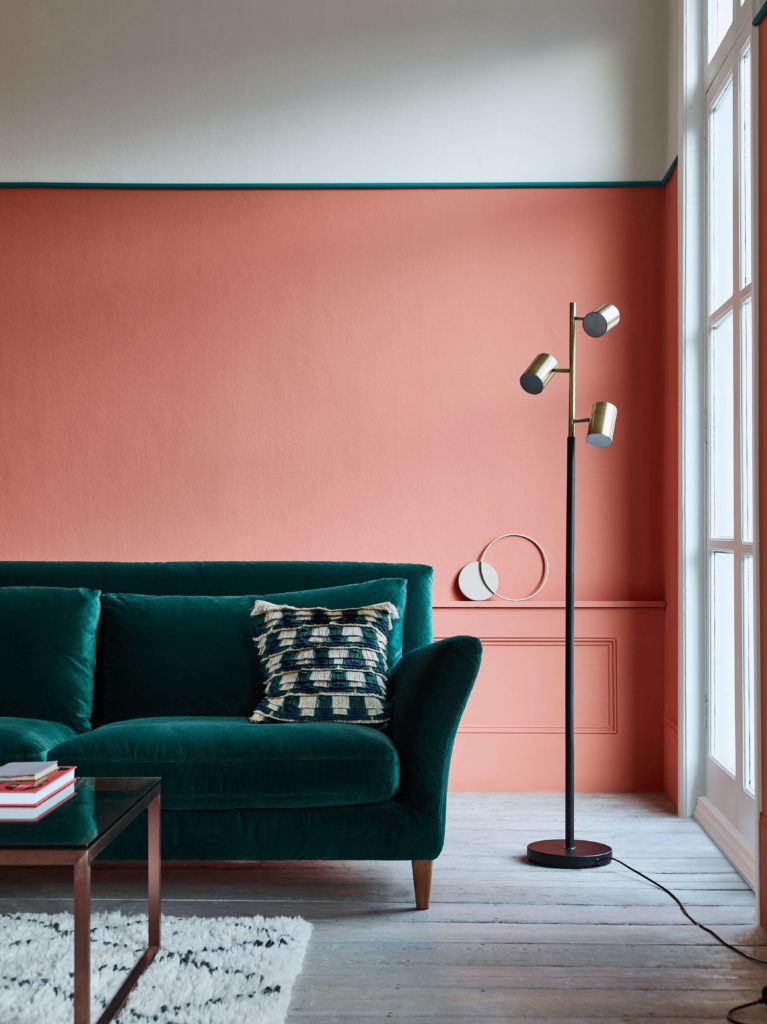 4. Modern Wall Accent
For the braver among us you could look to paint your wall in one strong colour. This trend is ideal for living rooms bringing a sense of wamrth and calm.
The idea above of painting up to the picture rail then adding a fine line of teal that matches the sfoa is pure genius. It pulls the whole room scheme together for a polished look.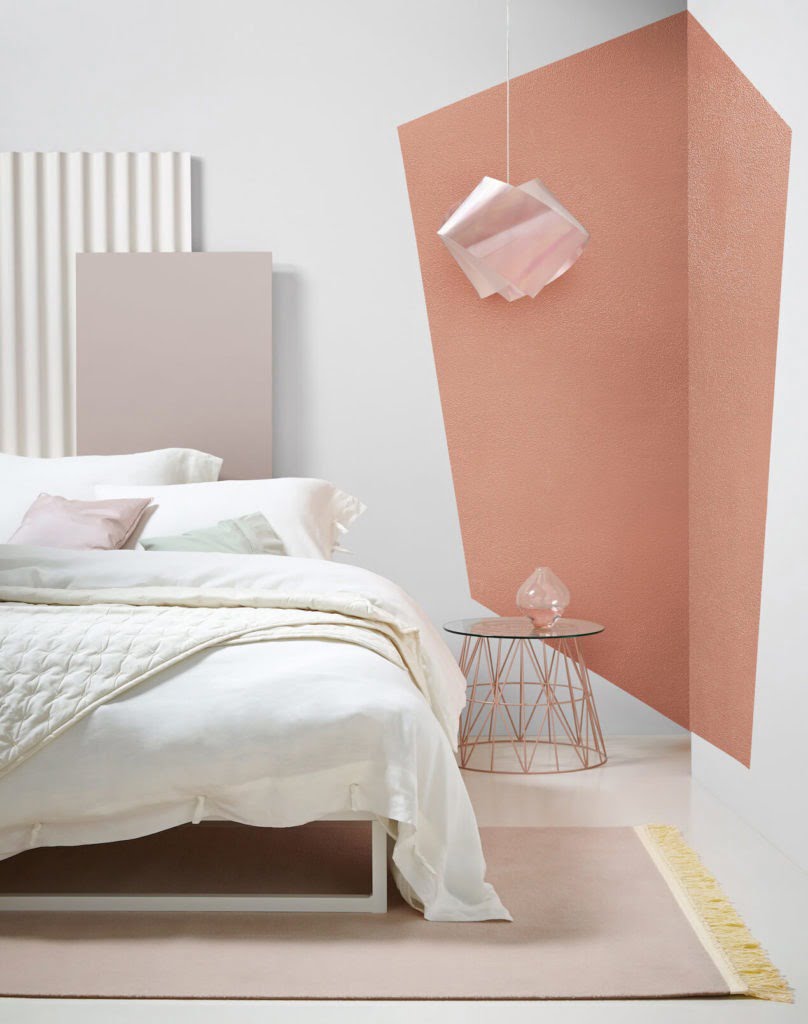 5. Add Geometric Shapes
Don't fancy painting a whole room? Then add this trend with a bold black of colour to your rooms in a irregular shape.
This is great for rented spaces where decorating all the walls may not be an option.
Here the yellow fringing of the rug adds that pop of lemon to balance up the colours in the space.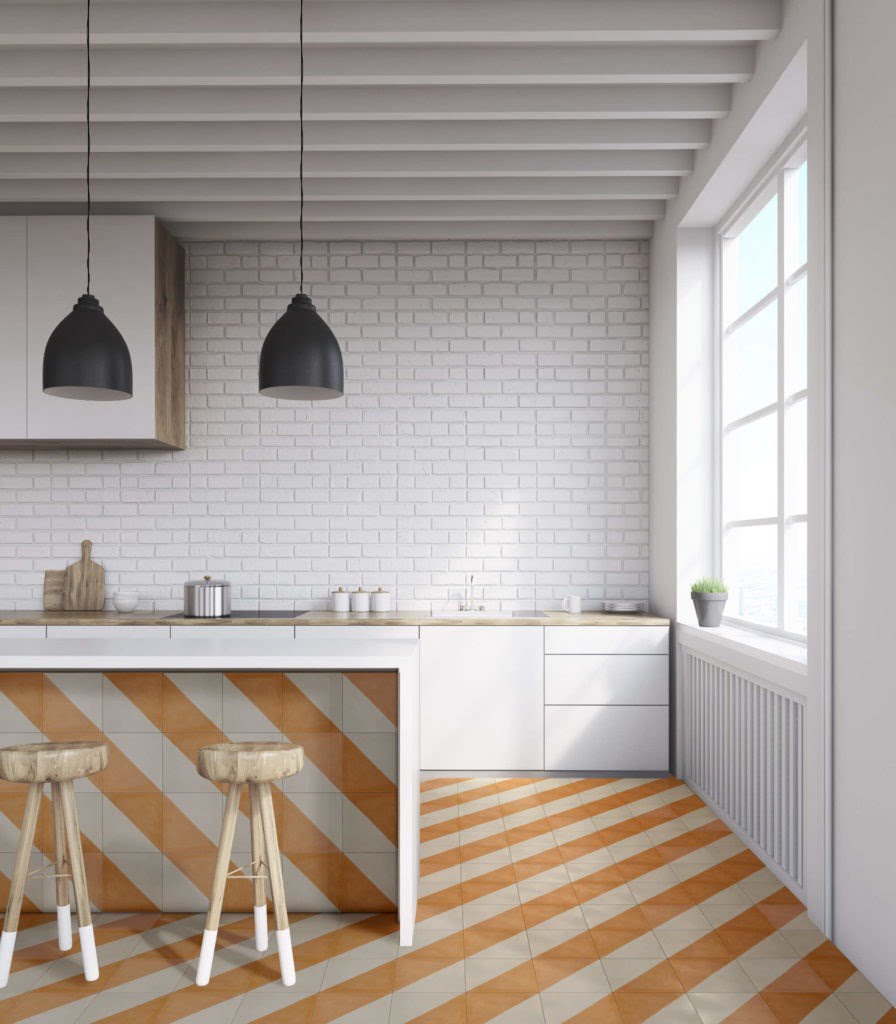 6. Parallel Lines
This kitchen is giving me all the thrills with this bold tiling design.
Copy this look in your kitchen with a striped splashback, kick back or feature tiling.
Let's hope you can talk your tiler into it!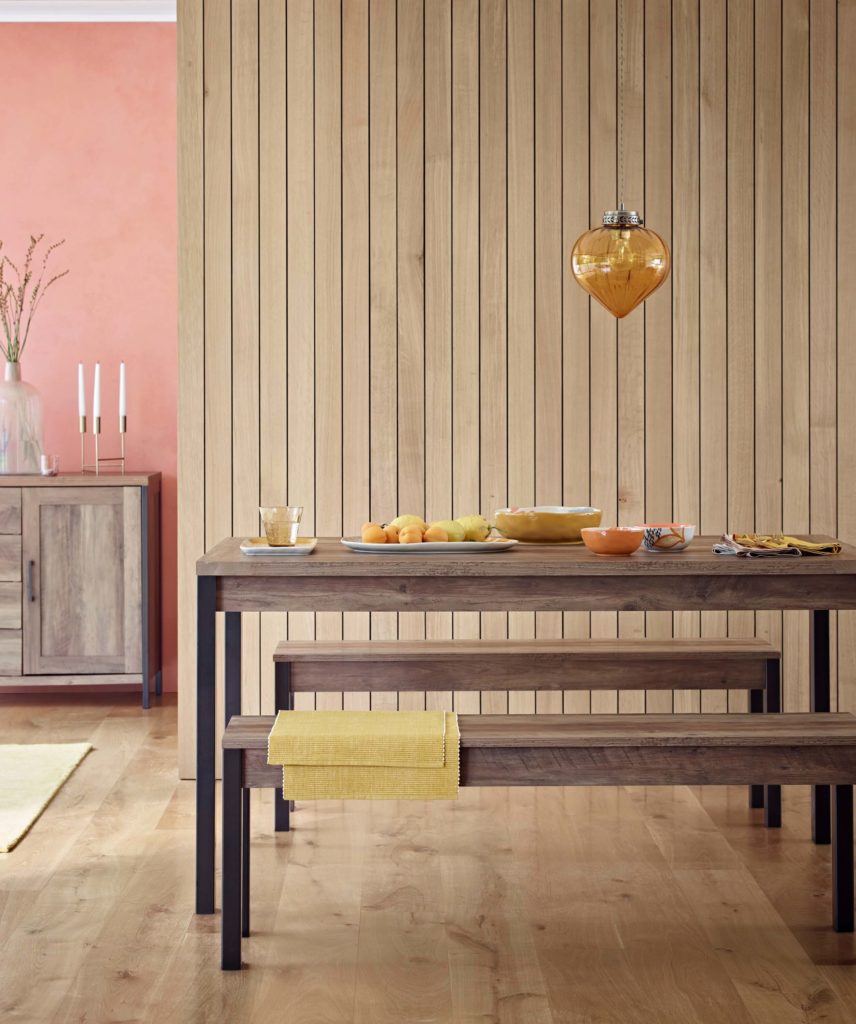 7. Wood is a New Neutral
The natural patterns and textures in wood work so well with rust red walls. I find that pale pines, light oaks or stained teak work best.
You could always try wood staining existing furniture if you fancy an quick update at home.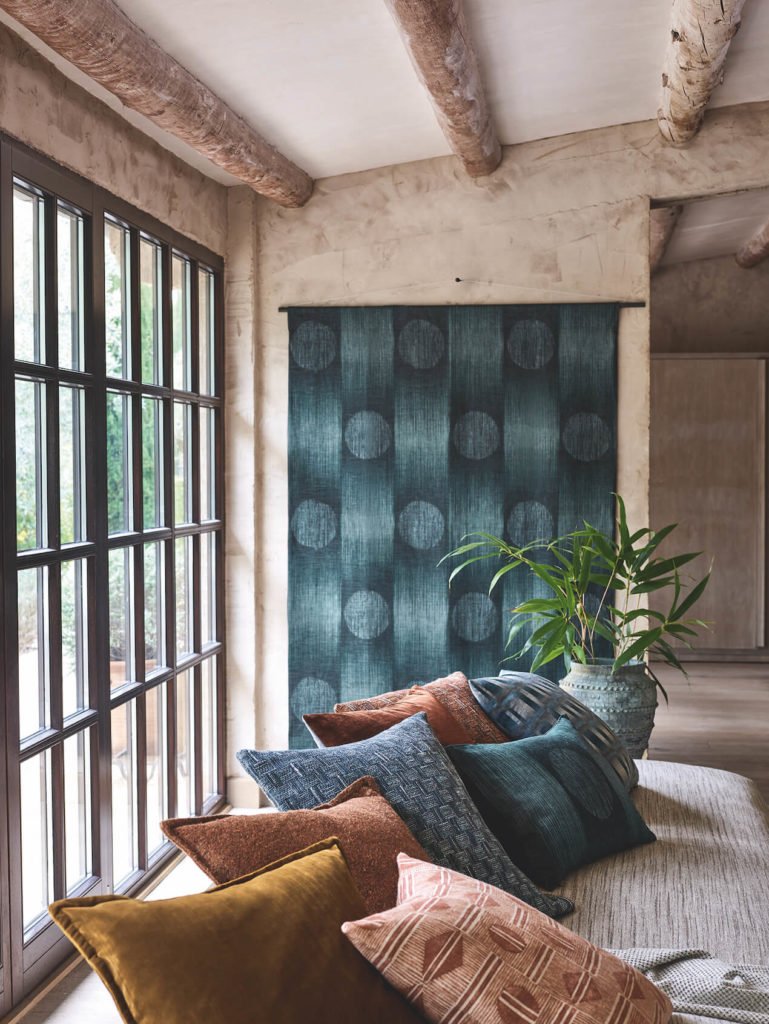 8. Velvety accessories
If you are trying to copy this look on a budget, start with cushions. Look out for designs in this key pallet in worn cottons, soft-to-the-touch velvets and break it up with a splattering of teal.
I love this idea of turning a window daybed into a sofa with a smattering of cushions. Then break up your raw plaster walls with a fabric wall hanging.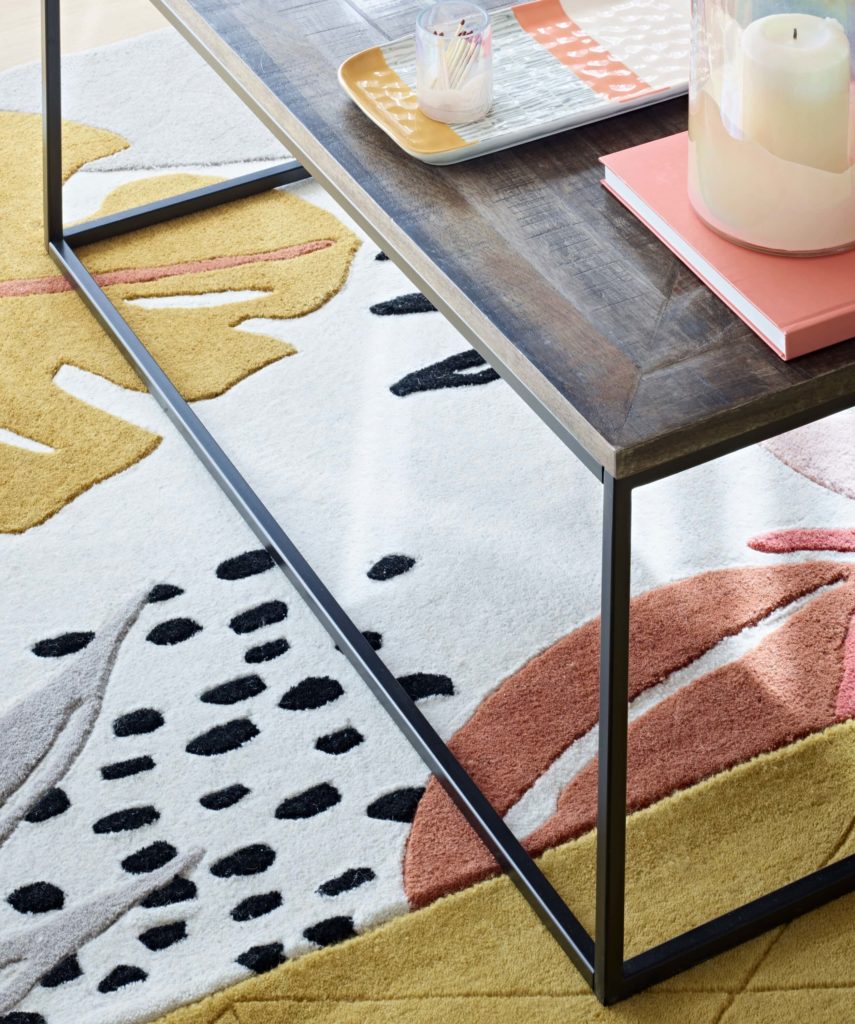 9. Bring this trend to your floor
A bold patterned rug is the perfect way to inject this trend into your home, Look for one in complementary tones. This rug above is perfect combination and I love the extra dalmation print detail.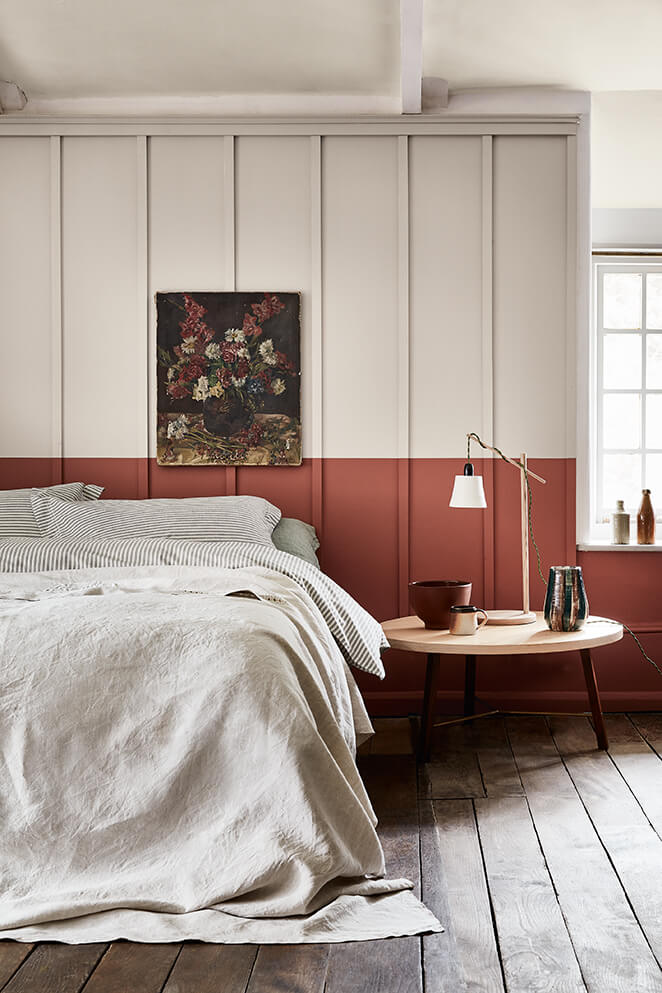 10. Update period properties
If you live in an older home with low ceilings, one way to introduce these colours is with a fake dado rail around the room. Choose your bottom colour and paint the skirting to match. Use masking tape to mask out a line. It almost looks like a headboard, doesn't it?
Here the lower part of the wall is painted in Tuscan Red 140 and the upper wall is in French Grey 113, both my LIttle Greene Paint Company.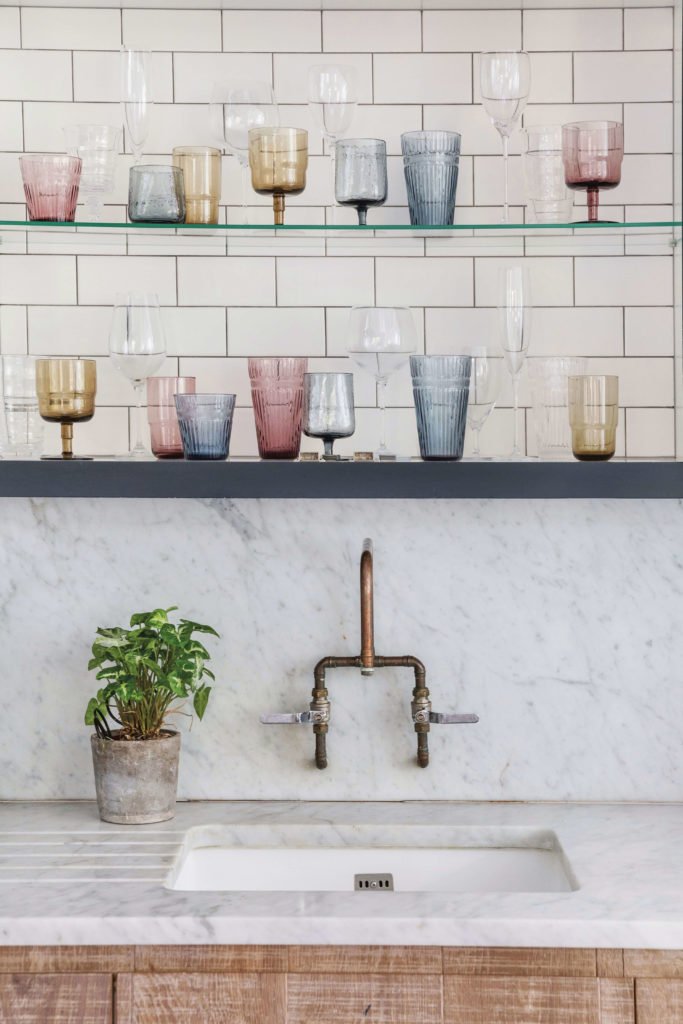 11. Add neutrals to your display
This is a great styling trick – using coloured glasses displayed in an pleasing way.
Pick glasses made from press glass for a little bit of detail and mix in clear glasses to add balance. Here rose, amber and teal look fab against the metro tiles and rough wooden cupboards.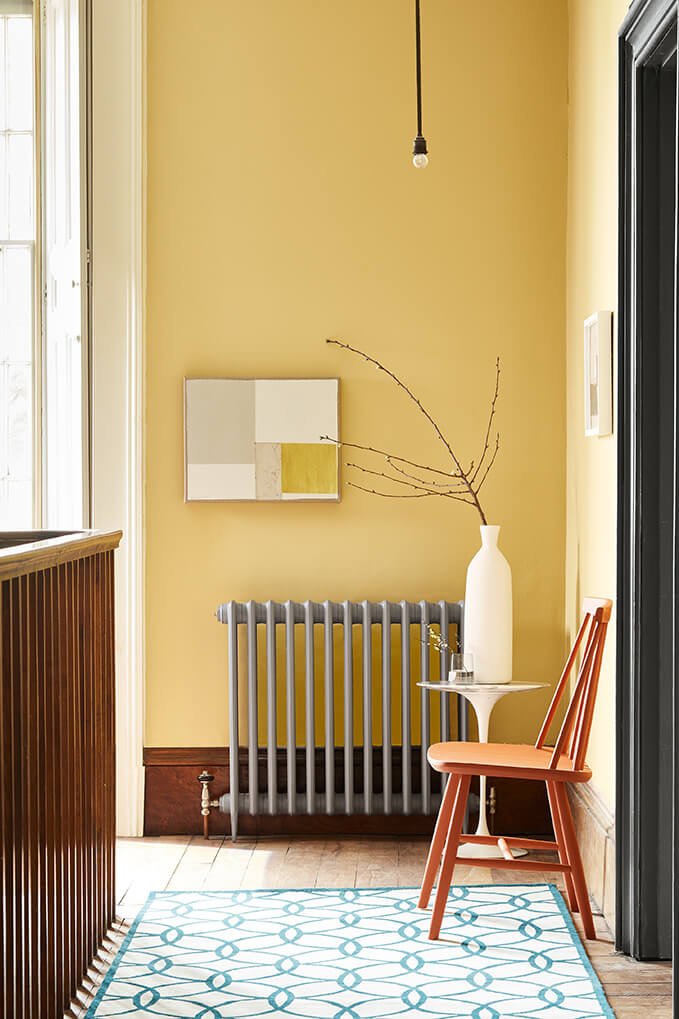 12. Yellow is a Neutral
Yes! You heard that hear first. sunny yellows, ochres and lemons are all part of the New Neutral colour pallet. Use them to brighten up a dark corner of your home like a hallway or landing.
Wall in Light Gold 53, radiator in Urbane Grey 225, architrave in Scree 227, chair in Heat 24, and window frame in White Lead 74, all Little Greene Paint Company.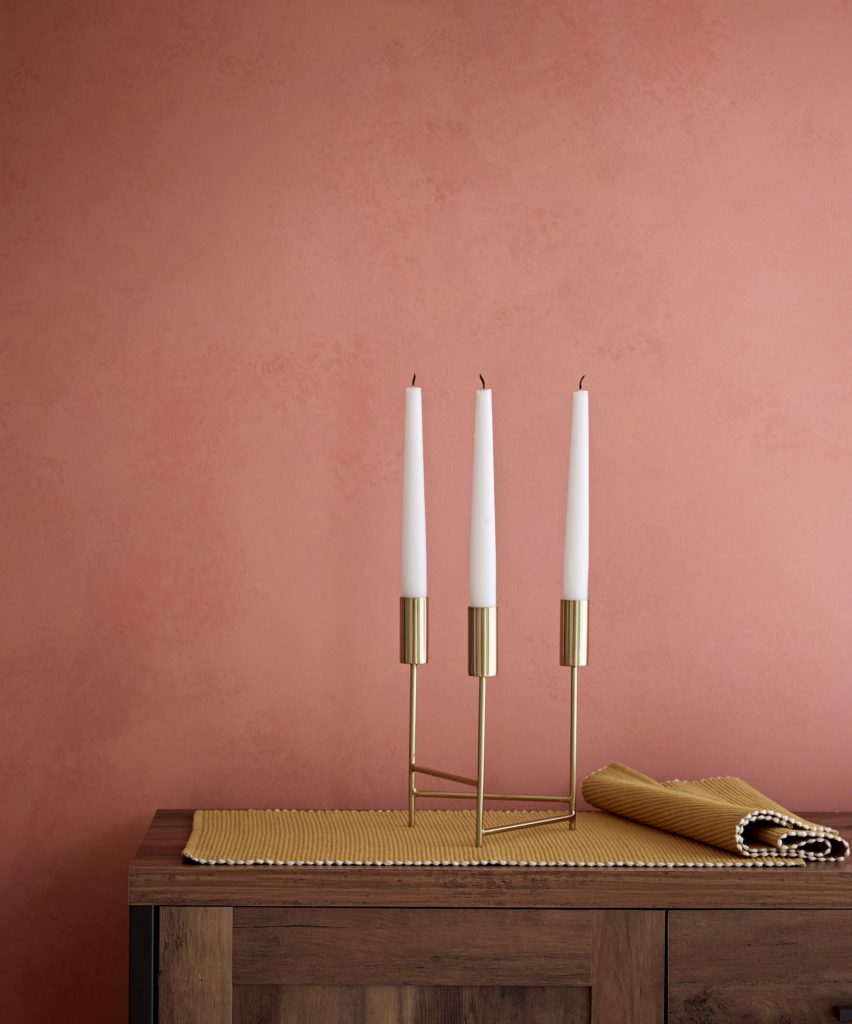 13. Try a dry brushed look
Have you tried chalk paints on your walls? You can use a dry brushed to leave a beautiful texture that looks like raw plaster but in bold tones. Add a hint of glimmer with brass candlesticks.
Style Tip: Bring your home alive with a warmly scented candle. I like the Rendezvous Tabac candle by MIller Harris. Candles in pretty packaging (like one is in a terracotta packaging will instantly add colour, beauty and warmth to any room.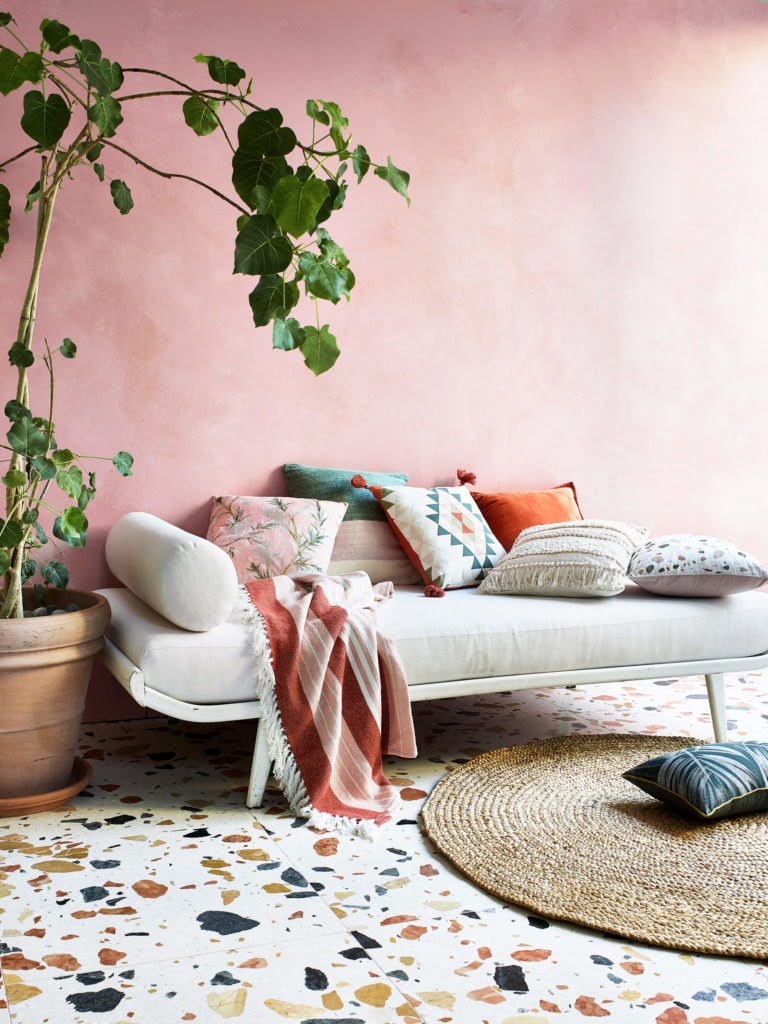 14. Terrazzo Patterns
You can mix the Terrazzo trend of 2018 with the New Neutrals interiors look easily. They blend together seamlessly.
Here the wall colour picks out the patterns in the flooring giving it a Mediterranean feel . A large potted plant in a terracotta pot will upscale the look.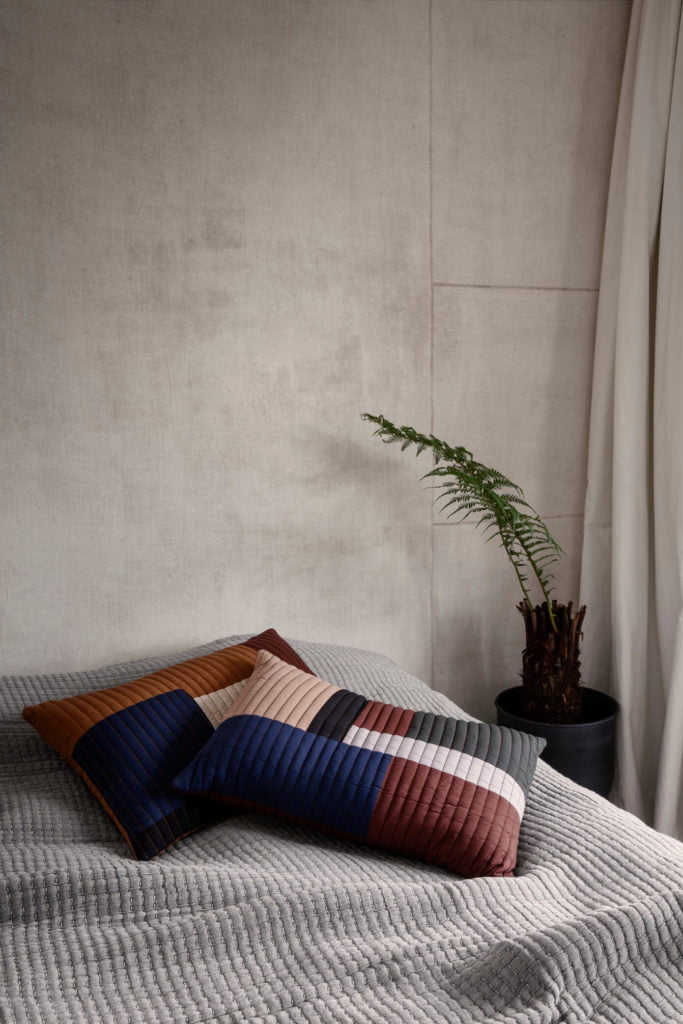 15. And Relax…
One of the best parts of this trend is that that it looks relaxed, calm and lived in. Try a simpler way of styling your home to capture this look completely.
Here soft throw in fawn with a few navy and rust cushions transforms this bedroom space.
What do you think of the New Neutrals colour trend?
Have you been inspired by the New Neutrals decorating trend?
As ever, I would love to know your thoughts on this look – pop a comment below.
And don't forget to Pin the image below to your own home deco boards to save for later.