Enjoy your garden all year round with these warming tricks to appreciate outdoor living during the colder months. In collaboration with Gardenman, I'm sharing my styling tips so that you can enjoy your garden this winter.
In collaboration with Gardenman – the outdoor furniture experts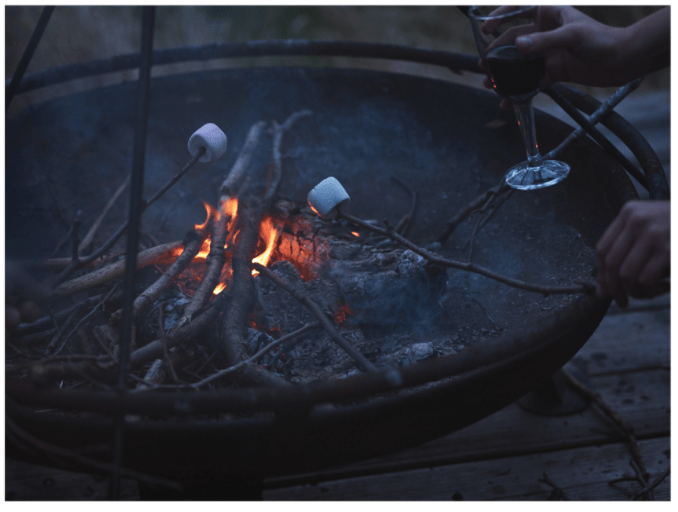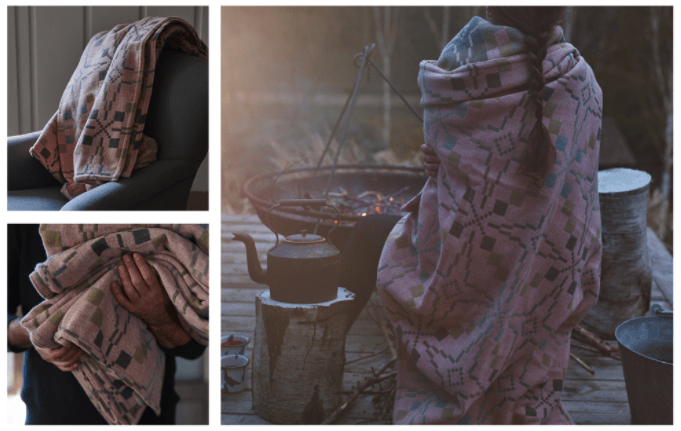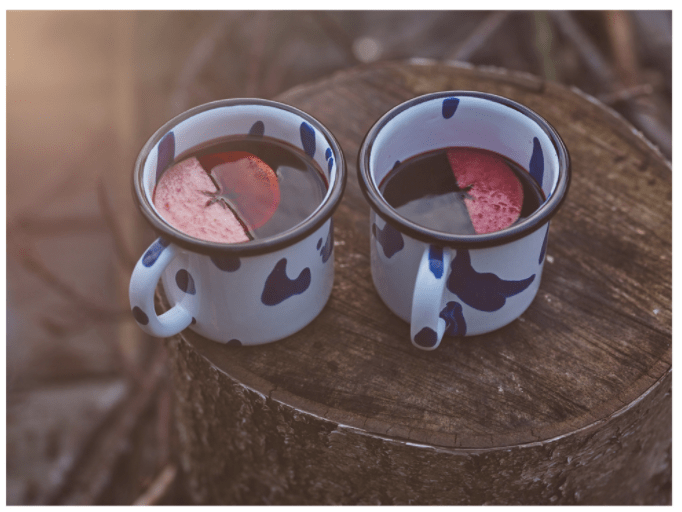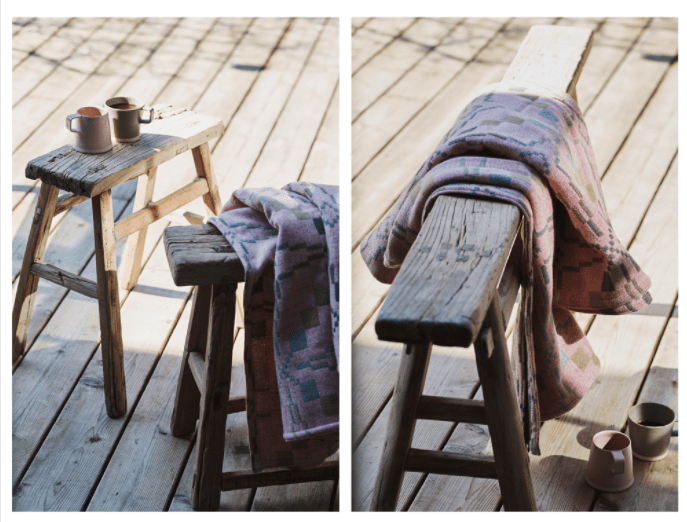 Treat your garden to some new accessories so that you can stay outside for longer. All items | Rowen & Wren
6 Ways To Make Your Outdoor Space Cosy This Winter
This year why not make frost your friend by embracing the outdoor life? iInstead of packing your garden up for the winter months, get out there an enjoy your garden. The outdoors can be a great place to relax with family and friends and the fresh air is good for our health too. With a few careful styling touches your winter garden can be a fabulous spot for an intimate family gathering.
And it doesn't matter what the size is of outside area either – a window shelf, balcony, patio or a front porch can be turned into an inviting space. It's all about being prepared for what the weather might throw. That way you can enjoy the winter sun on your face and lift your mood.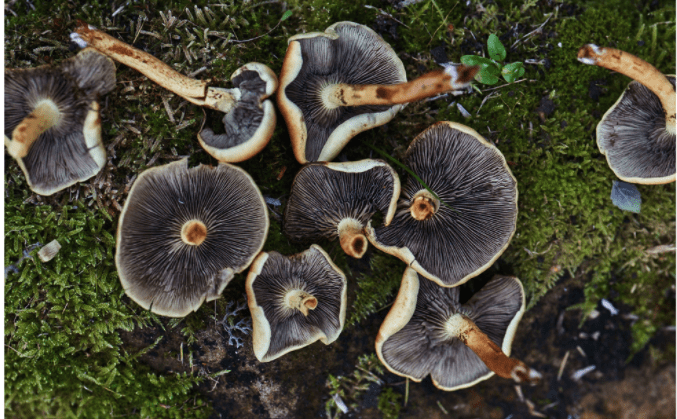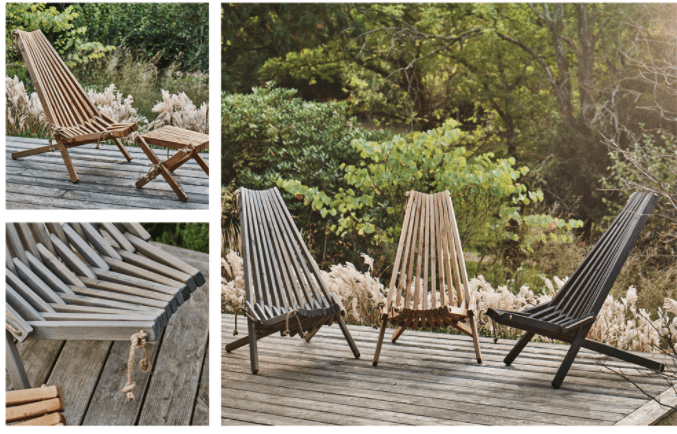 All items above | Rowen & Wren
I know I am looking forward to enjoying my garden for as long as I can. I've kept all my garden furniture out and I've invested in some great lighting. I have a basket of throws just by my back door ready to snuggle under when the mood takes me. I'm going to download a stars app on my phone so that I learn a bit more about the big blue sky. I can't wait!
What are you waiting for? With winter's arrival – now is the time to get out in your garden. Read on to find out how to create the perfect winter garden in your outdoor space.
Give your garden a good tidy ready for the winter months ahead. Tools | Garden Trading
Tidy and tame your garden
With the amount of rain we get here in the winter months, it's easy to forgo your garden for indoors. They key is to create a lovely inviting space that you want to hang out in. Try to keep on top of your garden maintenance anddDon't let your garden be taken over by the elements. You'll only face loads of upkeep when springtime comes!
Instead of ignoring your garden, keep on top of your winter garden so it looks on point. Put on your welly boots and knitted jumper, and get out there. Deadhead your flowers, make sure paths are swept, take bags of rubbish to the tip – that way your garden will look loved and cherish. And you'll have a calming outlook no matter the size.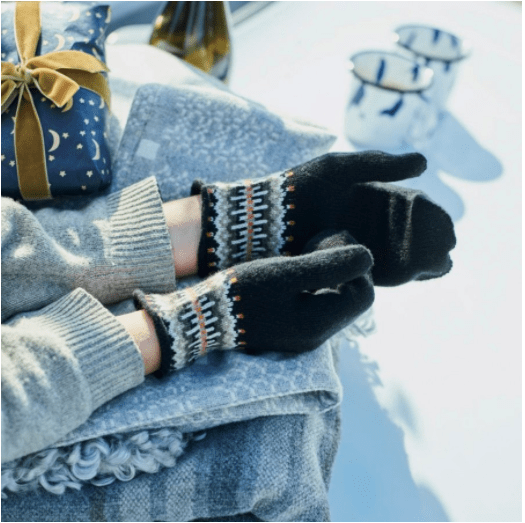 Pile on the cosy layers to make your outdoor winter garden experience as snuggle as possible. Gloves & throws | Rowen & Wren
If you want to add a splash of natural colour in your garden, why not plant some winter flowers? December is ideal for some tulip bulbs, like Paperwhites and Amaryllis. are so easy to grow and they add a splash of colour to your outdoor space when it much needed. For a classic Christmas look, you can't go wrong with the red of Multi Amaryllis Red Tiger, or change things up a bit you can opt for the exciting pinky-stripy hues of Jumbo Amaryllis Gervase or Jumbo Double Amaryllis Dancing Queen.
Invest in outdoor furniture
Now is a good time to invest in sturdy outdoor furniture (as there are lots of great sales on). Have a think about how you use your space! Families may want to invest in a roomy corner sofa ideal for an at-home outdoor cinema set up for winter-themed movie nights.
Love to BBQ? Then treat your garden to a casual dining set that will sit all the family outdoors during winter. Choose one with a built-in fire pit, you'll keep warm even in the dead of winter. Look out for clever outdoor furniture, like sofa sets where the stools can neatly tuck under a table or the side table converts into an ice bucket!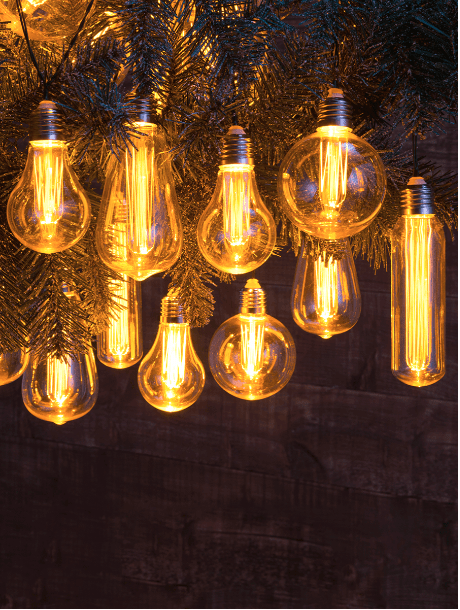 Extendable Vintage Style Bulb String Lights, £45, Cox & Cox
Add some ambiance
Somehow candlelight instantly warms a space, if not literally then certainly psychologically. Twinkling fairy lights will enhance the cosy atmosphere by creating strong contrasting shadows and will frame your designated space beautifully. My garden is filled with solar powered lighting strung up in branches and across my garden – the bring instant glow to my space. You can see my garden lighting in this post here.
String up outdoor lights under your umbrella or awing for a gentle glow as the evening light naturally fades. If you have a larger garden concentrate on covering over just a small area (rather than the whole garden) to create a sense of intimacy.
Enjoy the benefits of a warming blaze in your garden! Firepits and chimeneas make a great focal point on a patio. And they are fab for toasting marshmallows or heating up hot chocolate. Another great outdoor gadget to invest in is a patio heater, which come in a variety modern or retro designs, and can start at as little as £40 for a small wall-mounted version.
If you are tight on room, many garden furniture sets come with integrated fire pits. In fact, Gardenman stock outdoor coffee and dining tables tables can be converted into gas fuelled fire pits at the drop of a hat.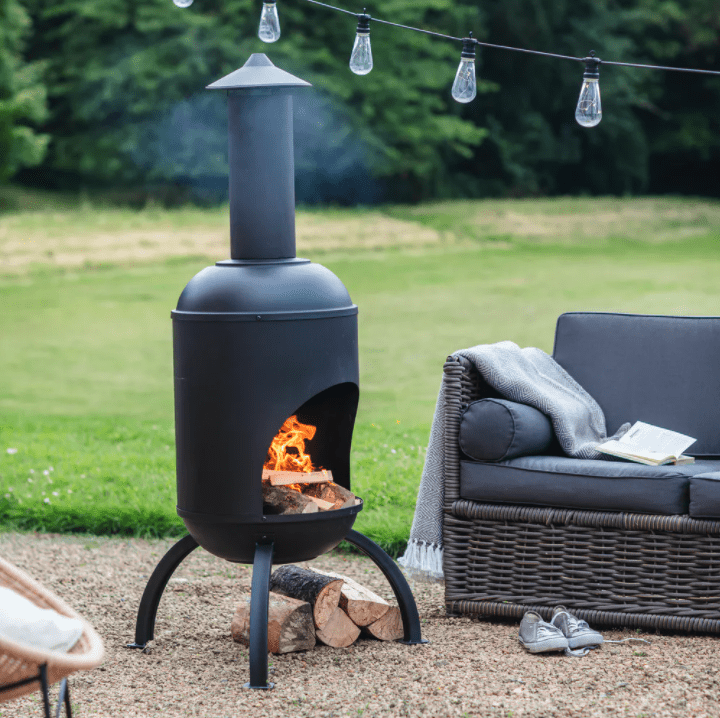 Take shelter
Adding shelter will not only increase intimacy but it will shield you from the elements. Use your summer parasol or a sunshade to keep out the cold. Or you could think about investing in a gazebo which is a great all-round refuge when it rains. Or why not get a gorgeous luxury daybed with a hood which you can snuggle under and watch the stars.
If you really want to upscale your garden, then add a patio, pergola or veranda that you can turn into an outdoor room you can use all year long. Want more ideas and inspiration? Then a look at Trueline (experts in creative outdoor spaces) who can help you design an outdoor area to suit your home's needs.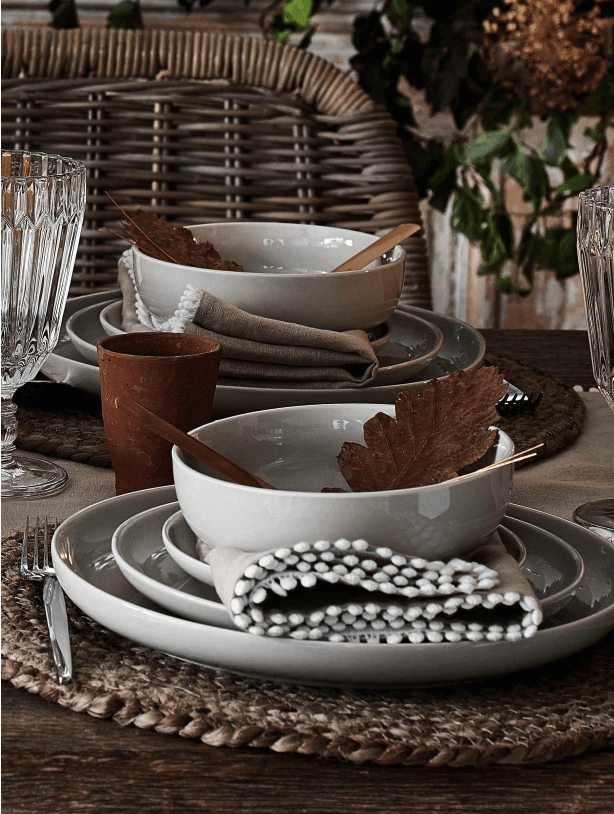 Use natural elements like rust coloured leaves to style your outdoor table top. Dinnerware | Nordic House
Feed a cold
The best part of alfresco entertaining is hosting an outdoor gathering? Make hot drinks and cook warming stews indoors and serve in mugs outside. Think about a menu filled with seasonal foods like roasted pumpkins, soups or jacket potatoes with spicy fillings that will warm you through and through.
Or even better, spark up the BBQ, fire pit or outdoor pizza-oven as an extra source of heat.
Don't forget to style your outdoor table top just as you would inside with lanterns, a table cloth, napkins as well as lots of platters so that your outdoor meal will look extra special.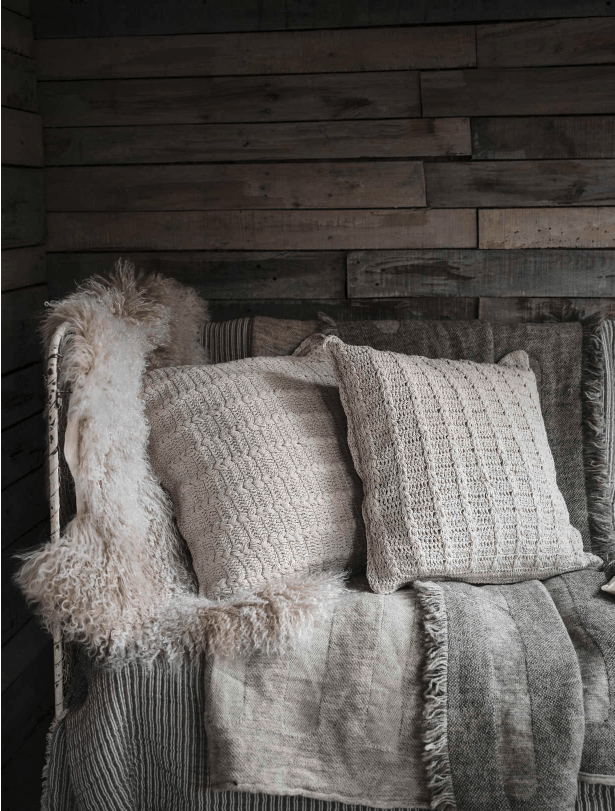 Snuggle under cosy throws to keep warm well past sunset | Cushions & accessories Nordic House
Wrap it up
Make sure your outdoor furniture is dry and then soften it up with plenty of faux furs, throws and wool cushions for a cosy look. As the night gets colder, keep close to hand cosy blankets and toasty hot water bottles to keep warm.
When not in use, look out for large shower (and snow) proof storage boxes that you can stash cushions and throws in. If you get one sturdy enough, they can make excellent alternative seating option in smaller outdoor spaces too. Garden Man have a huge selection of weather proof rattan storage boxes of all sizes.
6 styling ideas to transform your winter garden into a cosy space
Now, all you need to do is cuddle-up and relax under the stars.
You May Also Like
CREATE A MAGICAL GARDEN ROOM IN TIME FOR WINTER GUESTS
TRY THESE 8 PRETTY GARDEN LIGHTING IDEAS
CLEVER IDEAS FOR SMALL GARDENS