Sleep! As we average around a third of our lives in bed, it's important we have somewhere lovely and cosy to nap in. Today, I want to introduce you to Button & Sprung who make natural, sustainable beds and mattresses – all designed with a peaceful night's sleep in mind. Plus they're very stylish too.
When designing a bedroom makeover, the key ingredient is always to make a beautiful, well-designed bed as the focal point. As an interior stylist, I have designed literally 1000s of bedroom and I know that choosing the right bed and the most comfy mattress is the key to nailing the look of your room.
When it comes to bed shopping, it's not just looks we need to focus on – you need to put your well-being first. If you are not getting enough sleep, you're compromising your health and are 10 times more at risk of developing depression. A great night's sleep is the perfect remedy to approach a new day feeling energised, motivated and happy.
But how do you choose your dream bed? Well, luckily Button & Sprung have a fail safe bed-buying experience which you can do either online in the comfort of your home – or in store.
Let me introduce you to Button & Sprung and their amazing bed and mattress range.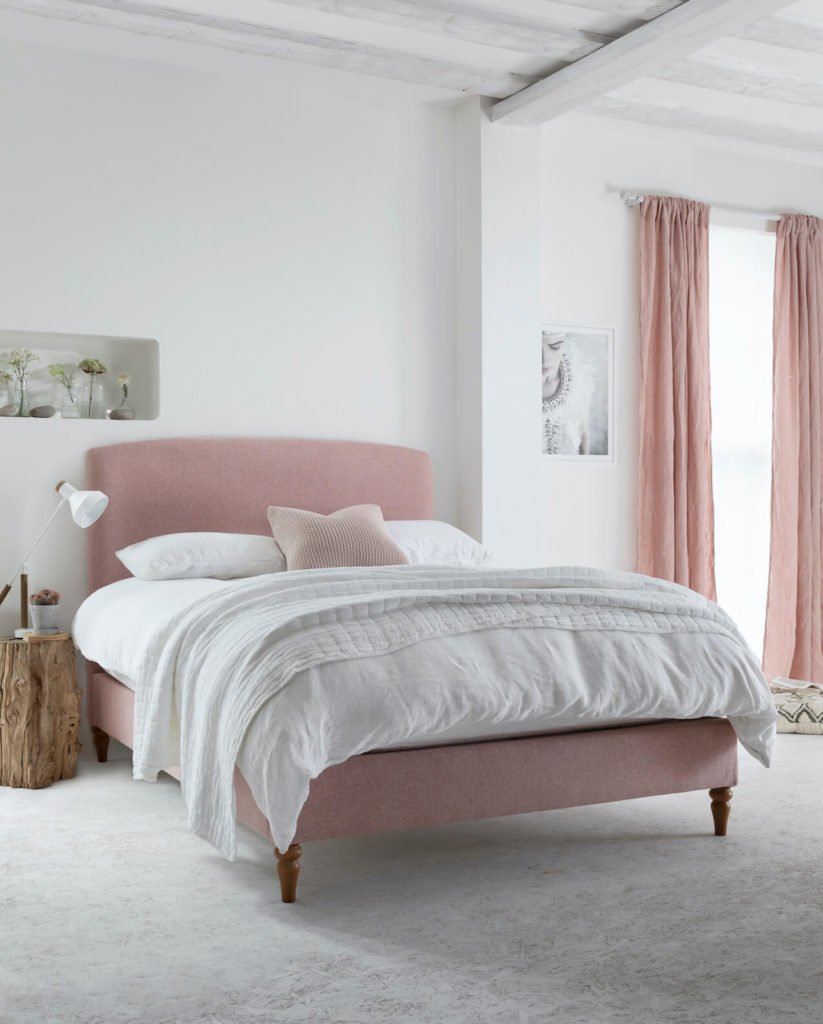 The sleep specialists – Button & Sprung
If you haven't heard of Button & Sprung, then you really need to add them to your interior styling address book right now. They are a relatively new company that are causing a huge stir in the world of beds! Not only do they make comfy designer beds (at great prices) in a HUGE selection of fabrics but they also hand craft the most sleep-worthy mattresses too.
They have a few brand values that I like and I think you will too:
Guaranteed for 10 years
100 night free returns
Built to last
Handcrafted by experts here in the UK
Standard UK sizing
Base, fabric, headboard, the choice is yours
High-quality products at a fair price
British homegrown bed brand
It's good to know that Button & Sprung are a British manufacturer, and they specialise in quality handmade beds and natural, chemical-free mattresses. Their in-house craftsmen, use skills that have been passed down from generation to generation, to make mattresses with natural fillings like silk, wool, hemp, flax, cashmere, mohair and horsehair. As a bed company, they strongly believe that a natural (rather than a foam filled mattress) will help you drift off to sleep.
Not only are they experts in what they make, Button & Sprung also are genius at taking the hassle out of bed buying. They make it as simple and straightforward as possible – so whether you choose to shop on-line on their dedicated website or in their stylish store – it is a stress free shopping experience.
Select your pocket sprung mattresses
When it comes to a good night's sleep you can't beat a good mattress. Button and Sprung's range has nine models, all made in the UK, crafted from natural materials and thousands of pocket springs.
All the mattresses use Button & Sprung's innovative spring systems, natural fillings and chemical-free ticking. As the range works upwards, each mattress has more springs and larger quantities of higher quality fillings.
Investing in your rest
We all know it is worth investing in your rest by choosing the best mattress you can afford.  At Button & Sprung mattress prices start at £545 for the Borderdale, which is a 2,822 spring mattress with four built-in comfort levels, there is something for everyone. They have a very handy buyer's guide to help you pick the right mattress online.
The benefits of a natural mattress
All of Button & Sprung's mattresses are made in Yorkshire with natural fillings, such as wool, hemp, flax, cashmere and horsehair. When it comes to beds, natural materials are better for your health and environment (no toxic chemicals and carcinogenic ingredients that can be found in synthetic materials such as polyurethane foam or latex foam), they can also help regulate temperature and control moisture when you're in bed. This creates a lovely and cosy sleeping environment.
Speedy door-to-door delivery
And if you need a mattress quick, then if you drop them a line, they can delivered you a new one within days as they keep limited stock ready for next day delivery (or day of your choice). And they offer a 100 nights returns policy in case you change your mind (which you won't but it's still good to know).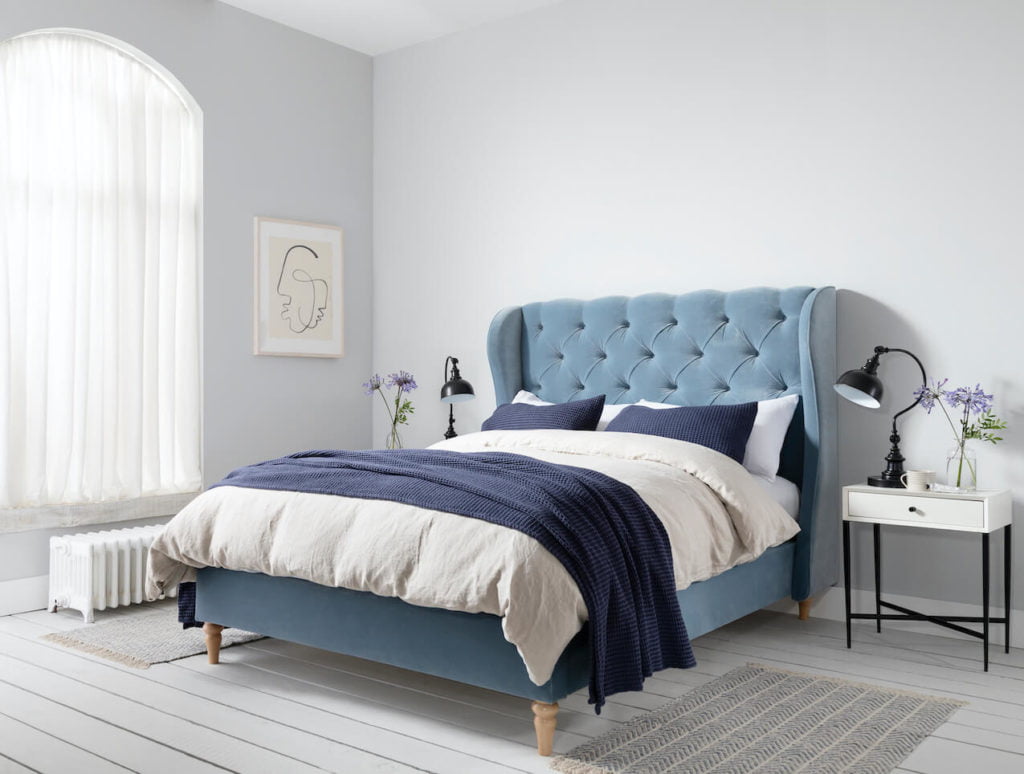 Deciding on your bed frame
Once you have picked your mattress, next you need to choose the headboard, bed base and upholstery for your bed. And when you see the wide range that Button & Sprung make, you'll be spoilt for choice.
What bed style do you want?
Button & Sprung offers 15 bed styles – ranging from frames to divans and ottoman beds – in a wide range of sizes from single to super king. Made from solid, hand-made frames – there are over 140 house fabrics including natural wools, plus velvets and laid back linens so there is bound to be one (or several) you will fall in love with.
What headboard and fabric combination you go for will very much depend on what style you are going for in your bedroom. There a simple Scandi-inspired headboards like the Daisy or luxury button-back headboard called the Camelia that looks like it could belong in a boutique hotel, or for a more retro inspired design choose the Eliza or Jasmine.
Choose from 100s of fabric & bed combinations
The fabric you go for will have a dramatic impact on how the bed will look – from touchy-feely velvets to luxurious linens – Button & Sprung have got it covered. You can order fabric samples direct from their website which will be delivered to to your home. That way you can add you can add your fabric sample to your mood board so you can style the perfect bedroom set up.
Pick a storage option
When it comes to your own bed buying – make a list of your needs. Do you want more room to sleep at night? Are you looking for storage space? Would you like to add drama with a bold bed frame? Once you have focused on what you want for you bedroom, you can choose the right bed for your space.
With my own bedroom, I'm swapping my double bed for a more roomy king size (I want to sleep star-shaped!). I used the handy measuring guide on Button & Sprung's website to make sure my new bed would fit in my bedroom. I then picked an ottoman storage bases as I wanted to utilise the space under my bed (I'm going to fill it with interior styling props).
There are lots of different storage options from ottoman (like mine) to drawers and bespoke options. Handy if you want to make the most of storage options in your bedroom. Again they have an informative bed buying storage buyer's guide to help you narrow down your choice.
Bespoke fabric and bed options
And if you are very picky about what you want (I know I am!!) ask about their bespoke fabric options available. And it doesn't just stop with the fabrics, you can have custom made storage too. It's a tailor-made service designed with sleep in mind.
No one likes it when their feet stick out the bottom of their bed! Button & sprung can make your bed to any length you wish and make the mattress to fit. So if you're a bit on the tall side or would like some extra stretch space out you can create a bed that suits your sleeping needs.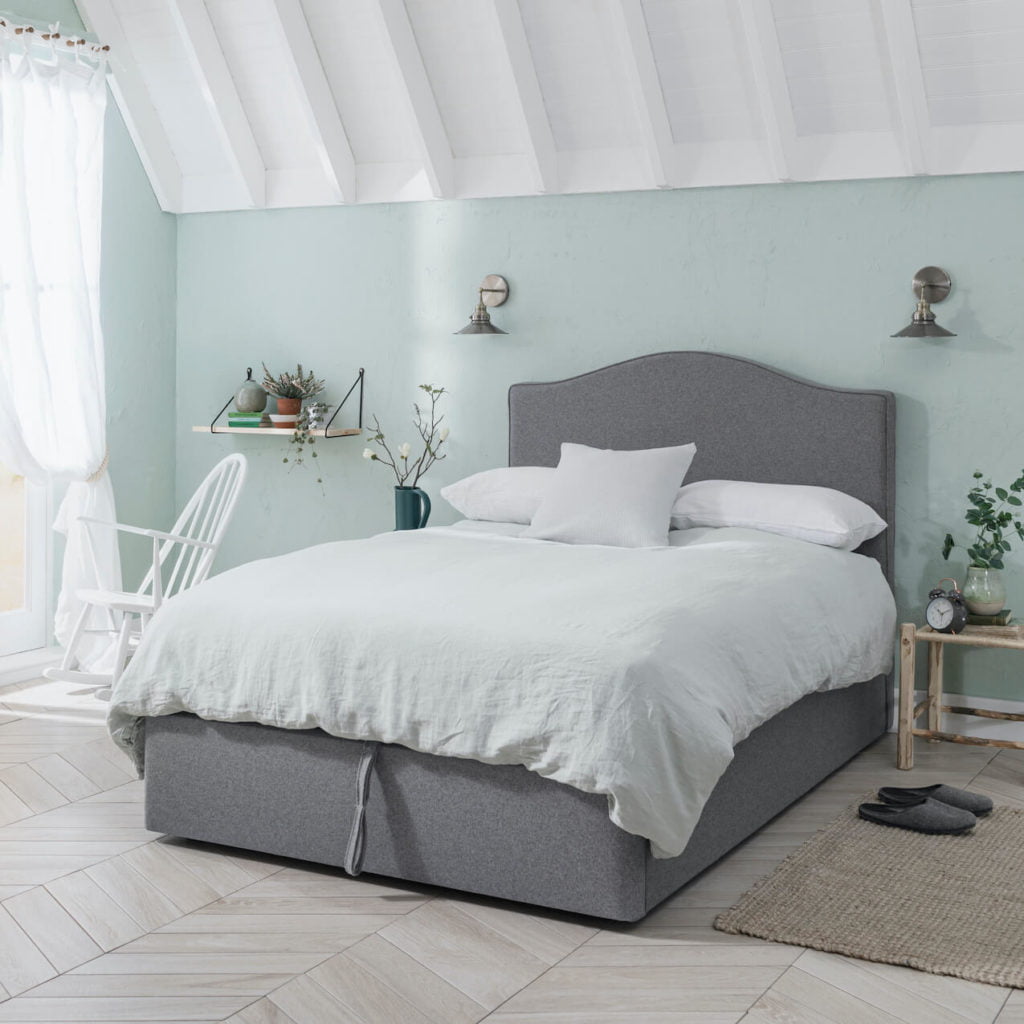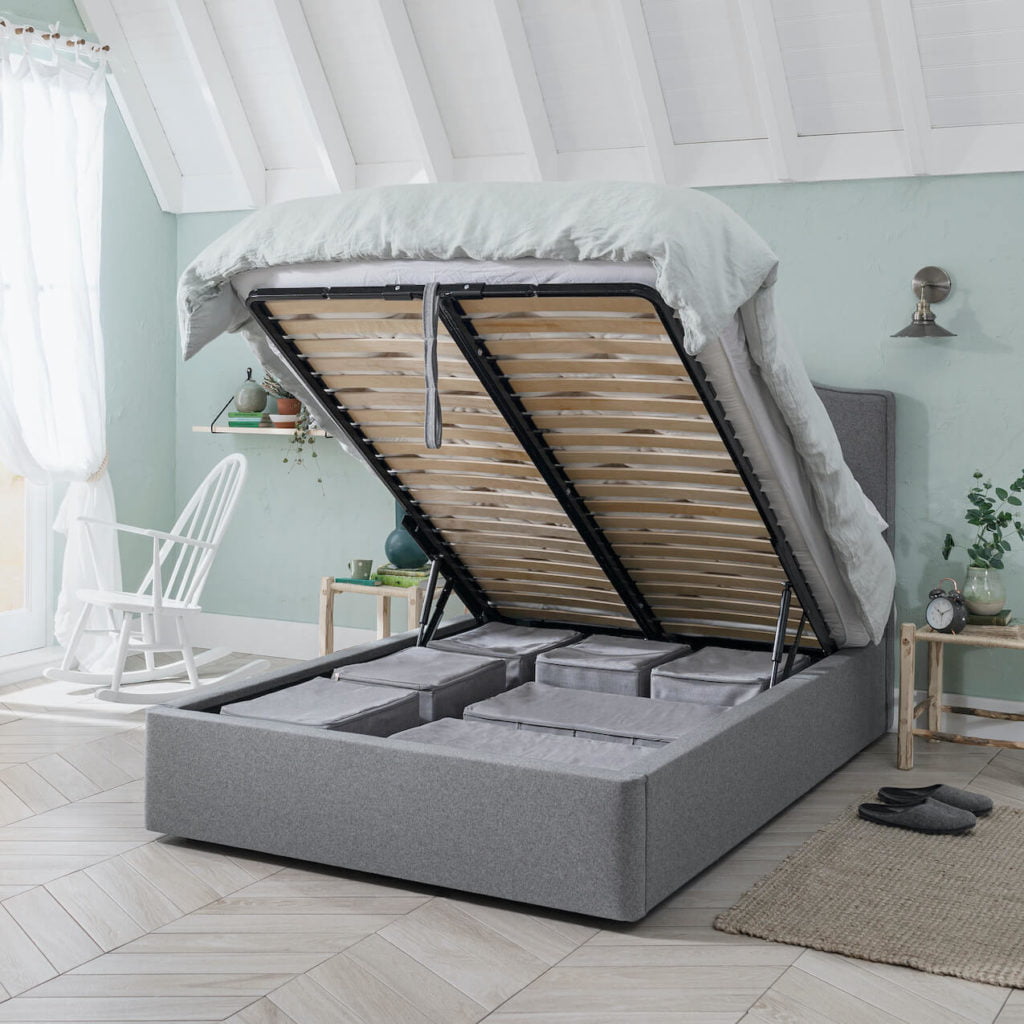 Try their extra special 'Bed Room' experience
You can do what I did and order your new bed online. They have a step-by-step guide where you can pick your frame, the size, the headboard, fabric choices and then any storage options (from ottoman to drawers) and finish with the feet.
Or, if you happen to be in London – and want to pop into their Fulham showroom, please do! They have all their beds and headboards on show so you can see which one works best in your home.
Their Bed Room is an exclusive tailor-made space where all of our mattresses are on display, away from the buzz of the showroom, so you can take as much time as you need getting to know their mattresses. The Button & Sprung team will guide you through the initial process, and then leave you to your own devices. You'll have exclusive access to the space without any interruptions, giving you time to get comfy, order a cuppa, have a nap and find the perfect mattress for you.
They've been operating a really successful by appointment service which you can feel perfectly comfortable with when bed shopping. Click here to book your appointment.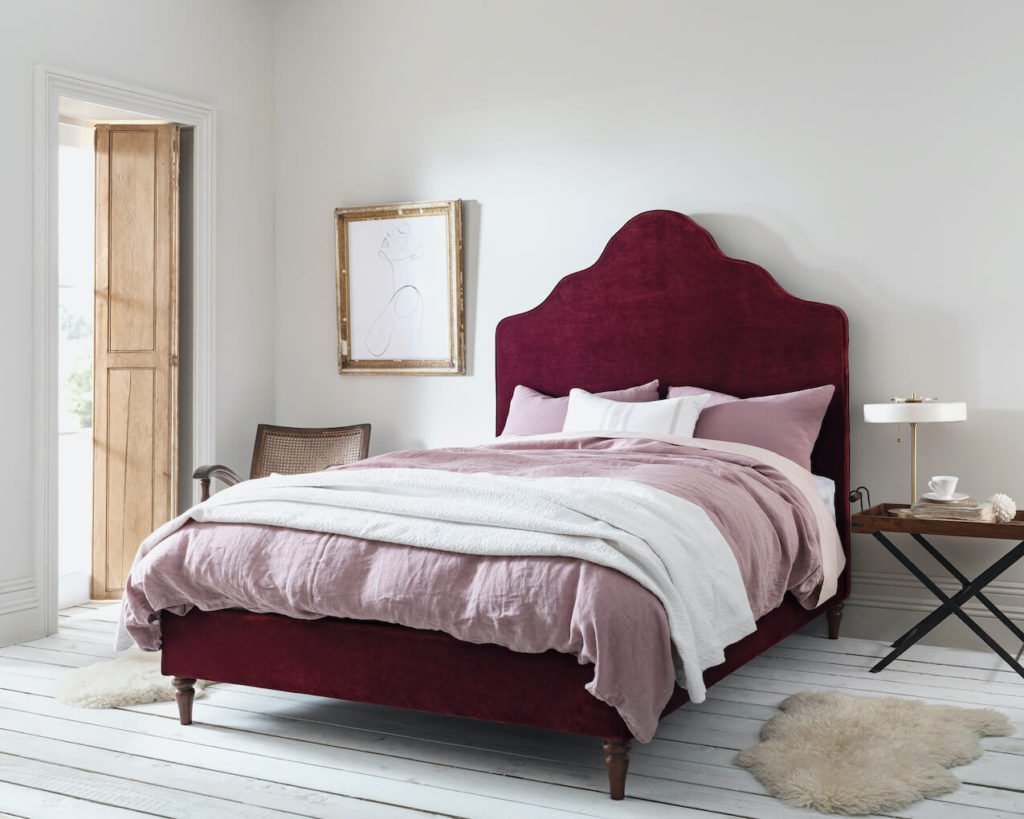 Door-to-door delivery
Once you have choose your mattress and bed, then you can kick back and relax! Delivery takes a few weeks, and their careful team will drop off your new bed or mattress within a 2-hour delivery window, arranged at a time to suit you.
Then they'll set it up in your bedroom, and take away any packaging. Job done! And they offer a 100 days returns policy too. If your bed or mattress still isn't all that you hoped. They will come and pick it up free of charge and change it for one that suits you better, or give you a full refund. That gives me peace of mind, doesn't it?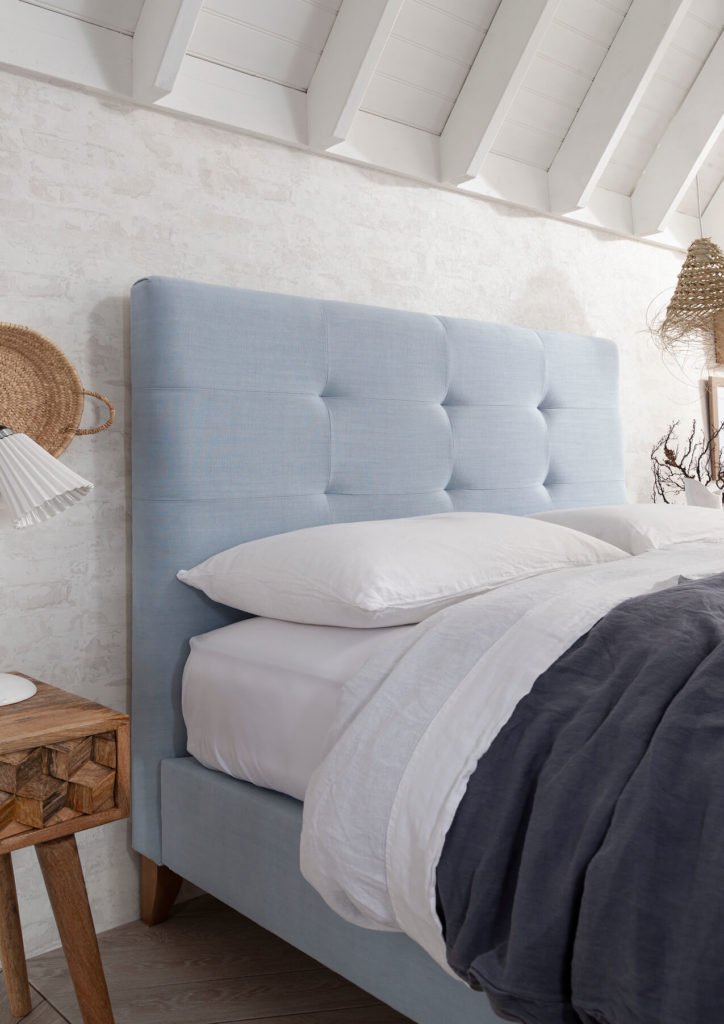 Time to invest in your rest?
If you shop on-line or in store, Button & Sprung want to make your next bed buying experience as smooth as possible. When you know all the benefits of natural mattresses and the impact a good night's sleep can have your your well being, isn't it time you decided to invest in a new bed?
You May Also Like
6 STYLISH BEDROOM STORAGE SOLUTIONS
7 WAYS TO MIX PATTERNS IN YOUR BEDROOM
5 INSTAGRAM LOFT BEDROOMS WE'RE CRUSHING ON RIGHT NOW
AD – I'm working with Button & Sprung on my up and coming bedroom makeover. This post is part of my collaboration project with them