My living room has come such a long way since moving in five years ago. I've enjoyed renovating it in phases making small tweaks as the mood takes me. When French Connection got in touch to say they wanted to help me out with the finishing elements of my living room makeover, I couldn't wait to start. Here's the end result!
AD // In collaboration with French Connection
My Autumn Living Room Makeover
With autumn coming in, I wanted to bring a little more colour and pattern to my neutral living room. Using key items from French Connection range of beautiful homewares that have transformed my living room makeover.
To get your living room ready for pumpkin spice latte season, take a look at my autumn decorating ideas, below for you to try.
Before
My living room was built around a teal colour scheme. But after 3 years of this I fancied a change to make this room feel more cosy and inviting.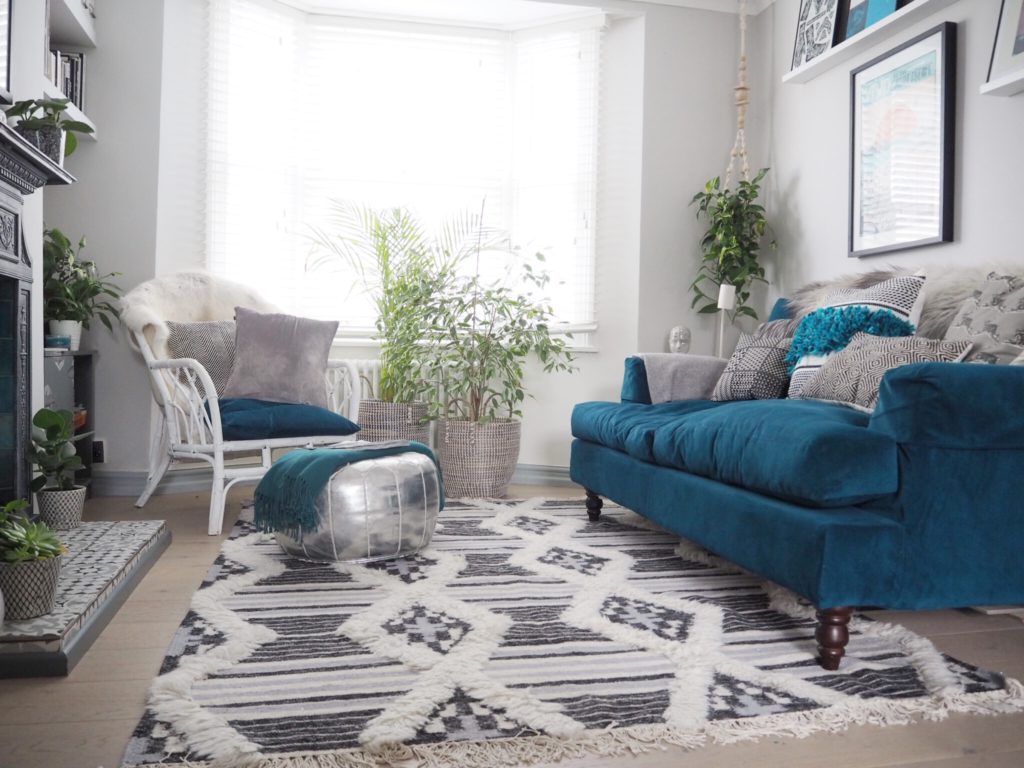 After
Time for a change! Most of the main elements, like the flooring, tiling and wall colour stayed the same. This wasn't about decorating the whole room but about having the space a gentle switch up by introducing a new accessories to mark the transition from Summer to Autumn.
Update the sofa covers
My sofa covers were replaced with peach linen covers in February which you can read all about in this post here. Then I built my living room makeover around this dramatic shift in colour. I got a new statement armchair in green velvet from Dunelm to pop into my window.
Put down a bold rug
The key change was the extra large poppy rug from French Connection which brought a strong block of colour and pattern to my floor. An instant update for a room this small. I also wanted the rug to run under the sofa too. That way it helped 'zone' the room.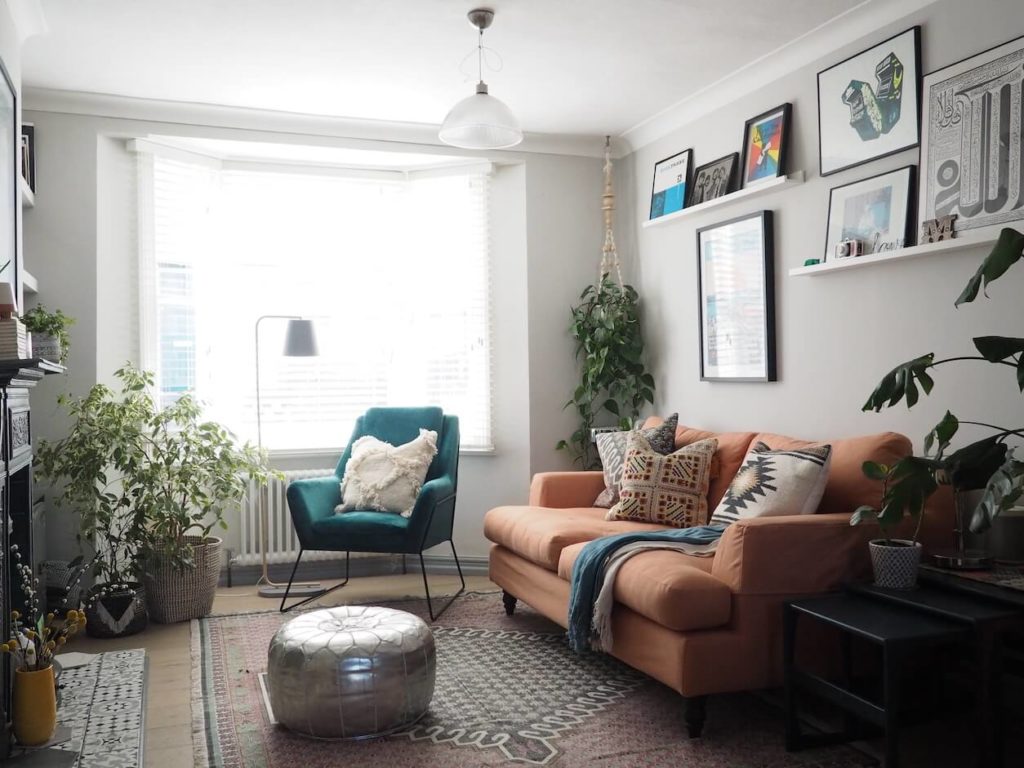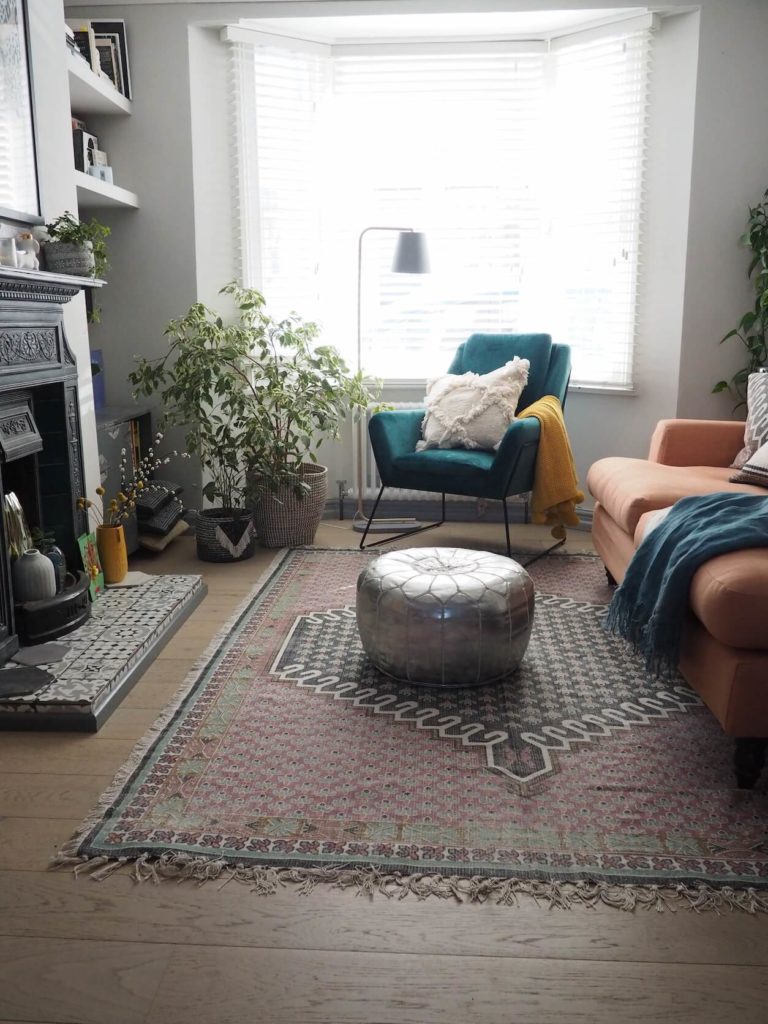 Adding more storage
One of the big changes was swapping out my drink tray table for a large wooden IVOR storage unit from Ikea. I had it mounted to the wall so it appears to 'float'. It's been a life saver and I now stash all my drinking glasses, booze and vases in there. It's amazing how much stuff it holds!
Eventually, I will paint it or add legs to the unit. I've seen so many cool ideas on Instagram on how to change the cabinet to turn it into something else.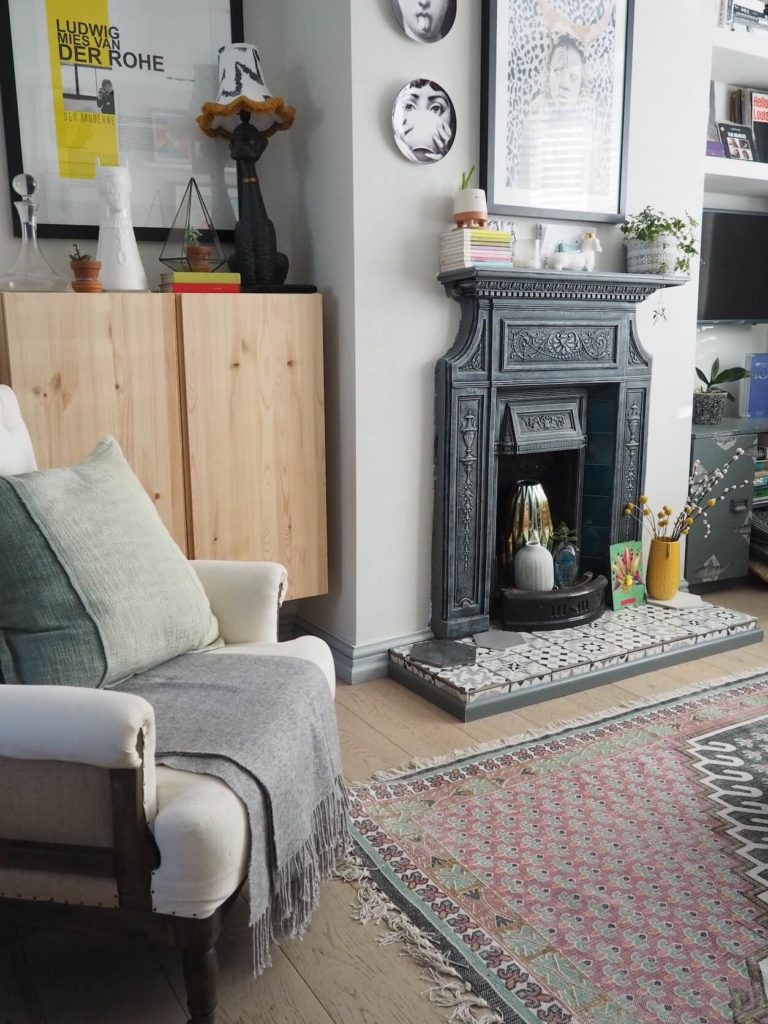 Bring in warm accent colours
Love this look? Give your all-neutral scheme some heat with warming tones. While neutral makes a great background colour for walls and floors, it can feel a little cool on its own, so introduce a wash of warmth with accessories – perhaps a cheery rug, cushions, lamp and artwork.
French Connection have a wide range of accessories that all complement each other making it easy to makeover your living room. I filled my sofa with lots of Aztec cushion with a textured weave, and a beautiful water coloured blue linen throw.
It's amazing how a few select cushions can add warmth to a room. Look out for cushions with feather-filled pads that look luxurious and fluffy (I love hugging mine when settling down to watch a winter movie).
Shop The Look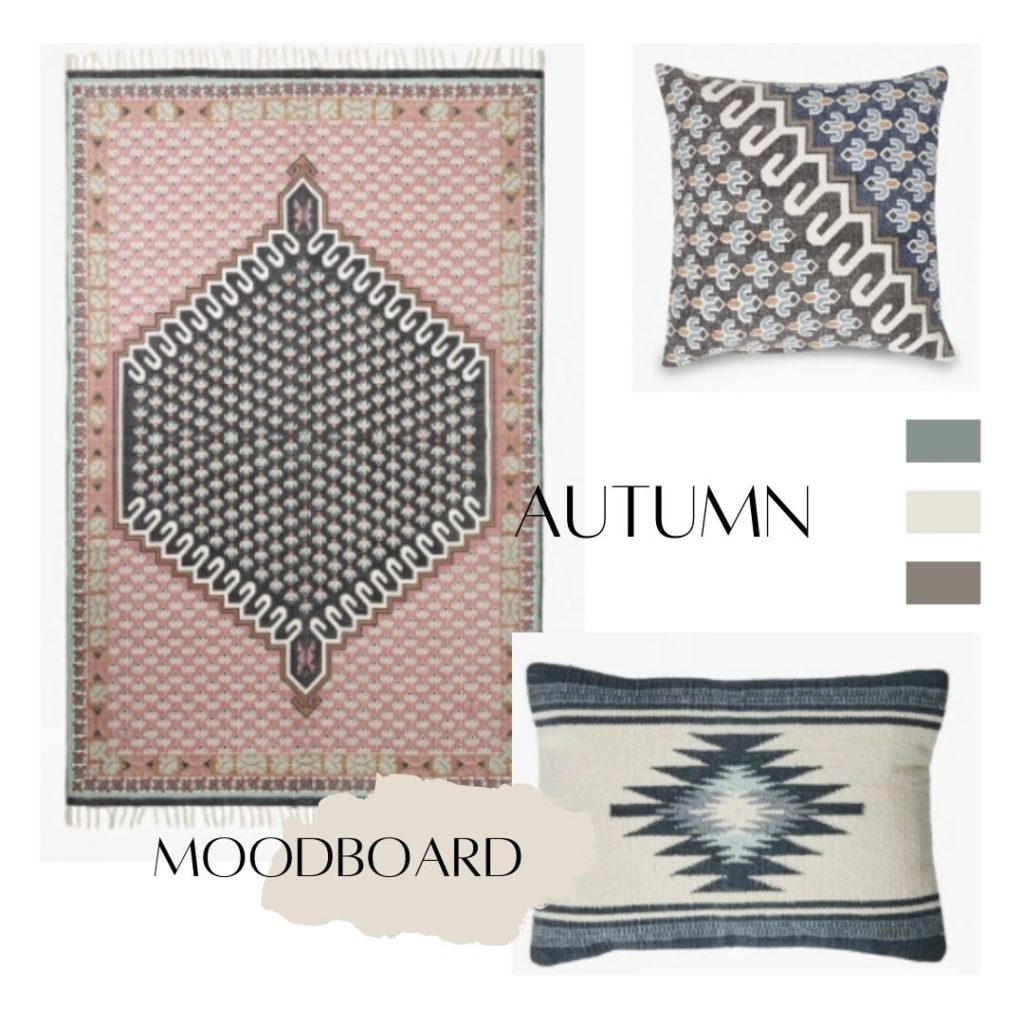 Poppy rug, £195, Aztec Blue cushion, £32, Print, £65, Mustard Corduroy cushion, £32, Blush sky throw, £55, Brass Table lamp, £85, Noir Rattan unit, £650, Painted wall basket, £35 all French Connection Home
Ramp up the ambience
As the nights get darker and days get shorter, you'll soon find yourself reaching for the light switch as early as 4pm. But rather than sticking with your home's in-your-face fluorescent strip lighting, you can make your house a home with a fresh dose of ambient lighting.
We're talking floor lamps, fireplaces and candles; these will help to cast a warming shadow across your living room. Remember to consider how to make the most of your lighting. Stick candles in dark corners to cast the most eye-catching flickering shadows and pop floor lamps in seated spots to maximise their glare.
In my living room, I fill my fireplace with candles which mimic a roaring fire in Autumn. I have lots of lights dotted around my room to cast a soft glow as the evenings get shorter. Fairy lights are go to as I can loop them in to my plants or across my window frames.
Autumn Living Room Makeover With French Connection
Now you know what it takes to style an autumn living room, it's time to put your interior skills to the test. Have a think about the little touches you can switch up to change the look of your living room. It's not about digging out the paint brush this time of year – it's more about adding the snuggly touches to make it feel more inviting.
Can't wait to hear what you plan to change!
You May Also Like
TOP 5 WAYS TO MAKEOVER YOUR LIVING ROOM INSTANTLY
MY LIVING ROOM MAKEOVER WITH BEFORE + AFTERS