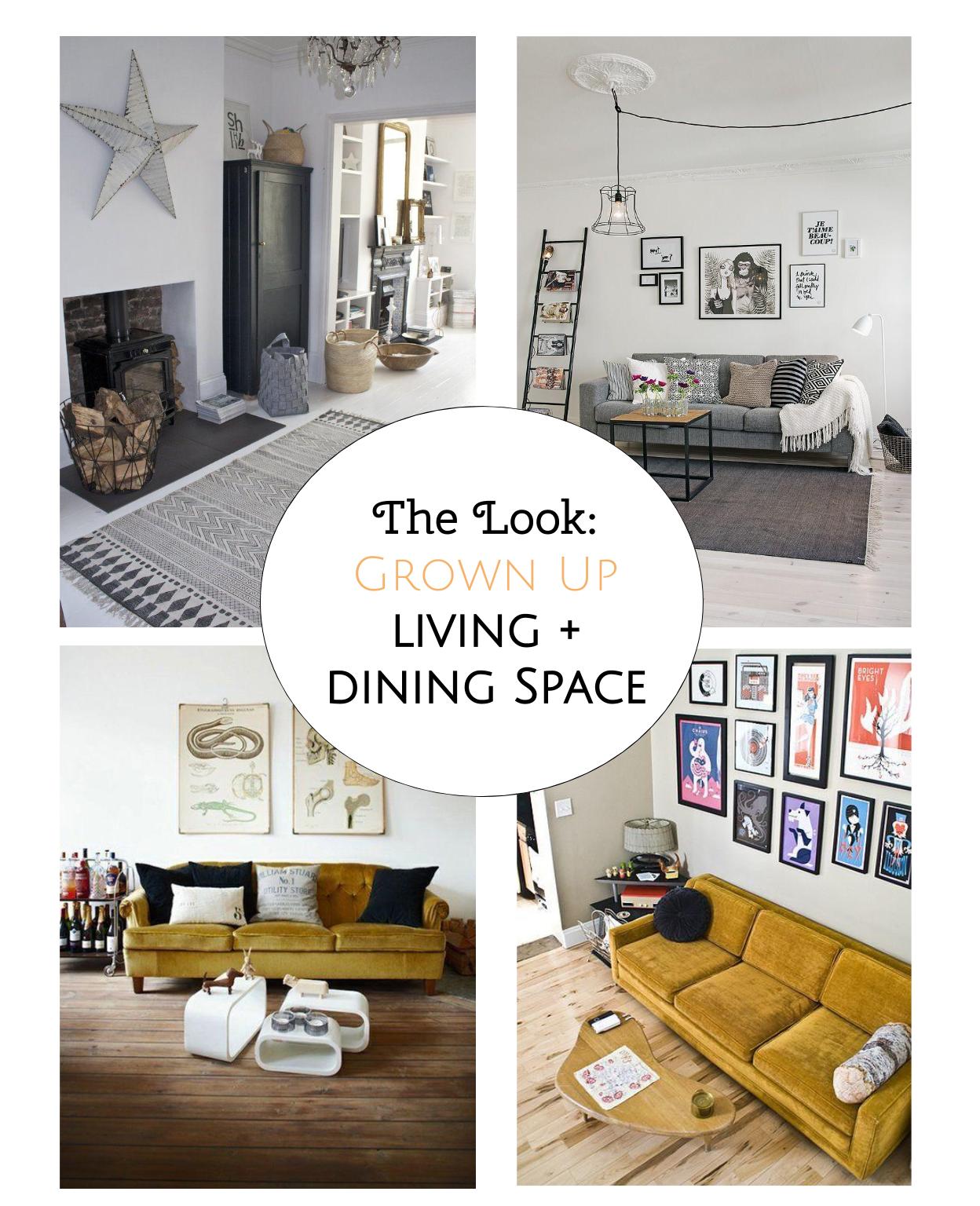 The time has finally come – we are just weeks away from FINISHING our mega home project – an open-plan living + dining space. Woop! Woop! I've never done that 'open-plan-living-thing' before and it has taken me months and months to work out what to do with the space (you wouldn't think I did this for a living!).
Before: The living room was a really sunny and bright room in the mornings but it was tiny with a capital T. You felt really cut off from the rest of the house. The dining room was dark and freezing all of the time – well, until the sun cam round about 4pm and then it was so bright I couldn't work in there.  The period 'details' consisted of two repro fireplaces, orange wooden floorboards and rotting sash windows. It was a no-brainer that from the moment I saw the place, I wanted to knock the wall down. If you want to see the rooms in 3-d – take a look at my first home tour video done over 7 months ago now.
Since this August, Jonathan and I (and a team of builders) have been mega busy bashing our home to pieces – opening up the space. We've knocked through the living room into the dining room and knocked out a window, replacing it with a new door. So we now have this huge room to play with. The inspiration came from Design Vintage in Brighton (see the homeowner's living room top left). I fell in love with this room as not only is the exactly the same proportions and shape as our home but it is the calming colours I've been drawn to. I even own that rug. I'm all set to go.
It's really hard because as although we have gained lots more room – we've lost walls where we used to hang art and corners to put furniture into. We've not really had a 'look' in mind. Until now….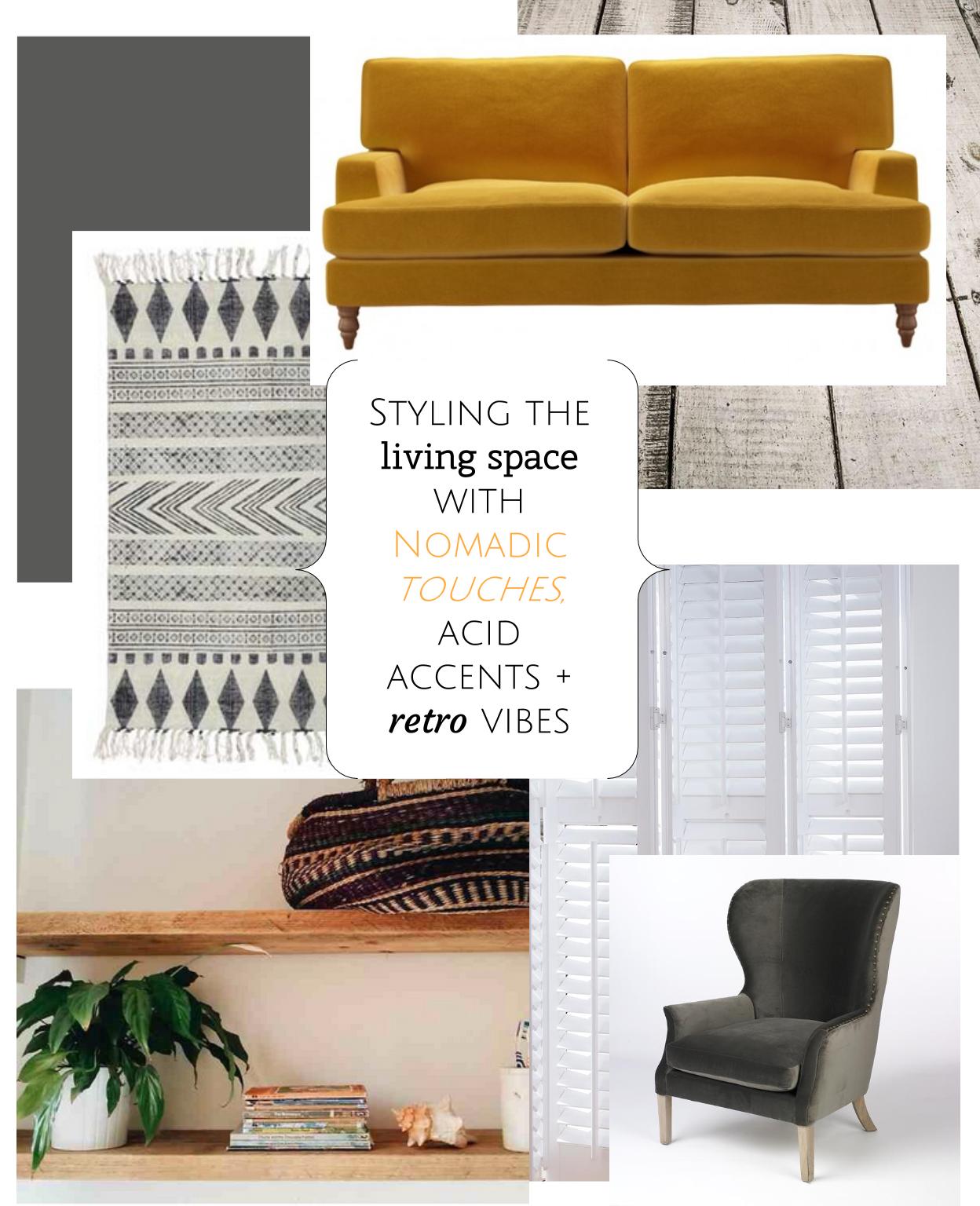 I love the yellow gold of this sofa – and the rustic shelving – and the stripped floor boards – and the velvet chair….the list goes on and on.
Our front room (the old lounge) is really sunny so we toyed with the idea of grey shutters.  But I think, due to budgets we'll end up with slatted wooden blinds as they are half the cost – and tbh – look just as fab up against our freshly restored sash windows.
The sofa.com sofa I got off Ebay when we first moved in, is still in good nick – so I'm thinking of getting covers made up in velvet. Jonathan wants a sunshine yellow and I love the look of a deep green – so we will most likely compromise on either a shade like Cherished Gold (it is the colour of the season) or maybe a deep teal to pick out the hearth tiles. Not sure yet.
Here's our little shopping list of what we have done – and what we still plan to do to the space. And of course, I'll be sharing it all here when we are done. Soon! Soon!. Expect lots of black and white rugs, cosy textures, a real fire and tones of tiling. I'm still thing about lighting, and sofa covers, and picking up furniture for the room (coffee table or not to coffee table?)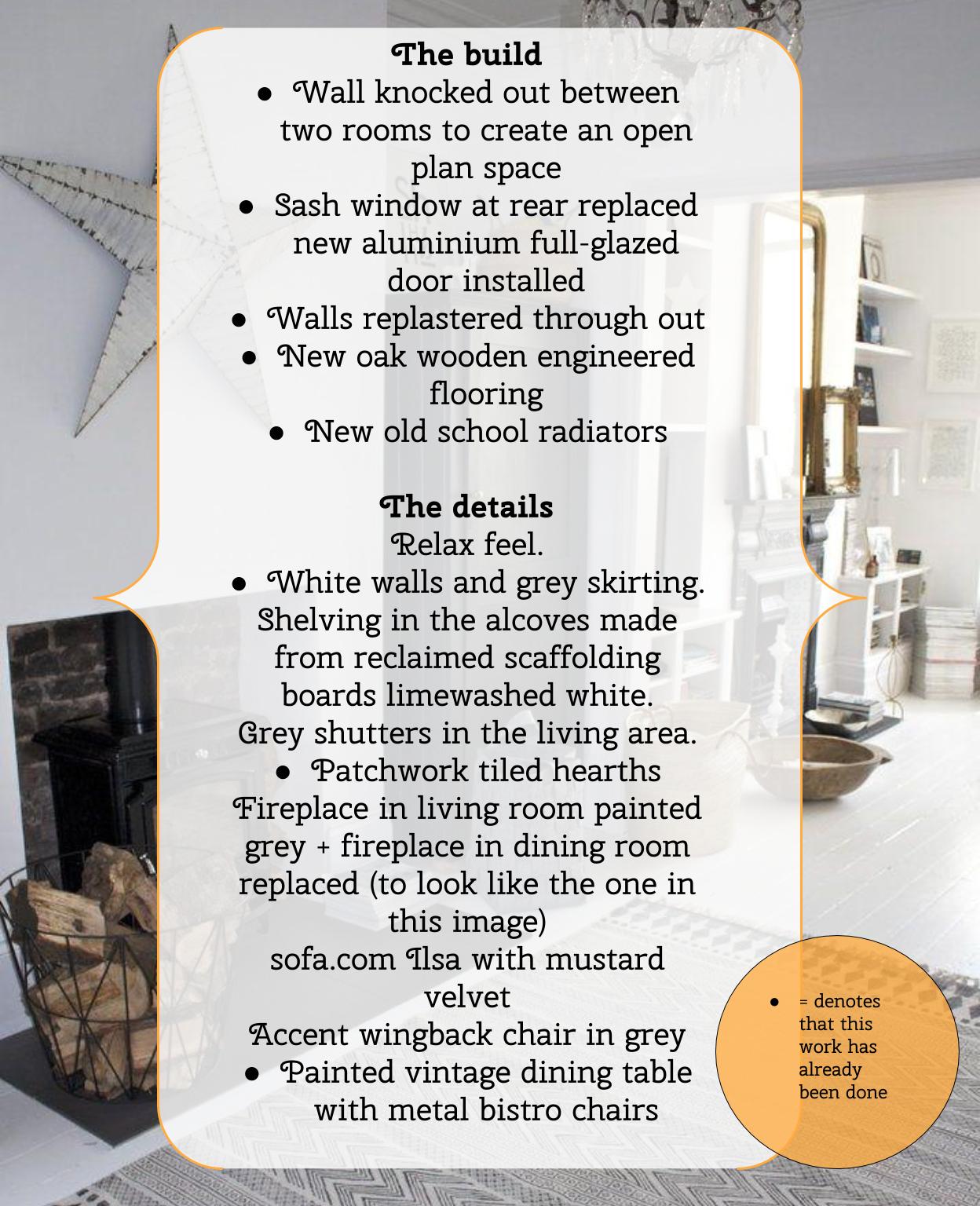 If you've been following me on Facebook you would have seen on a daily basis my #DIYBOYFRIEND has been busy making things for our home – from shelving made from scaffolding planks to painting my fireplace a spooky shade of white.
I've started collating ideas for the room on Pinterest – of course. If you want to see what a green sofa might look like, and some of our ideas for the rest of the space and how we'd like to hang our art – take a look. I'm going to be adding and adding to it over the new few weeks, until then – it is back to painting!
Follow WeLoveHomeBlog.com's board [Create] Grown Up Spaces on Pinterest.
At the moment we are about 1/3rd of the way there. We still have to paint and saw stuff, as well as go shopping I would think for storage.
What do you think of the change? Do you love the wooden floors? Should we go teal, green or gold for the sofa – and what colour for the accent chair – I would love to hear your thoughts and ideas.
This is the first of a few posts covering what I plan to do with my open plan area – so keep coming back and you can see more.