Can my job get any better? I don't think so! My latest shoot was with Tails I was asked to style a whole house ready for Christmas AND I got to work with 3 gorgeous dogs. Come take a look.
As part of my job as an interior stylist, my clients ask me to find locations for them to shoot in. For this Christmas shoot, I found a beauty! It was a beautiful white washed location in London. It had lots of fireplaces, as well as a beautiful hallway which was just what I was looking for this Christmas styling shoot. The home is owned by a professional photographer – and you can tell straight way as it had so much room for us to shoot in as well as movable furniture making it a fab flexible space to work in.
The focus of the shoot was the new Christmas gifting range for Tails. If you don't know Tails, they are a mail order dog food company that made good quality dry food that your pooch will love. Tails wanted a new selection of images to showcase their range of doggie gift sets for December.
My job was to style the living room, hallway, bedrooms and kitchen area for Christmas. My florist dressed the mantlepiece and the staircase with fresh foliage and then I strung up baubles, battery fairy lights and lots of ribbon. We even had a real tree which we sourced from a local Christmas Tree Farm. Not an inch of the house wasn't styled by me!
The homeowner told my client that she have never seen her home so beautifully styled which was a HUGE complement.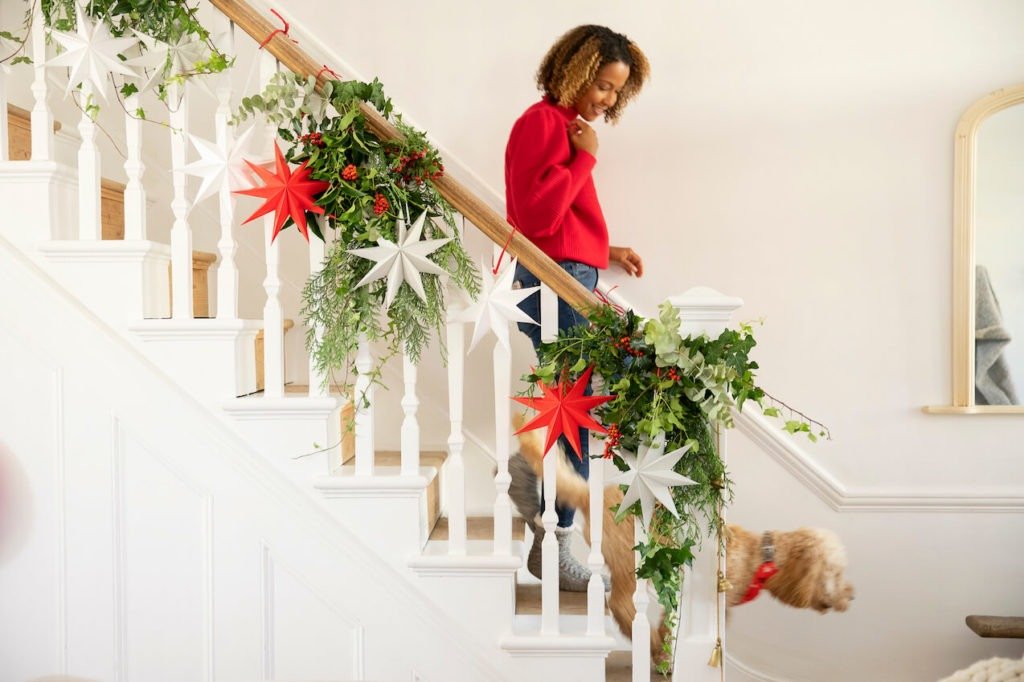 On the set we had three photogenic dogs on camera, as well as children and a few models. Although it sounds hectic, we managed to get 100s of shots for Tail's new look website. What I loved best about this shoot is how inclusive it was – the styling reflected the huge range of customers that Tail love to support with their all natural dog food. Just take a look.
They said never work with dogs and children. Well, I can tell you now, they are WRONG! How cute is this little staircase set up? All with extra Christmas sparkle to make these shots look picture perfect.
This adorable doggie, Marley, is a Hungarian rescue pooch – and she is modelling with her owners (did you think the Mum was me for a moment?
If you want to see more of my styling work – check out my portfolio.