Are your wardrobes bulging with clothes and clutter? Badly stored clothes and shoes can take over a bedroom and can leave us feeling rubbish about our homes. If this is your problem, then read on! Today, I'm sharing my pick of the best 6 stylish bedroom storage solutions.
This post is in collaboration with Compactor Store who stock storage solutions that look so good, you won't want to hide them away.
I've been on a personal mission for the past two months to 'Konodo' my home! Have you heard of Marie Kondo? She is a decluttering expert on Netflix who tackles clutter with simple tricks and tricks.
Start with a big sort through of your wardrobes, drawers and under the bed. Look out for ill-fitting clothes, odd socks, moth-eaten knits or dated dresses. Sort through all of the clothes that you haven't worn for over a year. Make a pile of everything that you need or want to get rid of.

I've reduced my wardrobe by a third, eBayed clothes that still had some wear left in them, and then gave the rest to charity. Boy it feels soooo good, I can tell you! Now I have space
What I need now is bedroom storage solutions so that I can see what I have to left to wear. I want to never have that 'I have nothing to wear' feeling again which often comes when I can't see what I have in my wardrobe. Are you like this?
When looking for bedroom storage ideas, I found lots of clever products that will make the most of every inch in my bedroom. That's what I'm sharing today.
6 OF THE BEST BEDROOM STORAGE IDEAS
1. Vacuum Storage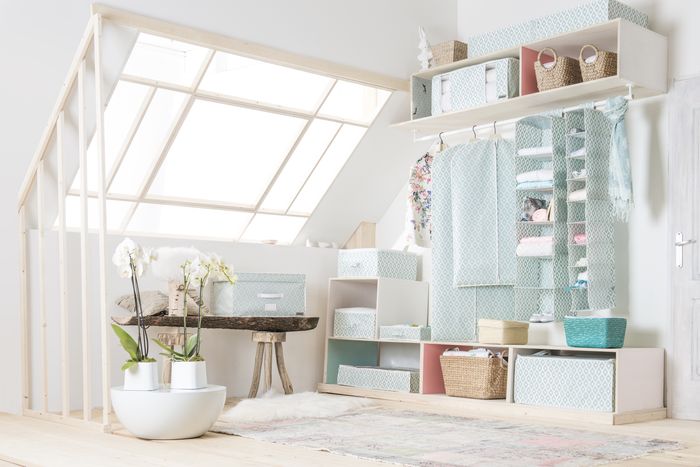 If, like me, you need to storage away your winter clothes in the summer months then you need to invest in vacuum storage. Did you know you get three times more storage space with the Compactor vacuum storage range.
Just imagine everything that you could store with three times more space in the wardrobe, closet or drawers. Compactor lets you compress linens, duvets and clothes without damaging the fabric.

Their range of storage bags, totes and cases are all 100% airtight. And they keep clothes, duvets and winter blankets safe from damp, bad smells, mites and moths. Prices starting from £3.99 for an under-the-bed storage bag.
2. Drawer dividers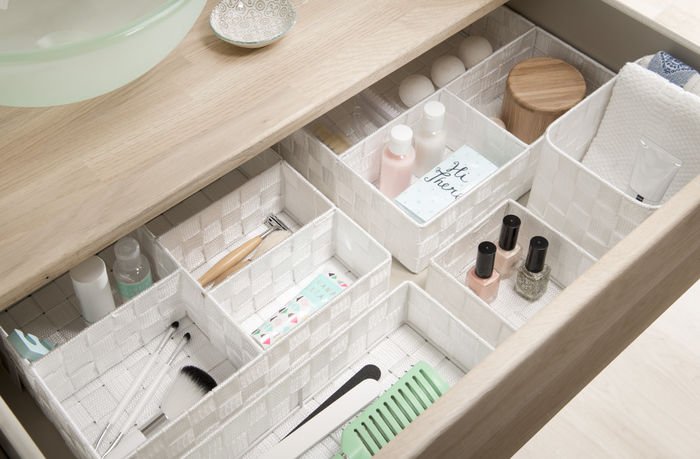 Drawer dividers and organisers are really useful bedroom storage solution to separate items such as underwear, accessories, etc. I have several in my bedroom chest of drawers which I use to seperate my patterned tights, and another for all my makeup and hair products.
With drawer organisers, you can have everything you need in the morning to get ready quick to hand.
3. Hangers and hanging ladders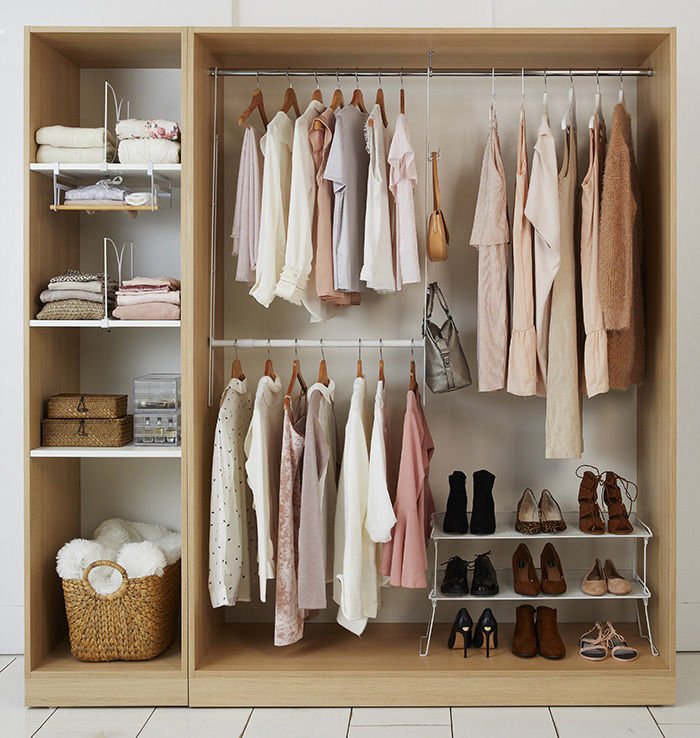 I like to hang everything up as my clothes don't get creased, I can see what I have to wear and it helps me get ready quicker in the morning.
But not all hangers are made the same!
to save space you'll want slim hangers that take up minimal room in your wardrobes. I like these Helsinki metals hangers (£3.99) which have grips for strappy dresses.
for trousers try this Multi 4 in 1 hanger which can be hung two ways (£10.99).
Finally, if you have a tall wardrobe like mine, you'll want a second rail to maximise every inch. I wish I had known about the multi level hanging ladder before now! It hooks onto your existing rail to provide another level of hanging space doubling the storage in your wardrobe. All for £8.99.

4. Hanging shelves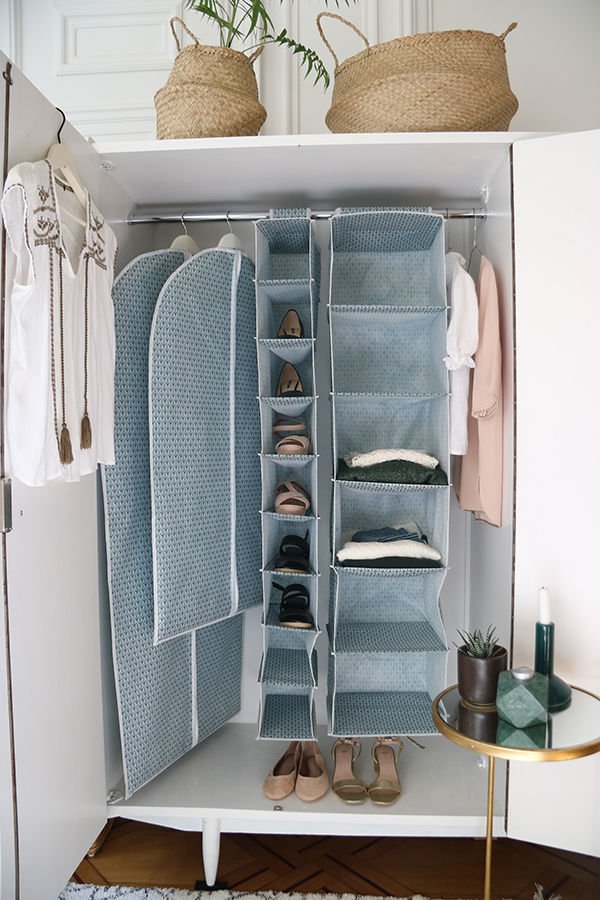 If your bedroom is too small for a chest of drawers, then add some to your wardrobe with a set of narrow canvas shelves. Look for ones in a pretty fabric or print like the ones above for a stylish bedroom storage solution.
A hanging storage organiser will give you extra storage space for folded up sweatshirts, t-shirts and shoes, keeping your wardrobe clutter-free.

Fix to your rail with the velcro fastening and as they are made from flexible material, they fold flat when no longer needed, making them ideal when you switch up your clothes when the seasons change.
4. Baskets and hooks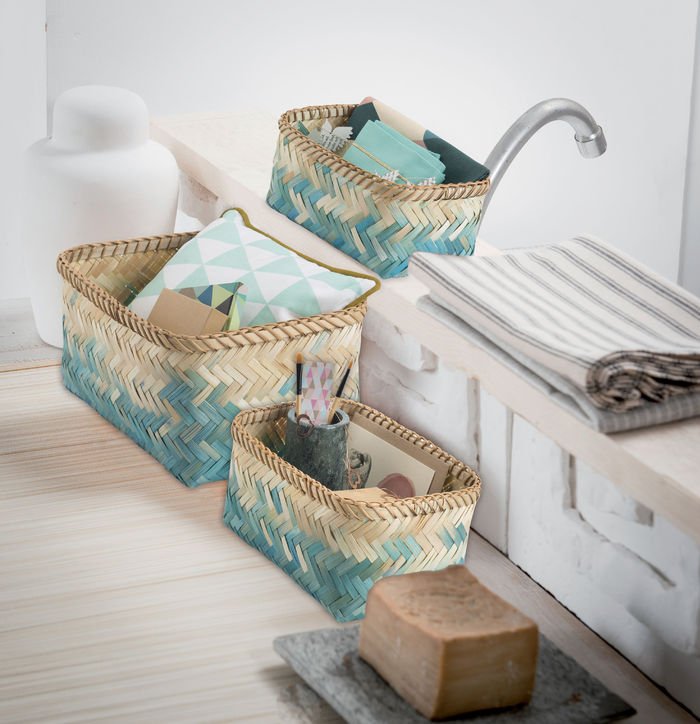 In rooms short on storage space then hooks and baskets are your new best friend.
Use hooks on the back of your door to hang your dressing gown. I've got hooks inside my wardrobe which I use to hang up necklaces.
Baskets are great on your dressing table or on top of a chest of drawers for makeup brushes and perfumes. Or even tucked inside drawers.
If you can attach baskets to hooks, then they make ideal storage space for bracelets and rings inside your cupboards.
5. Chic Clothes rail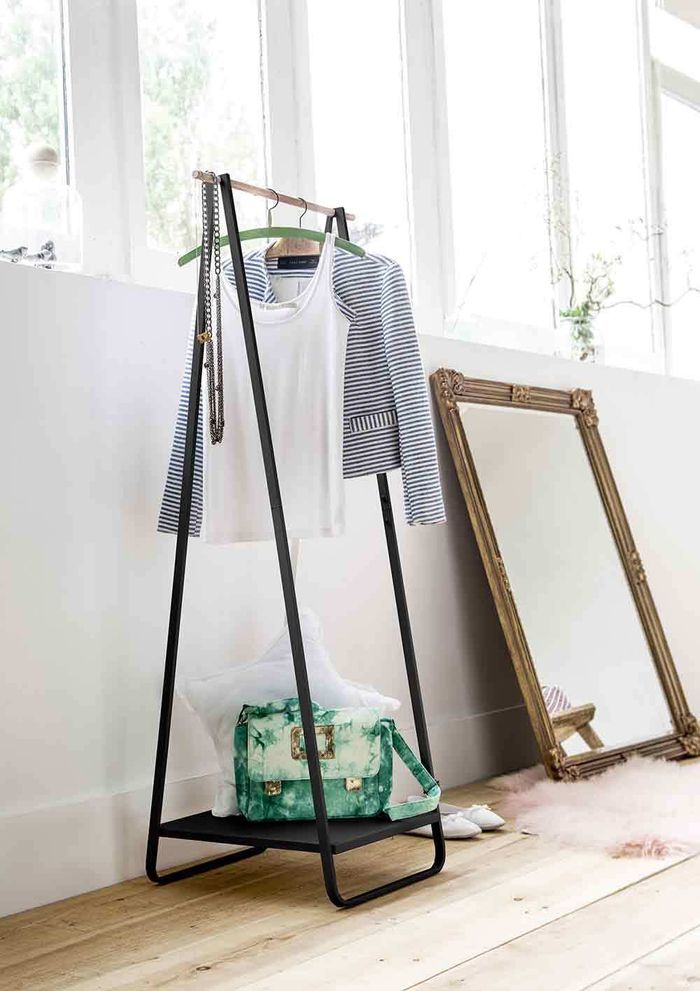 Very much in fashion at the moment, a minimal clothes rack is a quick and easy solution to an overflowing wardrobe. Ideal for a spare room to house all your out-of-season items. Or you can have one in your attic for your winter coats.
They look pretty cool too. No wonder they made my stylish bedroom storage solutions wish-list!
6. Shoe Storage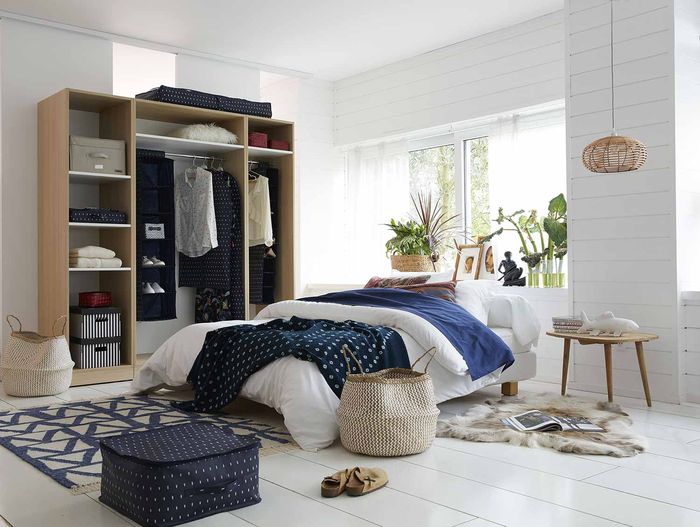 If you are a shoe addict like me, then you'll know keep neat and tidy can be a headache. Start by sorting your shoes into pairs, then sort by type and store according to how often you use them.
The footwear you use most often should go on shelves or in a dedicated shoe rack like this Preppy one (£25.99) to keep them within easy reach.
Next, you'll want your prettier occasion shoes stored in under-the-bed vacuum storage bags – like the Kasuri one shown in the picture above. I like a shoe tree to keep my nice shoes in good shape so they look good for longer.
For my everyday shoes, like trainers or sandals, store them in pretty baskets. I love these belly baskets (see photo above) which can be folded out the way when not in use for just £14.99 each.
If you feel inspired to tackle your bedroom, remember you'll need to:
sort through your belongings, getting rid of things you no longer need or love
invest in a few simple storage solutions listed above to organise your drawers, wardrobes and shelves.
store away bulky seasonal clothes like winter coats or ski clothes in vacuum bags to protect them
make the most of every inch in your wardrobe with hangers, hooks, baskets and racks.
I hope you have found these 6 stylish bedroom storage solutions helpful! Now you'll find getting things neat and tidy at home so much easier!
If you have any storage tips to share, please pop them in the comments box below.
Have a great week.
You May Also Like
9 Simple Ways to Style A Minimal Interior
10 Budget Bathroom Styling Ideas
My Essential Decluttering Tips