Looking to give your bathroom a fresh new look? Here's my 10 budget budget bathroom makeover ideas that won't break the bank. You're going to love them all – and they won't break the bank either.

My bathroom was one of the first rooms to be given a makeover in my home. You can see what it looked like before HERE. Can you believe I lived with this bathroom for nearly six months? Urgh!
Four years down the line, my bathroom is still looking chic but the stylist in me felt the need to switch things up with a splash of colour, lots of styling tricks and a few key accessories that even the smallest budget can stretch to.
Come shopping with me…
10 Budget Bathroom Makeover Ideas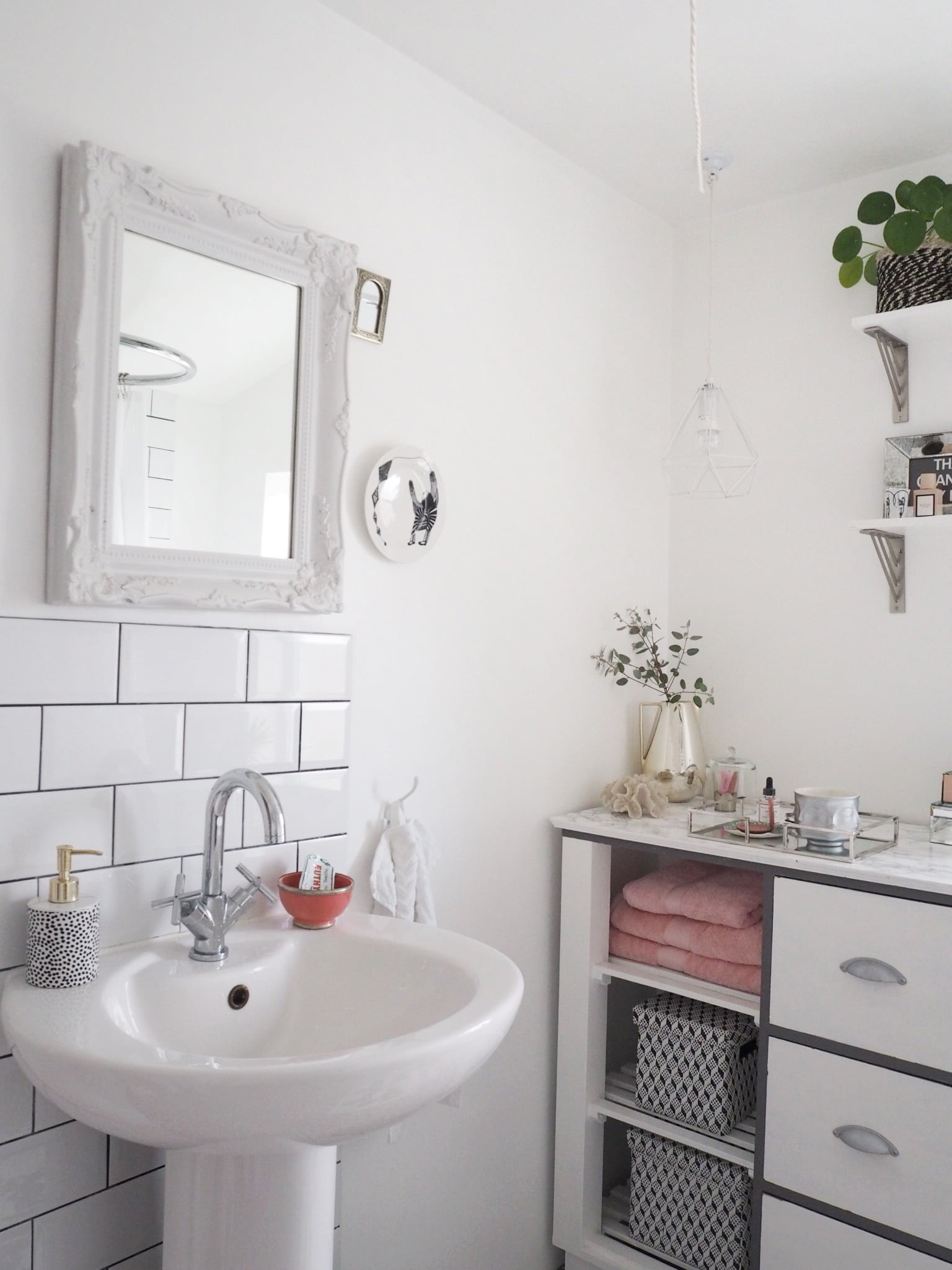 Before
My bathroom was given a new coat of paint in the summer and I had to strip the room clear of everything. This was the ideal time to start again. Rather than shove everything back in the same place, I added in furniture and accessories slowly. Only allowing in items that complimented my room.
All the rest is new purchases that I picked up for pennies or items I have styled to add a more glam look to my space. If you want to see what my bathroom looked like when I first finished click HERE.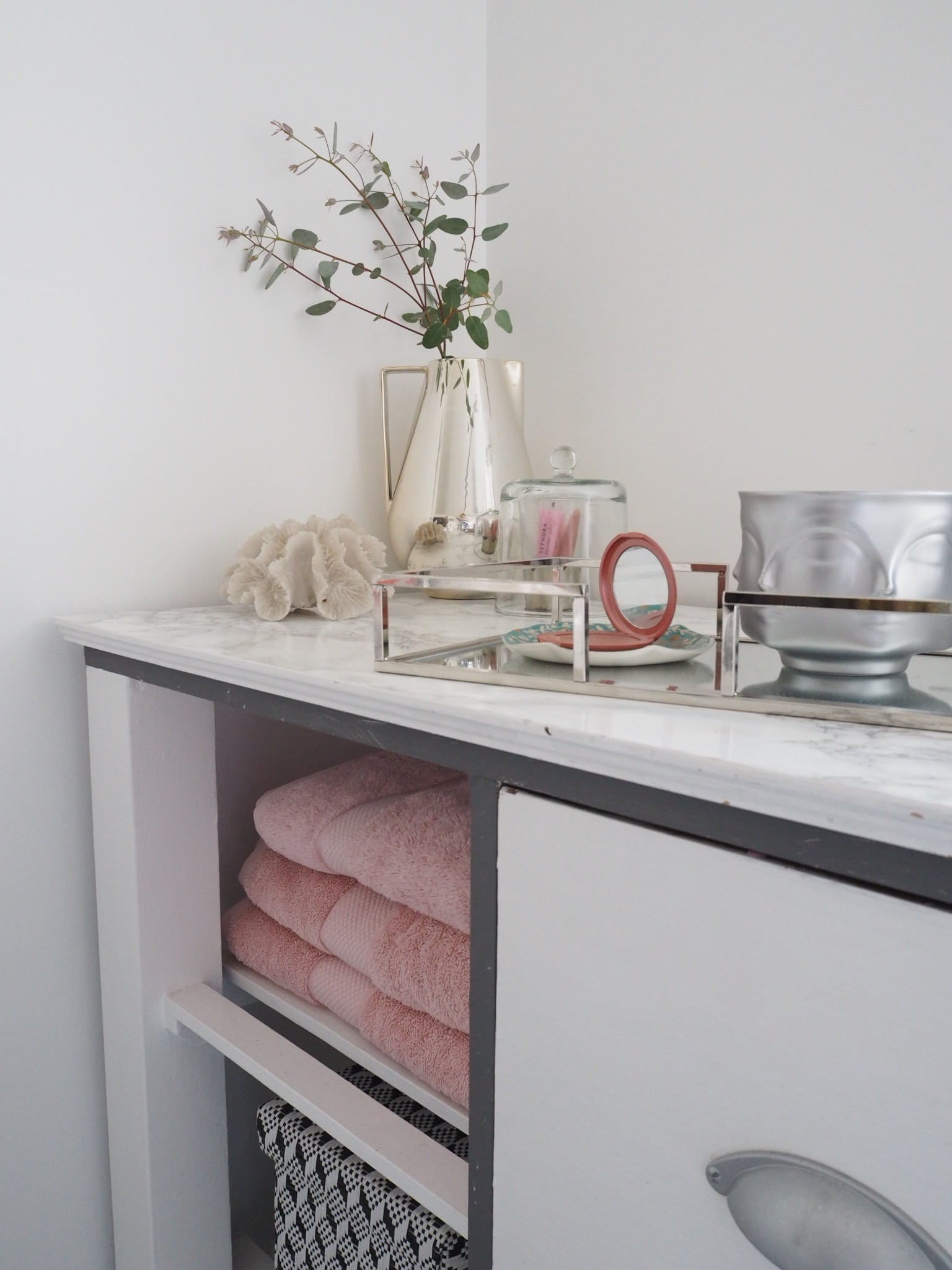 1. Towels £9.50
New fluffy towels are just the best. First time round I went cheap and my old towels were all scratchy and rough.  Add a splash of colour with these ones from Sheridan which start at £9.50 for a hand towel.
I choose the pink ones in the sale but they lots of other colours to pick from.

2. Paint £27
Freshen up your room while a new lick of paint. Before I had a matt finish. This time I went for a paint with a sheen to it which glimmers when I enjoy a candlelit bath. I went for Johnstones Paint specialist bathroom paint.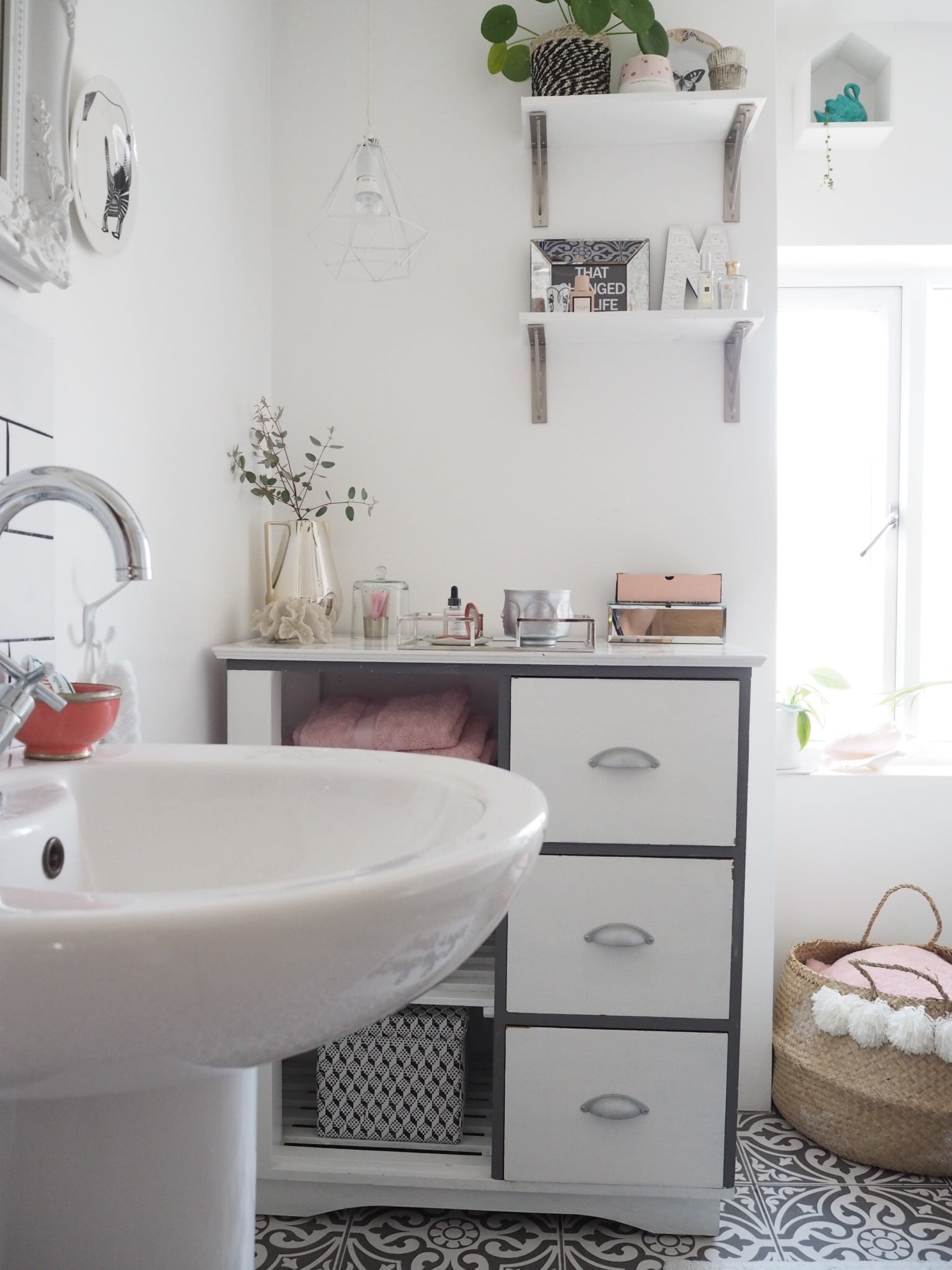 3. Gold Storage Basket, £5
Primark is the best for affordable bathroom accessories. This handy gold and white basket houses all my shower gels and bath salts. So cheap too. Hurry as thing don't stay on their shelves for long.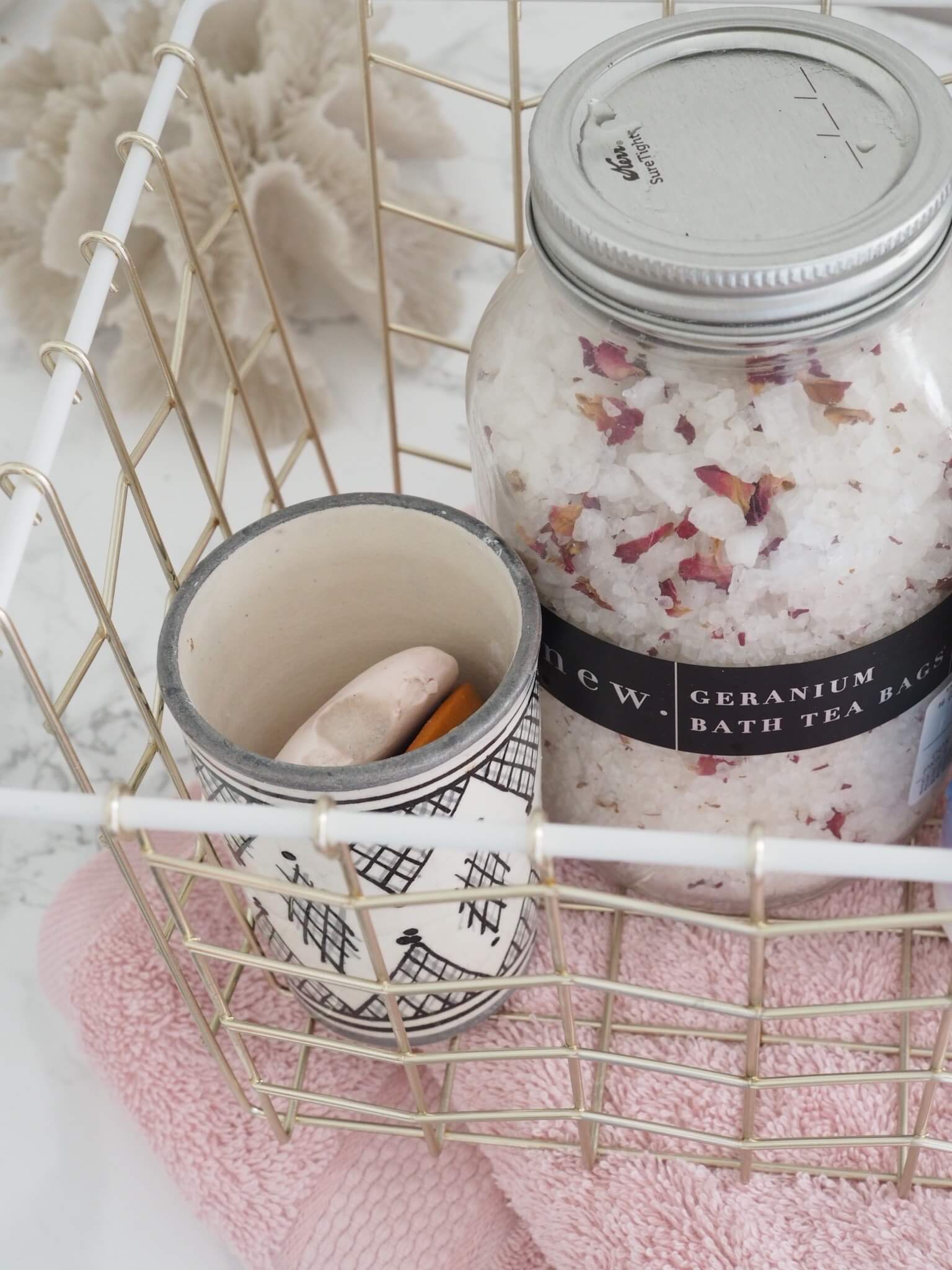 4. Wicker laundry basket, £27
Originally this basket from Belly Basket Fantastic was my ironing basket. It's too pretty not to be on show so now it is my laundry basket in my bathroom. It contains exactly one load of machine washing.
You could vamp up a plain basket yourself with hand made pom poms.

5. Bath Mat, £15
This is one of my best impulse purchases I've ever made for my home. Every time I step into the shower, I feel like a QUEEN. You can get your paws on one at Rockett St George.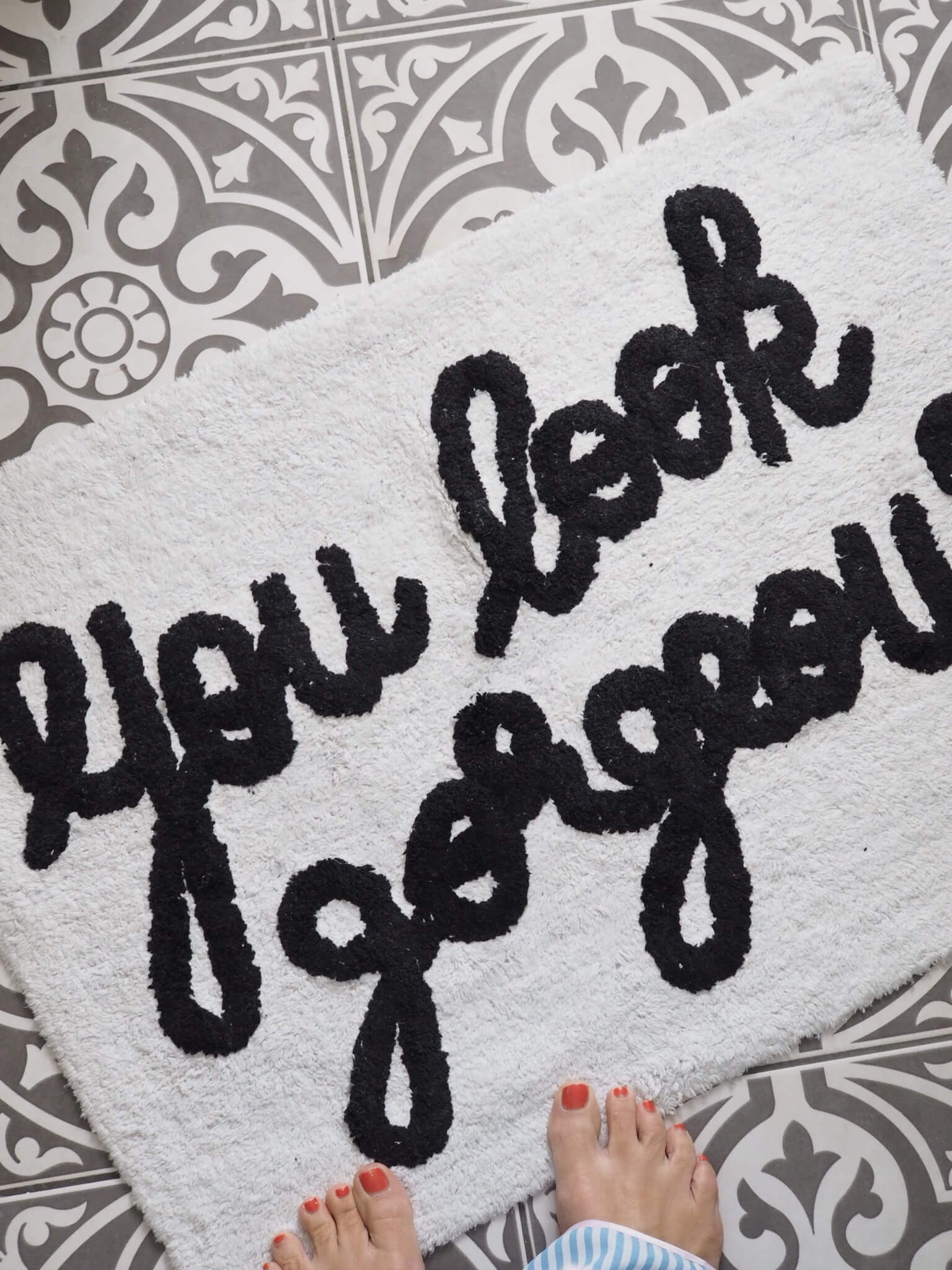 6. Shower curtain, £5 each
It's really rather hard to get a nice white shower curtain that isn't made from cheap plastic. These fabric ones are from Primark – and have a subtle striped pattern on them. Love them!
They had a marble patterned ones too which were £5 each which you may also like.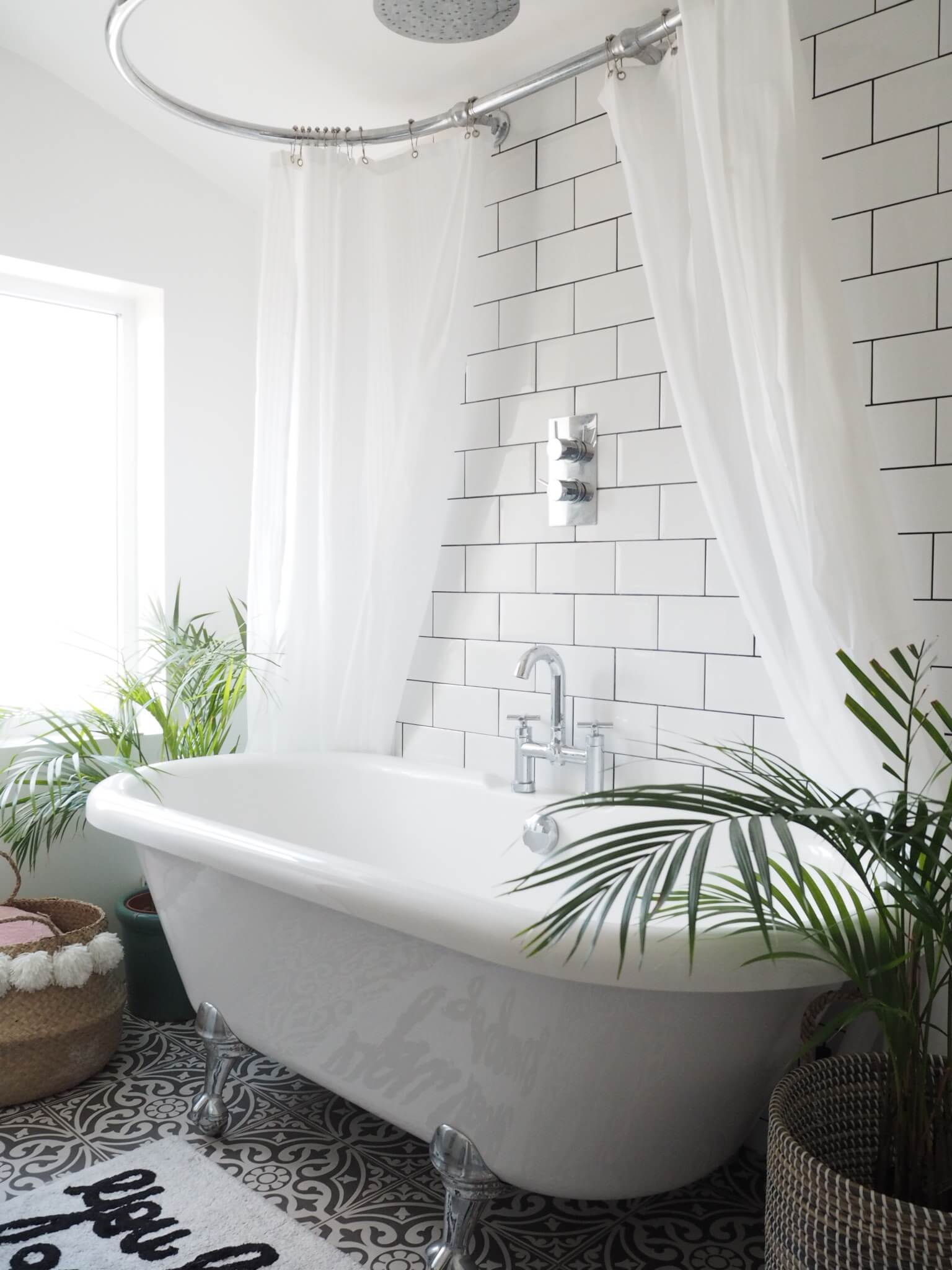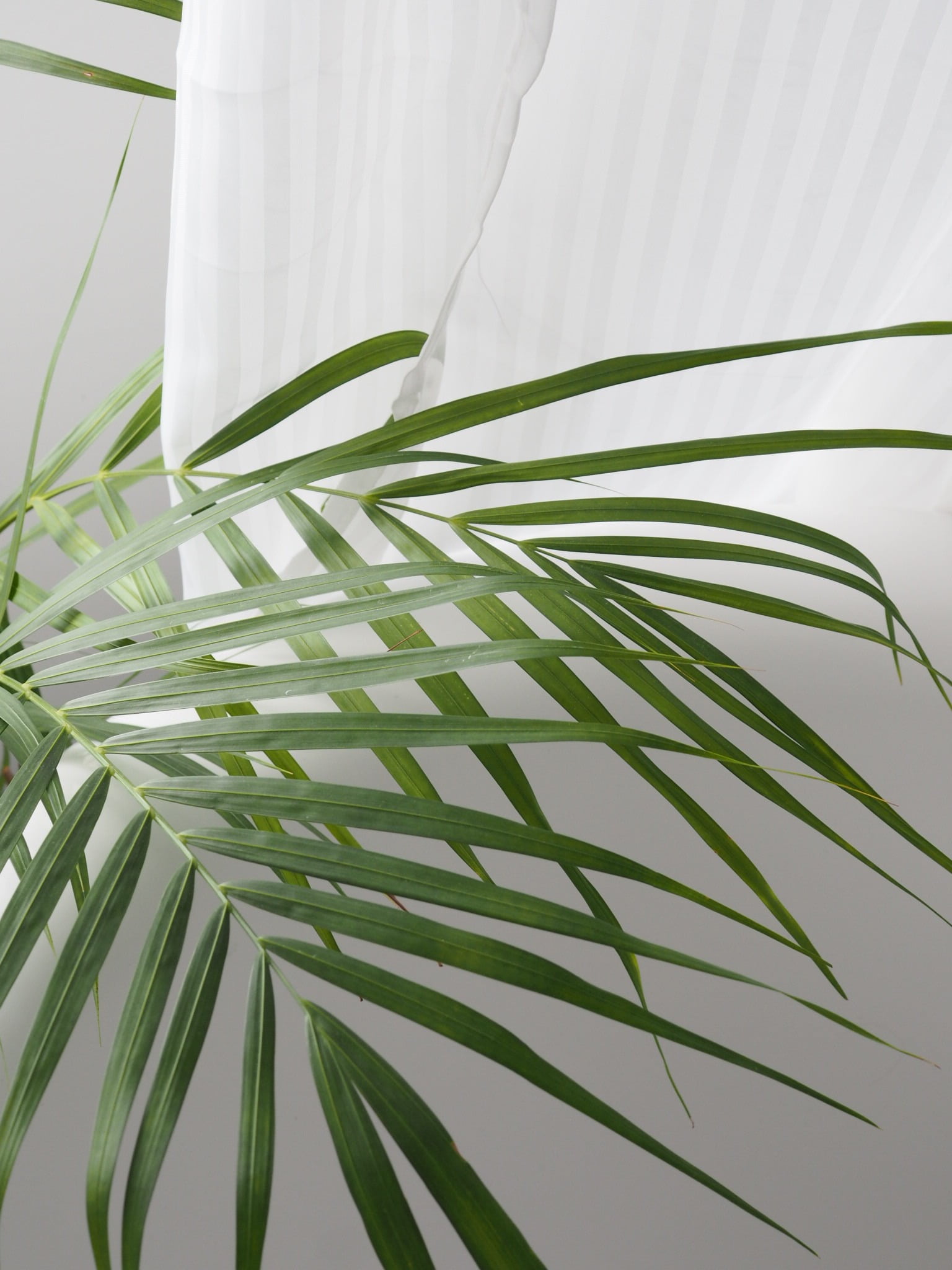 7. Plants, £14
Breath life into your bathroom with plants. I had one little one, then another one creepedin …then another. Before I knew it, I had two palms, several pot plants and string of pearls adding much needed greenery to my room.
Choose plants that love a steamy environment!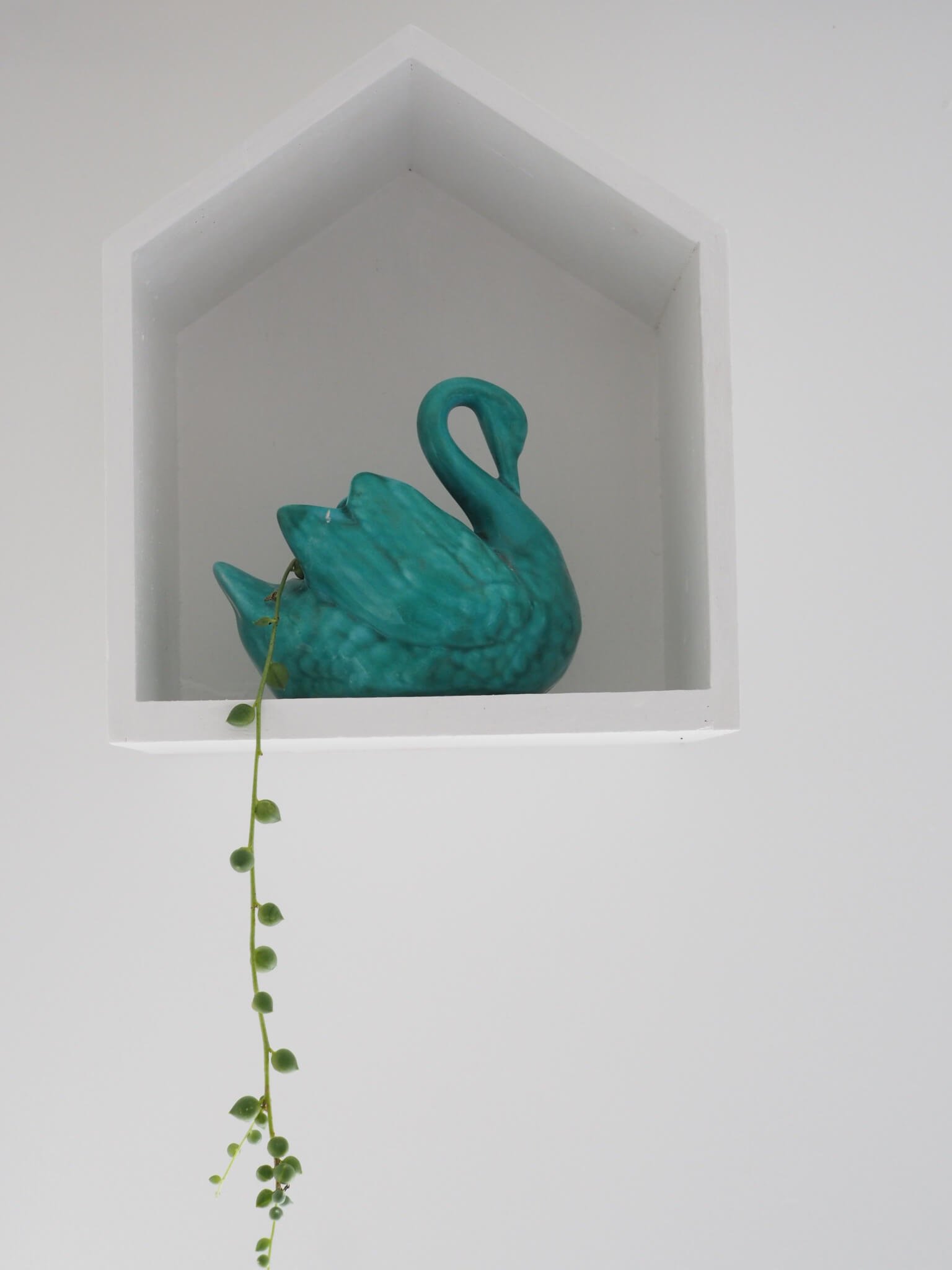 8. Shelf Brackets, £15 each
Have you discovered Dowsing & Reynolds yet? Not only do they make cool light fittings but they also stock a wide range of hardware in interesting shapes like circles, hexagonal and their powder coated pink.
I picked the 'Ingrid' brackets as I loved the Art Deco shape of them – and wanted to add a bit more chrome to my bathroom.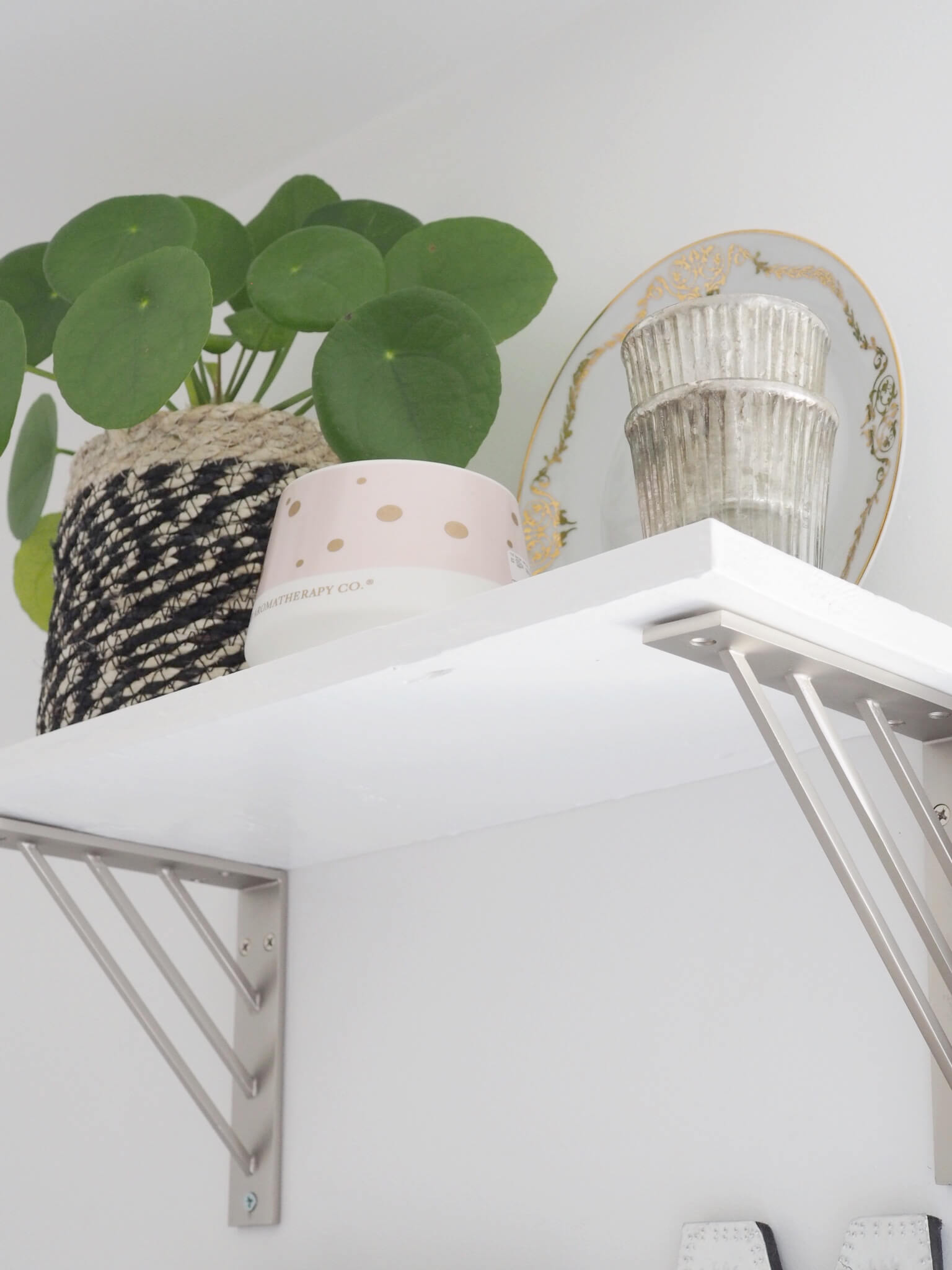 9. Magazine Holder, £32
If you love reading the bath as much as me then you'll want somewhere to sash all your magazines and books like this geometric holder from  Red Candy.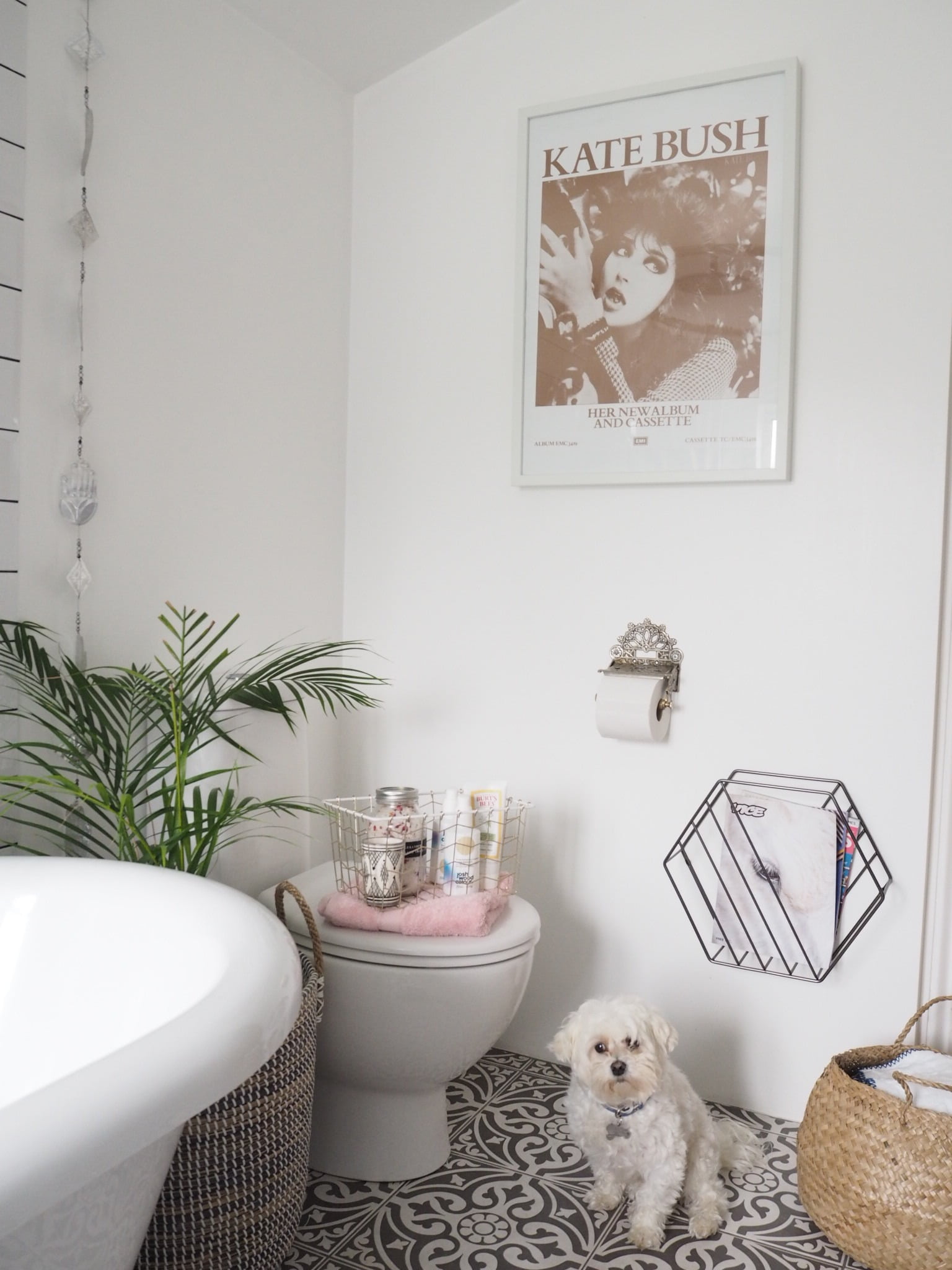 10. Hooks, £1.50
I have a habit of dumping my clothes on the floor which get soaking when I take a shower. With nifty – and cheap – hooks from B&Q placed either side of the bath. I have somewhere to hang my dressing gown now. And on the other side my mental hanging from Bali.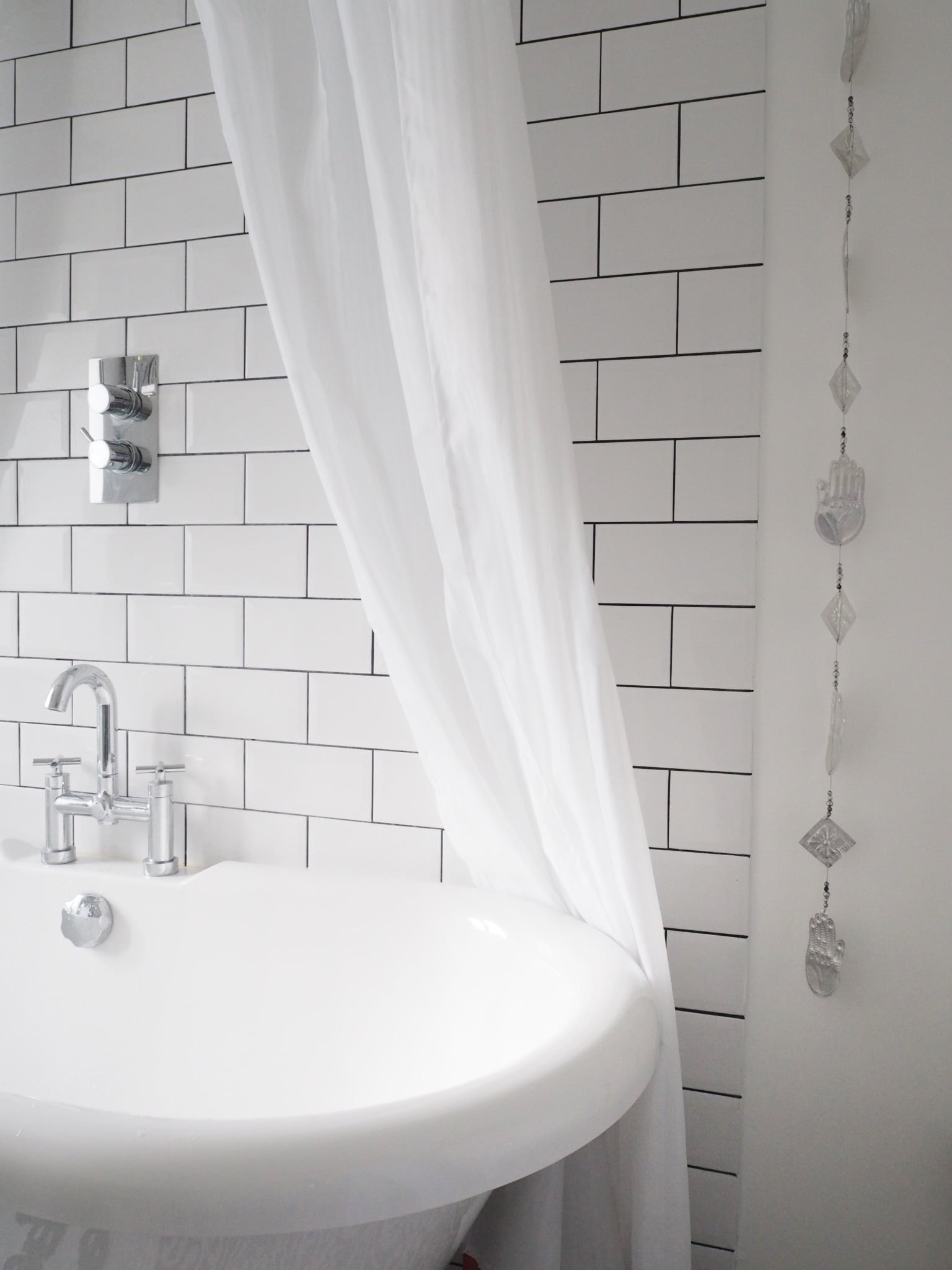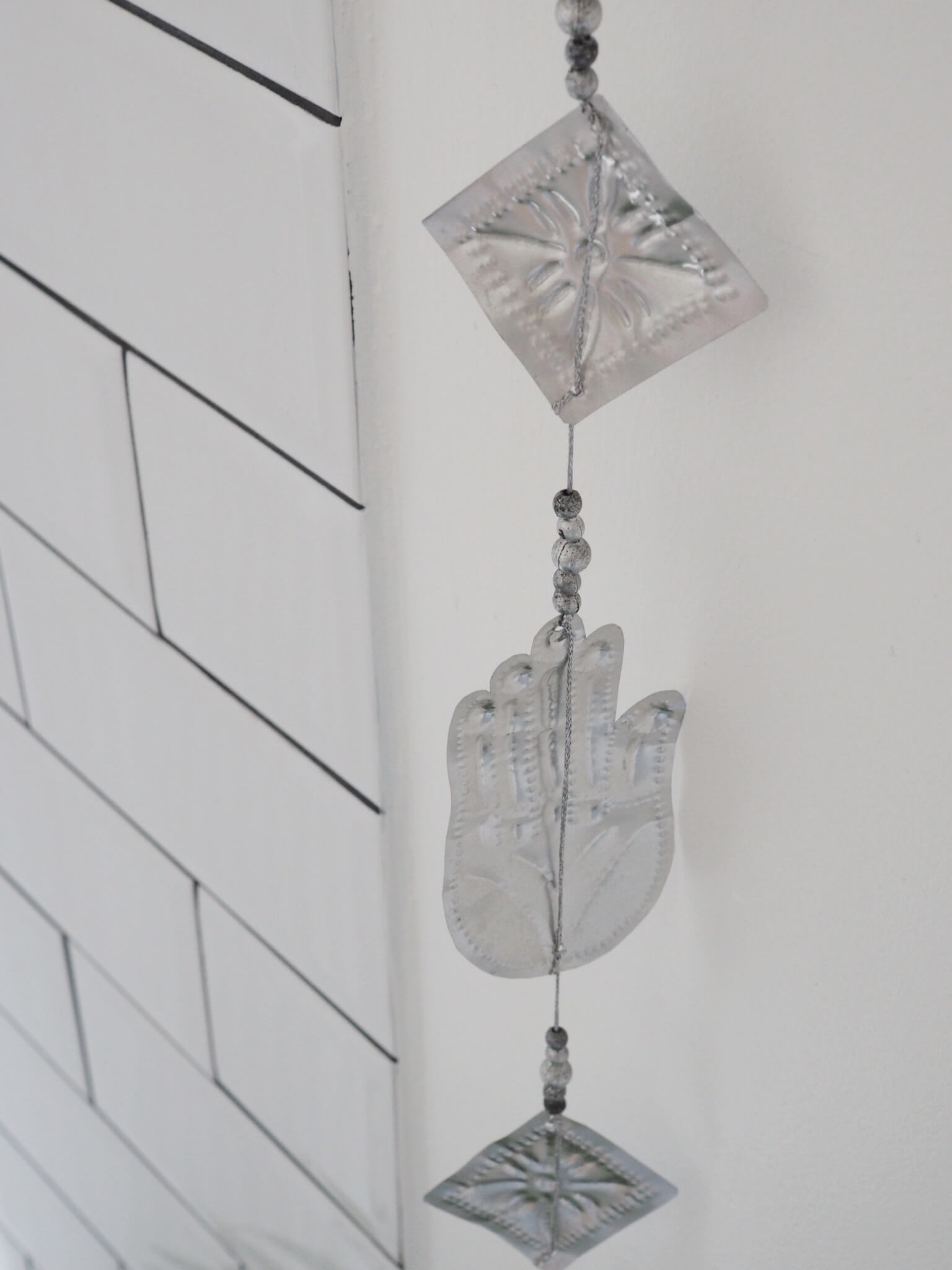 There you go – that is my complete shopping list for your bathroom. Everything I have picked out is affordable and stylish, so even if you treat yourself to just one or two, you'll love how they will transform your bathroom in an instant.
Let's just call it guilt-free shopping!
You May Also Like
Small Bathroom Makeover The Final Reveal
Interior Updates: My Bathroom Shopping List
Top 10 Do's and Don'ts to Kitchen Planning