Love ditsy florals? Or maybe you're into oversized prints? Or even stripes? Whatever patterns you adore, here's are my top 7 expert tips for decorating with patterns in your bedroom.

Pulling together the perfect colour combination when decorating a bedroom can be challenging to say the least. Throw prints and pattern into the mix, then it can easily feel overwhelming.
Can pattern make your bedroom feel busy? Can you mix colours? What accessories do you go for? The rules can seem unclear.  Luckily for you, I have lots of experience mixing patterns into room schemes from years of styling for interior magazines.
When I was Style Editor, I would create two or three interior trend looks a month, usually blending patterns together which was no doubt challenging, but also very exciting.
Today, using my guest bedroom as an example – I want to give you inspiration for your next bedroom makeover. My big ideas is to show you how patterns can work to create a designer scheme that can blow your mind.
Obviously, these rules work for every room in your home. But you'll find bedrooms are the place where you can go a bit crazier, bolder and more colourful with your patterns.
7 Expert Tips For Decorating With Patterns In A Bedroom

1. Choose A Main Pattern
One main print should the main focus in your room.  Ask yourself when picking these questions: do you love the colour? The print? The repeat? Look for a design that you love through-and-through – as this is going to be the basis of your room scheme.
In my case it was my Cole & Son waves wallpaper. It's a bold, graphic design that I've wallpapers over every wall.
You don't have to go for your main print on your walls either. Mix it up with a patterned carpet. Or patterns on your ceilings. An headboard upholstered in an amazing print with a matching armchair. Let your imagination run wild.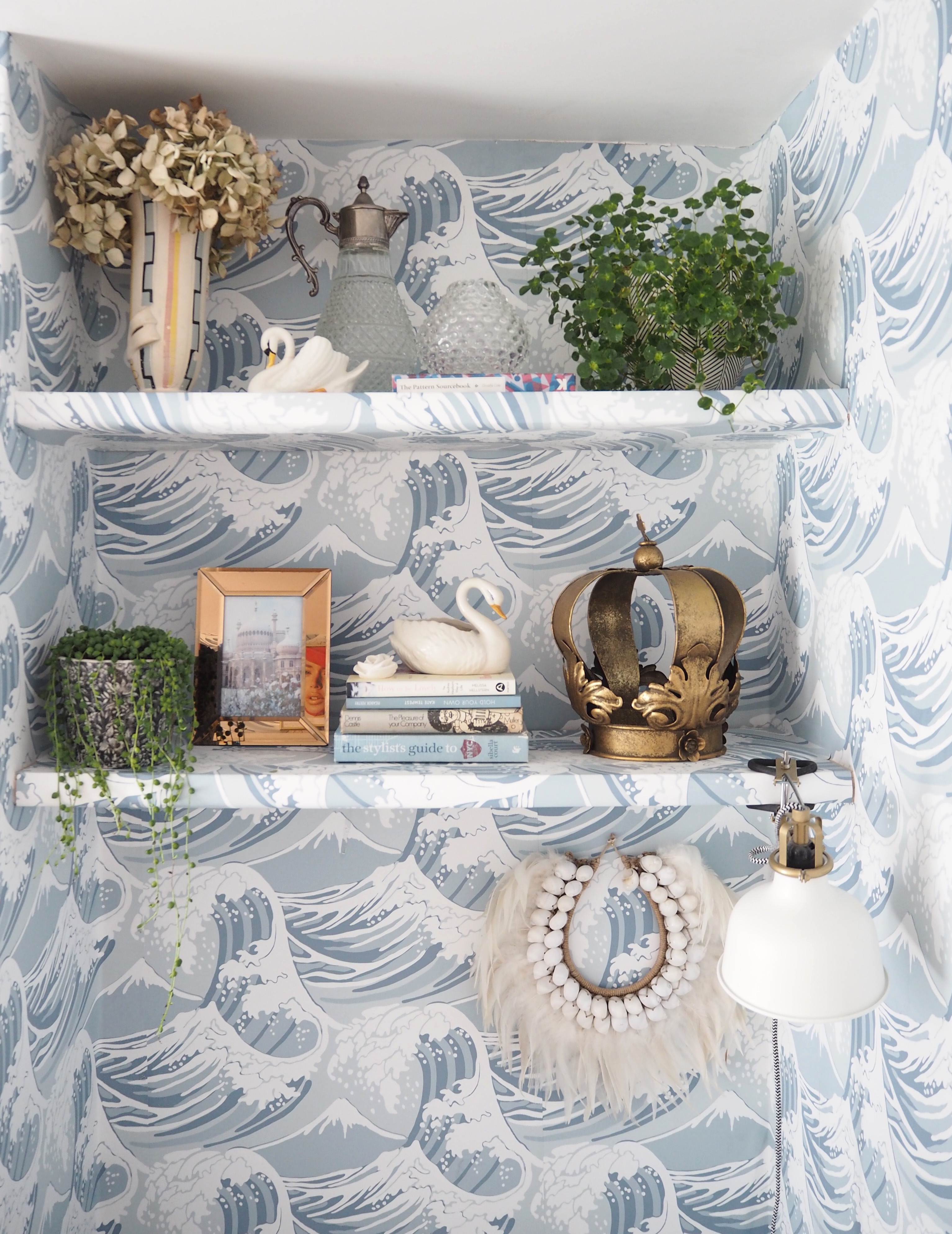 2. Pick Patterns In Harmonious Colors
Once you have picked your main print – then want to add other patterns in smaller amounts that will flatter this design, rather than fight with it.
The simplest way to mix patterns together is to use prints in similar tones Blues and green tones work well together. Pinks and blush look lovely. Reds and oranges look warm and vibrant. And you can't beat grey and black.
If you are not confident mixing patterns, then this one rule is the easiest to follow – and will create a calm and relaxing bedroom that is easy on the eye.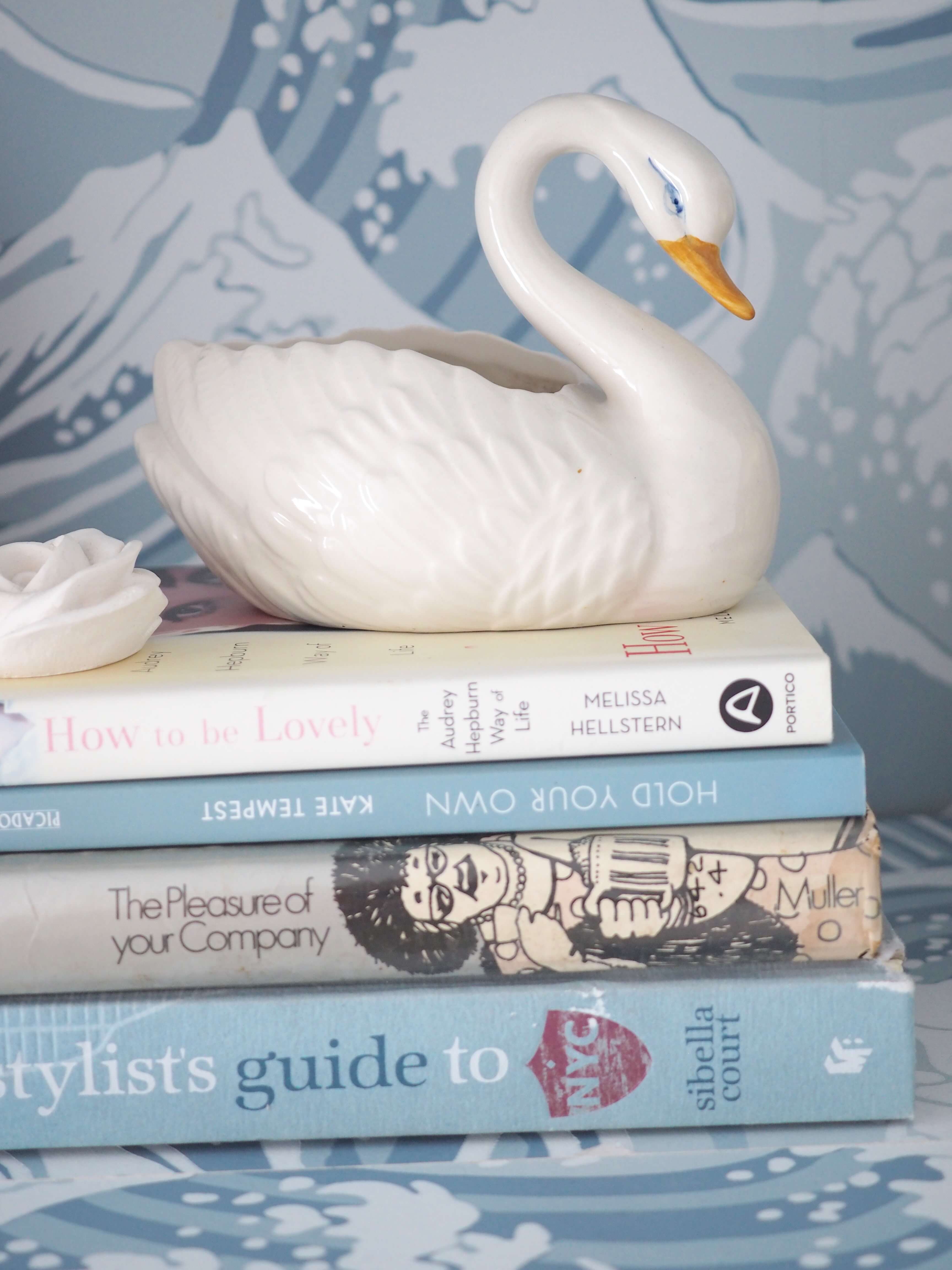 3. Play With Scale
Bet you're feeling braver right now? If so, then you have graduated to the next rule when it comes to pattern mixing.  Once you have picked your main print, then you'll want to add at least two-three smaller prints by carefully layering into the bedroom. The easiest way to do this is with bedlinen and scatter cushions.
Wall murals are a great alternative to repeating wallpapers as they enlarge a single image for maximum impact. They look great in hallways where you can make great first impression.
In my own bedroom, I added these sea-scape oxford pillow cases from Zara Home. They are in the same tones as the wallpaper but the scale of the print is more soft and blowsey.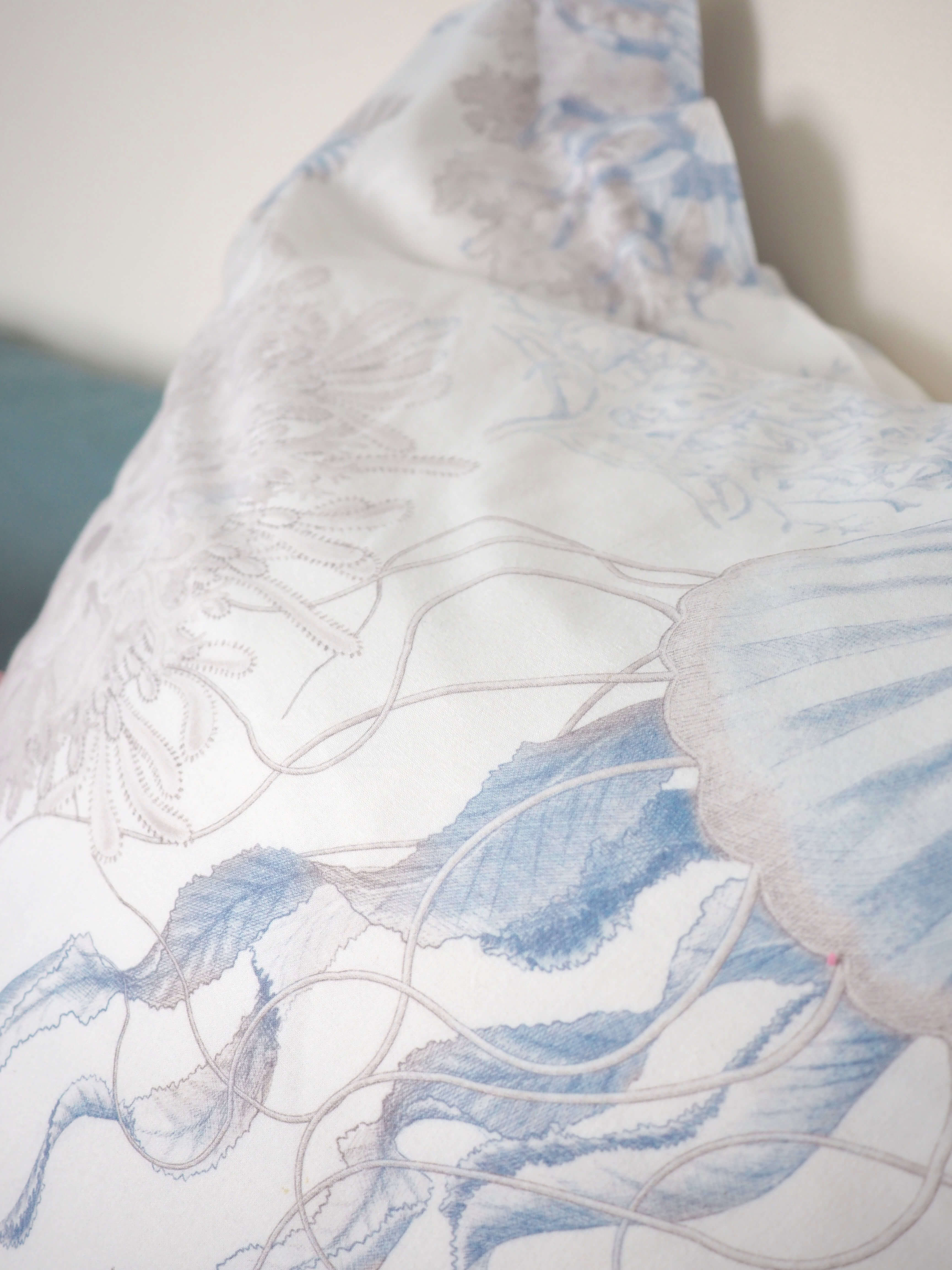 4. Now Add Plains
If you think of your room as a pie chart, then 60% should be the main bold print (in my case the wallpaper), then 20% smaller prints and designs (my cushions and pillowcases) then you'll want at least 10-15% to be plains. This helps add space between the patterns, allowing the eye to have somewhere to rest in the room when taking it all in.
This can be your main duvet cover, your carpet, your art or even your ceiling – you'll need these plain blocks of colour to pull the room together.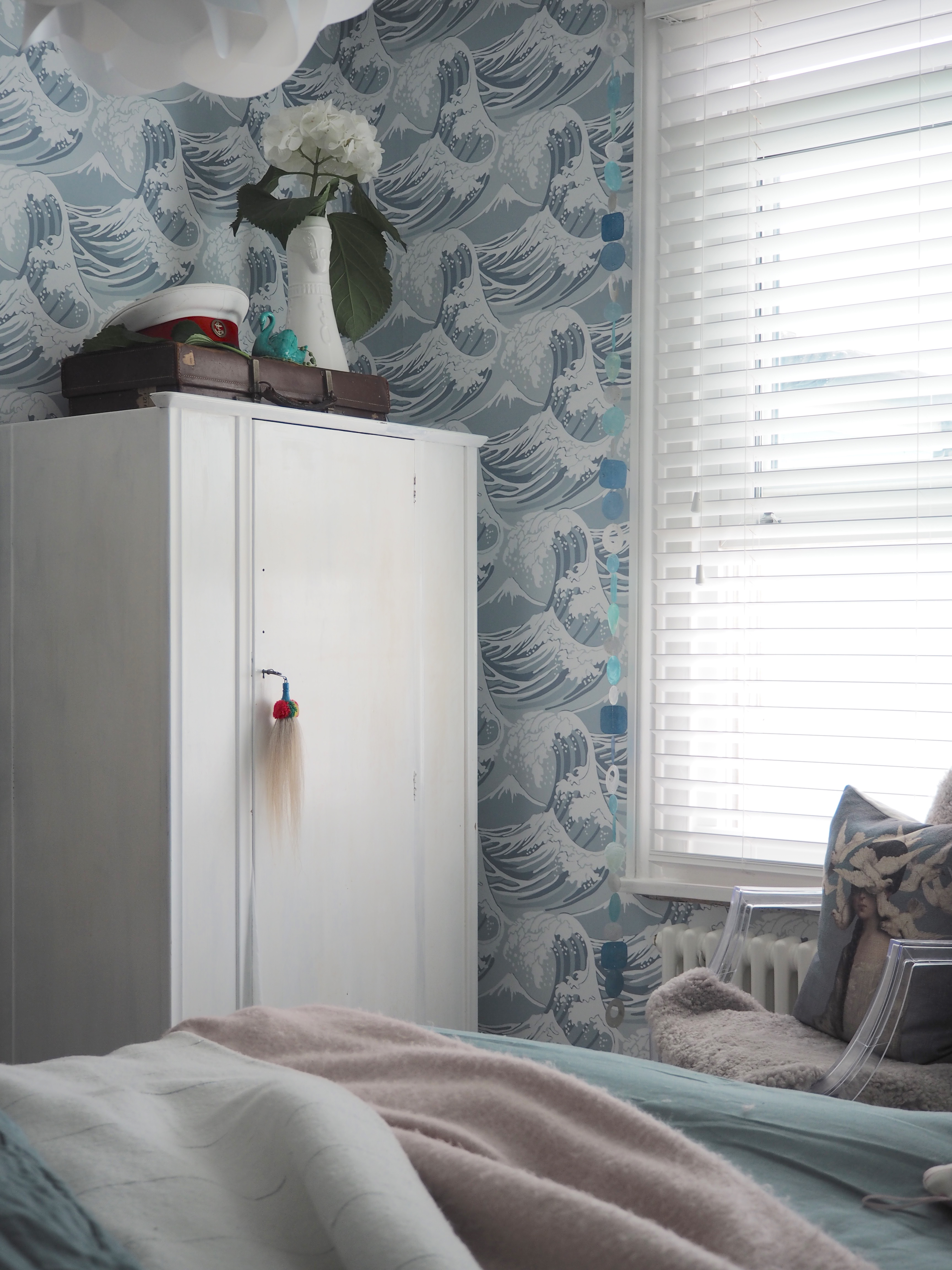 5. Layer Up Your Patterns
When it comes to your room you'll want to add depth to your scheme with layering. A printed cushion on a patterned armchair with a bold wallpaper on the walls is a great start.
Another way to layer in your room is with Art. It's a fabulous way to add a little more vibrancy to your bedroom scheme. There are so many prints, paints and designs out there which you can use to break up your walls.
In my case, I have gone for a blue marble print in blue tones but there is no reason why you can add colour – or a different pattern or repeat here.
Rather than one statement piece of artwork, you could try hanging four smaller prints with a similar theme.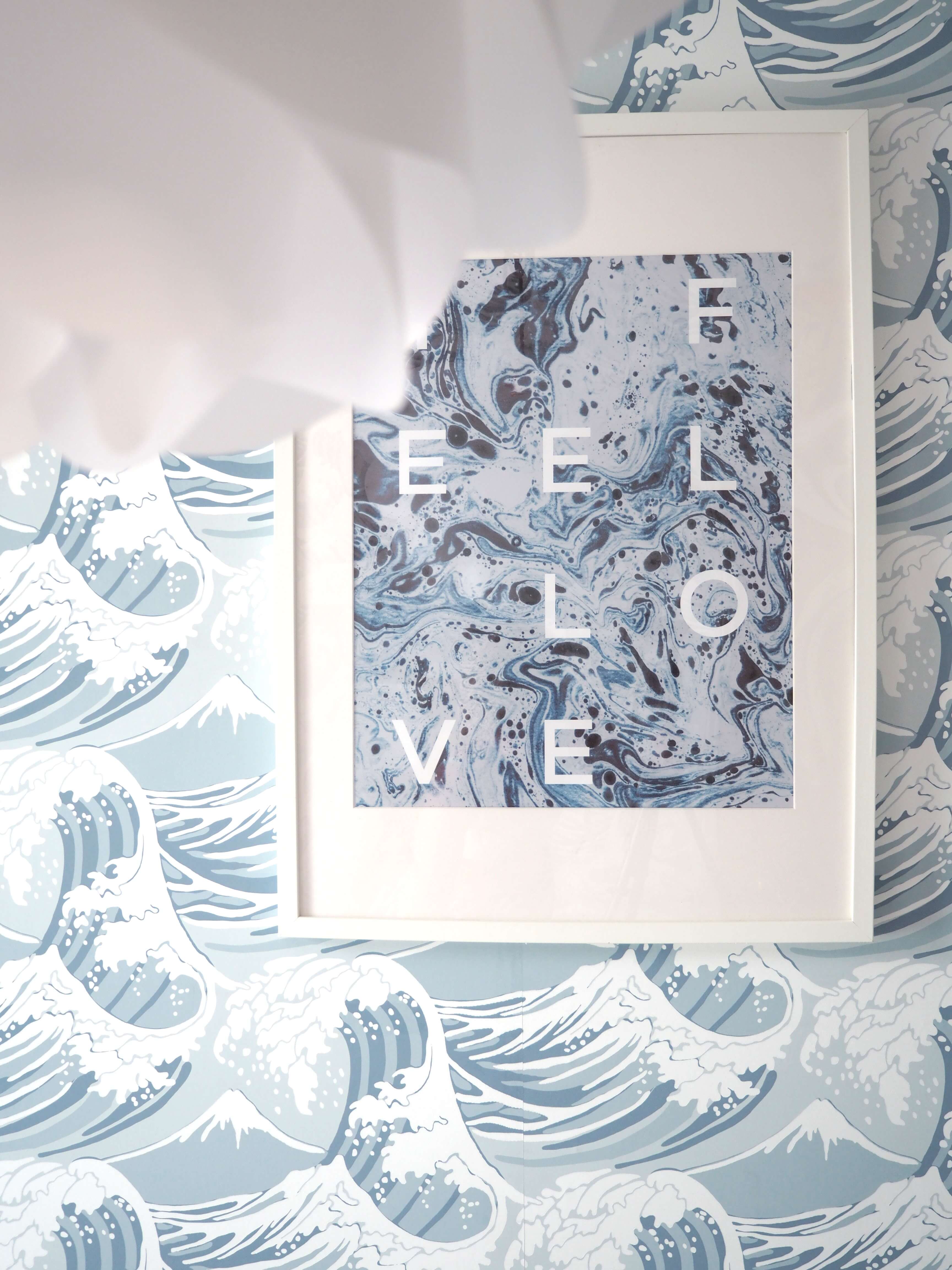 6. Add In A Neutral For Balance
Any space that introduces too many prints and colours can start to feel chaotic – especially in a bedroom where essentially you want a feeling of rest and relaxation. White or black are the perfect way to balance all the pattern.
In my bedroom I went for white to match the background colour of my wallpaper.
Pick white picture frames, accessories, lampshades and paint some furniture white – will break up an expanse of pattern on the walls.
7. Pick An Accent Colour
Once you have picked all your patterns that work harmoniously together – you'll want to add one accent colour that lifts and elevates your bedroom. You want a colour that POPS! in your room.
In my case, I chose soft blush pink. But I could have easily gone for red or an orange.
Have a think about which colour will really make your patterns sing and add a splash to your bedroom with a well placed vase, books or throw.
Plants are a great way to add an accent colour if want a natural feel – and will breathe life into your scheme.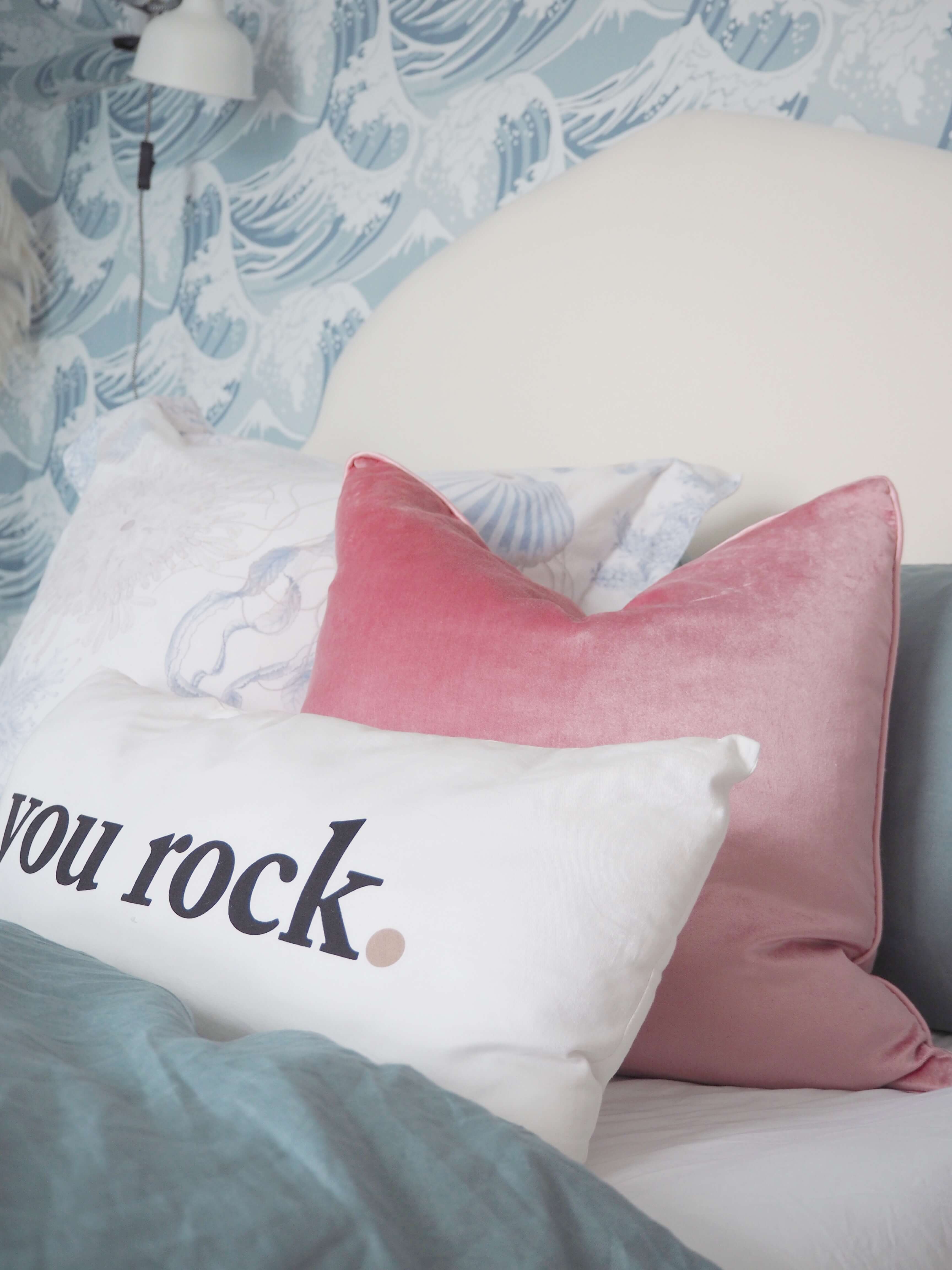 8. Shapes Are Also A Pattern
Yes, let's not forget that are rooms work in 3-D. You'll want to add in accessories to finish off the look of your room that echo the patterns in your room, ever-so-cleverly. If you have gone for palm prints – then you'll want a real palm in your room. Picked stripes, then you'll want string curtain at your window.
Here in my bedroom, I added a lampshade that echos the undulating shapes found in seascapes. See, clever stuff!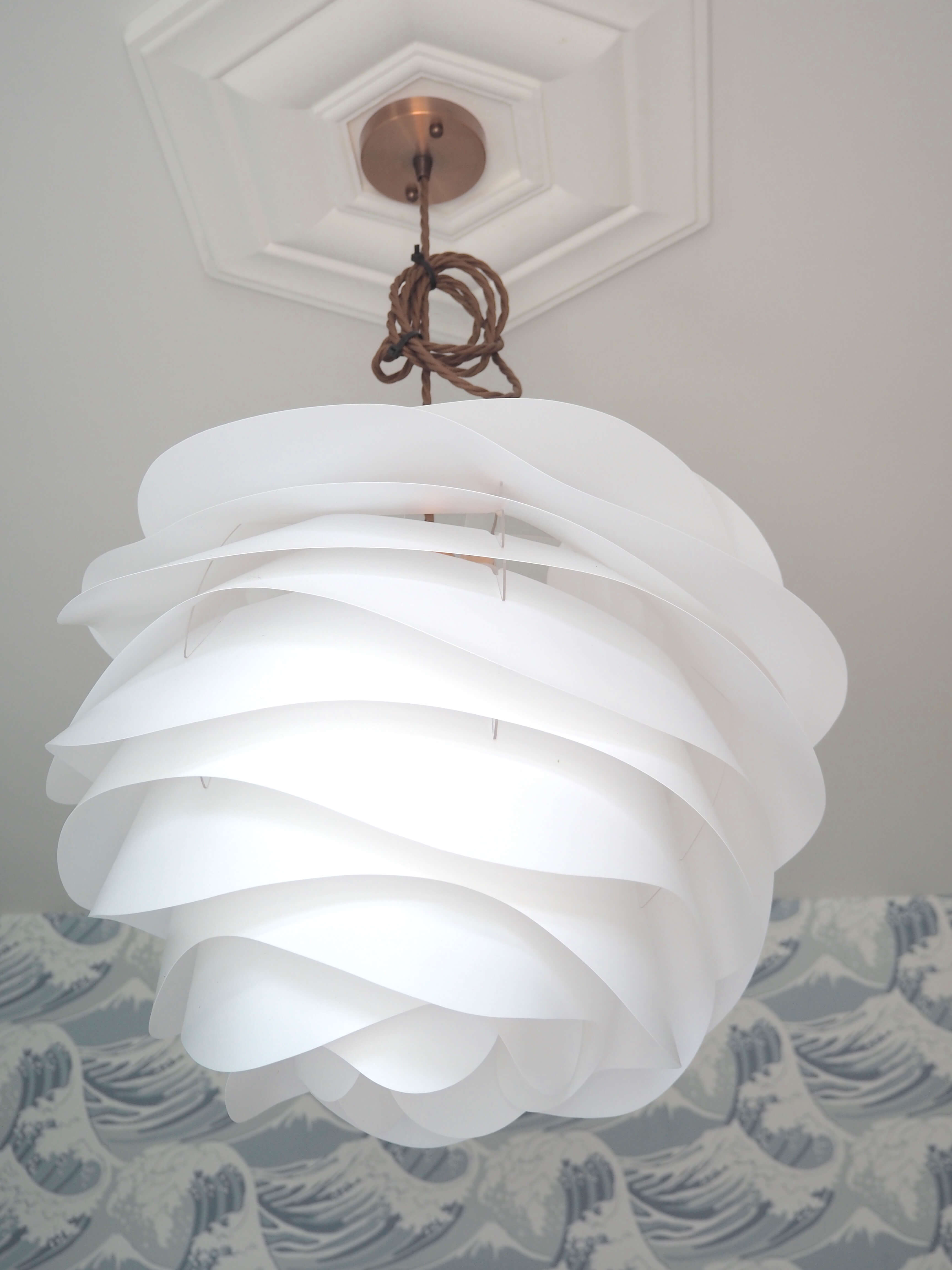 Did you love these 7 Expert Tips For Decorating With Patterns In A Bedroom
There's my 7 rules to follow when mixing prints in your bedroom. I hope now you have lots of confidence to add lots (or just a little bit) of print to your next decorating project.
I'd love to hear your ideas in the comments section below.
Maxine
You May Also Like