I have something special for you today! Interior Designer and TV presenter – and the QUEEN OF COLOUR – the one and only Sophie Robinson is hopping onto my blog to share her advice with you on how to decorate with colour. In this post, you'll discover how she got her dream job working in interior design, get to see the inside of her dazzling home – and she shares her top tips to help you decorate with colour confidently.
I first met Sophie Robinson when we both worked as stylists for interior magazines. This was in the early 00s when she was Style Editor of Good Homes magazine and I was a freelance stylist. Over the past 20 years, we've worked together on numerous projects including commercial shoots, magazine covers, behind the scenes on TV shows and on set for day time telly. These days, as well as being a TV presenter, Sophie Robinson hosts a successful home decor podcast called The Great Indoors, she runs popular on-line interior design course and is an all round colour-loving superstar!
When I was dreaming up an expert post on how to decorate with colour – I thought who better to ask than the rainbow loving lady herself, Sophie Robinson.
This is your chance to grab a cup of tea, put your feet up and have a deep dive into this post packed with her easy to follow colour tips. I've asked Sophie your pressing decorating questions and have her expert advice to help you decorate with colour in the brightest shades. You are going to love it. Enjoy!
Get Colour Confident! Sophie Robinson solves your decorating dilemmas
Sophie beautiful home is a riot of colour and pattern. It's her happy place.
Let's start at the top Sophie…How did you get into interior design?
I've been working in interiors for over 25 years. After graduating from Brighton university in 3-d design, I set up a workshop in Cockpit Arts selling handmade lamps, I had lots of success and my lamps where sold in Liberty's of London but I earned no money as a designer. To supplement my income, I would assist my friend's mum who was an interior stylists for Laura Ashely. It opened my eyes to the world of styling, beautiful locations and photography, This was in the late 90s and I started freelanced for magazines writing shopping and style pages, as well as styling shoots. I joined Good Homes magazine in 2000 as a stylist and worked my way up for five years, heading up the department.
After leaving magazines, my first TV job was on 60 Minute Makeover as the presenter in 2005. We would makeover a whole room in 60 minuets and we would have a half an hour break in the middle! After this show, I worked across on Cowboy Builders, This Morning and Good Morning Britain. Then in 2013, I was the host of BBC's Great Interior Design Challenge for 3 years.
When you are working on TV shows are working at speed with a huge crew involved undertaking whole house renovations in a matter of weeks (or even hours). You have to work around the clock to get it done for filming. It was amazing experience!
In 20016, I shifted my energies to concentrated on my on-line workshops and my podcast with Kate Watson-Smyth from Mad About The House which we called The Great Indoors. We chat about all things to do with home decor from the latest trends and we love to share our hard hitting advice.
I've been pulling my all into my social media, blog and podcasts. And I love that they reach out across the world to people in India, Brazil, the States. With the internet, the opportunities to share ideas about interior design are endless.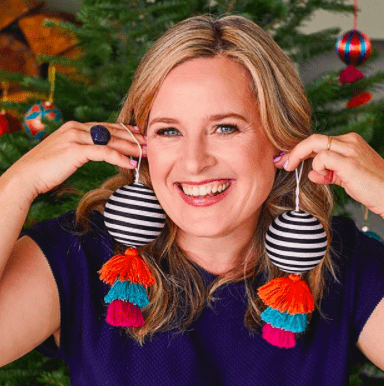 What makes a home feel happy to you?
Find your happy colours! Interesting during lock down, it's given people the opportunity to think more about their happy hues. We are looking at the four walls and we are not being distracted by the usual things. We've got that chance to be in tune with our surrounds.
It's interesting to work out what colours cheer us up. If I want to bring a smile to my face, I'd put on a bright coloured lipstick or treat myself to a bunch of flowers – something colourful and cheerful. It's the same with my home. I want wall colours that make me smile and bring me joy. Decorating with colour is about personal choice. For me it is bright, saturated tones – for someone else it could be neutrals or dark shades.
It's about learning how to tap into what paint shades and patterns will bring you joy. Never design a home to please other people – that is madness! Design a house for you.
Have you ever made a decorating disaster in your own home?
I painted my home office white. Originally, I wanted my work space to be a pause – a breath of fresh air in my home. But I quickly found the white walls draining and uninspiring. Now I have a House of Hackney wallpaper, deep blue woodwork and swatches all over my pin boards. When I walk in here in the morning, it brings me ultimate joy.
I've designed 1000s of room schemes over the past 25 years! Even I get it wrong sometimes but you need to have the confidence to change your home if it doesn't truly make you happy. You need to wake up and be conscious of your surroundings.
Yes, we want our homes to look beautiful but deep down it is about tapping into a feeling. That is why I have colourful office to work in now. No more white walls for me!
Can you share with us your top 3 design hacks for decorating with colour and pattern confidently at home?
1/ Firstly, you have got to love colours and patterns before you use them. Work out what your threshold is when it comes to pattern – is it one single patterned cushion? Or is it like me, where you have lots of clashing prints mixed together into one room? Take your pick from geometric prints, vintage florals, ticking stripes… you name it – there is a pattern and colour out there to bring you joy. My top tip – always put a plain into your scheme! One plain cushion will pull your room together and creates some pace in your scheme.
2/ When decorating with colour – start with a hero item in your scheme. Choose= a wallpaper, a cushion or even a piece of art that you love and then work your room around that item. Pull out the colours in the item with your accessories. That is a fool-proof place to start. Put all your ideas down on a mood board or in a swatch box until you feel utterly confident that the colours work for you.
3/ Always design a room around real samples. Rather than pulling images from Pinterest or instagram that are on a phone screen or laptop – print them out, and then put them next to your must-have wallpapers or paint colours to nail the perfect look.
What's next for you, Sophie?
My on-line interior design course is going to open up again at the end of the Summer. And I'm about to write another one which will be launched in time for Christmas. You can sign up for updates on my blog HERE.
Have you loved this Q&A with Sophie Robinson? I'm going to be doing lots more chats like this with friends of mine who work in interiors.
This is an edited version of my one hour chat with Sophie Robinson on my IGTV channel on instagram. Make sure you check out the full video HERE. We had a great old catch up chatting about our crazy days working in telly!
I've loved doing a deep-dive with interior experts like Sophie Robinson – I'm going to have a dig around my phone book and give a call to a few more of my old TV designers and experts so that you can get the low down on the world of interiors. How does that sound? Let me know in the comment box below.
Photos care of Alun Callender & Tim Young.
You May Also Like
6 DESIGN IDEAS FOR A MINDFUL HOME
5 DECORATING IDEAS FOR A LUXE LOOK FOR LESS
YOU'LL LOVE THESE TOP 5 BATHROOM TRENDS FOR 2020