No money? No problem! In this post, I'm sharing my top 5 design ideas to give your home your home a luxury look for less. Explore my tips and tricks that will elevate every room in your home without break the bank. From lighting to paint, to storage – this post has got the luxe look covered whatever your budget.
Main image | Next
In an ideal world, we'd all be able to afford designer furnishing and fittings so that our homes look luxurious and sophisticated. But the honesty reality is that most of us don't have a huge amount of spare cash to hand to splash out on all the finishing touches that our hearts' long for.
So what do you do if you love that high-end look but you don't have the money to pay for it? Well, you cheat! Yes, you cheat your home to a upmarket look with clever styling tricks and decorating ideas.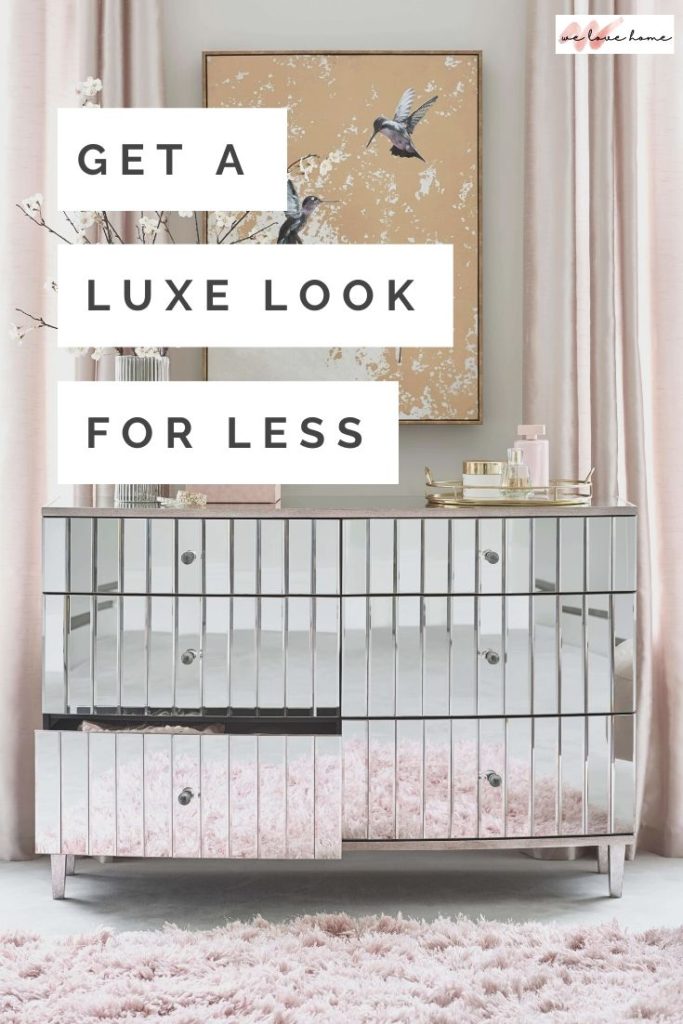 TOP 5 DESIGN IDEAS TO Get that Luxury Look For Less in YOUR HOME
There are lots of clever cheap but chic ways to get a polished look without breaking the bank. When renovating my own home, I decorated it on a tiny budget without sacrificing on my style choices. My home looks the part – and I've really loved doing it up on next-to-nothing! It's made me make smarter choices and I've become a savvy shopper along the way.
In this post, I show you how to create your dream space that looks and feels expensive but we all know it actually cost pennies (wink wink) Here's my top Top 5 design ideas to give your home a luxe look for less
** In collaboration with Lions Home **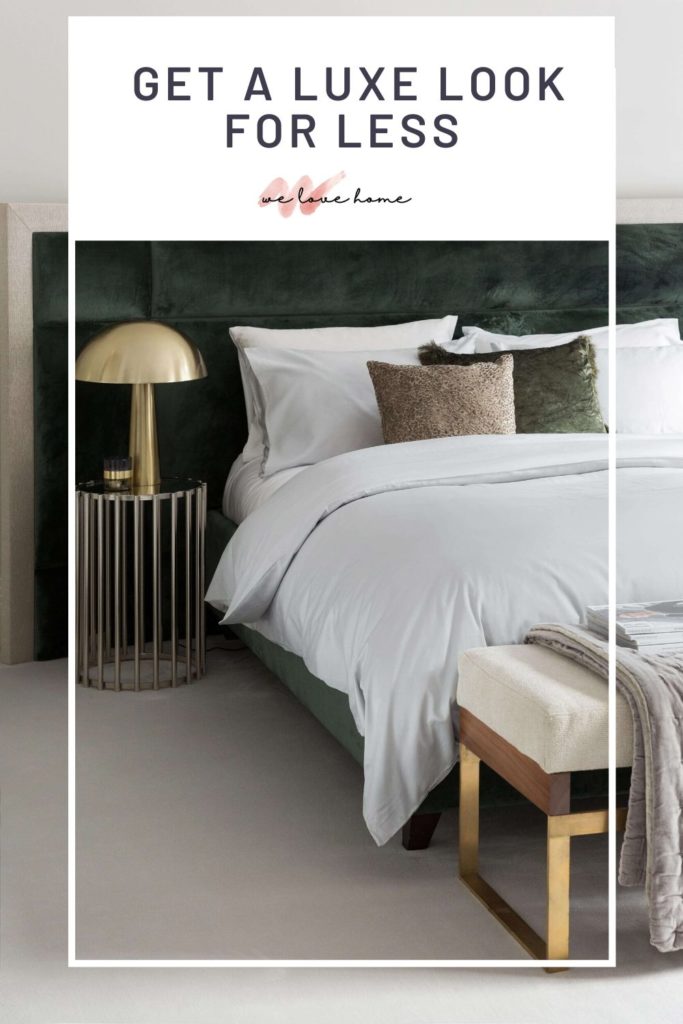 1. Shop around for designer lookalikes
Hands up who has a passion for designer furniture? Yes, me too! I can't walk past the fancy interiors shop in Brighton without drooling and instagramming all my (expensive) finds.
Sadly, what I don't have is the money to match my rather lush tastes. When you next fall madly-in-love with an artful Danish armchair, a limited edition print, an Ercol dining table or an Tom Dixon light fitting, it's time to have a little rethink of our shopping habits.
No Money? No problem! Interior stylist Maxine Brady shows you 5 tips on how to get a luxury look for less at home
Instead of reaching for your credit card, make it your aim to find a great look a likes at a reasonable prices. Start by taking a detailed look at the designer item you are lusting over. Work out what is it EXACTLY that appeals to you. Is it the shape of the arm, the upholstery material or the mix of textures that is making your heart beat faster? Look beyond the label and look at the actual design. When you work out what it is you specifically love, then it is time to start looking for cheaper furniture which may have similar qualities.
My first stop would always be to look online at virtual retailers are able to sell designer goods (or designer lookalikes at least) at a fraction of the price because they don't have huge overheads like most high street stores. Plus they stock a huge selection so you are never limited in choice just cos you don't have thousands of ££ to spend.
One alternative for modern furniture is ArchiPro who are an online furniture retailer that provides modern interior design products – they have a HUGE selection of designer pieces that will make your drool. For vintage buys you can also try eBay and Gumtree for bargains (that is where I found my designer sofa for less than £150).
Hunting around for designer inspired pieces will take a bit more effort but that is half the fun, isn't it? And it's is a great way to save money too.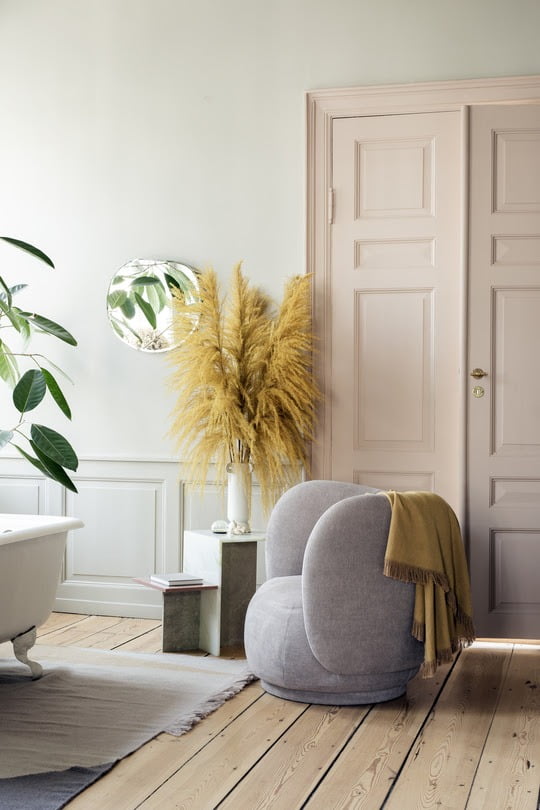 2. Invest in bespoke furniture
Bespoke fixtures and fittings may sound expensive but can cost if not the same then sometimes LESS than off-the-shelf. WHAAAAAAT? Yep, you read that right – having bespoke furniture can be less than flat pack furniture.
This is particularly true when creating built-in storage in your living room, fitted wardrobes or a bespoke bathroom vanity unit. In my own home, I had a carpenter make me under the stairs cupboard door fronts and made to measure shelving in my living room and guest bedroom which cost a fraction of the price of buying shelving in the shops.
And with bespoke furniture, you are able to choose different variations and colour combinations that are unique to you and your home. Bespoke furniture will instantly up-scale your home AND you can do it on a budget you can afford. And unlike flat-packed furniture, fitted furniture will add value to your home when you come to sell.
Get a good local carpenter in to give you a quote for works. Have clear idea of what you want to help get the most accurate quote. If you are smart, you could use reclaimed materials to save a pound or two.
If you have built-in storage in your home already – but it isn't to your taste – then with a little bit of carpentry (and imagination) you could adjust it to give it a new life. Usually the existing structure is fine but needs a makeover (nowhere more so than with kitchen units). Change the fronts, swap the handles, paint it! Give it a new look on a shoestring. That's one smart way to get a luxury look for less!
Pimping up what you have already can save significant amounts of money as you are paying for the labour cost rather than new materials. Try painting your built-in furniture in a fun colour (hot pink anyone?). A bit of imagination can go a long way to save your money.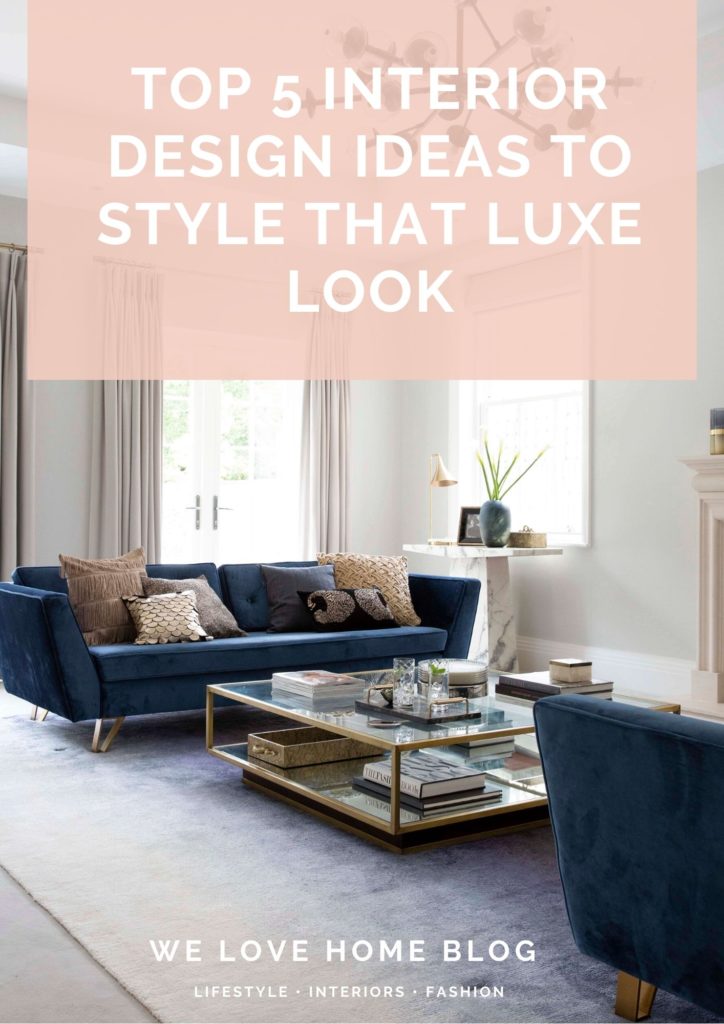 3. Don't order everything from one store
It's easy to fall into the trap of buying everything from one shop. The problem with that is your home will end up looking like a showroom rather than an expertly styled pad which reflects your very best self.
Rather than splashing the cash in one place, try shopping around. Mix and match matching your furnishings, fabrics and accessories from a variety of stores and online shops for that luxe look that I know you crave. Look out for sales, discount codes and try a little bit of bargaining in store to get money off. Use your charms!
Short on time? Then, I found this great website filled with excellent furniture designs called Lions Home – it's an online platform for home and living products that acts as a search engine. Search for anything on their site and they will pick a selection of products to help you get your dream styled home. This is ideal for time poor and money poor decorators.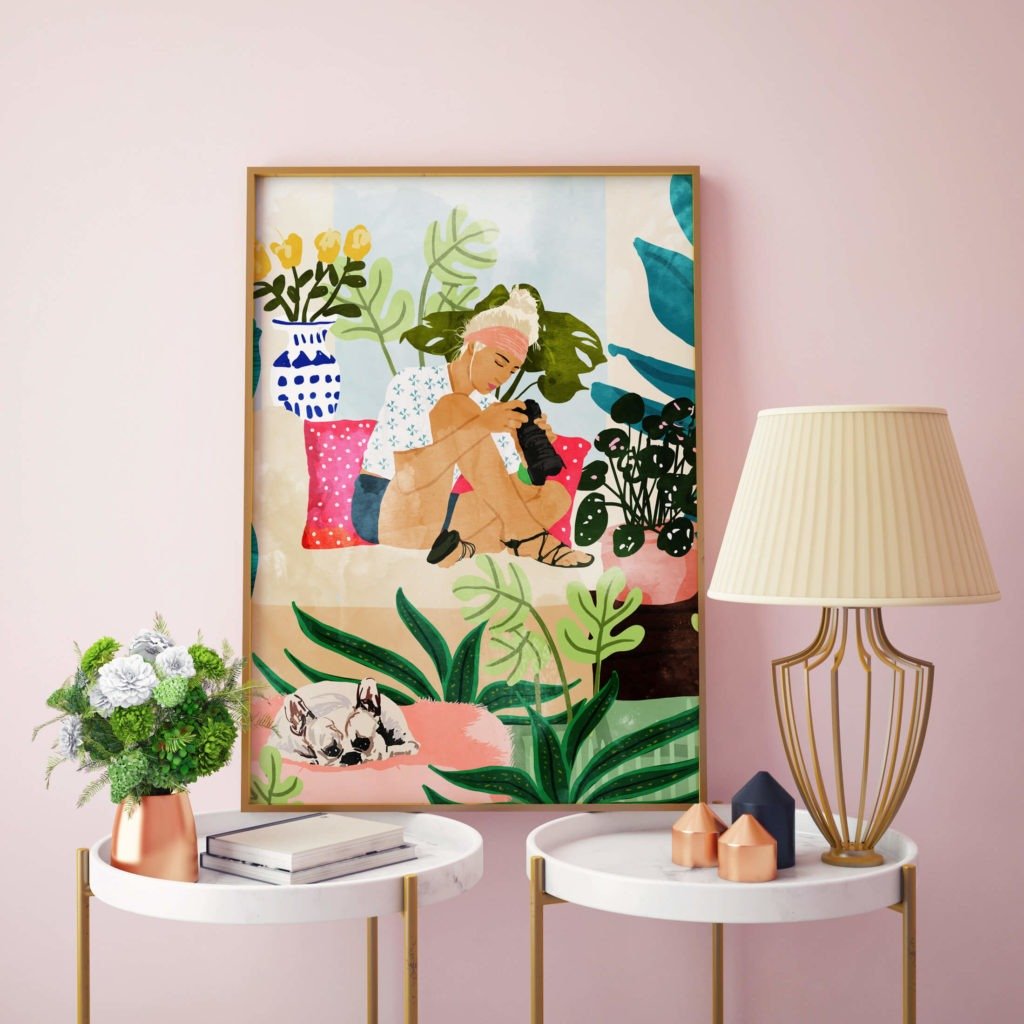 4. Be bold with paint
Sometimes the most effective way to create a high-end look is with a daring paint shade. Getting creative by decorating your skirting, coving and doors in bold shades for a more stand out look. I painted all my in a gunmetal grey but you could go for yellow, black or even a metallic. You can explore more skirting paint ideas in this post here. I promise you that white skirting will start to look cheap after you read that article.
I've noticed a huge trend on Instagram for people to paint bold striped or curves on their walls that overlap in rich shades like mulberry, plumb or navy. Making bold style statement can be as easy (and cheap) as buying a can of paint. The guys behind 2LG Studio always have fun with paint as do Emma J Palin in her rented home. And Liz Karmarul's colourful home is scroll-stopping.
And one simple way to make your home look more expensive using paint is to go for darker shades on your interior walls. Want more inspo? Check out my pick of the best inspirational rooms which will make you want to crack out the black paint, right now.
Style Tip: When it comes to paint brands, you have to be careful scrimping. Never try to colour match a cheaper brand to a more expensive one – it never works, and you'll end up with a flat colour that is a poor imitation of the real thing. Instead look at the finish of the paint, how hard wearing it is, the intensity of the colour and coverage, and the age of your property.
In all honesty, I could write several blog posts on expensive vs cheap paint brands! The key is to buy a tester pot of your desired colour and paint a huge sample on your walls and live with it for a while before you get decorating.
5. Choose LuxE lighting
Great lighting can make or break a room scheme. Who hasn't walked into a room blinking under the power of a zillion spot lights? Or (even worse) one sad lonely pendant bulb. It screams cheap and uninviting – not what we want!
When it comes to your central pendant lighting, think of the actual shade or pendant as a key accessory in your room overall look. Choose one because it is made from fabulous materials, has an interesting shape or gives off a subtle glow. Your eye will go up above when the light is switched on so make sure you install a banger of a light fitting up there!
My Favourite Places To Shop For Lighting:
When you need task lighting – integrated lights look chic. You can install LED strip lights under counter units to upscale your kitchen. Basically the rule is the brighter a work space – like a kitchen, bathroom or home office, the more expensive it will look. The more moody and inviting a social area is (like living rooms, dining rooms or bedrooms) the more expensive that will look.
In your bedroom or living space – wall lights will be a game changer in your design. You don't have to drill holes in your walls either to install them. You can get inexpensive cool clip-on lights that plug in and then brighten up the darkest corner of your home. I've used two either side of my bed in my bedroom – if you want to take a look. They are the Renarp ones from Ikea – and they were cheap as chips at £24 each.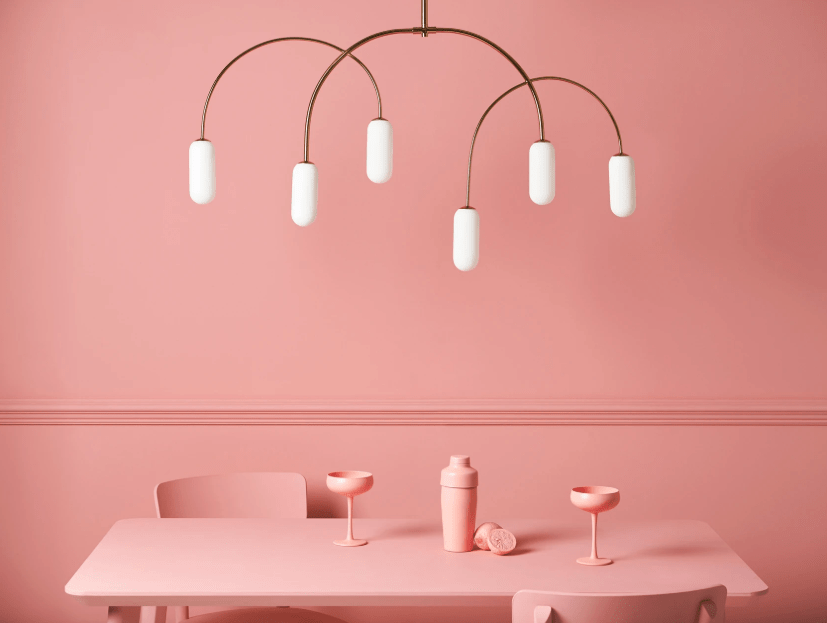 What do you think of these 5 design ideas To Get a luxury Look for less?
Have these ideas and images have inspired you to get decorating? The main thing to remember is your tiny budget doesn't need to cramp your style. In fact with a bit of imagination and a lot of shopping around you can get that luxury look for less – without breaking the bank.
LOVED THIS POST? THEN CLICK HERE!
10 BUDGET BATHROOM MAKEOVER IDEAS
6 STYLISH BEDROOM STORAGE SOLUTIONS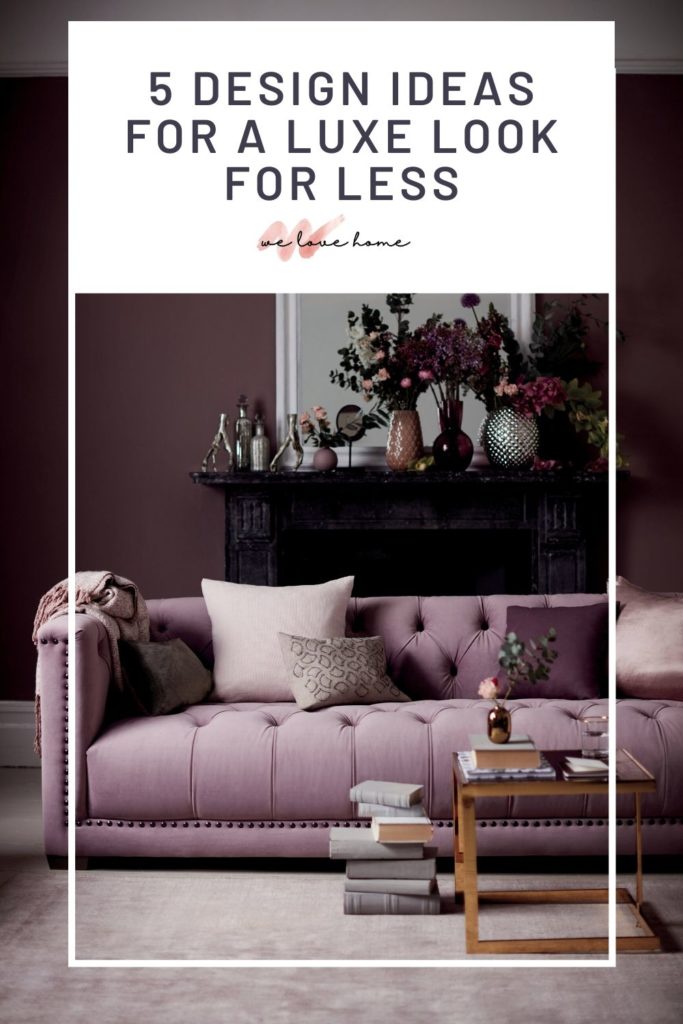 *This is a collaborative post but all thoughts are my own