Is there is anything better than a freshly-made bed with pure linen sheets? I don't think so! The soft texture and relaxed, naturally crumpled fabric looks inviting and so chic too. But where to buy it? How to choose? In this post, I'm sharing my tips and advice on why you need linen bedding in your life. Keep on scrolling to get your paws on a very special discount code.
** Collaborative Content **

Right now, my bed is having a moment. And it is a rose, blush coloured moment piled high with soft linens which looks as good as it feels.
** Swoon **
And the dog loves it as much as me. He keeps sneaking into my bedroom and getting very comfy on my bed.


At this time of year, I'm spending more time snuggled in bed (don't judge me, it's cold out there!). I've made my bedroom winter ready with wonderful-to-touch linen bedding by MagicLinen. Did you know linen can bring lots of natural benefits to your home? By the end of this post, you'll be adding bedding from MagicLinen to your Christmas shopping wish list.
I was contacted by Vita the founder of MagicLinen to see if I would like to review her linen bedding.  Vita explained that MagicLinen is a small family business based in Lithuania. A country, where growing, weaving and sewing traditions have roots from ancient times.
They have a huge range of linens in the colours of the rainbow, and in so many designs – from modern, to classic to romantic.
Treat Your Bedroom To Blush Linens With MagicLinen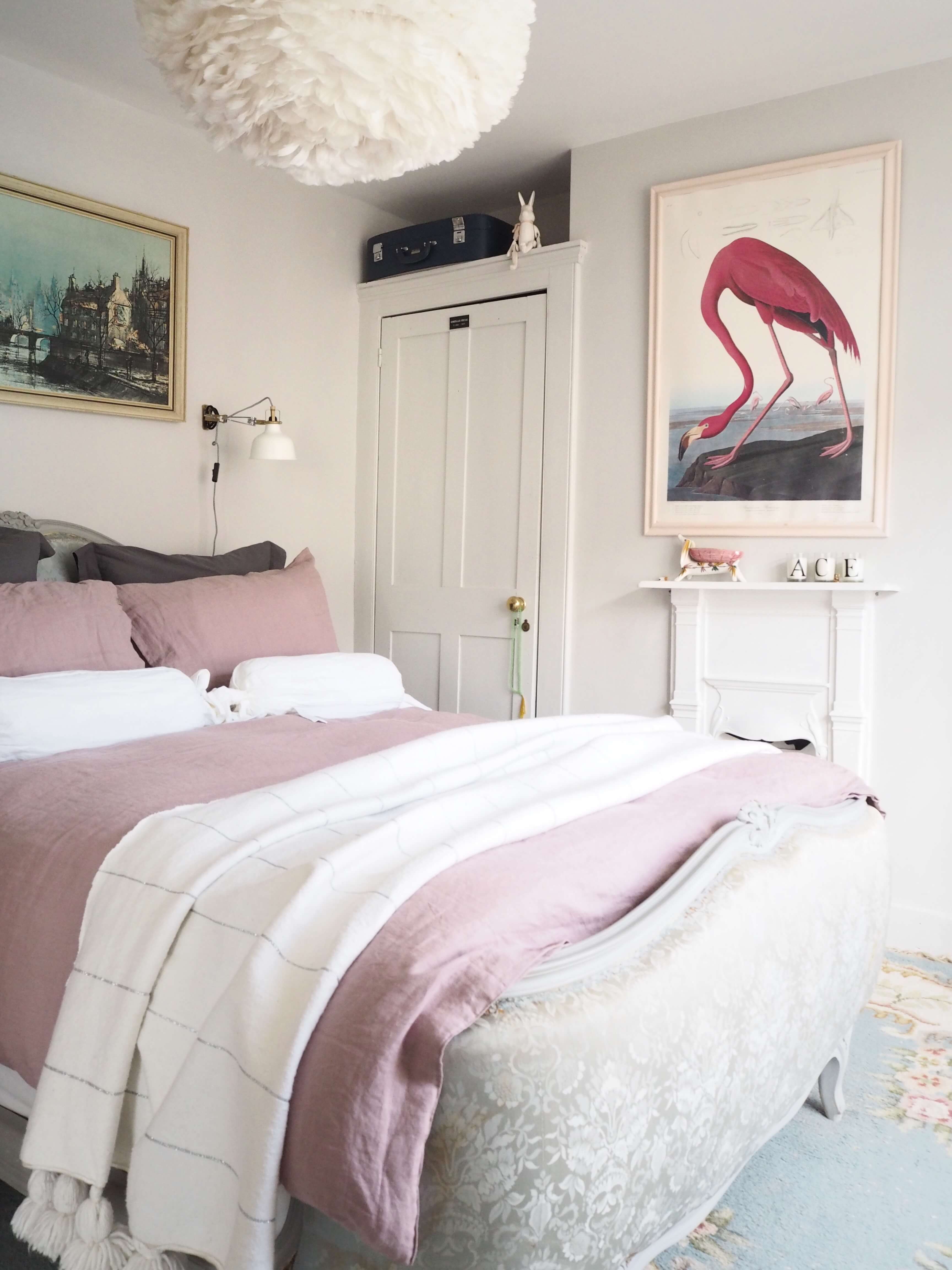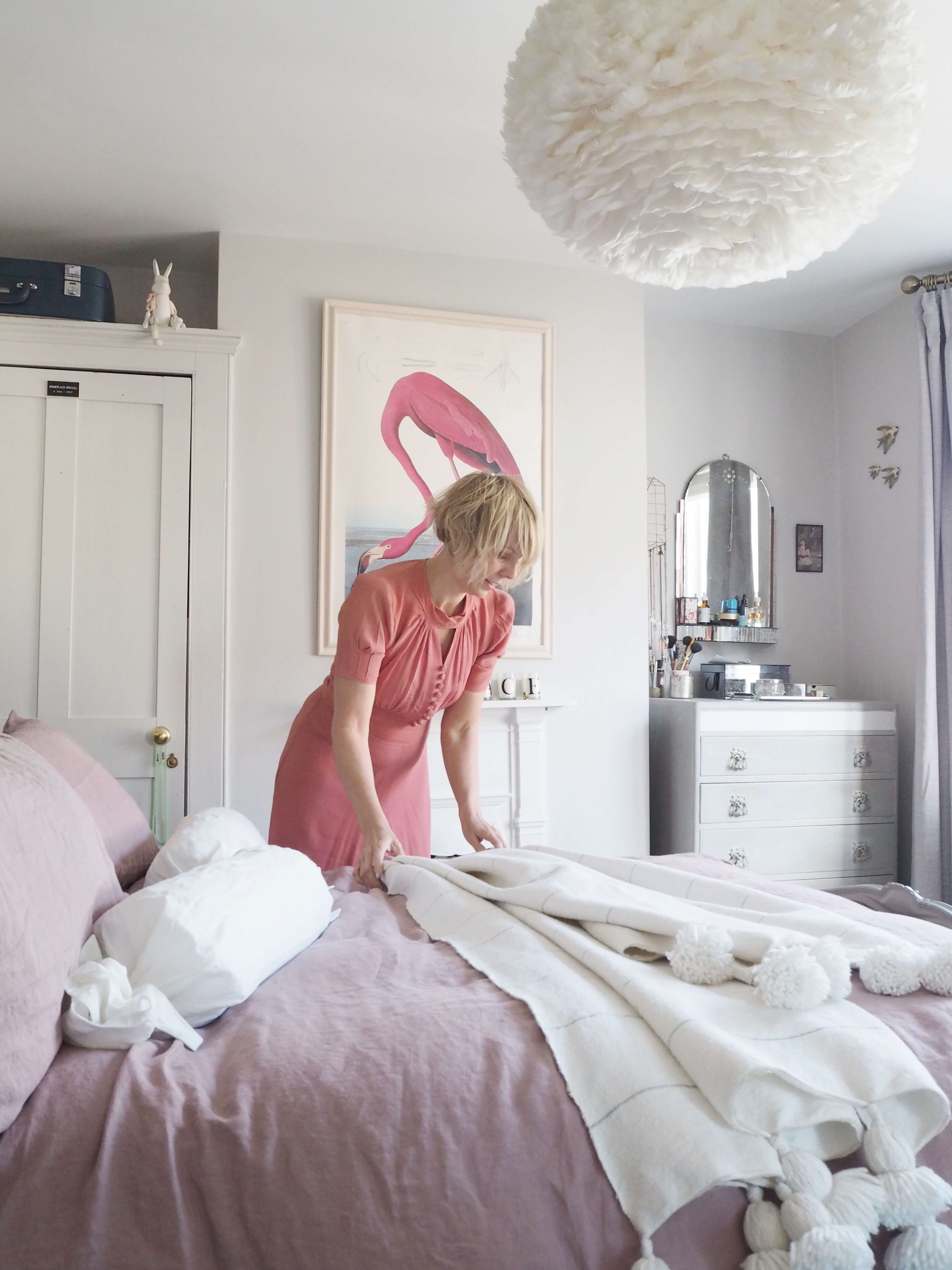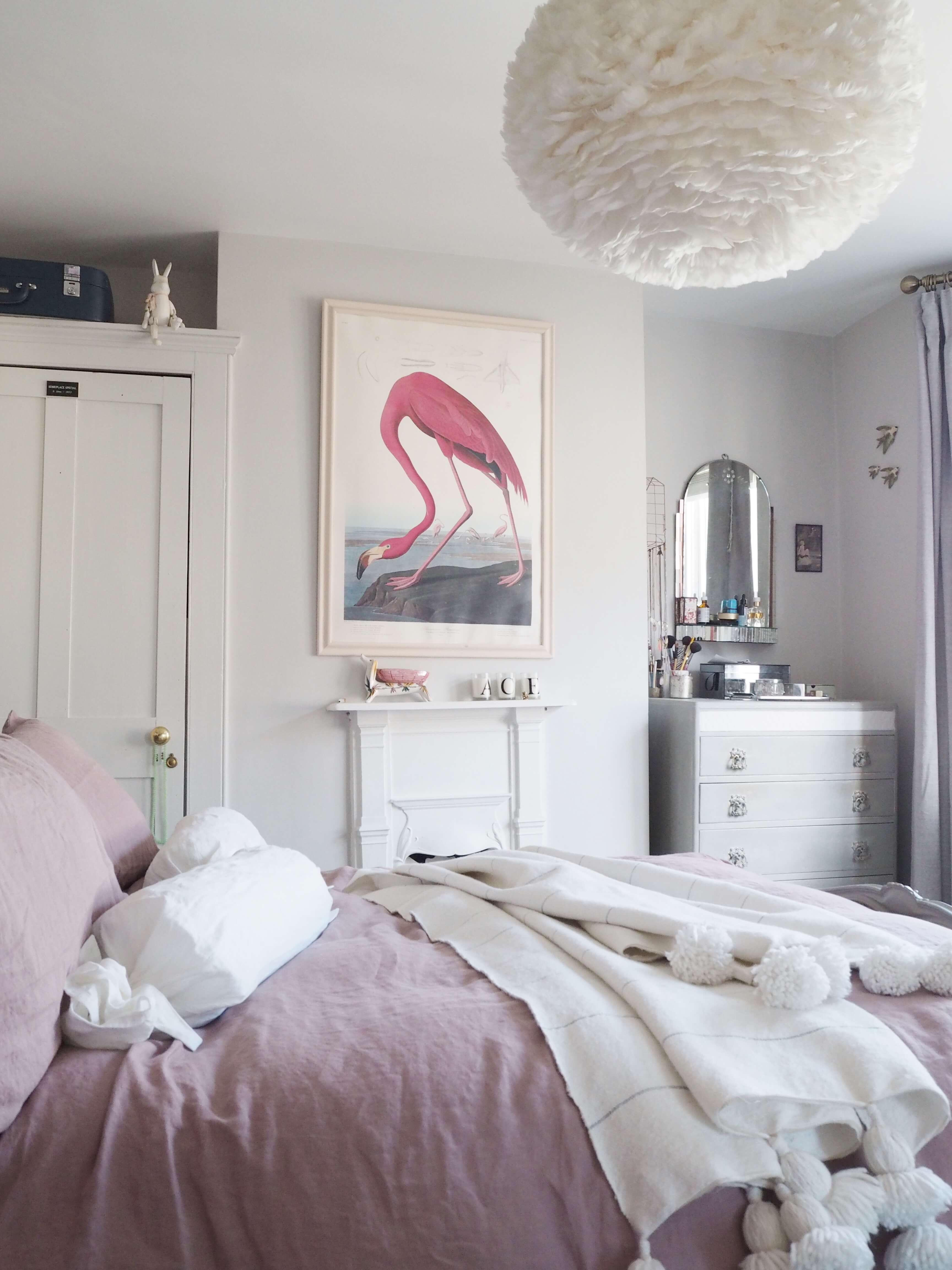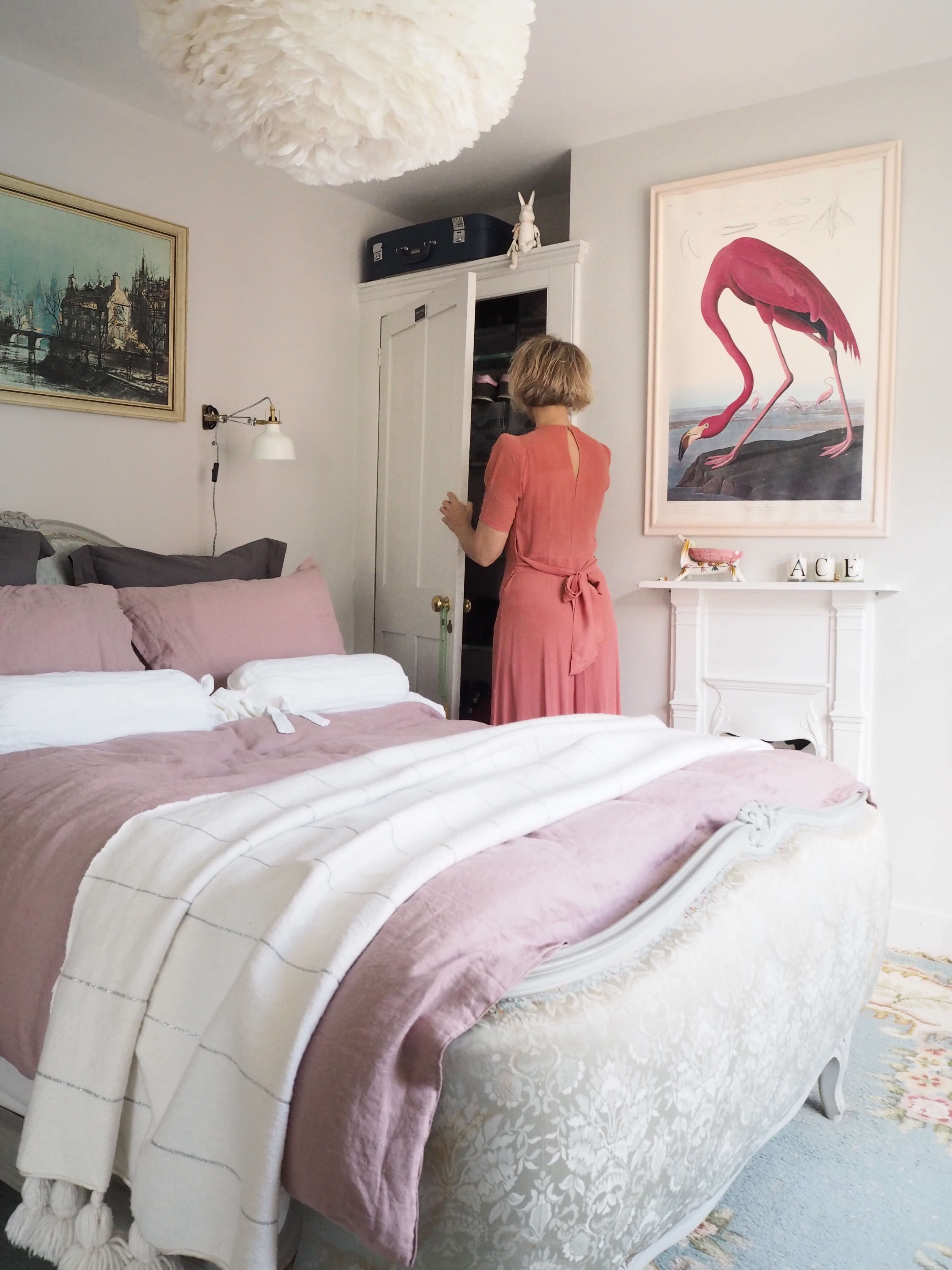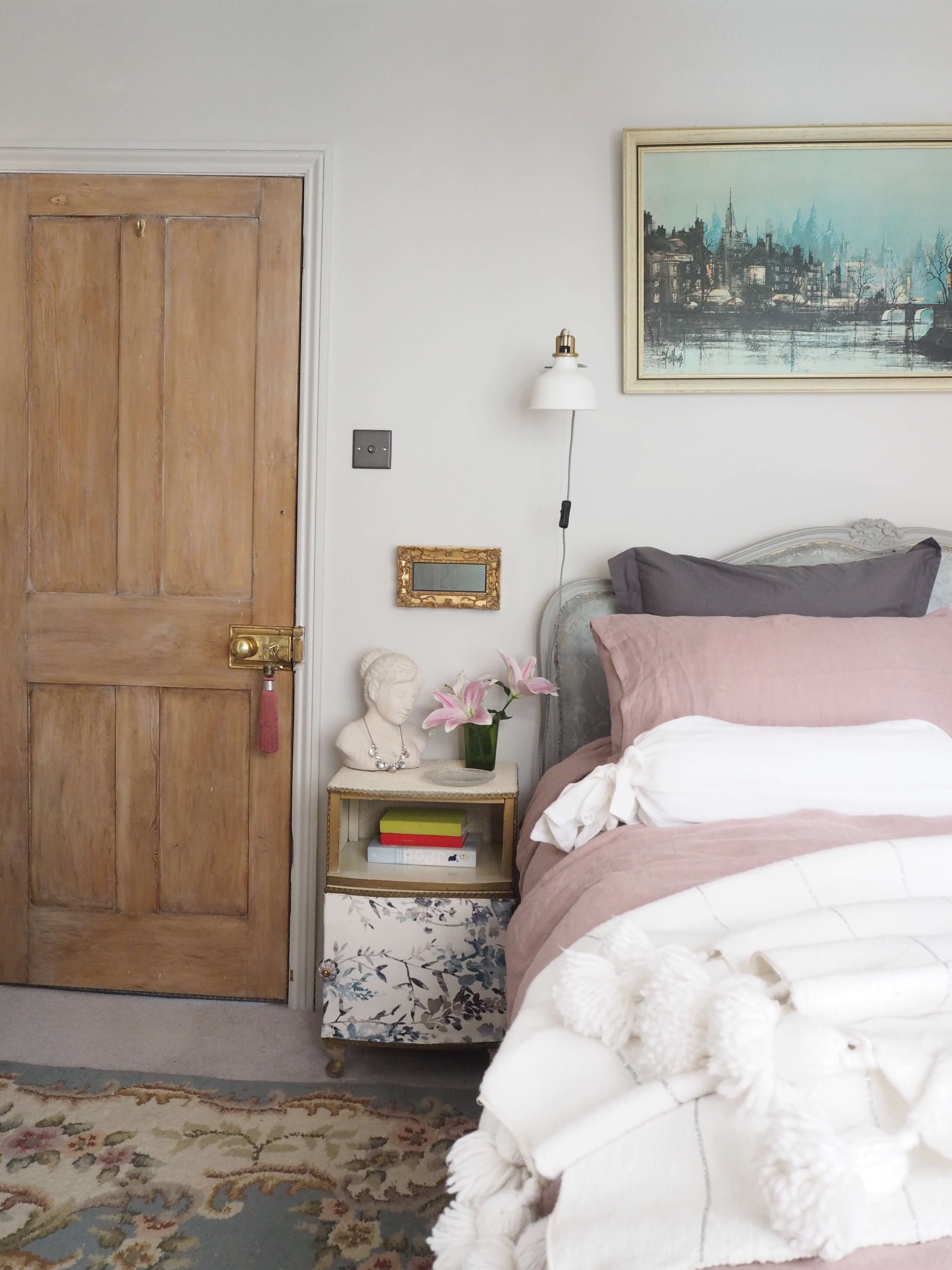 The Magic Of Linen
Why do I lust after linen so much, you may well ask? It's full of lots of natural benefits for you and your home.
Linen is made from the fibres of the flax plant. It's very breathable and helps to regulate your body temperature, handy at bedtime when our bodies tend to be hotter. It also creates a cool feeling in hot weather and warmth in cold weather.
Linen absorbs moisture and it also dries out fast (for sweaty sleepers – gross but true). It has antibacterial properties too as it is a natural antiseptic, killing bacteria and fungus. It also helps reduces inflammation, making it the ideal material for people who suffer from skin rashes or eczema (like I do).
Choosing Blush Pink Bedding
In summer, I'm drawn to white linen as you can see in this post HERE. In winter, I like to switching things up, preferring a cosy, snuggly look.
I was completely torn on which design to choose. And which shade. I adored this grid design one. And I have my eye on this blue ticking  one for the future. But in the end I picked the soft blush of this Woodrose Pink set (£153 for cover and two pillowcases).
I've been slightly obsessed by this colour since the start of the year, slowly adding it to my home. I even have a whole PINTEREST board dedicated to this shade. This dusty pink tone is perfect for creating a snuggle atmosphere in a bedroom. It adds warmth without being too girly.
I also ordered two off-white linen bolster cushion covers which has been on my lust list…for, like ever.  Bolster cushion covers are so hard to find in the UK. These ones come with a thick ribbon that you can tie into a bow. I LOVE THEM.  I got my fills from John Lewis for £8 each.
The bolster cushion covers I chose in Optical White – so that I could interchange them between my bedroom and my guest bedroom. You can see my blue guest bedroom makeover HERE.
I love the little details like the coconut buttons. The wide flap on the pillowcases which means you never see the pillow inside. And the overall softness of the fabric. It stole my heart.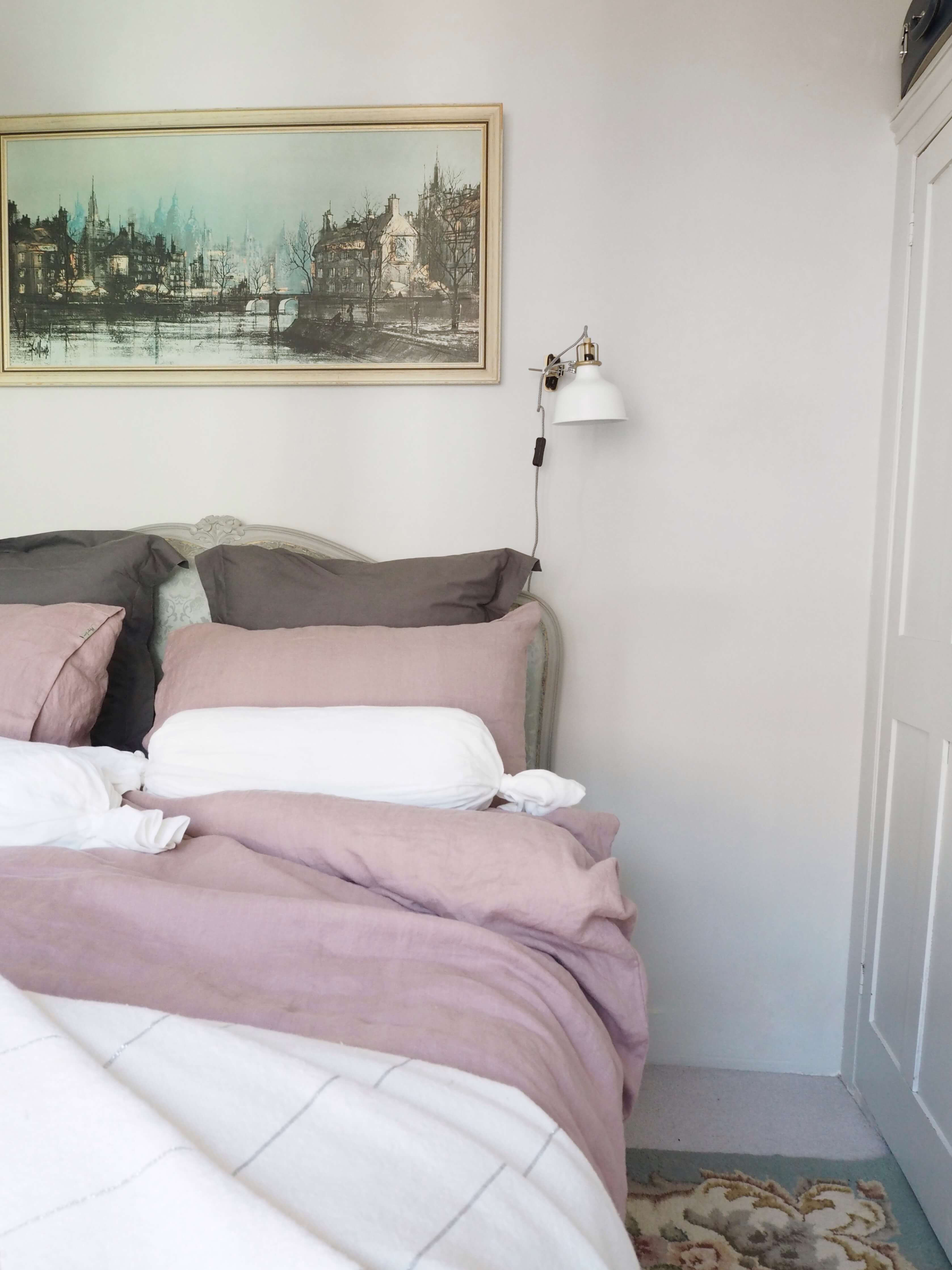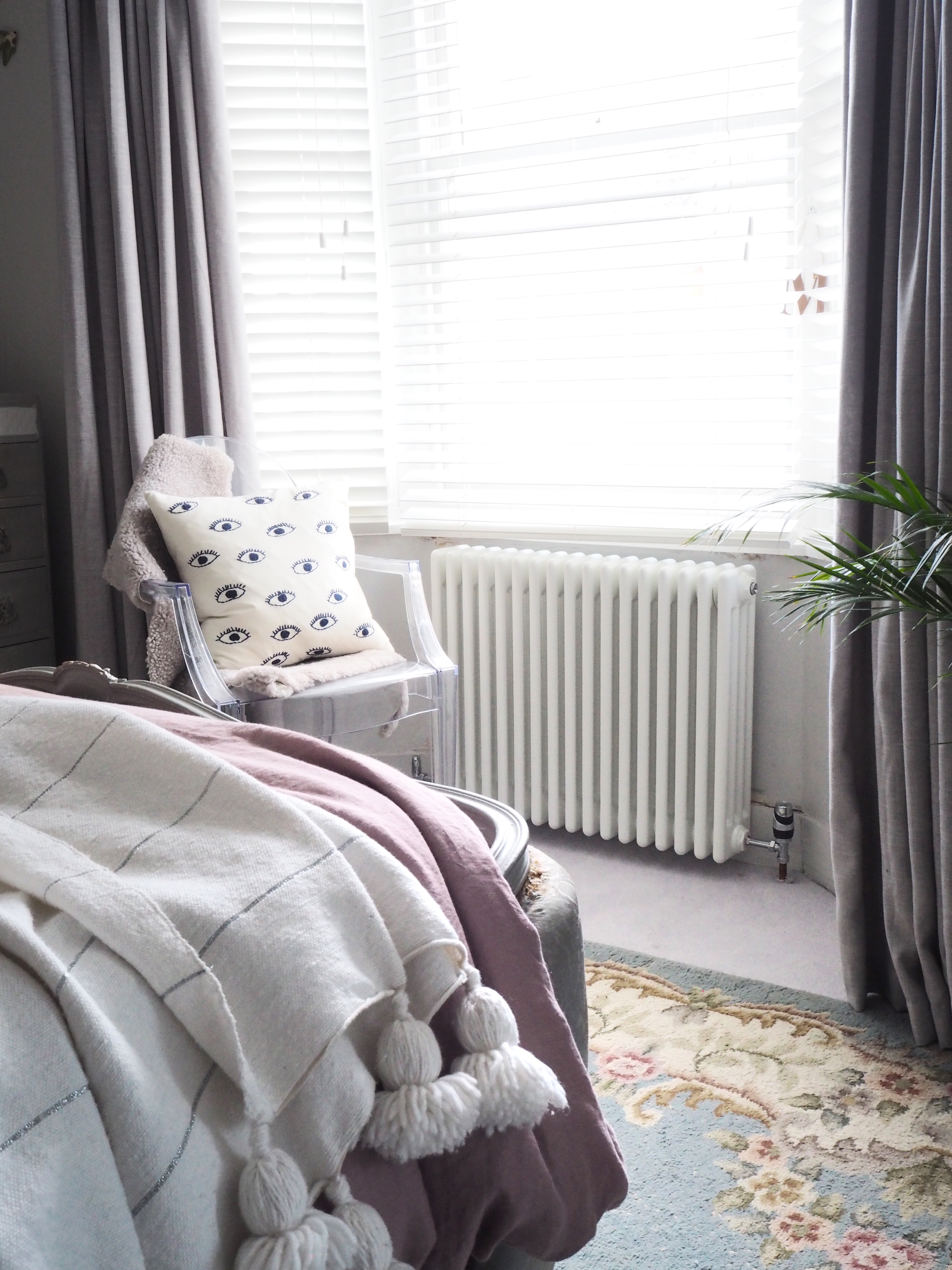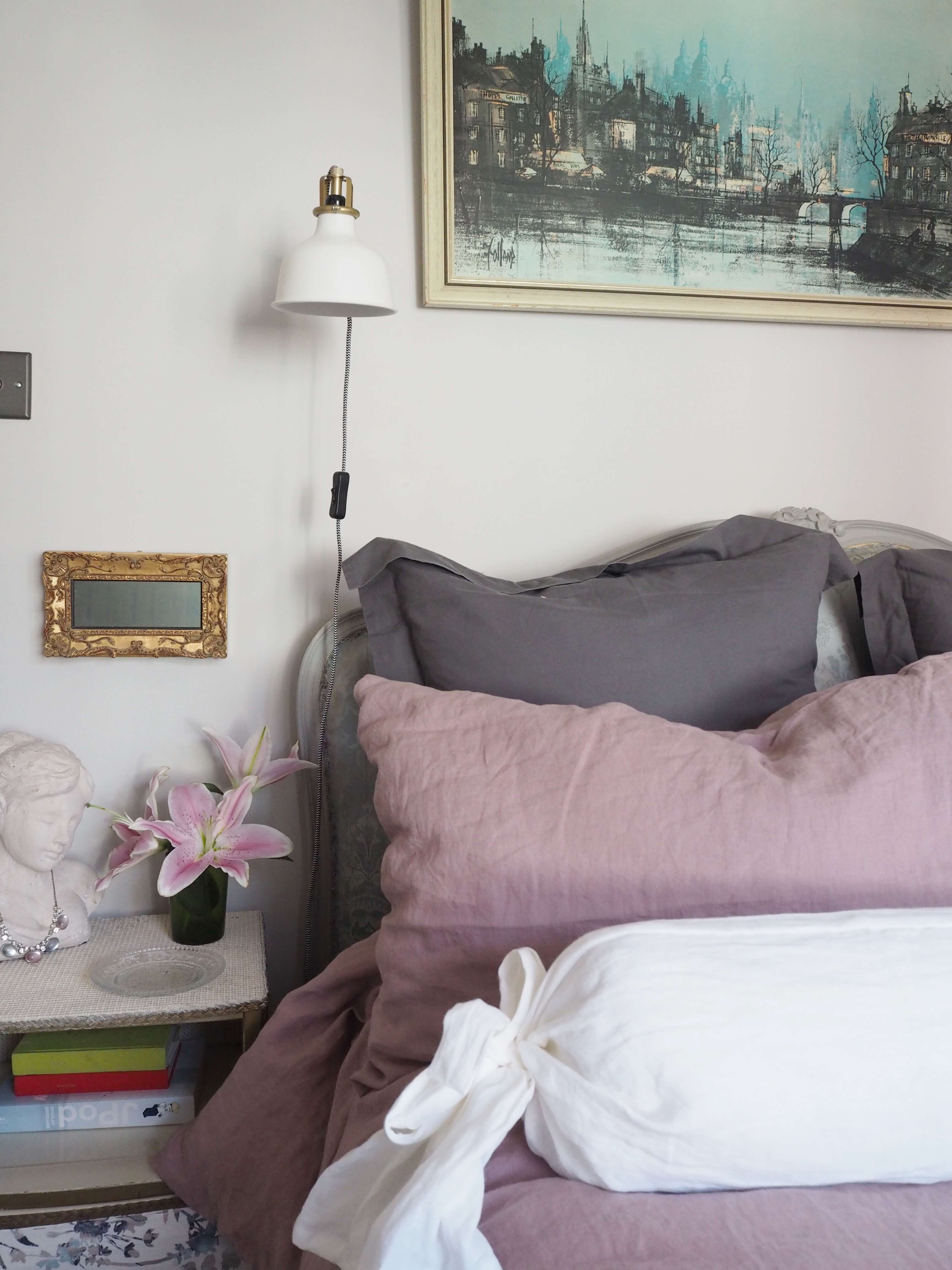 Eco-Friendly Linen
Taking a quick look at their website, it's easy to see that MagicLinen care deeply about being eco-friendly, organic and part of their company ethos is to embrace slow living. They step out their way to work with organic fabrics, and make items by hand rather than going to big factories.
They only use European high-quality OEKO-Tex certified linens. Their fabrics are stonewashed which softens the line without using chemicals. It makes their bedding soft to the touch.
Made By Hand
All the bedlinen is handmade, cut with tailor shears and sewed by skilled tailors bespoke for you. I was pretty blown away by this fact to think my linens had been made just for me to my design for for my blush bedroom – all for around £150 for a set.
They arrived wrapped in simple twine with care instructions attached within a week.  They would make a beautiful gift or wedding present. Or a treat for yourself 🙂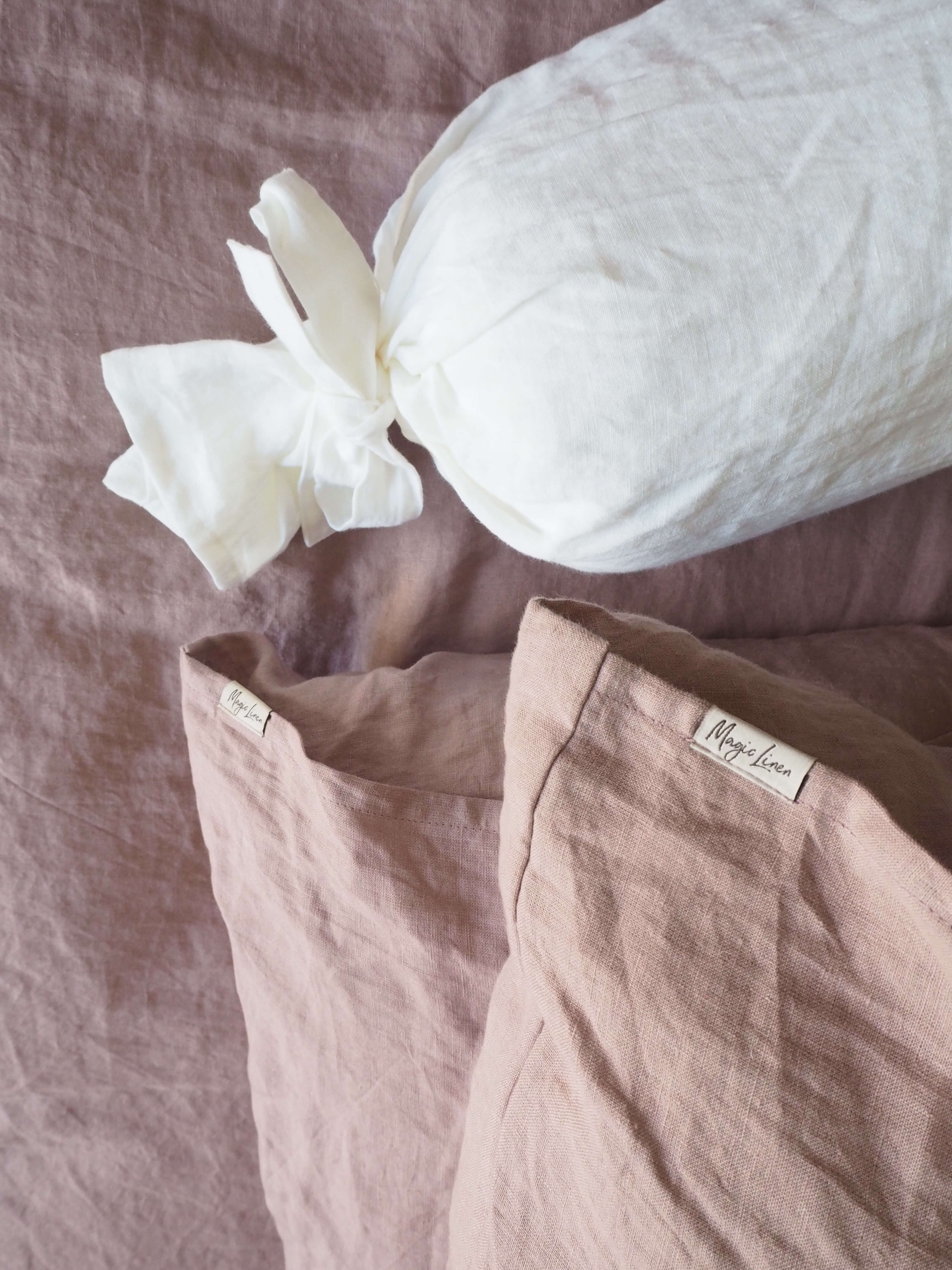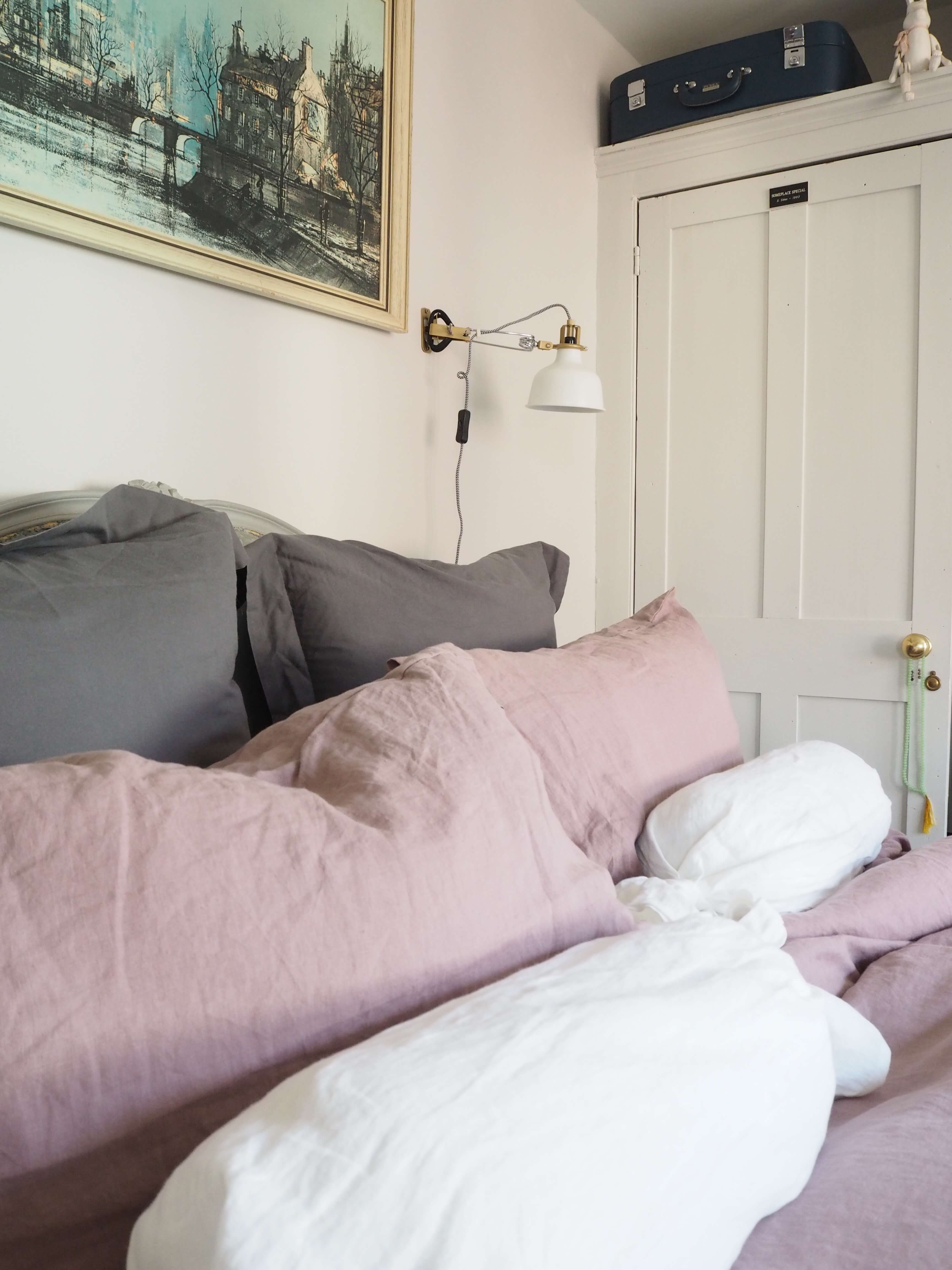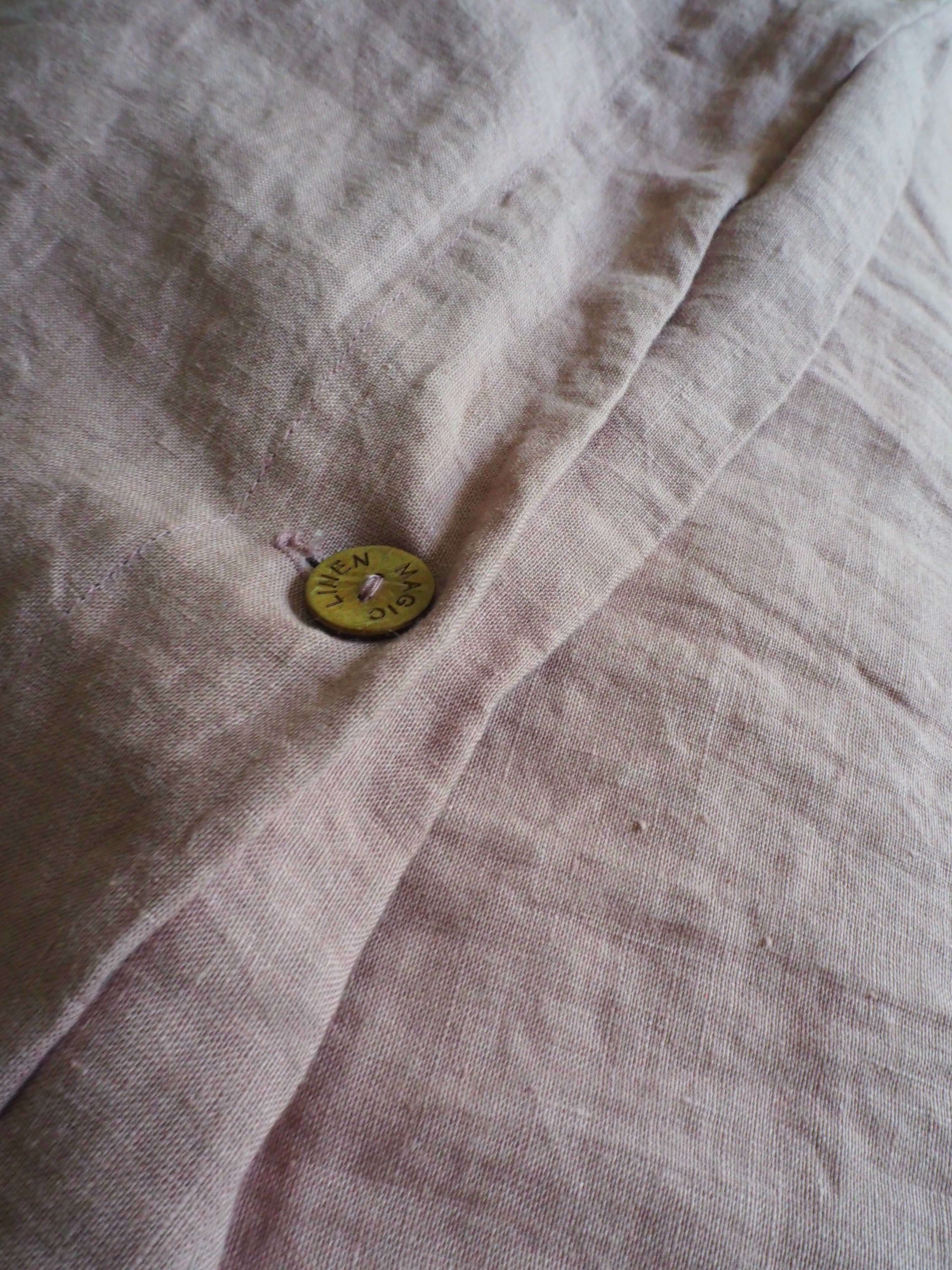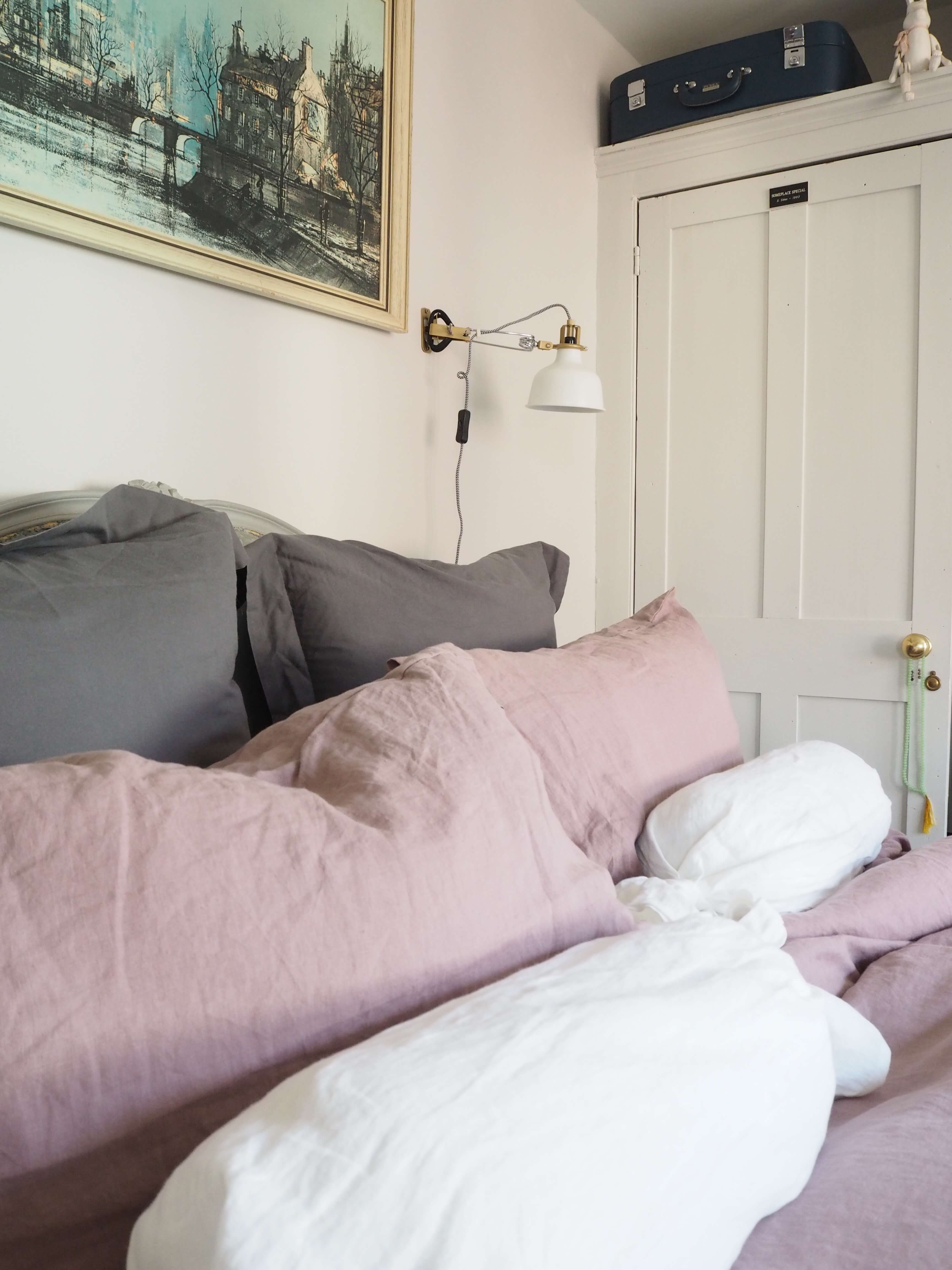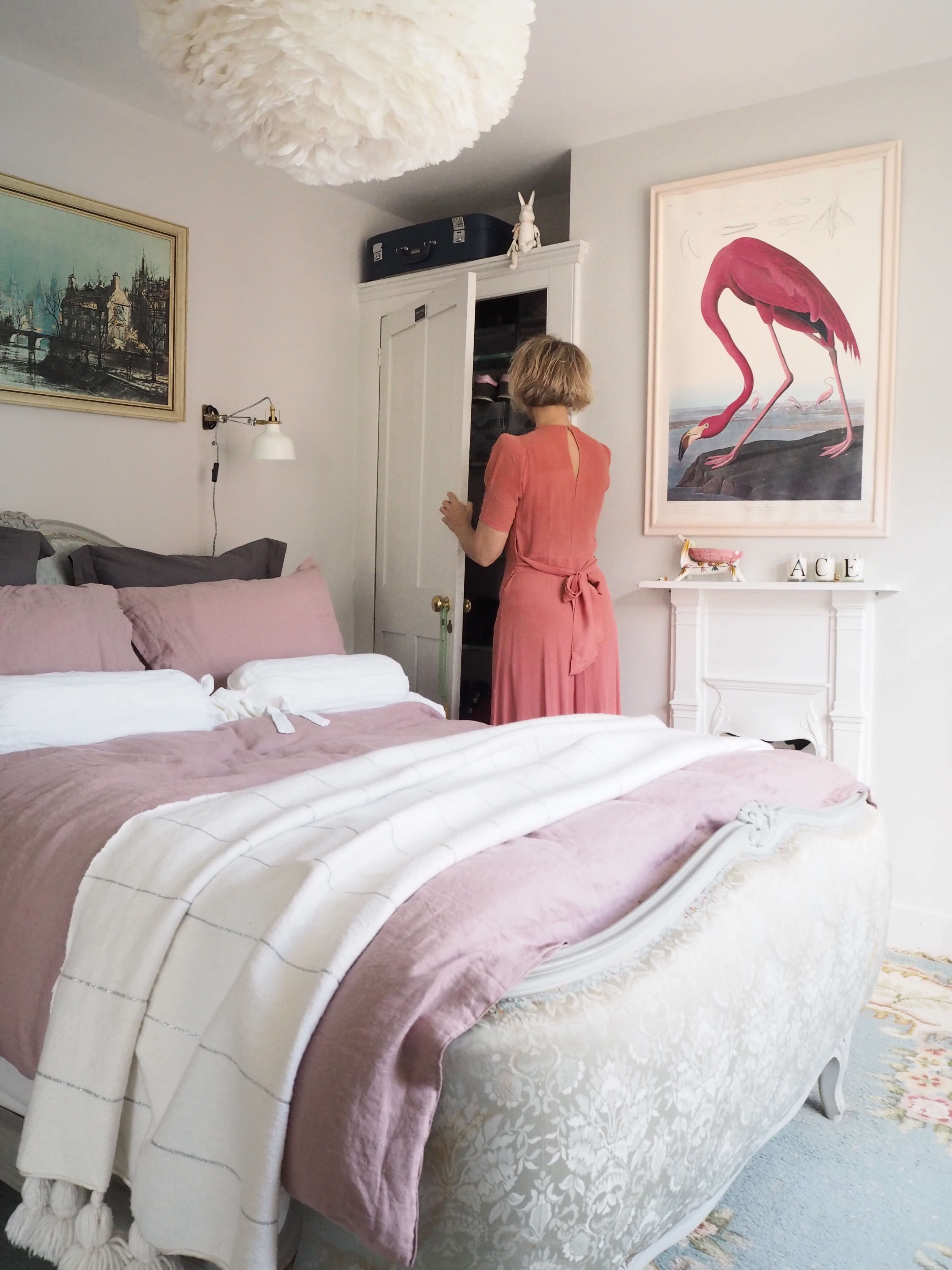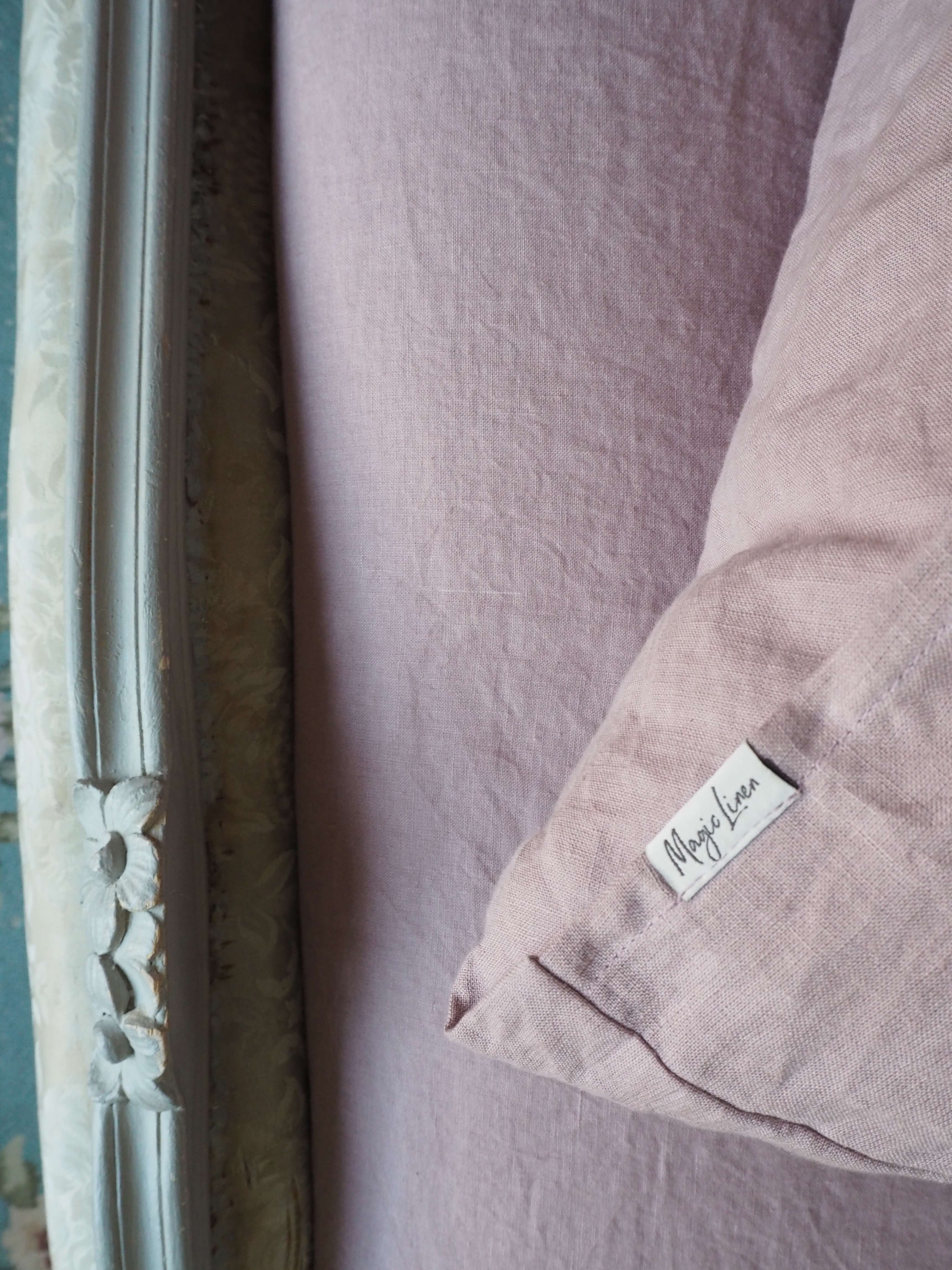 Bed Linen Styling Tips
I hope these images make you want to dive right in my crumpled bed! My only issue now, is getting out of bed in the cold winter mornings!
When styling your linen bedding, don't think you have to go all crumpled and messy (unless you want to). You can create a more formal look, like I have, by stacking up your pillows and bolsters. And a throw picked up from my trip to Morocco (which you can read about HERE).
The best bit? You don't have to iron it! And it will get better and better after every wash (unlike my white bed sheets which takes hard work to keep looking good).
If you want a luxe look, I think their frilly bed skirts are particularly pretty if you have a divan bed you are trying to hide. Again, these are on my wish list for my spare room.
Don't forget the basics too. A really good quality mattress will help you get the best night sleep. Bed Guru have a huge range of mattresses to match every price point and over 13 different types include natural ones, sprung pockets ones and mattresses designed for couples in mind. Have a look at their mattresses and I'm sure you'll  find one perfect for you and your bedroom.
Magic Linen have a huge range of bedsheets, fitted sheets, baby bedding – and clothing. I think you'll love the way they style up their linens on their blog.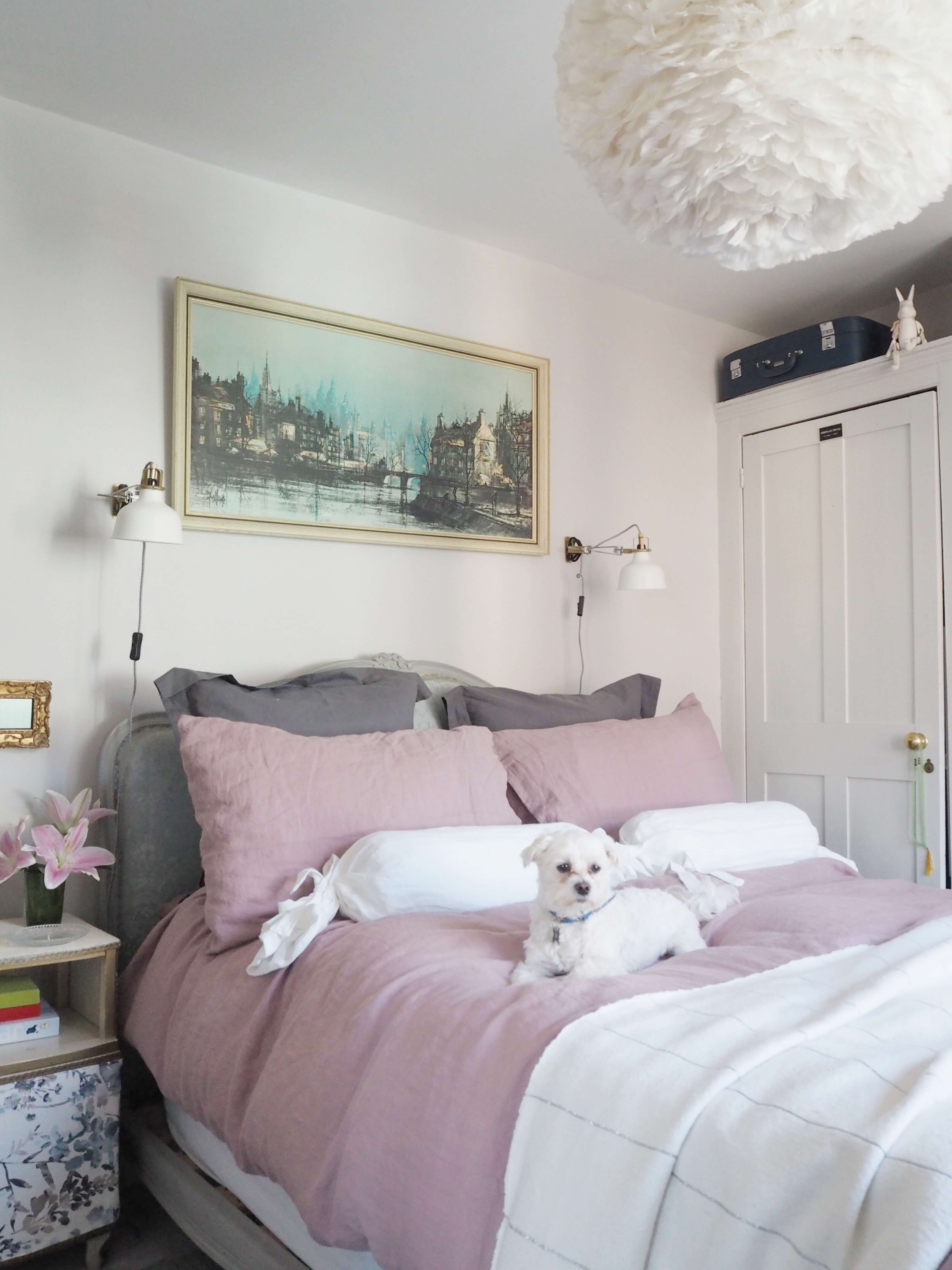 MagocLinen have a very special Black Friday offer giving everyone 15% off purchases, storewide from November 23-27 2018. And they will donate $5 from each order placed between Black Friday and Giving Tuesday to Mothers' Union (a local charity that takes care of children diagnosed with cancer).  You can find more info about the initiative HERE.
I would love to know, do you like linen on your bed? I'm sleeping so much better now (maybe a bit too well!) since trying out these sheets.
Love to hear your thoughts.
Love Styling Tips? You'll Love These Posts
Styling Ideas For Your Bathroom
Styling Botanical Prints With Good Homes Magazine
7 Autumn Flooring Trends Your Home Needs Right Now