If you're like me and hate a cold home, then you need to know my one heating hack, right now. It will turn your home from stone cold into a snuggly winter retreat that you deserve.
** Collaborative Post **
When having a central heating system installed, it can be overwhelming. You'll be bamboozled by all the decisions you'll have to make. You need to pick a type of boiler. Then work out the pressure of your water supply. And pick radiators for every room. The list goes on and on. And it can be easy to make a silly heating mistake which will cost you a fortune and make your home cold and unwelcoming.
I think you all know by now, how completely obsessed I am with keeping my home warm and cosy. I've written so many posts on how to beat the winter blues including 7 Life Lesson A Heating Overhaul Taught Me – which is essential reading if you're planning a central heating overhaul! Trust me on this one.
When I had my heating updated (which you can read about HERE) I was utterly clueless. I made one big mistake which I want you to avoid. Today I'm sharing my one key heating hack that every homeowner needs to know, right now!
My One Big Mistake
The mistakes I made was to underestimating the important of measuring the correct BTU for my rooms.
What the heck is BTU?? Well, reader…let me explain.

Chair / Lakeland Furniture. Cushion / Urban Outfitters. Sheepskin Throw / Ikea
What is BTU? And Why You Need To Get To Grips With It.
When shopping for radiators, each one comes with a BTU rating. This rating is a quick and easy way of letting you know how much heat a radiator will emit, and is basically there to help you decide if a radiator is the correct size for your room or not.
It's very important to know just how much heat each room of your home needs in order for your system to work efficiently and for you to have a space that is neither too hot nor too cold.
In plumber-speak, 'BTU' stands for 'British Thermal Unit'. It's the measurement used to represent the amount of energy it takes to heat one pound of water (about a pint) by one degree Farenheit.
Although the design, style and finish of a radiator are all very important factors, THE MOST IMPORTANT PART to making the right decision when it comes splashing your cash is to make sure the BTU output of the radiator matches the size of your room.
If you want to shop for a huge range of radiators – you can try Linconshire Radiators Direct who have a huge range of styles and sizes – so you can find the perfect one for your home.
Why We Love BTU
A low BTU output = your room will be freezing, cold and uninviting – no matter how much you turn up the thermostat.
If your BTU is too high, you could find yourself paying for heating that you don't need.
You need that sweet spot where you have the perfect BTU for your room.
Don't make the mistake I made, where I picked a radiator with a BTU which was too low for the size of my room. I picked one that was way under what I needed.
As a consequence, I turned a warm and cosy bedroom into a freezing cold icebox. It was so cold in my bedroom that I avoided getting ready in there in the mornings. Then at night, I had layers of blankets and a thick duvets on to keep me warm (not to mention socks and wool pjs that I wore to bed).
I even did a post on Styling A Cosy Winter Bedroom which you can read HERE.  It was THAT cold. I hardly spent any time in my bedroom – dashing up to bed when it was time to sleep.
Basically, I put the smallest radiator in my home in one of the largest rooms in my house. No wonder my bedroom felt like a fridge in winter.
Maybe you have one room in your home is too cold to hang out in? Rather than turning up the dail on your heating up CHECK YOUR BTU to make sure that you have the right radiator for your room.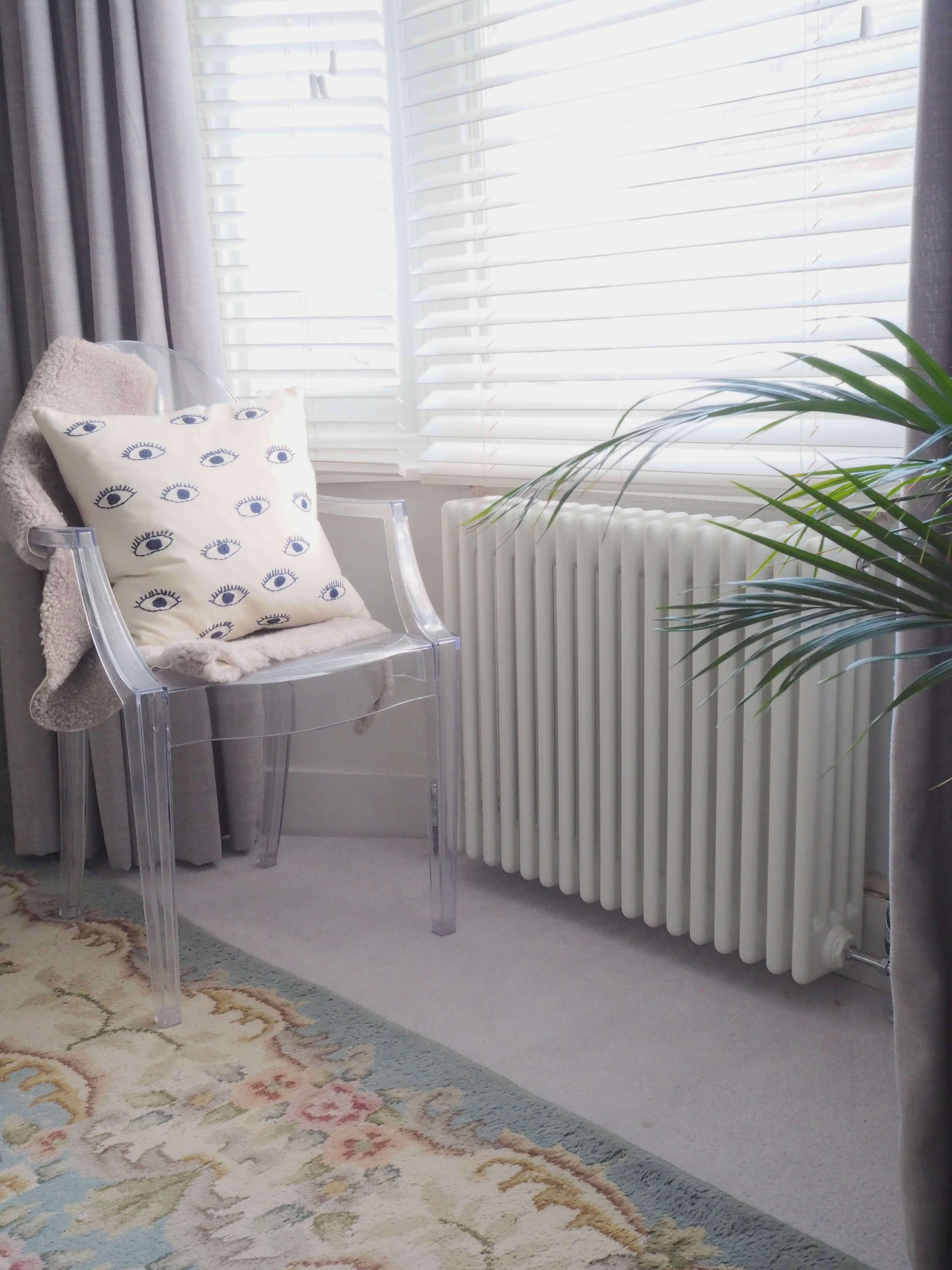 How To Measure Your BTU
You don't have to be a mathematical genius to work out the BTU output for your room. You just need to get your tape measure out, count your windows and know what is on the other side of your walls.
Use this handy Best Heating BTU calculator over HERE which does all the maths for you. Put in your room measurements, the size of your windows plus tell them what your walls are made from (ie solid brick or wood frame, insulated brick cavity) and the calculator does all the hard work for you, telling your what BTU your room needs.
I found all the measurements and discovered what my walls were made of, from my structural survey that I had done when I bought my house. All I had to do was measure my windows. I needed a BTU of 3500 – I currently had one with an output of 2280.
No bloody wonder why my room was freeeeezing.

Fixing The Problem
When picking my original radiator, I was confined by the size of my bedroom window bay. That was until I had a light bulb moment. Well, not me exactly. It was my best friend's idea to replace my two column radiator with a four column one.  Genius!
My plumber popped round and replaced my existing radiator with the Milano Windsor traditional white 4 radiator (£239) from Best Heating which has a rather sexy BTU output that pumps out the heat. It's deeper with 4 columns but it is the same width so that I didn't have to move the existing pipework which would have trashed my lovely new grey carpets which I spent ages picking as you can see HERE.
How beautiful looking is my new radiator in my photos? It has transformed my bedroom into an inviting space with retro styling. I love the look of the radiator which is based on old cast iron designs but with all the modern tech behind it.
Let's Chat Costs
The new radiator was £239 (check out Best Heating who have a sale on right now with 30% off selected radiators).
My plumber gave my boiler a winter service, and fitted this new radiator at a cost of £180.  So let's half that cost at £90.
= £329
If you factor in the cost for the original radiator – which was £190.
If I had paid proper attention to my BTU when having my heating installed, then I would have saved myself £280 on radiators and plumbing costs **rolls eyes**
Not to mention what I have spent on my heating bill cos I've been whacking up the heating in the rest of the house to heat my  bedroom.
This's why you need to get your head around my heating hack before you make a costly mistake like me.

One Heating Hack You Need To Know
My one tip for you is to make sure you measure your radiator output properly before you install your central heating. Get to know your BTUs and choose the right products for your home. And if you get stuck, talk to your plumber or plumbing merchant to make sure you get your heating spot on.
There you go – that is my one heating hack that will avoid costly mistakes, and give you a snug home all winter long. For more modern radiators just like mine, check out BestHeating.
Have you found this hack helpful? I'd love to know in the comments below. Oh, and if you like this post – pop back as in a few weeks I'm sharing my fave festive fireplace styling ideas which I know you are going to adore.
Have a snuggly week everyone.
More Heating Posts For You
Review of Warmup Underfloor Heating in my Kitchen
7 Finishing Touches That Will Transform Your Home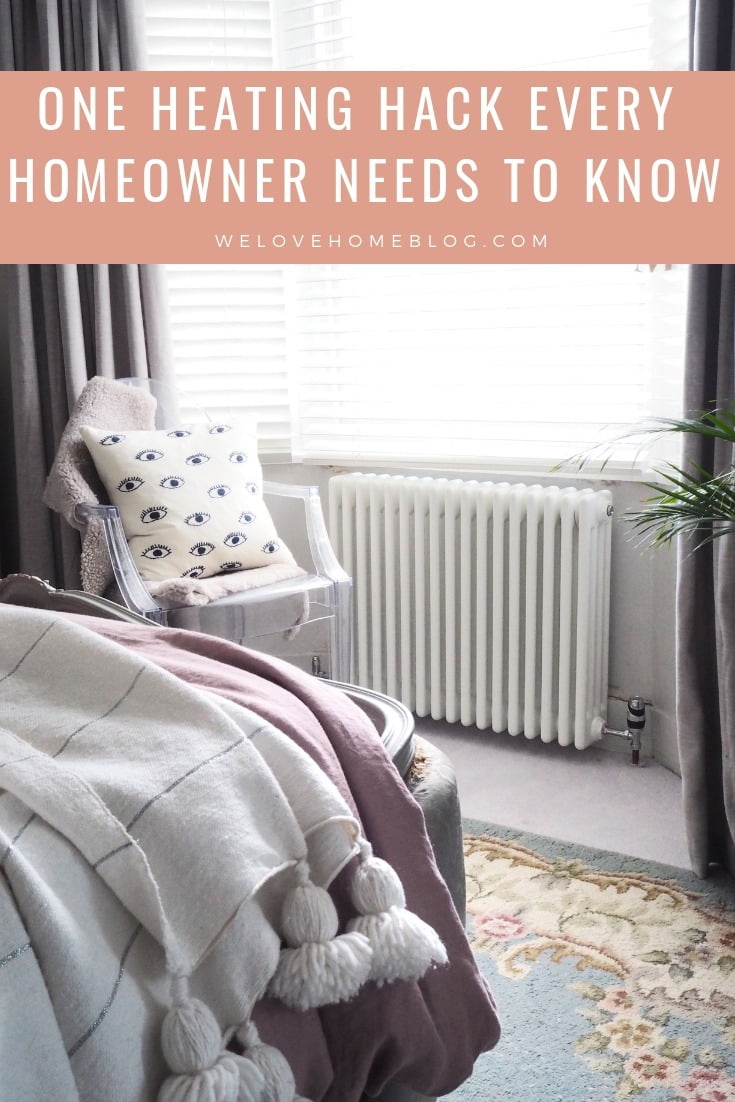 ** This is a collaborative post. I was gifted a radiator by Best Heating. All thoughts, opinions and photos are my own.