My bathroom was one of the first rooms in my home to get a total makeover. And now, nearly four years down the line, I felt it was time for a mini bathroom styling refresh. I want to show you how changing your towels, adding a few key accessories and swapping things around can change how you feel about a room. Let me show you how to a bit of clever bathroom styling can transform your room.

Paint / Johnstones Paint. Shelf Brackets / Dowsing & Reynolds. Magazine holder / Red Candy.  Shower Curtain / Primark.  Towels / Sheridan. Bath Mat / Rockett St George. Basket / Belly Basket Fantastic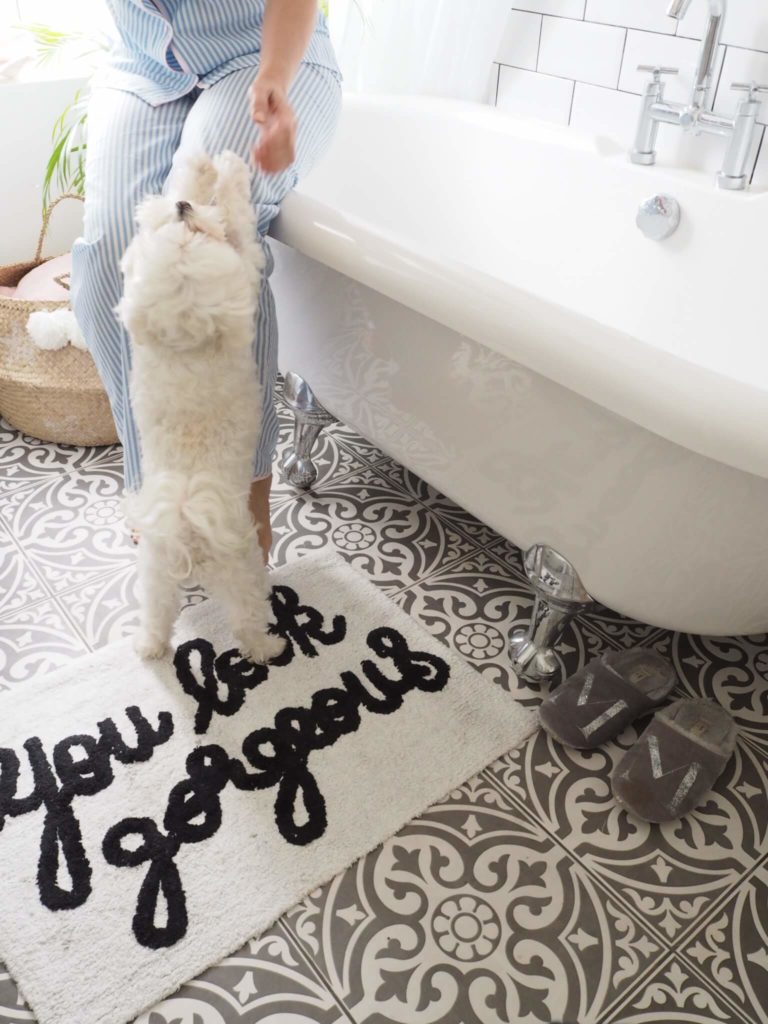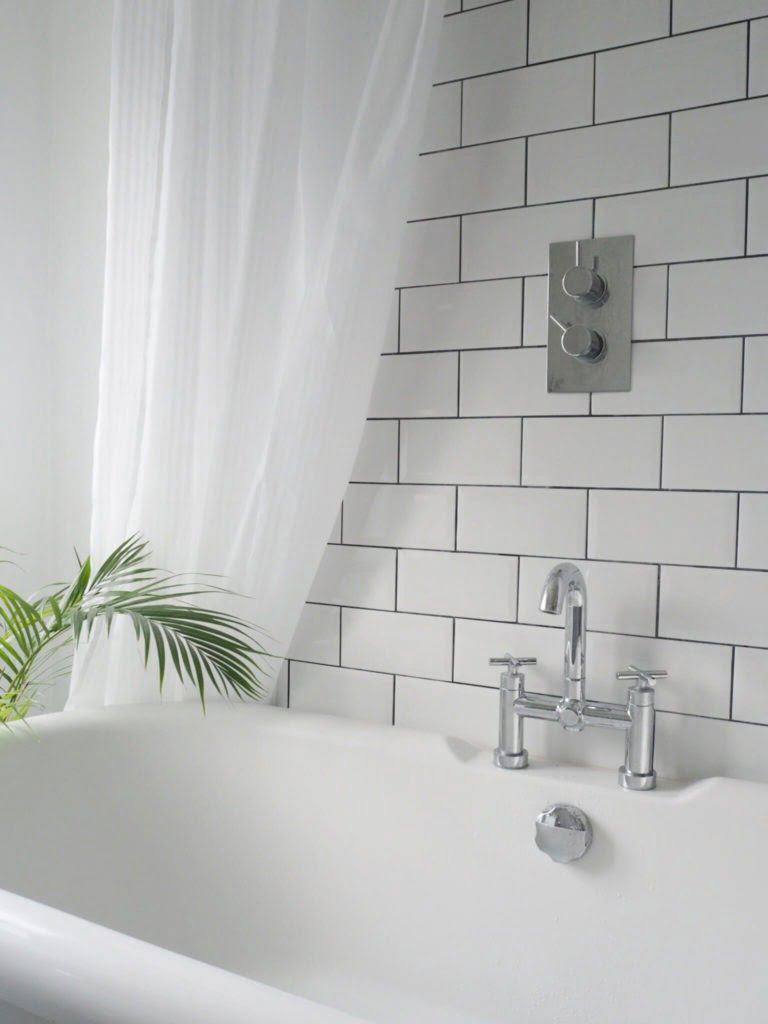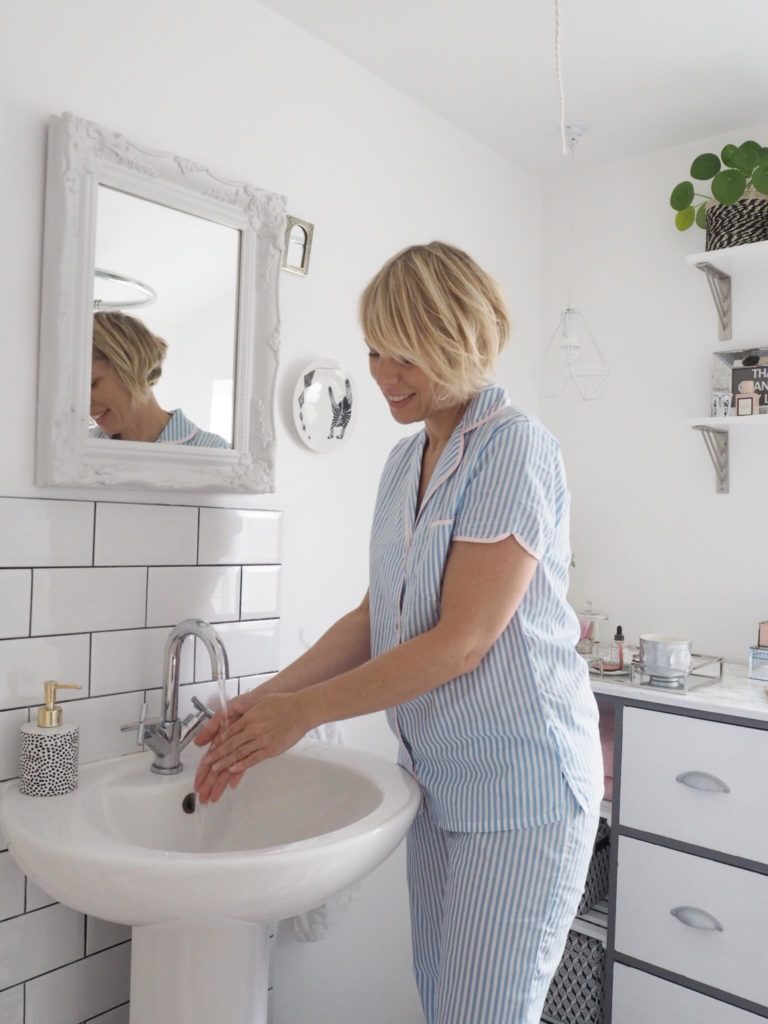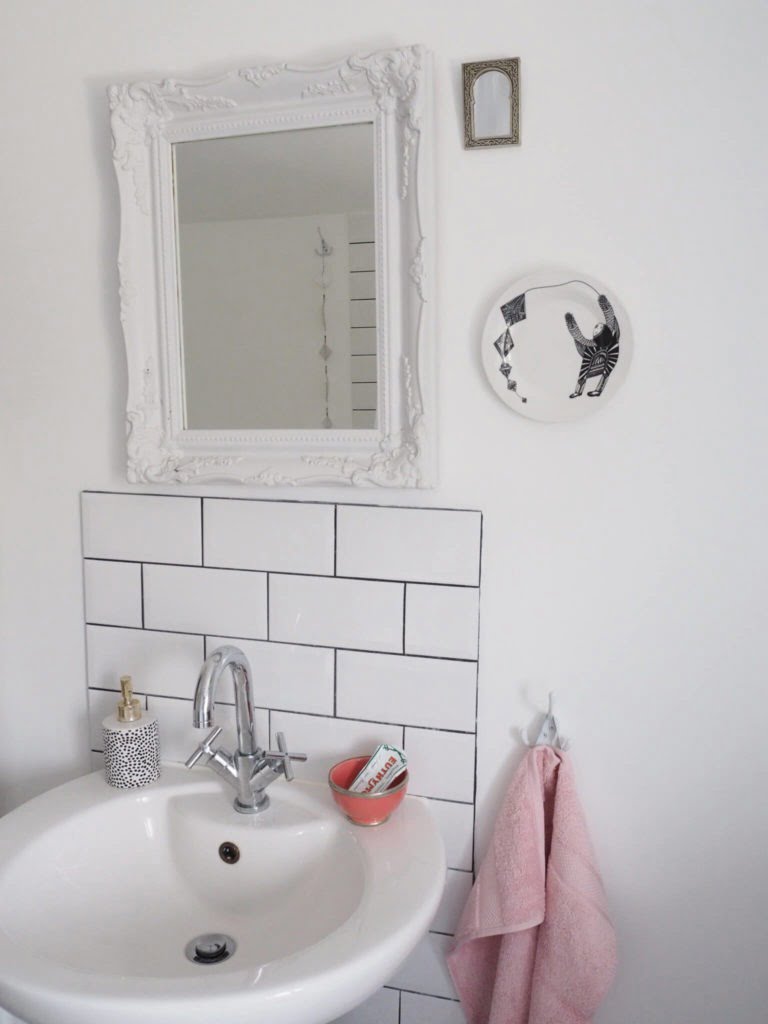 Bathroom Styling
After a spot peeling paint (my fault for not opening the window) I had to call in the decorator to give it a fresh coat of paint. My decorator recommended Johnstones Pure Brilliant White Bathroom paint. It has a nice sheen to it (words I thought I would never say) and I can already tell it's going to survive the steamy showers I take in here every morning.
Then I needed a few 'solutions' for my bathroom – things you only notice after living in a space for a while.
Pretty Storage
The shelving on the walls was always a temporary solution.  Previously, I'd had white metal hooks from a hardware store that had Grannie vibes about them (I thought I could make them retro cool – but failed).
Now I have these amazing chrome Art Deco ones from Dowsing & Reynolds which are very tres chic. I got two bits of recycled floorboards from a local wood charity and painted them white to blend into the walls.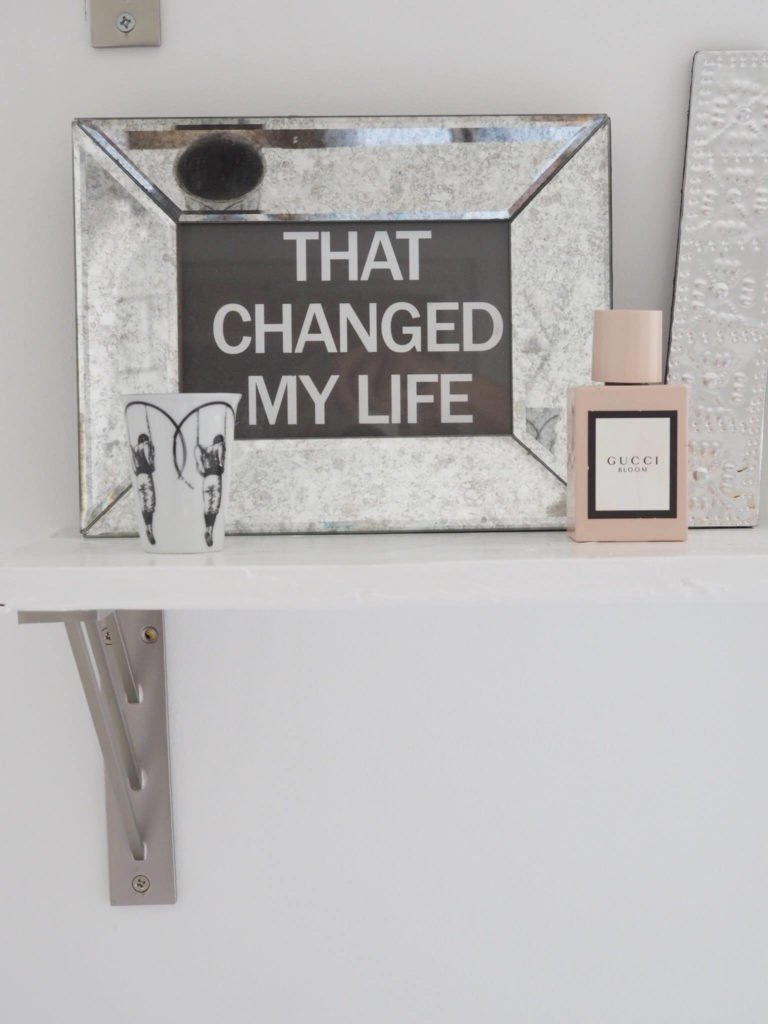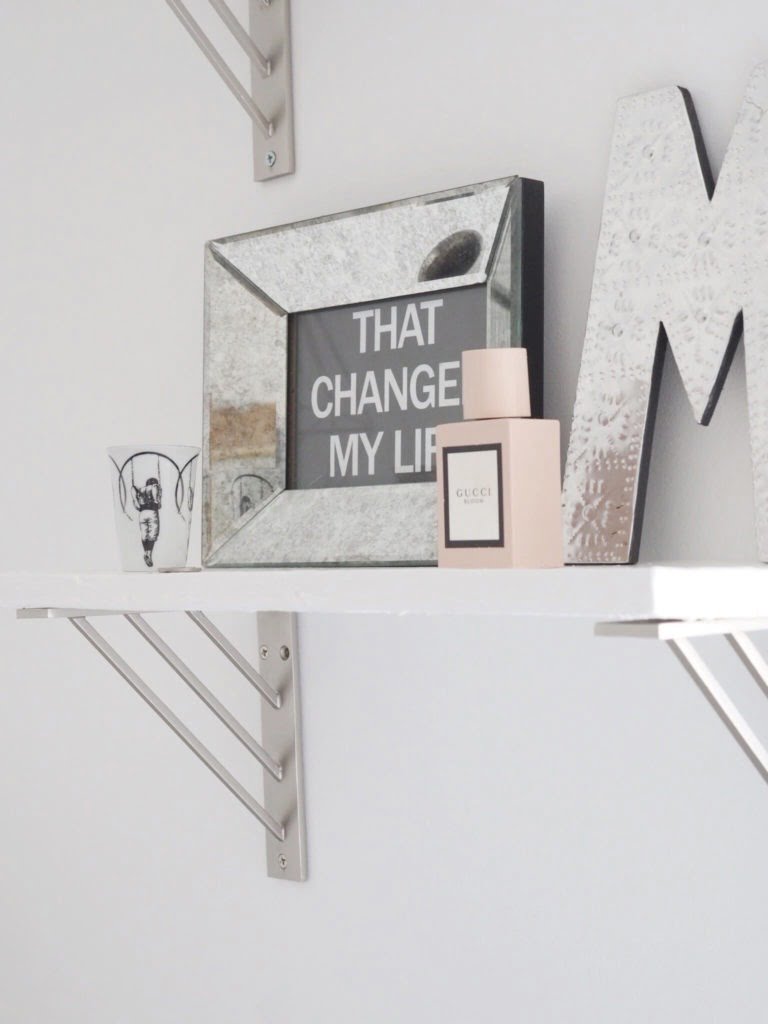 Even More Storage
Inspired by this update – I spotted this super cool geometric magazine holder from Red Candy. I've filled it for the magazine that I love to read when having a bubble bath. The design matched the lines of the shelving brackets. It's currently in the sale for £32 too.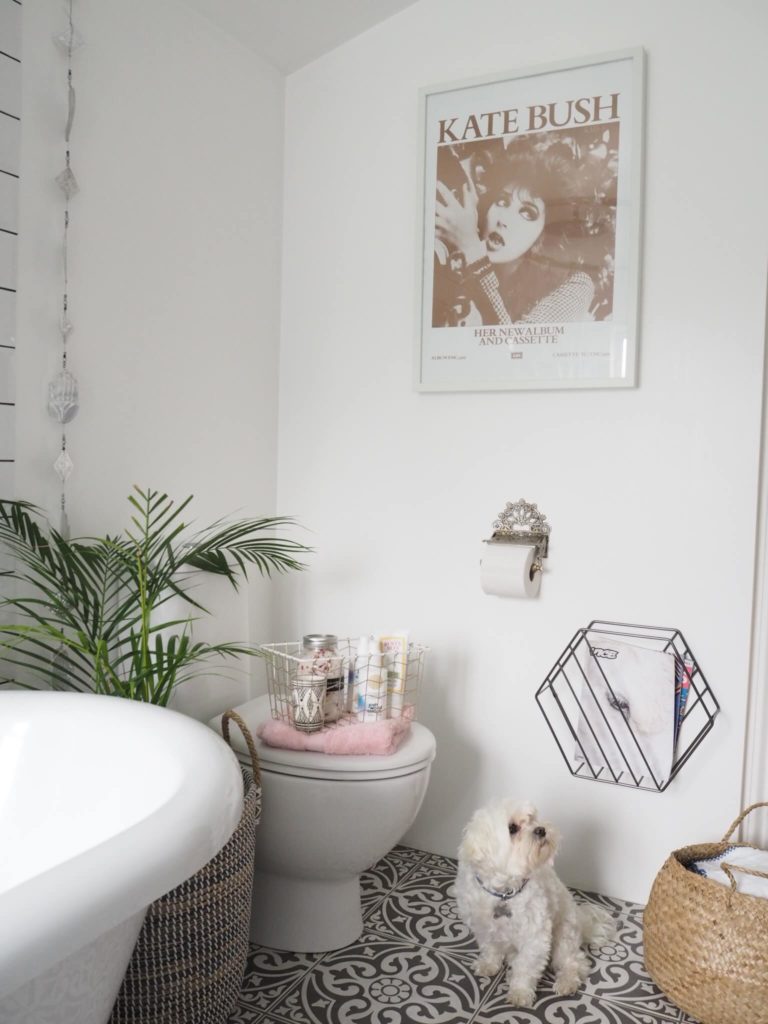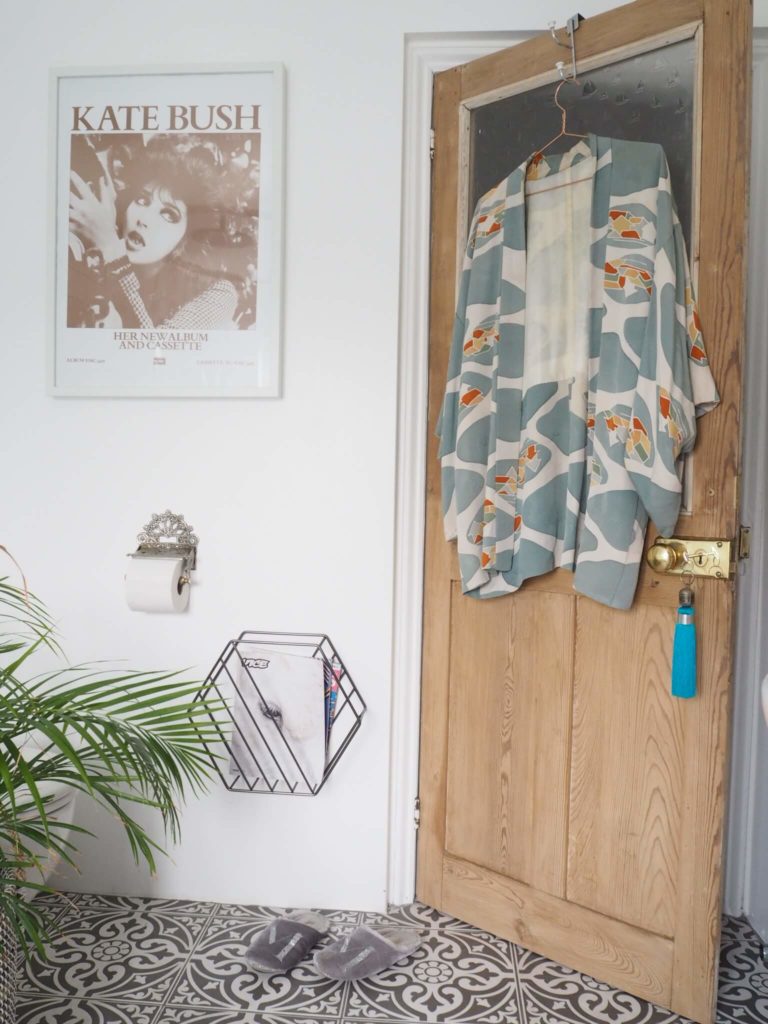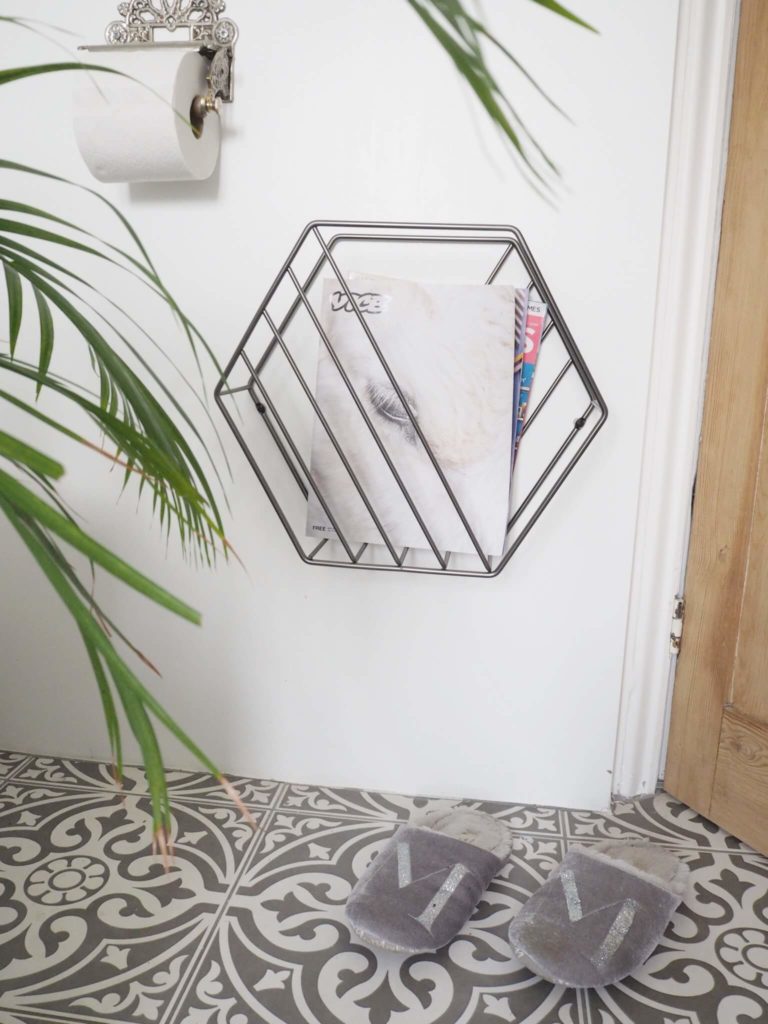 Update The Shower
Then I swapped over my plastic shower curtains for striped material ones found in Primark for £5 each. I also picked up a gold and white metal basket (£5) which I put all my shower essentials in when I'm taking a shower. A basket stops shampoo bottle and shower gel cluttering up the sides of my roll top bath.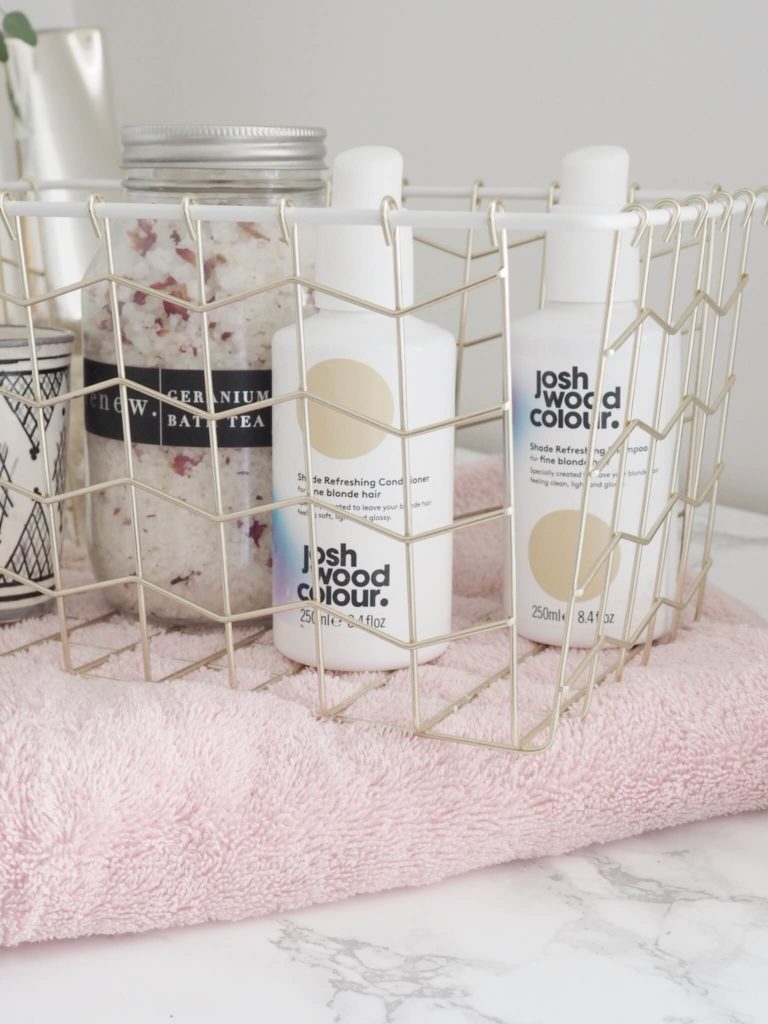 Fluffy Towels
After 4 years of constant use my towels were a bit skanky. The guys at Sheridan offered me some new soft fluffy ones. In a surprise to myself, rather than pick my go-to grey, I went for baby pink! I know! I know! They add much needed warm colour to my bathroom.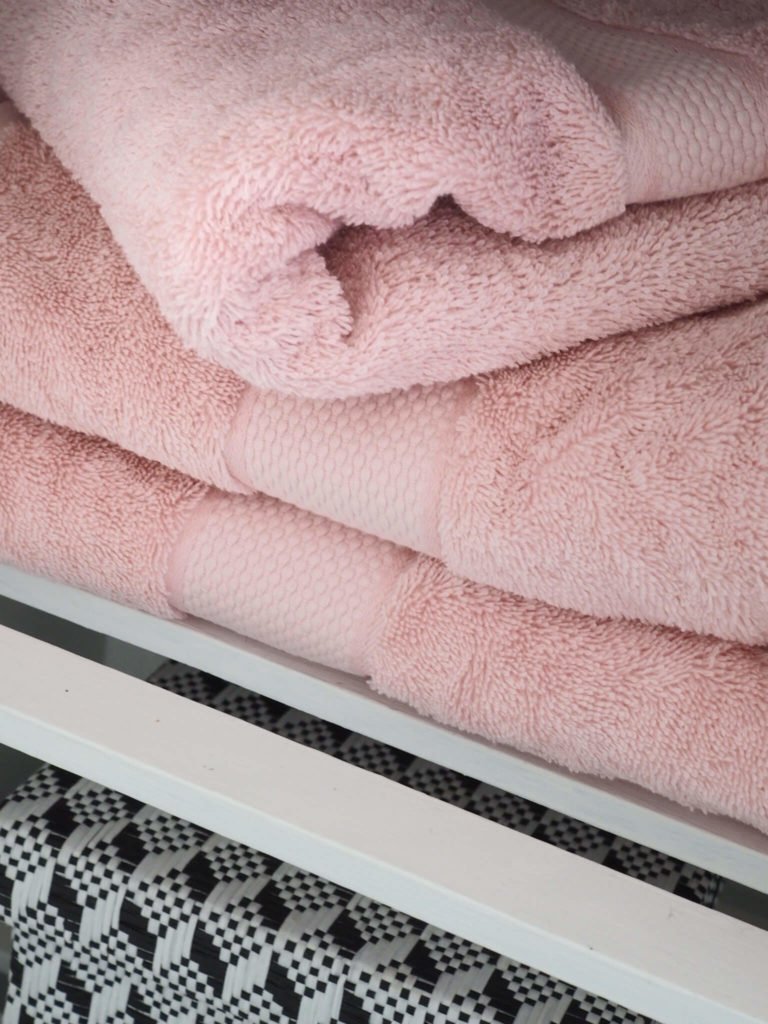 Banish Clutter
My bathroom was starting to feel cluttered, so I took down the shelving and put up a simple hook instead. This is now only bare wall in my house. I kept my Kate Bush poster (obvs) but I hung my plates and mini Moroccan mirror at angles for a bit of eye candy.
Love Your Plants
Last to go in was lots of plants and baskets. And baskets with plants in. They bring the room alive. And they seem to like living in the bathroom room.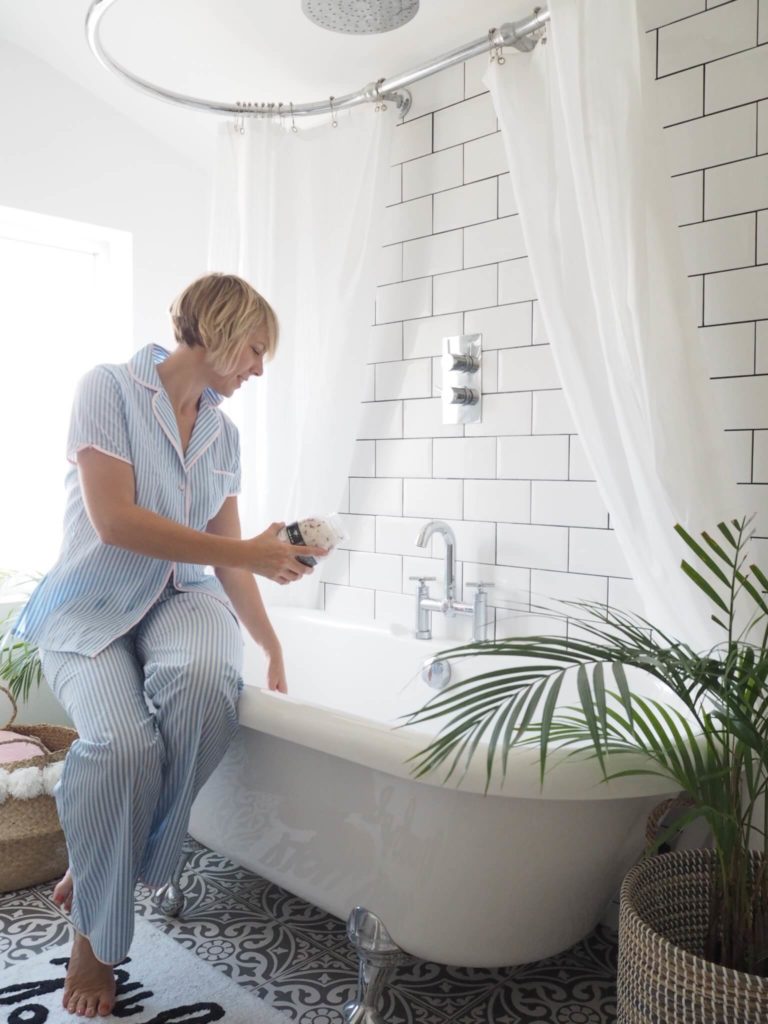 The Little Details
After a huge impulse splurge (just for this shoot – erm…) at TK Max. I picked up the silver mirrored tray (£12) which I have wanted for ages but never able to find one for a price I could afford. I treated myself and my bathroom to rose scented bath salts in a pretty jar (£5.99), a spotty pink candle (£5.99) and the PJs I'm wearing (£16.99).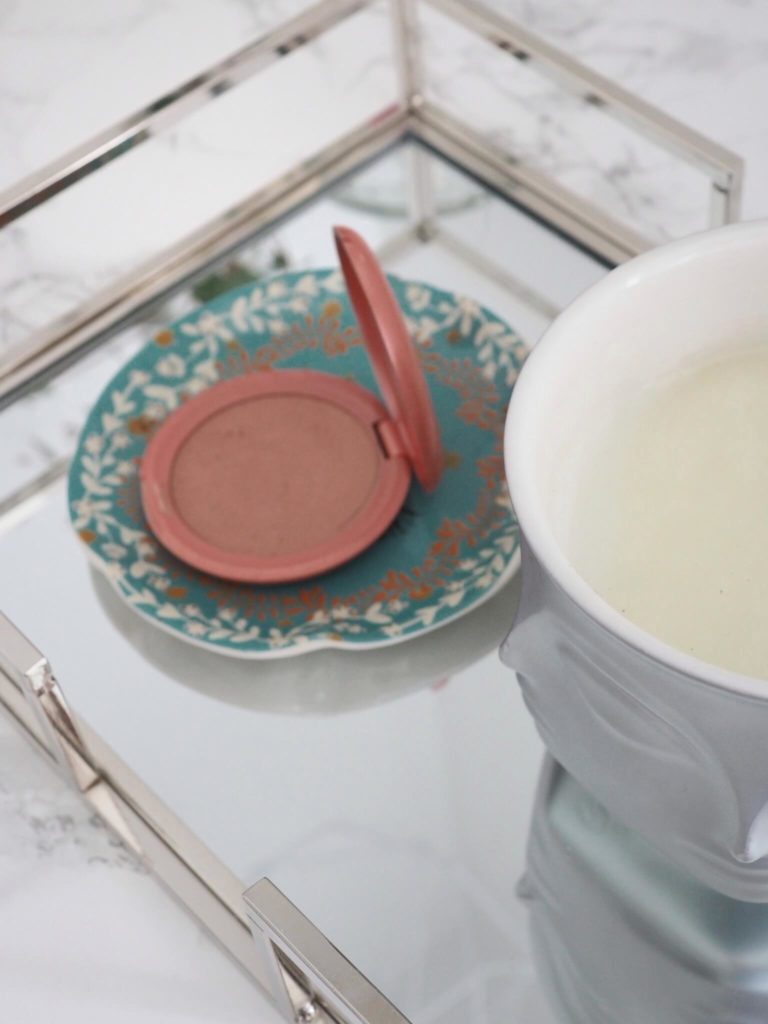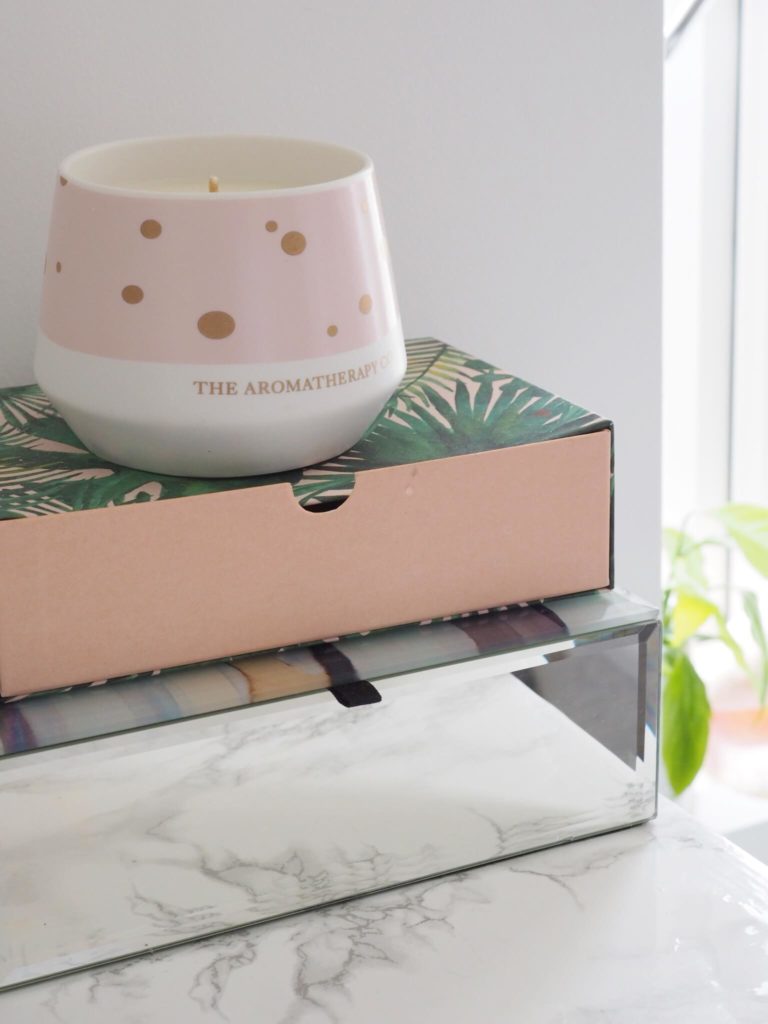 With the rest of the styling for the room, I had a dig around the house and used things dotted around my home – like the Jonathan Adler silver face candle that I picked up at a sample sale in the Summer for £20.  The belly basket was my ironing basket (see HERE) which I have repurposed as my laundry basket, just because.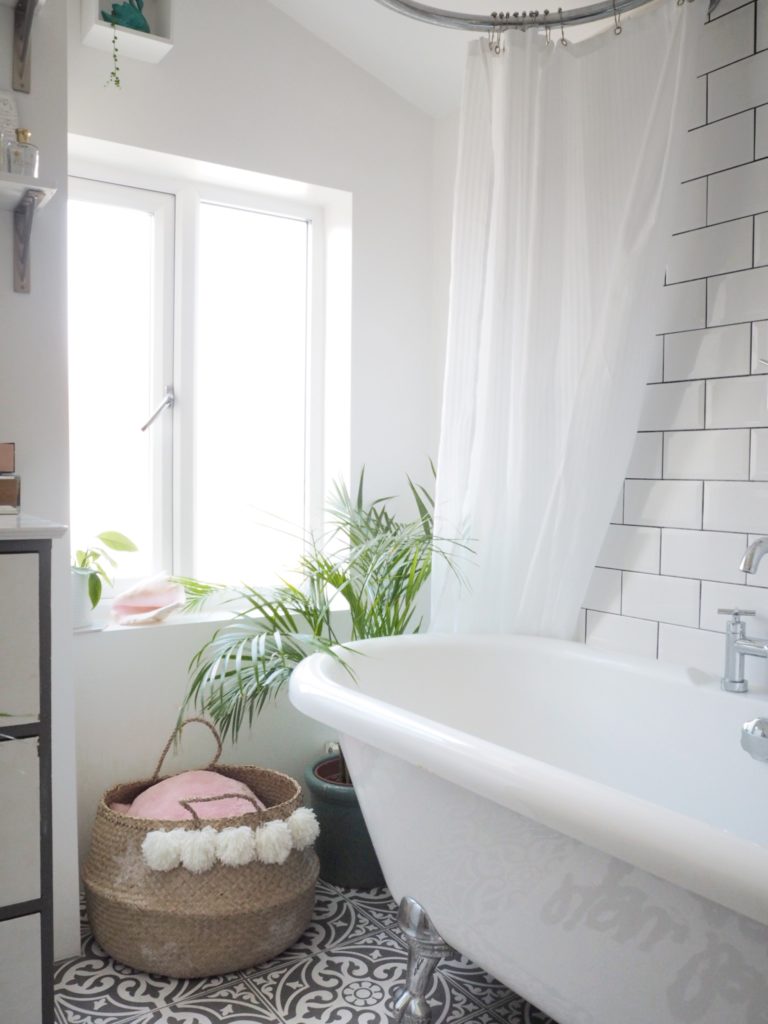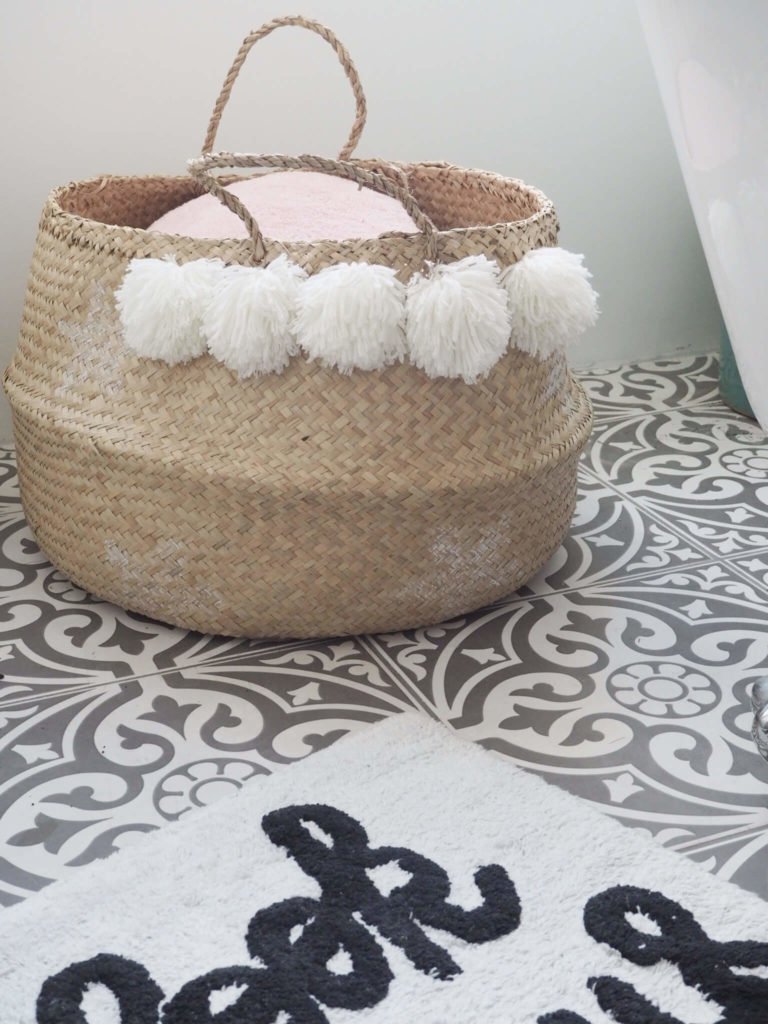 Bathmat Of Your Dreams
Oh, and I can't finish talking about my bathroom refresh without mention my new bathmat which is THE CUTEST BATHMAT IN THE WORLD – EVER. And at £15 – it makes me happy everytime I step in the bath for a shower. Thank you Rockett St George!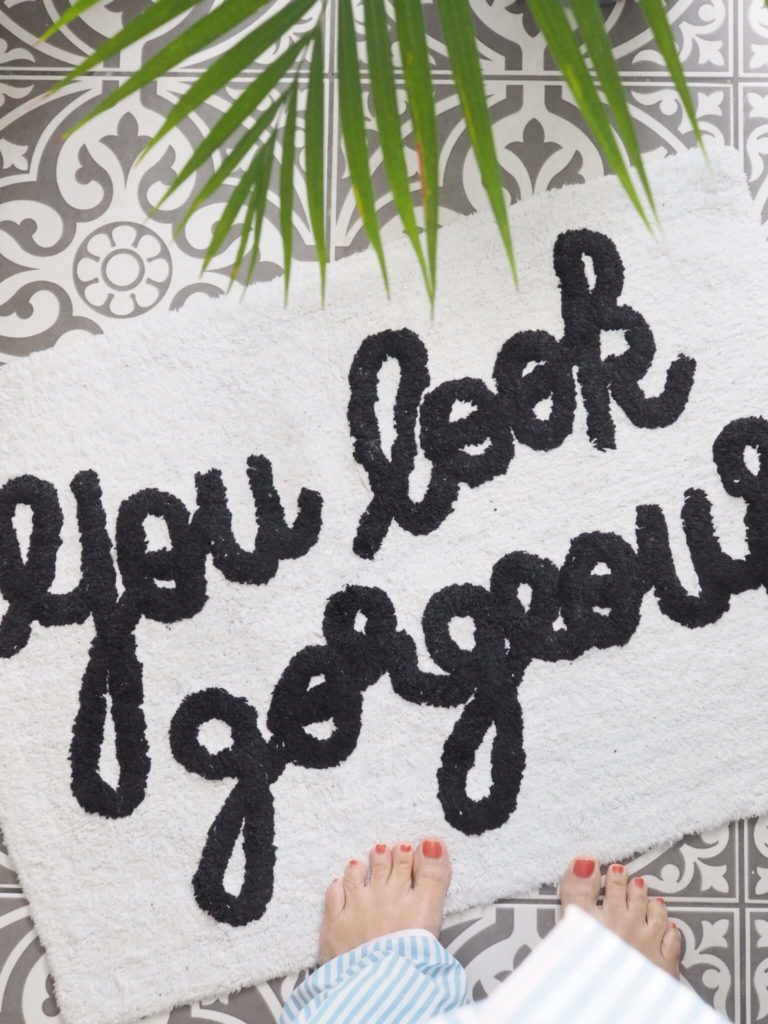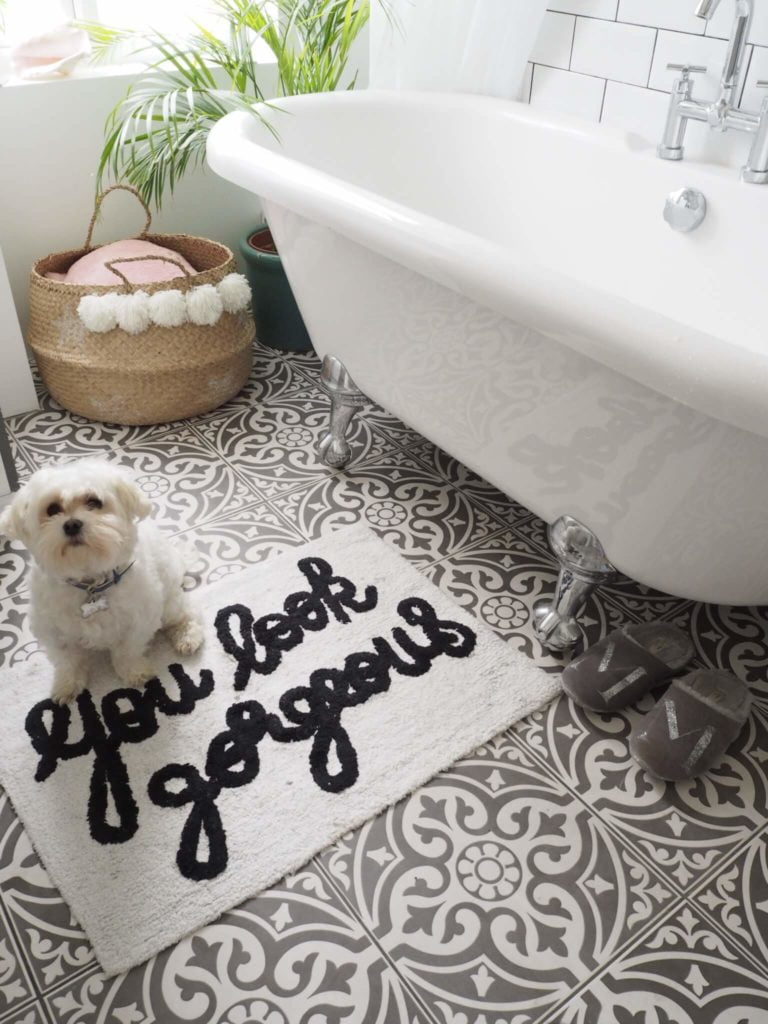 My bathroom styling has made this feel like a new room to me – it has a lot more going on but that kinda how we roll over here.
Have you enjoyed my bathroom refresh? Let me know in the comments below.
Soon on the blog is my shopping post for my bathroom with a budget breakdown – so keep popping by the blog 🙂
Maxine
PS Teddy had a bath especially for you 🙂
You May Also Like
Complete Bathroom Makeover Guide
5 Instagram Loft Bedrooms We're Crushing On Right Now
6 essential design ideas that every small kitchen needs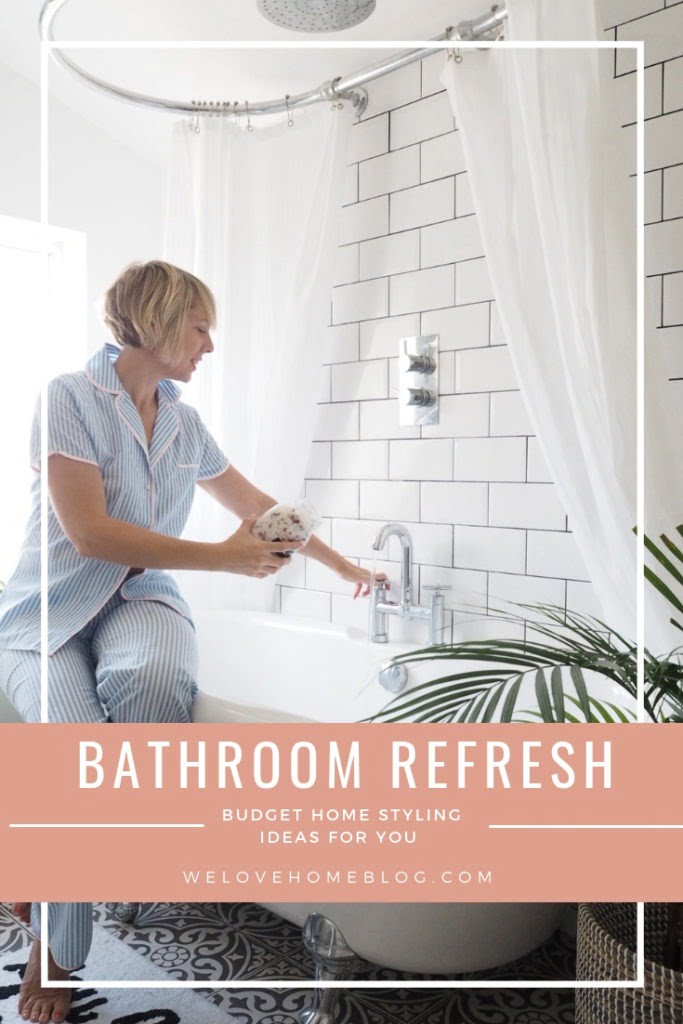 ** I was gifted some products for this makeover. All opinions, photos and thoughts are my own.