My guest room is almost ready to reveal (so exciting). Before the BIG reveal, today I wanted to share with you my essential bedroom makeover guide. This post is a step-by-step guide on how to makeover your bedroom – with extra style tips included just for you.
All very handy if you're planning a similar project in your own home.
Image above George At Asda
Your Essential Bedroom Makeover Guide
My bedroom before. Behind the blue shutters is the giant boiler.
Step One – Plan Your Bedroom Space
When planning a bedroom makeover, you need to plan out your space. Have a think about the potential uses for your room . You'll want your space to be as flexible as possible.
One of the reason I bought my home was because of this spare room.  My plan was to rent it out or make it a wonderful space for friends to stay.
My bedroom before had marked beige carpet, a blue painted radiator with 'creative' piping and rotten windows. I couldn't rent that or expect people to stay in there comfortably. I made a list of what functions the room needed to serve. As a room to make me extra income and as a nice space to sleep in.
So have a think? Is your spare bedroom going to double up as a home office, extra storage, a man cave or even as a yoga studio? Or maybe just a nice room for your mum to stay in. Whatever you decide, make sure make the best potential of the room.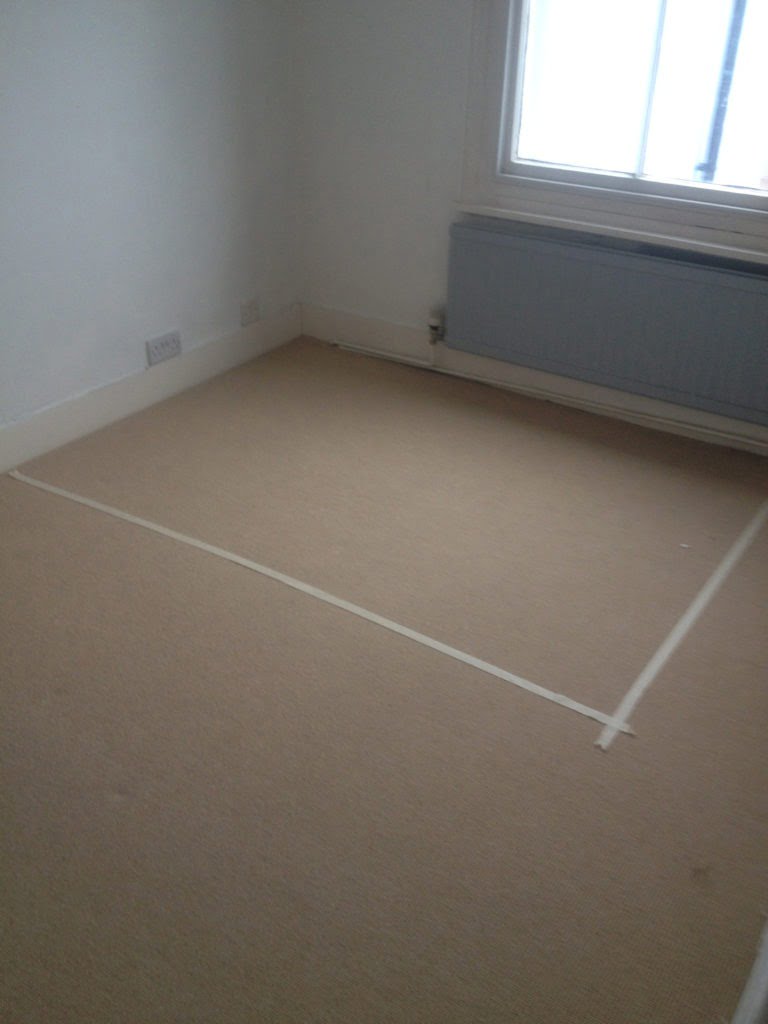 Masking out the space for the bed with tape
Style Tip: Marked out the size of your bed onto the floor with masking tape before you buy. That way you can see if you could fit a double bed (or even a king) in the room.. What available space you can work out what other furniture will fit. Nifty tip to mask out space in your bedroom with tape before you start buying furniture.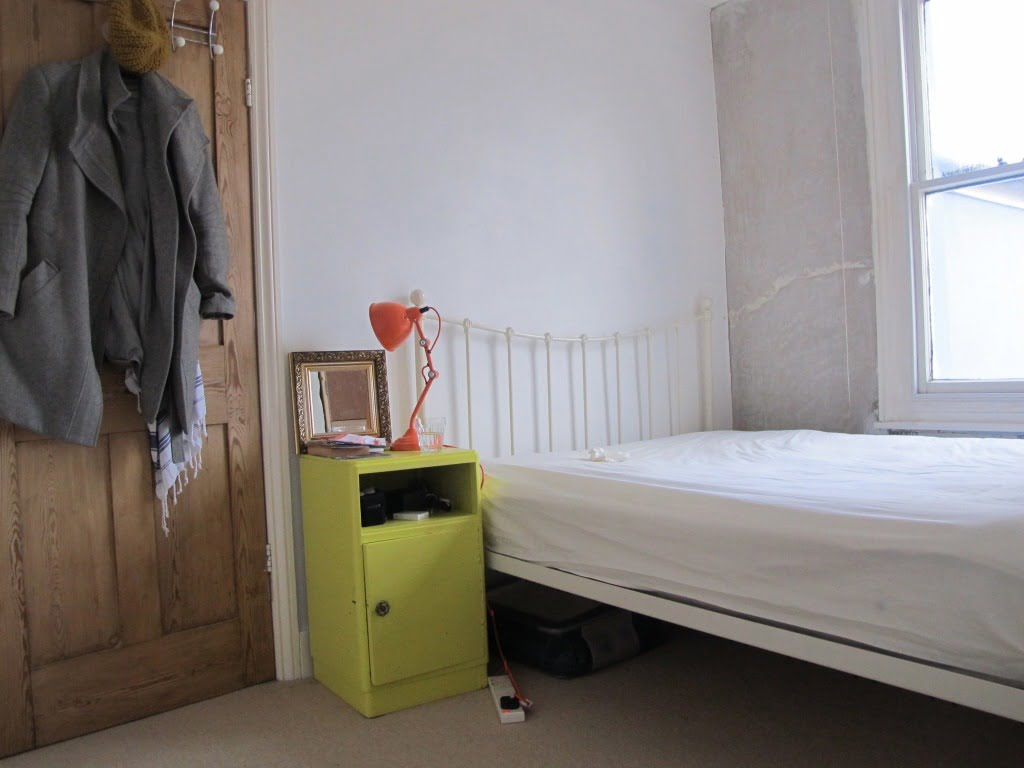 The bed in position
Step Two – Restore and Repair
Be prepared to spend money on the nuts and bolts of your room. Budget for new radiators, electrics and light fittings, replacing windows and dealing with plumbing.
Like a lot of makeover projects, my bedroom had a few hidden problems just bubbling under the surface, which I'm sure yours does too.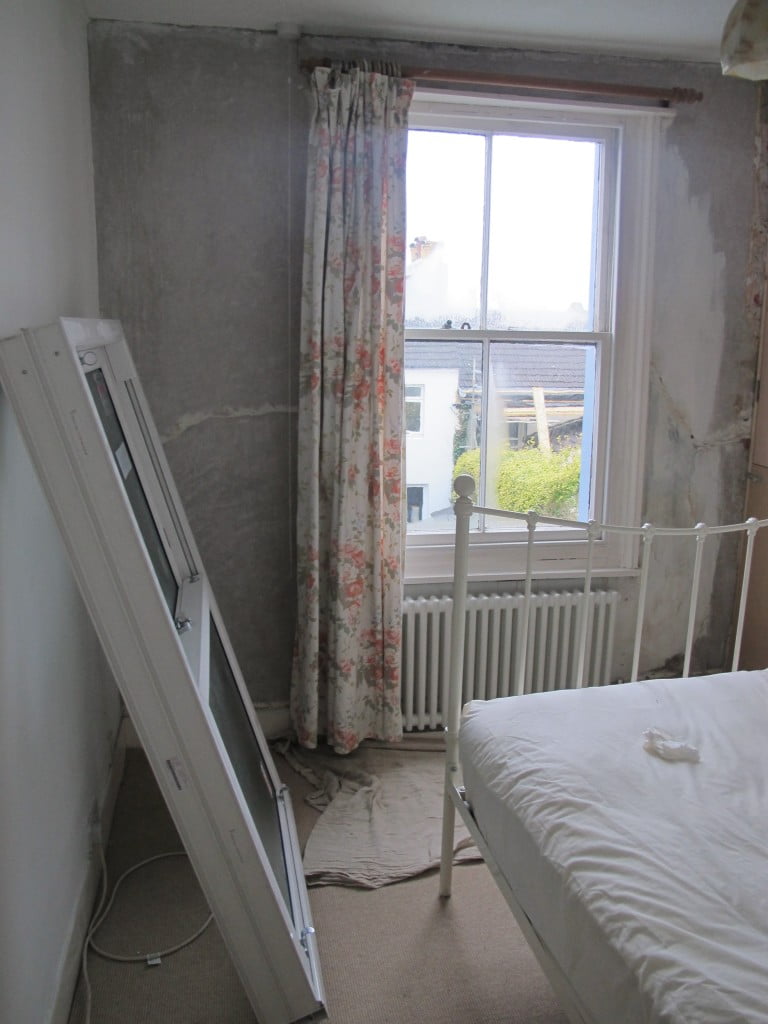 New windows ready to be installed
Replacing windows: My old wooden sash window frame was leaking in water, causing a damp issue. It was beyond repair. I went for a uPVC sash window which I love. It is draught-free, looks so smart and it has a clever opening mechanism which makes it flip open so it is easy to clean. If you need to replace a sash window on a budget – uPVC is a fab affordable option. Cost £500
Rehanging the door: I had the bedroom door hung so that rather than open into the room, it opened the other way creating lots more space so that I could now place the bed facing the window. Cost: £50.
Dealing with plumbing: The old blue radiator was replaced with a vintage style one and then the messy pipework sorted out at the same time. Why not move your radiator to make better use of the space. Or even try replacing an ugly one with new chic one before you you start decorating. Cost £300.
Style Tip: If you have a bedroom project, then make sure you budget for these type of repairs. They eat up a bulk of your time and money but are essential if you want a polished look.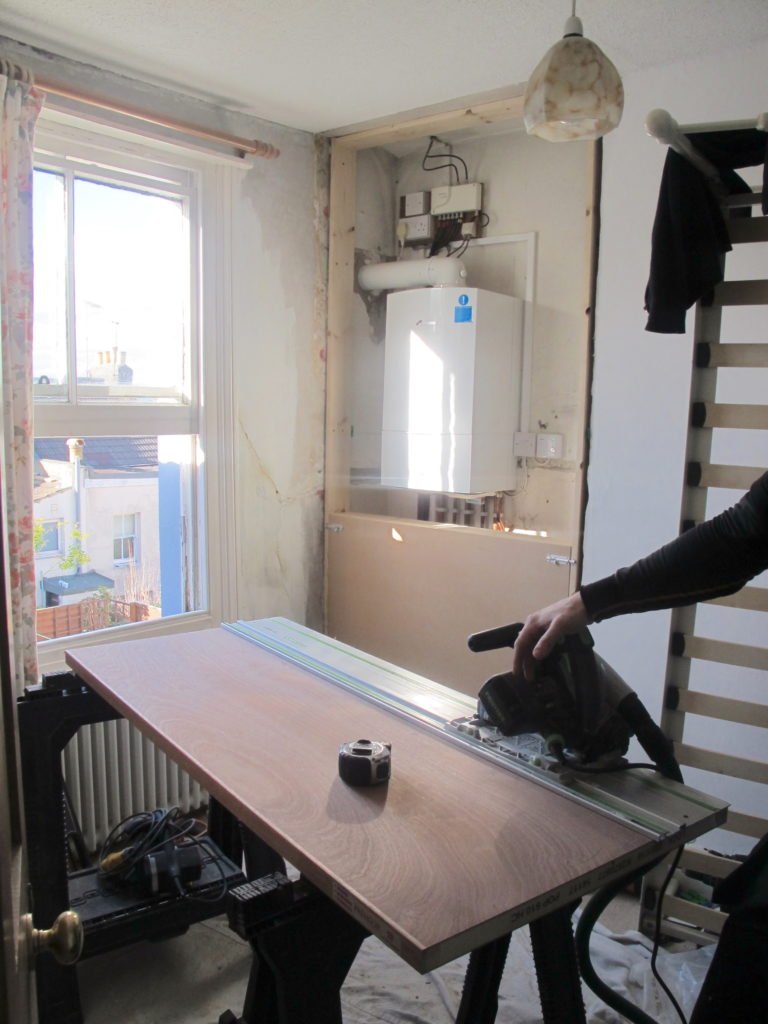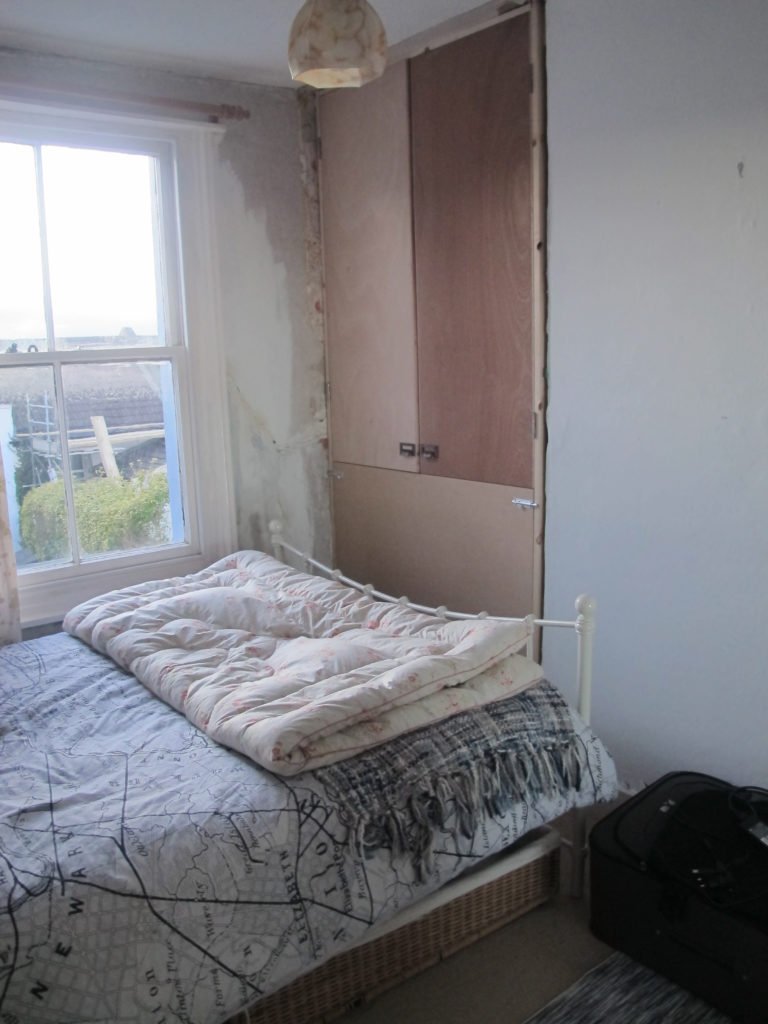 My new boiler cupboard ready to be wallpapered
Re-jigging Storage: In a corner cupboard was a large water tank and boiler. The cupboard was huge and took up space in the room. When the boiler was replaced, this was the prefect opportunity to replace the cupboard too. I designed it be smaller and more compact cupboard with 'pop' catches. The cupboard blends (as best it can) into the wall especially now it is flush to the wall. Cost £250.
Re-plaster Walls: I stripped back all the wallpaper and took off most of the old plaster at the same time. The walls were in an awful state. I had them plastered smooth. Yes, it was messy and dusty but I have perfect flat walls now which makes me smile inside. Cost £1000
These key elements I had to budget for before I could start all the pretty decorating stuff like wallpapers and cushions
Step Three – Gather Your Ideas
Once you have had done all the hard graft with your makeover, making your room water tight, safe and sound. And you weekends are no long spent up ladders pealing off layers of wallpaper from walls. And once all your savings have been spent on dull stuff like windows and plumbing.  Then you can start on the fun stuff – like decorating!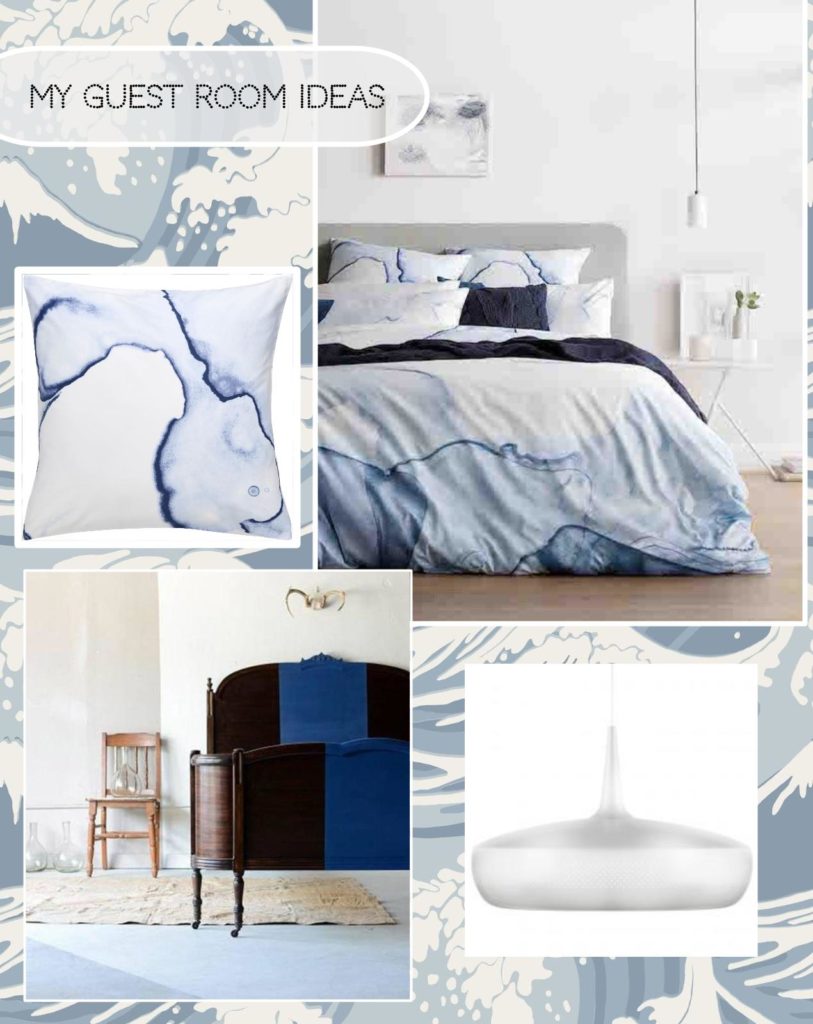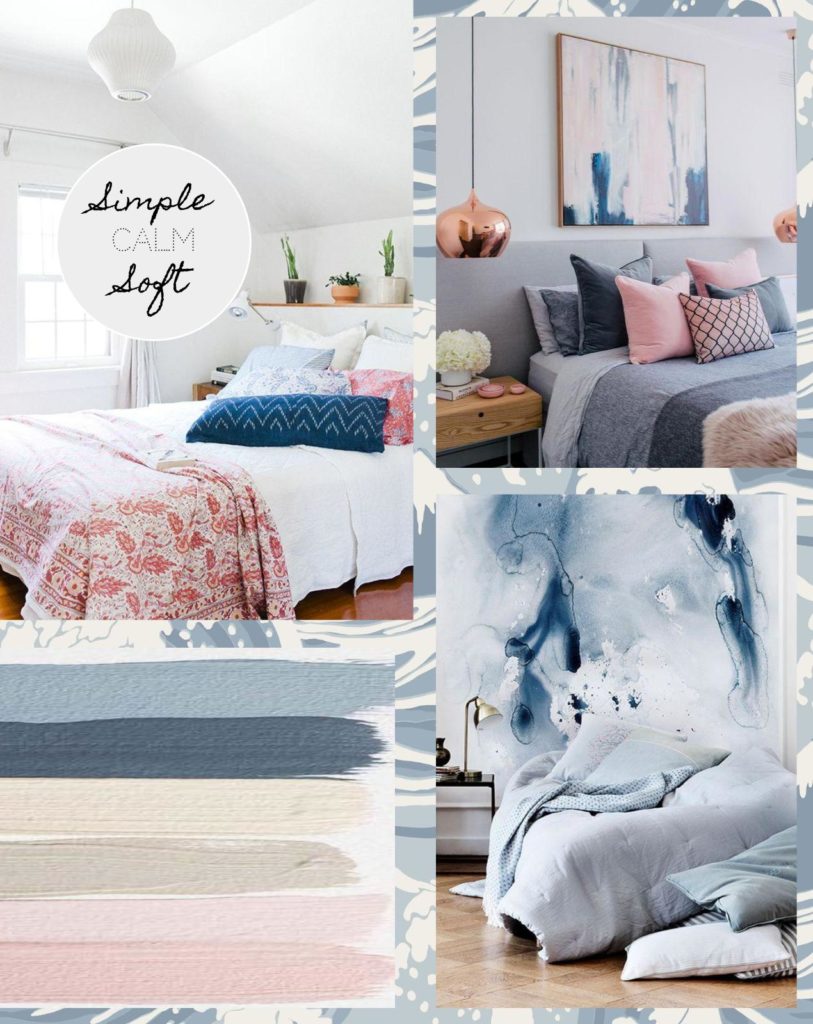 My guest room makeover ideas
I complied a mood board of wallpapers and colours which you can see in this post HERE
Style Tip: Creating a mood board – either on-line with Canva or Google Slides – or by simply tearing out ideas from magazines and sticking them on a piece of paper, helps to solidify all your ideas in one place. It also helps you cost out exactly what you need to buy – and what you can't afford to cut back on.
In my case, I had to have the Wave wallpaper by Cole and Son, a light shade from Vita (you can see it HERE) and slated blind – all key (but pricey) items. The rest of the room, I knew I could save money on by shopping around. I got a bulk of furniture and accessories from vintage stores.
On-line you will find calculators to work out exactly how much wallpaper, paint or carpet you may need for your bedroom makeover. The clearer you are on your costs, the easier it will be to stick to your budget. Also, I find the less money I have to work with, the more creative I am with my ideas.
Step Four – Prepare The Room
Once you have done all the steps above for your bedroom makeover then you need to work on actually decorating the room.
If your walls are brand new raw plaster (like mine were) you will need to mist coat the walls before you paint them. Mist coats seal the plaster. If paint directly onto raw plaster you will find that eventually the paint will peal off.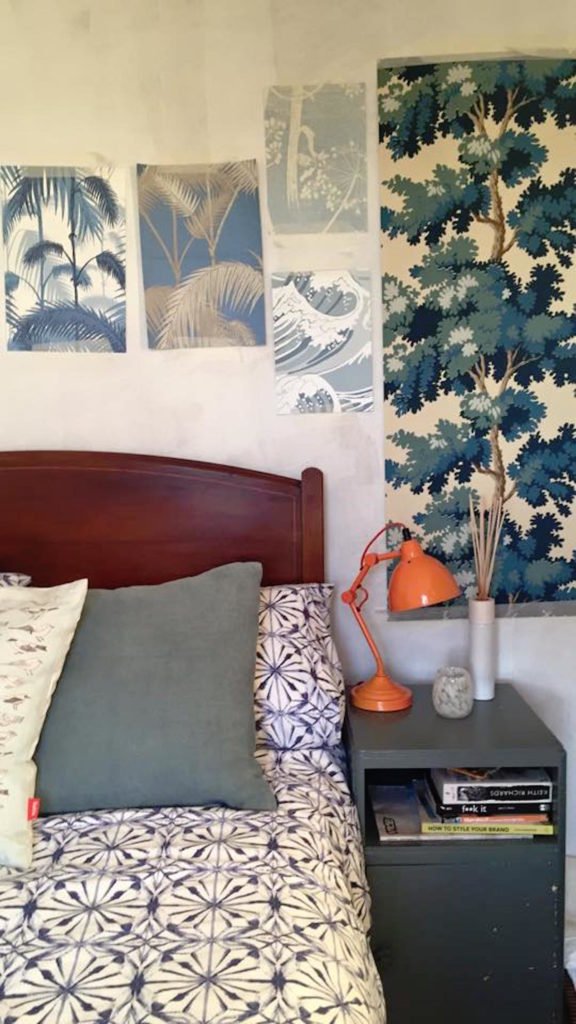 My misted coated walls ready for my wallpaper picks
Style Tip: Decorating your walls in the right order is key. This way you will not damage your new carpet with paint or face pealing walls in the very near future.
If your walls are fine, then fill in small holes with a fine filler and sand back smooth.
After you have painted the walls, start preparing your woodwork, sanding it back lightly to remove paint. And paint in fine layers in an egg shell or oil based finish.
Then, paint all your furniture, hang your light fittings. The last thing to be fitted would be your new carpet.
Once the new carpet is in, then you can put your furniture back into the room.
There is my bedroom makeover guide with steps and tips for home. I hope you have found them helpful.
My own guest bedroom makeover will be revealed on here very soon. Keep popping back to see it.
Love
Maxine