Don't you just love Summer? With this warm weather I want it to last forever. In our traditional wet summers in England, all of us want to relish every beam of sunshine, don't we?  That's why I'm sharing my style tips on how to make the most of most outdoor living – complete with photos from my own garden – so we can enjoy  Summer for longer.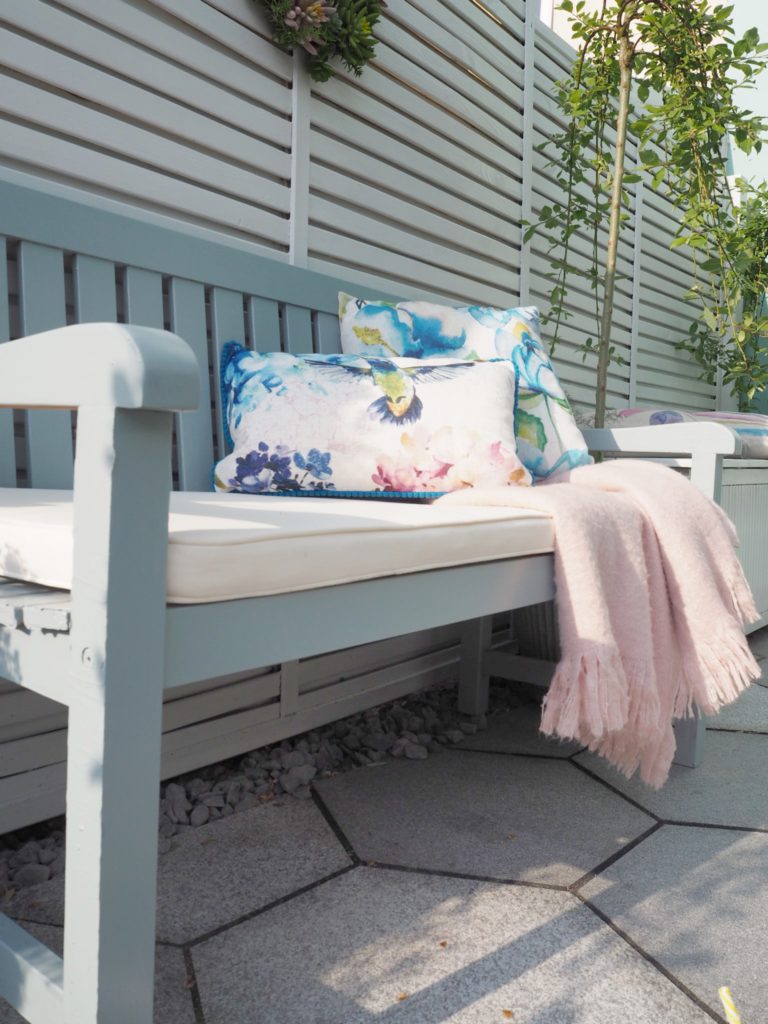 Before
Today, I want to share with you tiny-weeny reveal of my garden makeover project which I hope will inspire you if you love hanging outside –  or if you're thinking of updating your outdoor space. I can't show you my complete garden makeover just yet (sorry) because it is featuring in the August issues of Good Homes magazine.  But because I love you guys, I want to share with you a tiny corner so I can show you ideas on how you can make the most of outdoor living.
My outdoor space was a mess. The fences were rotten, there was a climbing plant was so overgrown, that I blocked my back door. There was gravel on the floor which was uncomfortable underfoot. It was not a outdoor space anyone in their right mind would want to hang out in. You can see the before HERE if you want to see what I was living with for 3 years.
The area you can see above – is a small side return which was really underused with my old layout.
If you have a space that looks like mine did it can feel overwhelming to make it over from scratch. But I can tell you it's completely worth it. This tiny alleyway that leads out onto my garden was completely wasted space. Now, it is one of my favourite parts of my garden. Let me explain why.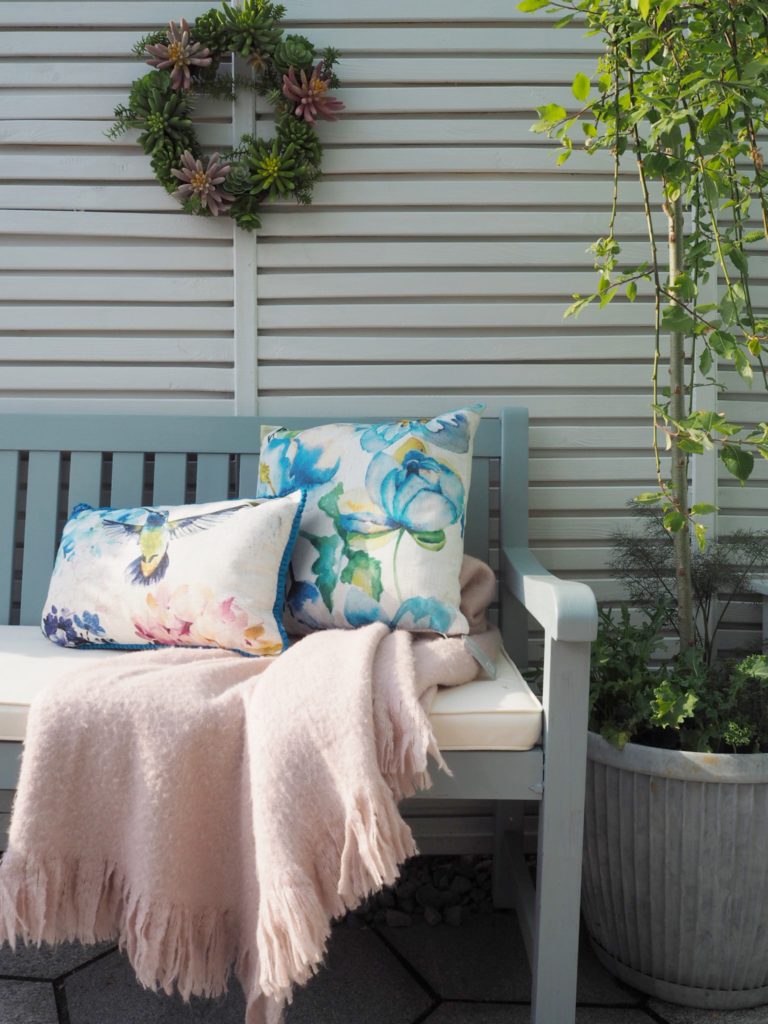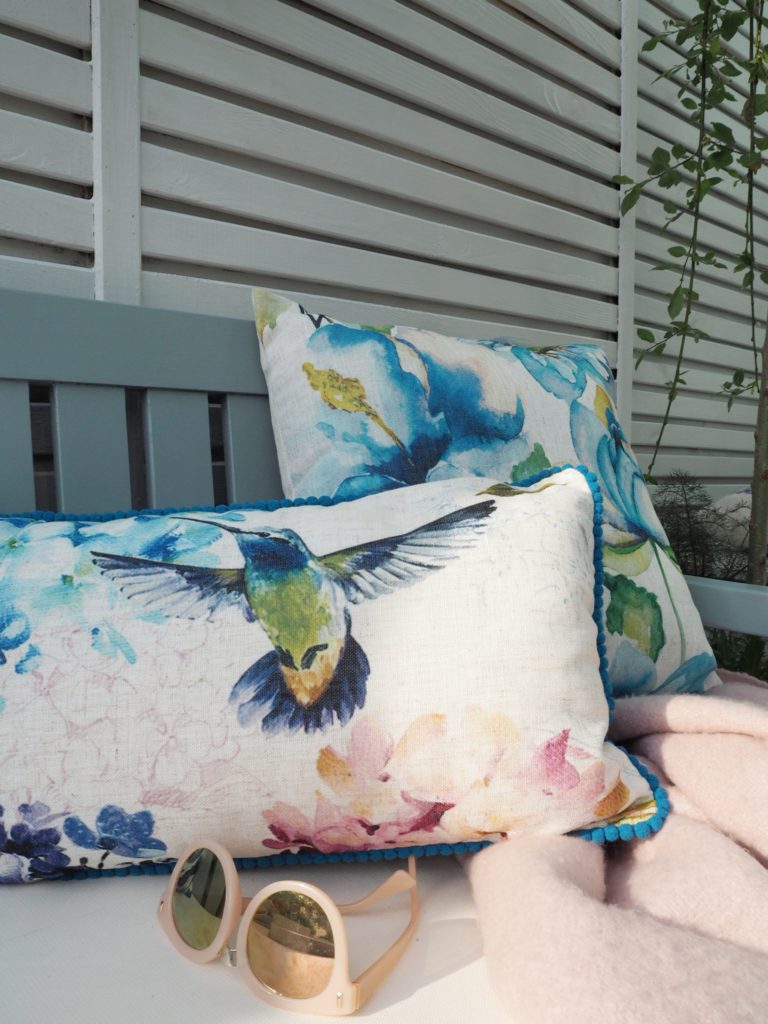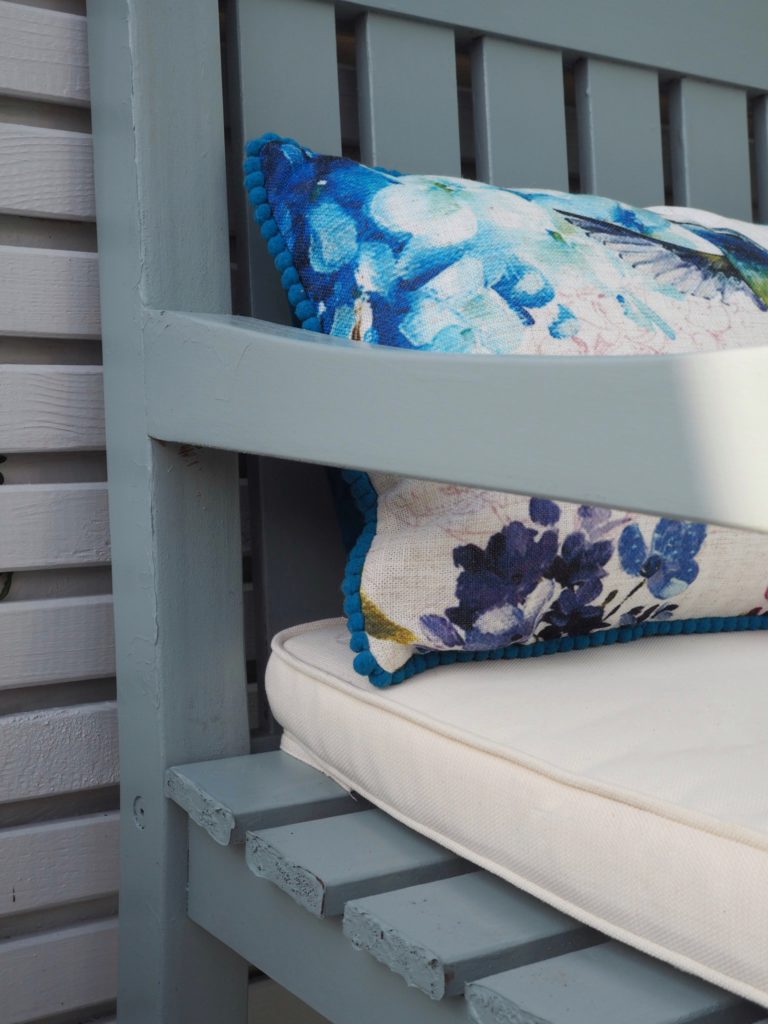 You'll Need Comfy Seating
These are photos from a mini photo shoot of my favourite spot in my garden I did at the weekend – which is my now my quiet spot, surrounded by herbs, pretty trees and with a cosy bench to chill out on.
It doesn't matter what the size of your outside space, from a small terrace to a large lawn, you'll want some seating so you can relax outside in the sun.
In small spaces, look for folding chairs that can be stored neatly out of the way – like a bistro set or a handy storage box which you can pop cushions on.
In my own garden, I was on the look out for a bench that would slot into the sunniest part of my garden (and the most private). I was kindly gifted this beautiful Sedona wooden bench from George At Asda for the magazine shoot. It is a bargain too – at £109.
After a trip to my local garden centre, I saw a garden bench just like mine but painted in a dusty teal colour (for £230!) and it gave me the inspiration to paint mine in Mendip Mist by Protek so it blends into my garden. The colour is a lovely heritage shade of mint, and it works so well with my painted exterior, painted in Spearmint by Little Greene Paint Company.
Now my bench looks just as good (if not better) than the one at the garden centre and it cost half the price. That's a neat trick for you! I used Mendip Mist by Protek (a good quality outdoor paint).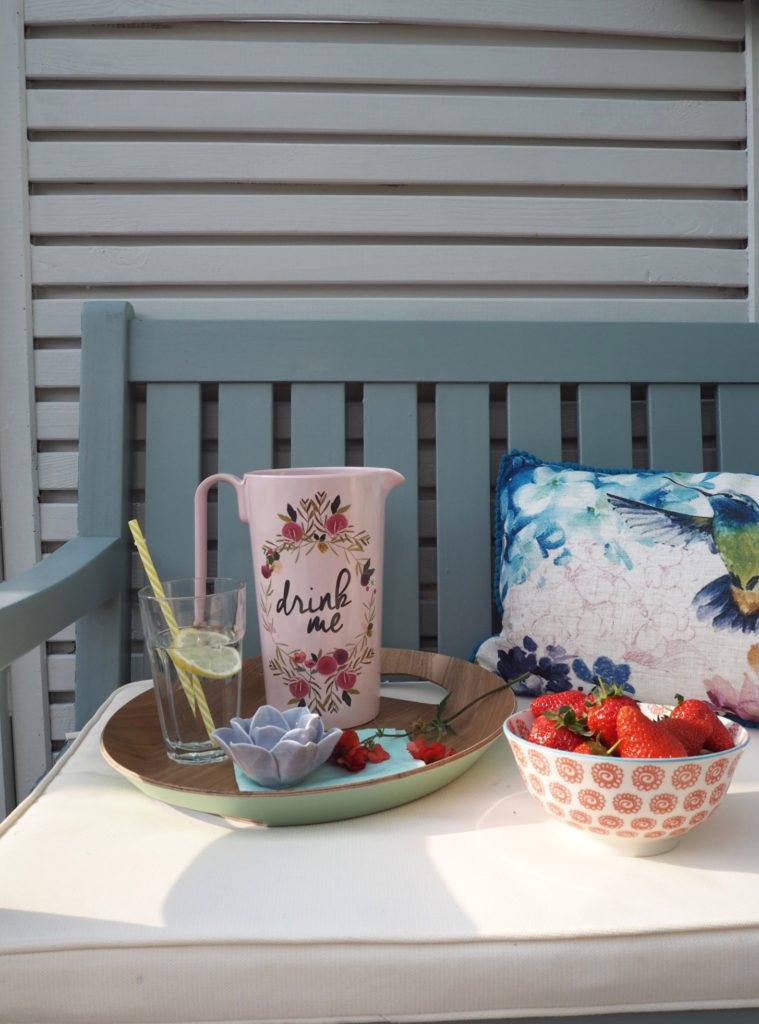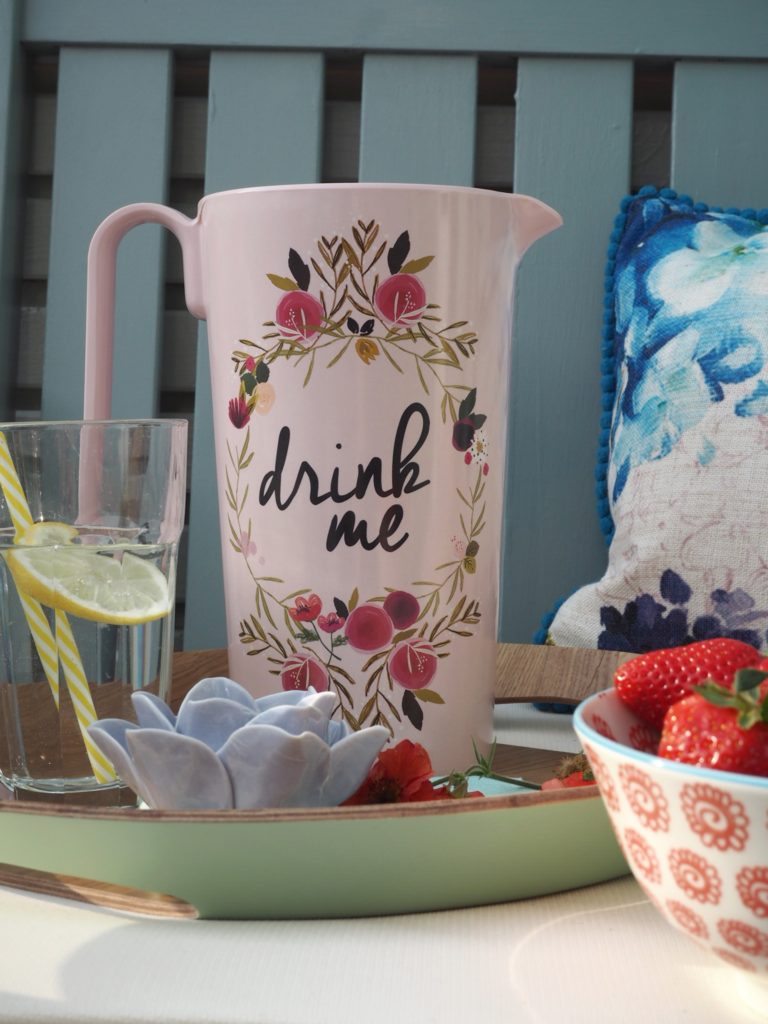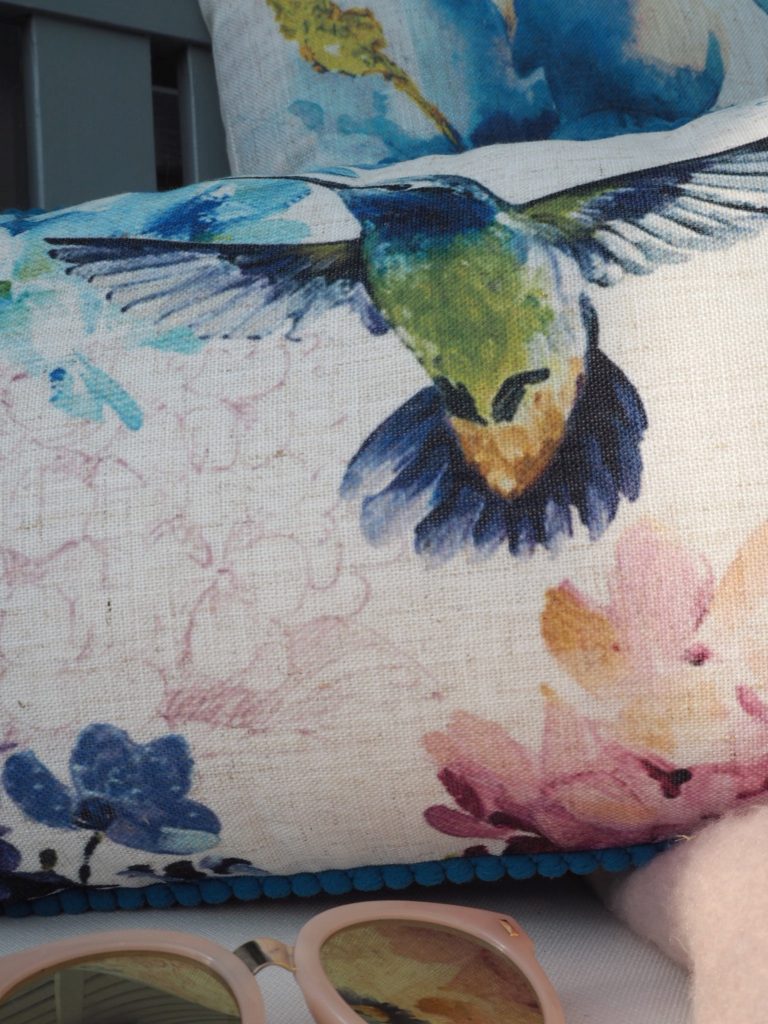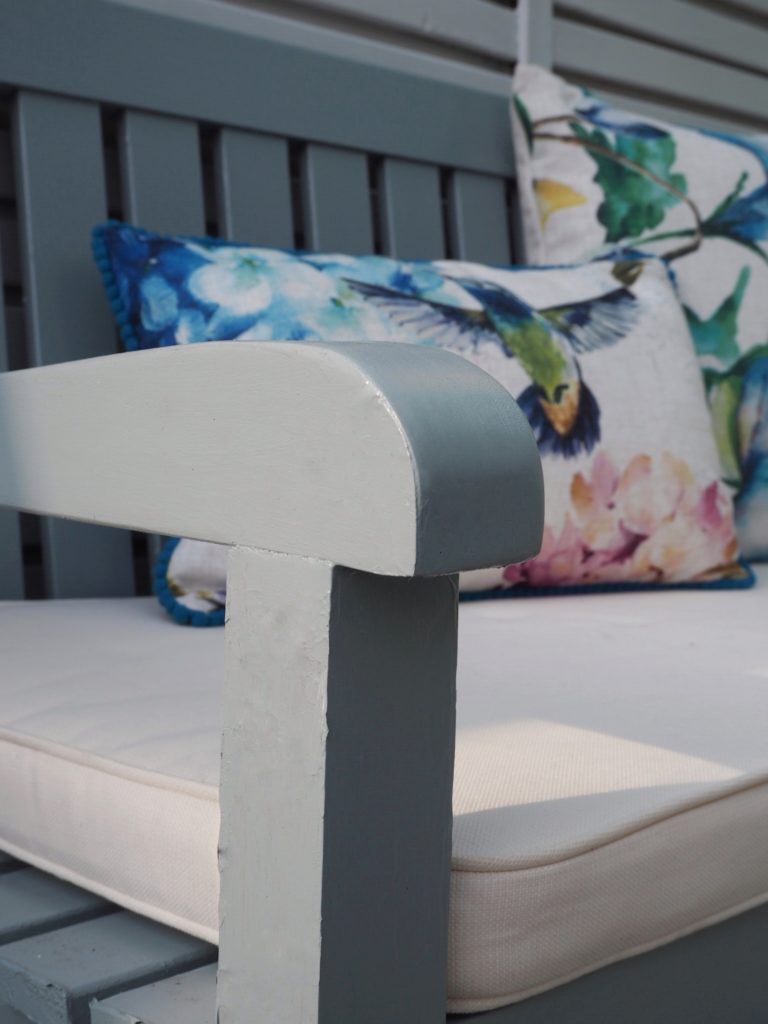 Add Colour With Accessories
Outdoor cushions are a great for adding colour to your garden and they boost up the comfort-factor too. I found these beautiful water-coloured cushions from Dunelm Mill. They are so inexpensive at £16 each – that you can treat yourself to one (or two).
If you are social bunny like me, then you'll want friends round for garden parties – and you won't want chilly nights to end your fun. This is why keeping cosy throws close to hand is key. My pink fluffy one is from Laura Ashely which is from my bedroom – when friends get cold, I dash around my house finding jumpers and throws for guest to snuggle under.
In a small garden, accidents are more likely to happen with drinks being knocked over and plates being dropped. It's just the way it happens in life (especially if wine is involved). As my sister knows me all to well, for my birthday she treated me the pretty jug which is made from plastic! It was only £6.99 from HomesSense. I love it – as it reminds me of Alice in Wonderland.
When propping for my garden shoot – Marks and Spencer had the best outdoor plates, bowls, glasses and jugs. My pick is the blue and green Alfresco jugs that look like expensive glass ones but are totally smash proof for £12.50.
Store all your cushions and throws in a neat storage box when not in use. Mine is from on-line DIY store Mano Mano – and is called Riviera and cost in the sale £239. I painted it China Clay – the same shade as my fences by Protek Wood Stain. It also is handy for extra seating too when surprise guest turn up!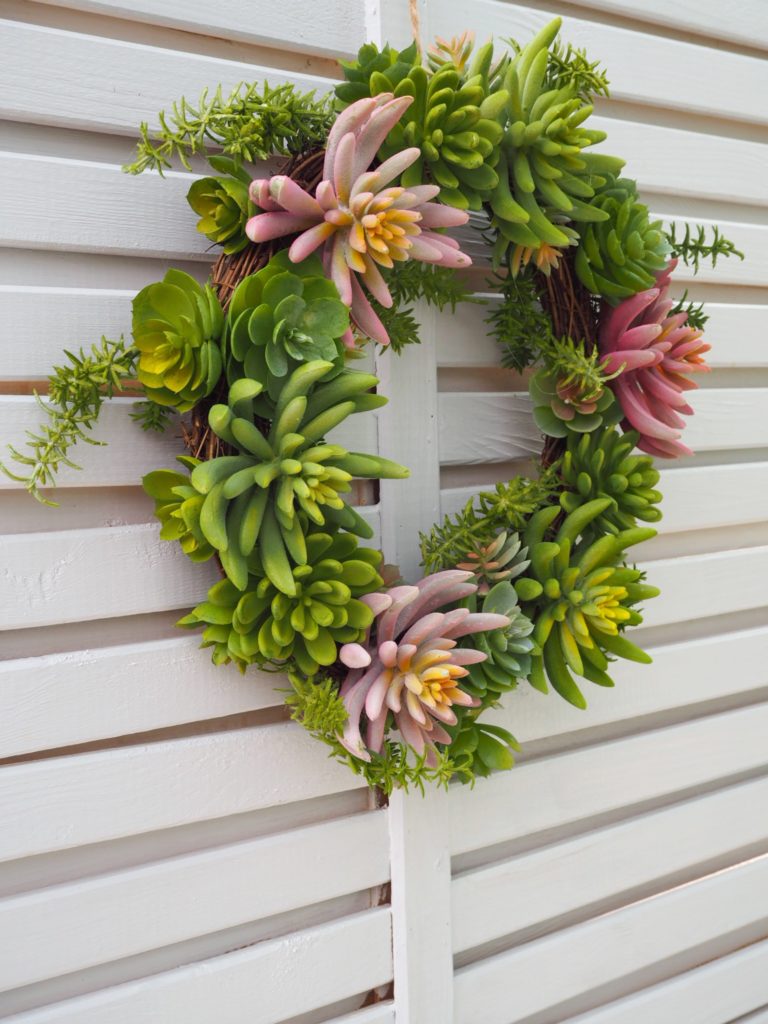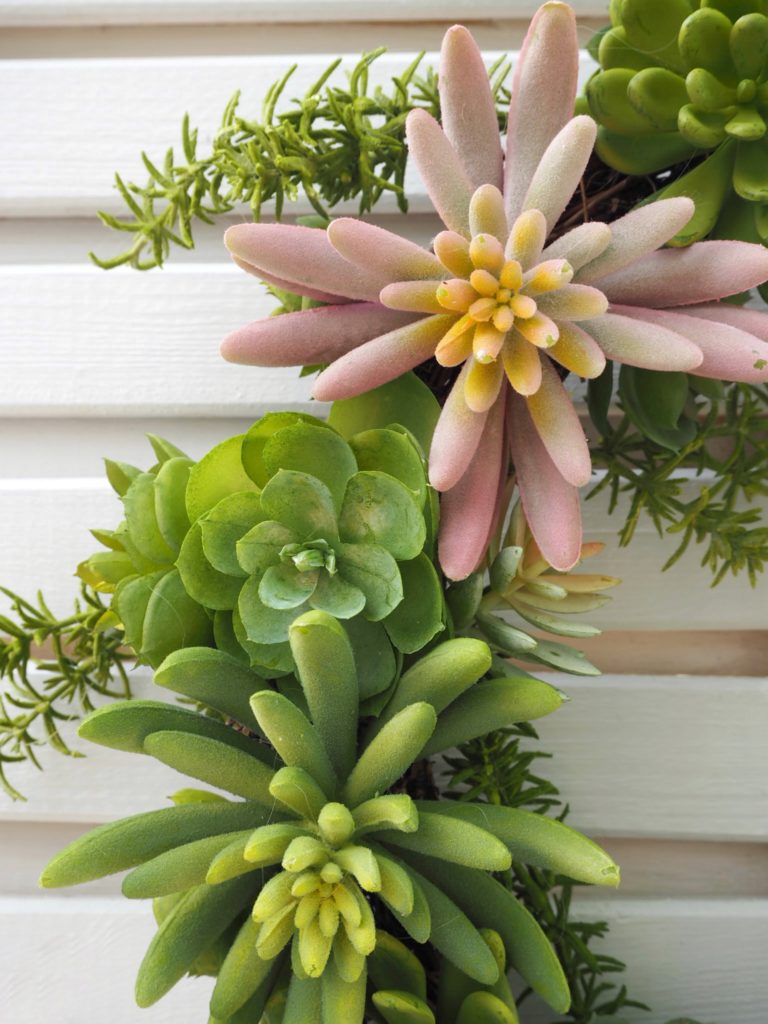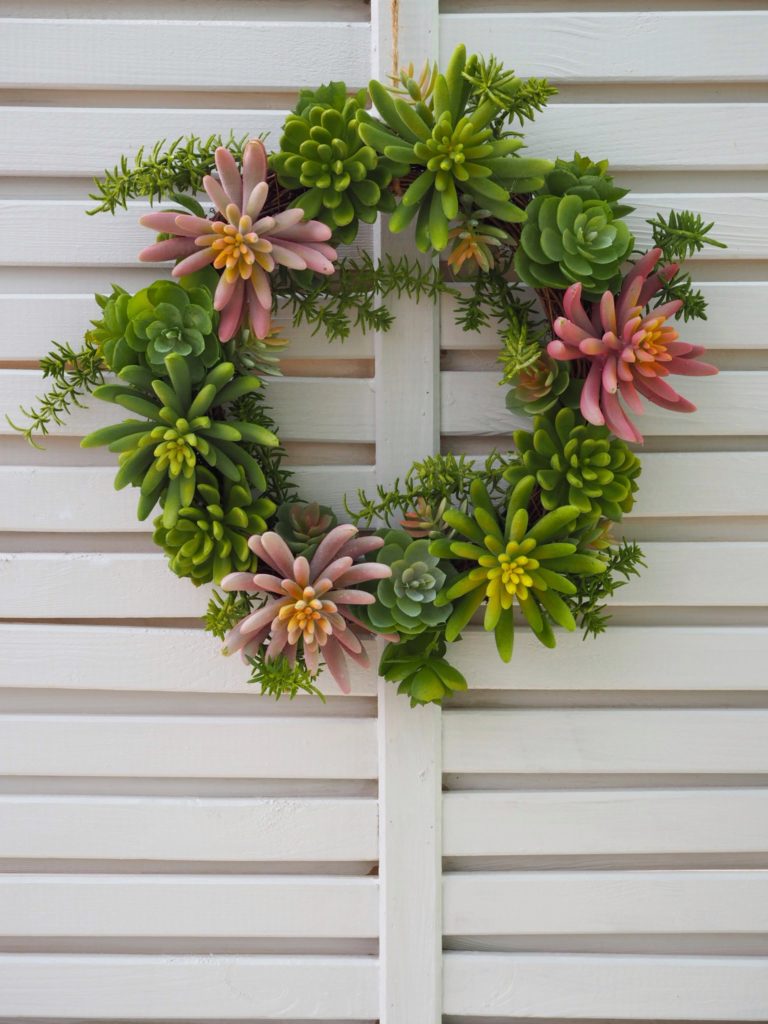 Cheat Your Garden Skills
My gardening skills are very much up and down. When I have too much work on, they is no watering of my plants. Are you like that?
When life takes over, the garden can get slightly neglected.  You can cheat the look with a faux wreath like this one above covered in pretty succulents. Not only will it add a splash of green when your garden most needs it – it's also tres cool too.
Now this one above can't be left outside all year (but as it was in the sale at £24 from Dunlem Mill I'm not too worried)  But I have also found this one from Waitrose which can be hung on your back door or at a window.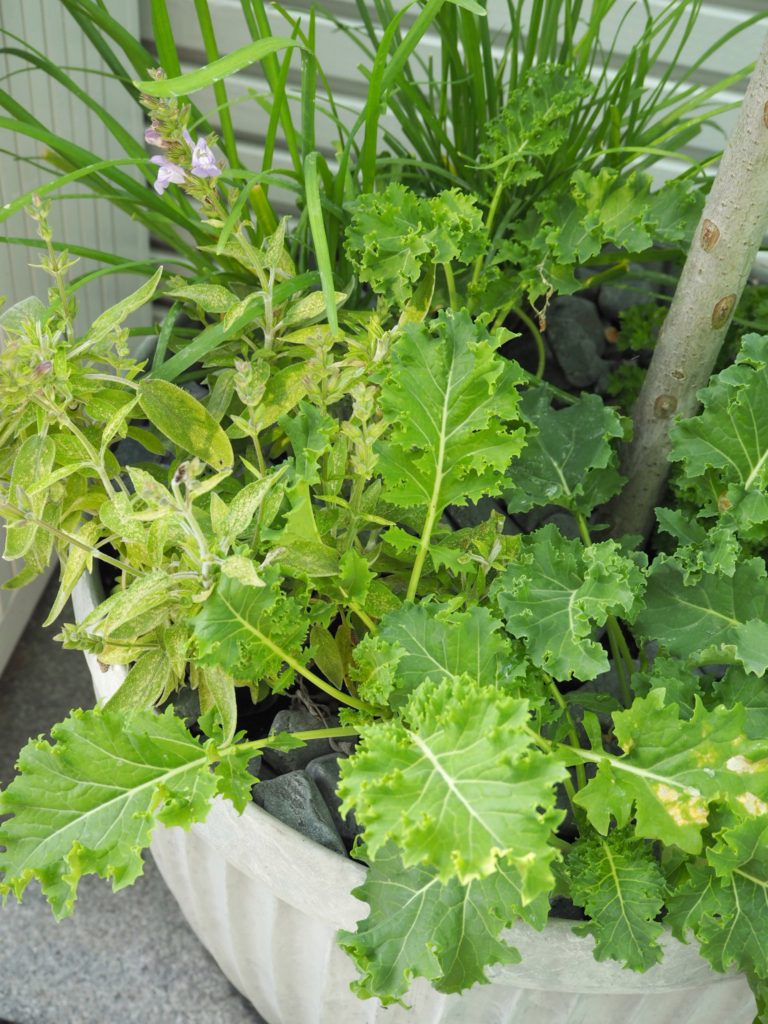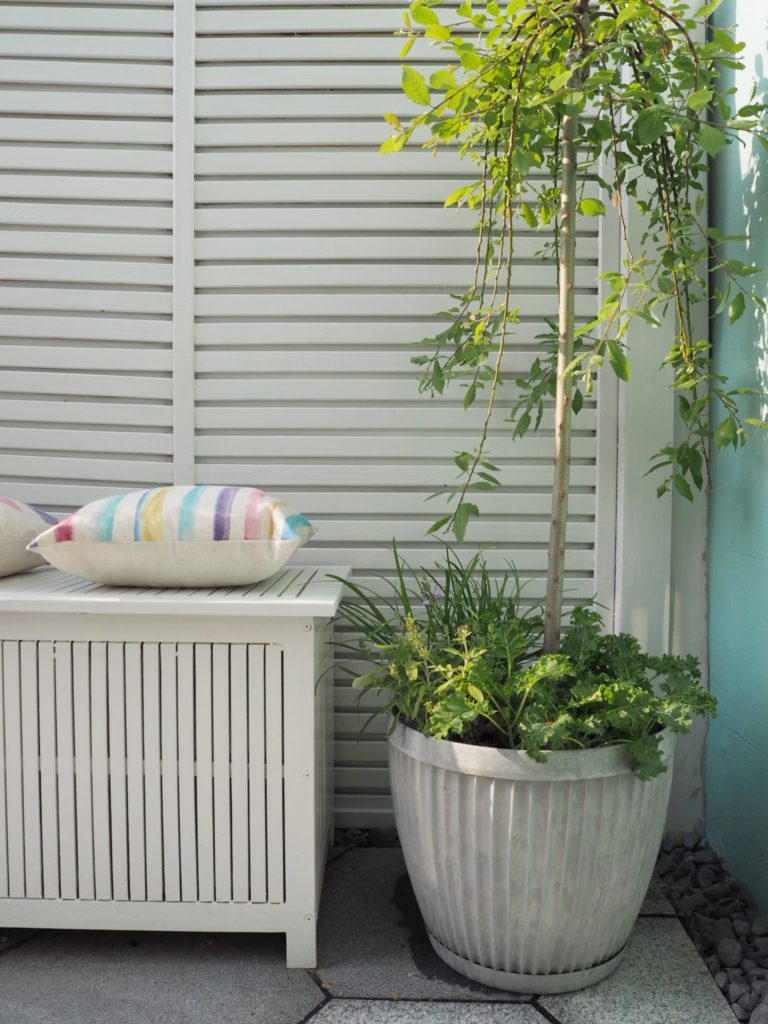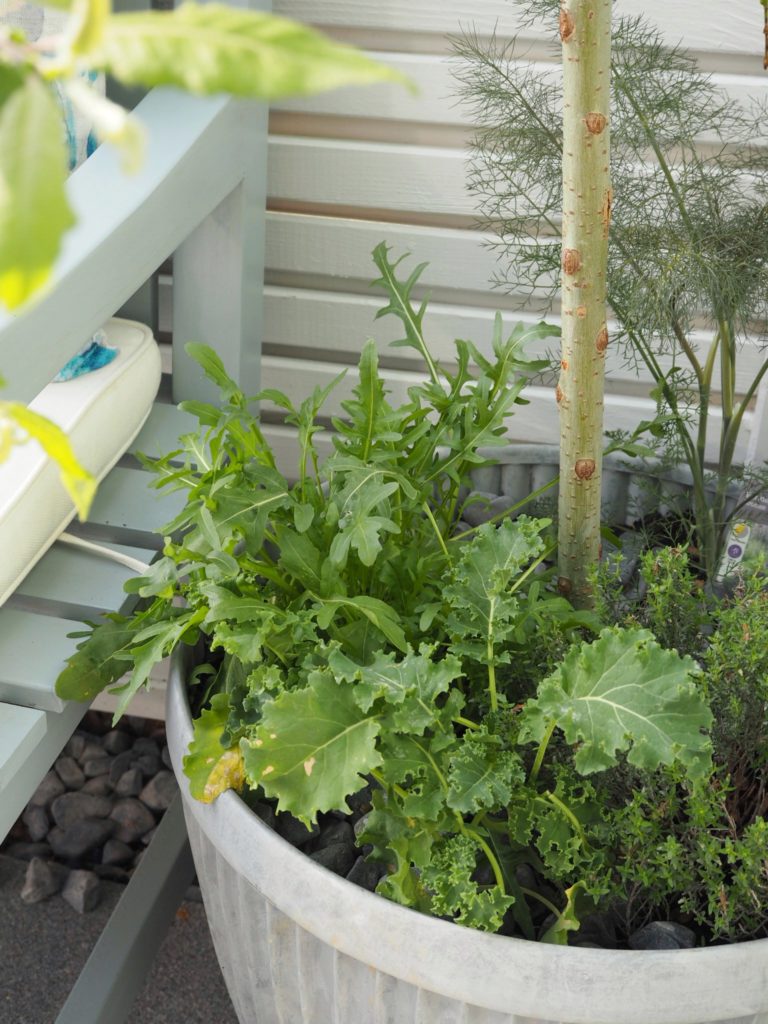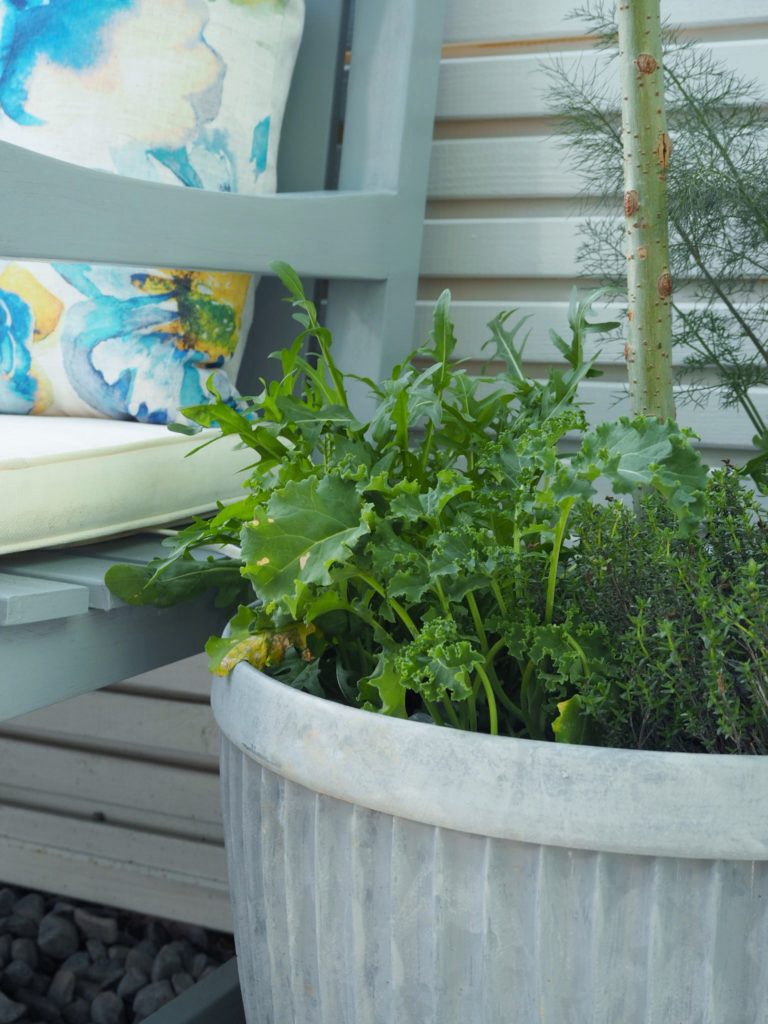 Grown Your Own Salad And Herb Garden
Why not grow your own salad and herbs? In these beautiful galvanised dolly planters from Crocus.co.uk I put two large willow trees, and then at the base I planted chives, parsley, fennel, rocket leaves, kale and rosemary. When I'm preparing an al fresco diner party with friends, I take tiny cuttings to make the most delicious herb salad.
Although plants are very pretty – I'm all about the salad and herbs. I also have a small planter from the Summer plant collection by Interflora which I pop onto my outdoor dining table filled with mint. They you can picked off leaves and pop into your summer cocktails like a Mojito or Tom Collins. This is such fab way to enjoy a yummy drink your garden in the summer months.
All these little touches will help you make the most of outdoor living, that way you can spend our precious summer months relaxing in your garden late into the evening.
Know someone looking to update their outdoor space Why not share this post with them.
Love
Maxine
You May Also Like
Clever Ideas For Small Gardens
6 Bloggers' gardens that will make you green with envy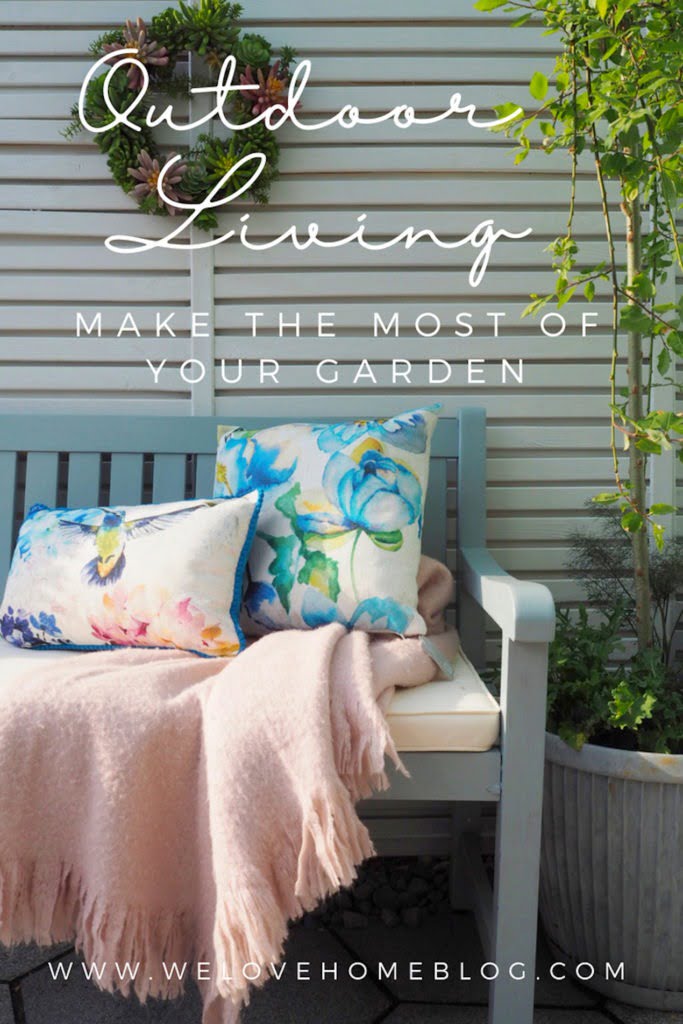 ** I was gifted some of the product you'll see today for my garden makeover but all opinions, photos and thoughts are my own**