Spring is in the air, and my thoughts are turning towards my garden and the garden paving. I have been thinking about how I would like to spend more time in it. My garden went under a huge revamp at the end of last summer, and I'm dying to get outside to finish off this green-fingered project.
Did you know that a great-looking garden can add up to 20% to the value of your home? That's why when you come to transform your outdoor space, you'll want to get everything looking perfect. And that includes picking the best garden paving for you and your home.
That's why, using my expert know-how and interior styling background, I've come up with a buyer's guide for garden paving (YAY!)
7 questions to ask yourself before buying garden paving
Question 1 / What Type Of Gardener Are You?
It may seem obvious but a garden needs lots of love and hard work all year round to look good 24-7. And that includes how you pave your garden. If you want your garden paving to look brand new all the time, then be prepared to do regular maintenance. This is a top tip for garden pavements.
Having a lighter coloured patio (like Buff Sandstone) is the same as having a white carpet indoors – it looks AMAZING but will need regular cleaning to keep it looking crisp.
I'm new to gardening – that is why I'm looking at low maintenance options like Black Basalt, Granite or Porcelain which won't show up the dirt and look better with a weathered look.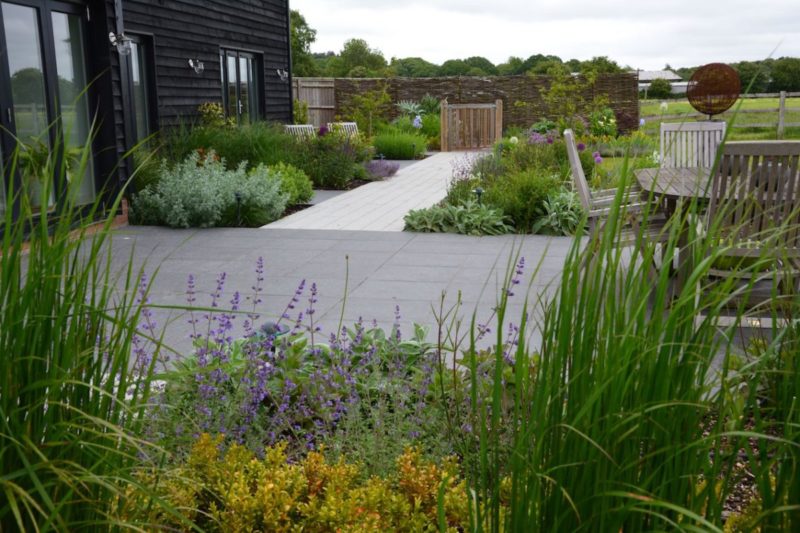 Question 2/ Is It Time To Think About Drainage?
How much rain does your garden get? Surface moisture on your paving stones could cause staining in your paving, and in winter can turn icy causing frost damage.
You can minimise the impact of rainwater on your paving using a permeable bedding mortar during the laying process (just ask your gardener for advice). However, if your garden is quite boggy or is prone to flooding – like mine is – then it's best to stick to granites or slates and avoid sandstones.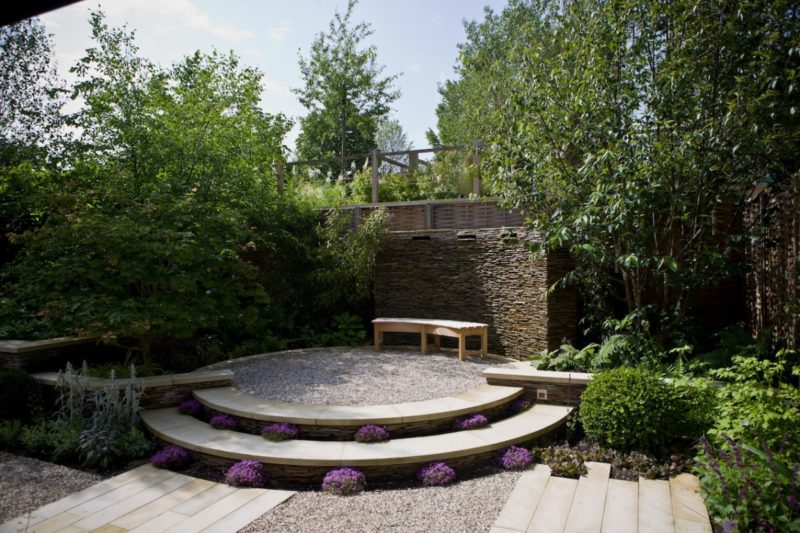 Question 3/ What's Your Garden Design Style?
What paving you put down will pretty much sum up the look of your garden. Do you love modern garden designs? Then look at large slabs of smooth sawn paving that has a minimal style, great for a fuss-free home. If you love that country styling then you'll be attracted to a rustic stone finish of River Stones or Sandstones. If you love a natural look, then look at Buff Pink Sandstone or Buff Grey Sandstone. They have different shades running through random streaks. Fab for adding a natural pattern to your garden.
Did you know natural stone changes colour when wet? Run your paving samples underwater to check you like the wet colour as much as the dry. Basalt goes from a charcoal grey to a deep black when wet – which may be too strong for some. And Yorkstone changes from a sandy cream colour to a darker mustard shade in the rain.
Question 4/ What Do You Use Your Garden For?
If you like padding around in your garden barefoot in the summer months or sitting on the floor with cushions – then avoid granites as they can be particularly rough. Instead, go with a sandblasted sandstone paving which will be nice and smooth. Me personally, I want to practice yoga outside so I want stones that are gentle on my skin.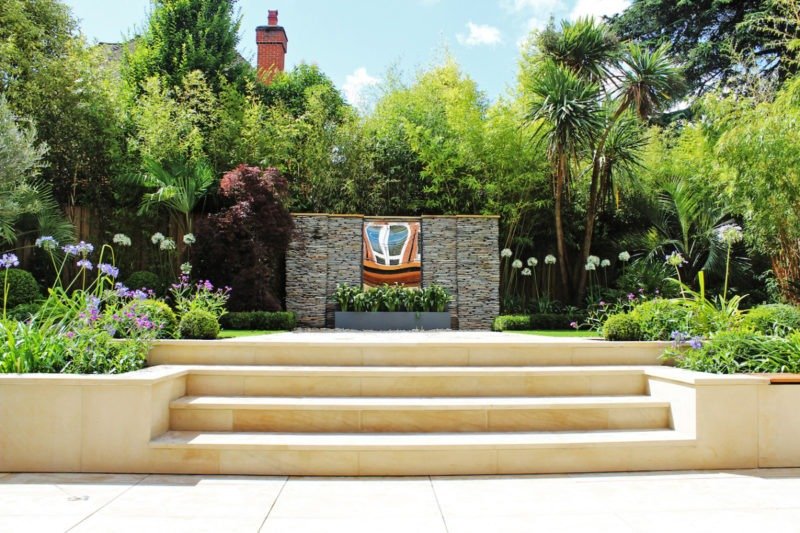 5/ Who Lives in your Home?
If you are concerned about children or elderly relatives (or yourself) slipping on wet paving then opt for textured paving. Stone with riven surfaces are a great option and most granites will have a rougher surface.
6/ Do You Love Garden Parties?
Some stones are porous which meaning that one spilt glass of red wine or a splash of oil can leave unsightly marks on your new paving. If you love a party then a darker shade of paving will hide marks – look at a speckled Blue Grey Granite or Slate.
Natural sandstones are likely stains more easily, unfortunately, so hold this in mind.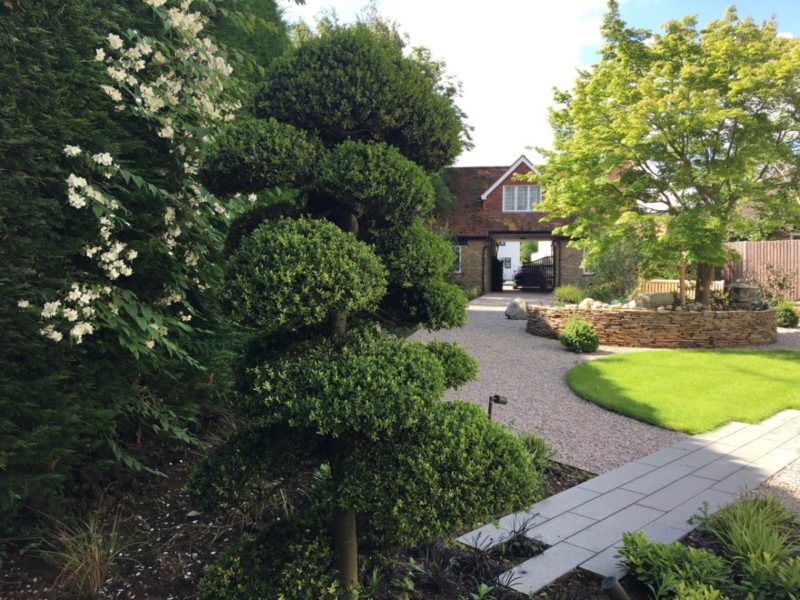 7/ How Much Do You Want To Spend?
For smaller budgets, or for those who like to change their style quite a lot, porcelain paving is a great mid option as they are much cheaper than the natural stone and require little maintenance. Invest in good quality garden paving (as you would with any flooring material inside the home) for it to stand the test of time.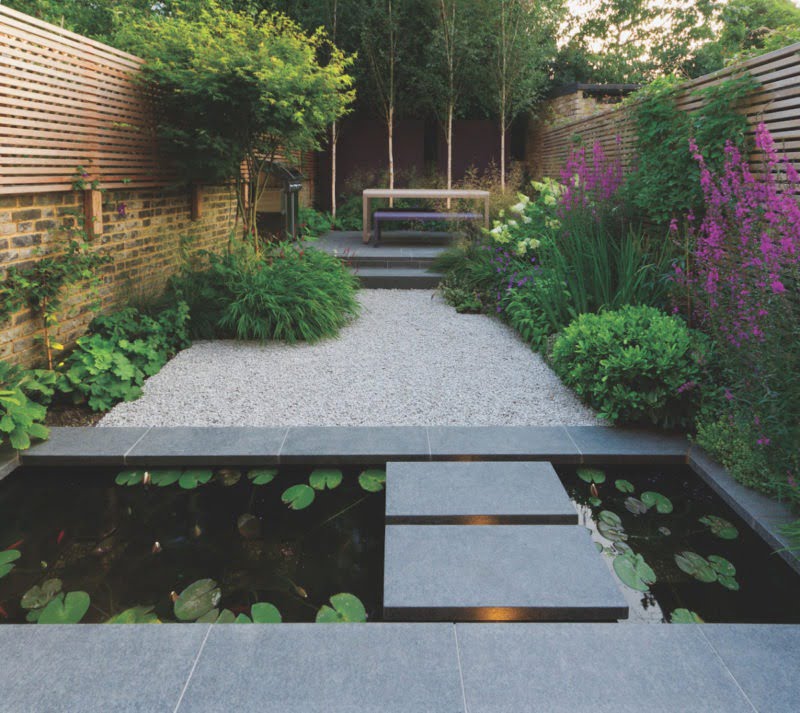 Garden Design // John Davis
Has running through these questions helped narrow down your choices when it comes to your own garden paving? I found it so helpful when designing my own outdoor space. You can see the ideas for my garden over here and the paving I have gone for (warning – it is NOT what you would expect from a stylist) in this post.
My best advice is to start a mood board for your garden, and order in samples in advance to develop an idea of the end result of your makeover.
Hope you have a good week.
Maxine
••Disclaimer. This is a collaborative post. All opinions and thoughts are my own.