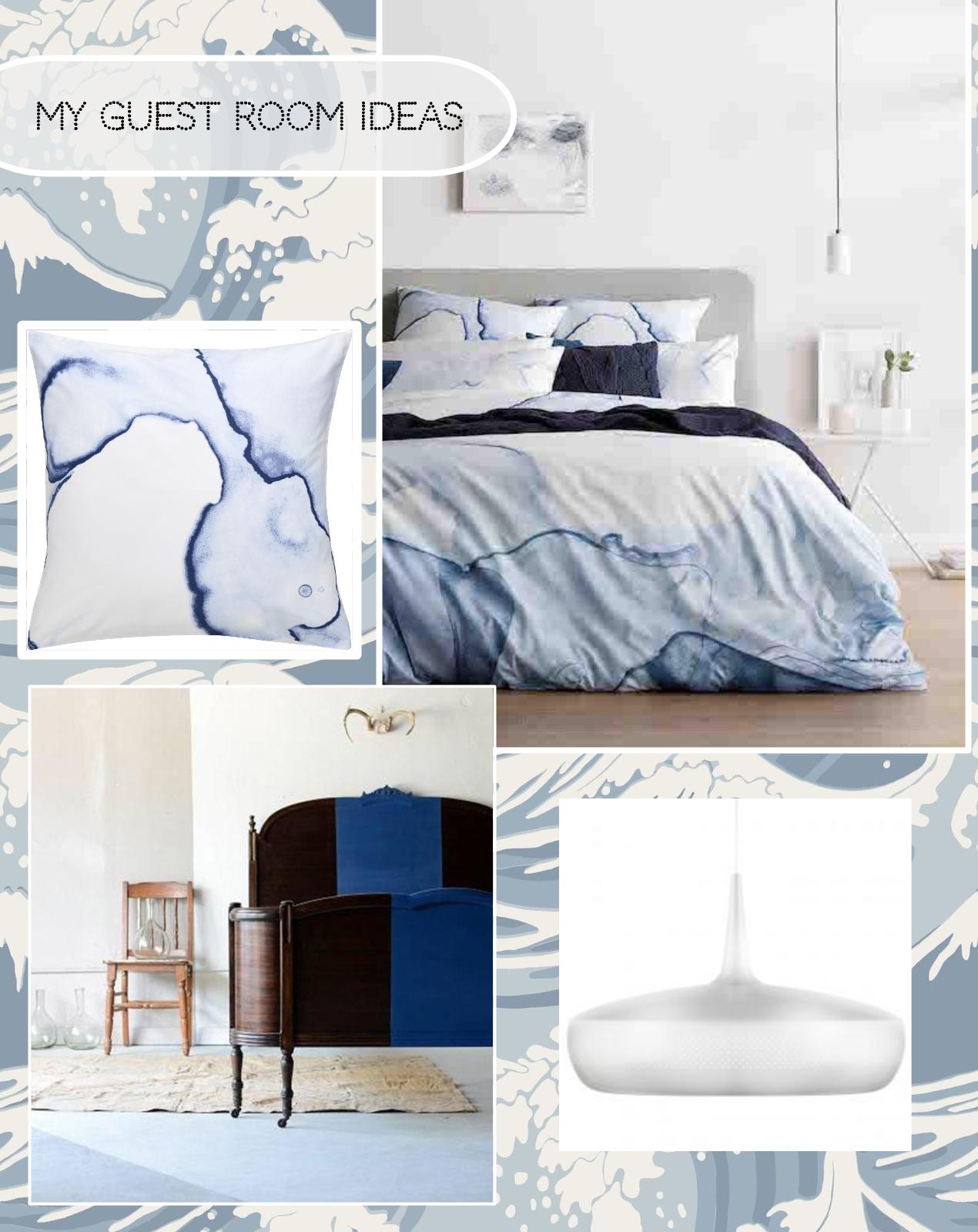 I've just had my spare bedroom re-plastered from top-to-bottom so I have a blank empty shell of a room. A stylist's dream! I've BIG makeover plans for this space. I want to go a little bit wild and crazy – as it is the guest room after all – but I keep chopping and changing my mind.  In the end, I've done what I do best – mood board the heck out of this room. Take a look – and help me decide what works.
I've not really talked much about my spare room on here. Mostly because it's been an on-going project; a labour of love. I had the leaky windows replaced with beautiful uPVC sash look-a-likes. The boiler was replaced which was a messy job. The boiler cupboard was remade. I had the radiator replaced too. Over the past year, the room had three different beds (blow-up mattress, cream ironwork one, now a beautiful dark Edwardian wooden one). One of the walls was bare plaster, and the rest were covered in Artex. Basically, grim. My youtube video with my 1st ever home tour is shows the room in 3-d if you fancy looking at the horror show.


The room has been used as a flat mate's room, a man cave, a home office and now it is a lovely guest room one again. My idea for the decoration was to go for a bold wallpaper that makes a style statement – a real talking point. I had been looking at teal, yellows, soft blush pinks, bird and cloud wallpapers. You name it, I have probably researched it. If you follow me on Facebook you would have seen every single option pop up on my news feed.
After long, long chats with my friends (bribed over to look at my room) over a glass of wine, I've settled on the colour blue. One thing, it is my favourit colour of all time. Secondly, it is calming and peaceful shade. It's also gender-neutral (important if I want to rent the room out again in the future) and it is sits well with my coastal-lifestyle. I did a bit of research on-line and found this blog post on What Impact A Room Colour Has On Your Sleep? – apparently blue has a calming effect which is just the ticket. Well that's the easy bit out the way…now what shade of blue….navy, teal, sky??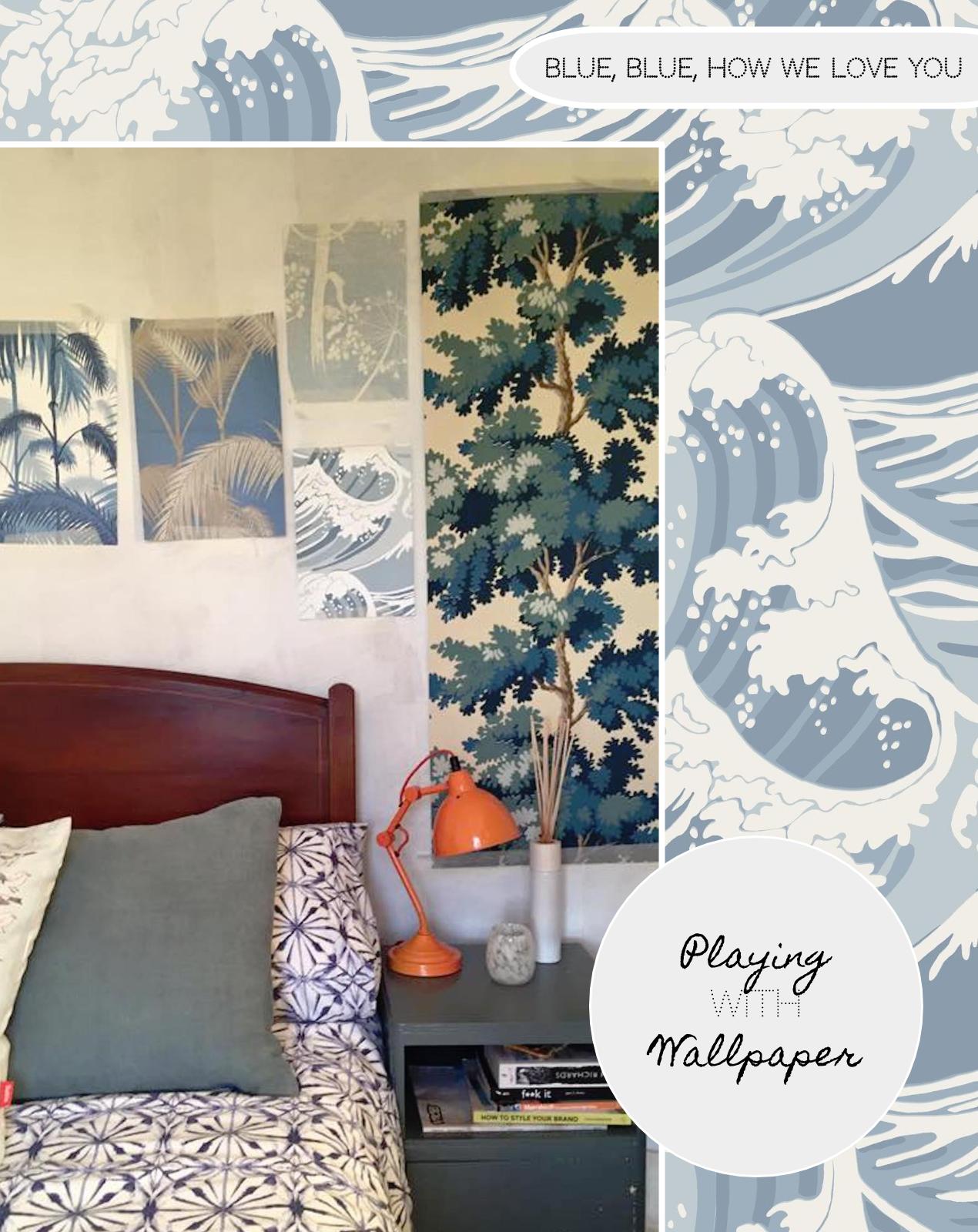 I started by sticking up wallpapers samples on the wall and then living with them for a while (and asking every guest their thoughts). I narrowed it down to (from right to left) Raphael by Sandberg but the cream background didn't work with my grey house. Cole and Son's Cow Parsley – I had this in my last home so felt like cheating to repeat it. Great Wave – which is inspired by a Japanese artist Hokusai. And then two on-trend Palm Jungle prints, again by Cole and Son. There you can see the colours in action. They all kind of work with my vintage furniture and my bedlinen.
It was my mum who said go for Great Wave. I was quite shocked! She usually tried to rein in my ideas. And she said sod just doing a feature wall – that is so last week – instead she said go for it and WALLPAPER THE WHOLE ROOM! Once I got my head around it (and googled a million images of this wallpaper in other people's homes), I had to agree with her. The pattern is very fine and it is a busy repeat but when decorating a small room I think you can just go for it, and break up the pattern with art and mirrors and colourful accessories. Just look here>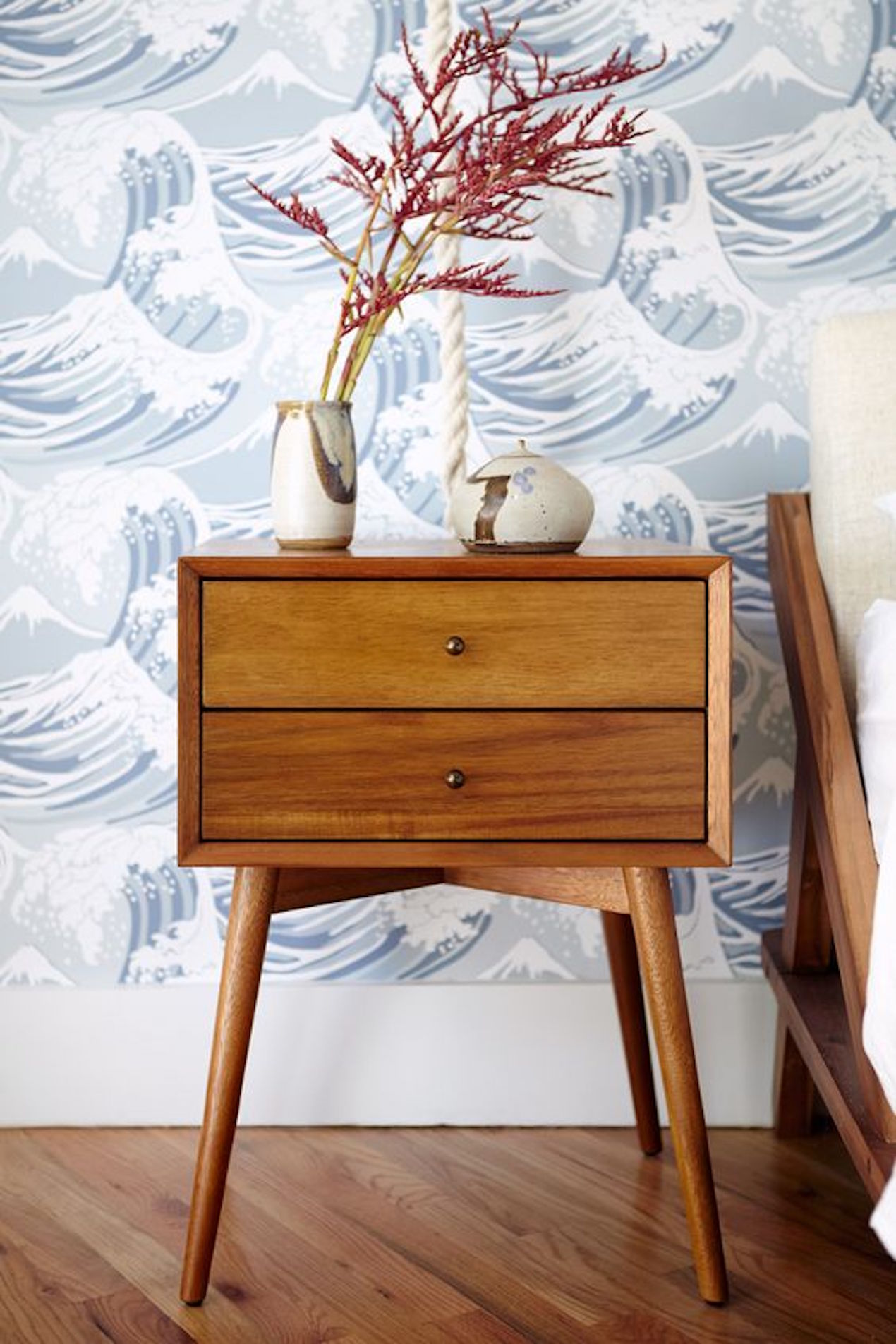 Love the retro furniture with the Great Wave wallpaper. It sits perfectly. So the wallpaper is on order – job done! Now what to do with my furniture….I very kindly inherited my bed from a lovely lady called Kirsty. I shot her home for Good Homes magazine and she was having a major turf out including the dark wooden bed which she said I could have. I love that is it high, unlike low level modern beds – that way I can shove a ton of stuff under for storage. I've never had dark furniture before, so I'm a little lost as to what to team it with…until I spotted this epic idea below on How To Modernize Your Vintage Finds on uber blog Apartmenttherapy. And there we go, that's my latest up-cycling project right there. I'm going to use in Stiffkey Blue by Farrow and Ball.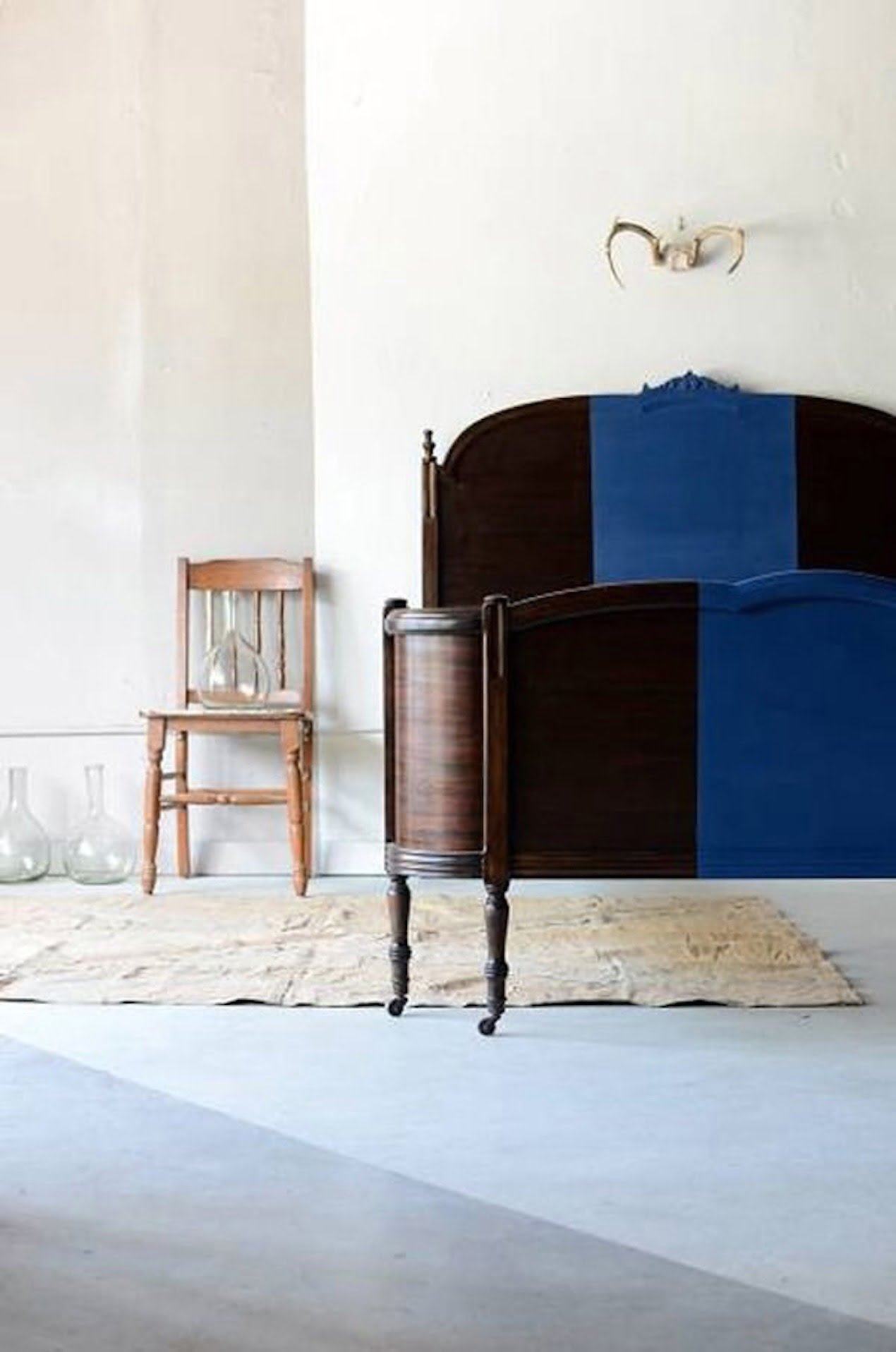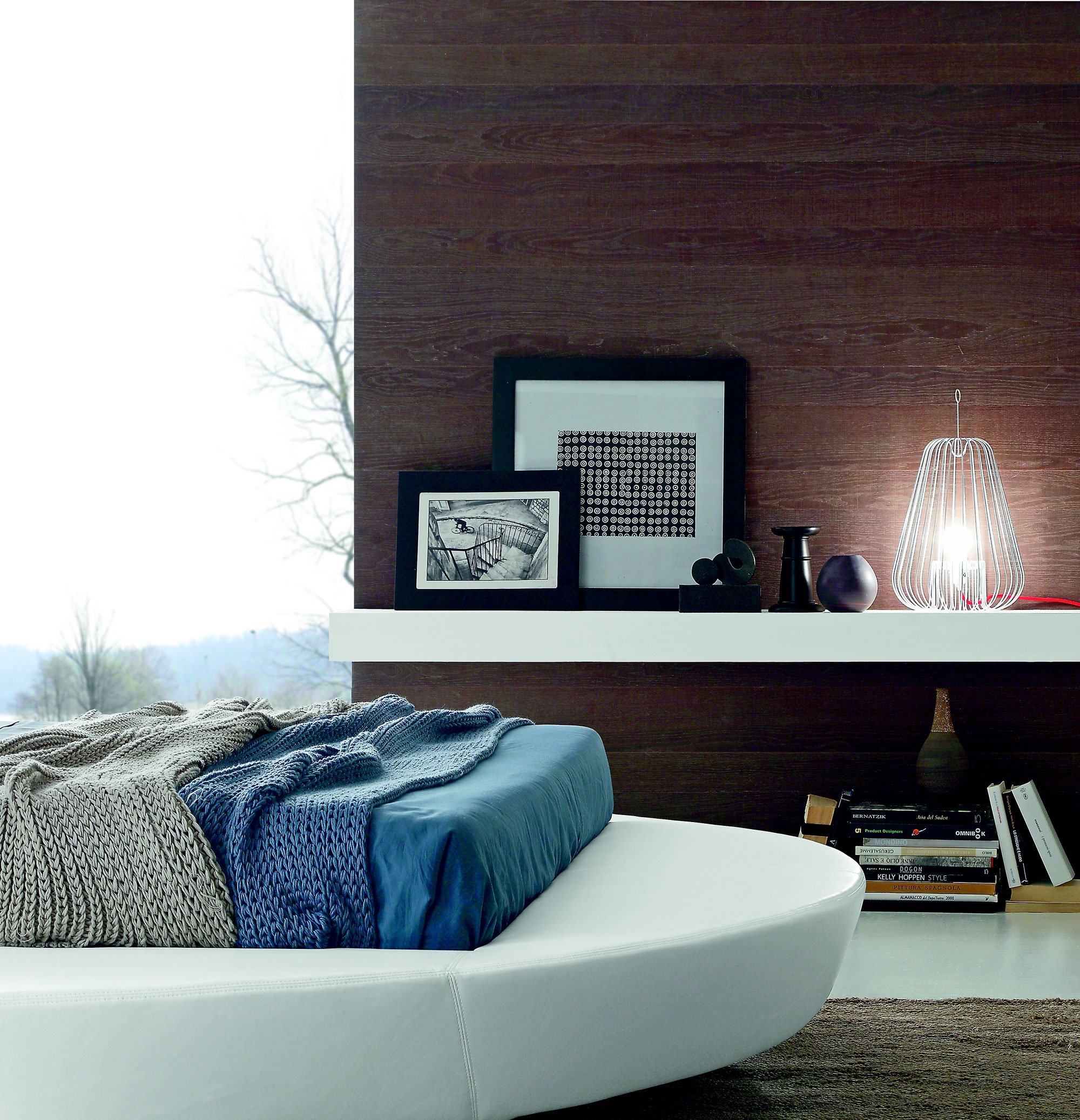 If I intend to have friends stay over or airbnb guests to be in the room, I've decided I need to upscale my mattress. I'm a notorious bad sleeper – up all hours but when I sleep on a memory foam mattress I have much deeper and undisturbed snooze. After a bit of research, I've decided to go for an UK standard double memory foam mattress by Ergoflex (which is in the sale right now, result!) It will fit on my existing bed base so no need to change my bed. I think as I'm expecting people to pay to stay in the room, it's worthy investment – as most of my reviews on airbnb comment on how comfy the bed is.
When I'm  thinking about room makeover, I tend to be on high alert for accessories that will work in the space. At the Sheridan bedlinen press event, I zoomed in on their latest range called – Lake Cave – it's so new it's not even out yet. The watercolour print is just perfect with the Great Waves wallpaper. If I'm going to upgrade my mattress and up-cycle my bed, then I really should finish off the look with beautiful linens.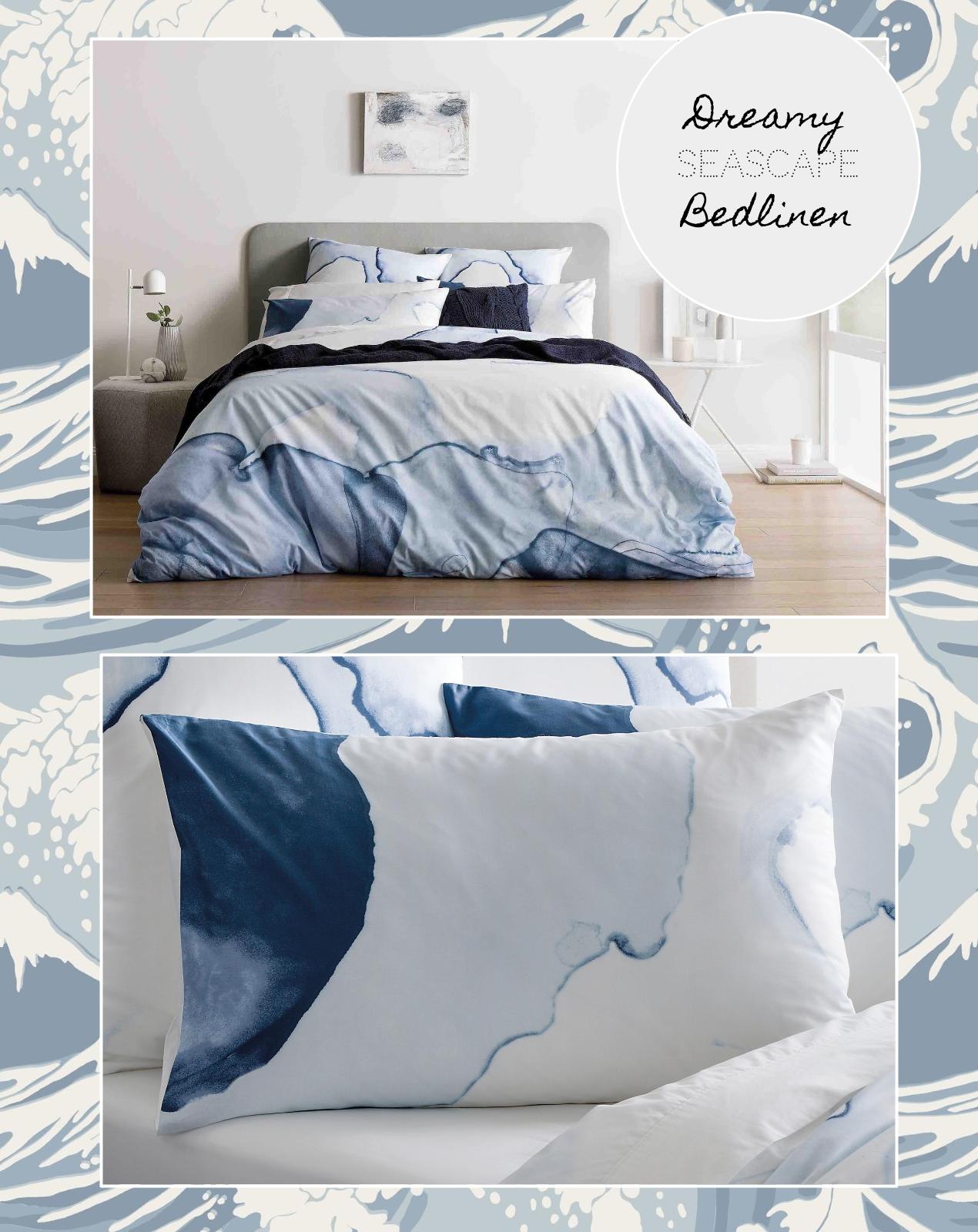 I've done well so far I think. I've pinned down the wallpaper, mattress is on order – paint brush at the ready to vamp the bed. I adore this light fitting called Clava Dine by Vita. I'm going for the same Hillary's wooden slatted blinds as in the rest of the house to give a sense of continuity through my home – you can see them here in my living room. I was going to get my sister to make me some curtains, then I 'popped' into HomeSense and got these amazing DKNY curtains for £34.99! It would have cost twice as much to make them  – best impulse buy ever!
Now I have to work on the finer details, like the overall feel I want for the room. I could go one of two ways….
The first is a warmer, deeper richer look with more indigo blues and splashes of colour like lemon, strawberries or acid orange. I think this might be my think as I did a mood board on this ideas last year here. Or…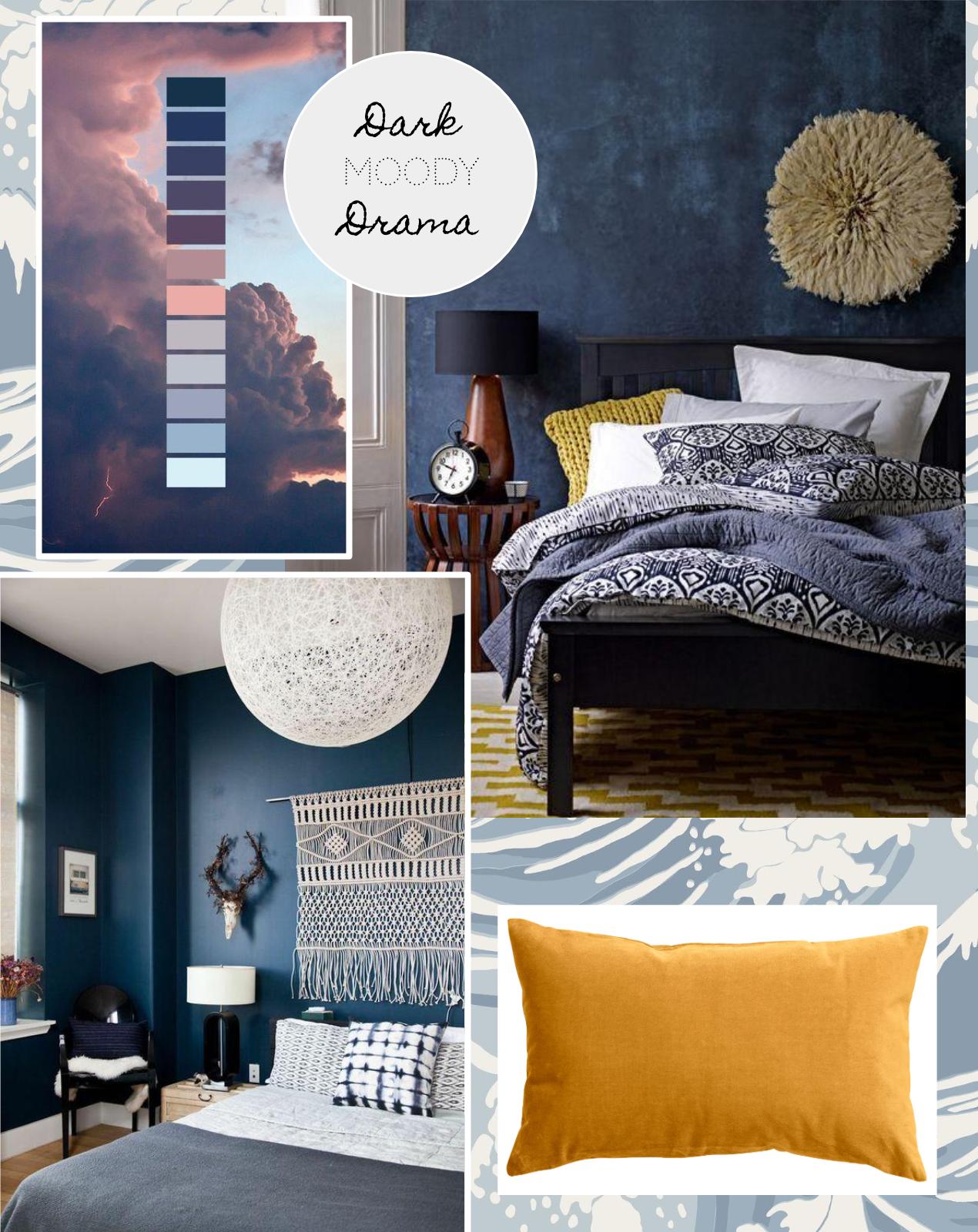 I could keep it soft and calm with blush pinks, rose gold and stripped back woods.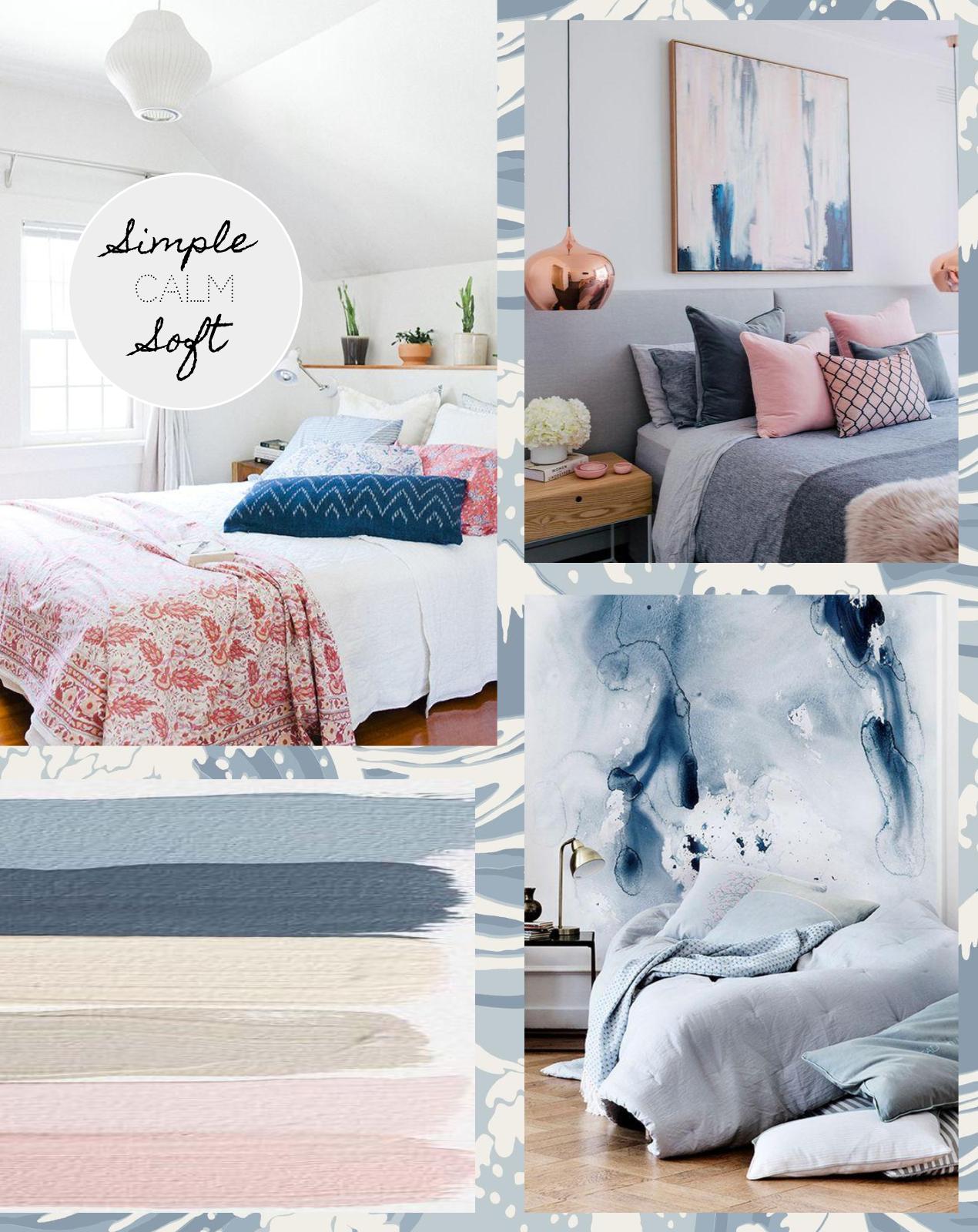 I've got my decorator booked to come in TWO WEEKS – no panic there then! All I have left to do is to pick my curtain pole, curtains, choose new carpet and a rug. I know I want a vintage shelving unit up in the alcoves for my books and some trailing plants. I've also got to paint my mini-wardrobe and the bedside table again. I also want to hang a plant pot thing that I picked up from Ikea as I think plants will breath life into the room…not much to do then! Still looking for rug ideas and am open if you have any suggestions.
I'll be charting the befores and afters of this guest room makeover on here over the next month or two as it happens. My Facebook page is great if you like an instant fix from me.  If you want to see my other makeovers then take a look at My Bathroom Makeover, Replacing My Staircase, My Garden Revamp, Bedroom Revamp Tricks and Adding Metallics To My Living Room. Lots of ideas there for you.
What do you think of my plans so far? All my images above can be found on here.
** Disclaimer….some of these products have been sent to me for review. All opinions and thoughts are my own.