These past few weeks I've been decorating my guest bedroom ready for Summer. The key item that was missing from my room scheme was an amazing, show-stopping pendant light. That's until I discovered the Scandinavian brand, Vita Copenhagen -now go-to store for beautiful lighting. Have you heard of them? They make beautiful pendant lights all inspired by nature.
Their range of light shades are breathtaking. And, after spending endless enjoyable hours snooping on their website, I've selected my must-have shades for you to enjoy. And at the bottom of the post, I'll show you which one of these light shades I've picked for in my guest bedroom.
**To be clear – this is not a sponsored post – I just loved the lights and wanted to share what I had picked out for own home**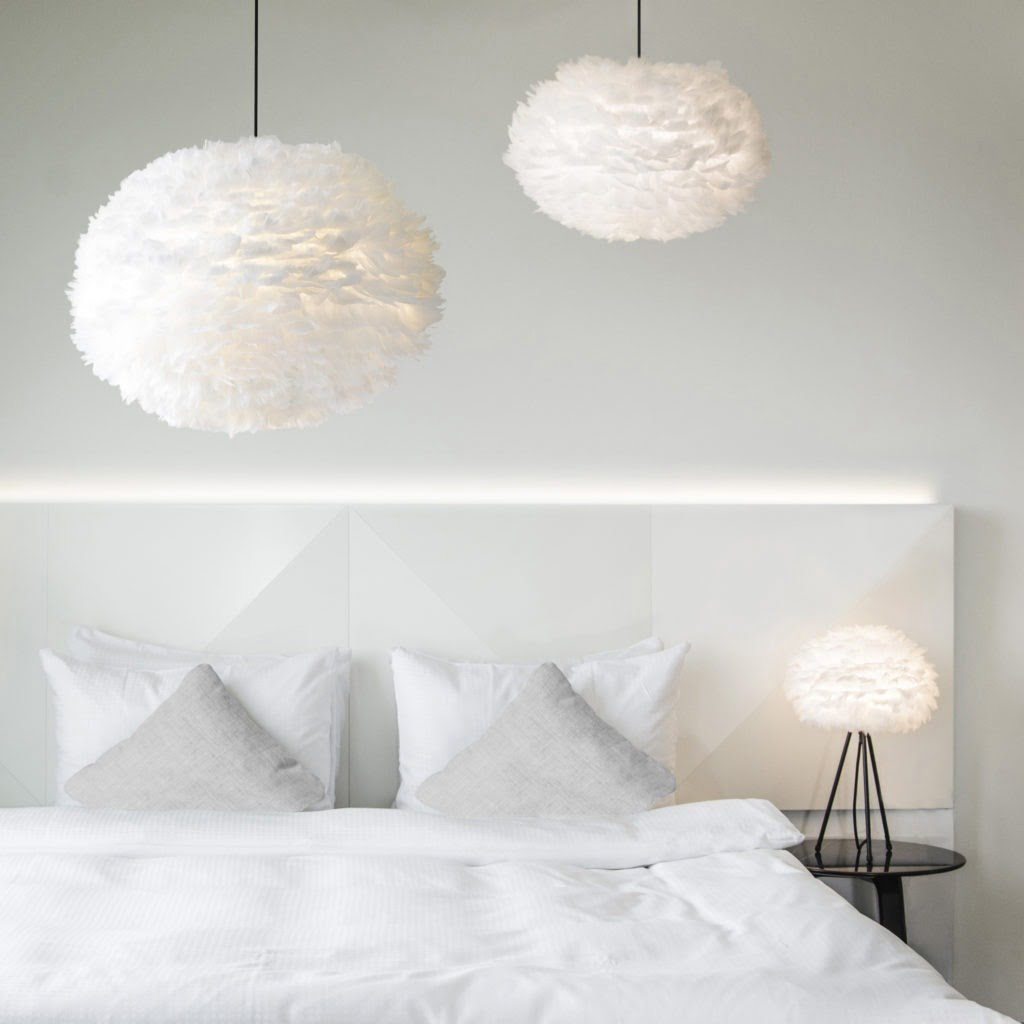 Eos shade, from £49
Shopping For Modern Lighting With Vita Copenhagen
What attracted me to this brand of Scandi lamp shades are the shapes that are directly inspired by natural shapes from Nordic coastlines and landscape. The brand have made this the core of their design which you'll start to see when you look through their wide collection.
In my bedroom, I already have one of these fluffy delights above called the Eos lamp shade which has given a contemporary edge to my girly pink room scheme (you can see it insitu HERE).
The Goose feathers diffuse the light coming from the bulb to give a soft glow which is ideal for a bedroom setting. And the feathers also give it a natural shimmer, and you have to clean it by blowing a hairdryer on it!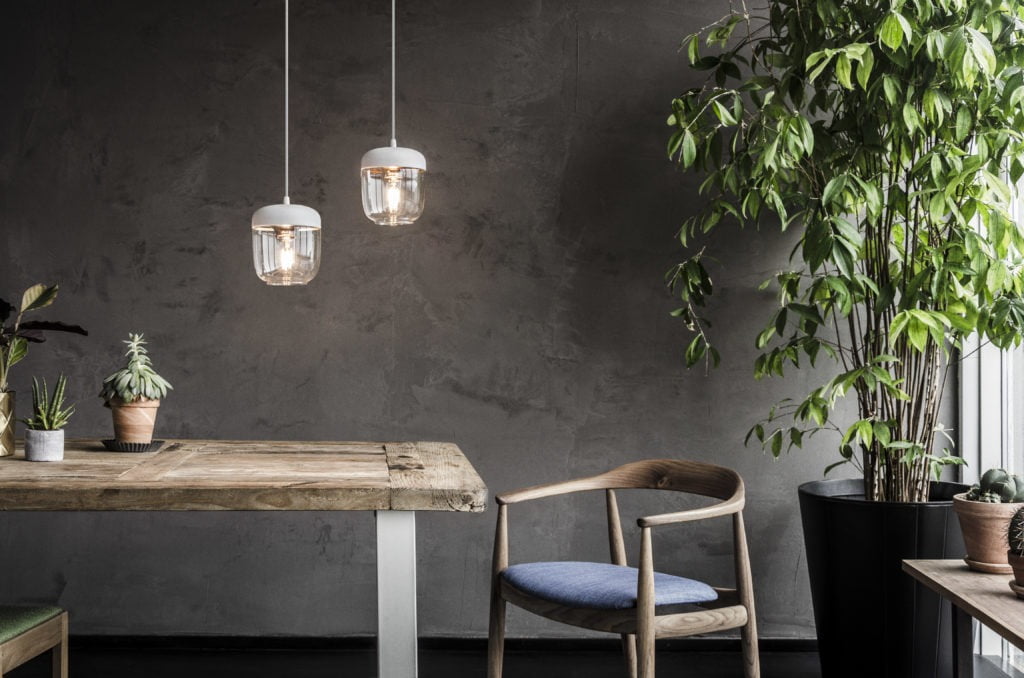 Acorn, from £64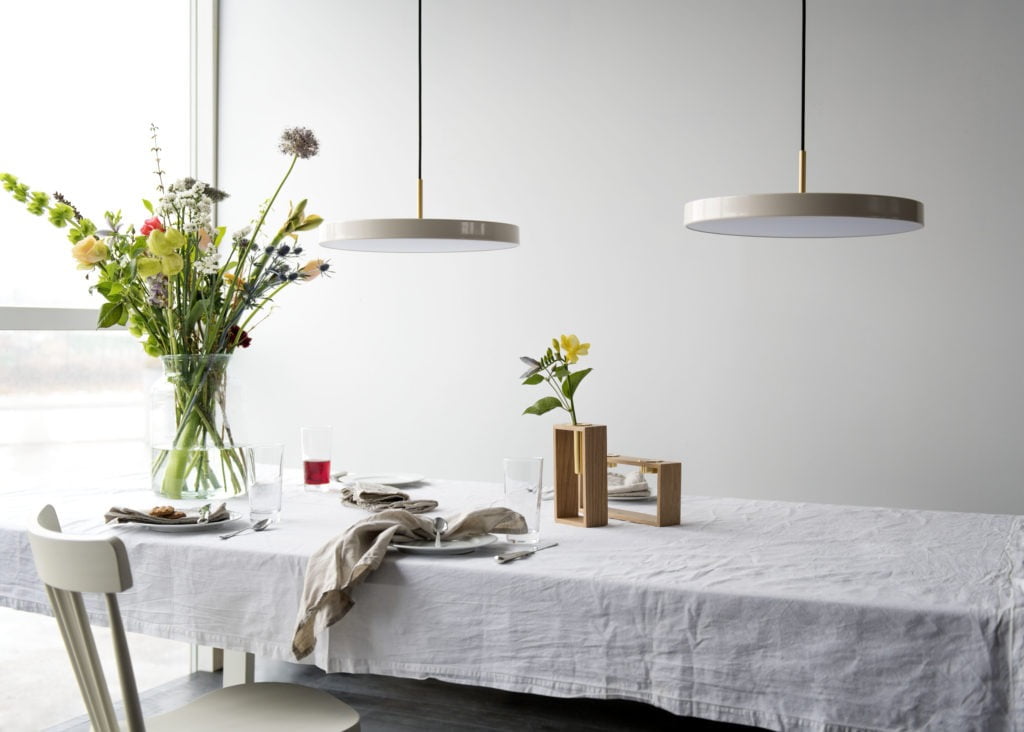 Asteria: £179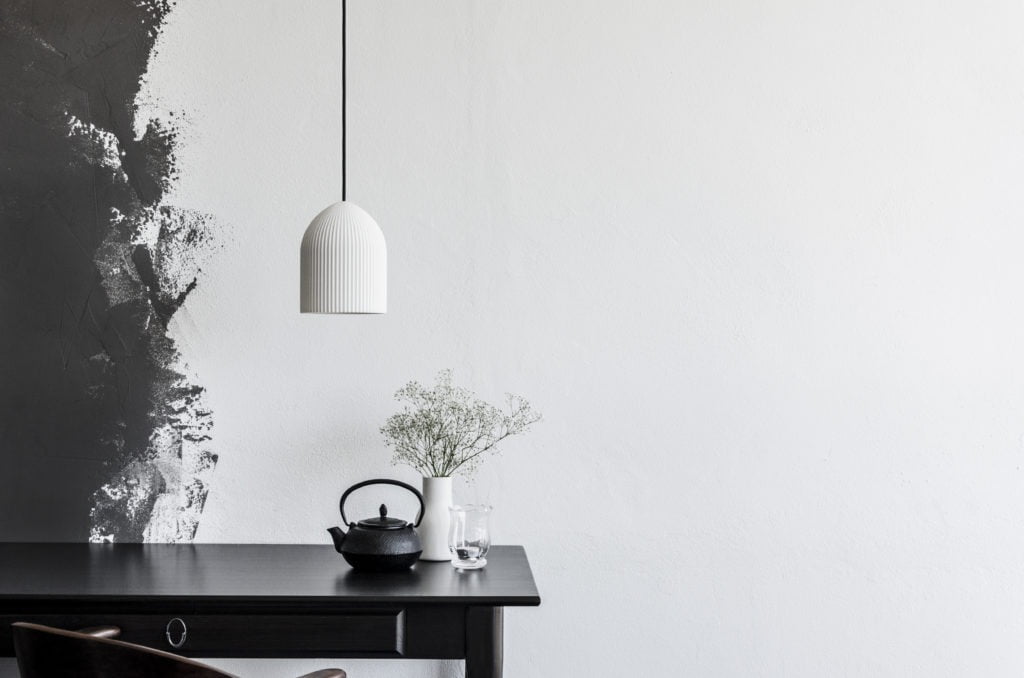 Ripples, from £55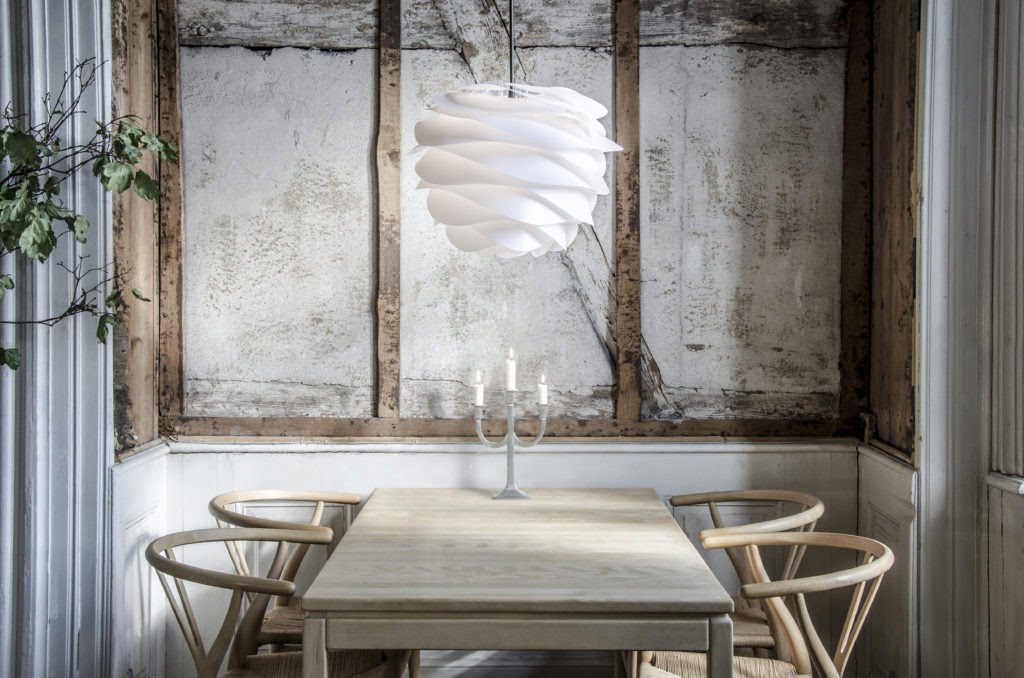 Carmina, from £49
Sleek Choice For Your Kitchen And Dining Room
The lamp shades are a cool update on the cluster lamps that have been a big trend in interiors for the past three years. Although these shades are very modern, I think they work well in a more classic home style – where they will add that much needed contemporary touch. Just look at the shot above – wishbone chairs and a stripped pine table, with the battened walls that sits so well with the Carmina folding shade.
They work so well hung above a kitchen counter, where they will make your kitchen look less 'kitchen-y' and more like a room – ideal for open-planned spaces.
The Ripples and Carmina pendants are both inspired by water and beaches of the Nordic coastline  – and now I say that – bet you can see it too.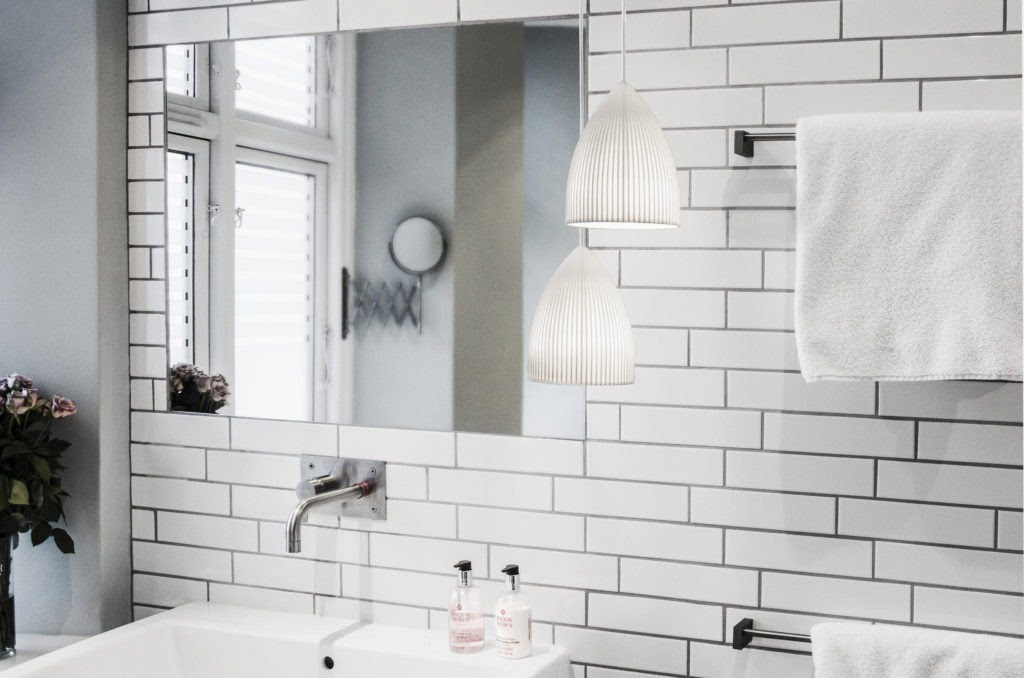 Ripples, from £55
Bathroom-Friendly Lighting
Some of the shades from the Vita Copenhagen range are made from silicone which makes them ideal for steamy rooms like bathrooms.
If you are stuck on what shade to go for – try out their FREE handy app called 'Unfold At Home' which is on the app store. It's a virtual reality app that helps you visualise their range of lights in your home using your camera phone. It's like shopping without leaving your home – ideal if you are anything like me, and couldn't decided what to go for.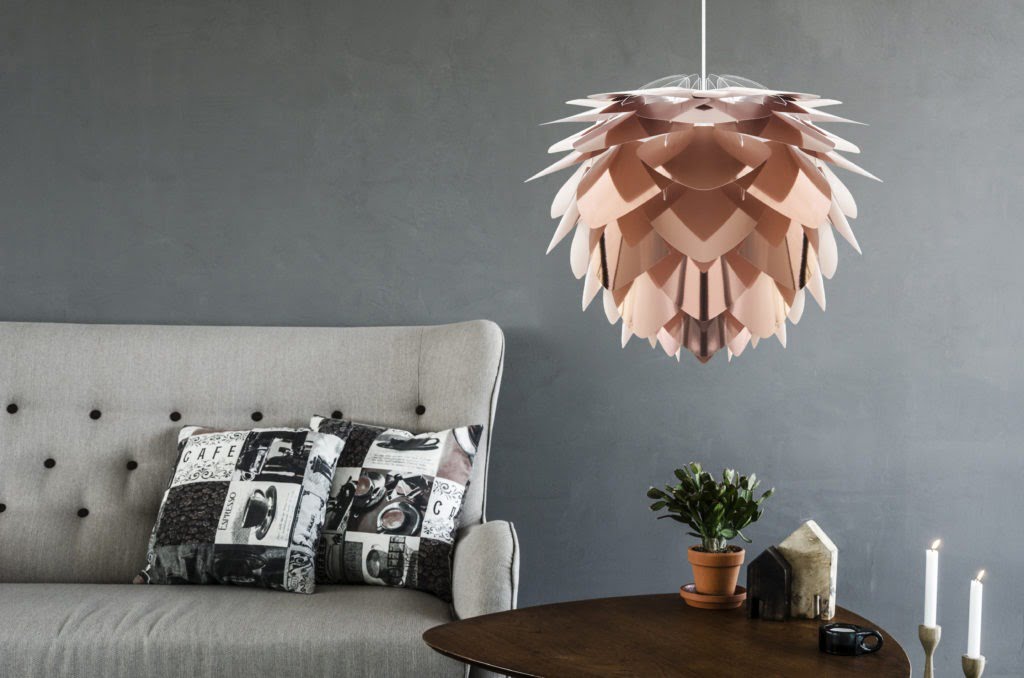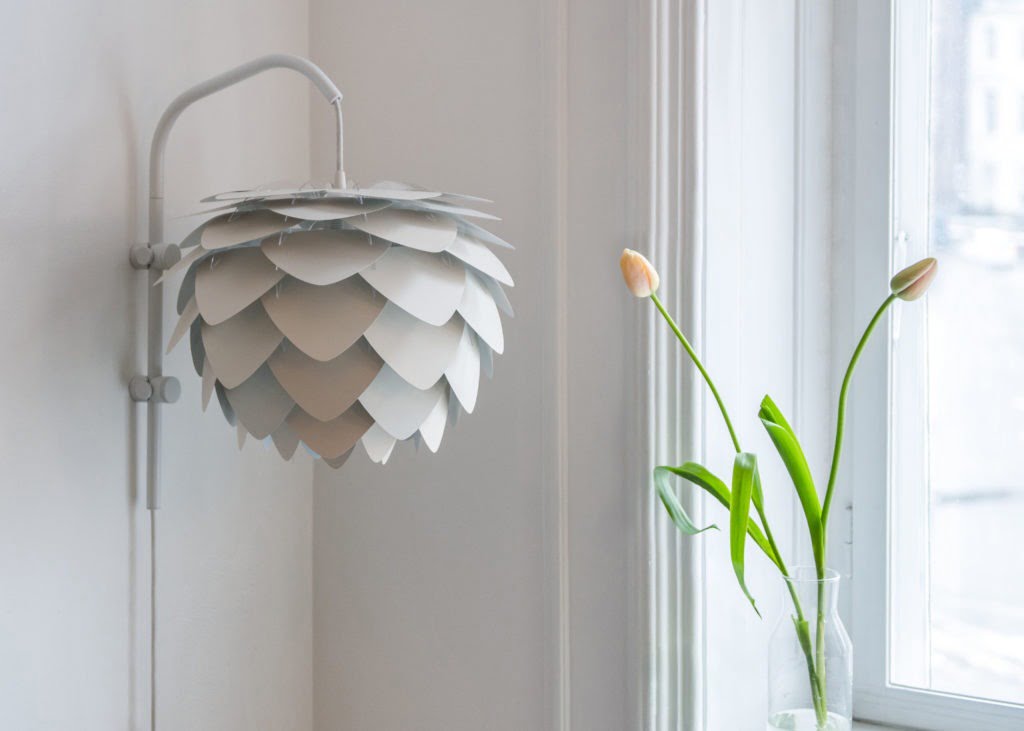 Silva, from £64
Illuminating Your Bedrooms
One of their shades that I think works so well in bedrooms – is the 'Silva' – which looks like an artichoke with pealing leaves. It's a shade that you build together in pieces – and then can either use as a pendant, wall light (using their handy fitting) or as a table lamp. The range comes in white, grey or (for a spot of sparkle) blush copper tone. Don't you think this would be a great way to modernise a space?
You can buy their Willow wall mount (named because it echos the curved of a willow tree). Or they also sell tripod table or floor stands that fit most of the designs, so you can move your lampshade around your room as your home evolves.
All the lamps come flat-packed in reduce storage and transportation costs, and to make their designs more accessible and affordable. And by doing this, they have reduced their carbon footprint which is better for the environment. Which is a great ethos for a company to have these days when we are all trying to do our bit.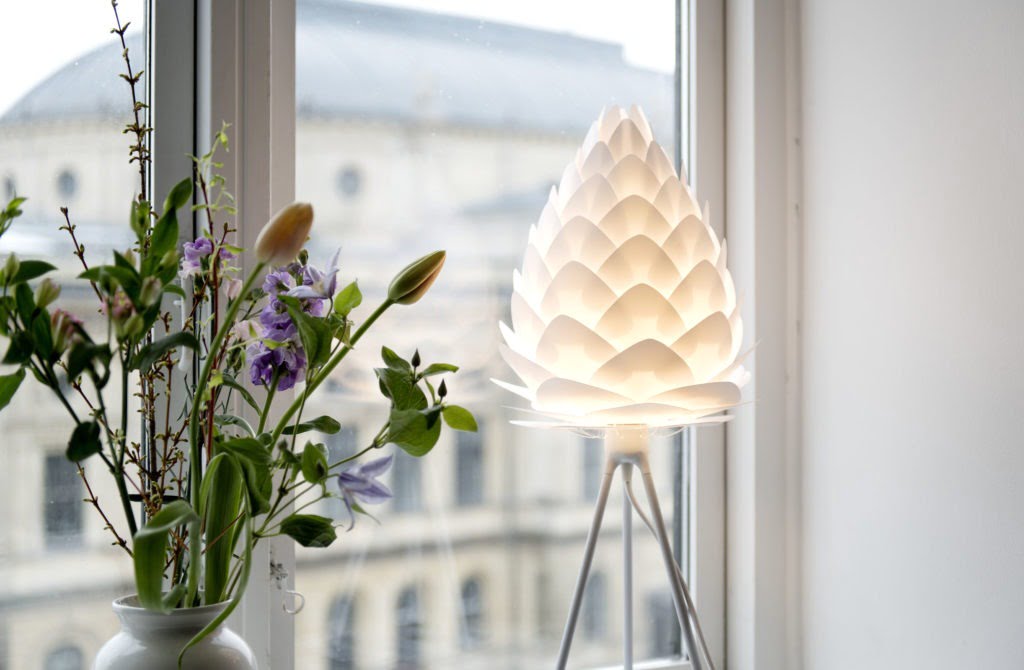 So which one have I picked? After much humming and ahhhing, I decided to go for the Carmina in my guest bedroom. I have Cole & Son 'Wave' wallpaper on the walls, and I thought the shade of the shade echoed the design beautifully with it's coastal inspired shape. I'll be posting that makeover very soon.
Which one do you love the most? Know someone looking for new lighting in their home? Why not share this post with them?
Love
Maxine
You May Also Like
Ideas For Your Kitchen Lighting