This is my second posts with lighting design expert Sally Storey from John Cullen lighting. She is on hand to solve all my lighting dilemmas. The kitchen is one of the most important rooms in the home to light properly. Here's 12 expert tips on how to update your kitchen lighting making it just perfect.


What Sally doesn't know is that I have been plotting and planning my lighting questions since last month. After getting my bedroom lighting sorted in this post, I now want to use lighting to brighten my tiny kitchen and really show it off to it's best.
I had my kitchen installed last August (you can see the before and afters here) and I went for the basic spotlights up above as I didn't really know any better. Since then, I've learned that lighting can make a room. Time for a change.

Me: Hey Sally! What are the 4 most common mistakes when it comes to kitchen lighting? And how can I avoid them?
Sally:  Firstly, in the planning stages of your kitchen – avoid fitting downlighters or spotlights in a classic grid standard grid shape. Instead fit them over areas in your room where you work, like your kitchen worktop or above your sink. Use a switch line to light up the front of cupboards and on top of your tall unit. All this will provide a good reflected light to cook under.
Secondly, Don't forget your task lighting!  Choose a linear LED strip which is low heat compared to old fashioned spots. I can not stress how important it is to use an extrusion (a channel with a cover that the LED strip fits into) so the source of light is diffused and easy to clean. John Cullen Lighting's Contour HD27 (see the picture below) in a 12mm extrusion is perfect for you.
Thirdly, control your lighting properly. Why not put your kitchen lighting on a dimmer so that you can change the mood at the flick of a switch. This is handy in a kitchen when you want it to be bright during the day and create a more intimate feeling for dining at night.
And finally, add different layers of light especially in a kitchen.  What about adding lighting to your kick plinths ? Or light up your kitchen door? Lighting these different areas will add interest to your room.
I sort of stuffed up at the planning stage but there is hope that I can make some other changes to make my kitchen lighting work harder. I'm planning to add lights to the bottom of my shelving unit. I'm going to look into lighting up the top of my fridge too. Sounds easy to do without a total re-wire.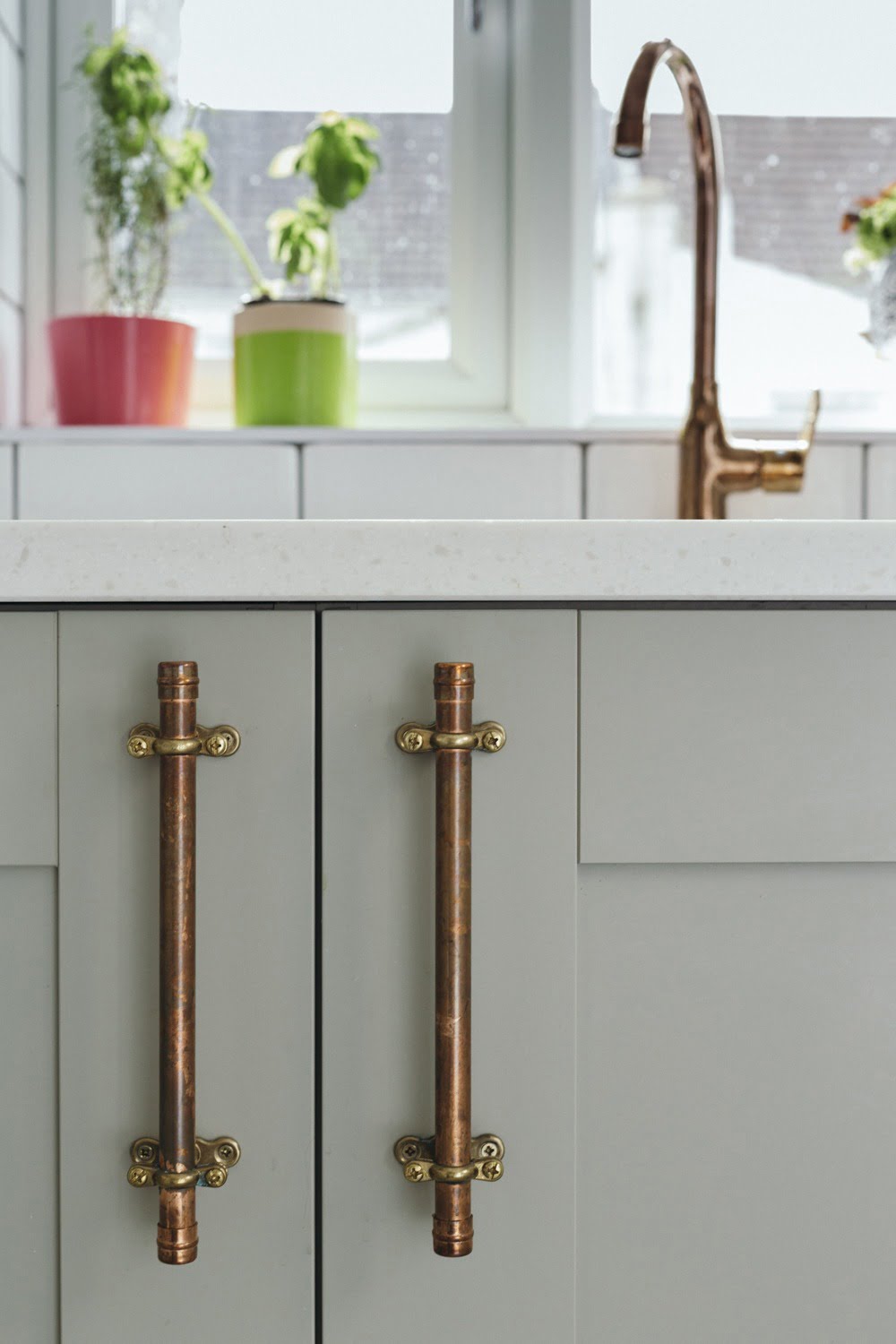 Me: I love my patterned tiles – is there a way to highlight my flooring with lighting?
Sally: To highlight a floor consider adding a strip of light at under the bottom of the cabinets. This gives a lovely soft glow. Then set small Cazallas into your kick plinth for a more dramatic effect. Light up your steps to with Oslo LED steplight.
I've never heard of Cazallas! I had to google that. Now I know what they are – I'm keen to had about 6 to my room to make it glow at nighttime.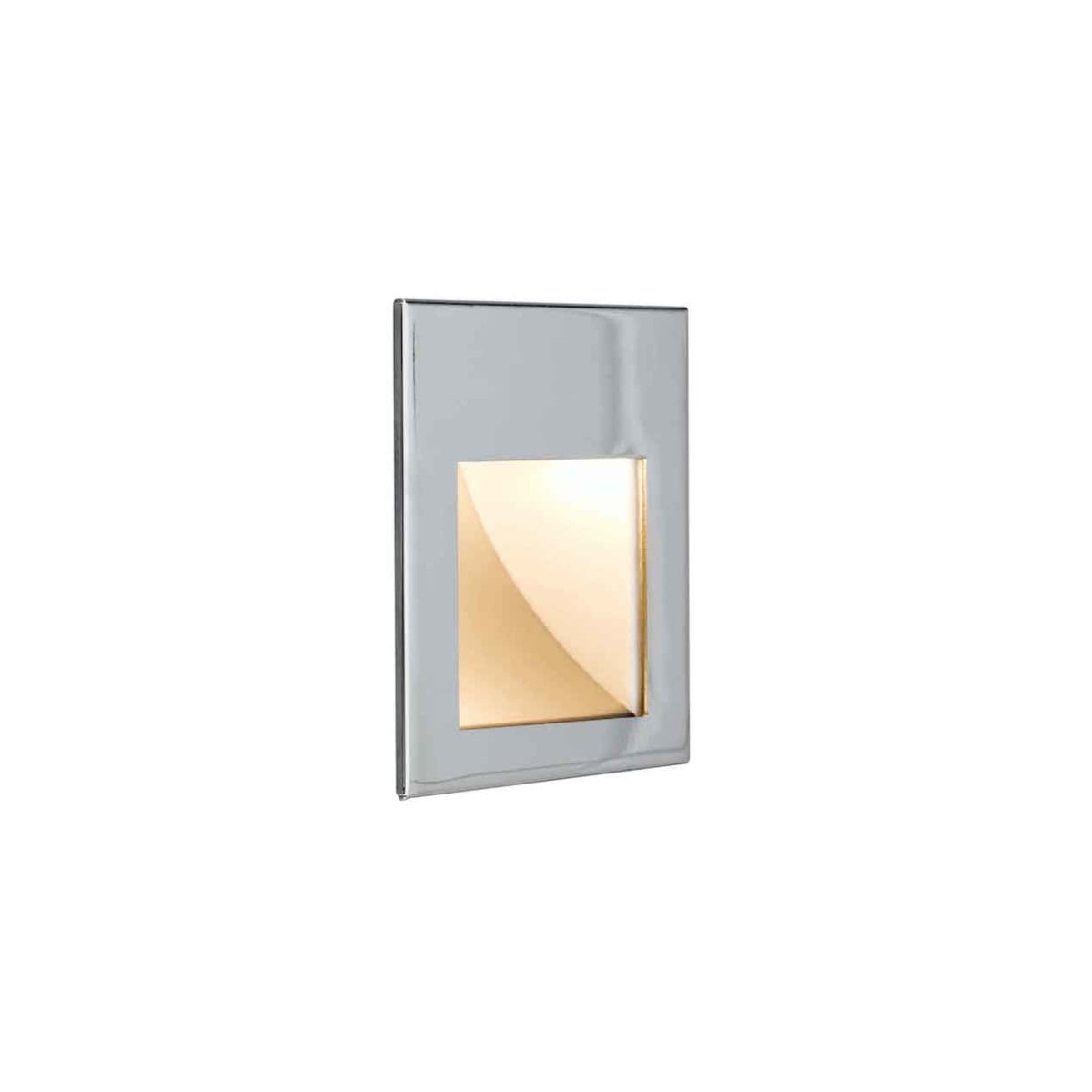 Me: At the moment I have spotlights but eventually I would like to replace them with a real show-stopper of a light fitting – Any suggestions?
Sally: Pendants are amazing at making your kitchen look warm and intimate. Avoid anything too elaborate as cooking grime will cling to the fitting. I love Skandium who have a great range of pendants to choose from including the wonderful Octo Pendant by Secto which would look amazing in your room.
Adding a pendant light is a great idea but make maxium impact by adding two Polespring LED 10 degree fittings to create a narrow focus on a specific area of your kitchen – like your hanging herb holder or art on the walls.
I love the lights at Sally has picked out for me. I've been dying to fit a big statement light in my kitchen (it's my latest obsession) and I like the idea of one that is easy to clean as my kitchen does get very steaming when I'm cooking meals. And no, I'd never heard of eye lights…learn something new.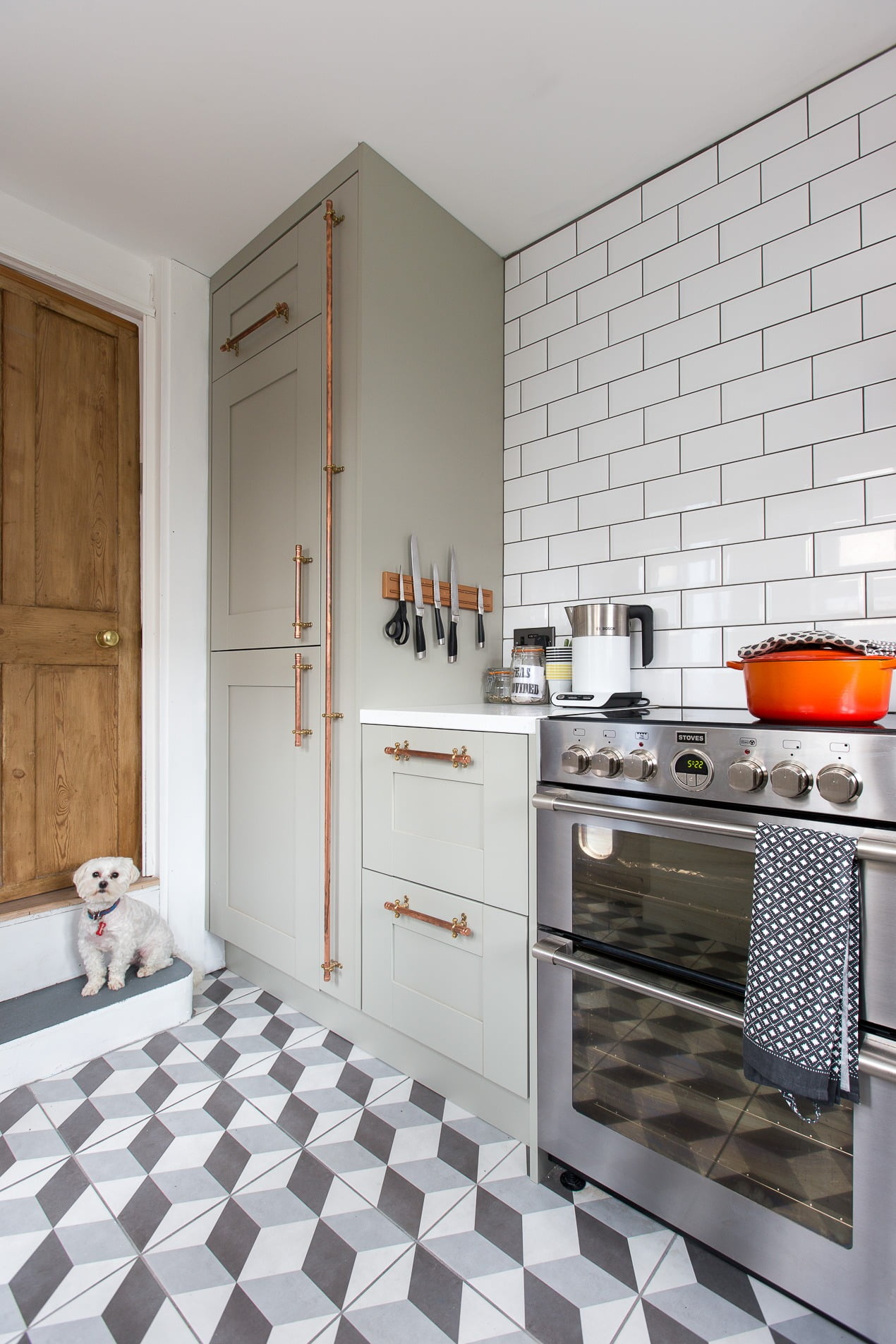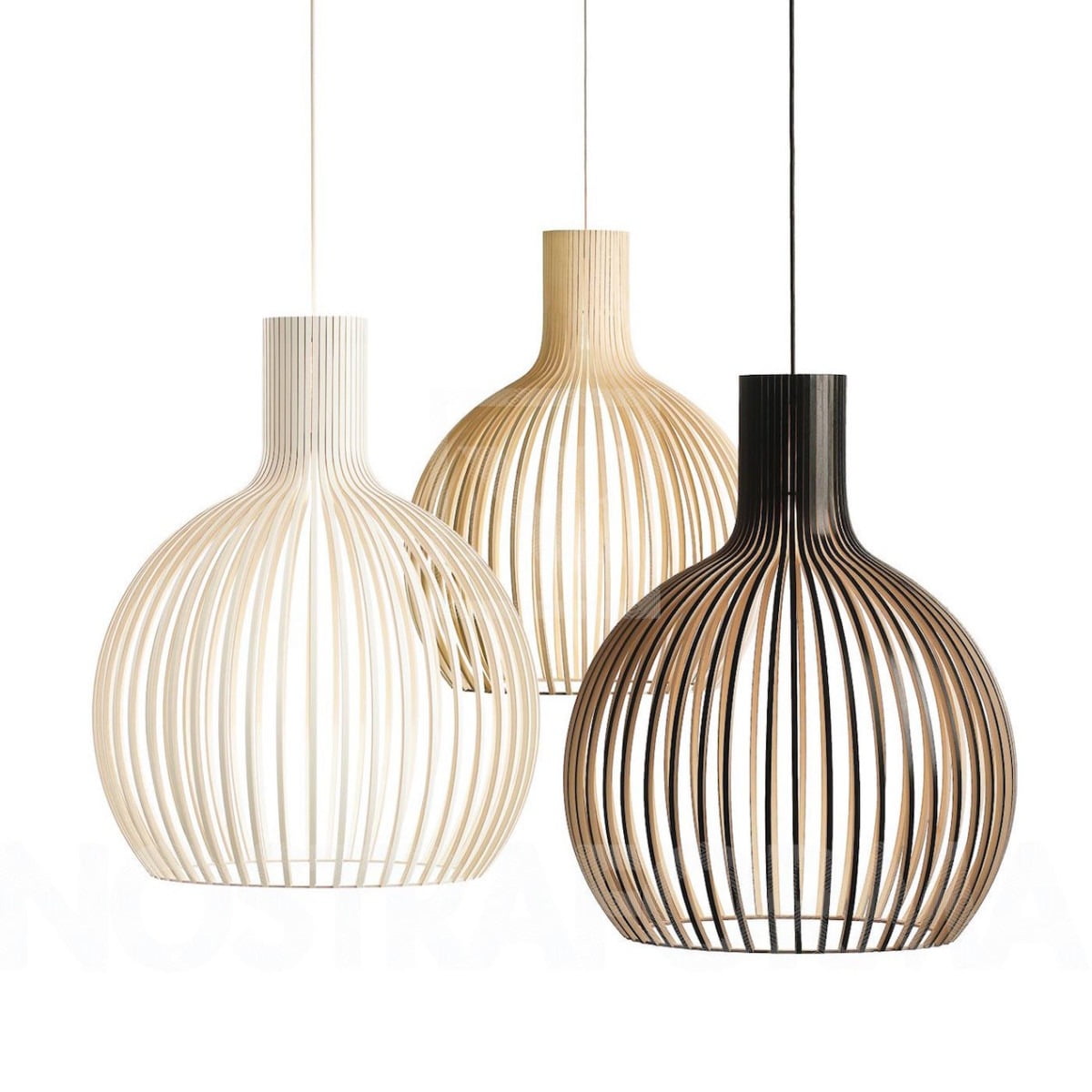 Me: I don't have wall units – but I would love task lighting under my shelving bracket – is there anything you would suggest?

Sally- Have you heard of eyelid lights? They are small lights that are fitted into the recess of your base unit and provides a soft scallop of light. These are ideal if you have polished worktops like you have. This type of task lighting avoids a shadow being cast when you're working in the kitchen.
You could fix an LED strip onto a piece of timber or piece of copper pipping and then hang in strips down your wall. This can look quite dramatic as a task light. Or drill cupboard eyelid lights to your wooden shelves to light downwards and at high level used an eyelid as an up-lighter.
Then fix a clamp style lamp to the edge of your counter top or to your copper shelving. Wall lights are a great choice too – I think the Spinnaker would work well over your cooker area on the tiled wall.
I had actually thought about adding clamp lights to my shelving unit. I want one in black or white that I can clip onto that bar at the bottom of my shelving. Will get my dad to help me make a LED strip to my walls. Sounds easy enough for us to do 🙂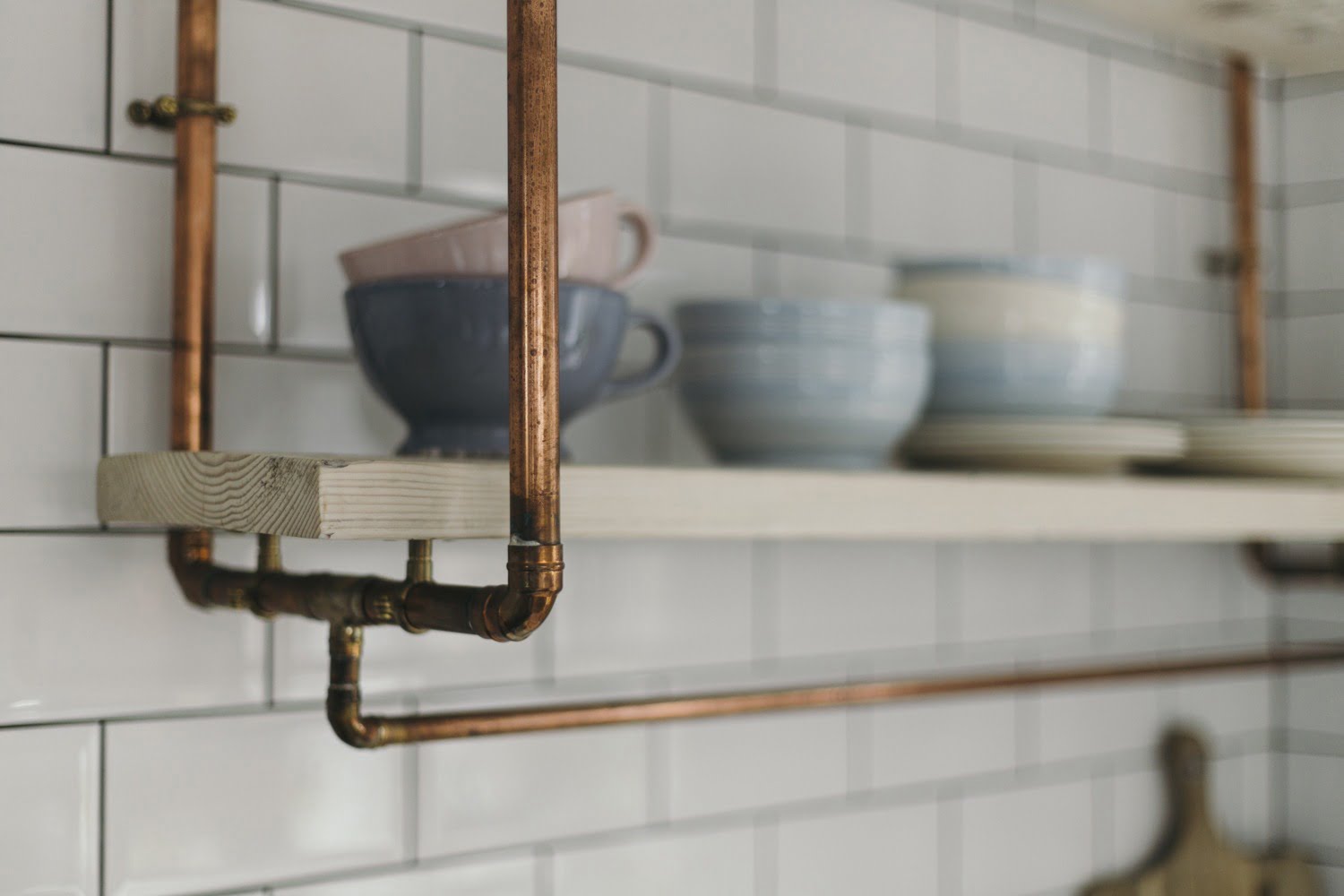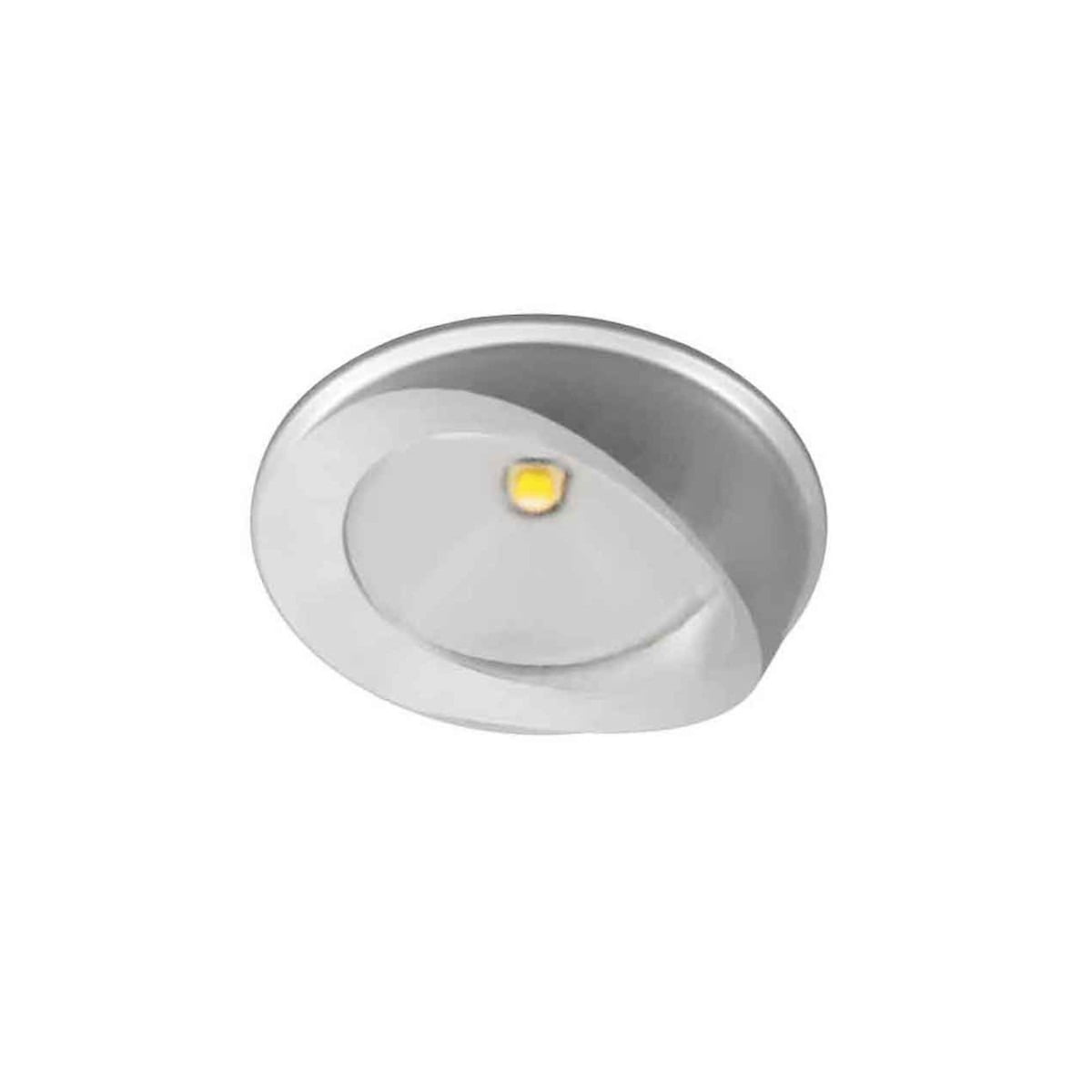 Eyelid lights will fit to the recess of my base units
Me: Is there any way I can use lighting to add personality to my kitchen?
Sally – As you are over-looking your garden, then why not light up outside? If your whole garden is lit up then it becomes an outside room. Or you could just highlight a window box. Either way it will adds a sense of depth to your kitchen especially on dark nights, and stop the window reflecting the inside.
Inside your kitchen, think about the temperature of your bulbs. Cool white bulbs at 3000K or higher are horrible. Swap for 2700K or indeed for a warm soft light 2400K for a gentle glow.
I love the idea of making my garden glow so it becomes a picture perfect view from my kitchen.
I'm going to make some key lighting purchases to update my kitchen and really finish off the room. Let's have a quick recap shall we:
Take Away Tips: Here's How to get your kitchen lighting right:
Do not put your spotlights in a symmetrical grid
Make sure your spotlights are recessed into the ceiling
Always install dimmer switches
Have the lights on two or three different circuits so you can choose which part of the room to light
Consider wall, table and pendant lights
Think about imaginative use of LED tape
Don't forget the outside your window
Wow – lots to absorb there. Don't forget to come back and check out her other posts – we've tackled my bedroom and next on the list is my dining room, just in time for Christmas. My home is slowly getting brighter and brighter.
Make sure you don't miss a single post by signing up to my weekly newsletter and give this post a little pin too.