My guest bedroom was actually finished in the Summer but for some reason – what with work and life getting in the way. I'm only getting round to sharing the final photos today. That's why I'm in a pretty dress not a cosy jumper. Don't worry you can buy EVERYTHING I used. It's all still in stock.
Come take the tour of my seascaped inspired bedroom, and see what ideas you can take-away for your own home.
My energy over the past year has gone into my complete garden overhaul and my guest bedroom took a second place. Not anymore! I'm excited to share what I have done to this bedroom which has undergone a dramatic transformation.I'm pretty nervous to see what you think of this bold, daring room!
The After


For the past three years, I've been living with what I had and the decorative choices of the previous owners (think beige, beige and more beige).
My ideas for my guest bedroom was:
Make the space work harder
Find a way of disguising the awful boiler cupboard
Add more storage to the bedroom
New radiator, window and plaster walls
Provide space for guests to hang clothes
Include a large mirror and mini-dressing table space
Add colour and bold pattern
The Layout
The room needed way more structural work than I anticipated. When my new (smaller) boiler was installed, I could make the the cupboard flush to the wall. The window was rotten so I needed to replace it with a new spanking uPVC one that looks exactly like a sash. And all the walls and ceiling were plastered. Once all this work was done, I had the bare bones of a room left to play with.
My carpenter made me two floating shelves in the alcoves. I wanted three shelves – but I need to duck down into that space in order to make the space – so we went for two.
Originally the bed was in the window which blocked out all the light. In order for it to fit where it lives today, I had the bedroom door re-hung so that it opened in a different direction – and bingo, my bed now fitted in the perfect spot.
The beige carpet was trashed too by the building work.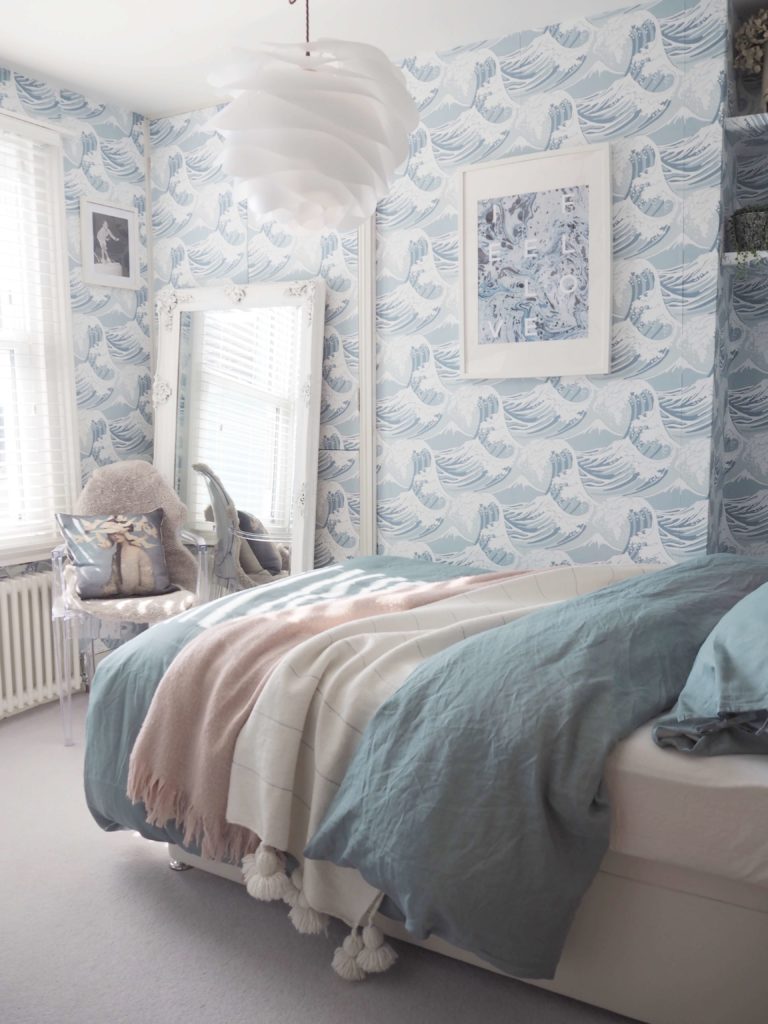 Style Tips For Your Guest Bedroom
Start by creating a mood board: I know I bang on about mood boards. But putting your ideas all in one place will help you define your look before you pick up a paint brush and will avoid costly mistakes. I created a mood board to gather all my ideas in one place which you can see HERE.
Choose a statement wallpaper: In your guest bedroom you can go a bit wilder with your choices. Wallpaper the whole room like me – or a feature walls. The starting point for my guest bedroom was this amazing Waves Cole & Son waves wallpaper. As soon as I saw it, it was a light bulb moment! The soft pastel blue colour and the Japanese inspired graphic waves design caught my eye and it was love at first sight. You can see my design ideas HERE.
Paint your woodwork: Do you want your skirting and architrave to stand out or blend in? Paint can tone your woodwork so it matches your scheme. I stripped back and painted all the woodwork in 'Urbane Grey' by Little Greene Paint Company on one very hot and sweating bank holiday.  The boiler cupboard and floating shelves were covered in wallpaper (huge thanks to my awesome dad for helping me). That helped them blend into the room naturally. My guest bedroom had to be comfy, stylish and light and bright – that is why I have used white as the accent for the room to keep the space feeling fresh.
Put down carpet: For a cosy, inviting look you'll not regret putting down a beautiful carpet. A new wool carpet by Axminster was put down in a light grey tone to match my hallway and my master bedroom.
Maximise storage with an ottoman bed: Once all the hard decorating was done, I could concentrate on the fun stuff – shopping! Happy Beds helped me with a new bed for the blog – and I got to design it myself exactly which you can see in this post HERE. Before I had a vintage wooden bed on legs which was beautiful but you could see all my clutter under it! This time, I wanted a lift up ottoman bed where I could stash bedding, my yoga gear and props for shoot.
Pick statement lighting: Putting in a lighting centrepiece in the room was really important to balance the busy wallpaper pattern. I saw 'Carmina' light fitting by Umage online and it fitted the bill exactly. The design of the light fitting reflects the soft waves of the moving sand dunes of the shorelines of Denmark.  The shape echoed the wallpaper print and it softens the light in the room giving off an ambient glow. Looking for more lighting inspiration check this post HERE)
Storage Hooks; Give guests somewhere to hang clothes when they come to visit. I found the hooks in my parent's garage and stole it. Painted it white to match the room and the found copper hangers from Primark.

My Guest Bedroom Shopping List
What furniture I went for was really important in a small space like this. Next to the bed, I put a painted chest of drawers that I found in a junk shop for £20. I changed the handles for the cool copper ones you can see today. I like that is has legs which gives the impression of more floor space in the room.
There was just enough room for a wardrobe. I found this on Gumtree for £15 which I managed to squeeze into the back of my tiny Ford Fiesta! I painted it in Loft White by Little Green Paint Company. It's a 'Gentleman's Wardrobe' with labelled shelves for hats and socks, and a tie rack but now it is filled with my shoes and sequins.
Shopping List:
Waves Wallpaper / Cole & Son. Paint / Little Greene Paint Company. Lighting / Umage. Carpet / Axminster. Mirror / Exclusive Mirrors. Bed / Happy Beds.  Blue linen duvet covers, fur throw (on chair) & white clip on light / Ikea. Pink throw & pink velvet cushion / Laura Ashley. Striped white pom pom throw / from Marrakech. You Rock cushion / Amazon. Large square cushions covers / Zara Home. Copper handles / Grace & Glory Louise IV Ghost chair / Lakeland Furniture [old] Copper light / Sainsburys [old] Blind / Hillary's
Sneakily, I use my guest bedroom as my dressing room and I store all my party dresses in here. The lights is so much better for getting ready.
I've slept in here a few times (I was so excited for the room to be done I wanted to give it a try).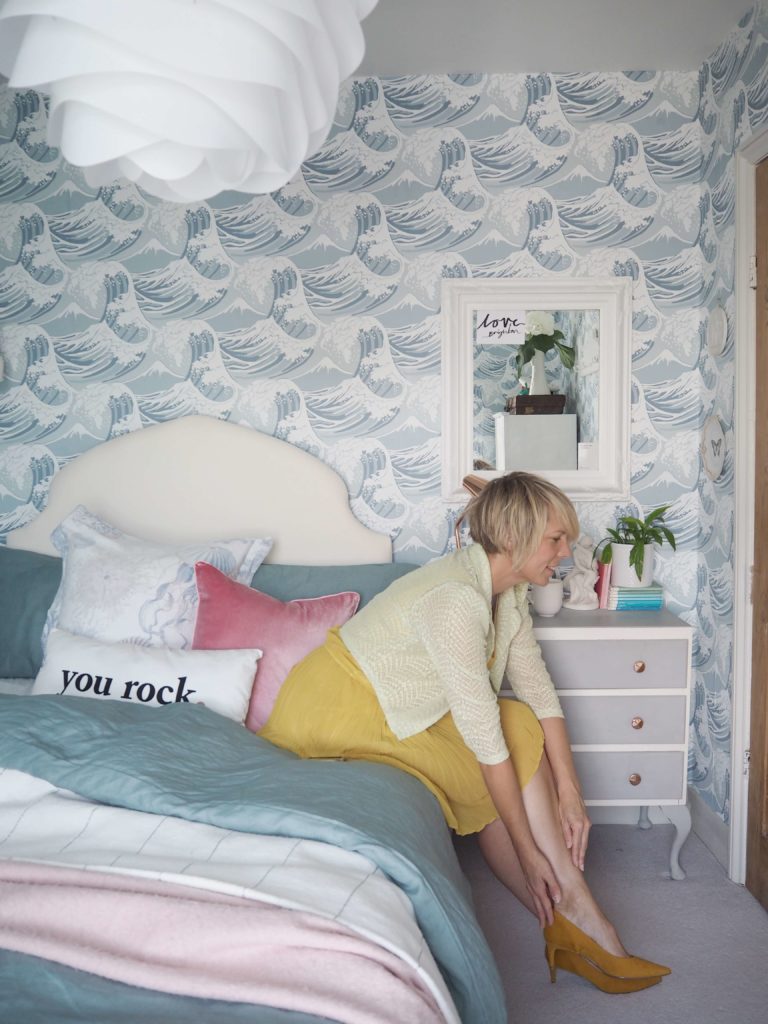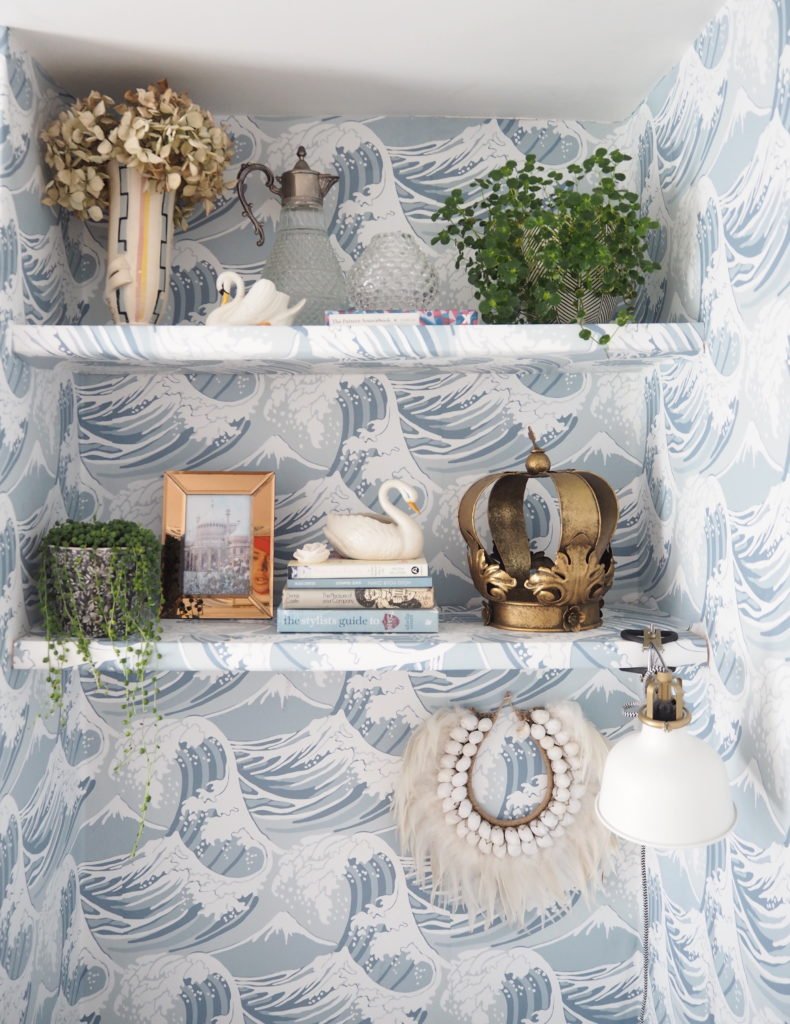 Go for a wallpaper all over the walls felt like a brave decision. But in a guest bedroom I feel you can be a little more daring in your decorating choices. I don't use this room all the time so it doesn't get tired quickly. Want more guest bedroom decorating tips? I did a YouTube video this very topic which you can watch
HERE
.
I took so many photos of my guest room that I'm going to share the details in another post soon. Keep popping back here to see.
What do you think of my guest room makeover? Has it given you inspiration for your own home? I would love to hear in the comments below.
Have a great week
Maxine
You May Also Like
Simple Kitchen Update With These Essential Buys
Complete Bathroom Makeover Guide
Tiny Hallway Makeover: Final Reveal