** Collaborative Content **
Imagine if I told you that you could design your own bed on-line. That it would be delivered direct to your door. And at a budget you can afford. Don't believe me? Take a look at Happy Beds have a nifty on-line tool which helps you do just that. What dream bed would you design?
I was asked by Happy Beds to give their on-line tool a whirl for the blog for my guest bedroom makeover. Come see the results!
Design Your Dream Bed With Happy Beds
That's right, design your own bed bespoke to your exact wishes with Happy Beds. You can give their handy build-a-bed tool a whirl HERE.
I first got to know the brand Happy Beds last year when I wrote THIS post. When snooping around their website, I discovered they have an on-line tool where you can build your own bed from the comfort of your home.
This was music to my ears. As I'm a very fussy customer – and I had in mind a very specific headboard, an exact size and style of bed that I was struggling to find – that was also within my budget for my guest bedroom makeover.
What Would Your Dream Bed Look Like?
We all want different things for our dream beds. My dream bed would have a curved upholstered headboard. I've seen in this style on America websites like Domino and Apartment Therapy but nothing like that over here in the UK. My dream bed needed to be a small double to fit into my compact bedroom space.
And finally, on my dream bed wish list was a lift up ottoman style bed where I could store all my props (and shoes).
And all in white cotton.
You may want a more masculine beadboard with storage drawers instead of an ottoamn. Or you may love velvet upholstery in a bold colour in King size propotions. Whatever you would like, you can use the on-line tool to craft a bed bespoke to you.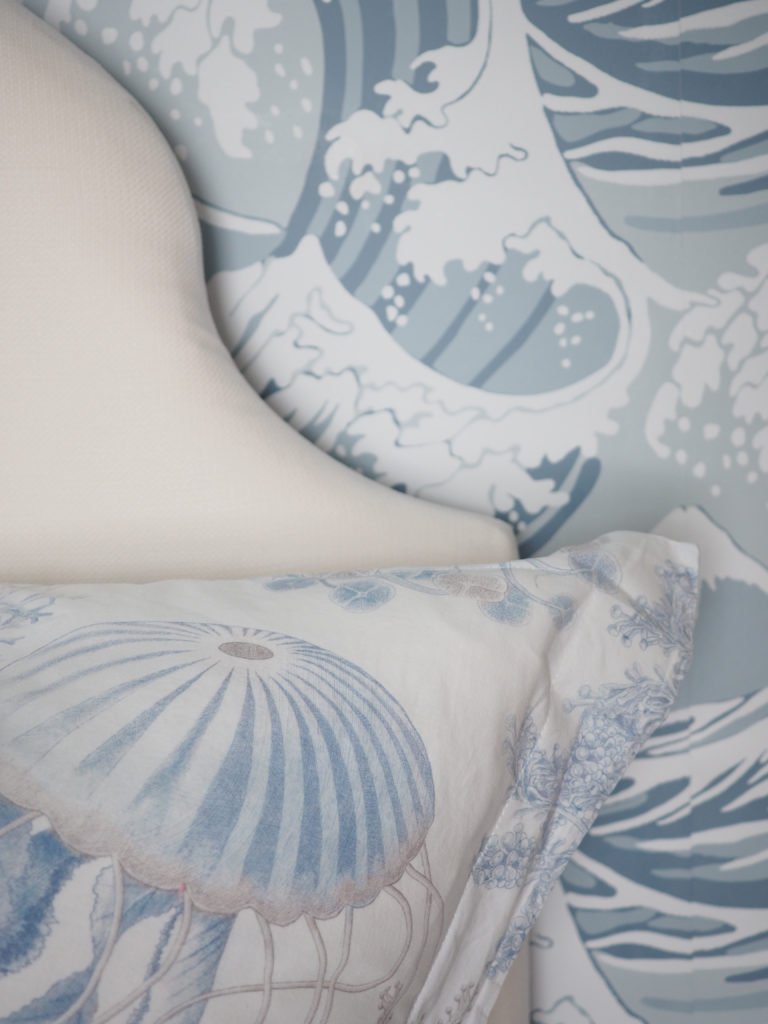 How The OnLine Tool Works – Step-By-Step
Using the Happy Bed tool – which you can see HERE – I designed my own bed for my guest room.  You start with the size (small double in this case). Then the fabric choice – either cotton or suede. Then the headboard shape – and the headboard can come plain, lined or buttoned. There are literally 1000s of options.
As you move through the design process, the Happy Beds tool tells you how much each bit costs, so you can keep track of your budget.
You can see your bed being built before your eye with their clever tech – and you can even 'virtually' lift up the bed!
You could go for an ottoman like mine or you can pick how you want the storage to be. Either drawers at the end or sides or no drawers at all. I went for a no drawers with a base that lifted up so I could access all my belongings easily.
It took me about 15 mins to do in total – but most of that was taken up deciding which shape of head board I wanted!
Cost & Delivery
I went for a uk small double with an Ankara Plain head board all in white cotton, with Ottoman storage which call came in at £479.98. At the moment there is a sale on, so it actually costs £390. So affordable even for us with a small budget.
My new bed was delivered to my door in 14 working days. It comes flat-packed so I managed to squeeze in to my narrow hallway. I put it together myself with the help of a screwdriver.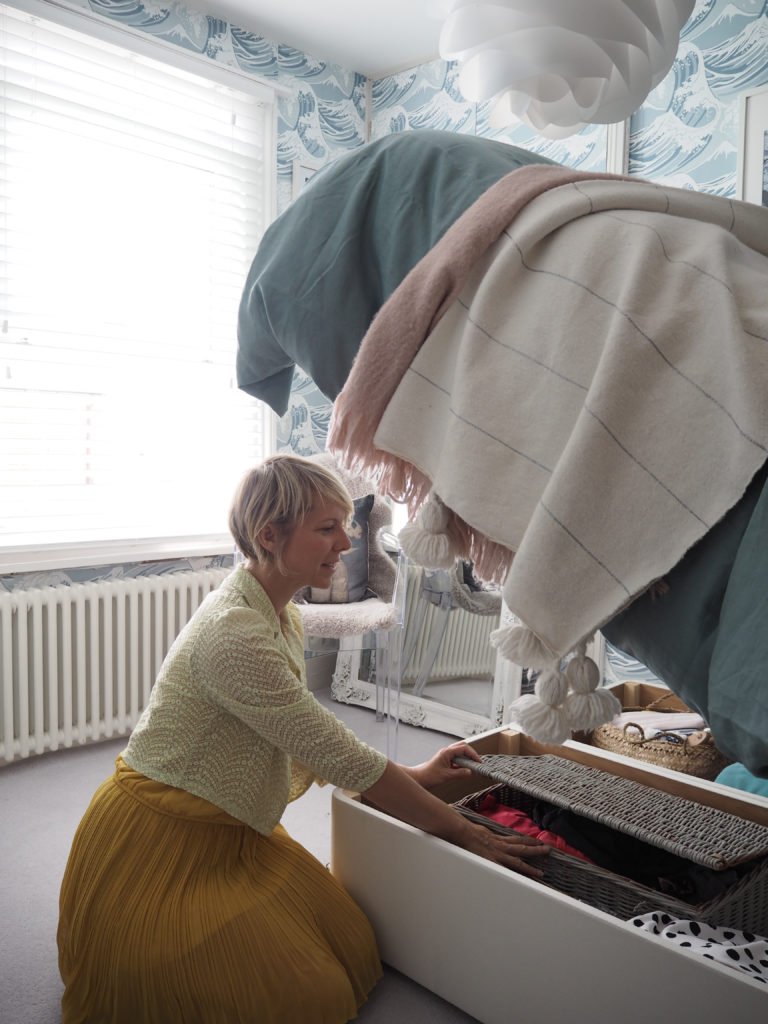 My thoughts…
I love the sleek look of the my new Happy Bed ottoman next to against crazy patterned my 'Waves' wallpaper by Cole & Son.
The headboard is colour is more off-white than pure white but the cotton material is of a tie quality. The bed itself is super comfortable (I gave it a try the first night). Th best part for me is the ottoman storage. No more rummaging under my old bed looking for my yoga gear.
The lift up storage is a game-changer. It is the first thing I show guests! And now I have everything is close to hand which makes my heart very happy.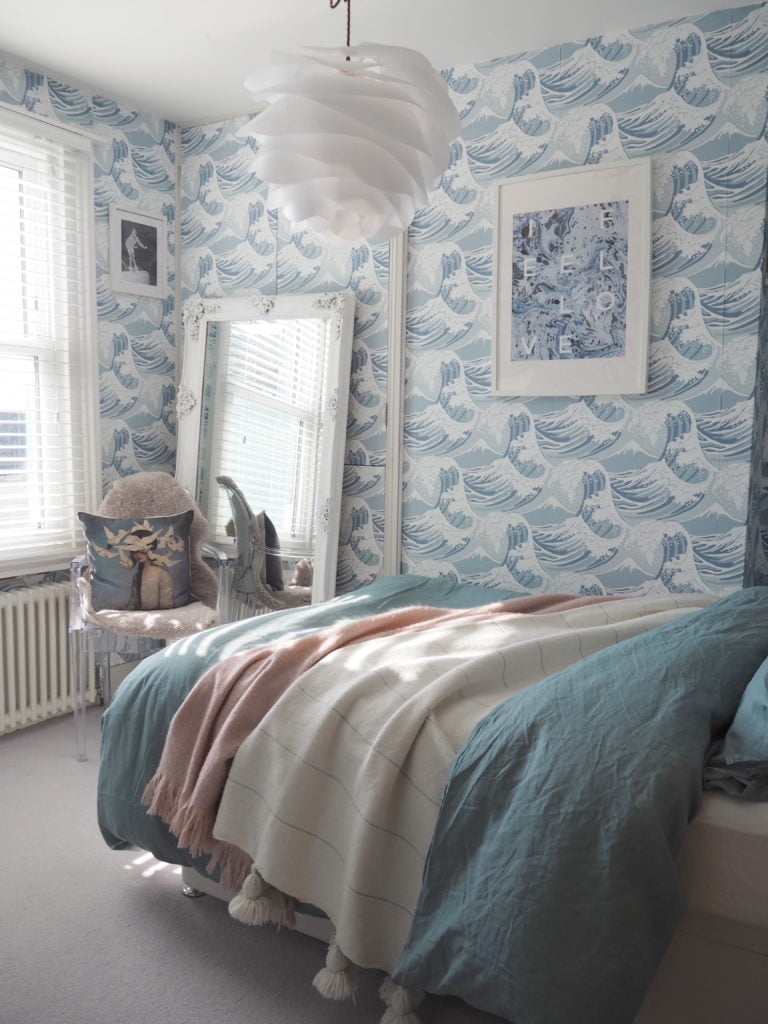 My bed has finished off my guest room makeover. Today, I'm been very sneaky and only showing you tiny element of my bedroom makeover as I want to save the BIG reveal for the end of the summer. Come back by my blog to see the end result.
Click HERE to give it whirl.
I'd love to hear what designs you have come up with for your space. Please share in the comment below. I bet we all have different ideas in mind for our dream beds!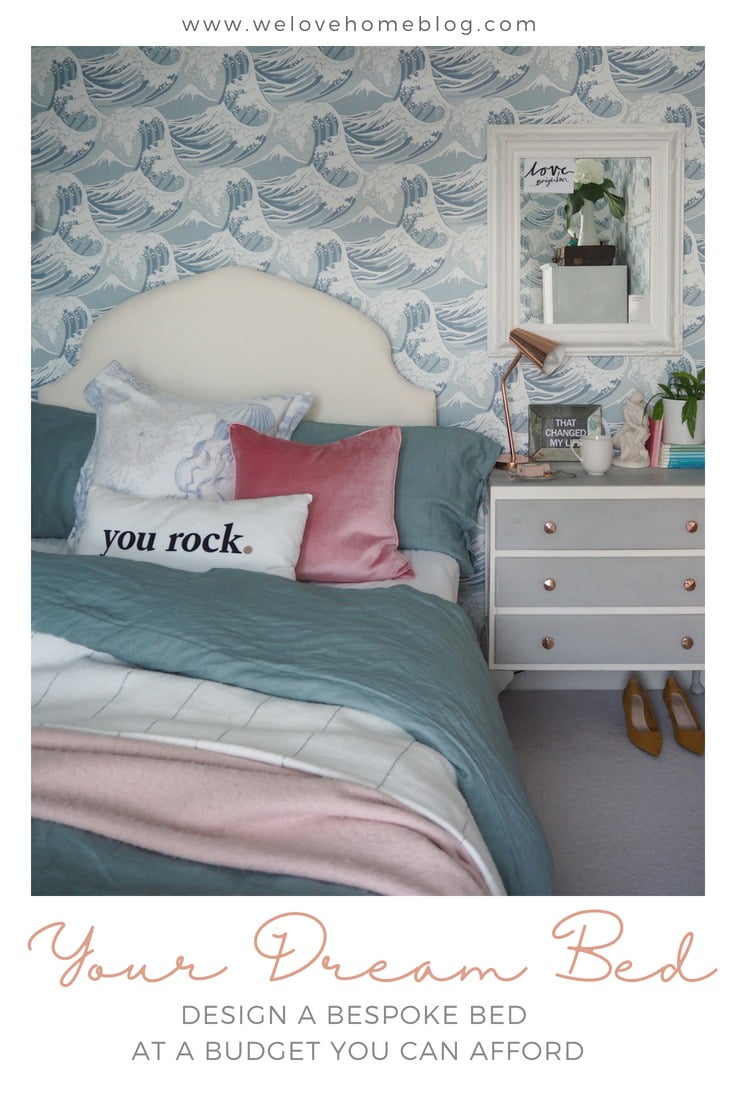 **Collaborative content. I was gifted  a bed by Happy Beds in return for an honest review. All opinions, thoughts and photos are my own.