**Sponsored Content**
I spent the past part of last year renovating my long, narrow hallway. Along the way, I picked up some excellent styling tips that I wanted to share with you in this post. Read on for my 21 storage solutions, decorating ideas and clever furniture buys – all ready and waiting for you to try out in your hallway. Enjoy.
21 style ideas for your long, narrow hallway
As long, narrow hallways are so difficult to decorate then can often be left barren of all decor and personality. That's why today (with the help of Wooden Furniture Store) I'm giving you my easy design fixes for your hallway.  At the bottom of this post, I've picked out my top 9 hallway storage solutions to make decorating your entranceway a breeze.
Oversized Shelving
This beautiful shabby chic shelving fills the walls of this narrow hallway, creating the perfect opportunity to display an artful collection of coloured glass bottles. The oriental cupboard placed below is perfect for stashing for all your mail, keys and all the other essential bits and bobs that usually clutter up narrow hallways.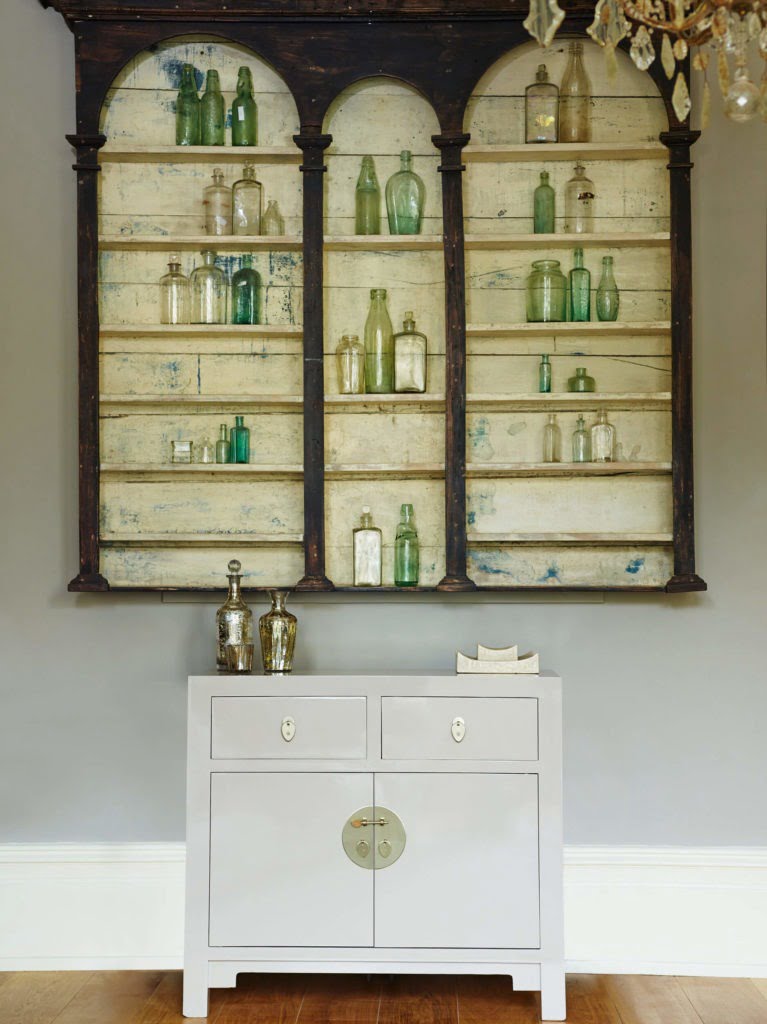 Oriental chest / Wooden Furniture Store
Open Staircase
If you are considering a complete re-design, why not opt for an open staircase like this one which will allow light to flood in to a narrow hallway. It also looks pretty awesome too, making a strong style statement.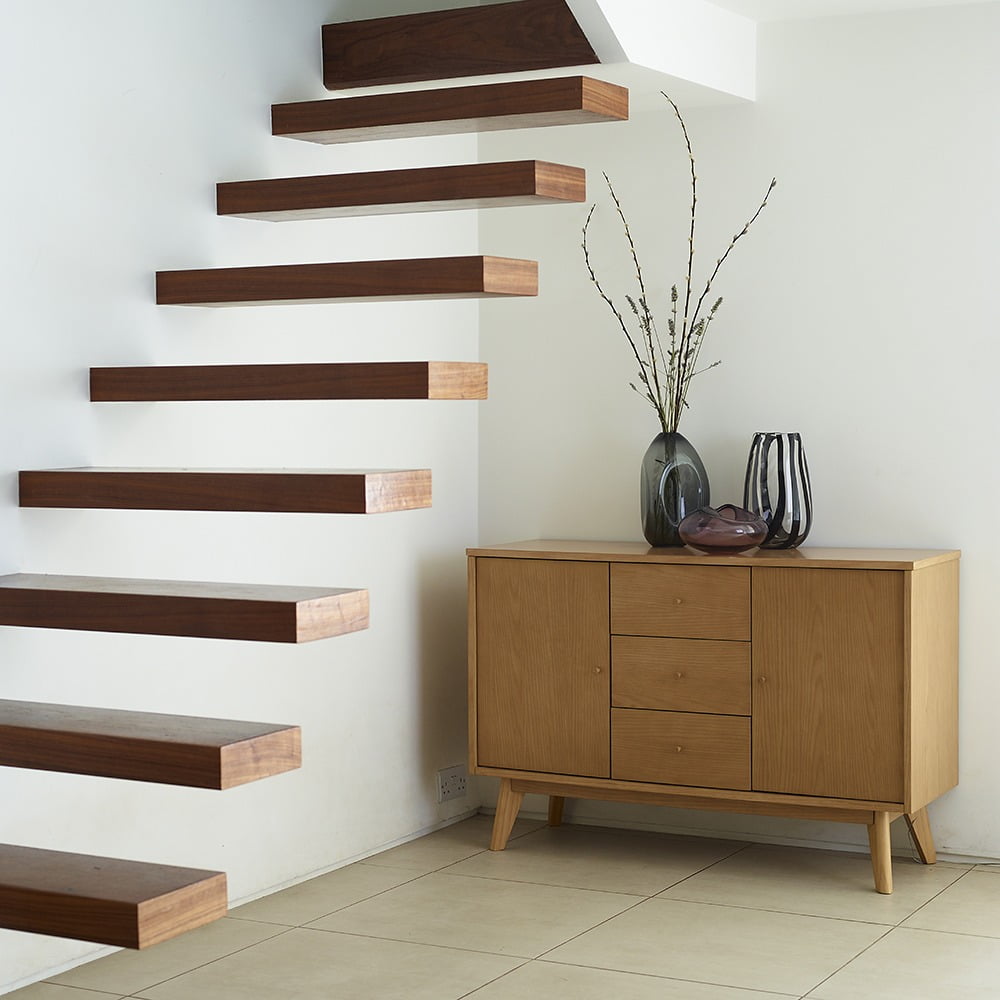 Image / Maxine Brady Interior Styling
Colourful Storage Solutions
It's tempting in slim hallways to keep everything white to help if look bigger. The only problem with that design idea is that it can look empty and soulless. That's why you need to introduce pop of colour with furniture. This beautiful embossed cabinet from the 'The Nine Schools of Oriental' collection is just the right shade of blue.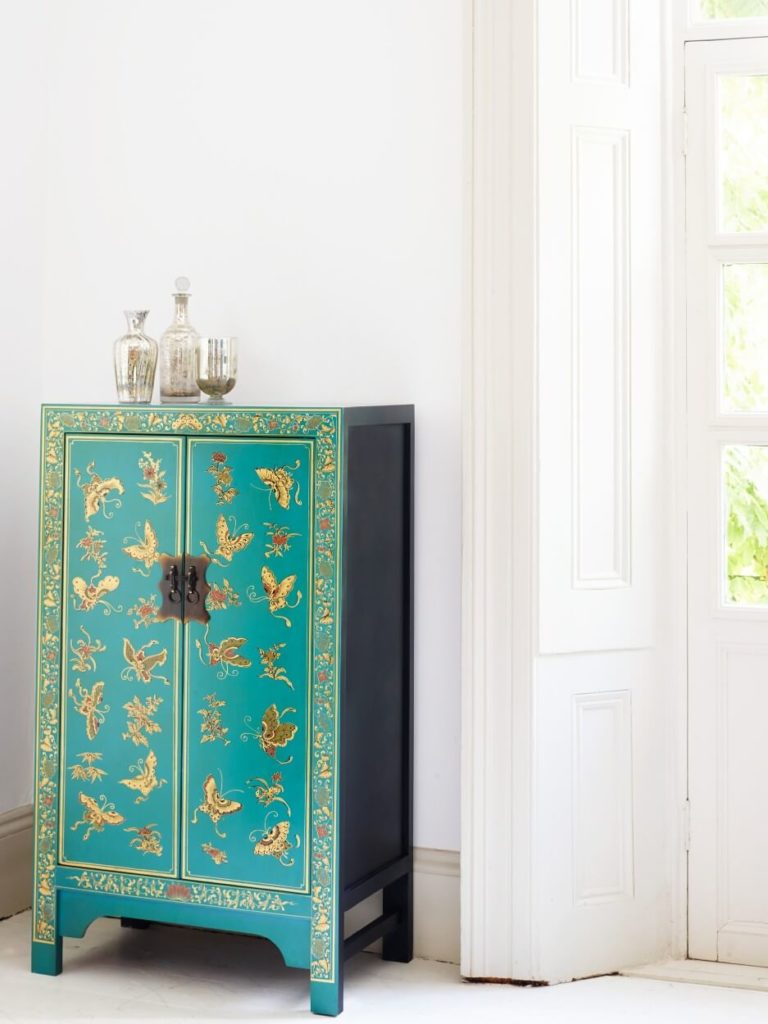 Oriental chest / Wooden Furniture Store
Smart Shoe Storage
Smart Shoe Storage
What to do with shoes that gather in a narrow hallway? Have you thought of a shoe storage cupboard? This one has four shelves inside to hide your boots, slipper and sandals in. As well as a nifty drawer to organise your hallway.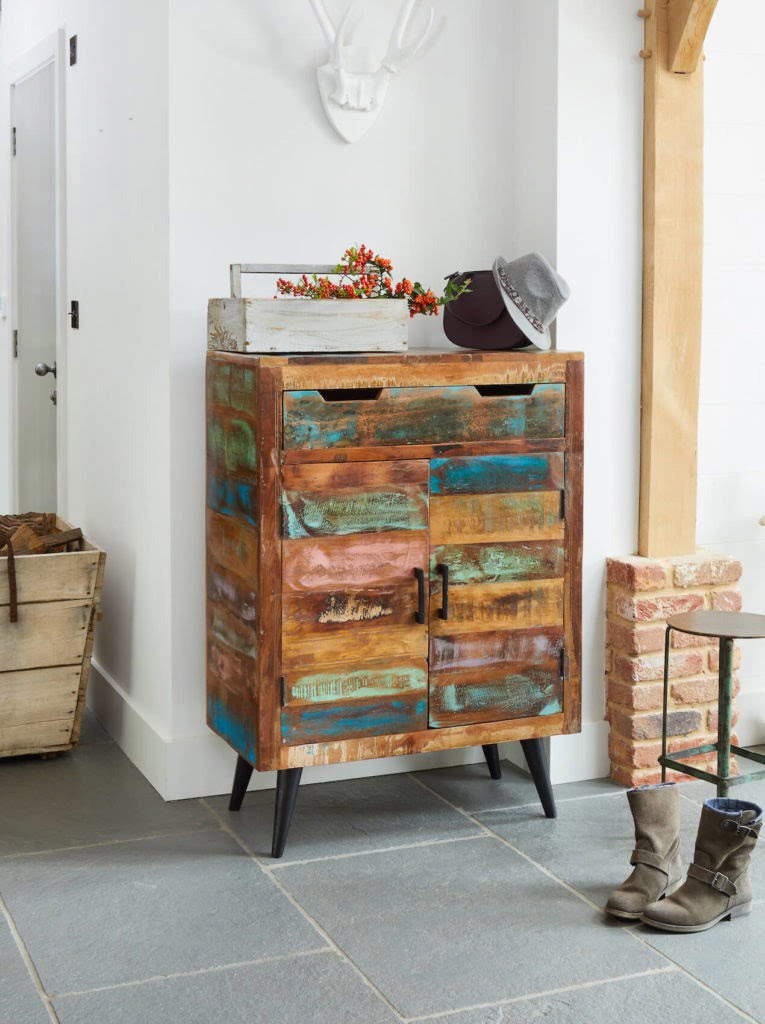 Coastal Chic Shoe Cupboard / Wooden Furniture Store
Hint At Your Personality
In a small home, every inch of space has to be optimised. A hallway is the ideal spot to fill with layers of art, piles of books, simple displays of your favourite possessions, as well as lamp to light up the space when it gets dark at night.  All these little details give hints and clues as to the personality of your home style beyond your hallway.

Wallpaper / Farrow & Ball
Bring Back The Telephone Table
Homes still need a landline so why not re-instate a telephone table in your hallway with a couple of comfy chairs, and a small table. My grannie had a little telephone table in her hallway which I always had a soft spot for which was more retro in design. The choice is yours but at least this way you'll have somewhere to natter away from the hustle and bustle of your home.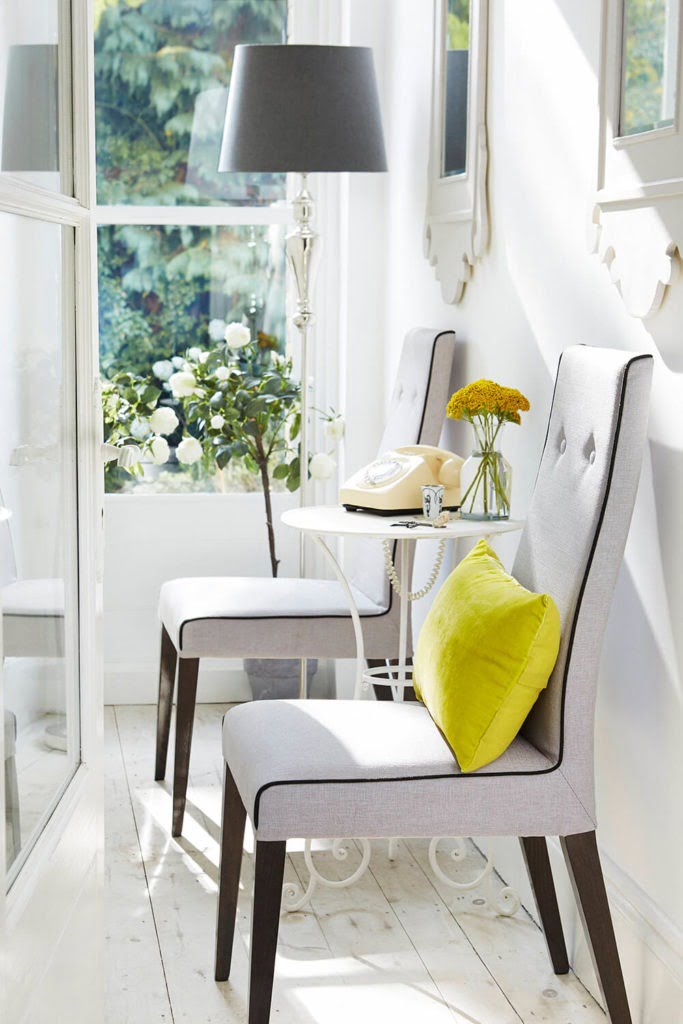 Image / Maxine Brady Interior Styling
Choose An Ornate Mirror
In a narrow hallway, don't be afraid of making a bold statement with grand mirror. Rather than allow it to reflect a blank wall, place flowers, twigs or branches in front to double the display. Layers of art and stacks of book finish off the look.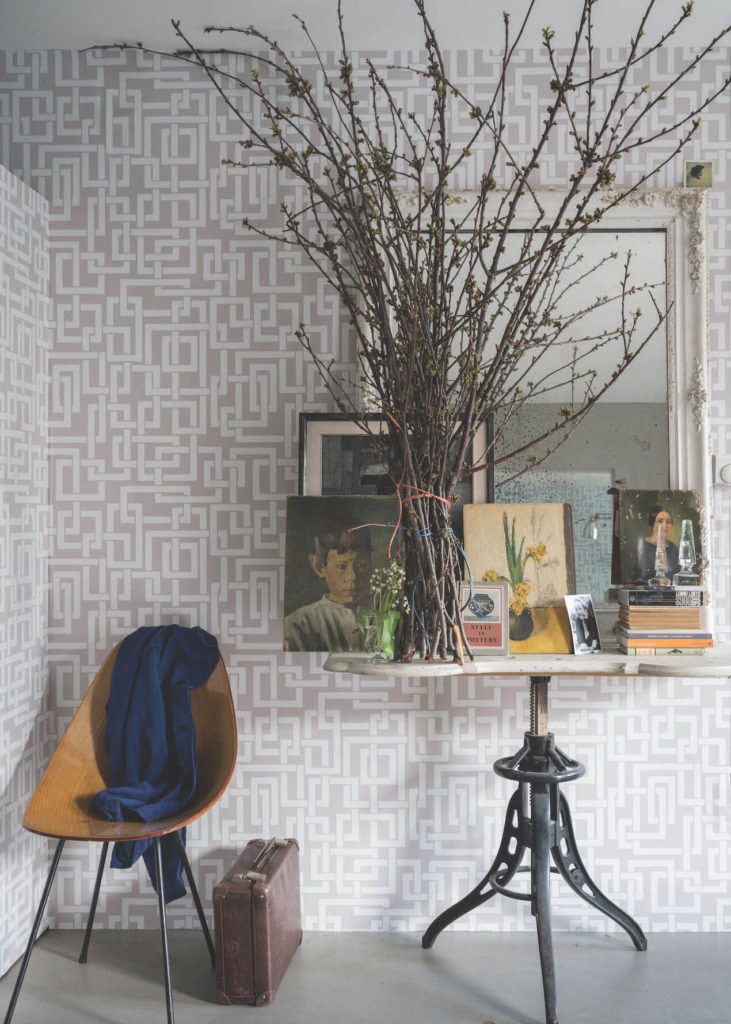 Wallpaper / Farrow & Ball
Put Down Ceramic Tiles
In a small hallway use patterned tiles to trick the eye into thinking the space is larger than it is.Tiling is the most practical solution for this high traffic area. Mix your tile design from room to room to define each space. Simple shelving above keeps clutter off the floor.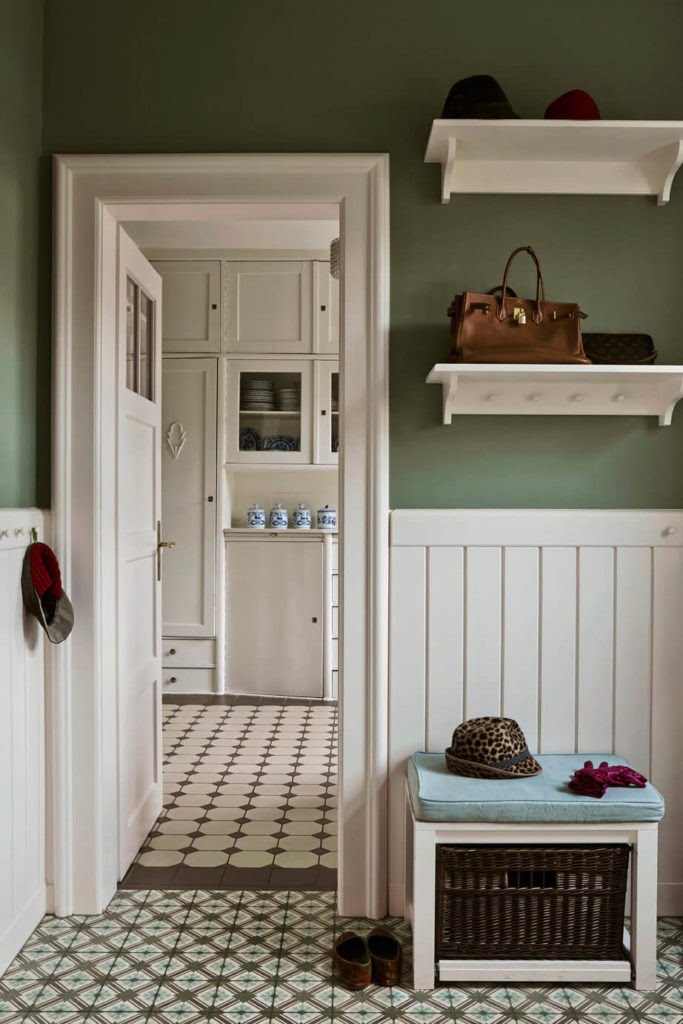 For Similar Tiles / Gemini Tiles
Play With Pattern
Test the waters with a playfully printed wallpaper for a bold statement. This palm leaf print one brings the outside into this tiny, narrow hallway.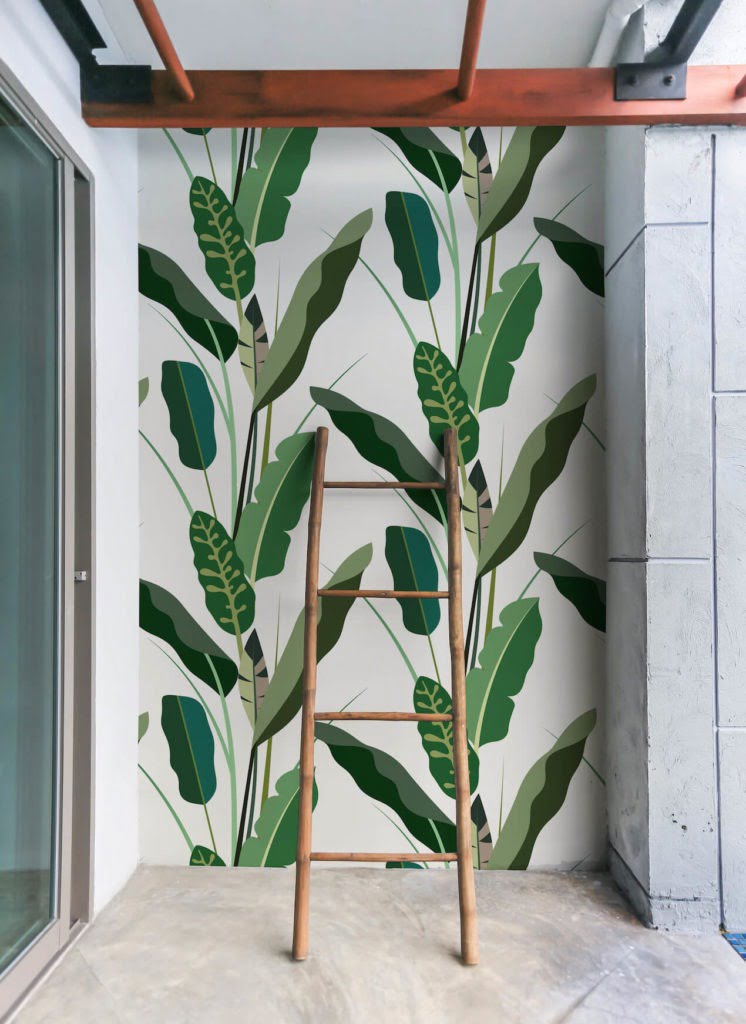 Wallpaper / Crowdy House
Top 9 Hallway Storage Solutions
It doesn't matter what the size of your hallway (from narrow to small) there is a piece of furniture out there which will serve a practical purpose, as well as add a much needed stylish touch. Here I've picked out my top 9 hallway storage solutions from the Wooden Furniture Store website.

Top (right to left) Searle storage box / Searle Wall Shelf / Hulstone Industrial large bench / Rusbury painted Cabinet in blue / Nine Scools Quing White console table / Signature grey painted shoe storage / Singature console table / Signature desk / Rusbury painted bookcase
I hope that at least one of my 21 ideas on how to make the most of your long, narrow hallway will work for your home. If you want more inspiration and clever ideas, then Wooden Furniture Store have written THIS handy post has a handy shopping guide when it comes to buying furniture for you hallway.
Are there hallway ideas above that you're desperate to try at home? Let me know in the comments box below. Looking forward reading them.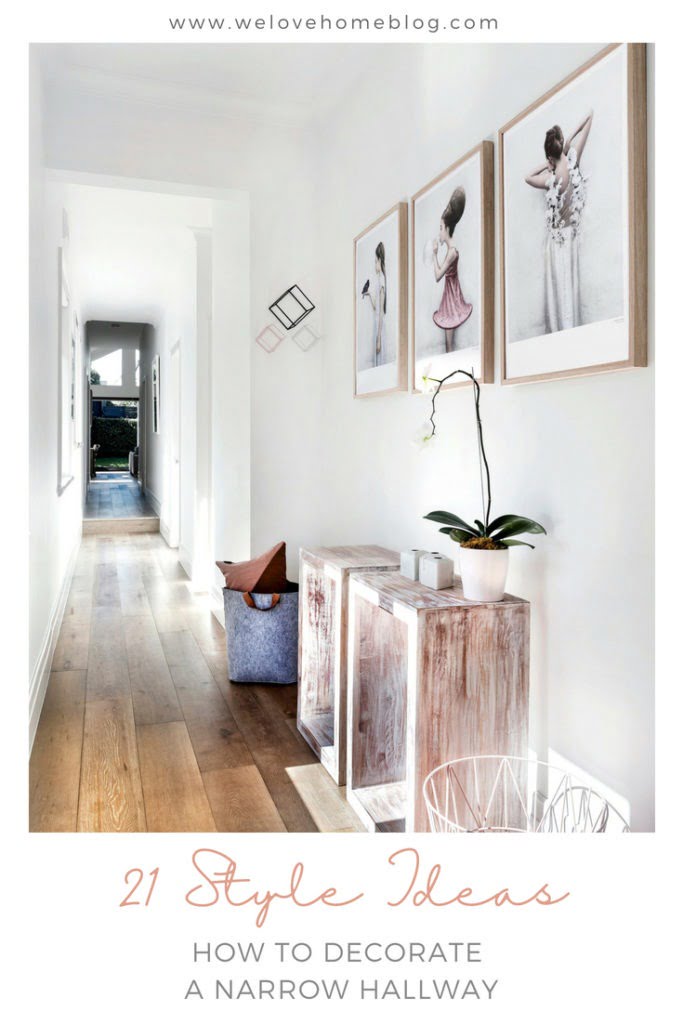 * This is a sponsored post. All thoughts and opinions are my own. Photos are credited duly.