Hello – and Happy 2017 (well almost!) I want to talk to you about my kitchen I'm notorious for switching things around in my home all the time, and my kitchen is no exception. It felt like it needed freshening up – nothing dramatic – just a few wallet-friendly accessories to give it a new feel for 2017.  Here's my key buys for my kitchen – and be warned – there is a lot of copper in the mix!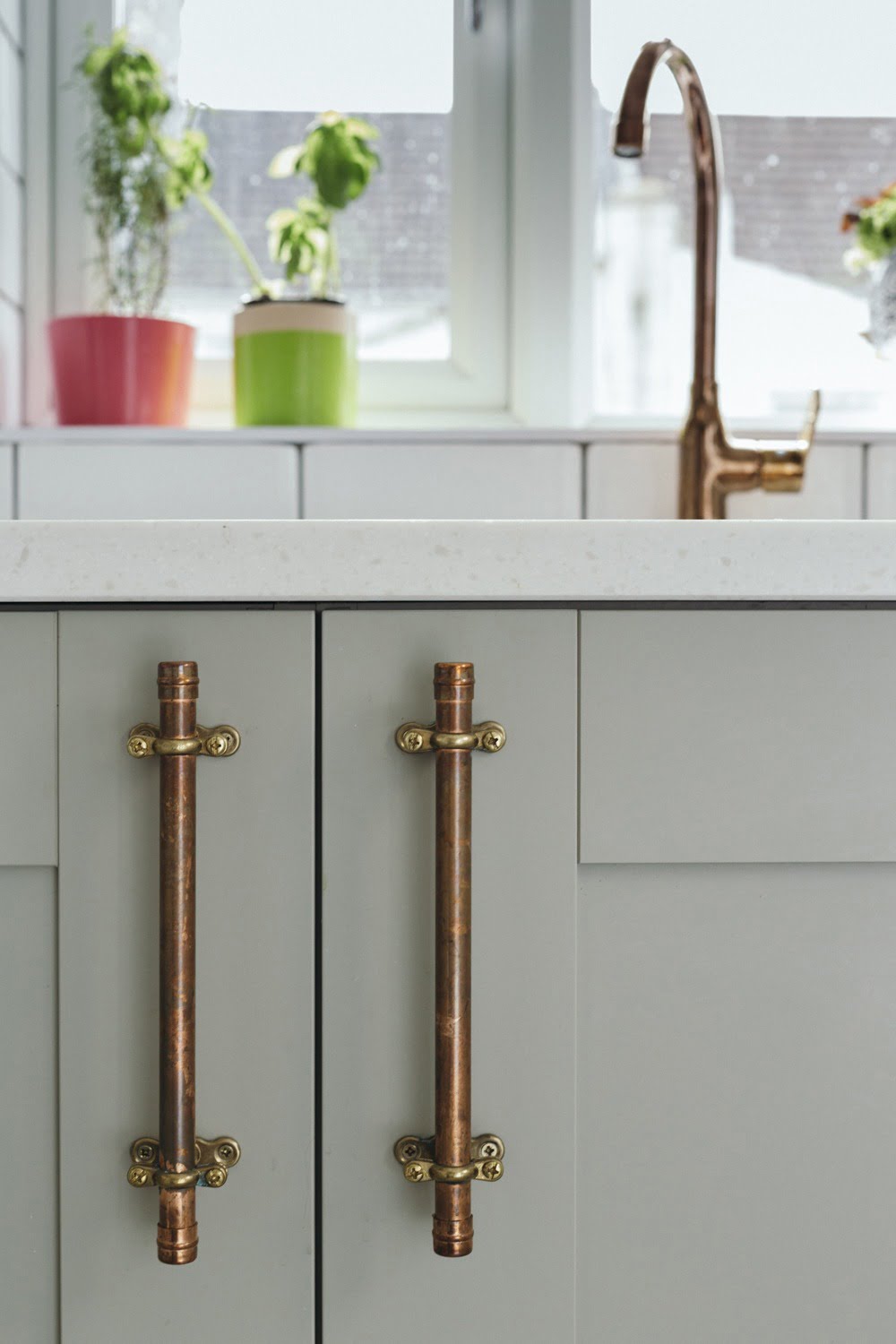 My kitchen was finished in August, 2015 – you can see the befores and afters here. In that time, it has become a little bit famous – it was featured on Apartmenttherapy, Style at Home magazine, Real Homes as well as Ideal Home ***blushes*** I've hung up art and a Moroccan plate on the walls but it needed a few nice accessories to bring it all together. You know, give it a bit of polish.
As you might be able to tell – I have a soft spot for copper when it comes to my kitchen. I had handles made in plumber's pipping, and splashed out on this awesome tap and sink combo for the space.
I've had my eye's pealed for more copper bits and bob – that is why I snapped up this colander, £8. Look at it shine (although don't make the mistake I did and put it in the dishwasher – doh).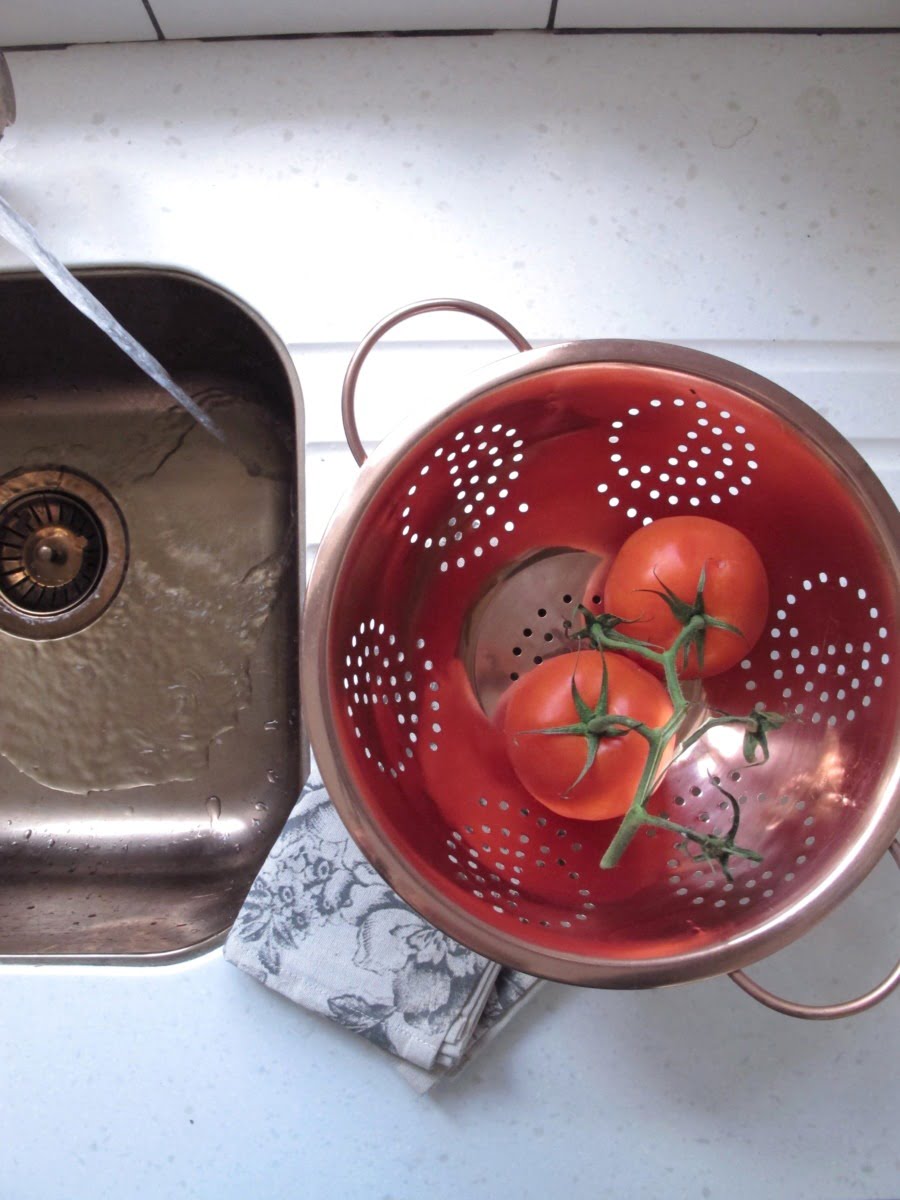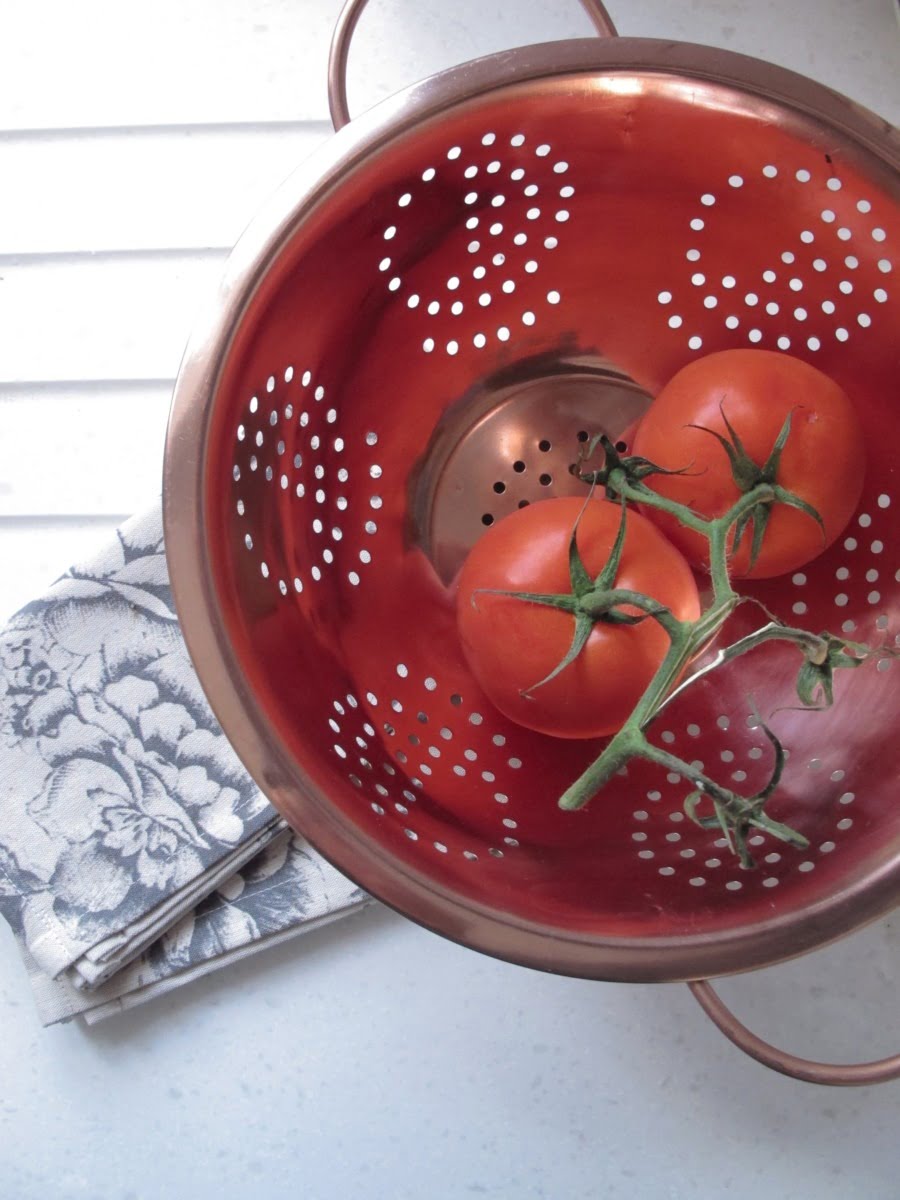 I used to have up a large cream country style clock. Now, on the wall hangs this beauty – The Spy, £70 from Newgate Clocks. I love the large dial numbers (no need for reading glasses) and the copper rim. I love it's generous size filling up a corner of my compact kitchen.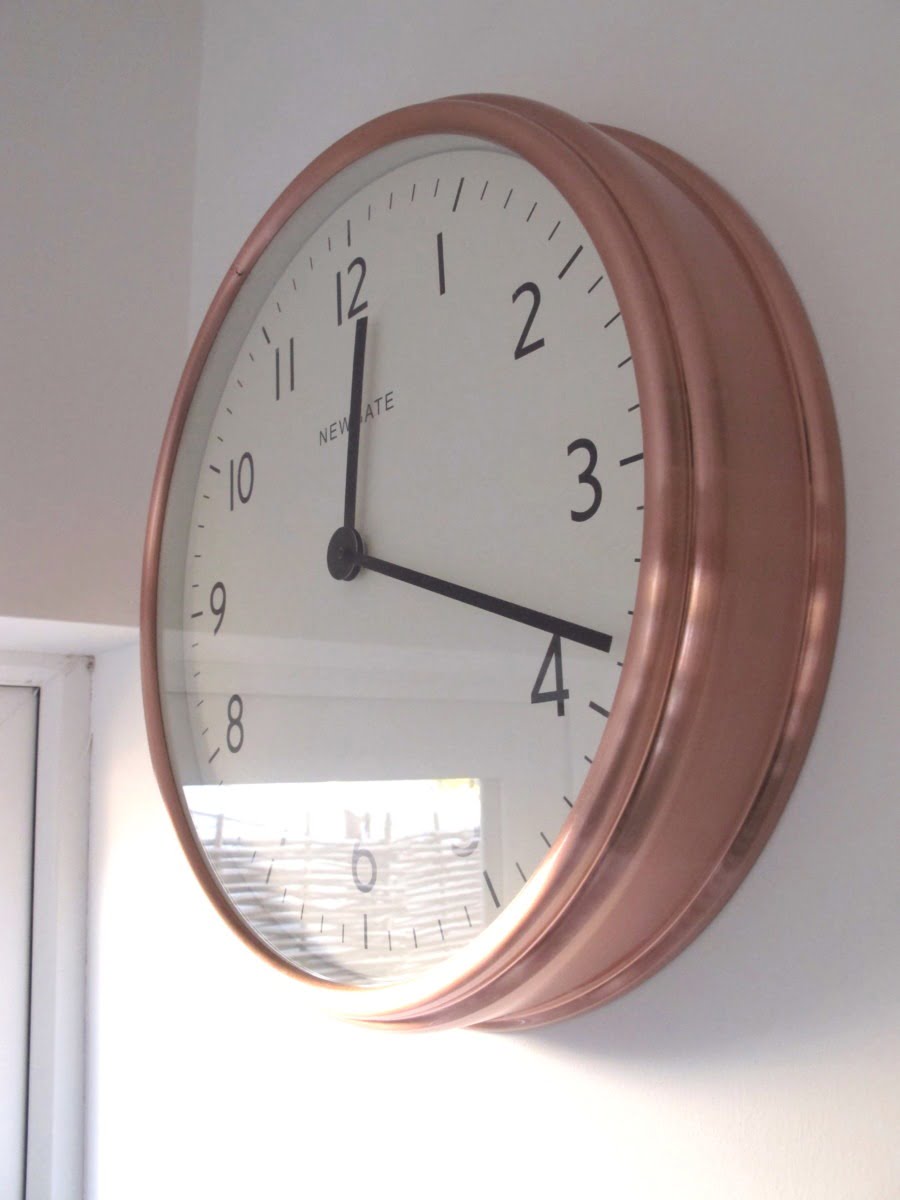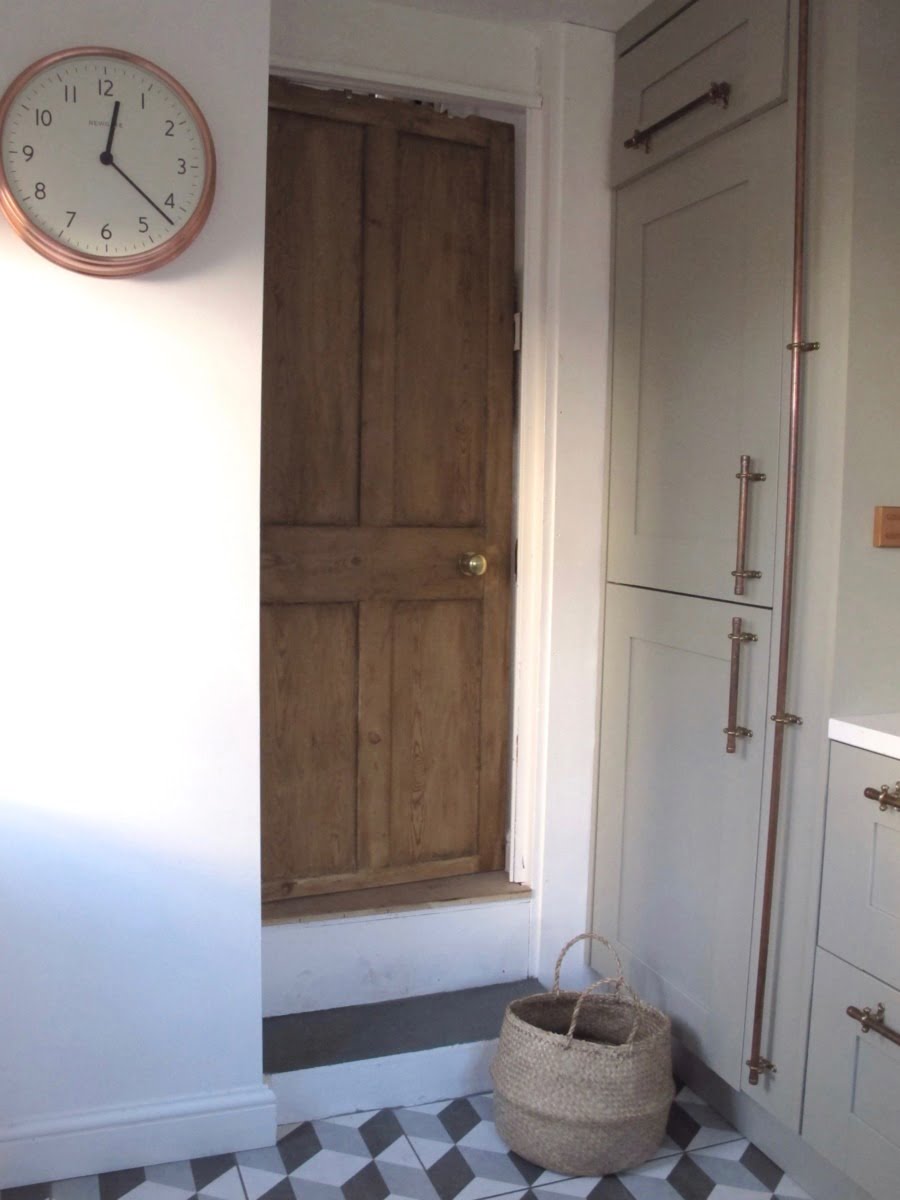 As much as I love marble, I hardly have any in my home. Which is I couldn't walk past this Acacia chopping board when it cost just £16 (I've seen these for £££ in fancy cook shops).
The smoked glass tumblers from Neptune have replaced my old glasses that have been slowly smashed over the past year. They were £36 for 6 and are much more solid and dishwasher-hardy than my old ones.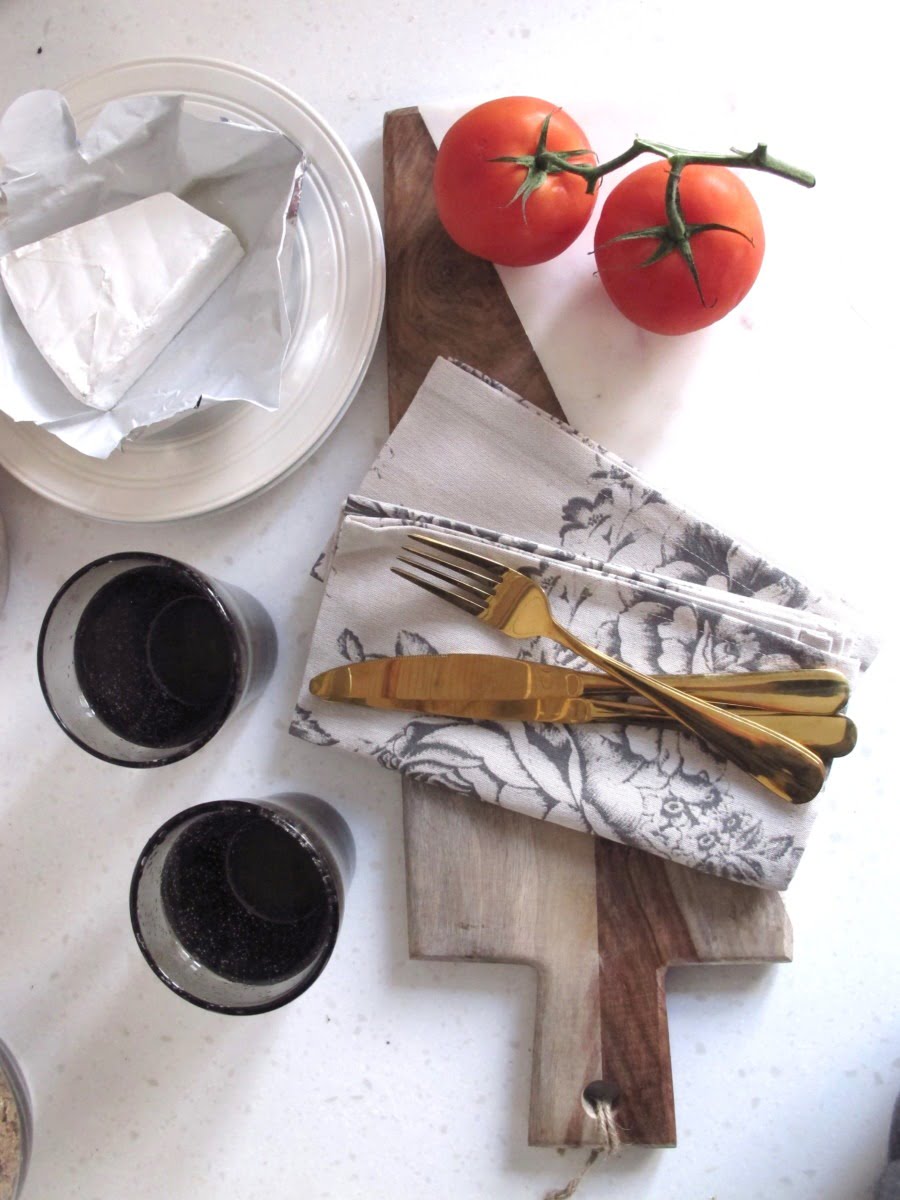 What I love about the chopping board, is that is looks great resting up against my metro British Ceramic Tiles. That is one of the plus points of an open-style shelving in a kitchen, you can make a feature of your latest impulse buys. They give a rustic edge to my kitchen matching my scaffolding board shelving and copper handles.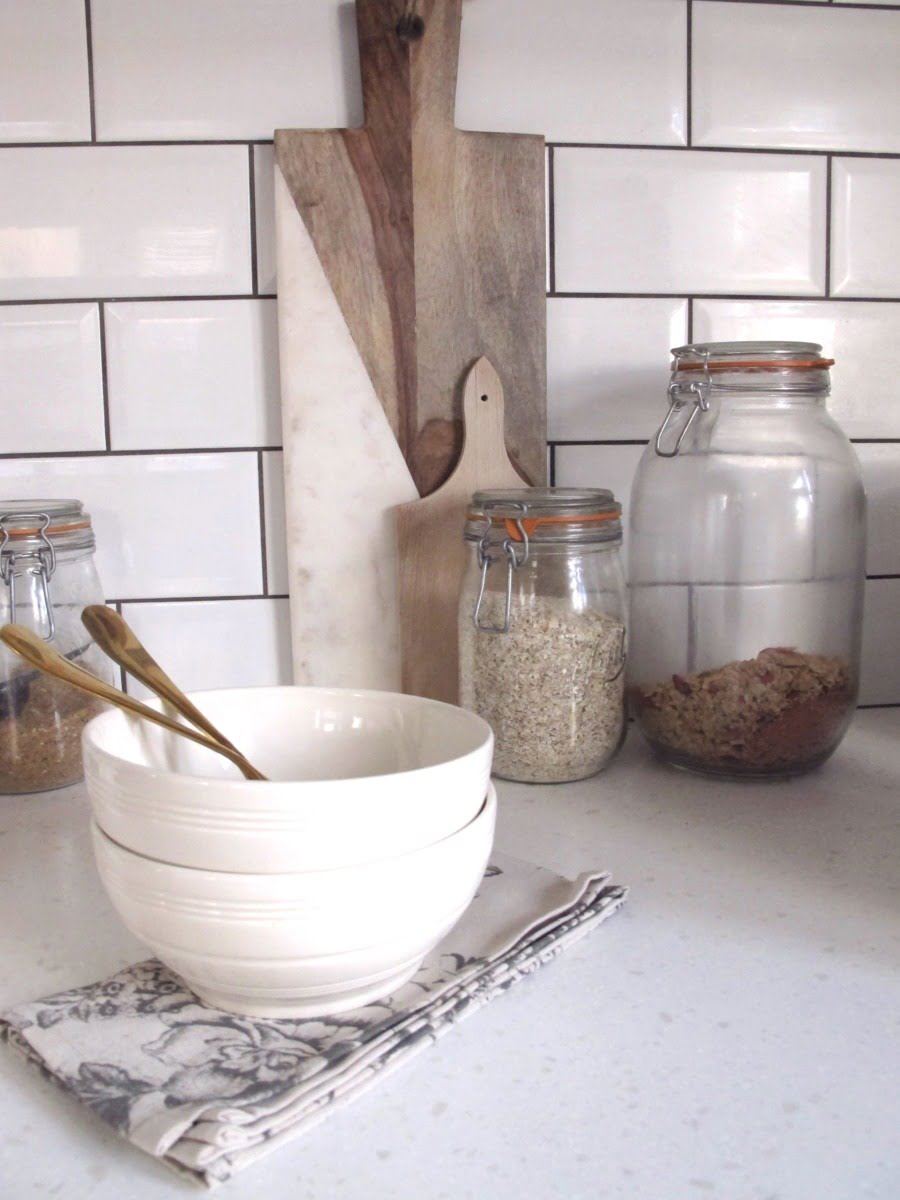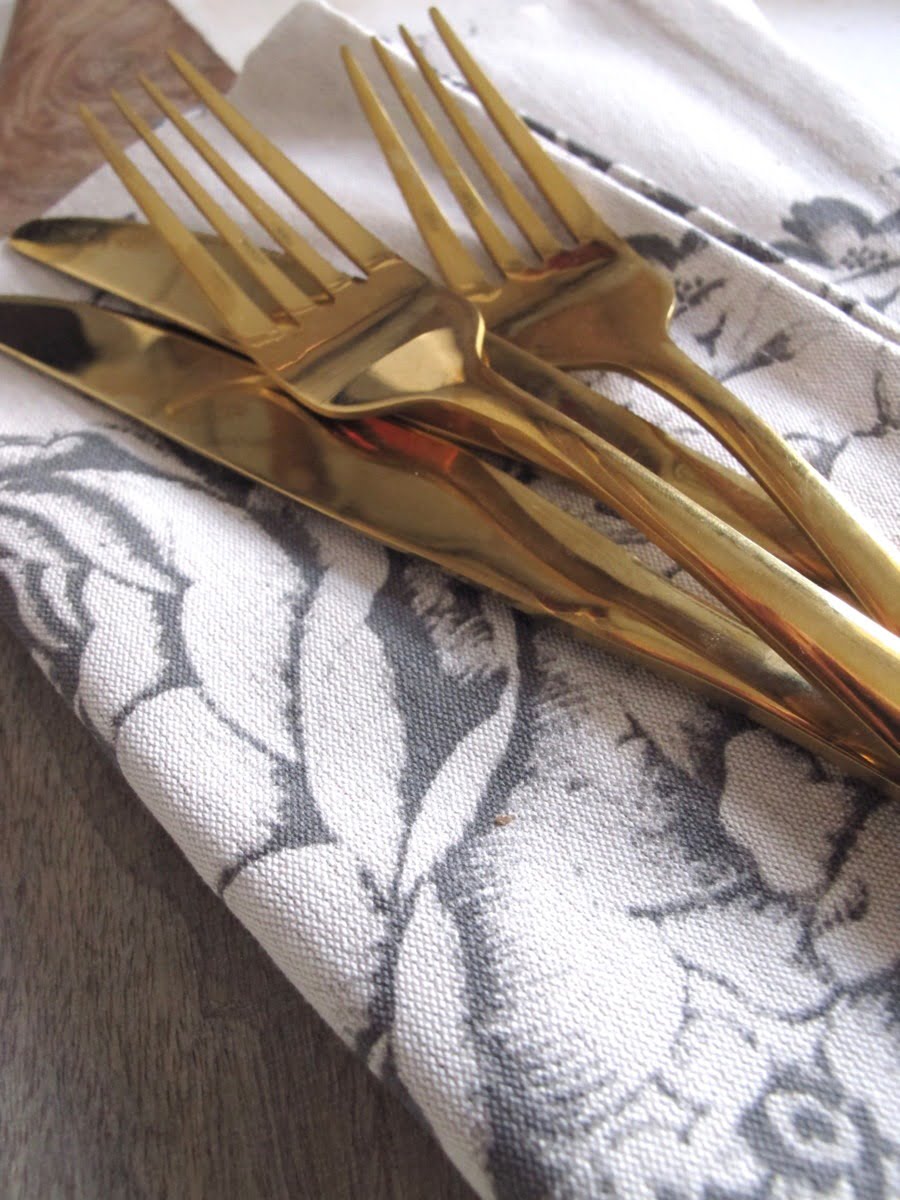 The napkins look like fancy linen ones from a posh shop – but at £8 for 4 – they scooped up into my shopping basket. These are strictly for best, as I'll be saving these for when my mum comes for a cup of tea.
The gold-effect cutlery is a sale find last year from Next. Are they beautiful? I've had them boxed up and now is time to use them. They come in black too – if you love them grab the quickly as they are still in the shops for £32.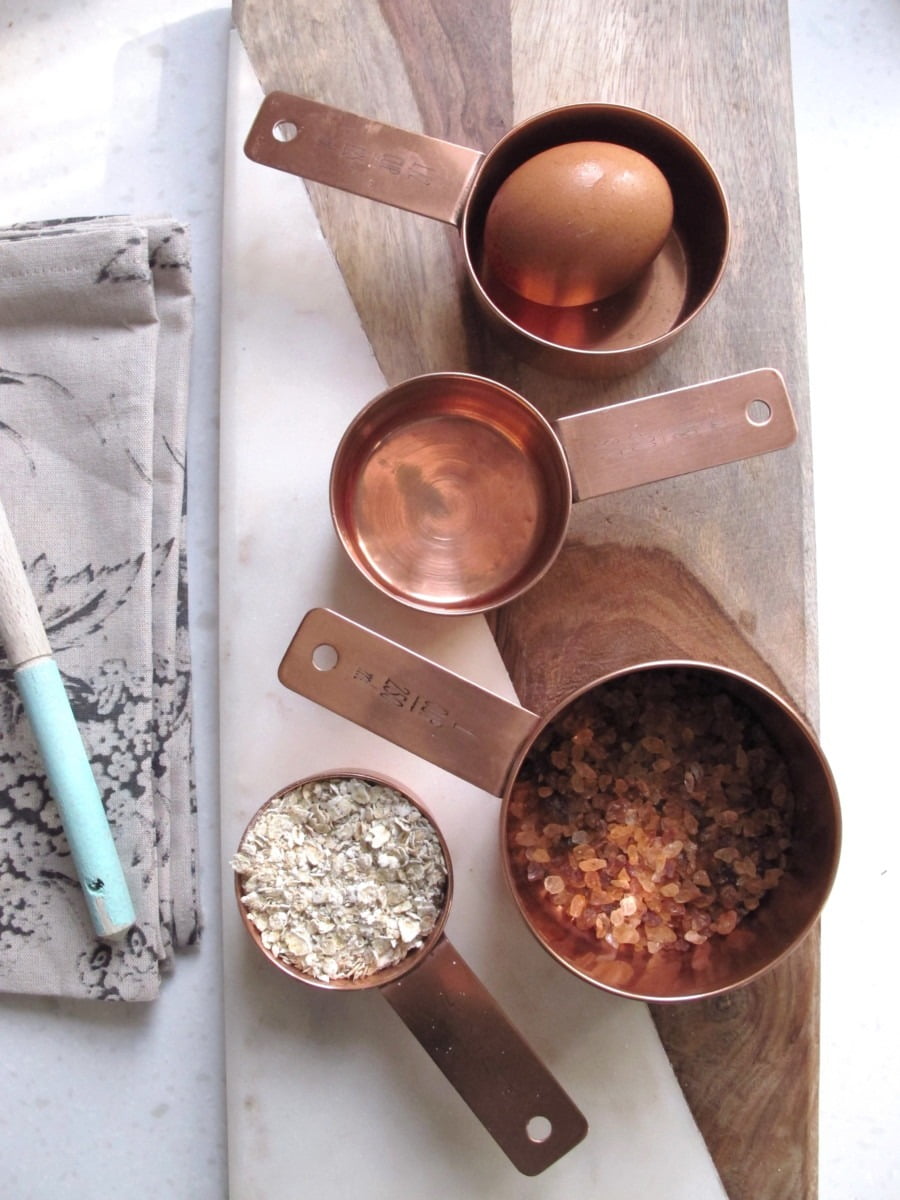 I'm the first to admit that I'm not the biggest fan of cooking but I think using these copper measuring cups (£6) might change all that. And if they don't, well they are ideal for scooping out my ground coffee in the morning instead.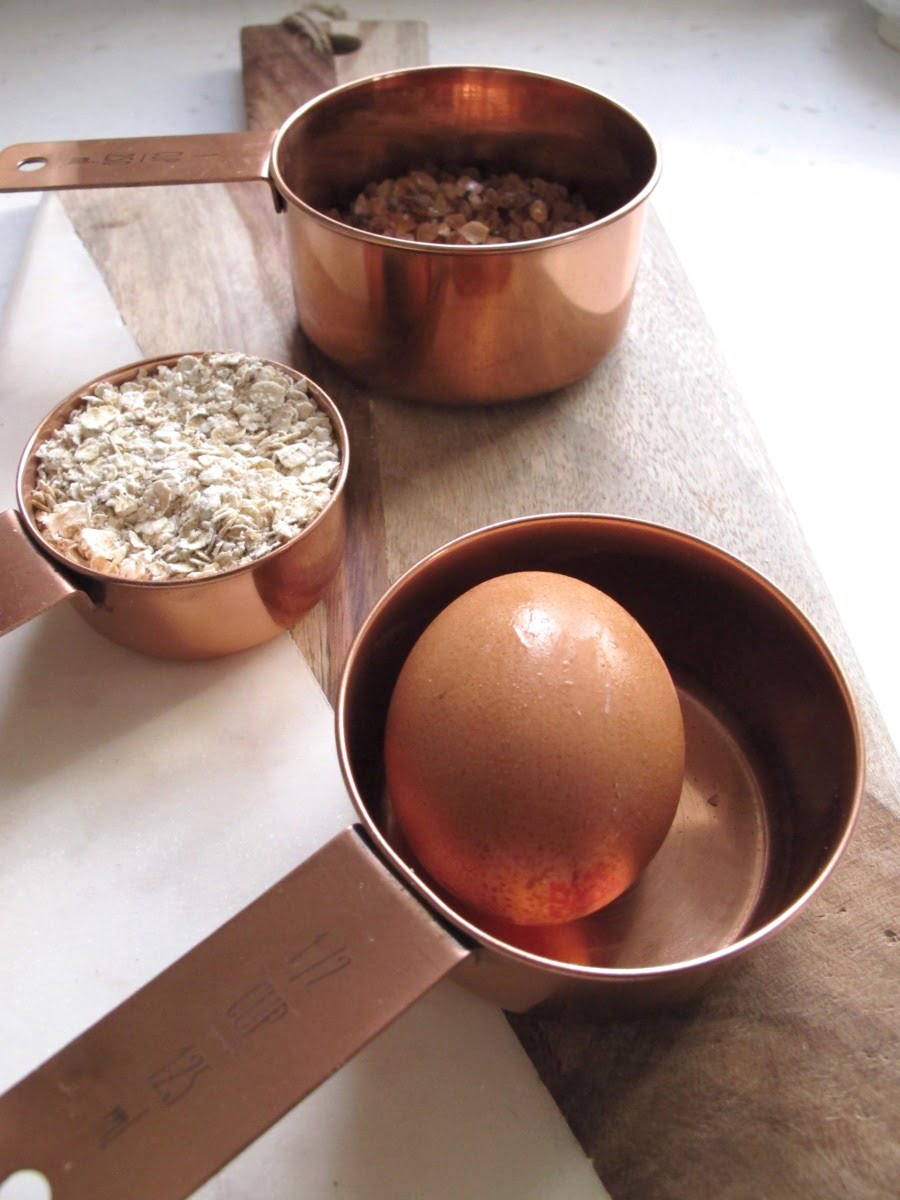 The saucepans were a splurge at £115 for the set of 3 (basically all my Christmas money went on these bad boys).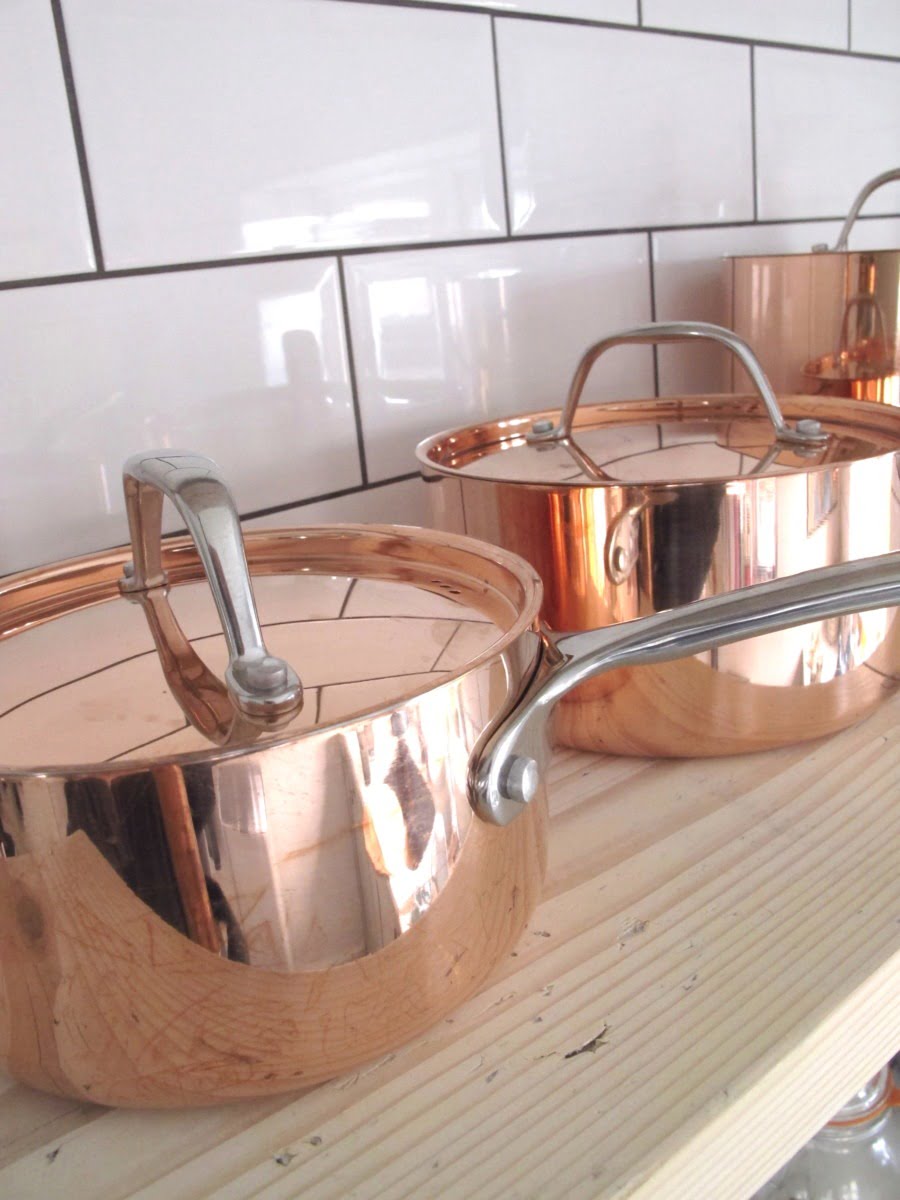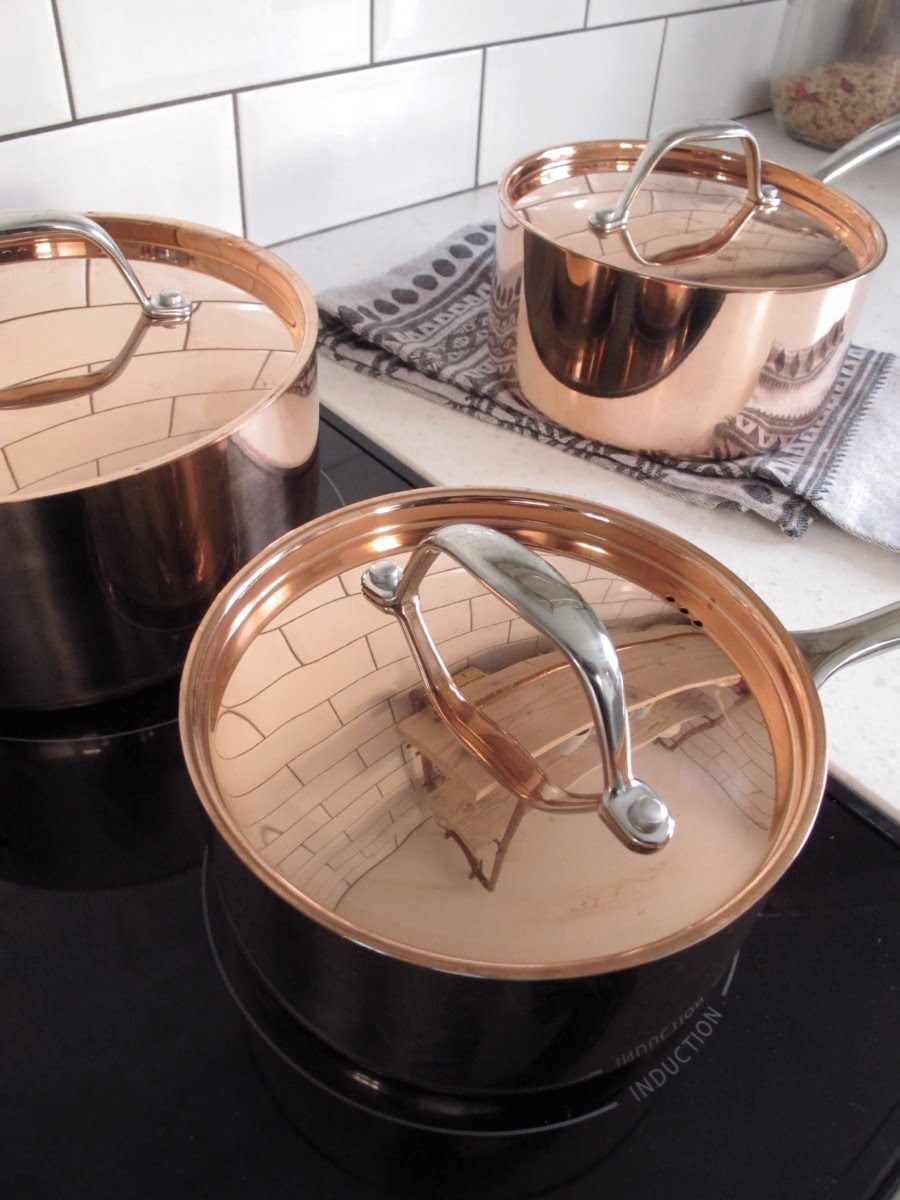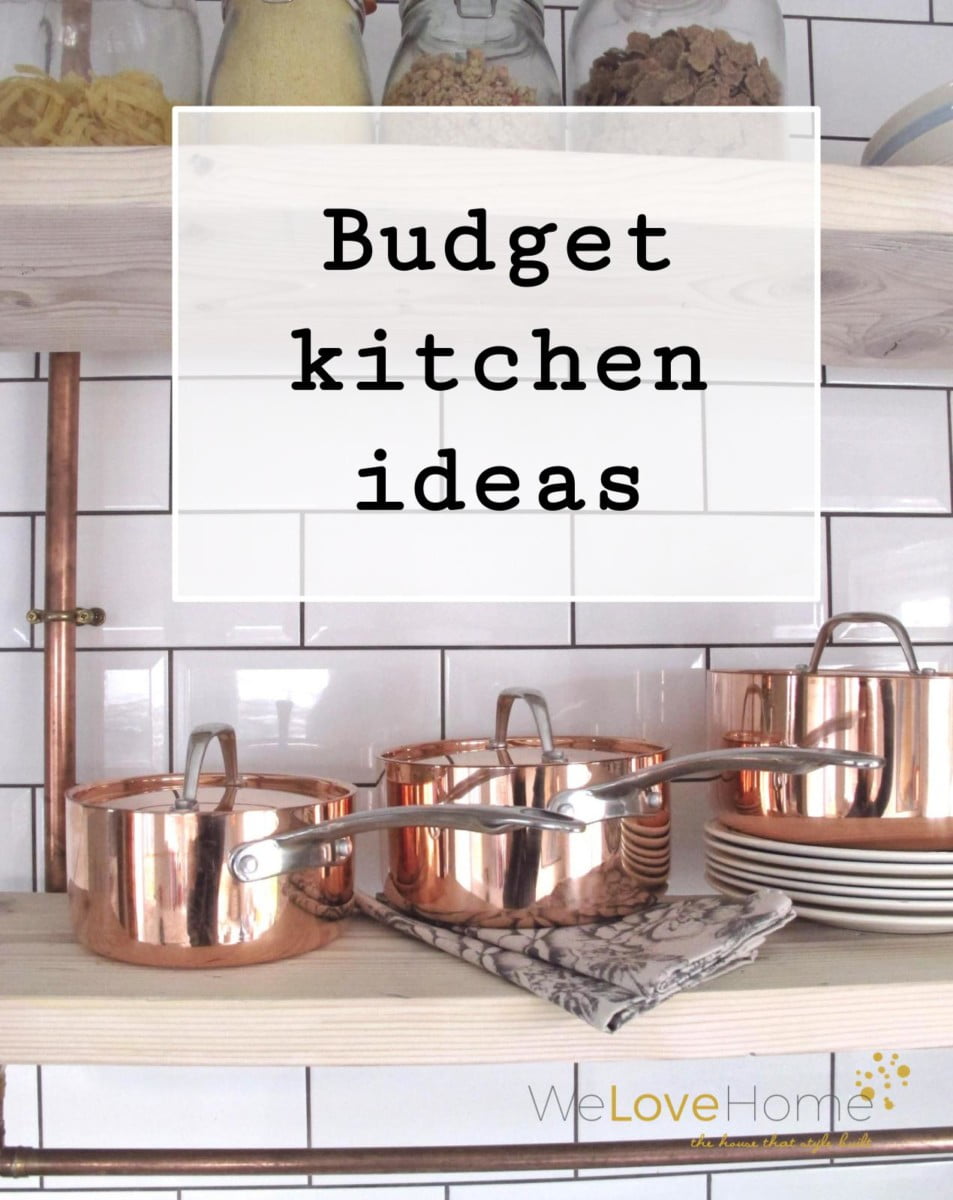 But they look sooooooo good, I couldn't resist. You that feeling when you have a clear out and get rid old scratched pans and replaced them with new shiny ones. Look inside my cupboards, they are gleaming.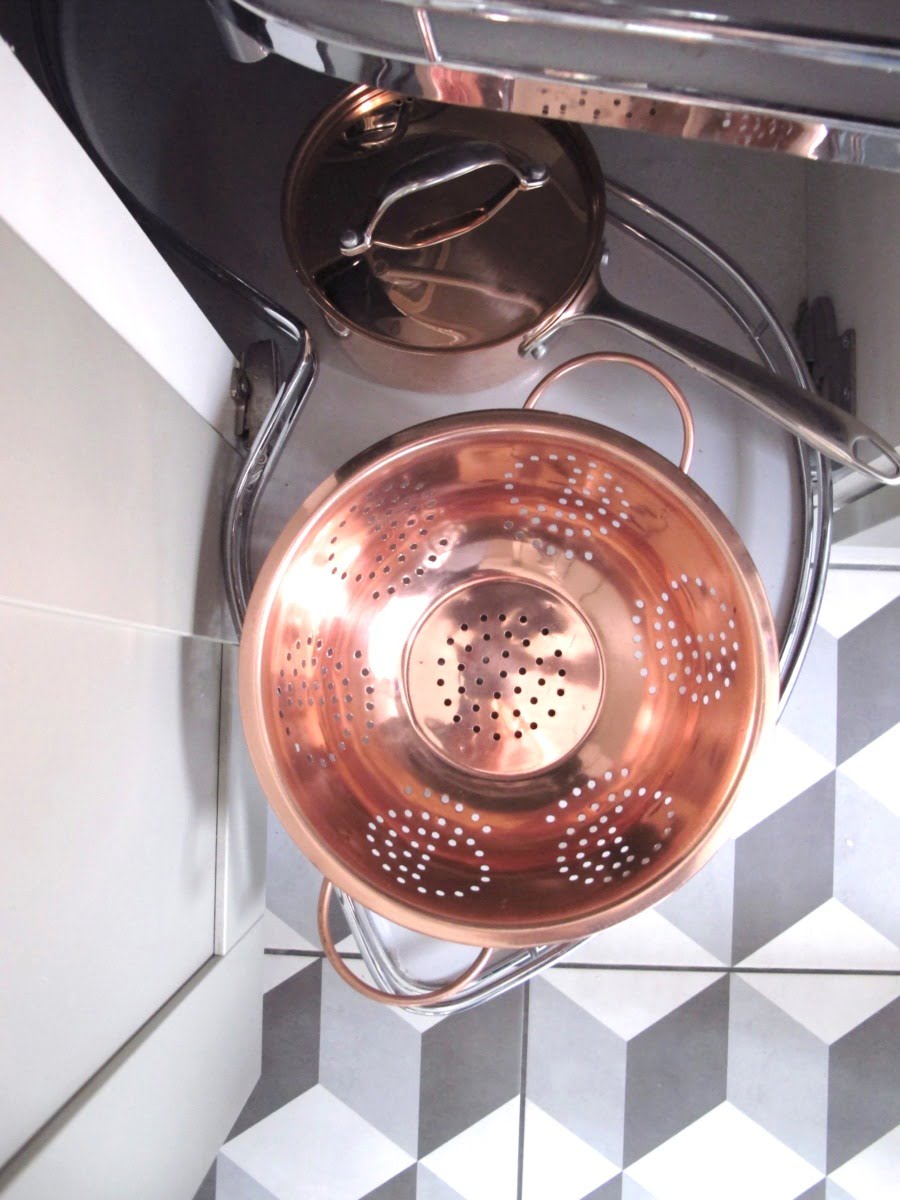 That's what happens when you send me out to the supermarket for the weekly shop, I come back with a basket full of beautiful kitchen stuff and a bag of salad. Oh dear.
I'd love you to see have far my kitchen has come this past year – take at look at what it looked like before, you won't believe the difference. I've also done a post with a shopping list of all the work tops, taps and extra bits and bobs that is really handy if you are at the kitchen planning stage.
Love this post – then give it a pin and save it for later to show your friends. Also, click here if you want to subscribe to my blog 🙂