My upstairs landing is one of the last areas of my home to have a makeover. I've been living with cruddy carpets for two years. The walls were battered and marked. The banister was covered in layers of paint. And the spindles dated back to the 1970s. I'm not even going to talk about the white washed walls.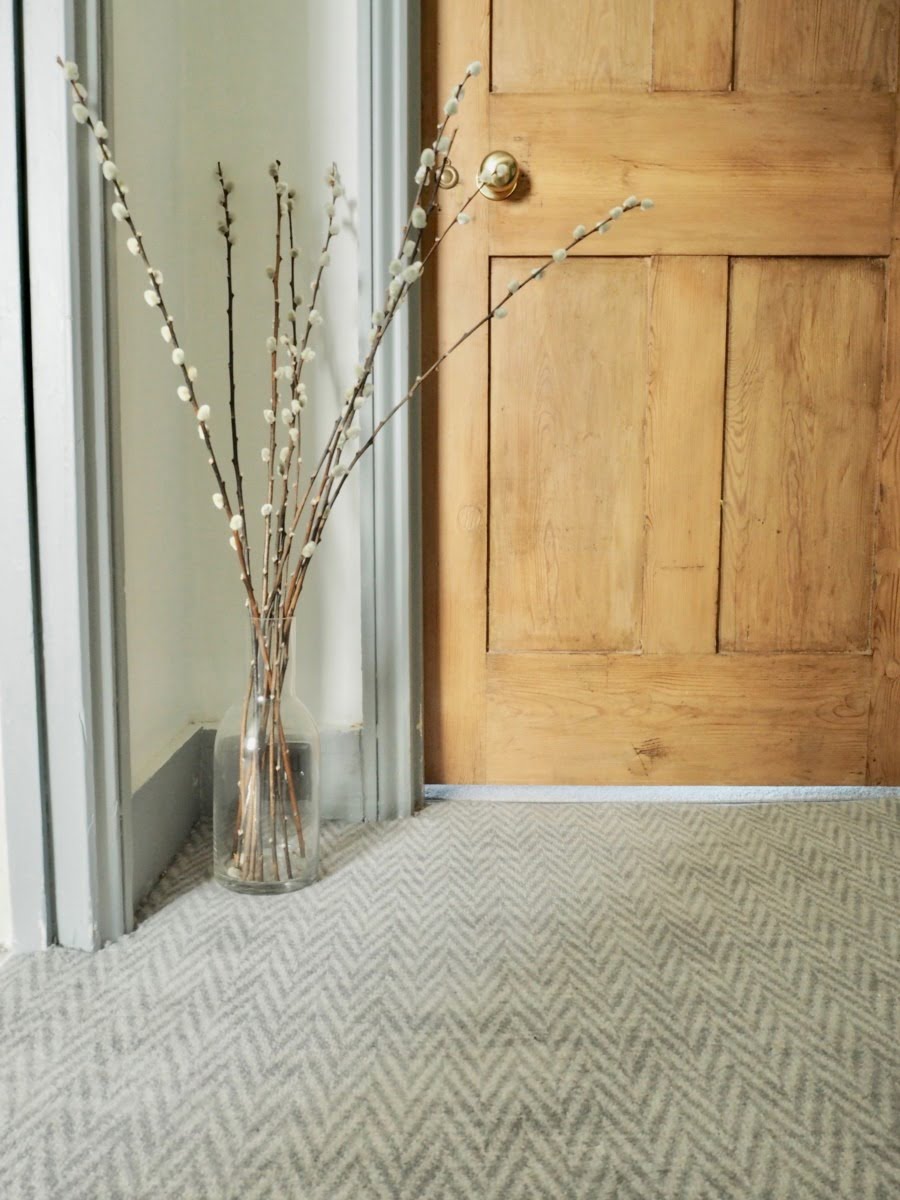 This makeover has taken the longest time ever – and involved weekend after weekend of work. There has been banister restoration, painting walls (twice), change of light fitting, woodwork painting, new carpet, furniture upcycling, tiling of the stairs…..I could go on but you get the picture here.
The reason it took so long? Because I have been chipping away at it bit-by-bit over the past two years. It seemed pointless to decorate my landing completely when I had a bathroom and two bedrooms to renovate up here and would have builders bashing the walls all the time. Once these three rooms had been decorated, I could turn my attention fully to this area. 
Shall we start at the top?
The before – Feb 2015
Sorry for the awful lighting in this photo (although that is the least thing to worry about when you look at the state of this room).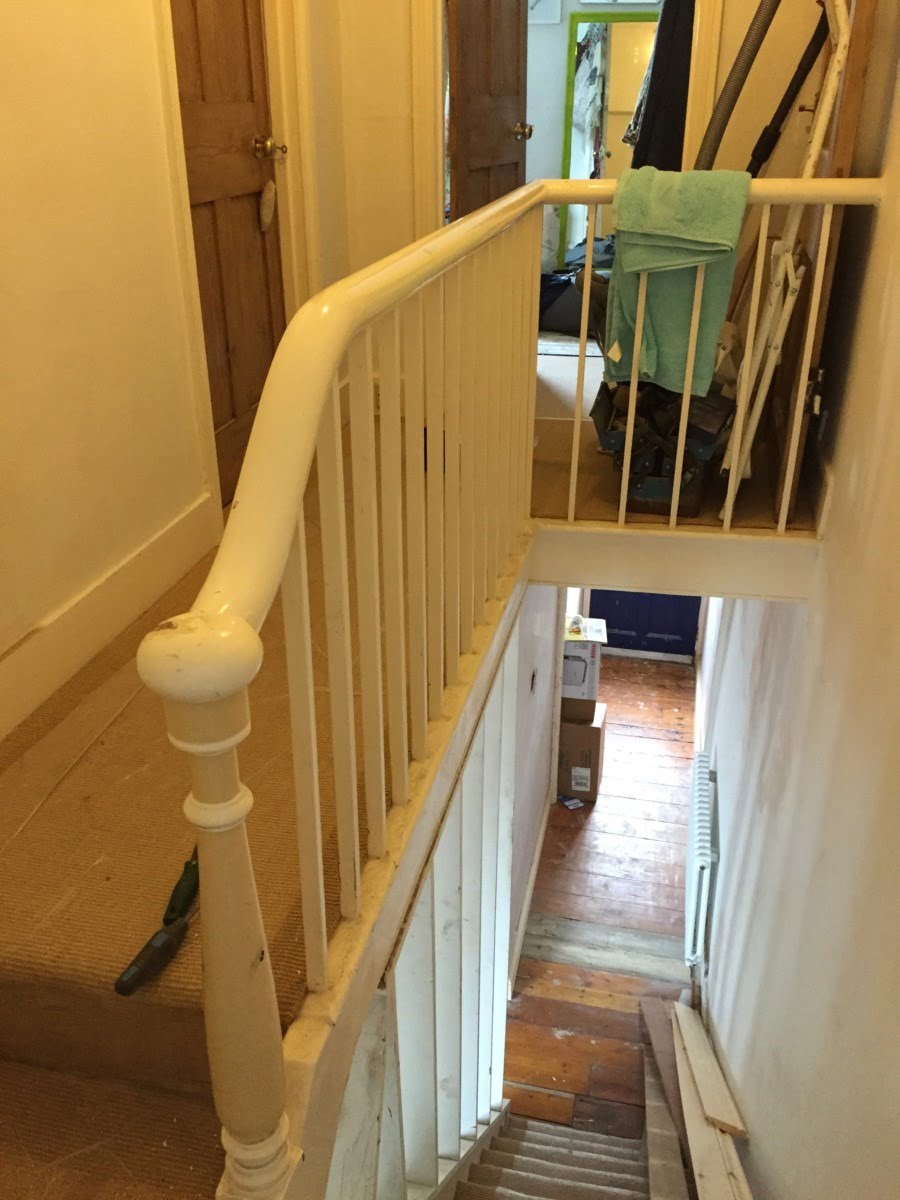 Let me list what I hated:
Horrible thin banisters. Can you see the ones at the bottom of the stairs? And this is when I had painted them white!
Grotty, slippy marked carpet.
Dark and dingy space not helped by the 'rented' magnolia walls
No storage, No lighting, No style.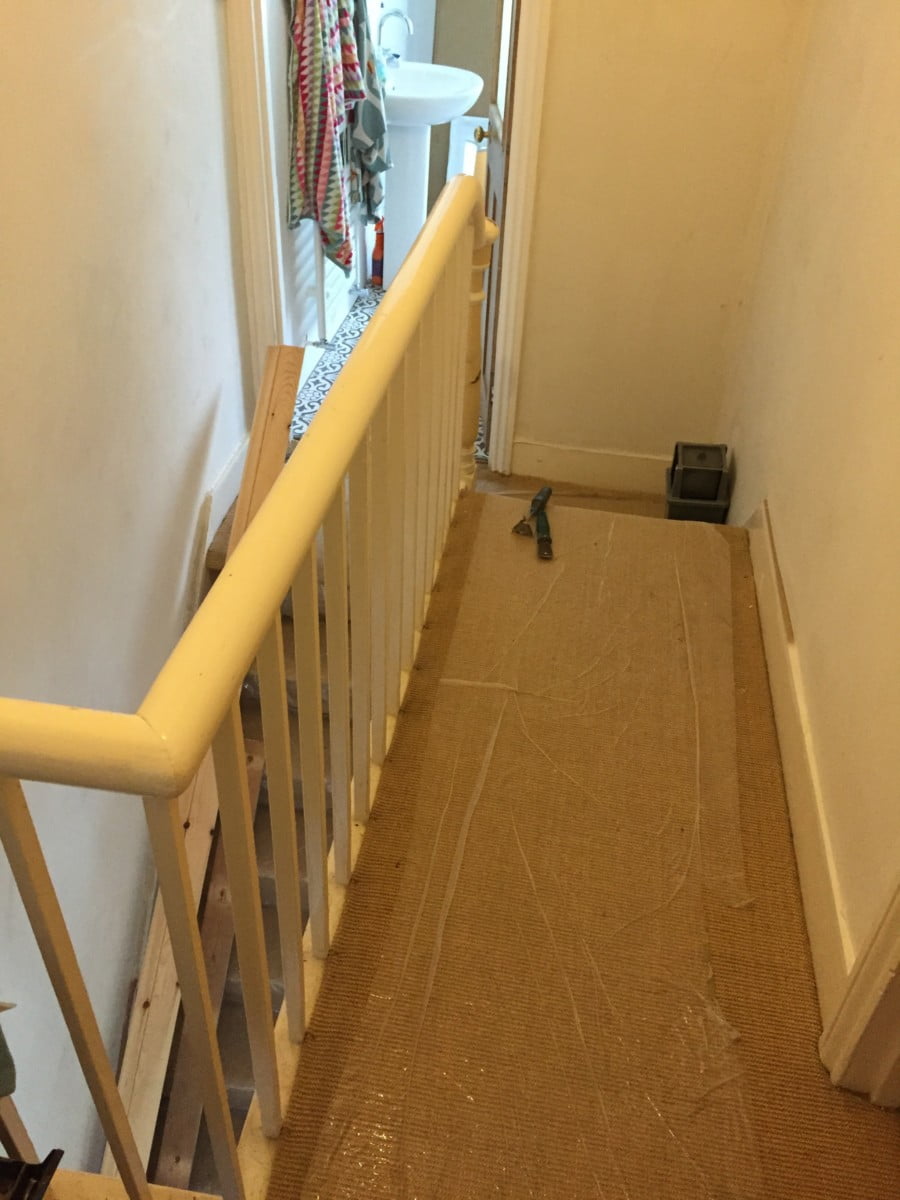 September 2015 – Revealing the oak banister
This is when I decided to scrape away and 'just see what's under the paint'. Yep, you guessed it, that was my weekend gone in scraping with a hot gun and wire wool to get off layers of old paint off the banister.
All done in flip flops I'd like to point out (healthy and safety – whaaaat?).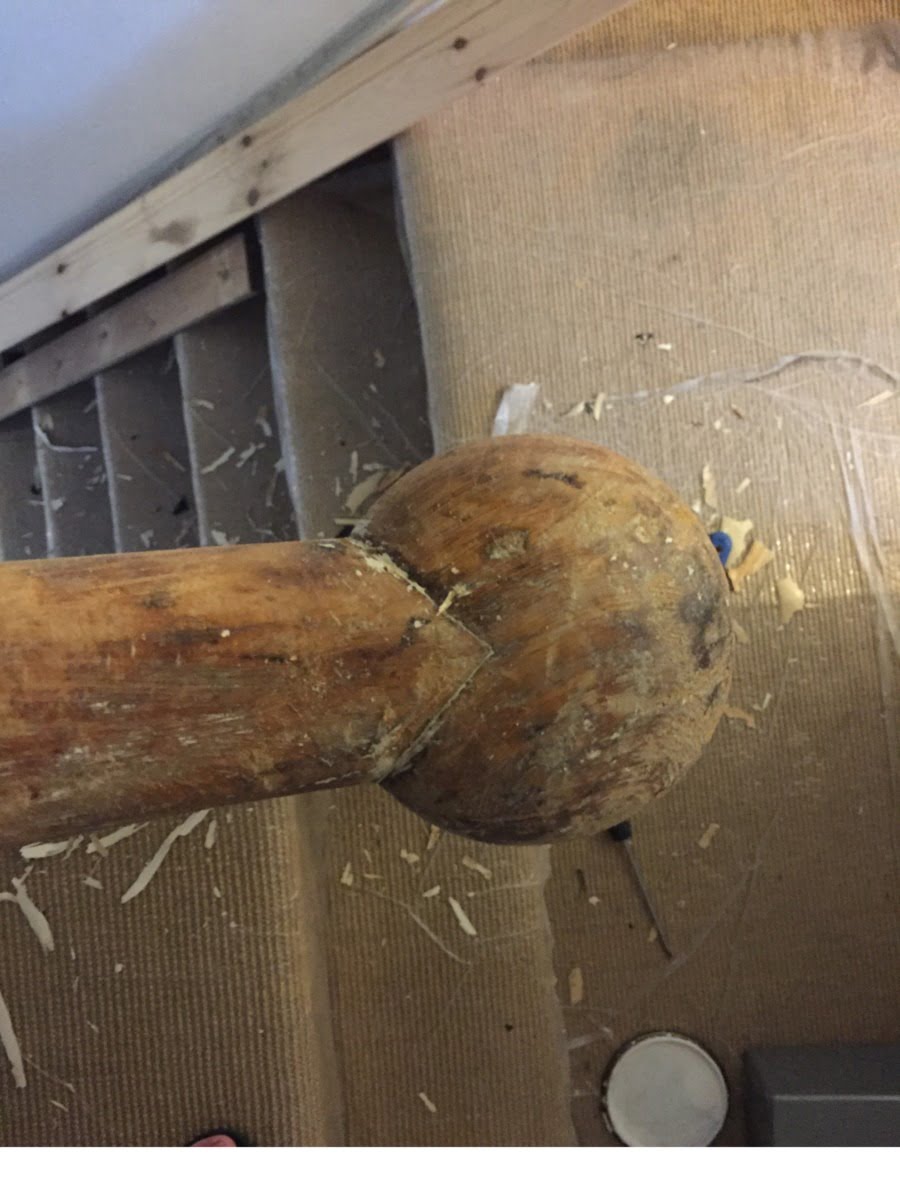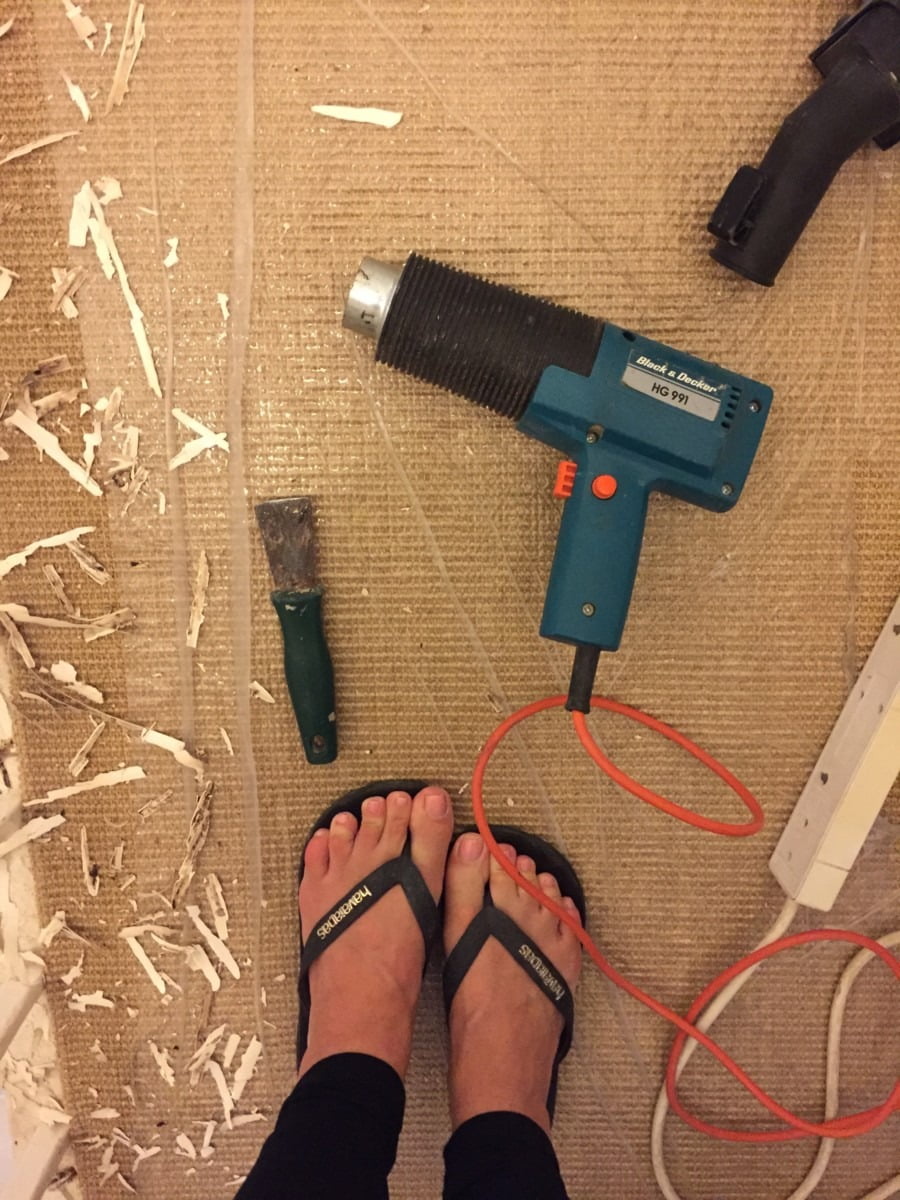 We're skipping a lot of steps here. But let's just say my Mum got involved and then I had a beautiful solid Oak banister that was sanded back and then lime washed with Blanchon wax oil – the stuff is pure gold.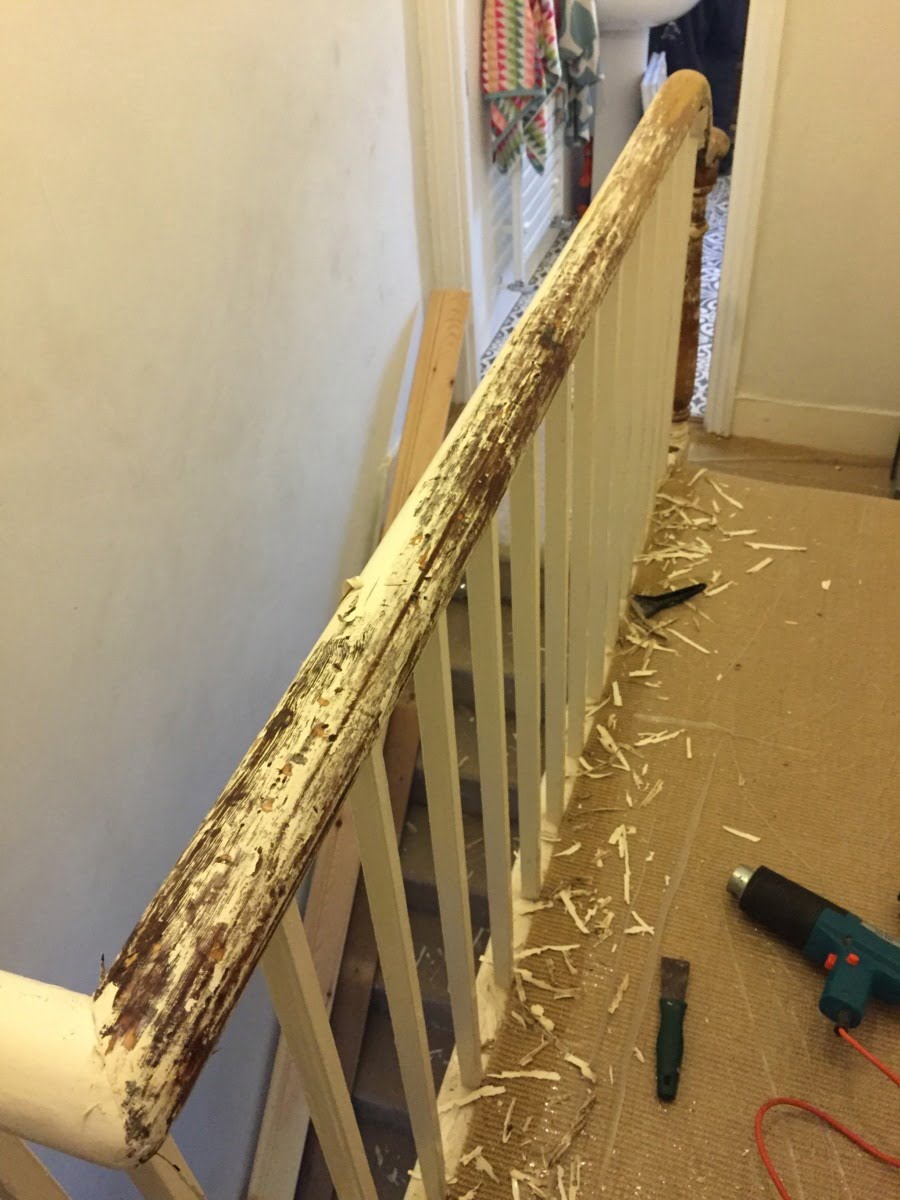 January 2016
Okay new year, new banister. I had new Richard Burbridge spindles put in by my carpenter.  I cleaned up the carpet. And gave the walls a quick coat of white to freshen them up.
Chip, chip, chipping at this makeover.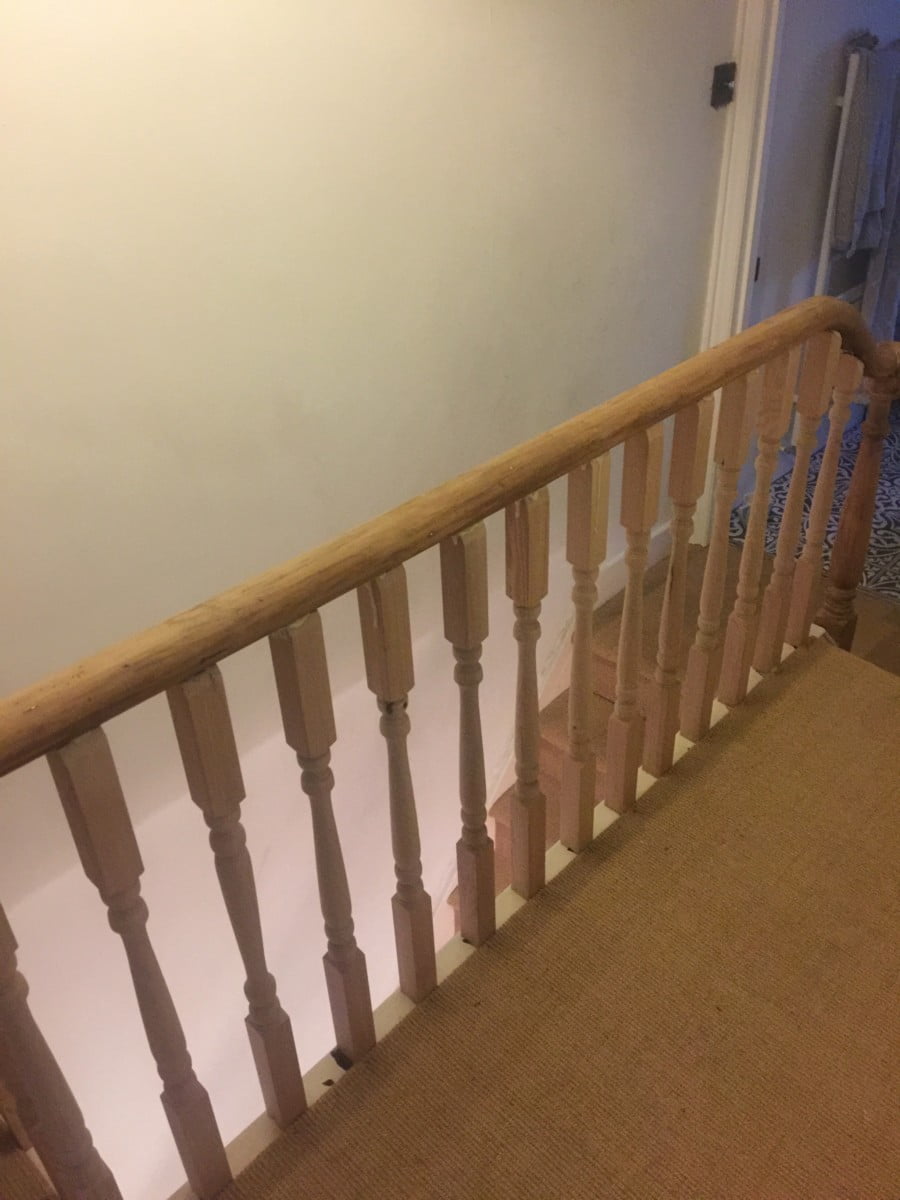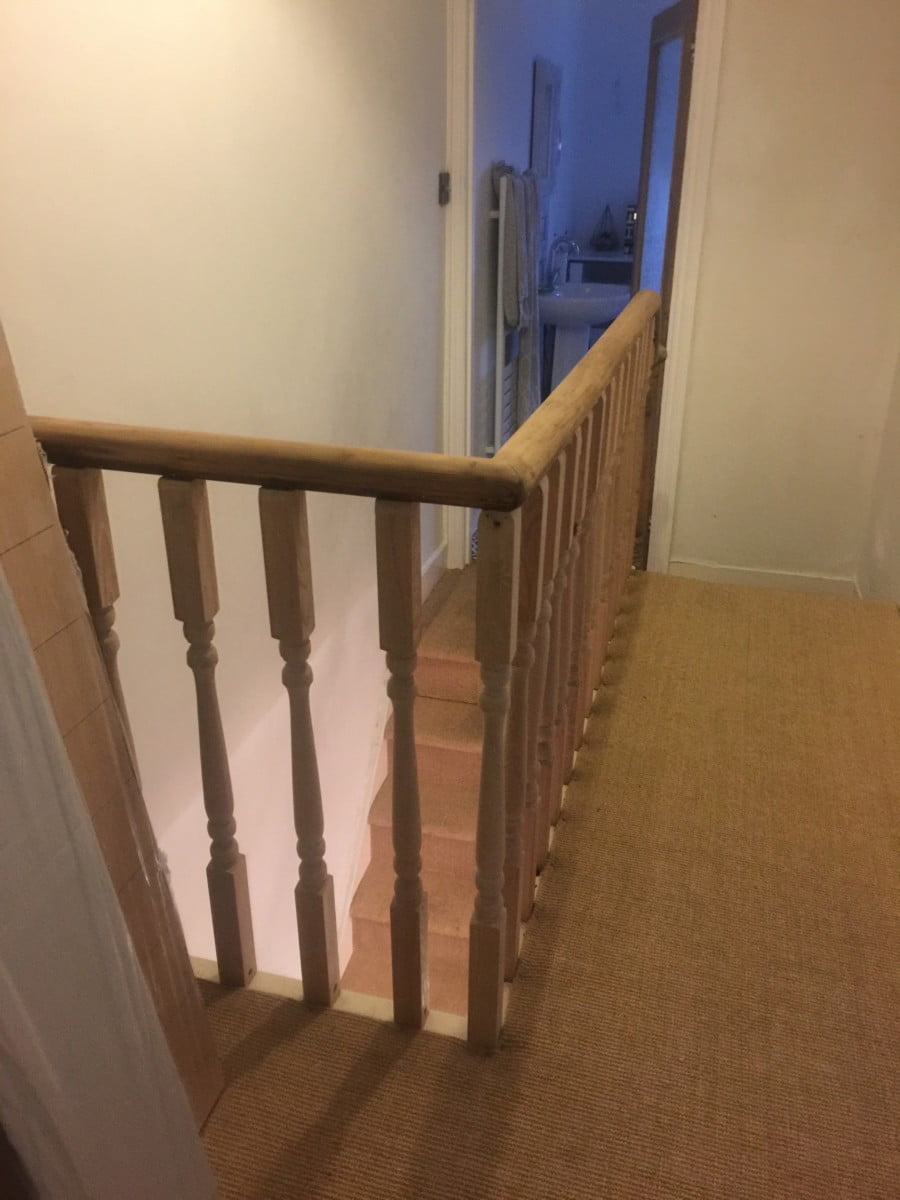 April 2016 – Landing storage solutions
You can probable see at the top of the stairs I had an area just outside my bedroom. In a small home, every tiny bit of space has to work really hard. I wanted a piece of furniture that would hold all my bedlinen and towels as well as be a display space.
When it comes to vintage – you got buy NOW. Otherwise, it's gone. I had several saved searches on ebay for linen cupboards and was constantly on Gumtree. Then when walking the dog in Kemp Town, Brighton – I found this guy in a great junk shop. For £30.
It's a 1960s or 70s TV cabinet. Although it was bright orange wood it had huge potential. Just look at them drawers.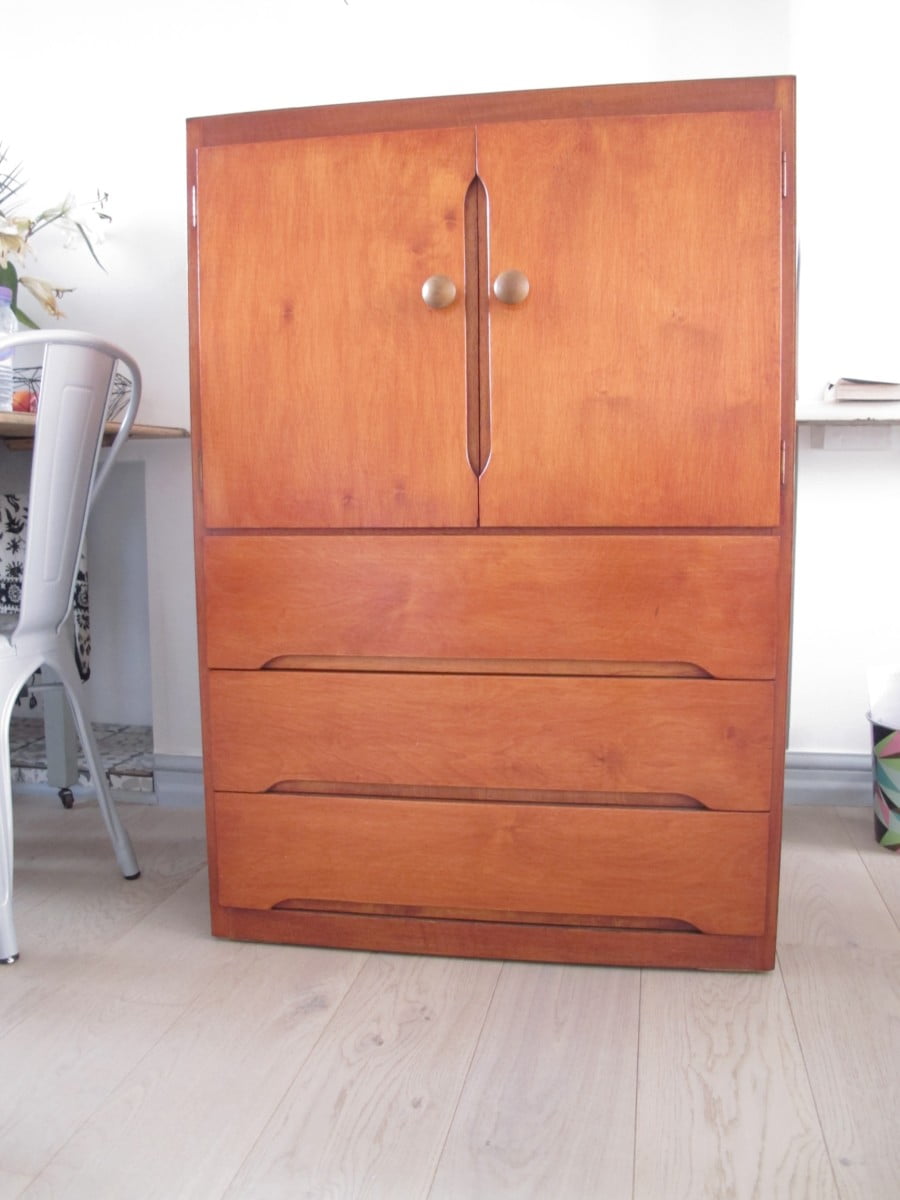 I painted it with Farrow & Ball mid-tones primer then in a deep shade of navy called Stiffkey Blue. It looks a bit electric blue here but it's a wonderful shade of blue.
Hold on until the end for the big reveal to see what I did…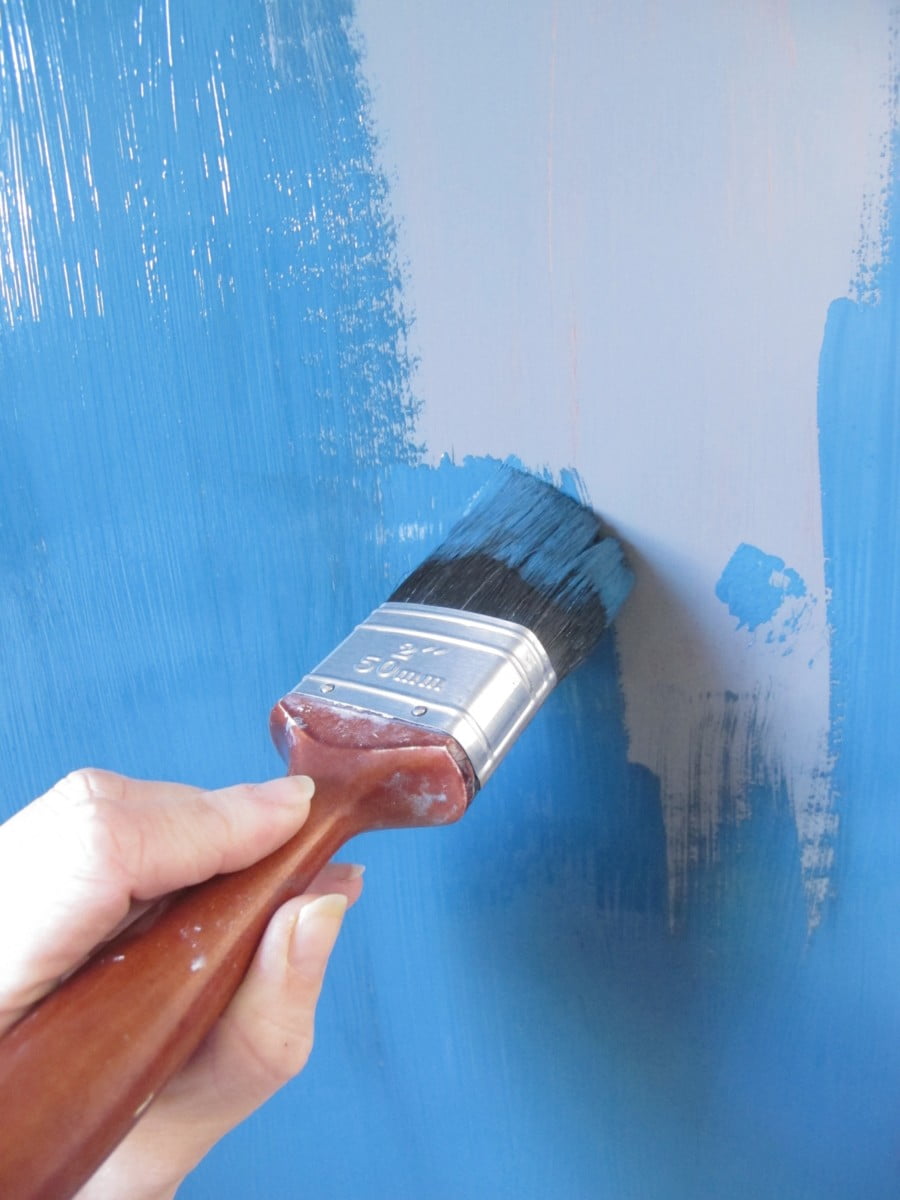 May 2016 – New Light fitting
I went on holiday to Marrakech for my birthday with the intention of picking up a lot of stuff for my home. Including this glass and metal light fitting which I carried back on the plane. Using twisted vintage style wire light fittings from William & Watson in black so that I could loop the light over the banister. This saved me moving the existing light fitting. Clever hey?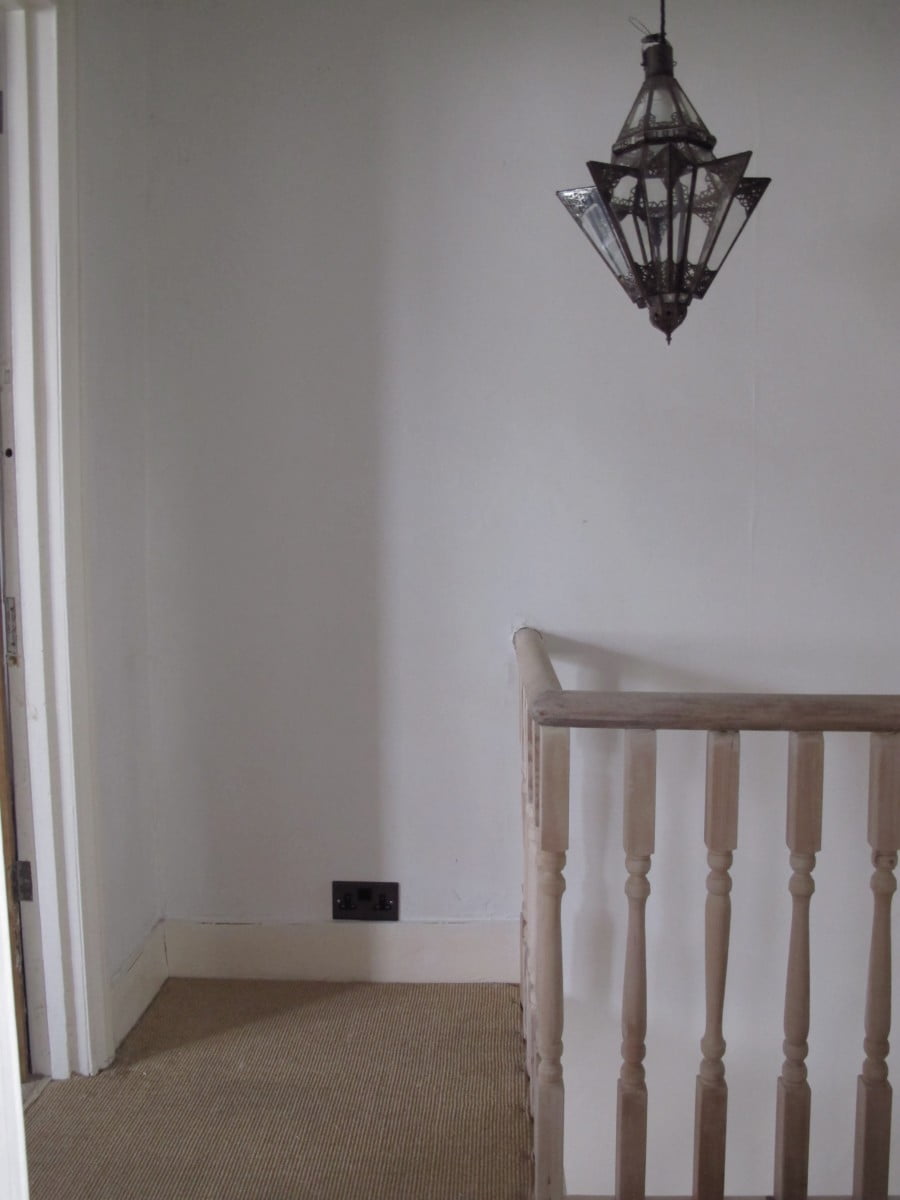 Not so clever was my love of Stiffkey Blue which I tried painting on the ceiling. And then again on one wall. Humm….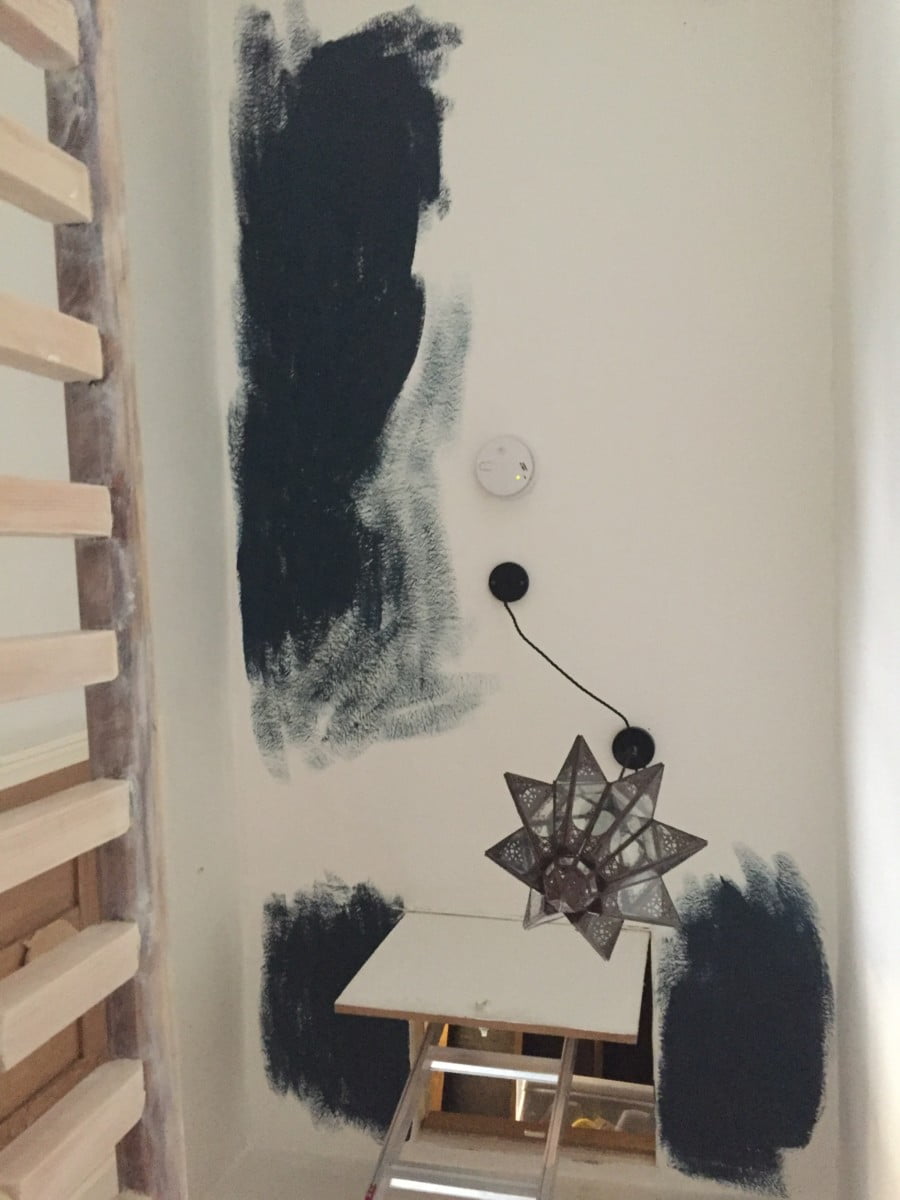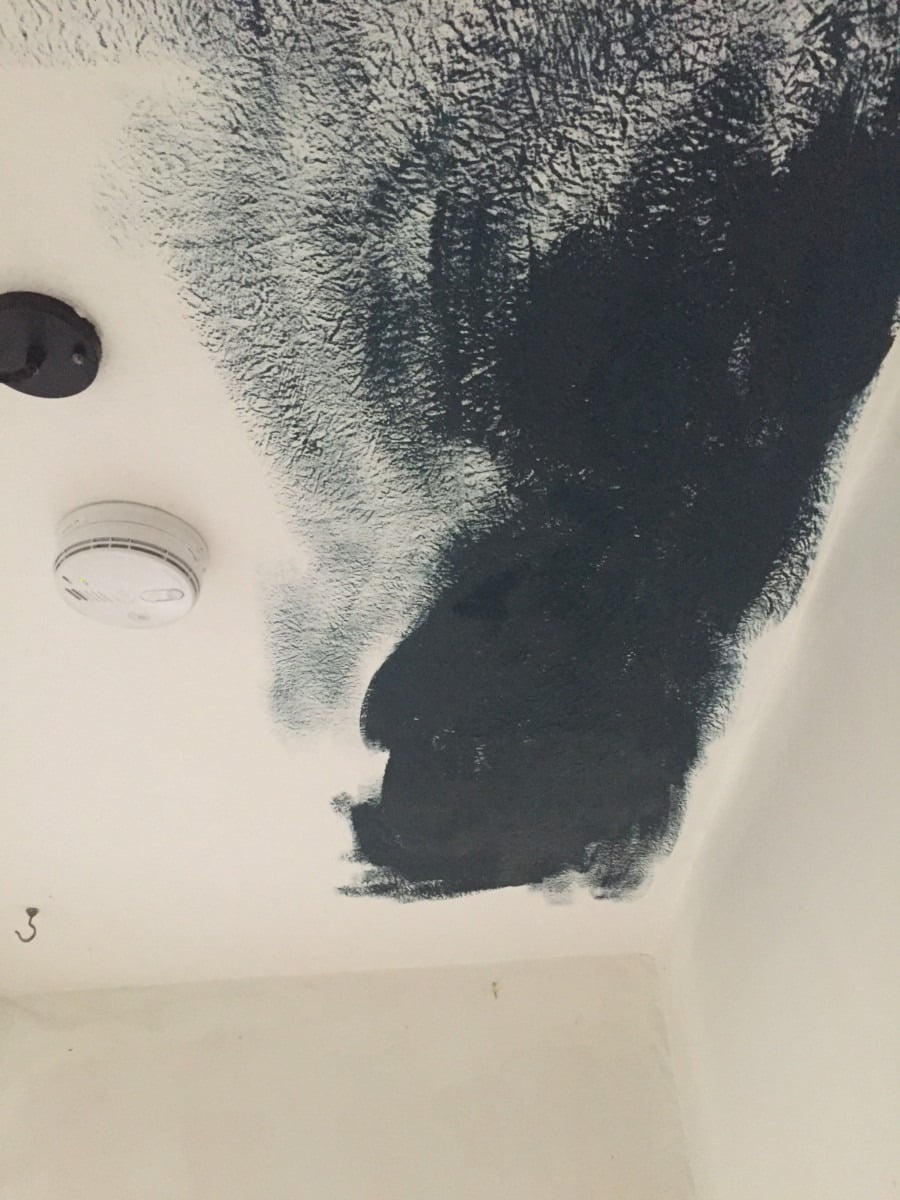 I put the colour to the vote on my WeLoveHomeBlog facebook page, and everyone one of my 11.5K followers said No!
The blue paint seemed to highlight my new fire alarms which I need them a condition of my contents insurance and to meet building regulations. For once I thought with my better head on and scraped dark blue idea.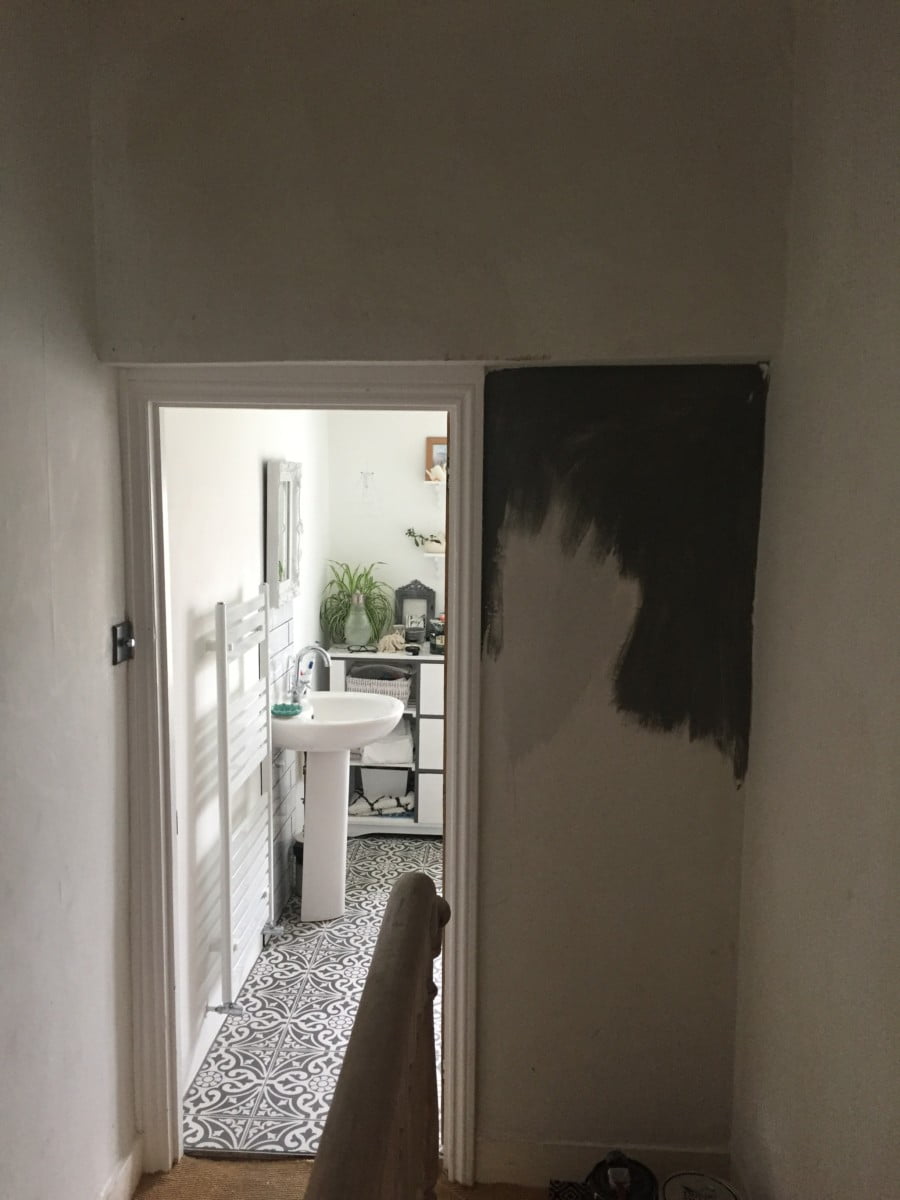 December 2017 – New Carpets Ordered
Everyone know my hatred of these beige carpets. After much debate on here – where I posted about my fav 10 grey carpets I decided time was to invest in new carpets.

As I was keeping the walls plain white to keep the feeling of light. And as the blue ceiling idea bombed, I needed to get the paint and the woodwork done before the carpets were put in – just two days before Christmas, which was also two days before my two month trip to the Philippines. Nothing like a deadline hey.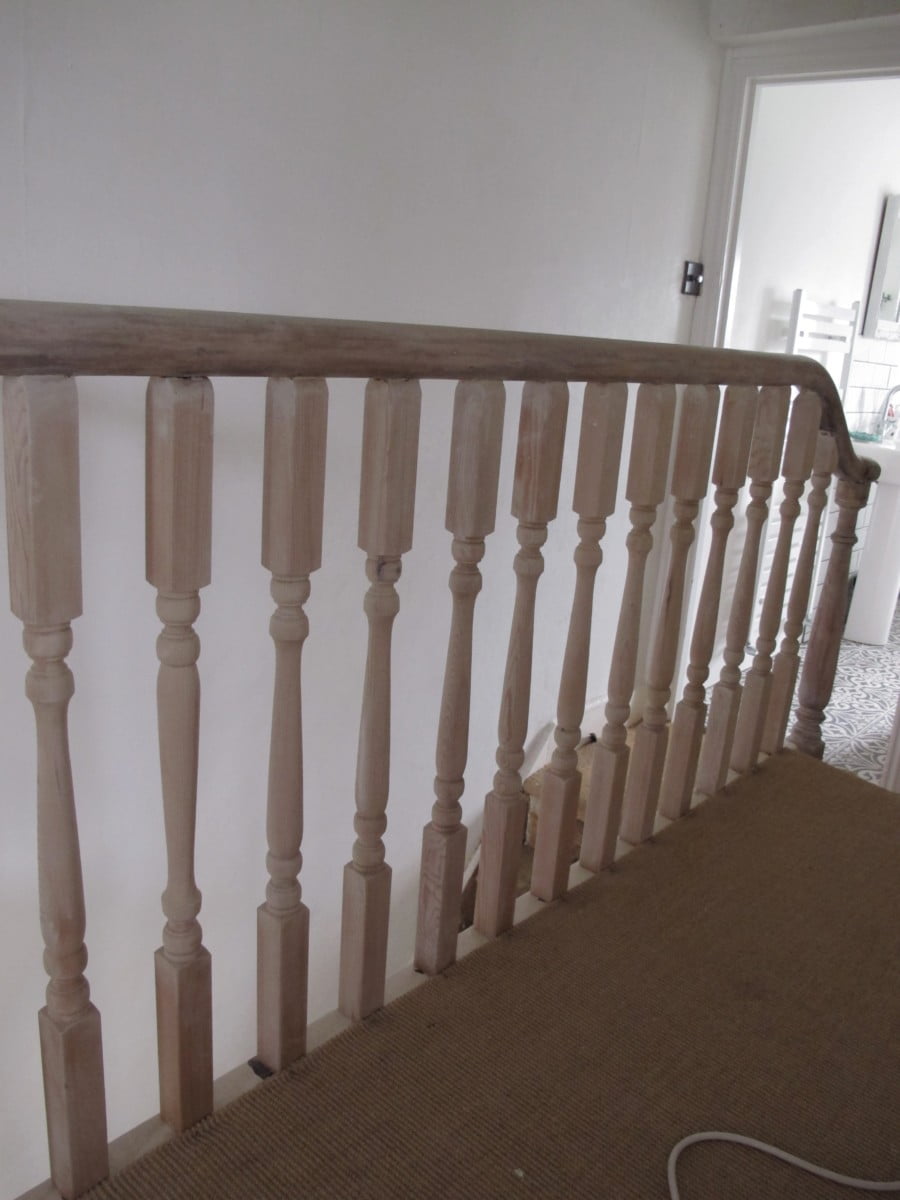 I begged my dad to help me one weekend to paint walls and the ceiling (he is nice and tall). The landing has no windows so I decided to paint the walls in a fresh white shade called – Loft White by Little Green Paint Company.
Next, I ripped up the battered old seagrass carpets up. They were covered in paint, builder's dirt, plaster dust and a large splosh of red wine. You can read how that DIY project on how to reveal carpeted stairs to wood over here ( don't do what I did and have a hangover when tackling this job).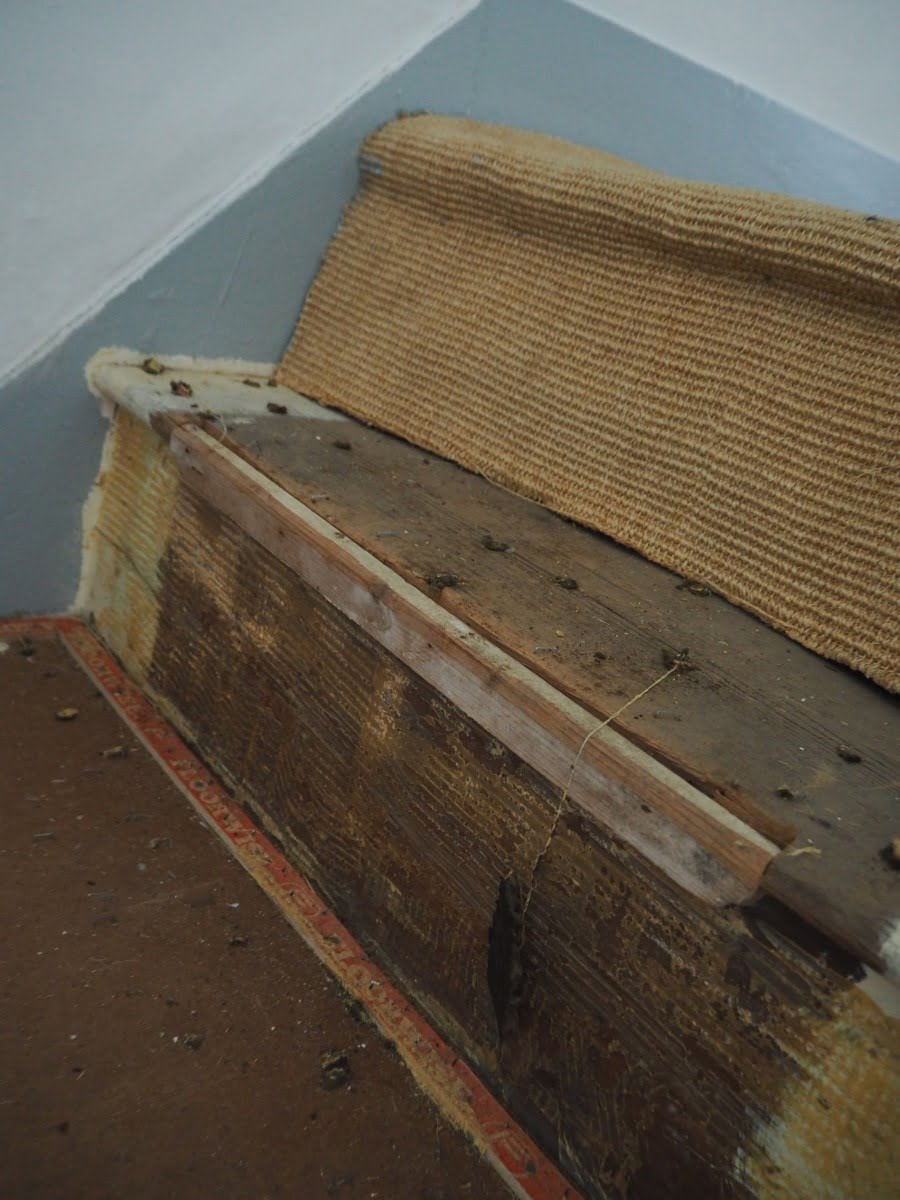 I picked a pattern carpet as although this is a small area, I wanted it to have a big impact as you walked up the stairs. And I love a herringbone print. I went for Leapfrog Limestone from Axminster from their Hazy Days collection.
Grey carpet was a practical choice, hiding the worst of my daily wear and tear (I hoped).
It took a day and a bit to fit the carpet in all three rooms so my home was only upside down for a bearable amount of time. Actually, I did a blog post on installing the carpets on my landing and two bedrooms over here.
I had all the light switches and sockets swapped from plastic ones to nice gun metal ones to match downstairs.

The Big Reveal – January 2017
Nearly two years down the line – and I'm done. Come on up, and let me show you around >>>>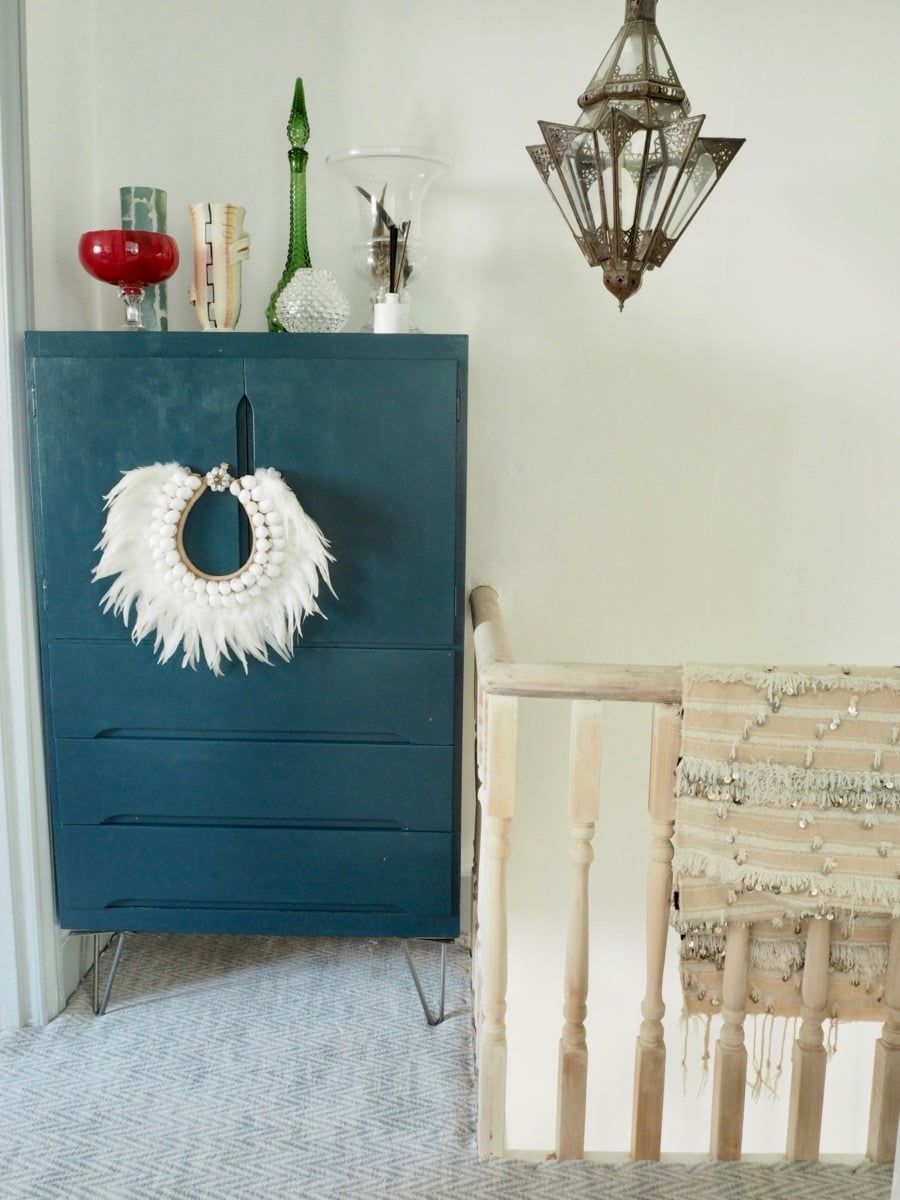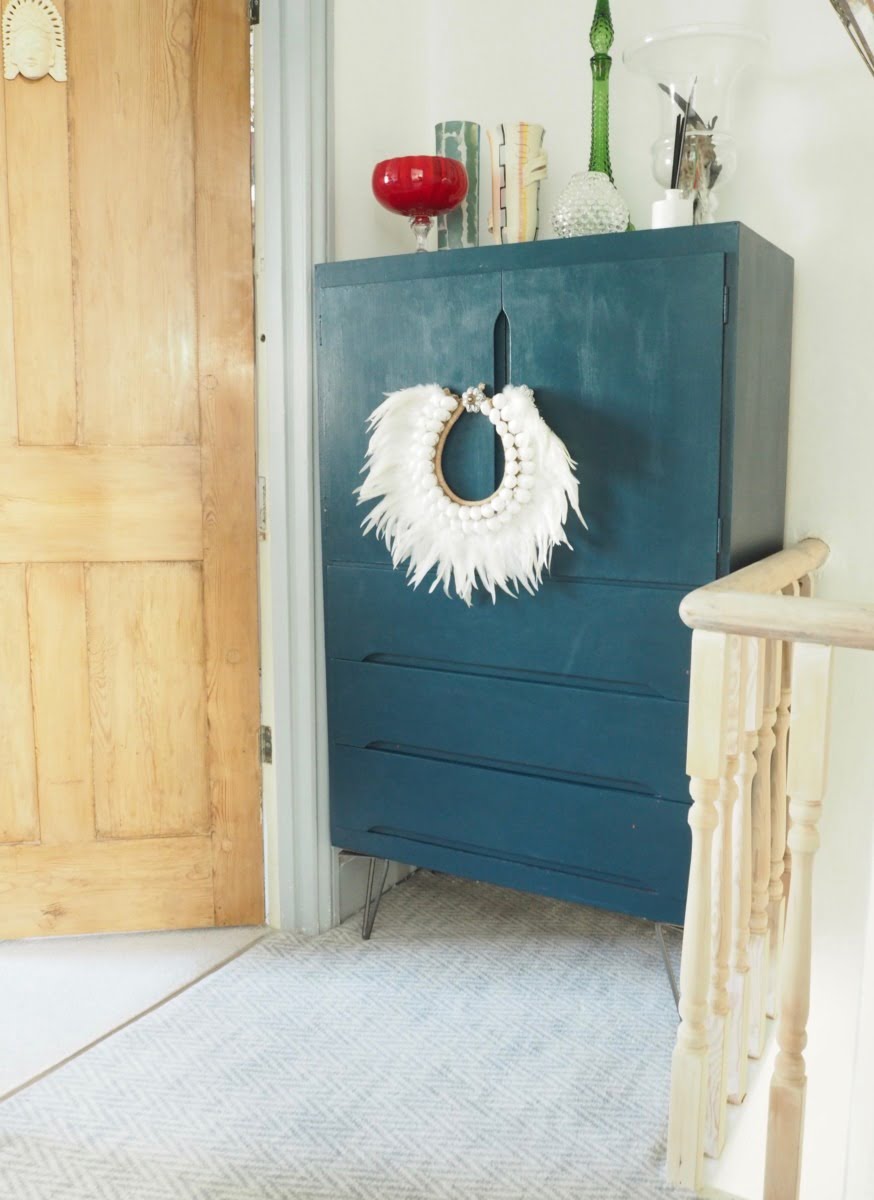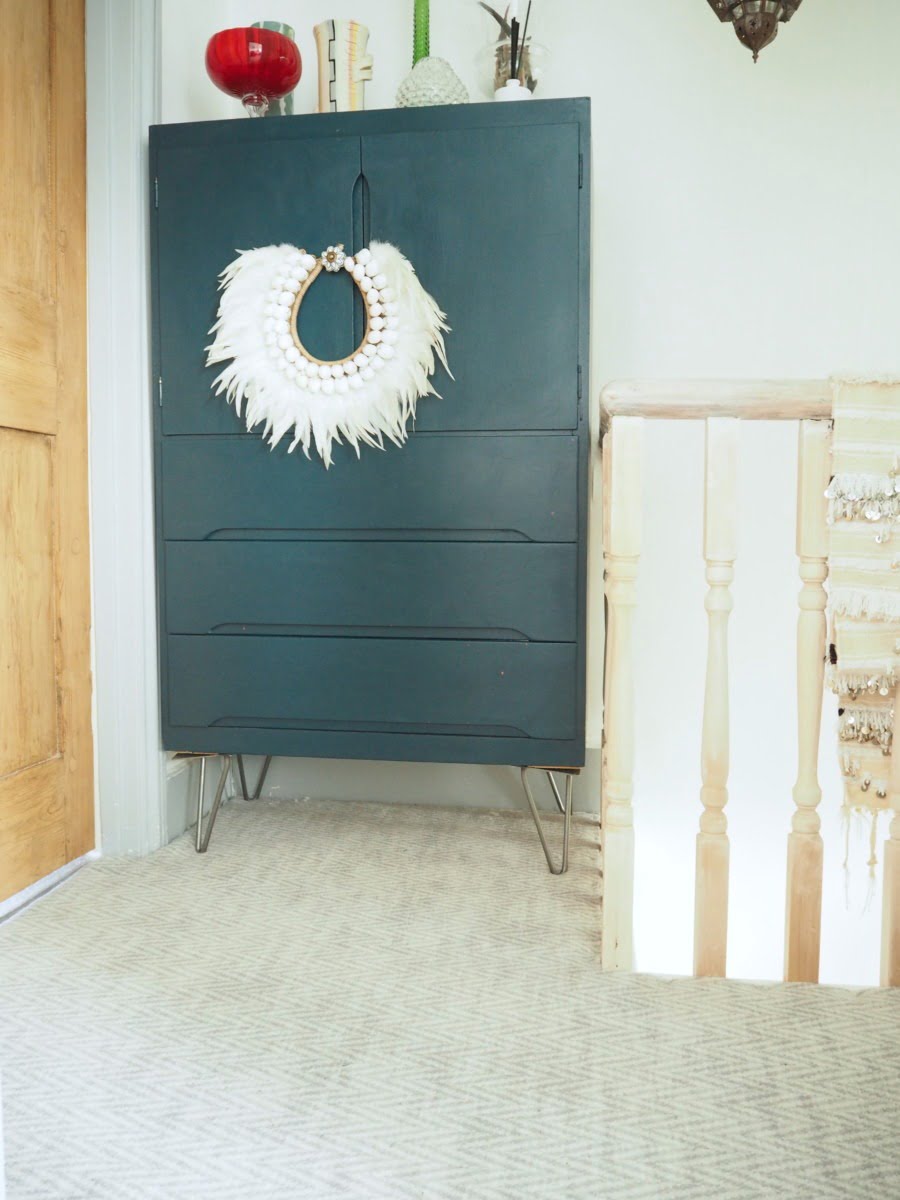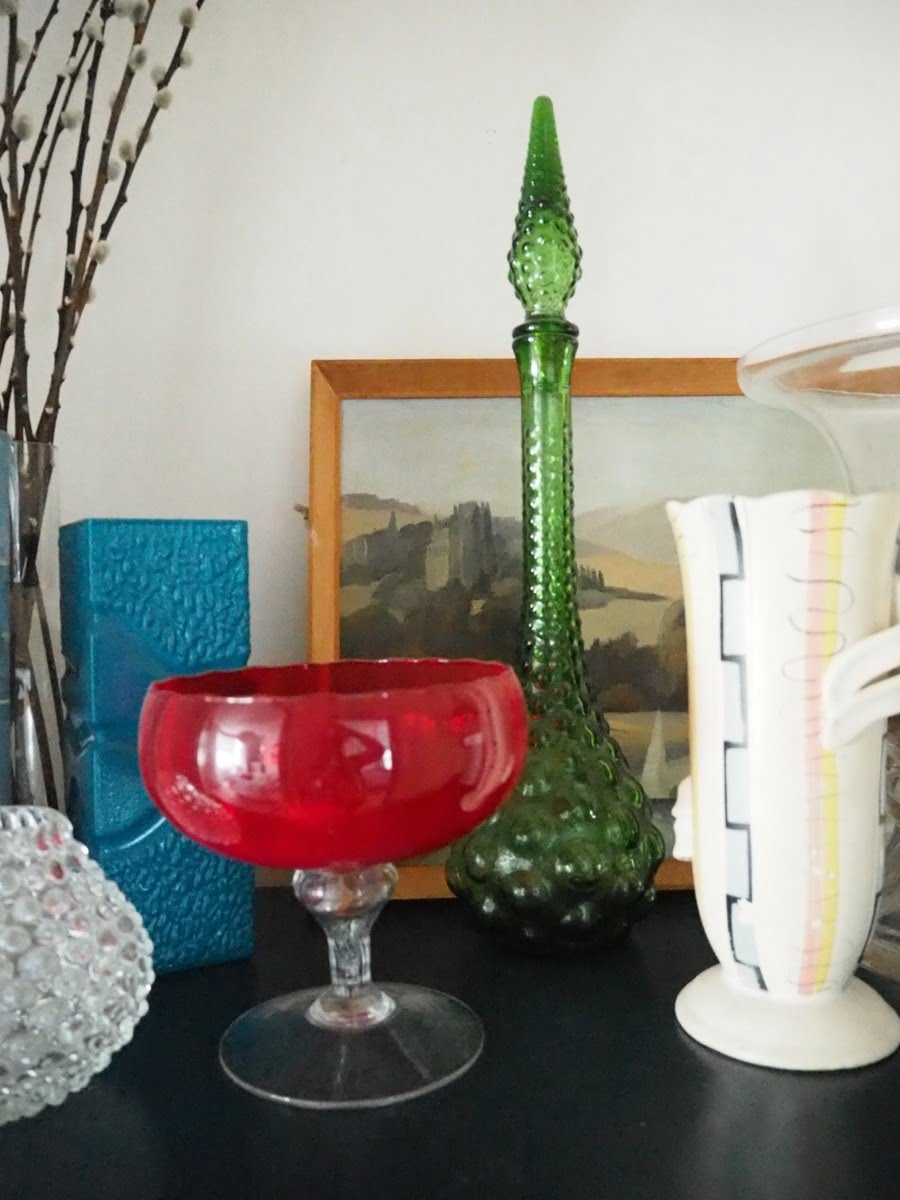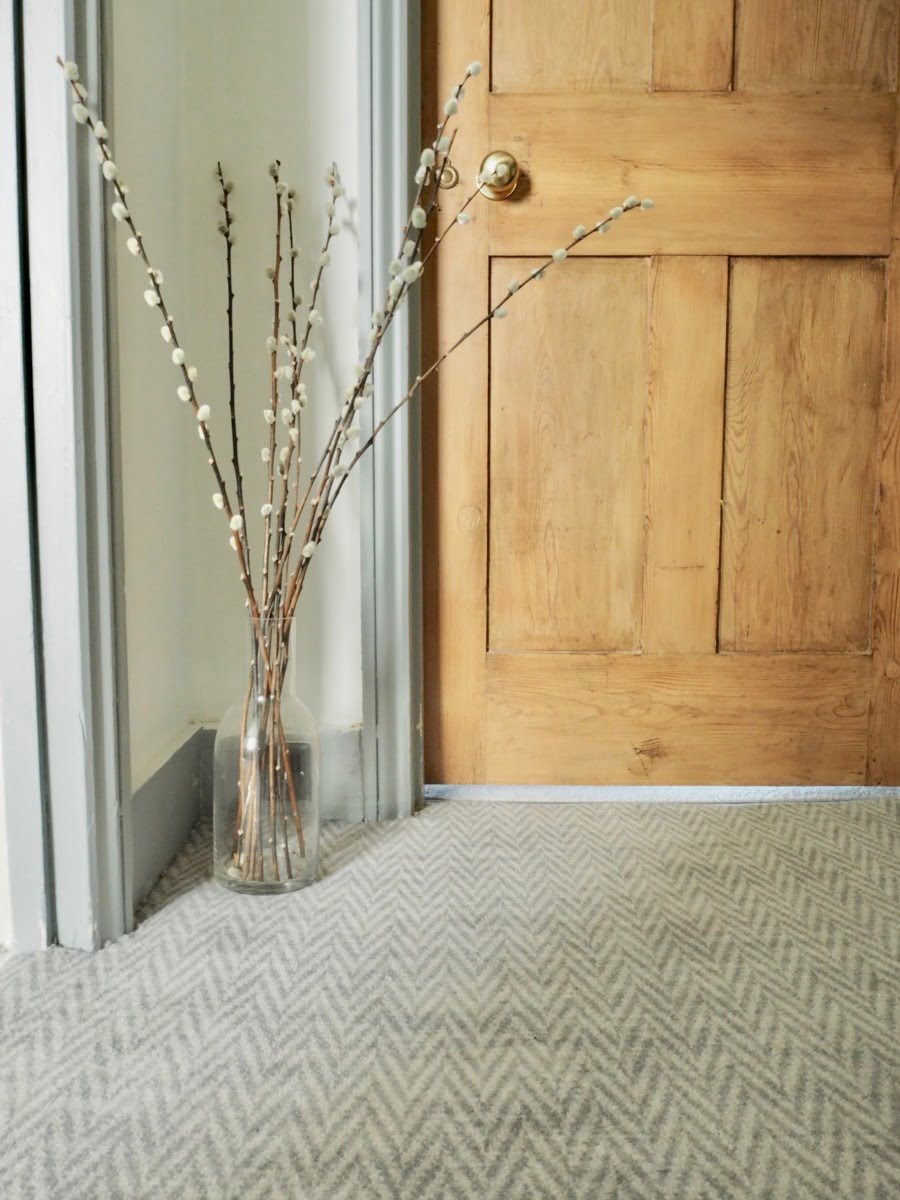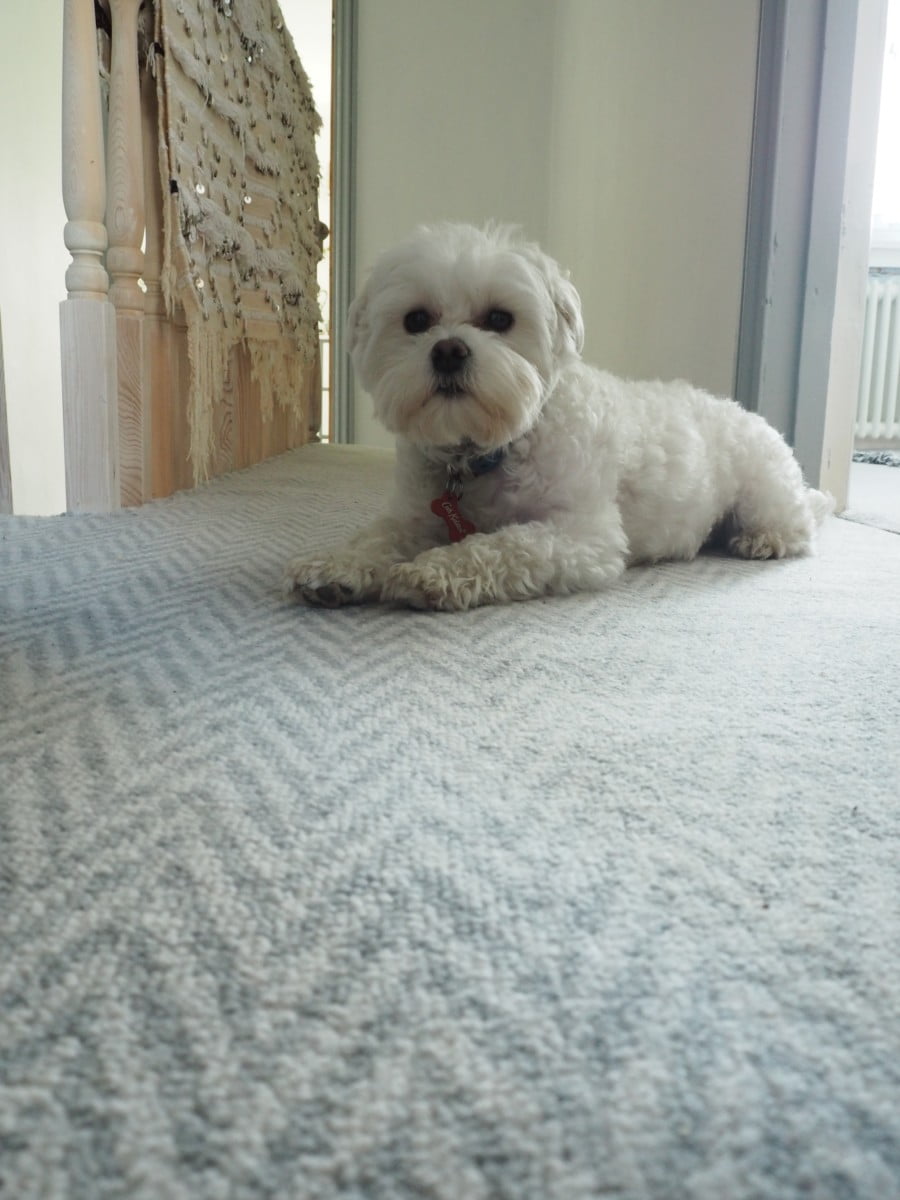 I love padding around upstairs now. What I love more than anything is how these wool carpets are so…bouncy. Oh, and the space does feel so much lighter and brighter.  The upstairs rooms feel so much more finished off.
What do you think? Can you believe this is two years of hard work, saving and renovations? I've not even introduced you to the stairs yet which I have tiled. You can watch my DIY video for that here.
Keep popping by the blog and you'll see more of this space pop up.
Until then, have a great week.