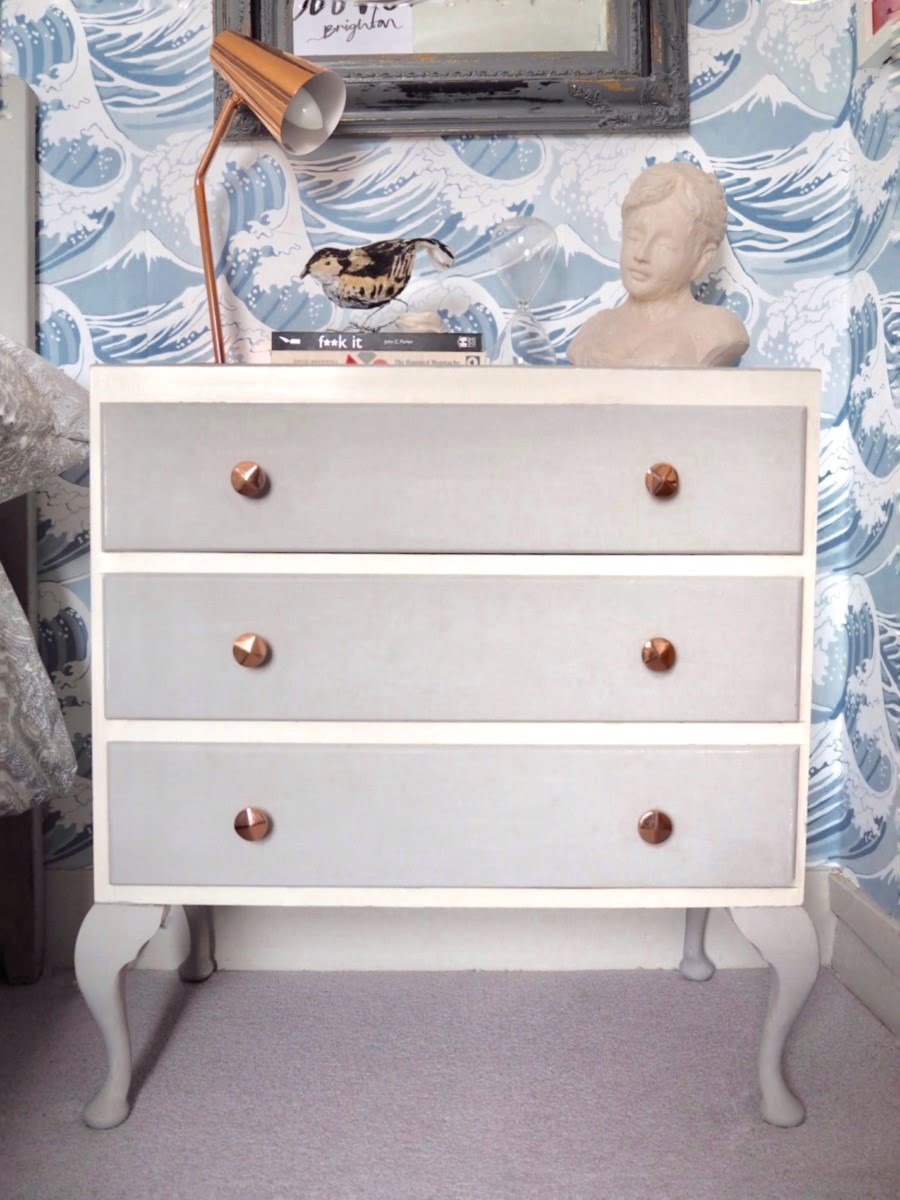 Hey everyone ** big wave** Today, I want to show you that not all DIY projects have to take ages or involve lots of stuff. This is how-to vamp up a dull chest of drawers with copper handles.
It's a great small project if you are new to up-cycling. An Easy furniture makeover. Let's go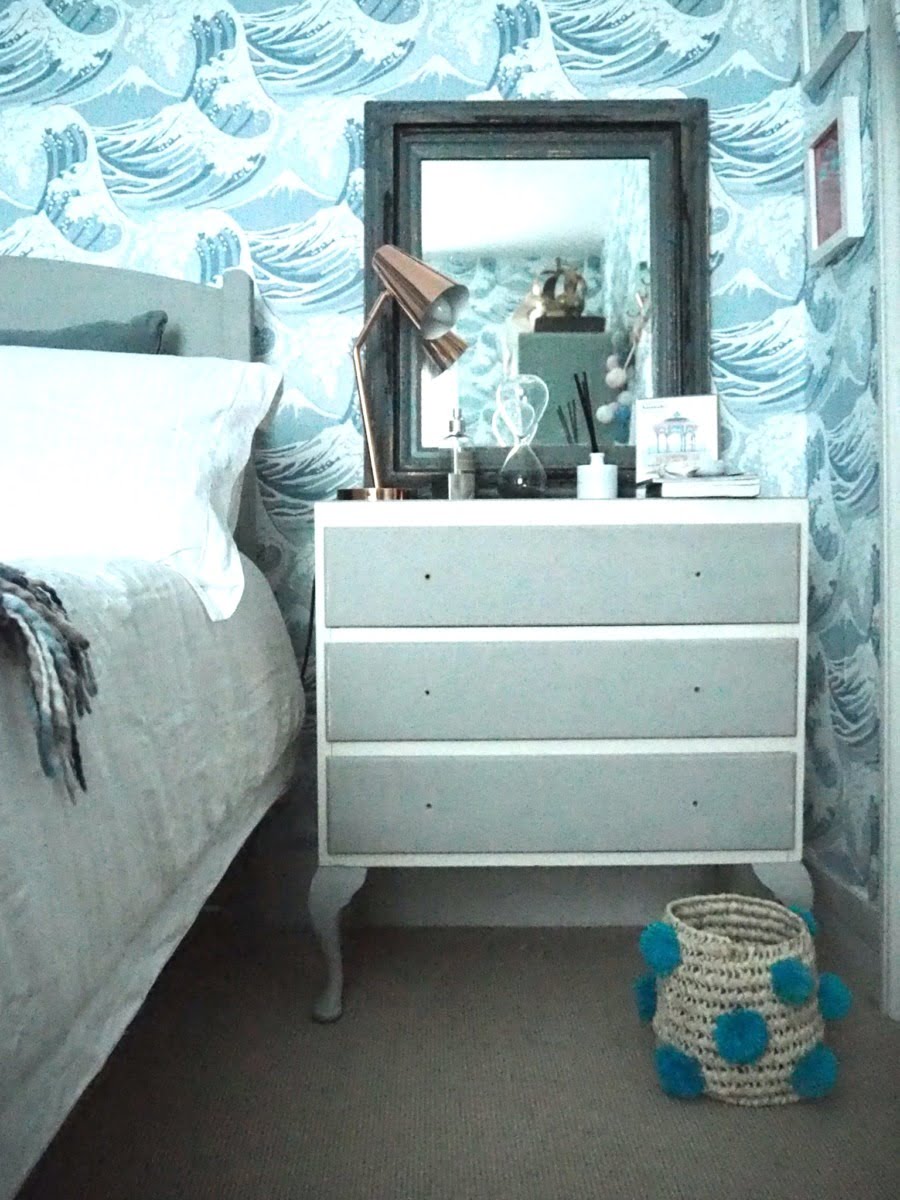 Before
Sorry for the rubbish 'before' shot that looks a bit over processed. It was taken on my old phone! But hopefully, you get the idea.
I'd been looking for a neat little chest of drawers to slot beside the bed in my spare room.
I picked up this 1940s style one from Department Flea Market in Hove. It was exactly the right size and shape (I wanted storage with legs) and the lady who sold it to me had already painted it in Annie Sloane's 'French Grey' which is the same shade as my bed.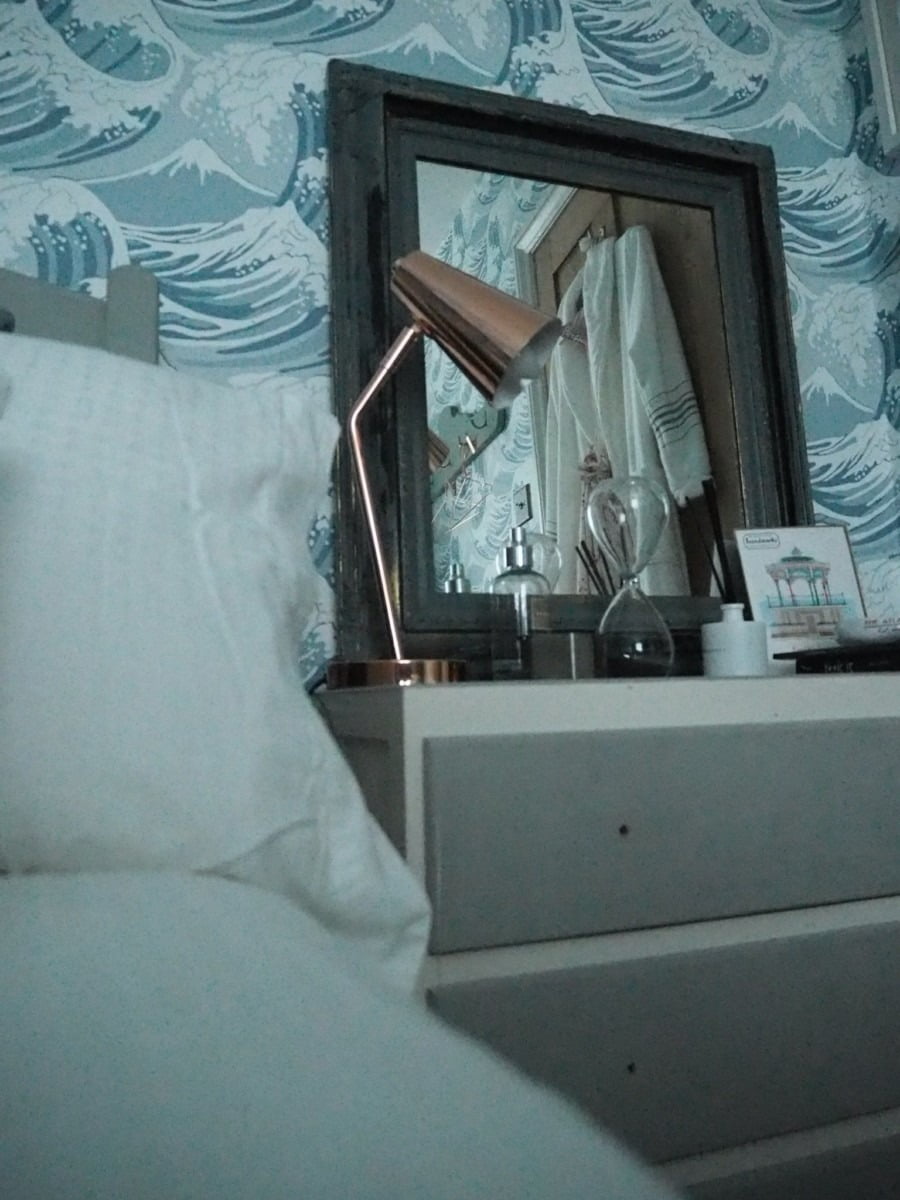 Bargain Buy
The unit was £30 but I bargained down the price to £20. I got it cheap because I let them keep the hideous ceramic handles on it.
The unit totally transformed this corner of my bedroom and started to pull the look of the room together. Apart from one thing – it needed handles.
My most fabulous 'Great Waves' wallpaper from Cole & Son needs a strong accent colour to stand out in the room. My accent of choice, copper.
Quick hunt around on NotOnTheHighStreet and I found 100s of really cool handles in all shapes and sizes. I did think about spraying some plain wooden handles with copper spray, or looking for antique copper ones but couldn't find anything perfect enough.
I wanted to give this grannie chest of drawers a modern copper touch.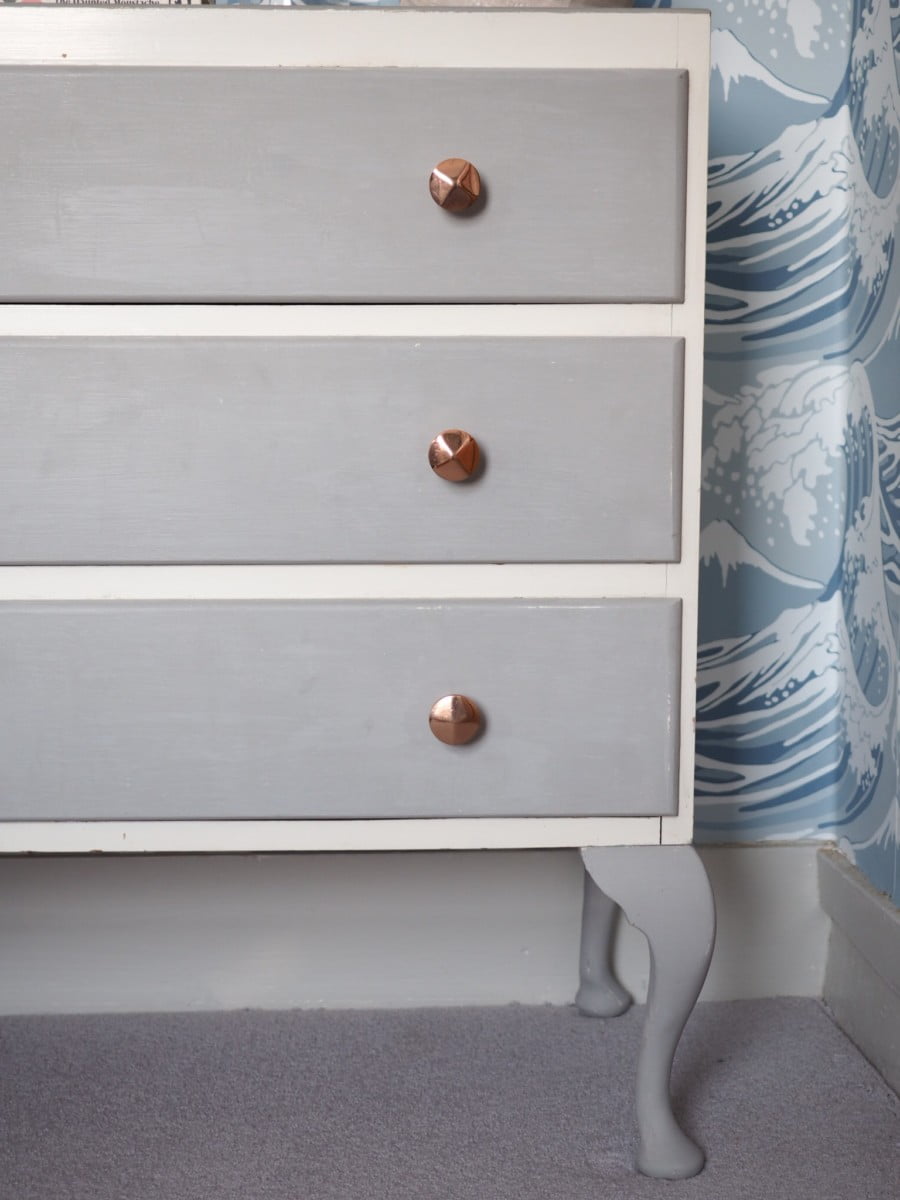 Then I spotted some really cool copper ones by on-line (stylish) hardware store Grace & Glory. They have loads of lovely things on there including these knobbly-bobbly drawer pulls.
These cabinet knobs are £7.5 each and they are copper plated. Once fixed on, they made my little unit 'POP!' in the room.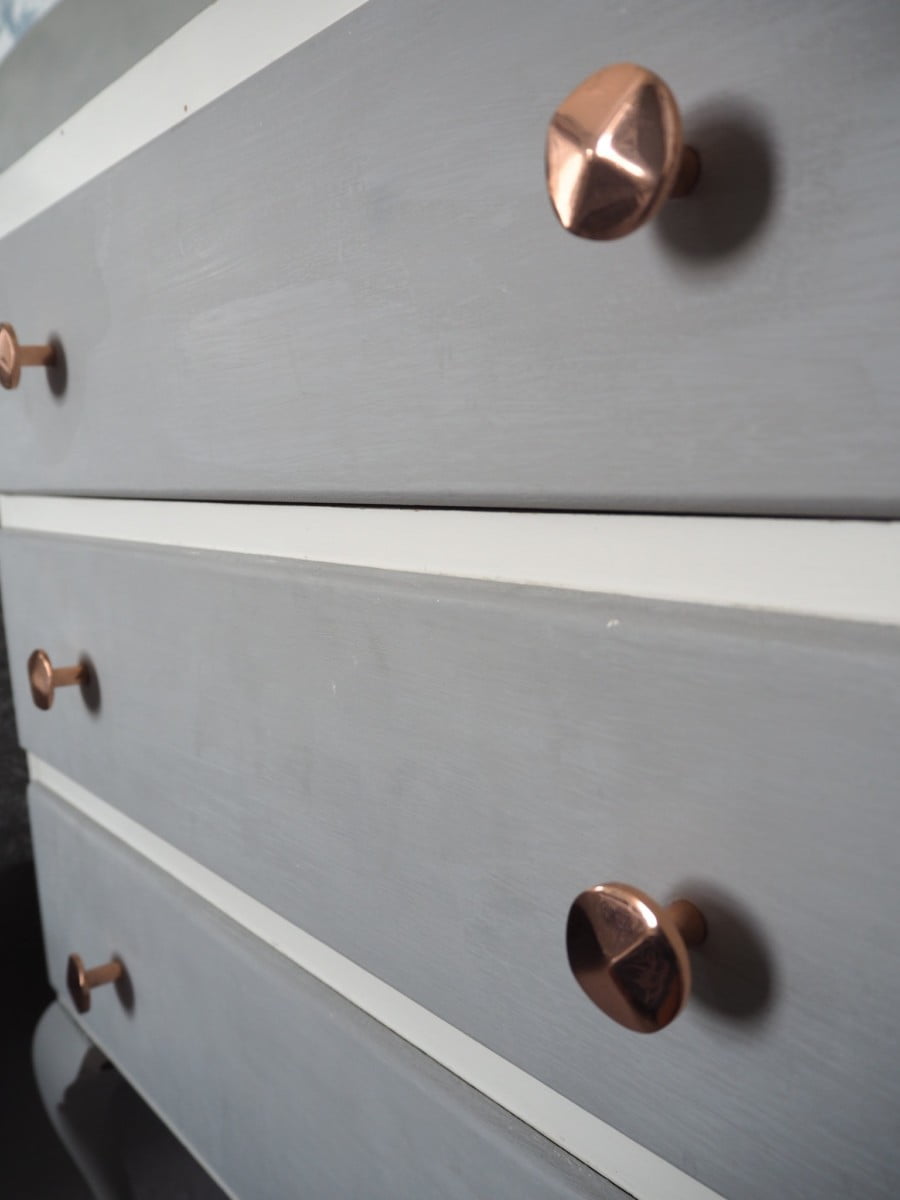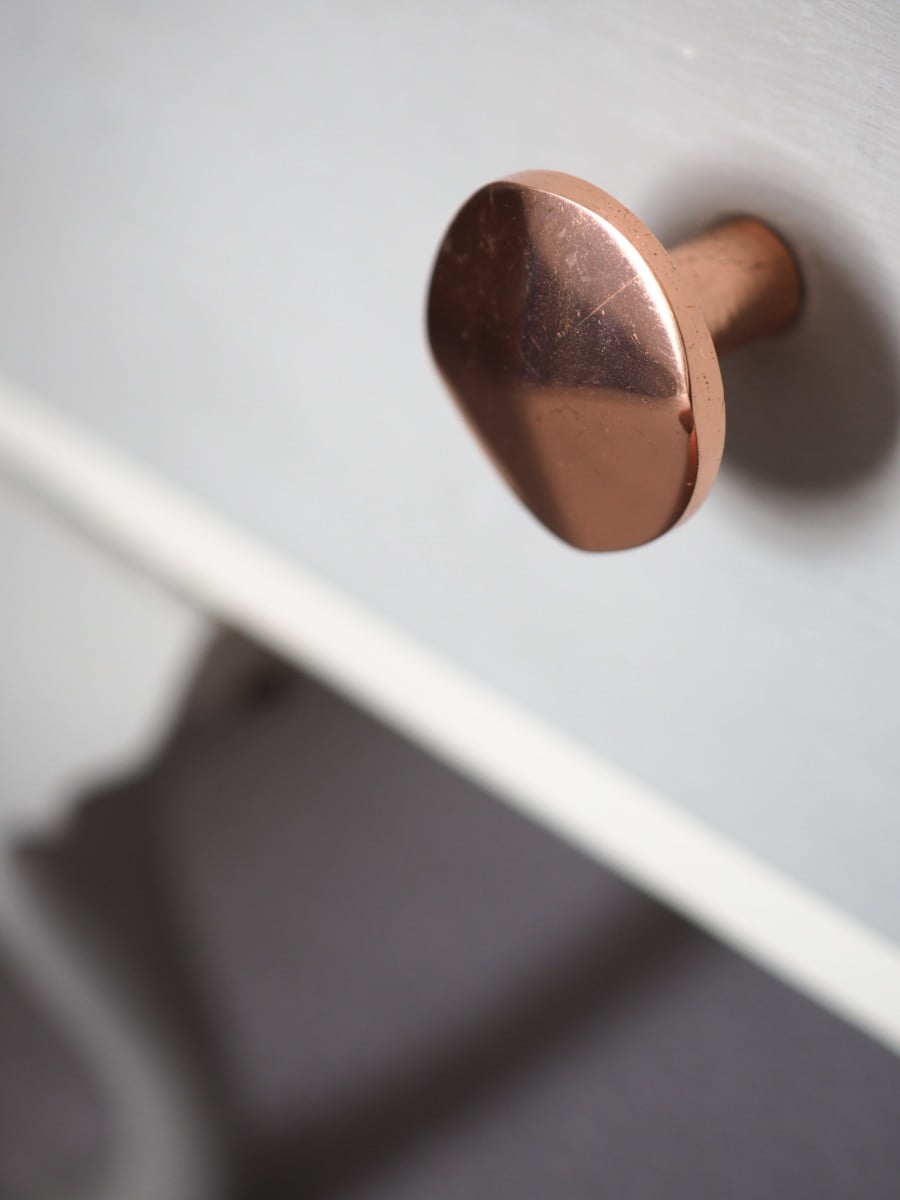 The handles have a satisfying wonky finish in brushed copper – the style suits me and my home.
It was great fun shooting this as I busted out my new 30mm lens for my Olympus Pen8. Wait there is more…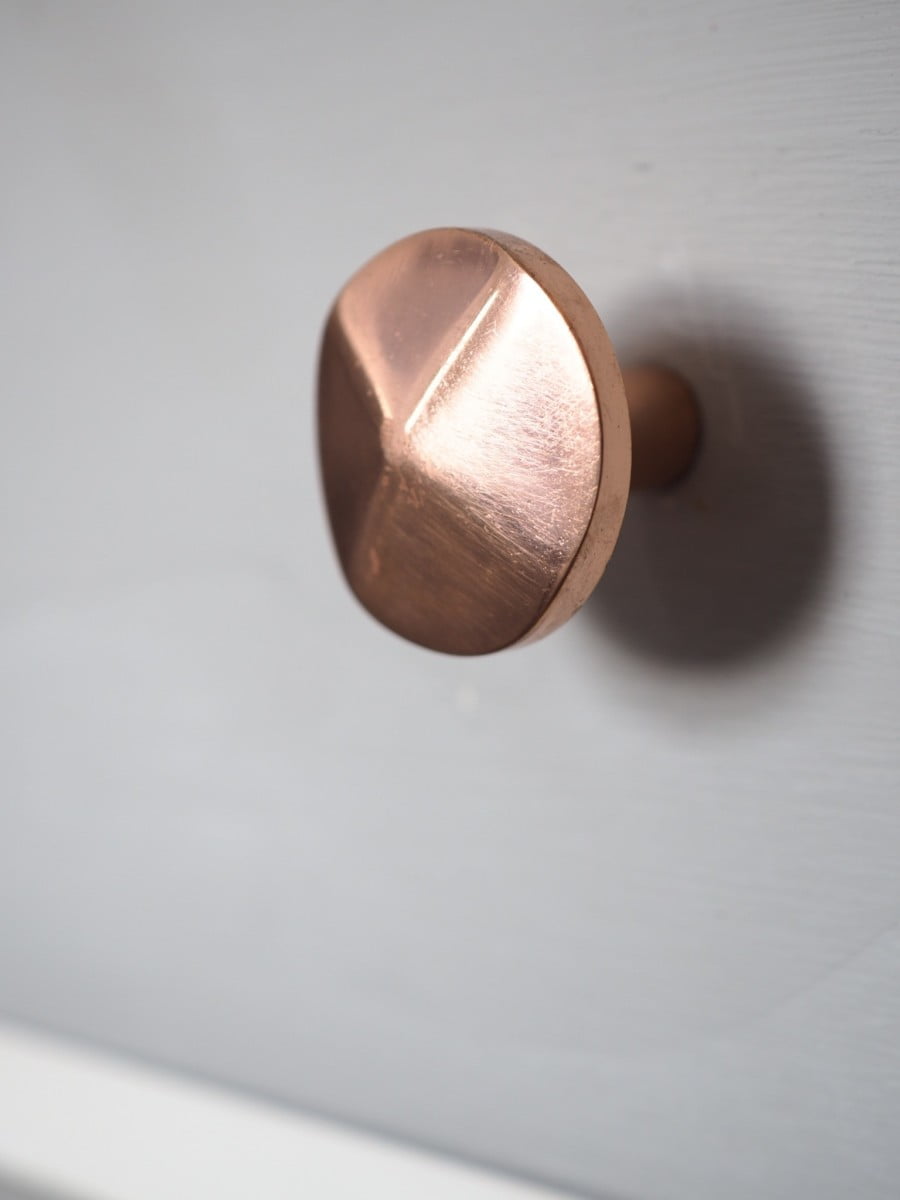 I already have holes from the old handles, so I simply pushed them through – and screwed them in place. It was that easy.
I've had other handles before which feel really wobbly when you tug on them but these ones are solid, and ain't going nowhere. 
Next I need to re-style the top of the chest of drawers. I already had the coper lamp from Sainsburys (a few seasons back).
The mirror was actually an ornate picture frame that an old boyfriend gave me years ago. I had mirror put in it by a local glazier company for £20. I then painted it grey and then roughed it up with sand paper.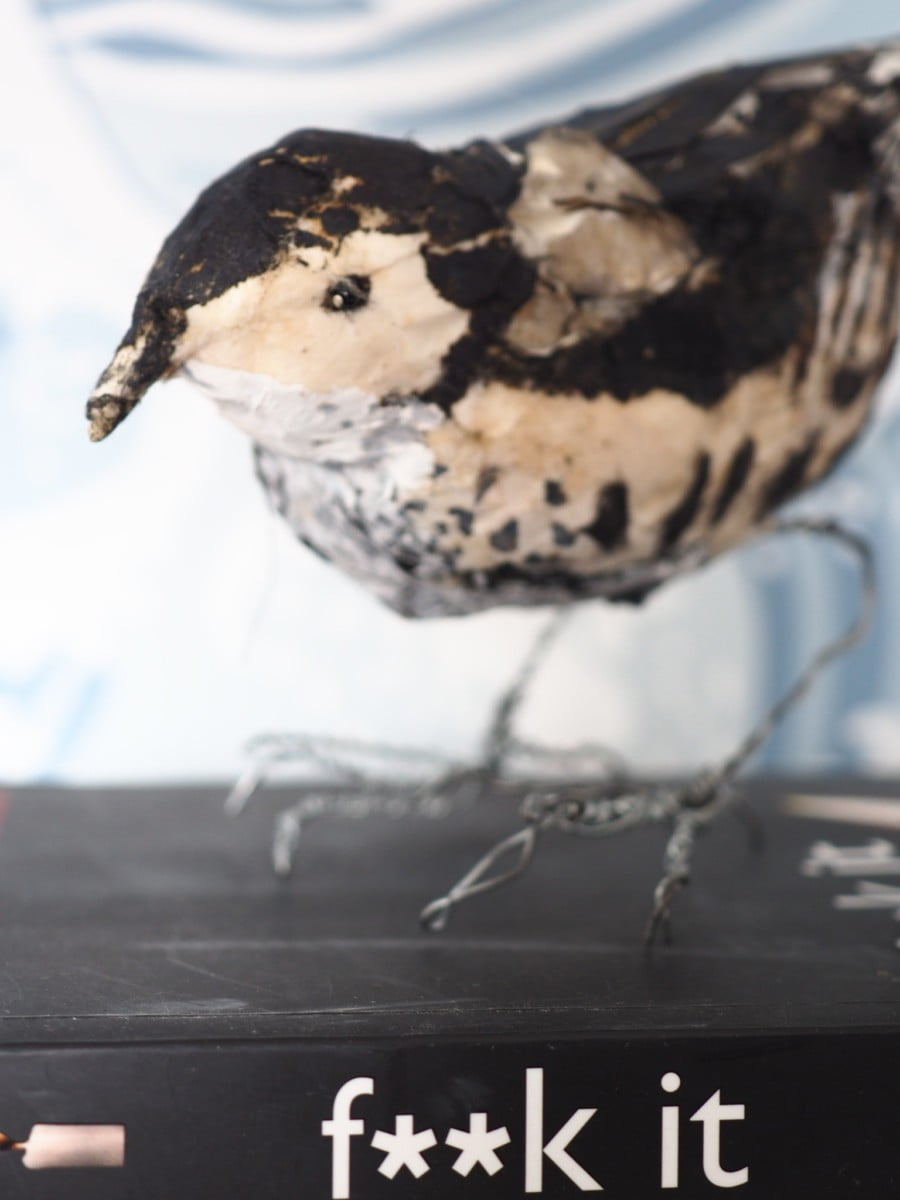 Oopse – here is my f**k it book! I know it is naughty title but it is actually a self-help book all about letting go (my bessie bought it for me in a time of stress). I love having it in my guest room as a cheeky little prop.
The little paper mache bird was given to me by an artist in Shoreham. I love dotting him around my home depending on my mood.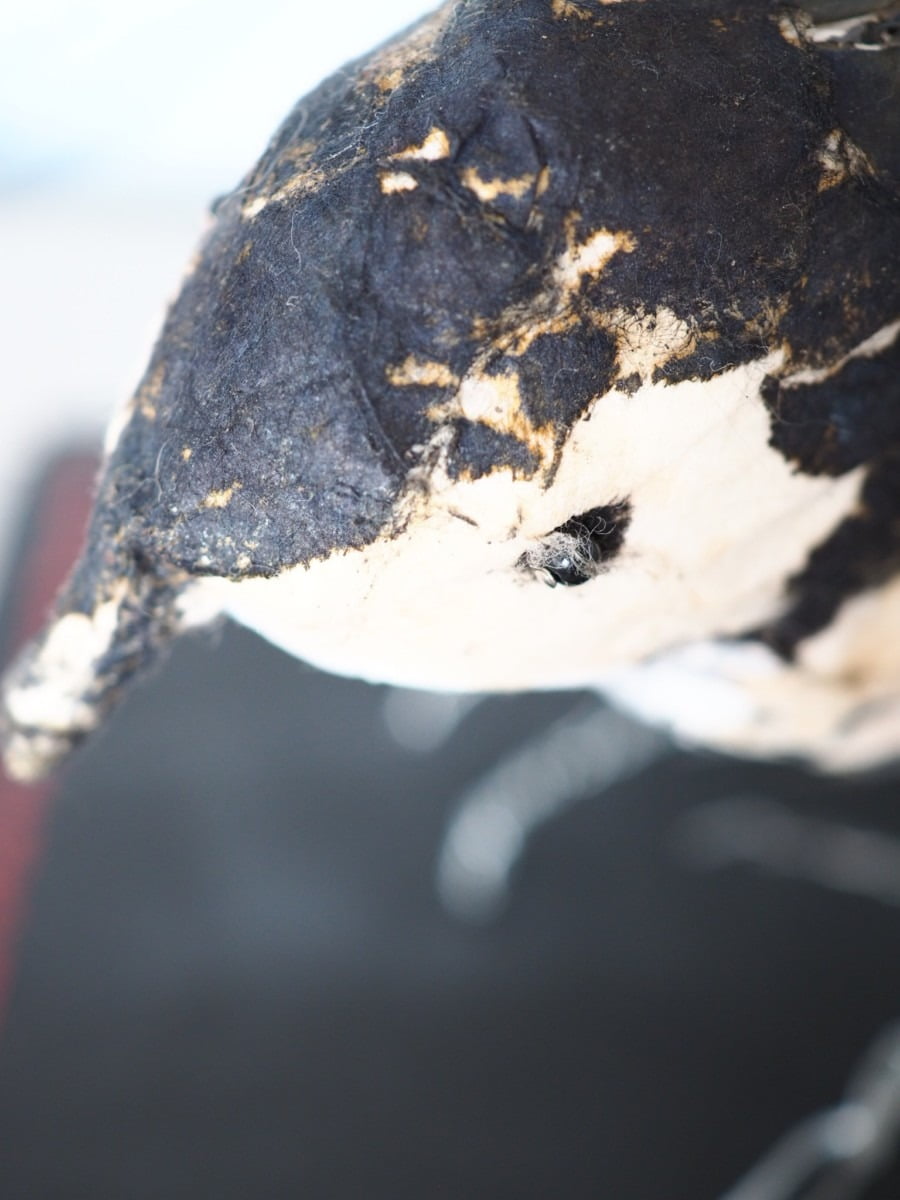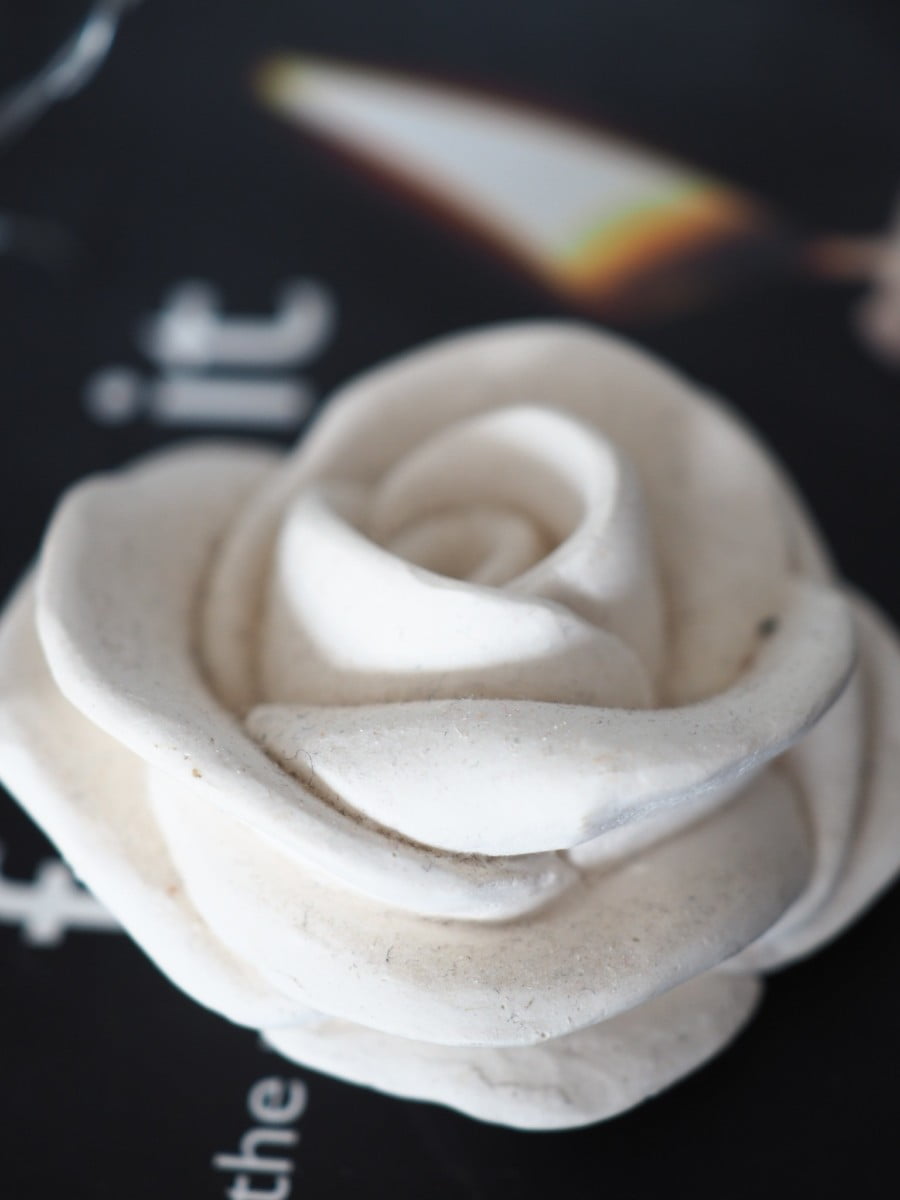 The ceramic rose in from Lavender Room in Brighton – if you haven't been you have to go as it is such a beautiful interiors shop. I actually gave it a shoutout in the recent issue of English Home magazine as one of my fav places to shop.
The rose is scented. I love having nice smelly things by my bed. Lavender really does help me sleep at night.
I picked up the cute 'Love Brighton' post card from a festival in Hove. Made by a 14 year old girl who was printing them to make a bit of extra pocket money. I've got lots of Brighton postcards framed up on the walls so this one is right at home.
Ruby (the name for my plaster head) looks like she ought to have been bought from an antique shop in Lewes. She did in fact come from Dunelm Mill a few years ago. Usually she wears my grannies pearls, so not sure what she has done with them.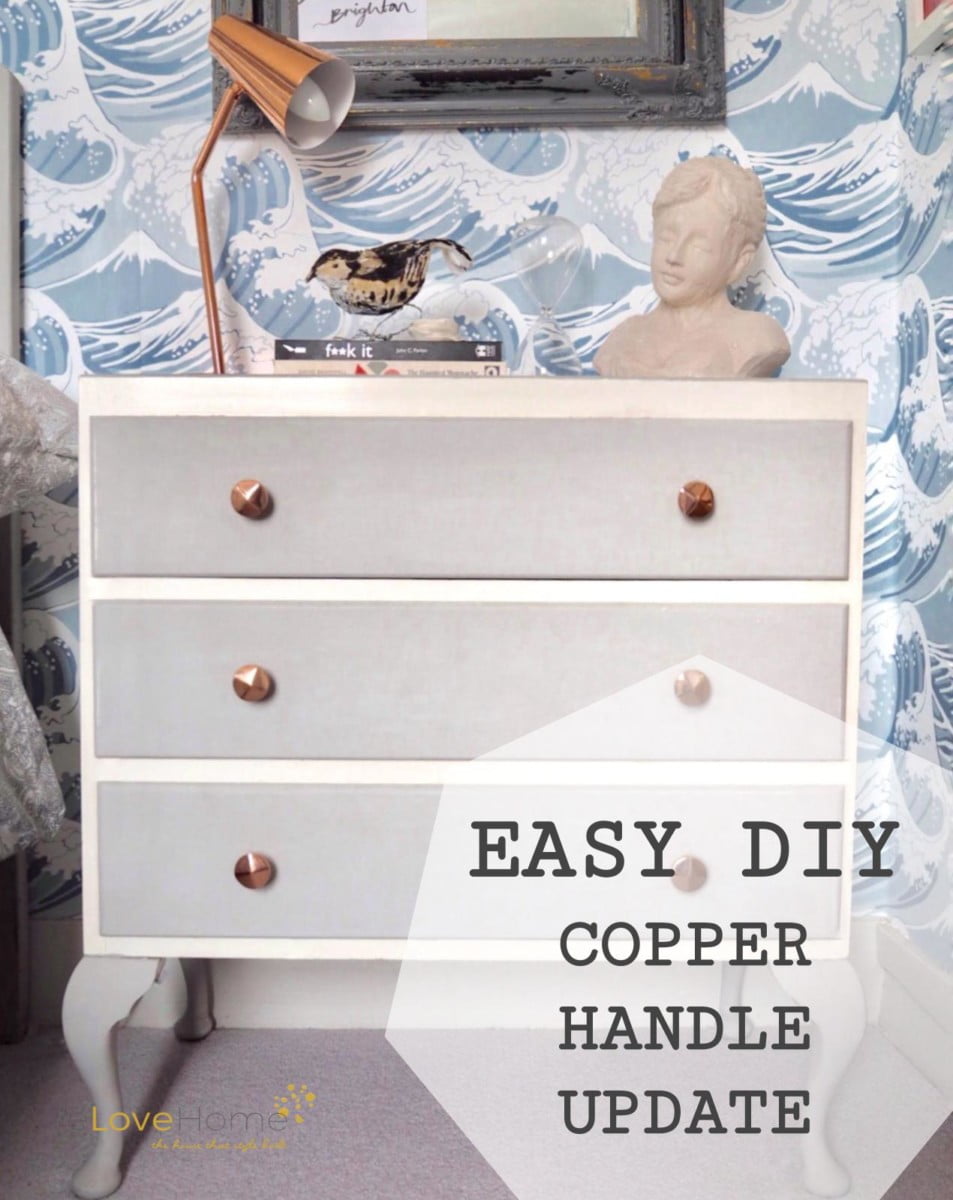 What do you think? The copper handles make a big difference, right? And I hope to show that a tiny little makeover project can be easy, fun and simple to do. Yet still make a huge impact.
Talking of which, I really need to do a DIY project on the copper handles in my kitchen. Hold with me.
Have a great day!