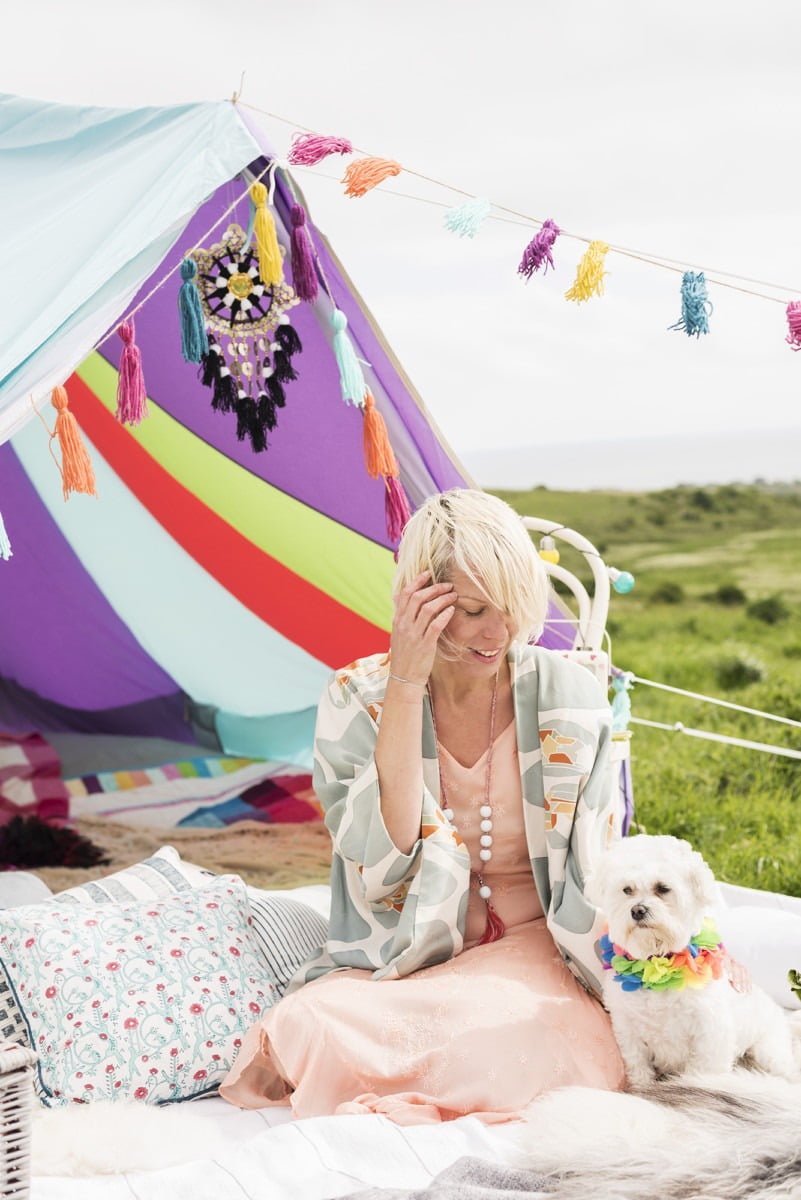 Welcome to WeLoveHome and thank you for 'hopping' onto my blog via Becky at A Beautiful Space for the #UKHomeBlogHop. I'm excited to be taking part and want to say thank to Kimberly from Swoon Worthy who did all the organising.  The hop starts on Kimberly's blog, and runs all this week. And there are 27 blogs taking part, all with our own distinct style.
With all these posts, you're going to have the most stylish summer ever!
Firstly let me say a big Hello to anyone new to my blog! I'm Maxine, and I'm an interior stylist in Brighton working for TV and magazines. In my spare time, I'm the voice behind WeLoveHome, my award-winning lifestyle blog. My chatterbox blog covers my home makeovers, as well as design tips, styling advice, trends and travel – ooh – and I do DIY videos too among many things.
What you should also know about me is that I'm an complete festival fairy – going to four (maybe five…) this summer alone. In this post, I wanted to share this special part of my life with you with 'My 5 Ways To Enjoy A Magical Festival Experience'.
I'm also giving away a few of the goodies in my photos – make sure you scroll down to the bottom for the competition details.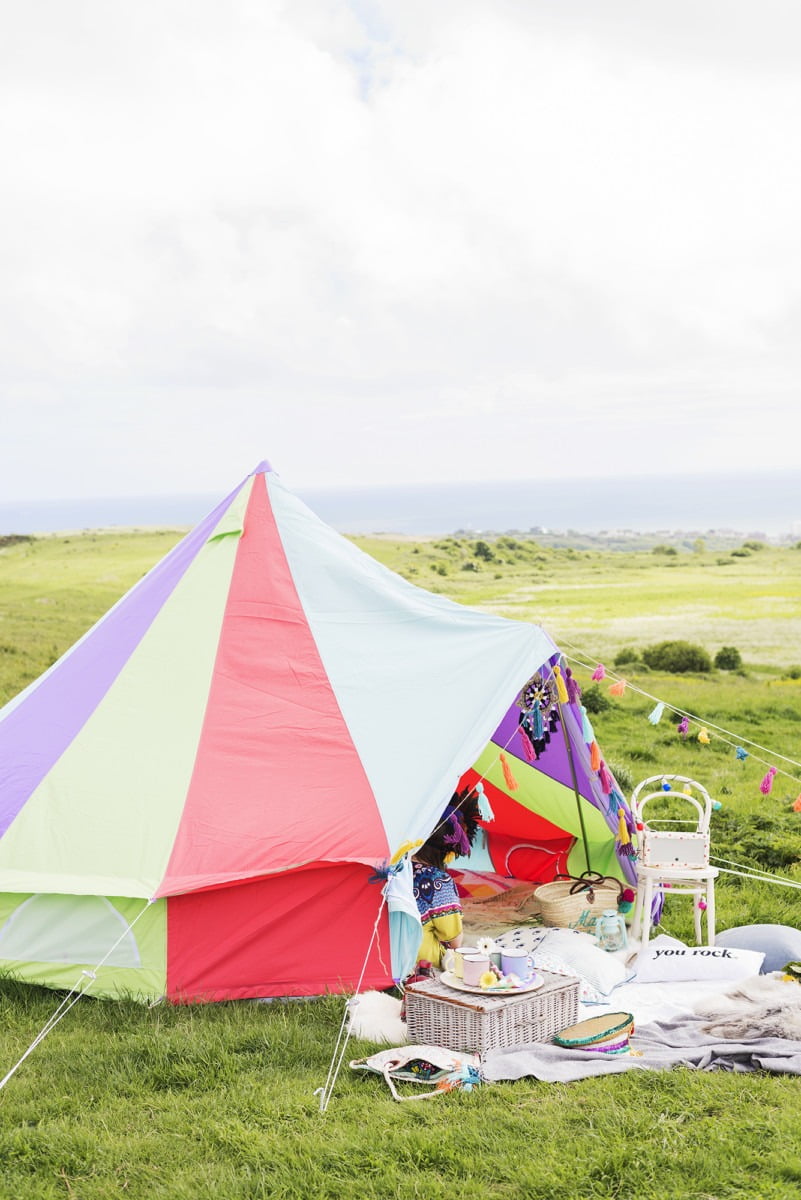 My 5 Ways To Enjoy A Magical Festival Experience
1. Bring A Bell Tent
Forget plastic tents that leak, collapse in the wind and are either freezing cold or boiling hot. If you love camping and festivals as much as me, invest in a canvas bell tent. Mine is from Boutique Camping and it cost £499. My close friends have nicknamed as 'Unicorn Tent' because it is in rainbow colours. It makes me so happy 🙂

My bell tent was cool in the sunshine and warm at night. I could roll up the sides to let a breeze waft inside. It comfortably slept four of us yet still left enough room to hang out as well. It was quick and easy to put up, and the strong guide ropes make it secure even in windy weather. And it's made from waterproof canvas.
They come in a range of sizes and colours from natural, to purple….to unicorn-coloured.
After years in rubbish tents, my bell tent is a worthy investment and I plan to take it to festivals, as well as a glamping with my sister, garden parties….the list goes on.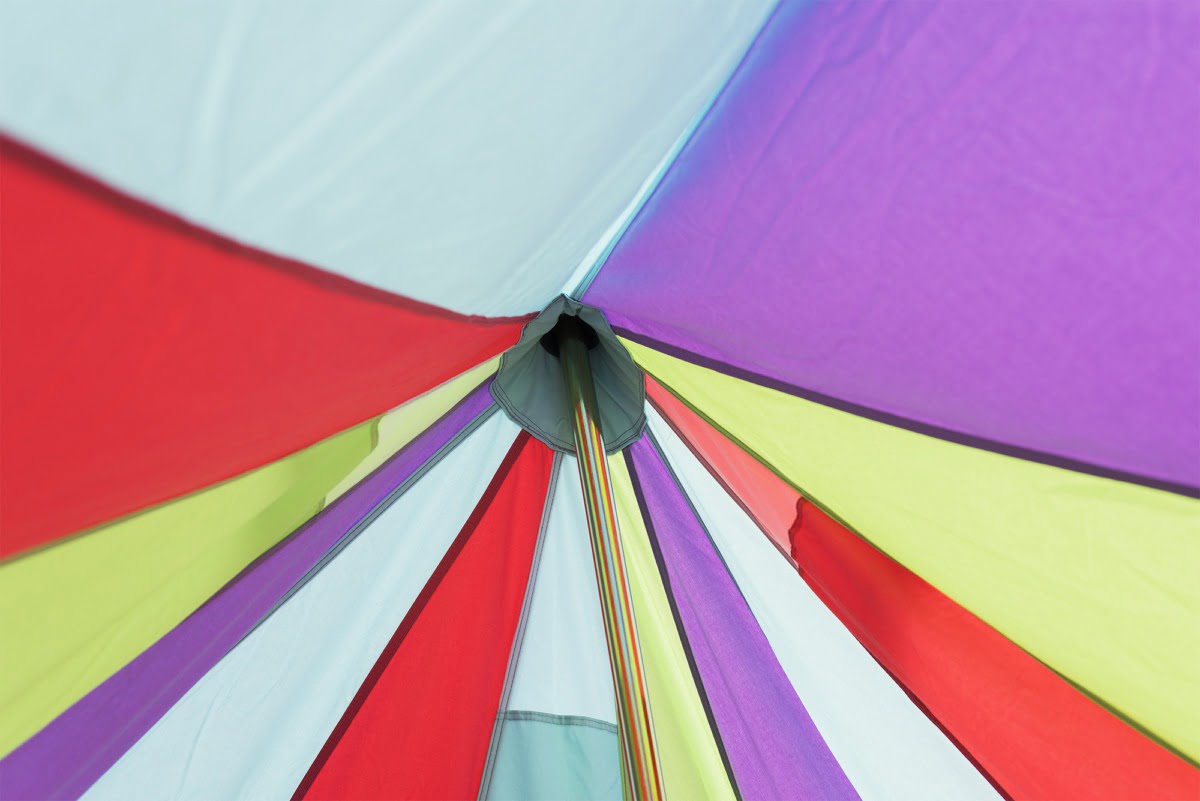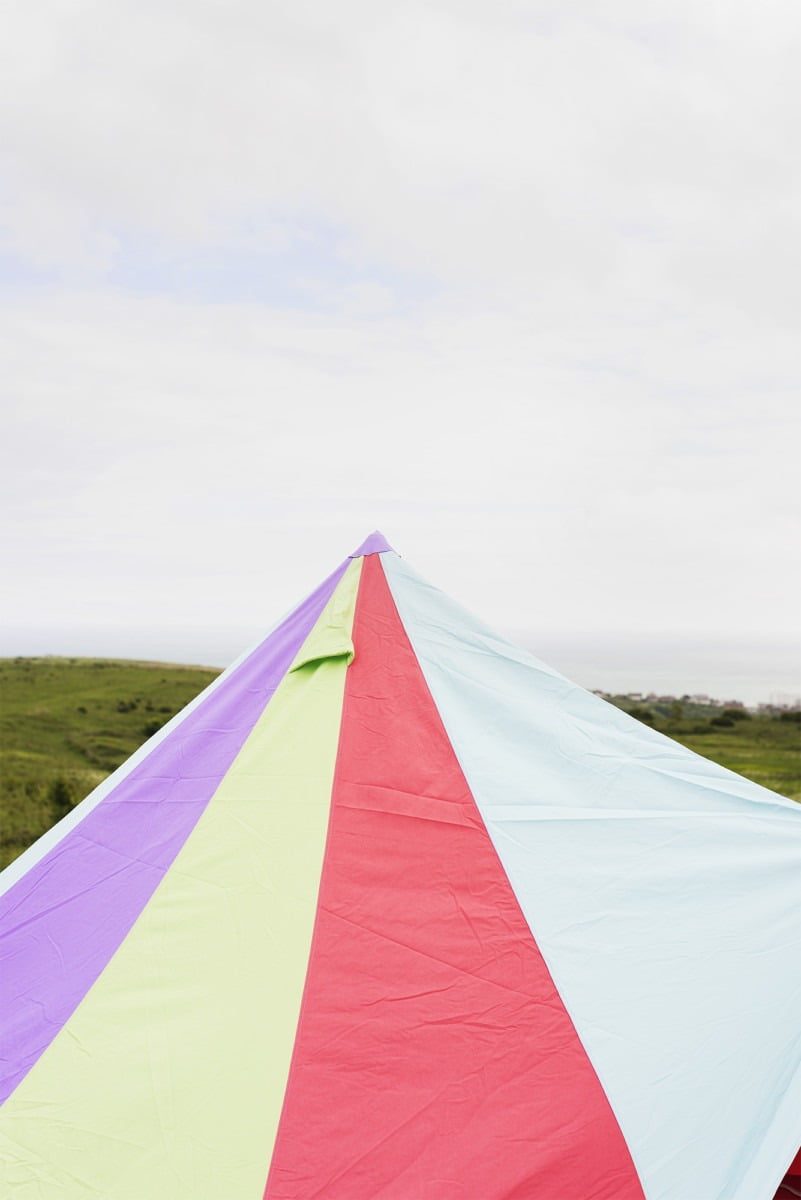 2. Support A Small Festival
I struggle at larger festivals – some have over 35,000 and 105,000 people going.  At Glastonbury alone, I can walk/dance about 21km a day. It's so exhausting that I'm broken for days after.
Smaller festivals are easier to explore and you can pop back to your tent if you have forgotten anything, or need a disco nap. Last weekend, at Alfresco Festival, I was able to drive onto the camp site and unpack my car. How easy is that?
From experience, there is nothing worse than long drive home after an epic weekend. Pick a tiny festival close to home. Near my home town of Brighton there is Elderflower Fields, Love Supreme, Wild Heart Gathering and Bimble Bandana – all within one hour drive from my house. Finding a festival around the corner makes having big fun in a field far more enjoyable when it's time to come home.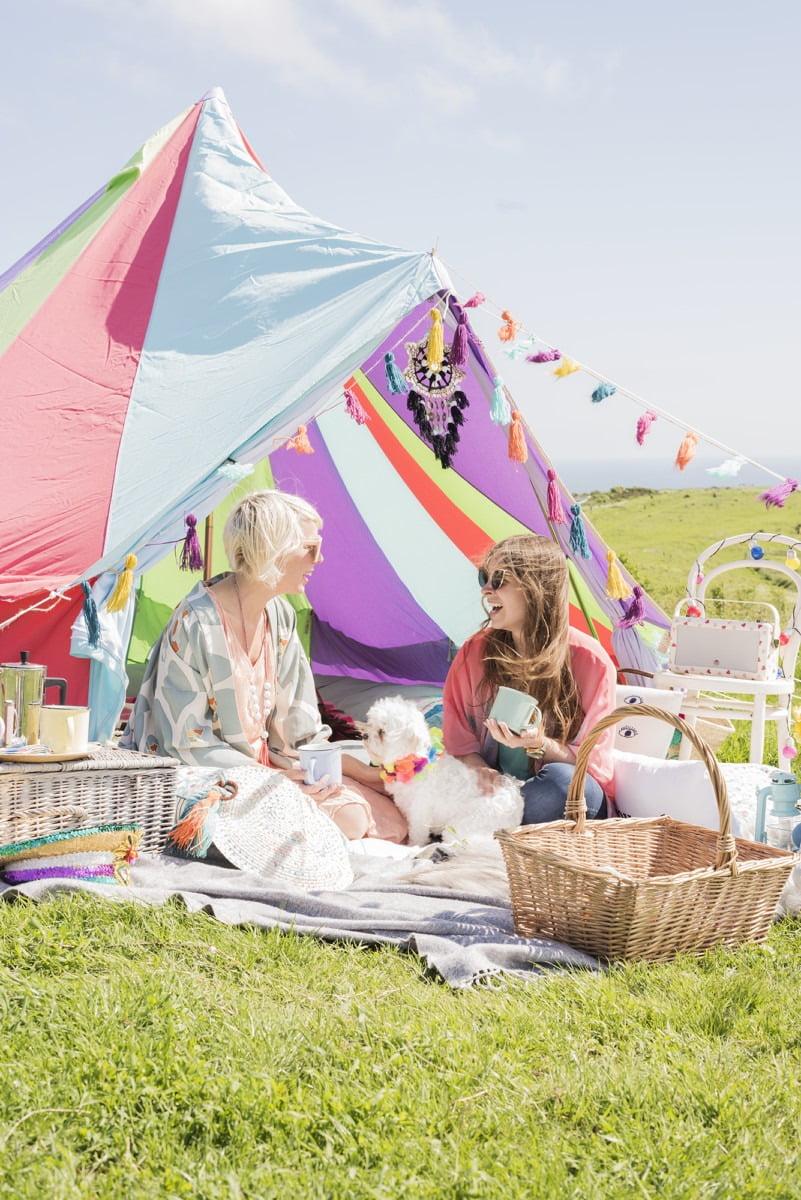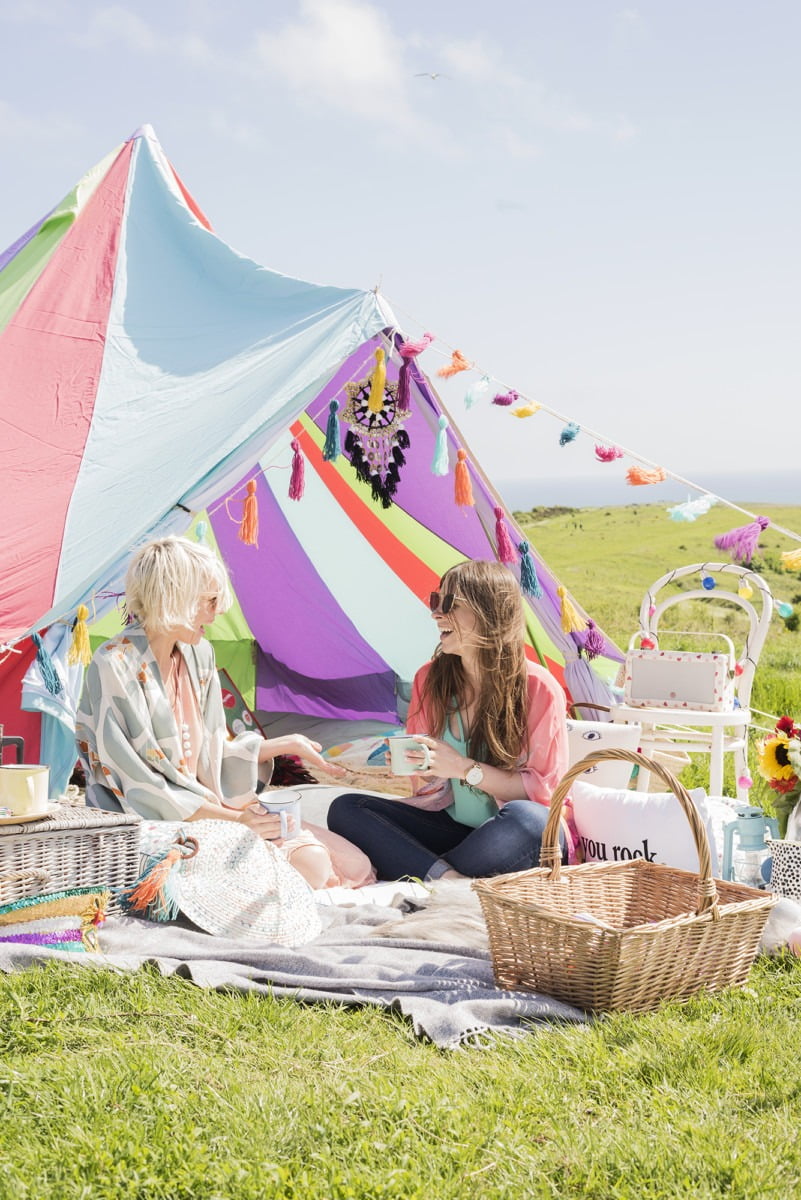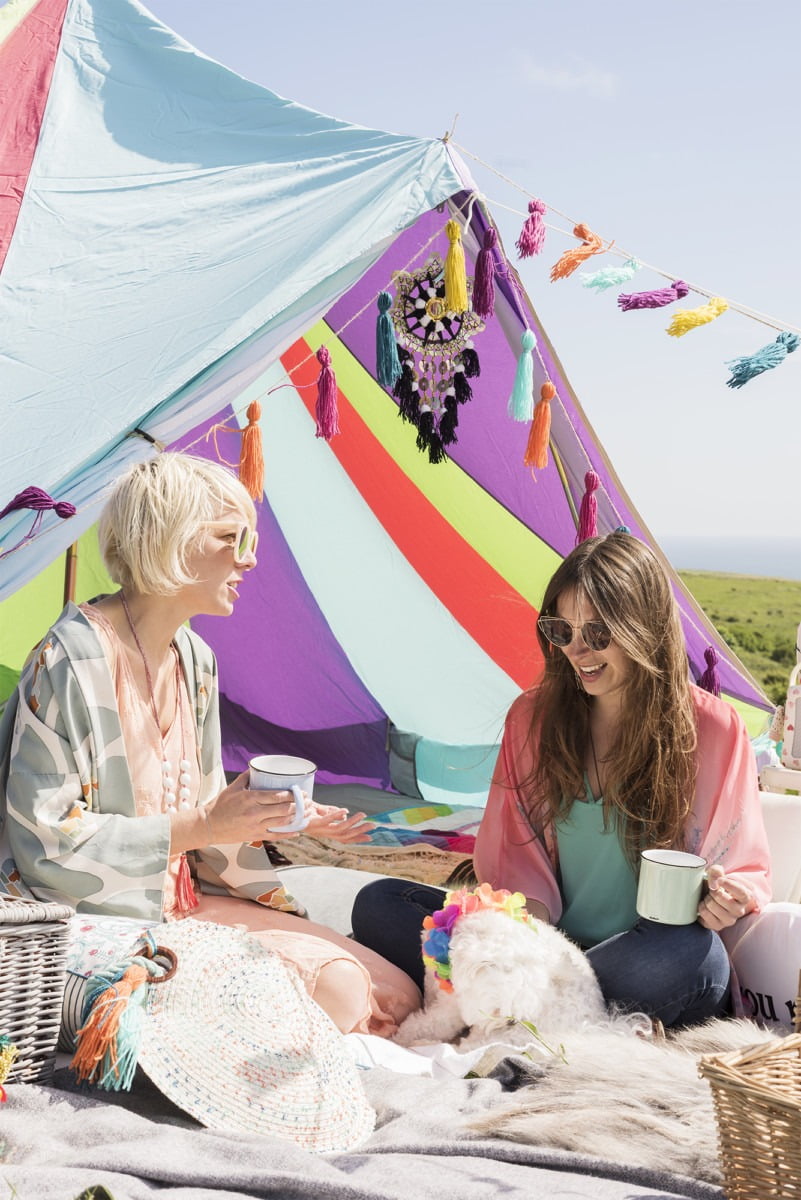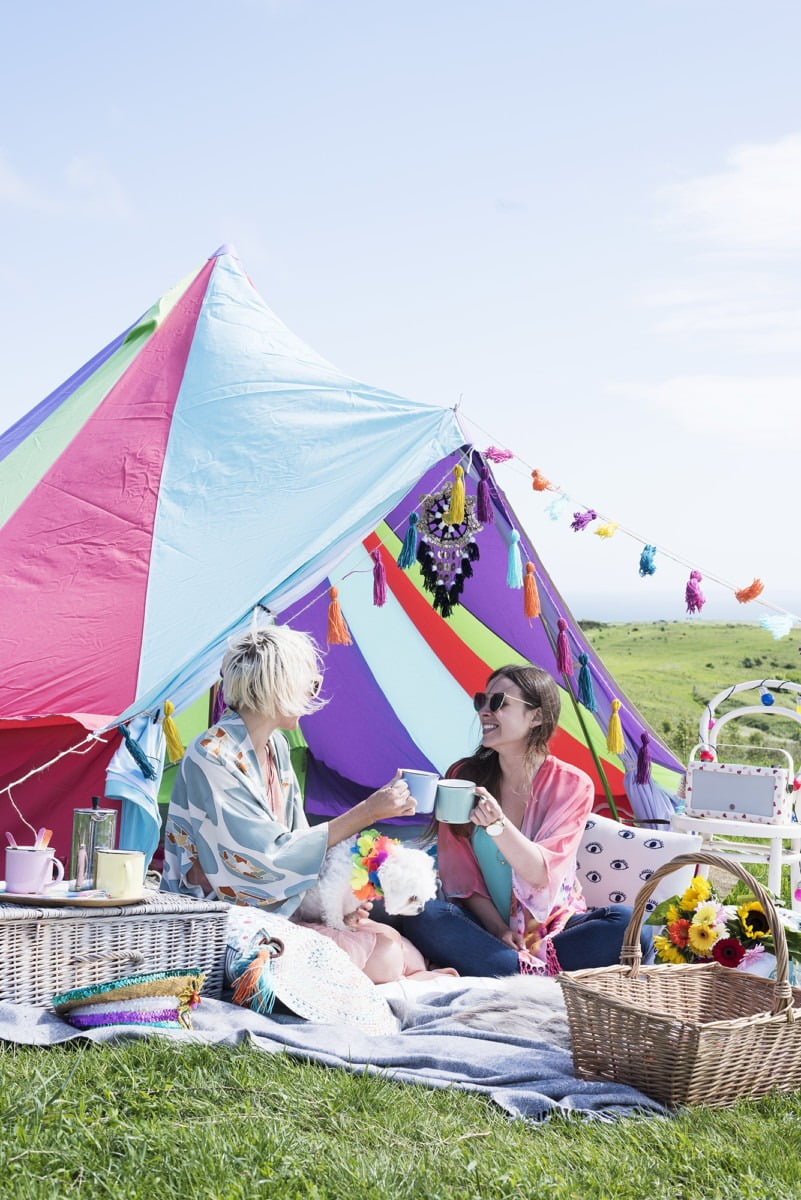 3. Avoid Headline Acts
I've enjoyed watching some major acts at festivals – from the Rolling Stones to Beyoncé to Steve Wonder and Gorillaz.  My most magical festival moments have been from watching unusual or up-and-coming talent.
These days rather than dashing across site to see a well-known band, I seek out smaller acts that may become my new favourite thing to listen to. I think you'll love doing that too.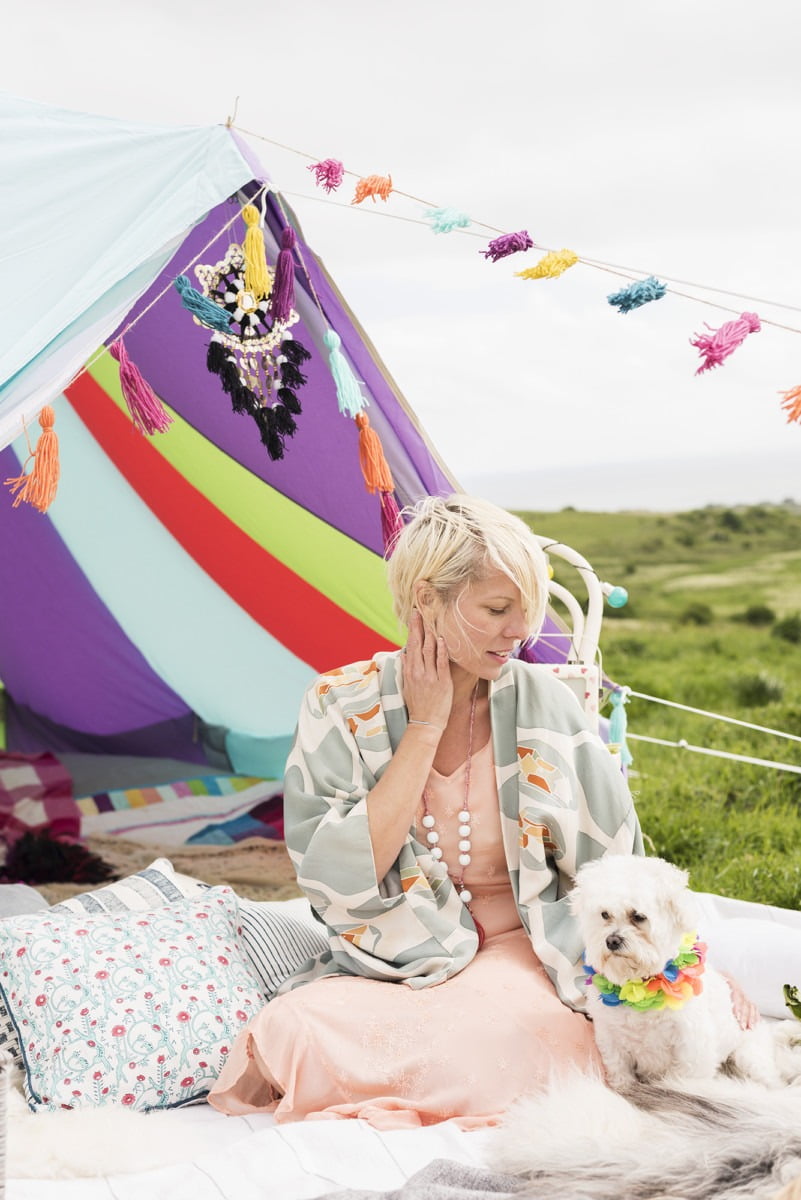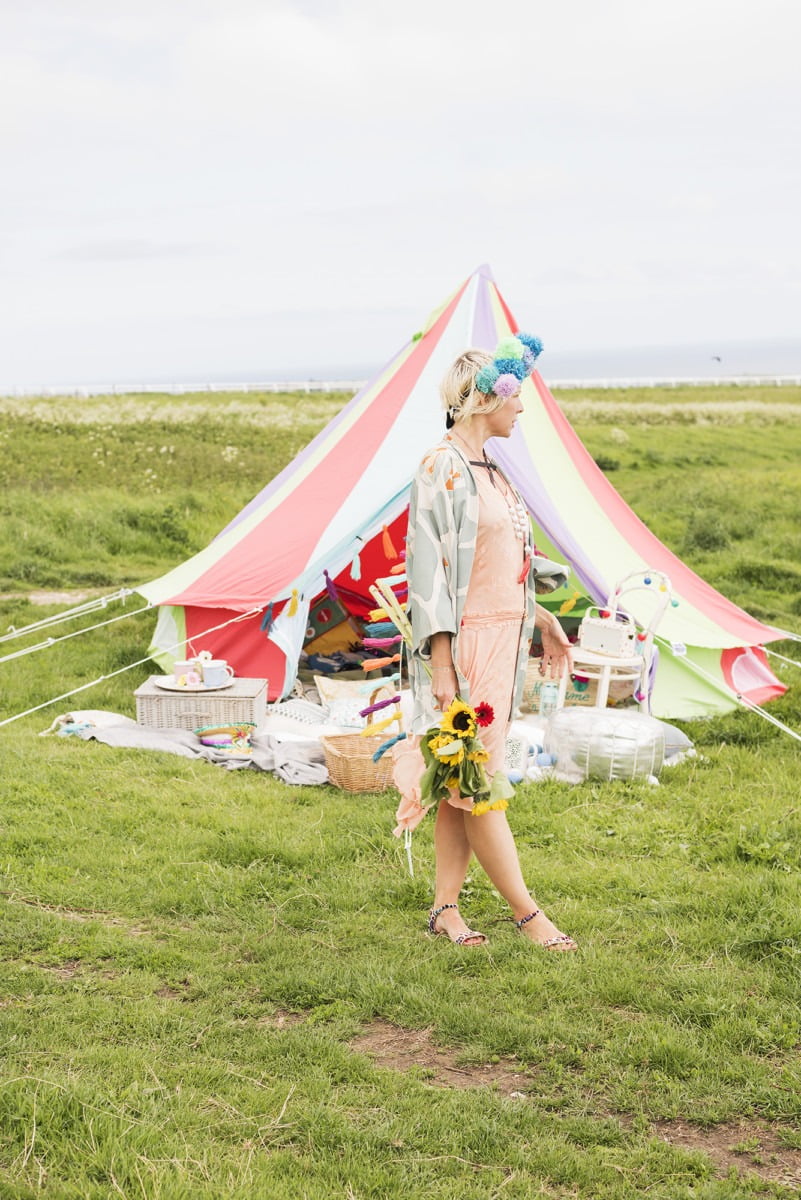 4. Let your playful side be free
My friends and I love getting dressed up for a festival. We cover ourselves in glitter, sequins and sparkles. It gets you straight into the festival mood, and the more unusual your outfit – the more likely you'll get chatting to other music lovers.
I treat myself to one amazing accessory each year. This summer it was this pastel coloured pompom headdress made by Vicky from Pica Pica Feathers. She makes the most eye-catching headdresses, capes, shawls, headbands and necklaces made for dancing in a field which you can buy here.
I've teamed my headband with a peach chiffon dress bought from a Brighton market for £25 and a vintage kimono from eBay, £17.  And of course, I want to wear this look every day.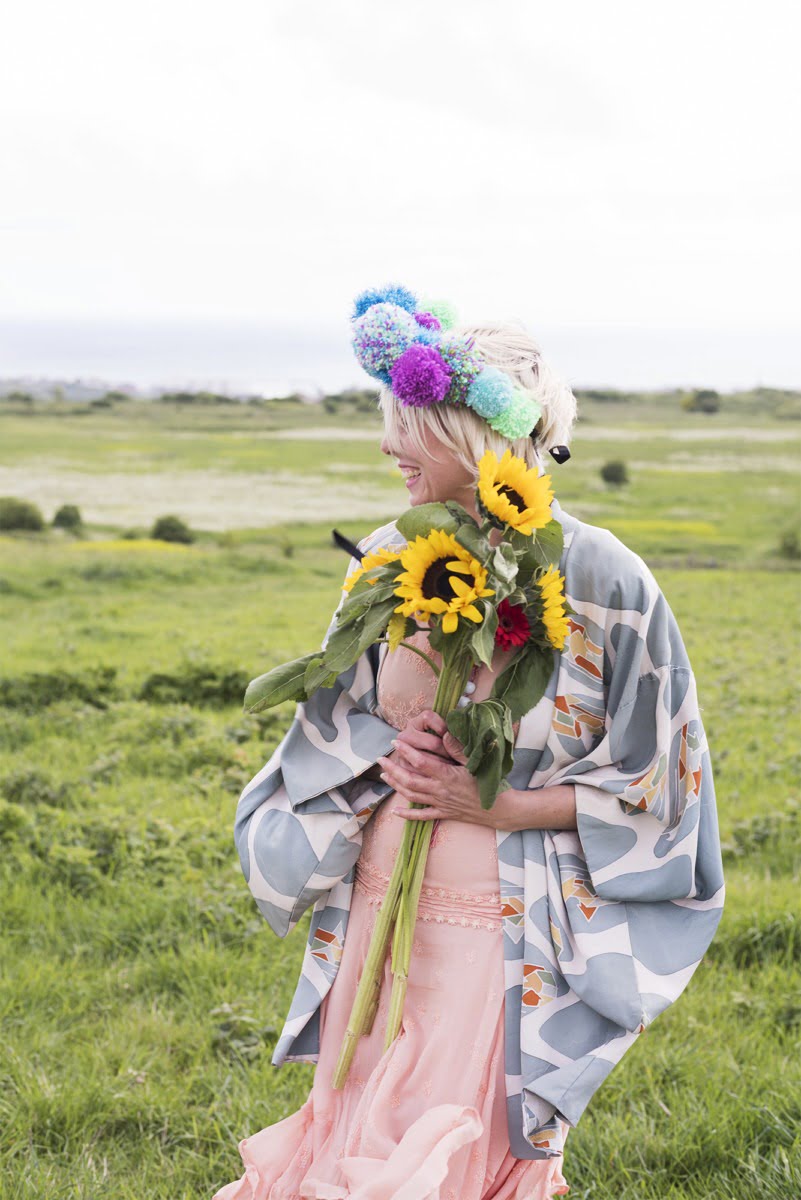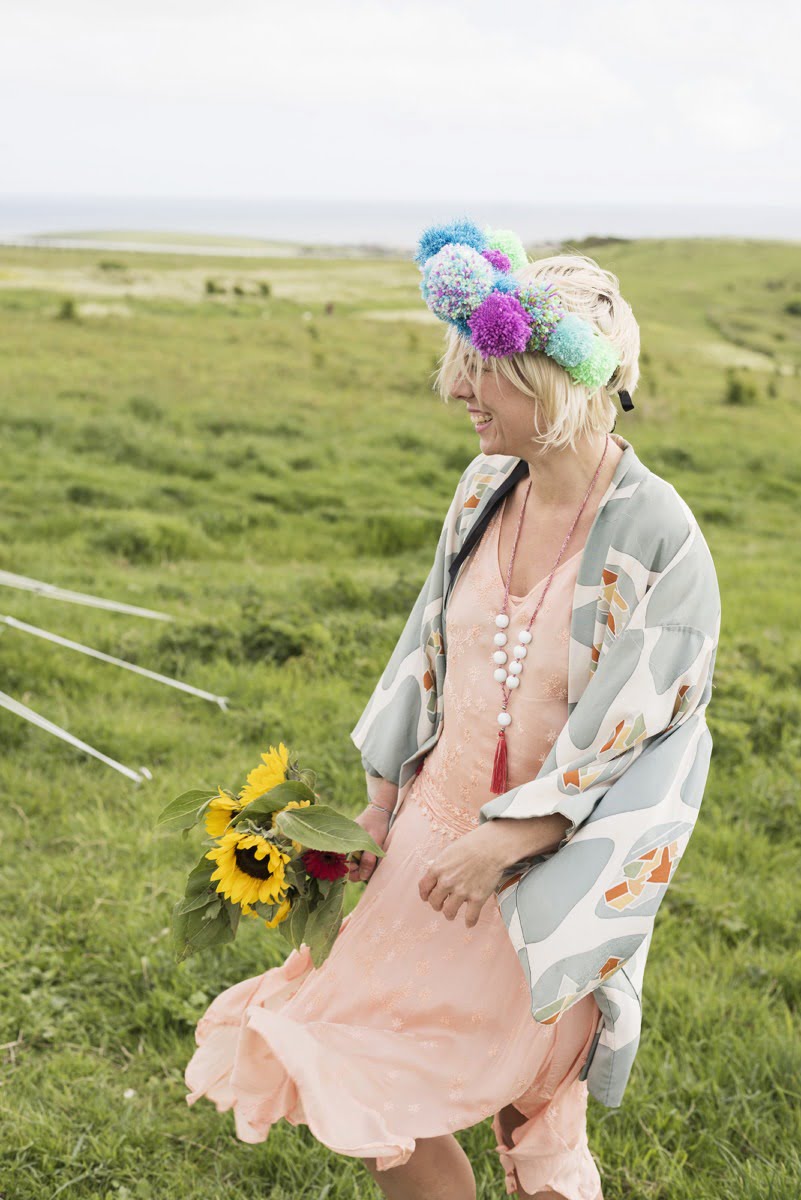 5.Pack These (Unexpected) Festival Essentials
Plastic bags – in case it rains and your clothes get wet. You can use them to line leaking wellies too.
Blow up air bed with a built-in pump – this one looks good.
Metal cups = less plastic. I have a tankard that I clip onto my bag
Frozen fruit drinks mixers. I freeze mine, then pop into my cool bag just before I go to keep my food cold for a few days.
Citrus Fruit. A drink with fresh lime can transform your afternoon.
Small radio or digital speaker – if you get stuck in your tent with rain, you have some entertainment.
Battery powered fairy lights. Wrap around your neck – it makes finding your friends in the dark so much easier. Dotcomgiftshop have the best selection.
Don't forget spare batteries and a battery pack for your phone.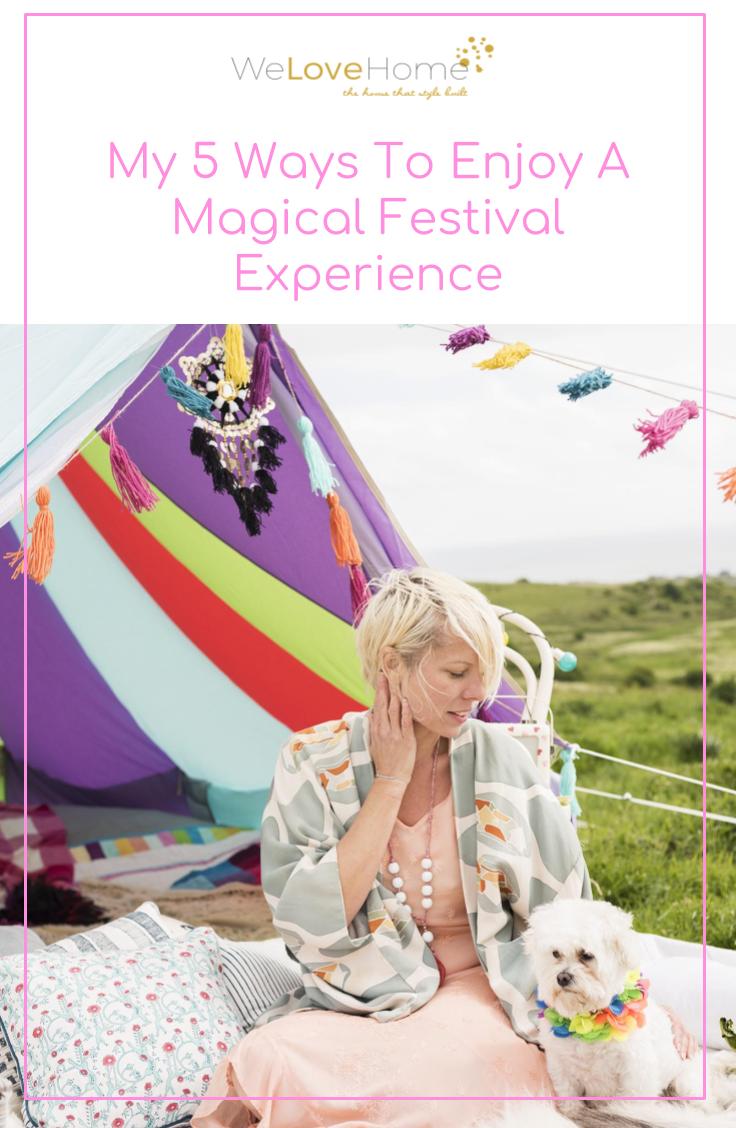 There we go – there is my 5 top tips to having the most magical festival experience this Summer.
I hope you have a joyful festival time in your bell tent covered in glitter and sparkles, with a fresh fruit lime drink in your hand!
WIN GOOD FESTIVAL VIBES
To get your festival season off to a swing, I'm giving away the polka-dot digital Emma Bridgewater radio (you can see it on the chair in the photos) in a blog post next week. Please pop back to WeLoveHome to learn how to enter.
If you can't wait that long, I've a special £50 off all Emma Bridgewater Hepburn Mk II Radios valid until 16th June. Just pop the code HOME50 at the check out.
And also I'm giving away the four beautiful Nisi Living pastel colour mugs for £32  in conjunction with my blogger friend (and fellow festival lover) That's So Gemma. We'll be running that competition on Instagram next week – follow me on IG so you don't miss it.
But for now, I'd love you to hop onto the next post which is by Renovation Bay-Bee.
And if you want to catch up on the entire blog hop, here's the full schedule
Monday
Swoon Worthy
Apartment No. 4
The Ordinary Lovely
French for Pineapple
Dear Designer
Seasons in Colour

Tuesday
Melanie Lissack Interiors
Candy Pop
Sarah Akwisombe
Design Soda
Around The Houses
Lazy Daisy Jones

Wednesday
Old Fashioned Susie
Mademoiselle Poirot
Lisa Dawson Styling
Lust Living
The Pink House

Thursday
Fabric of My Life
Making Spaces
Ana Mum Diary
A Beautiful Space
We Love Home

Friday
Renovation Bay-Bee
Fresh Design Blog
Don't Cramp My Style
Well I Guess This is Growing Up
Tidy Life


**Disclaimer: Some of the product above was given in kind for this shoot. I was also gifted the Nisi cups and VQ Emma Bridgewater radio to run as a competition. Photos with kind thanks to Fanny Beckman. Styling by Maxine Brady and Gemma Gear. All thoughts, opinions and good time vibes are mine.