I'm going to let you into a little secret. Today I'm going to share my very own sweet spot in Paris. It's a photogenic place tucked down a side street, a tourist's dream place to visit. I discovered this secret area on my mini-break to Paris in April. I'm going to share it with you now – but – shhh – let's keep this between us, okay?
I had such a lovely time in Paris, and I have been filling my Instagram feed with 1000 photos I took during my time there. Many of you have asked where my favourite spot in Paris was and where my red skirt was from!
What a better way to answer these questions than in a photo-heavy post with lots of pictures in my one of my favourite outfits! A travel, style and fashion blog post all in one.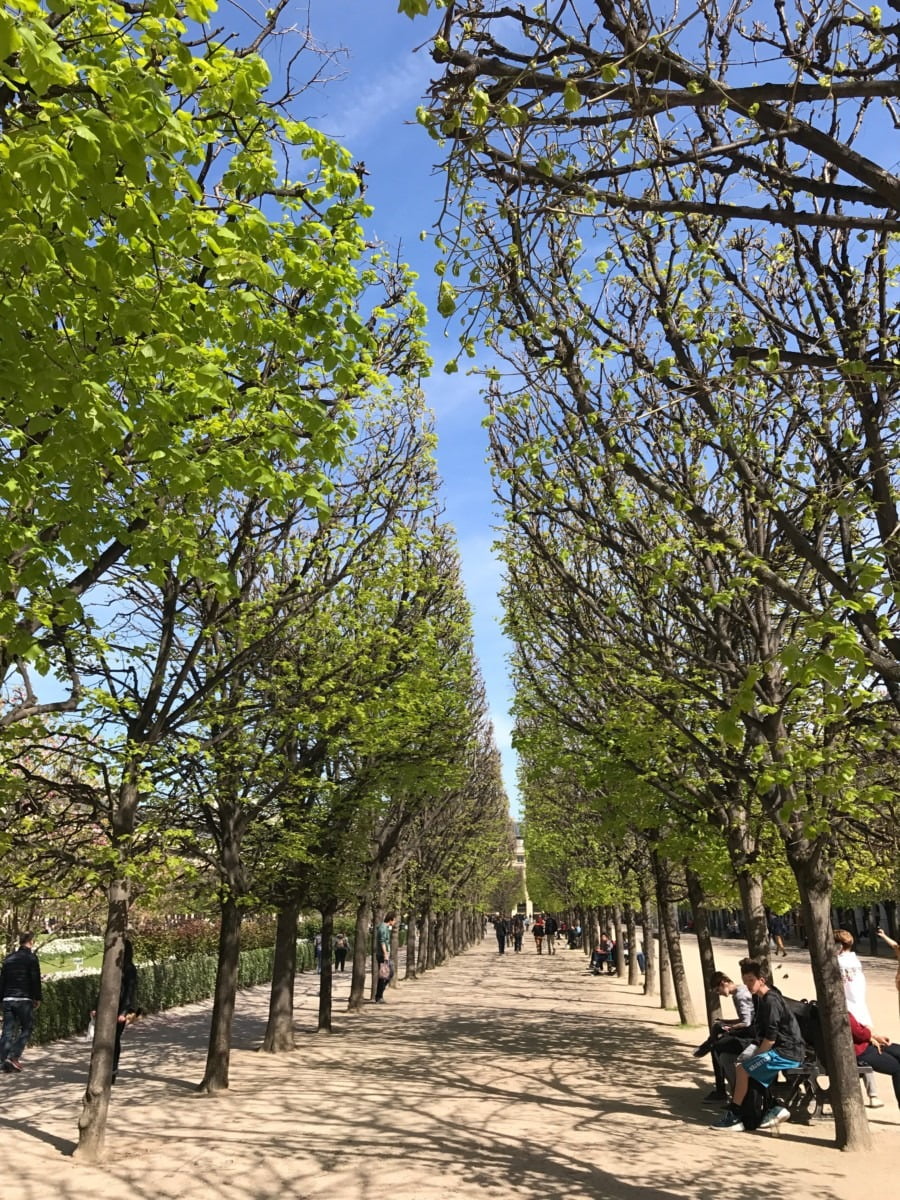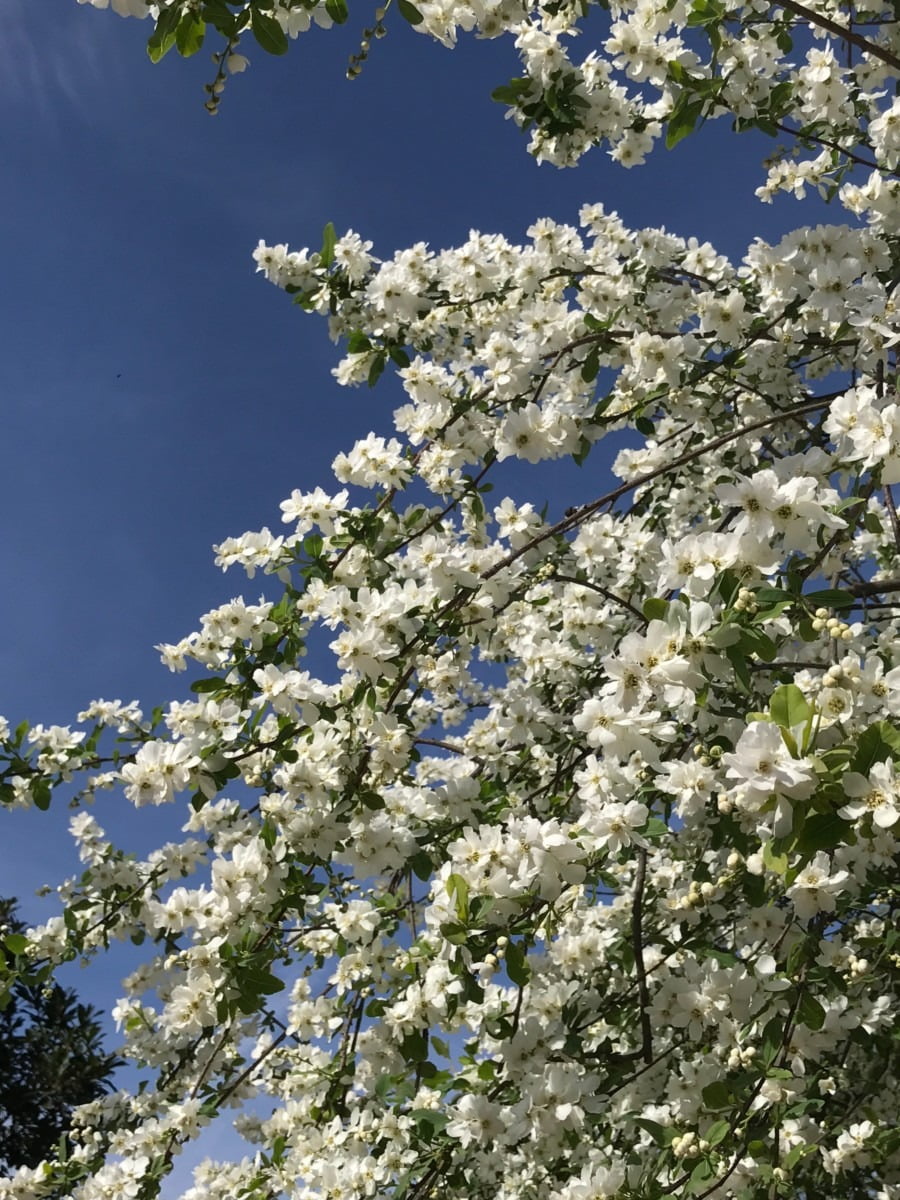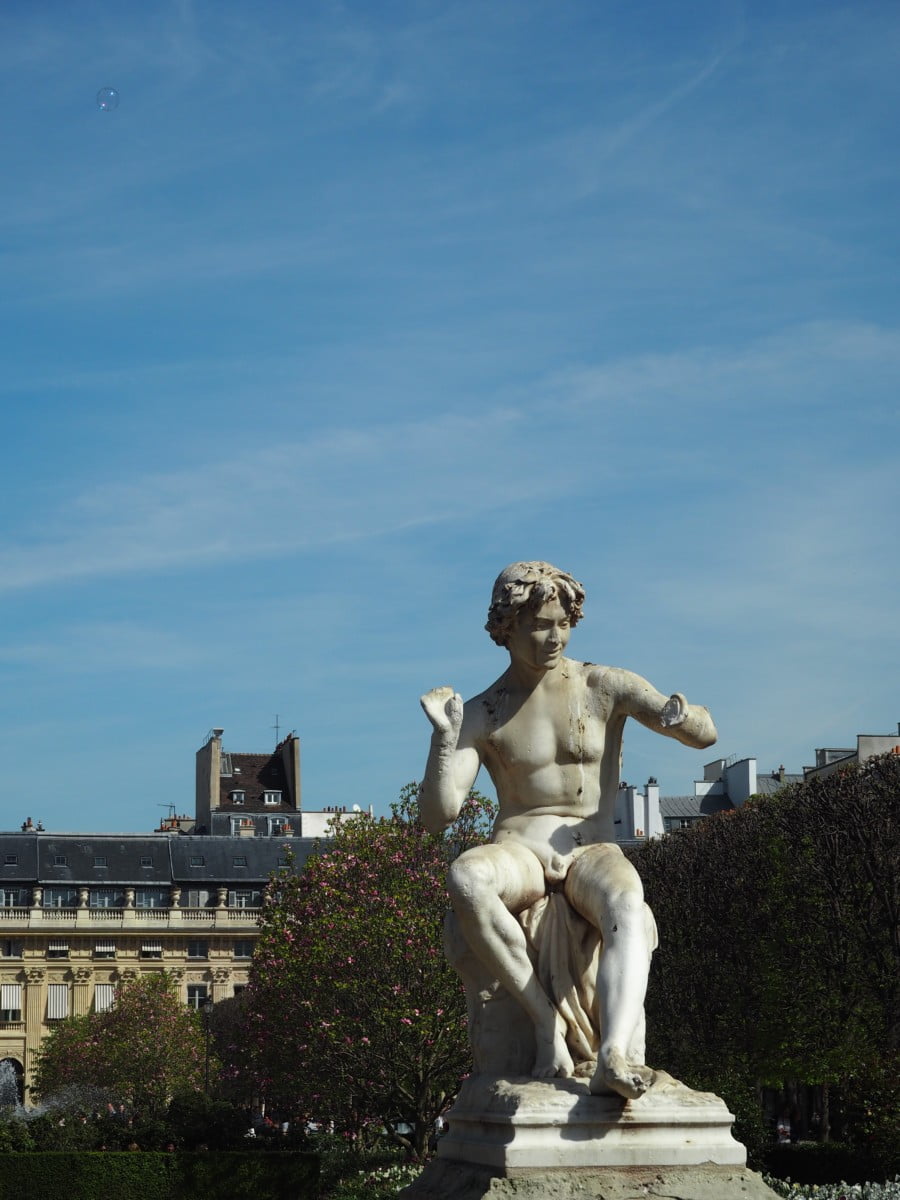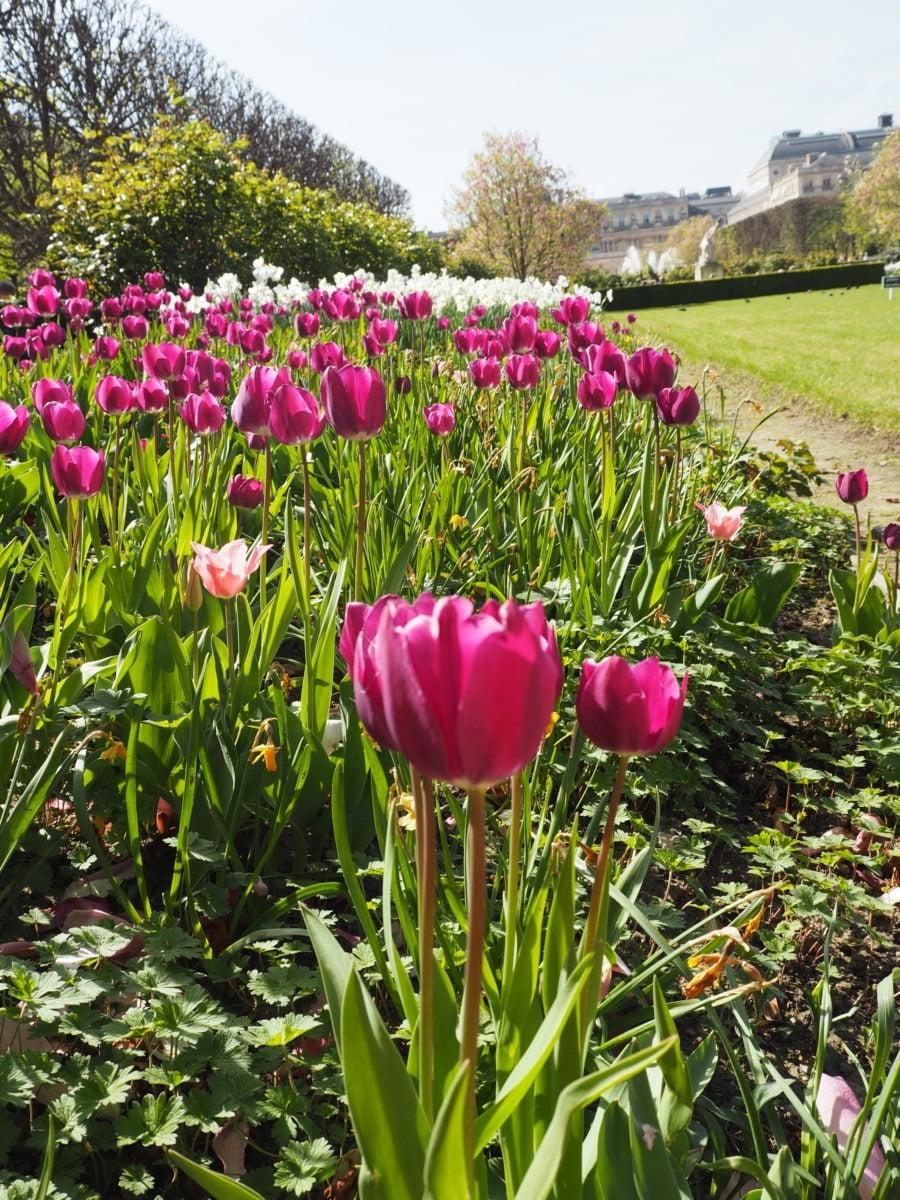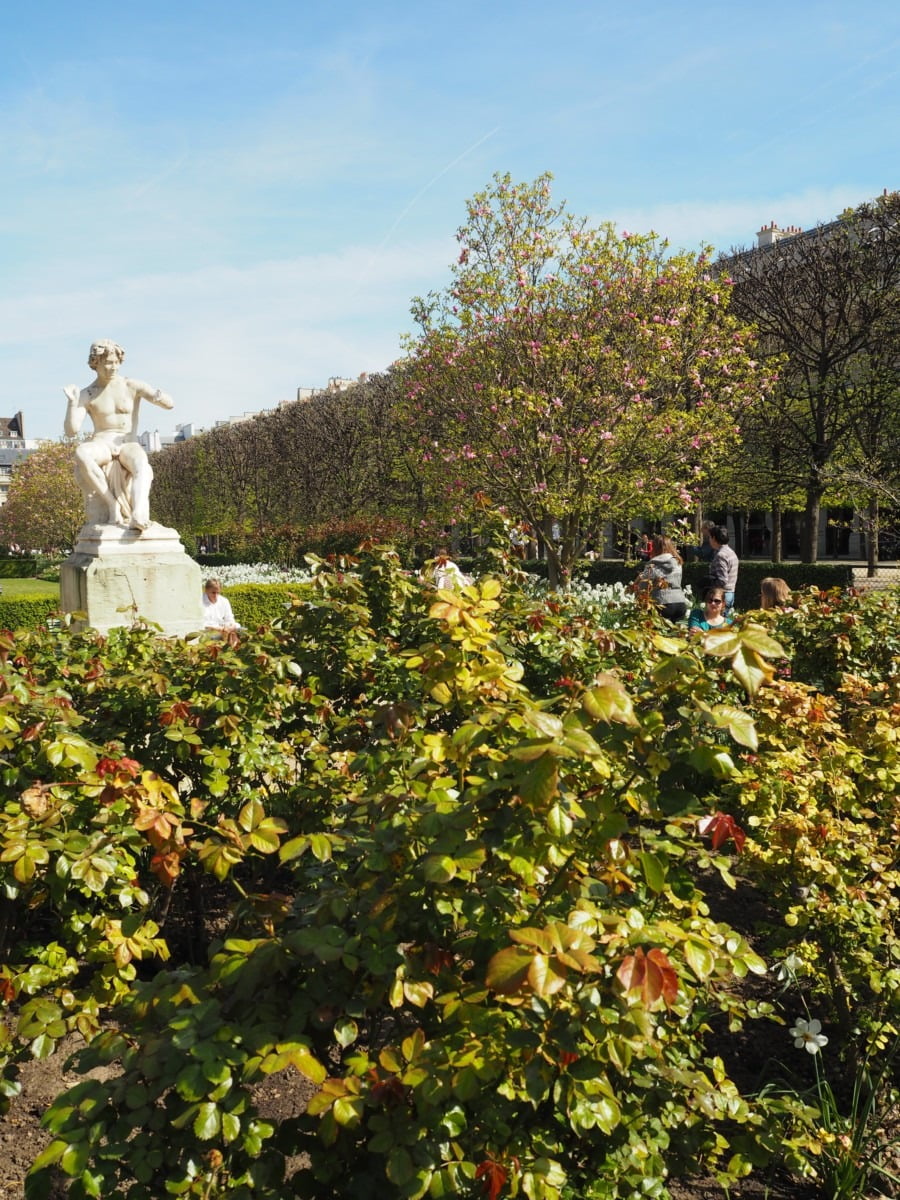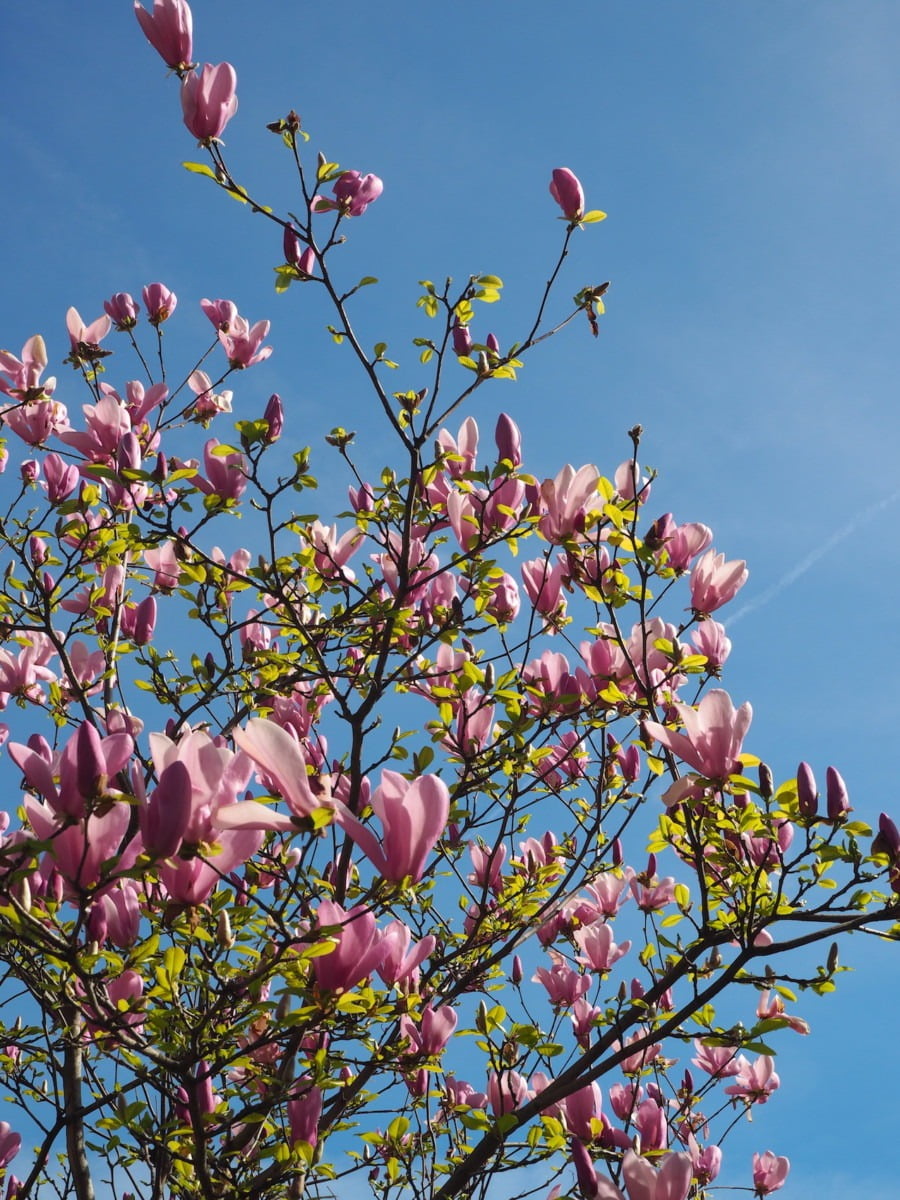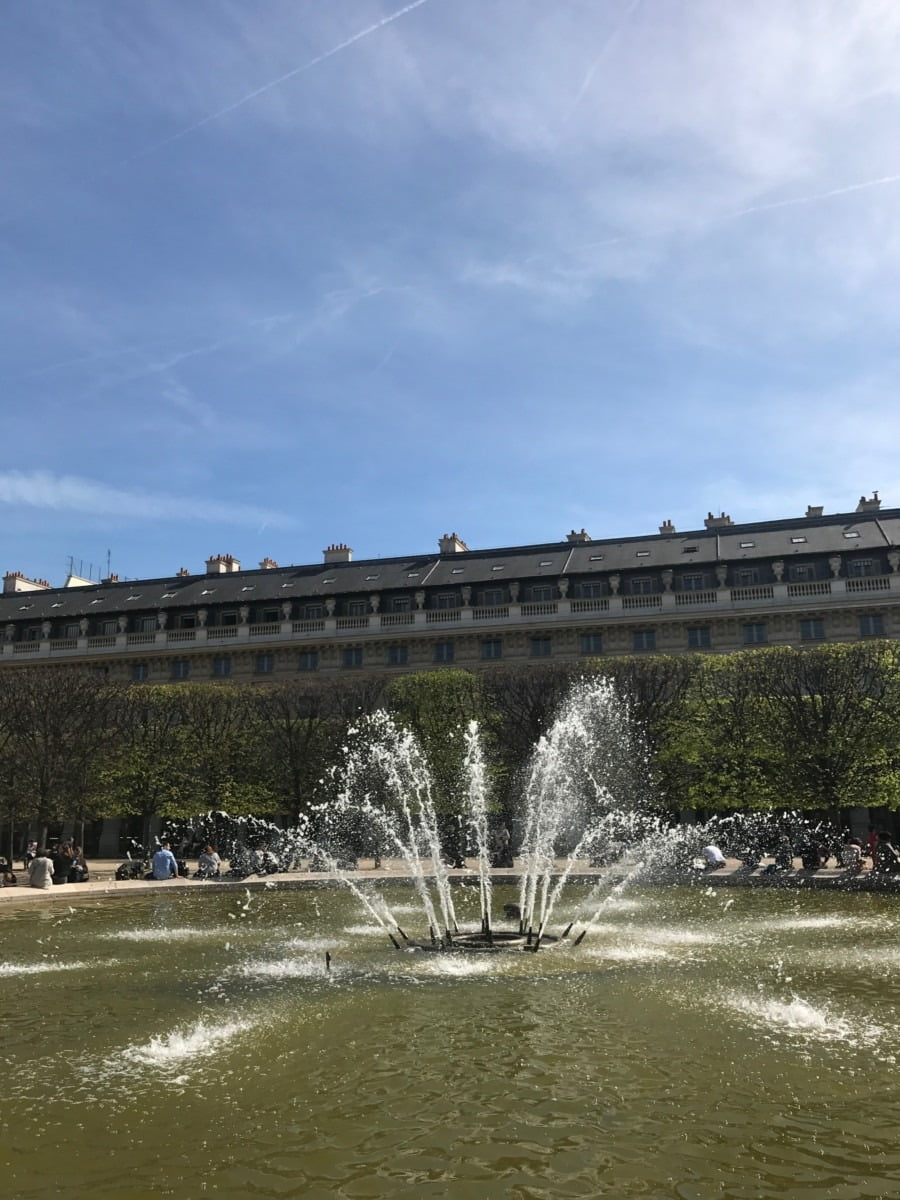 Paris one of the most photogenic cities in the world – it's the perfect spot for a sandwich alfresco among the blossoms and the locals.
My and my friend Anwen were looking for a place to enjoy our lunch, and the guy who made our sandwiches suggested we sat in 'Les Jardains du Palais Royal'. It's famous for its avenue of trees, beautiful fountain and white marble statues – it's a blogger's dream to photograph.
Anwen and I took our sandwiches and sat among the tulips with the locals who had the same idea. We felt like locals soaking in the sun among the office workers. Most of the women had kicked off their high heels and rested their feet up on the edge of the fountain.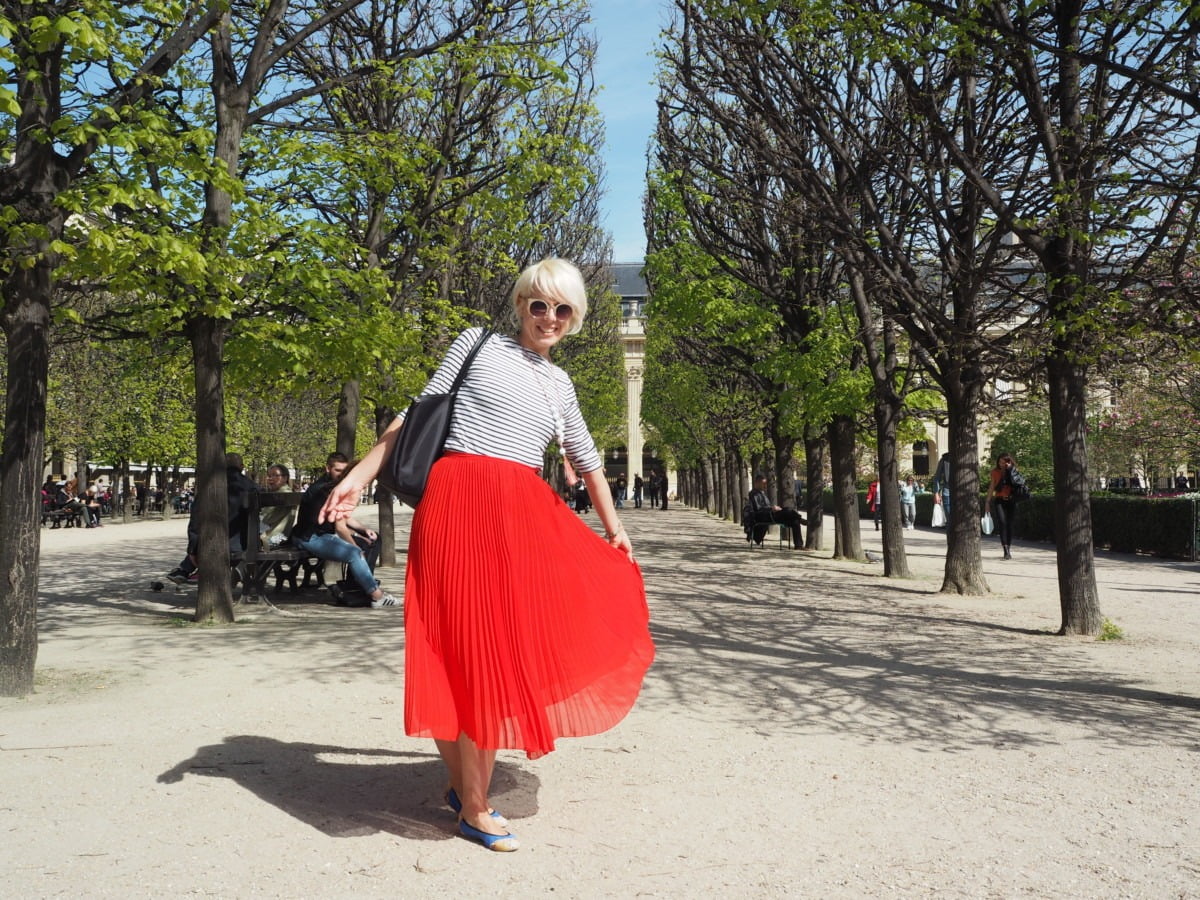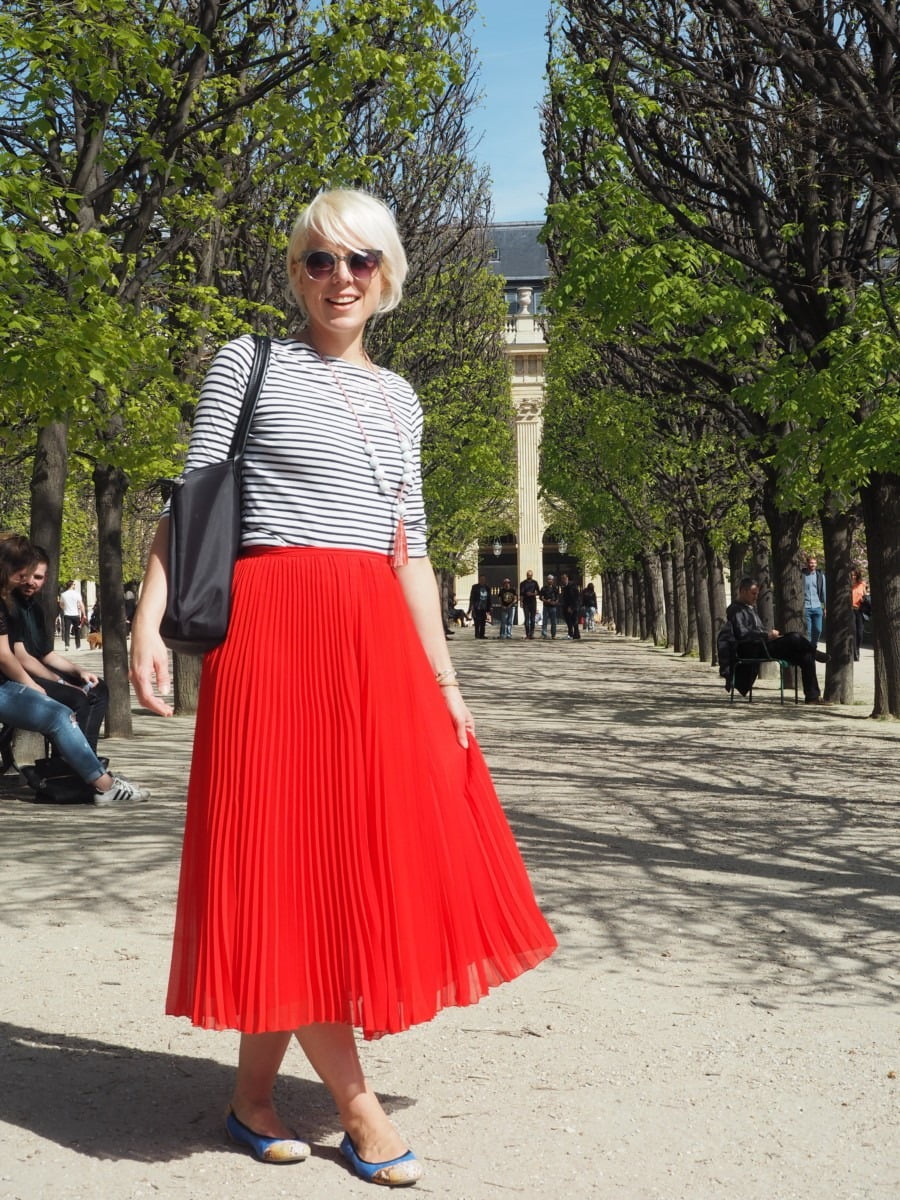 When packing for this trip, it was tough to know what to bring. We were so lucky with the weather – with the Parisian sunshine coming out to meet us. My floaty red skirt has been a wardrobe staple – as in the winter I can wear it with boots – and in the spring, team it with my new Chelsea blue suede ballet pumps from CocoRose London. The skirt is light to pack (perfect for a carry on suitcase), yet it doesn't crinkle or need ironing.
Outfit details // My skirt was from a Charity shop for £6. But you can buy similar here, here and here. // Striped top for similar try here and here. Or here // Cat sunglasses are gold-framed so are a perfect touch of french chic to my city-break look // I can not tell you how comfortable my new suede pumps were – considering we walked about 10 miles a day in this city, my feet were blister-free. My necklace is from Bali (read about my holiday shopping post).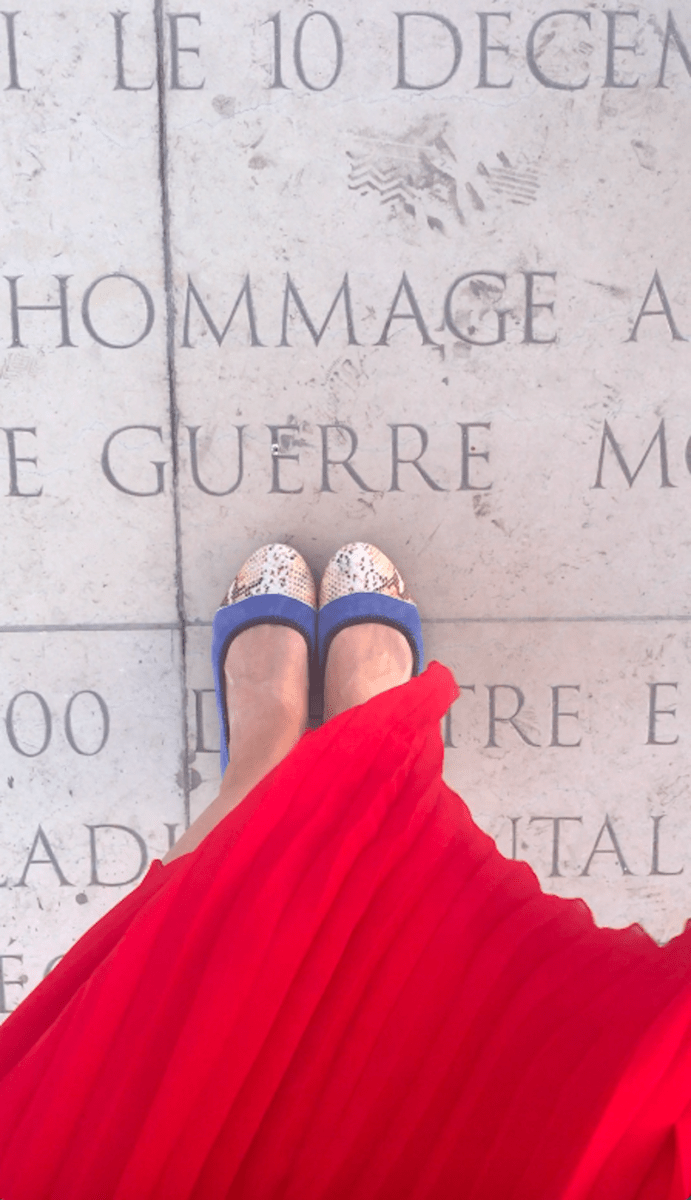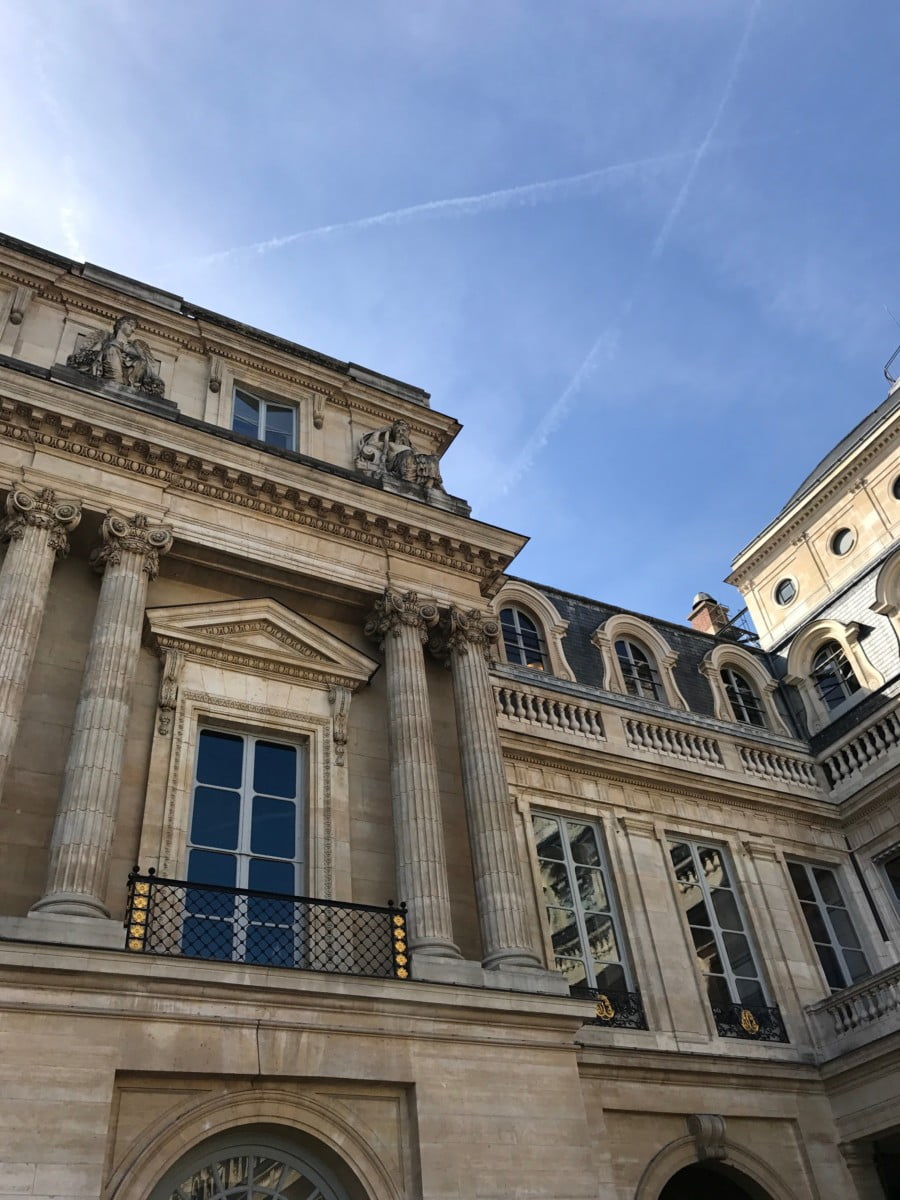 Les Deux Plateaux
In the corner of the Palace courtyard is this work of living art by Daniel Buren which adds a modern twist to this iconic spot. Each marble pillar sinks into the basement below. Is it a chequerboard? A comment on the rise of modern France through its old traditions? Or representing the rhythms of a busy city? There are so many theories on what this work means.
I heard about Palais Royal from seeing this post by The Stripe. I had to track down the sticks of rock and perch myself on one. It's an iconic thing to have your photo take on it – and who am I to argue with that.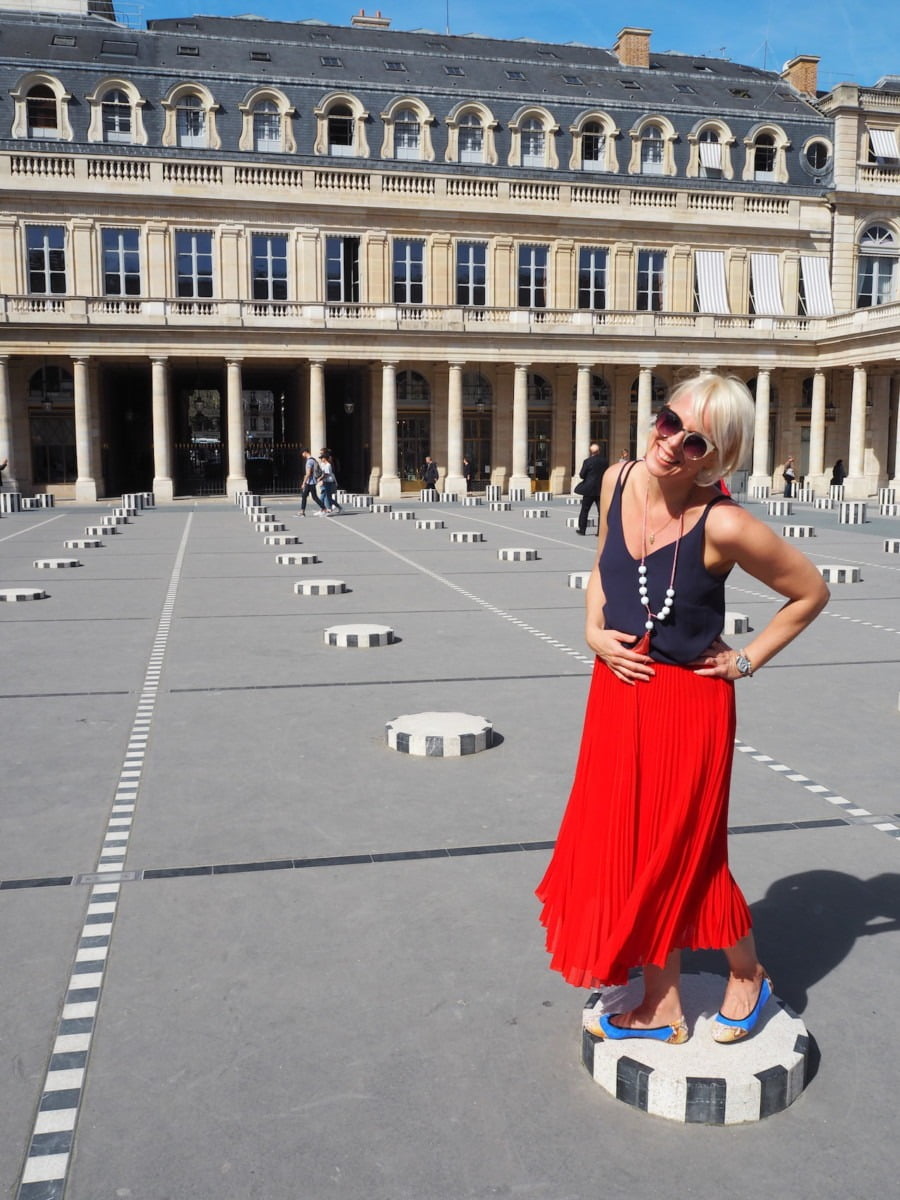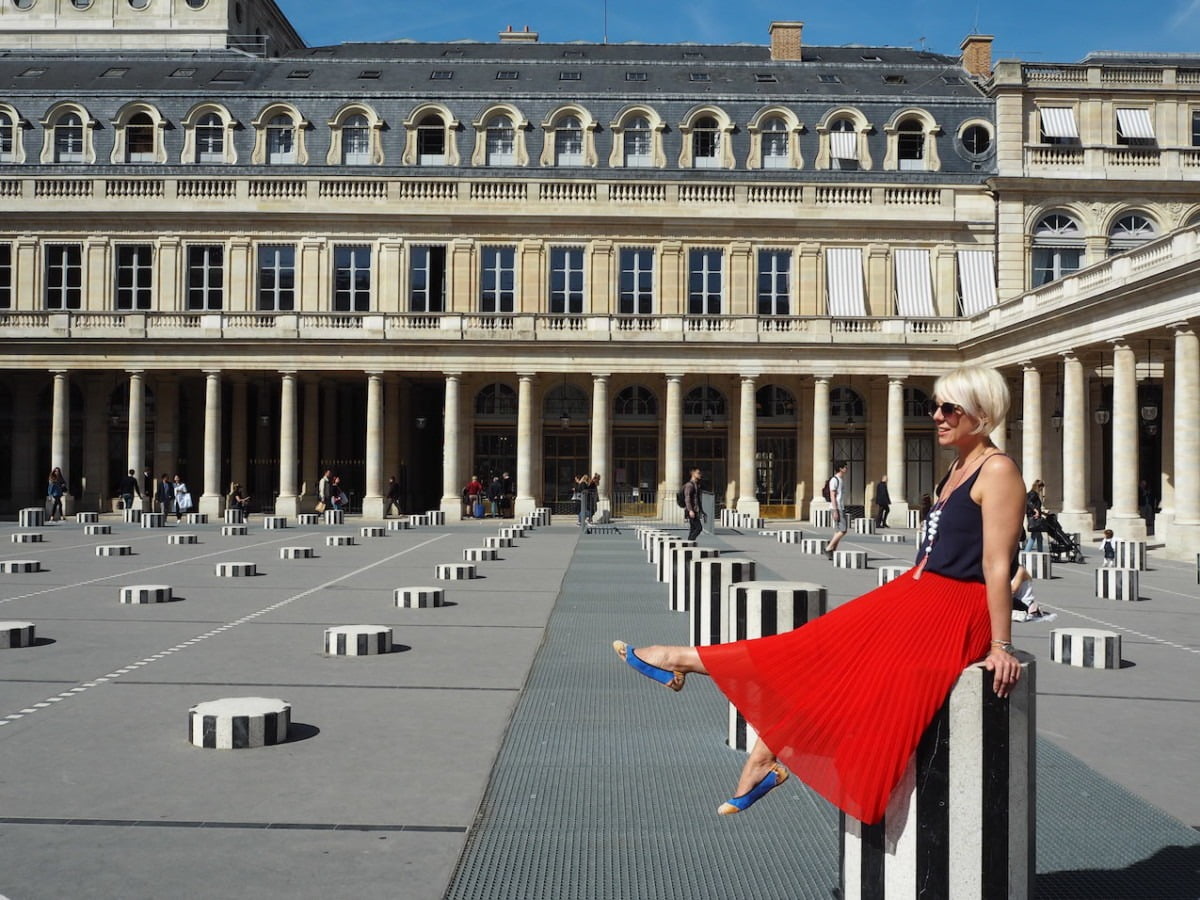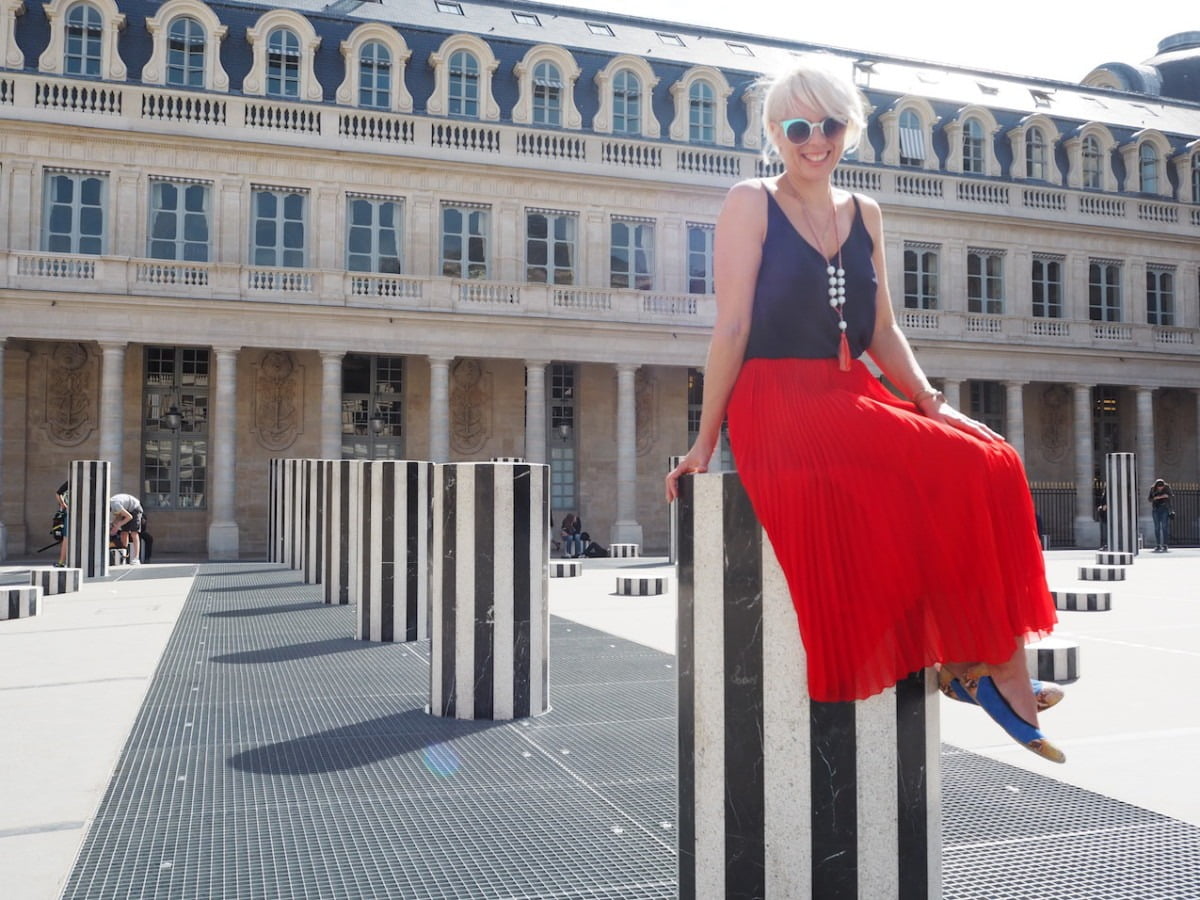 These photos have had me daydreaming back to my few days there. I'm going back, and I'm so going to take you with me. If you would like to know how I stayed in Paris for free, you have to check out my post. I also wrote about a new way to explore a city using a #travelstateofmind which if you are planning a mini-break is great fun to follow. Oh, and you have to watch my little video on Paris on my youtube account 🙂
I love travelling, and I love even more to blog about my trips. So far, I have been chatting about my best hideaway in Bali, my shopping adventures in the Philippines, and many more to come. Please keep stopping by, and we can explore the world together.
Until then, I'm going to drop this one last photo right here…..