Firstly, let me say Happy New Year (sorry I'm a bit late to the party). Bad flu and a backlog of work has taken me away from my blog these past few weeks. That, and I got lost in an instagram worm-hole! Oopse. Well, I'm back here in 2018 with a bang. I have a treat for you – the FINAL FINAL FINAL reveal of my hallway.
If you have been stopping by my blog you would have seen how much bloody love I have put into what is essentially the smallest space in my home. I've managed to squeeze so many ideas into this little area. I'm not going lie, I'm super proud of myself.
Let me give you the tour.
My Hallway – Before
Back in 2015, when I bought this house – I inherited a carpeted death trap staircase with 1970s banisters (you can see the full horror show here).
The first step was to get rid of the planks of wood that the previous owners must have thought were 'modern'. But in fact we actually legal and plain ugly.
Luckily, for me staircase experts Richard Burbridge were on hand to help with their handy on-line 'Stairplanner' tool. With the help of my carpenter, I installed a banister and spindles more in keeping with the period of my house.
Thank goodness I didn't go for my original idea of using tree branches for spinals – don't ask!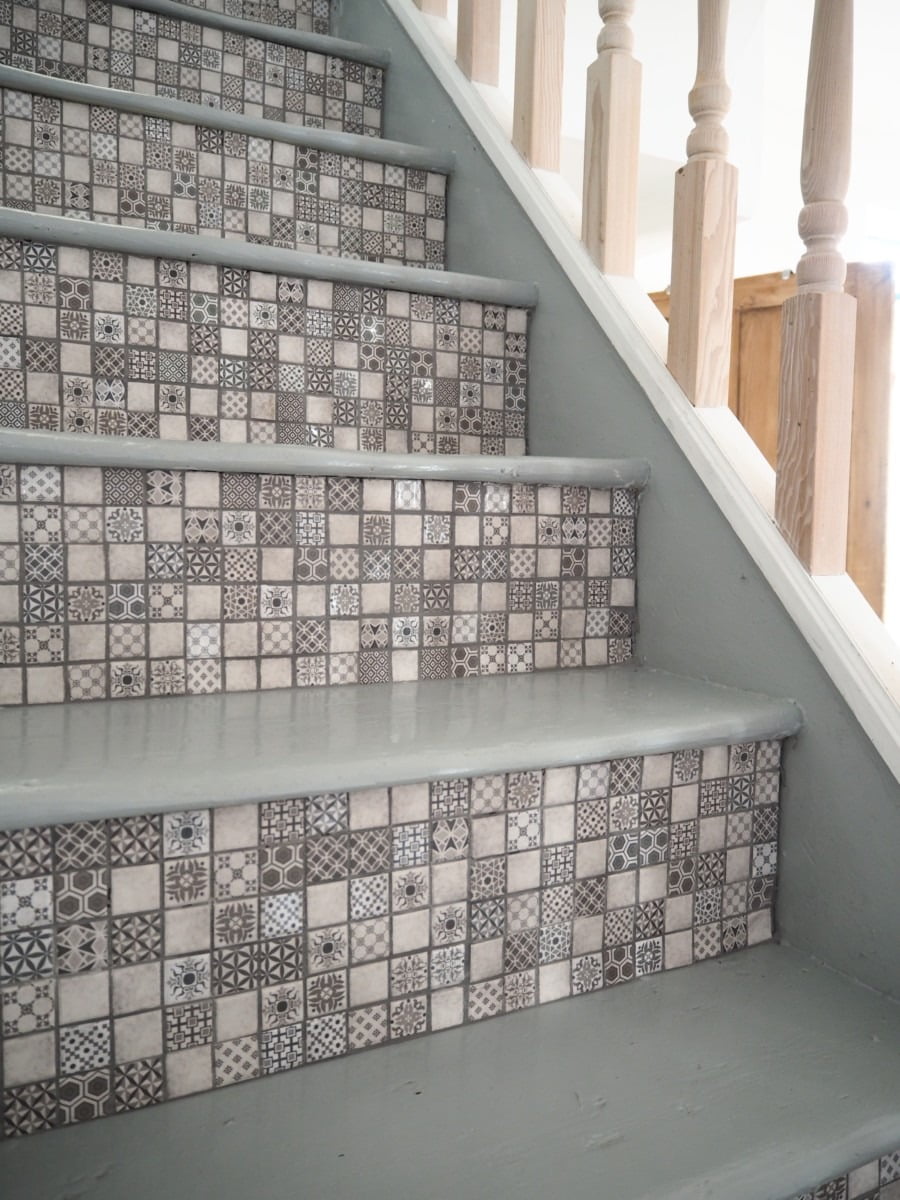 Lots and Lots of DIY
Okay – this is the part where I feel especially proud of myself.
I tiled the risers all by myself. Yes. That's right – go me!
I was so impressed by my #girlboss behaviour, I did a how-to video on it – its had several 1000 views on YouTube 🙂 which is hysterical as I was making it up as I went along (aren't we all?).
I took like a million photos of the tiling in this before and after post – as I was pleased as punch with myself
The next step was to give the landing a bit of a vamp with a herringbone carpet from Axminster Carpets which is beyond lush. Obviously, this had to happen the week before xmas and before a month long trip to Bali.
Why I don't have grey hair doing up this house, I don't know!
My mum sanded back the painted banister for me to give that lived-in vintage vibe. A look I love.
The same carpenter made the new cupboard door fronts for me. Now I have access to all the space under the stairs where I store the dog's growing wardrobe.
Next in line for a makeover was the stairs themselves. They were covered with seagrass carpet that was so slippy. The nightmare I uncovered deserved a whole blog post to showcase my DIY pain.
Let's just say – NEVER start a DIY job with a hangover. Urgh!
Rewind to last Summer
My hallway needed a few finishing touches.  As part of my heating overhaul with British Gas, I replaced all the vile radiators with beautiful vintage style ones from Vogue Radiators. This one transforms the hallway – really smartens it up, and making a great impression.
Despite all my hard work, my hallway was lacking that certain something. I didn't know what it was until I stumbled across this Crittal Mirror post by Karen from Making Spaces Blog (she is a pro at this small spaces stuff).   
I knew I had to have one. I go in to huge detail why every tiny space NEEDS a window mirror. You can totally fake it a bigger space (I promise). This one is from Mirror Deco.
Oh – and I put my rather militant take-your-shoes-off peg board sign up. My best mate, Ben, helped me come up with the lingo. The antique wooden shoe lasts are a gentle reminder this is where all shoes shall rest.
Once the mirror was up, I kind of let my creativity flow – so to speak.
Picking Art for My Hallway
This area became a new gallery to curate with art. I fell in love with this hand print by Fly. Can you see why?
I've been obsessed with hearts since well forever – so this print was an obvious choice. Below, I hung a stencil for Henna tattoos that I found in Marrakech for €1 and then framed up in an Ikea black frame. Needless to say I love the hands and feet on my wall.
I can't give you a tour without mentioning my little wooden ballerina.
I found her in Bali and she cost about £4. I have her dangling off my light switches (my home is not child friendly!)
I soften my floor with rugs to tie in all the colours – or lack of colours – in my monochrome home.
This is what happens when you bribe your dog with treats to pose in pictures….
…flappy ears and a bit too much enthusiasm
It's been a long journey but now my hallway finally is a space that makes me feel proud. Like I said, so much love has been pumped into this space – from the DIY jobs to the tiling to the finishing touches.
What is left to do?
Obviously, I still have a few tweaks to do (I'm going to mirror the cupboard door fronts to practice my yoga in front of). But it's is practically done for now.
I'd love to know what you think? If you could use one word – how would you describe your own hallway style – what would it be? Answers in the comments box below. 
Love
Maxine