** Sponsored Post**
I love this time of year as it's when all the up and coming design trends for the following year are showcased at the design shows. Get my lowdown on colours, materials and ideas that we all will be bringing home in 2019.
This time of year is all about design – as interior stylists, editors and journalists take inspiration from the interior design shows that are happening across the world. Each one is filled with the hottest interior trend for the coming year. And 2019 looks like it is going to be a year of changes. Exciting!
I've been busy hunting through Paris's Maison & Objet and London Design Festival finding myself immersed in an abundance of fresh decorating ideas that are taking the design world by storm.
Say goodbye to dark walls and hello to green floors. Be inspired by the new take on millennial pink. And discover a sense of well-being as wellness take centre stage in our interior design.
Read on for my insider scoop – plus helpful style tricks on how to bring these look to every corner of your home in 2019.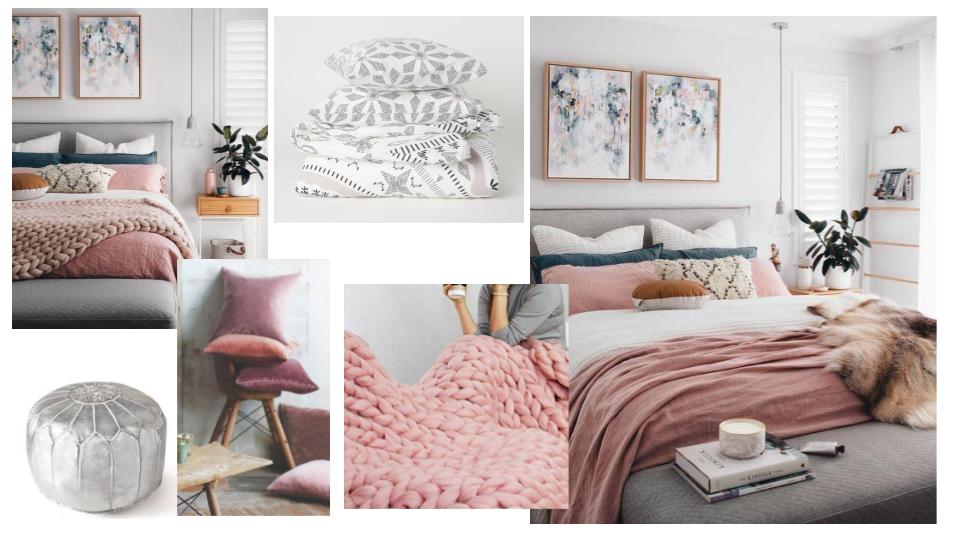 Millennial Marrakech
Even though lots of style experts are pushing 'Zen Yellow' and 'Salted Caramel' as the new colours for 2019, I'm happy to report that pink is not going anywhere.
What I noticed is rather than focusing on plain pastel tones – Millennial Pink is getting a brand new look, inspired by Eastern influences especially designs found in Morocco. Think tiled flooring, hand-dyed linens, layers of patterns, water colour prints all mixed together to give a fresh and elegant take on the pink trend.
Update your room with flooring like this one above which is a faux tiles laminate with Moroccan vibes, to bring the style of the souk into your home.
Photo credits: Flooring, Lifestyle floors. Throw, Wool Couture. Furniture, Loaf. Art, Desenio.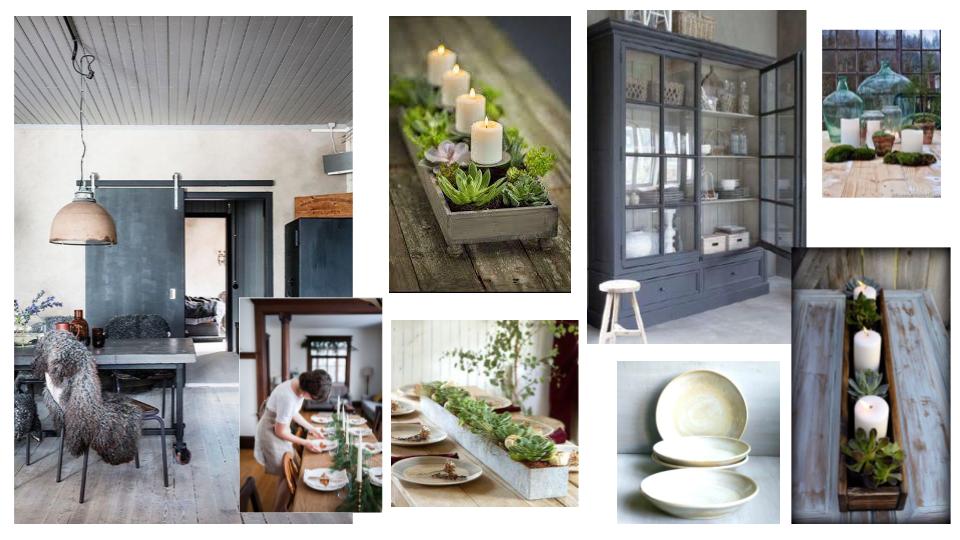 Nordic Weekend
In 2019 there is a move towards creating a low-key look inspired by long weekends spend in the Nordic woodlands. There is a strong emphasis on rough woods, painted surfaces, sheepskins and furs, with lots of glassy green highlights with vases and accessories.
Paint walls in shades of white – from chalky tones to pale gresy. Underfoot put down engineered european oak wood flooring with a painted finish (like the flooring above) which you can pad around in fluffy socks.
This trend is the perfect if you love entertaining friends and family. Display you collection of vintage glasses in a large dresser. Fill your table with succulents in potted terracotta. And then dress your tabletop with hand-thrown ceramics, lots of white pillar candles.
Photo credits: Flooring, Lifestyle floors. Table top accessories, H&M Home. For similar chairs, try Cult Furniture.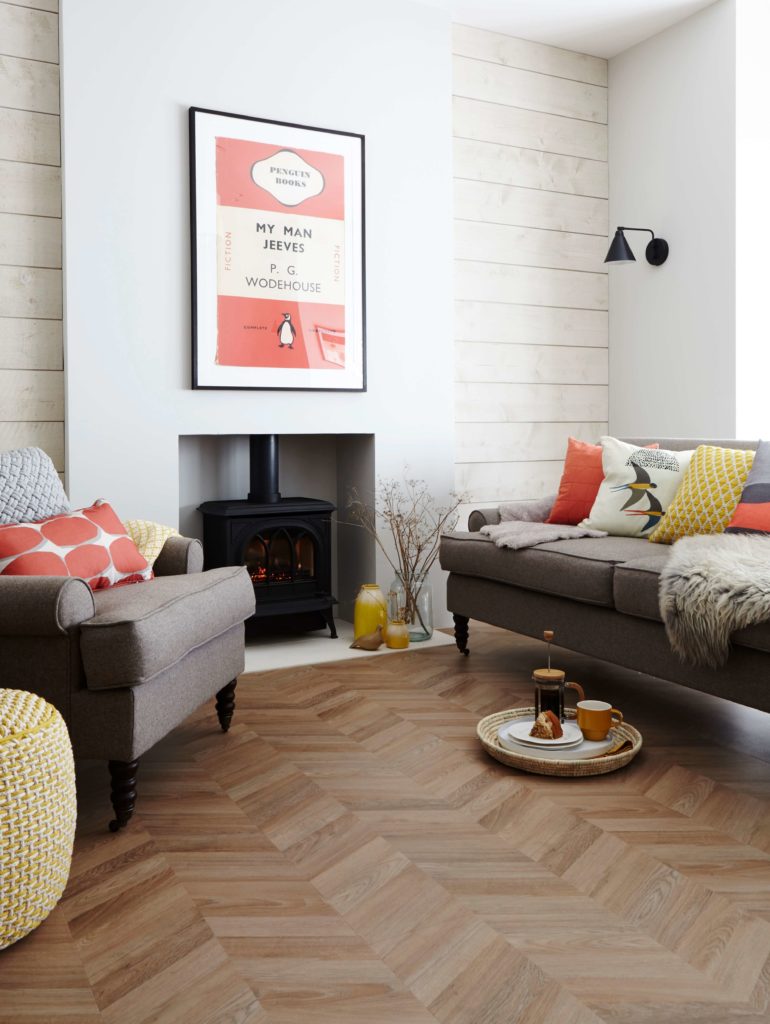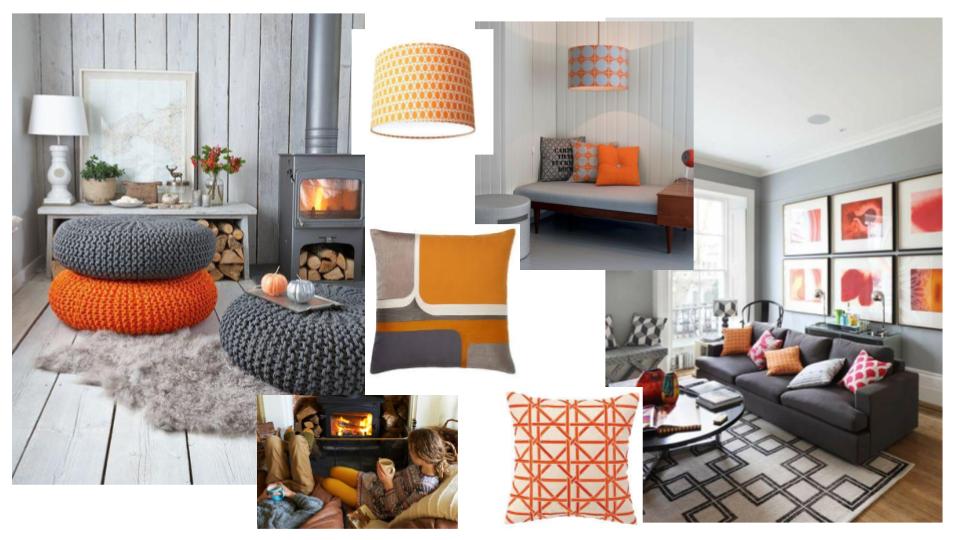 Nest & Thrive
The slow living movement has been captured by interior designers alike with the Nest & Thrive design trend. As you may already know, Instagram is awash with hashtags that aim to capture the simple moment in life – like #simplewhiteliving #nestandflorrish #myhygeehome #homeswithrue
These hashtags want us draw our focus away from the hustle and bustle of life, to the simpler things. And this is exactly what this trend is about.
Fill your home with rusty oranges, chunky woolen knits, a real wood fire – and piles of chunky knits to snuggle under when we are enjoying our favourite TV show in the middle of winter.
What I love is the touches of retro styling to this trend, bringing in designs from the 1960s and 1970s with bold graphic prints that will be spotted in cushions, art and on your coffee table books. This look is ideal for a creating a cosy, family chill out room where you can enjoy time hanging out together.
Photo credits: Flooring, Lifestyle floors. Cushions, Dunelm Mill. Footstool, Next.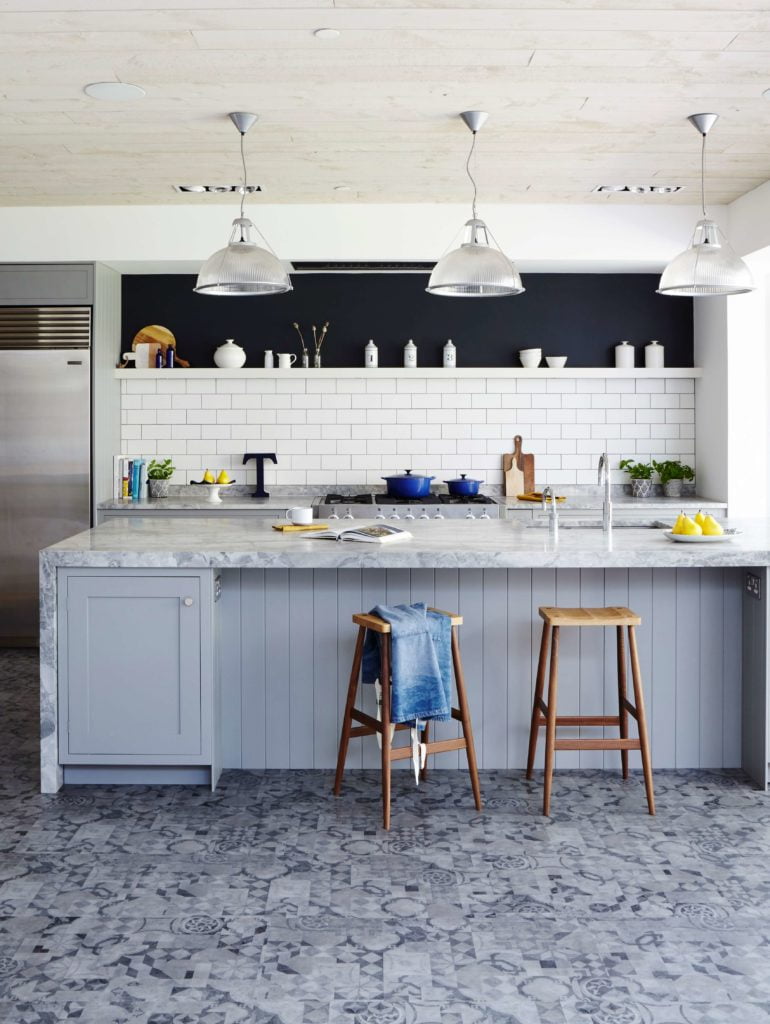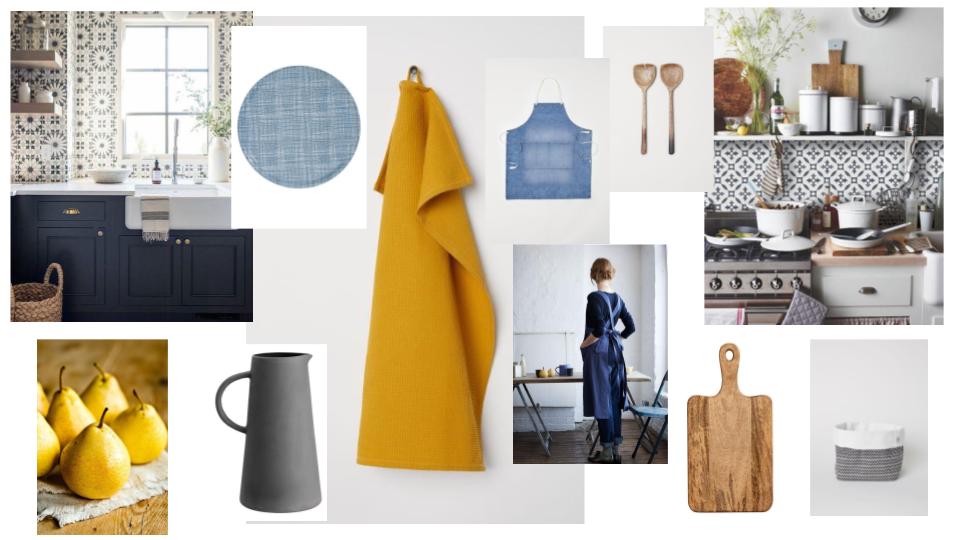 Faded Denims
Slowly but surely we are moving away from dark colours on our walls. Designers have picked up on this and have shifted their colour focus to other areas of our home like floors and cabinets.
If you don't want your space to feel gloomy in tones of black, then instead, try denim shades of blue. Start by painting your furniture in this colourway, then adding navy tiling into your bathroom, the when you are feeling brave enough – try painted your kitchen cupboards blue!
Use pops of mustard yellow, stripped pine & white ceramics to break up the blue tones. Expect to see this colourway starting in Spring and running through to the end of the Summer.
Photo credits: Flooring, Lifestyle floors. Kitchen accessories, H&M Home.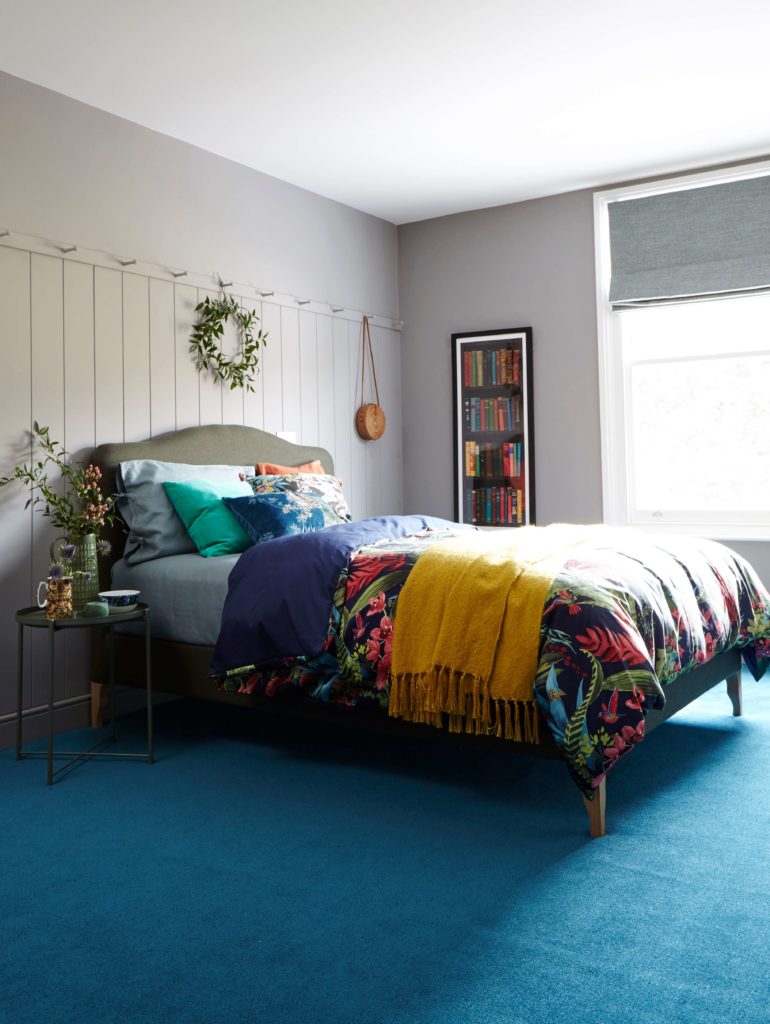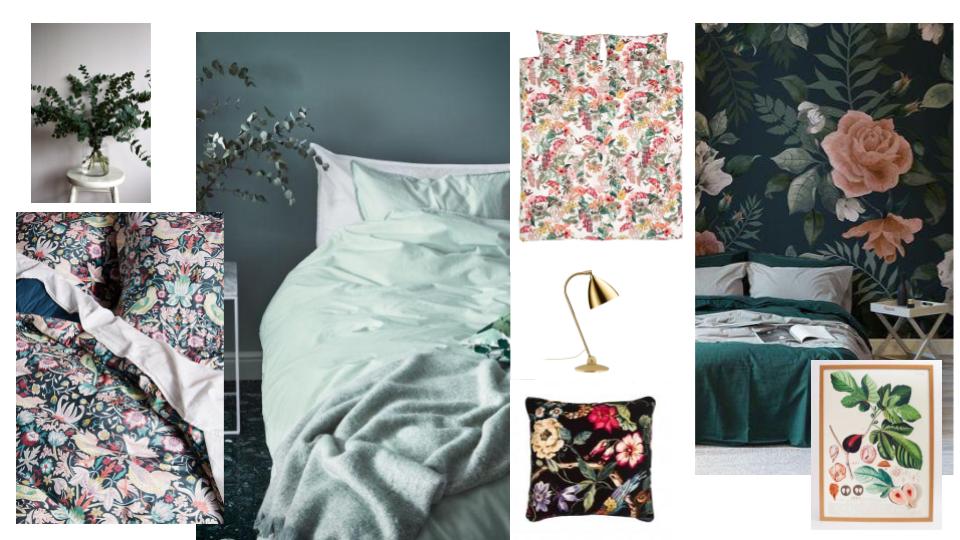 Midnight Botanicals
Emerald green is fast becoming the most popular wall colour according to paint experts Sanderson. Emerald Green is the ideal neutral for bedroom as it is known for its' ability to relax, restore and revive us.
Mix together blossoming floral prints inspired by the Arts & Crafts movement. For ultimate indulgence treat yourself to a velvet bed in this fashionable shade. Hang botanical prints on your walls. For the brave amongst us, try a coloured carpet in a teal tone.
Of all the design trends, this one is the most moody, rich and inviting. And it's also my favourite look for 2019.
Photo credits: Flooring, Lifestyle floors. Bedlinen, Debenhams. Bedside table, Ikea.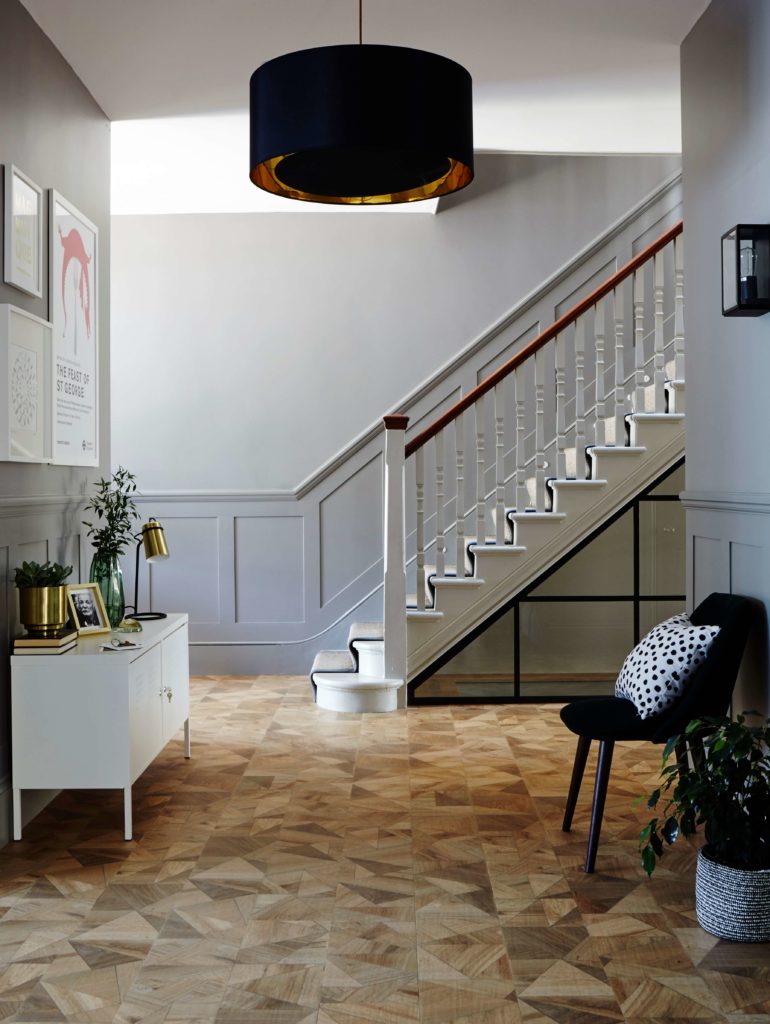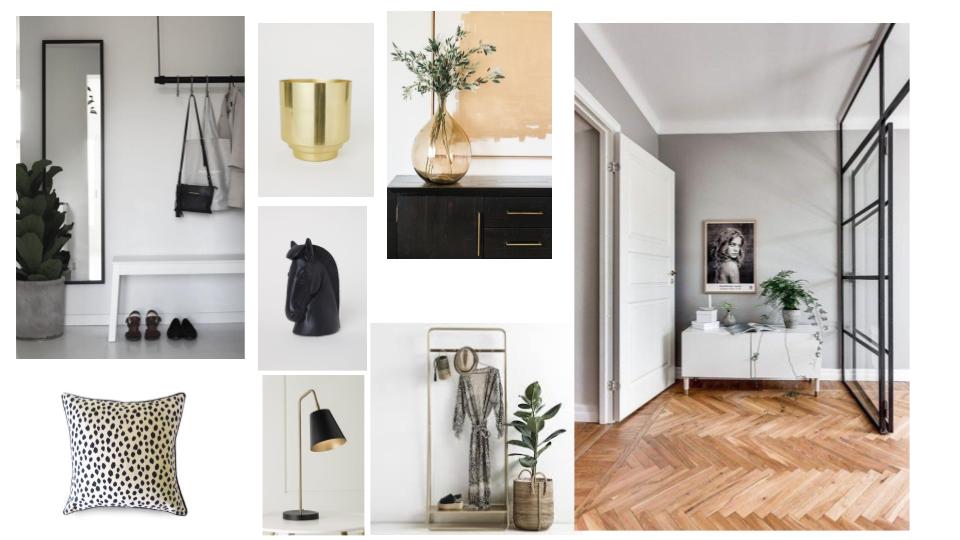 Dalmatian Prints
In 2019, Dalmatian prints are going to b everywhere from rugs, to wallpapers to upholstered furniture. Why? Because they breath life in to monochrome homes and inject a bit of fun styling into our homes.
This isn't about filling your home with polka-dots prints. It's about subtly introducing this pattern into your home. One way to style this look is with an artfully placed cushion, a feature wall or a dotty throw on your sofa. To keep this trend looking grown-up with black accents and gold accessories.
If you are glamourous, aspirational, edgy – then this is the 2019 design trend for you.
Photo credits: Flooring, Lifestyle floors. Accessories, H&M Home. Console unit, Ikea. Cushion, Amazon.
The Big Design Trends To Watch For In 2019
There you have it – the hottest design trends for 2019. Do you feel inspired to re-decorate your home in one of these looks? I'd love to know in the comment box below.
Have a great week!
You May Also Like
How To Style The Danish Hygge Home Trend
15 Distressed Walls Ideas Inspiration Gallery
5 Instagram Loft Bedrooms We're Crushing On Right Now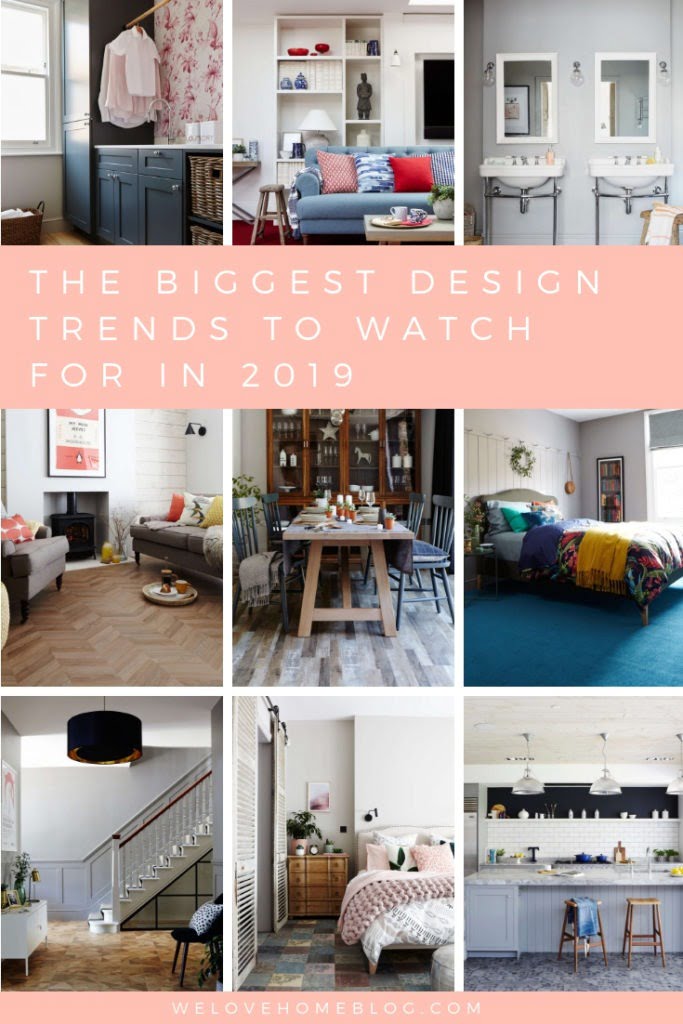 ** The is a sponsored post. All thoughts and opinions are my own. Styling by Maxine Brady. Photos by Penny Wincer.