*Collaborative Content*
Instagram is the best place for discovering inspiration decorating ideas. I'm always on the 'gram looking at dreamy loft bedrooms. I'm slightly obsessed!  Today, I'm sharing my top 5 loft bedrooms spotted found on Instagram. And I'm sharing lots of loft bedroom planning tips with the help of attic experts, Abbey Lofts.
5 Instagram Loft Bedrooms We're Crushing On
I can't afford to convert my loft into a bedroom yet. But that doesn't stop me from daydreaming about ideas for my attic for when I finally convert this space. Here's my pick of my top 5 Instagram loft bedrooms that I'm decor-crushing on right now.
1. Fallow Grey
This loft bedroom has made me change my mind about decorating my home in shades of leafy green. I'm not sure what I love most…the crittal doors, the grey painted floorboards or the comapct ensuite bathroom.  The design of this bedroom has made the most of every inch without it looking too cramped or cluttered. I bet the view from those doors is stunning.
LOFT PLANNING TIP:  If you need to add a bathroom to your new loft conversion, don't feel you have to change your existing boiler. Most heating systems can be adapted.  In some cases (especially where there are combination boilers) the pressure can fluctuate. One way around this is with a Megaflos which helps with the pressure.
https://www.instagram.com/p/Ble_Cg-A84M/?taken-by=fallowgrey
https://www.instagram.com/p/BlV8mjIA5tH/?taken-by=fallowgrey
https://www.instagram.com/p/BkiasMSAFlN/?taken-by=fallowgrey
2. Making Spaces
This is one of my fave loft bedroom projects by Karen from Making Spaces. She is an interior designer, based in Leeds, who has a knack of turning small boxy rooms into dream spaces full of stylish tricks.
Here, the simple monochrome scheme shows off the slants and angles of the room to perfection. The black painted woodwork matches the crisp matt charcoal walls. For a hint of zing, she painted the fireplace in acid yellow. Then a clever lemon stripe draws the eye up to the kooky shapes in the ceiling. Wonderful.
LOFT PLANNING TIP: When at the planning stages of your loft, you may want to consider an architect. Loft conversion specialists (like Abbey Lofts) will have their own in-house architects who will be on hand to get you the loft bedroom you desire.
Having a company provide a one-stop shop can save you money, speed up the process and make sure the space is planned out to it's best. Then you can spend your budget hiring a decor wizz like Karen.
https://www.instagram.com/p/Bmtc87yg6V0/?taken-by=makingspacesnet
https://www.instagram.com/p/BmyonkjgSaW/?taken-by=makingspacesnet
3. Charlotte Asquith
Building regulations can dramatically influence how a converted loft space is structured – which will then impact on your choice of finishes and furniture – BOO! Choose furniture in proportion with the size and scale of your space.
Follow the lead of Charlotte, who picked a low-level bed and then put up a picture display shelf above. She kept the floor cozy with a neutral carpet and added splash of natural colour with houseplants. The peppermint and plum colour scheme is on right on trend for 2019. Hands up who would love to dive into this bed?
LOFT PLANNING TIP:  Have you heard of a party wall agreement? It provides a framework for preventing and resolving disputes in relation to party walls, boundary walls and excavations to your neighbouring buildings.
If you want to convert your attic into a loft bedroom before works start make sure your follow the Law (a good loft conversion company will help you with this paperwork). Some neighbours may insist on a party wall surveyor drafting an award, and you'll have to meet these costs. But don't stress as neighbours can't prevent a loft conversion going ahead.
https://www.instagram.com/p/BffeZN8D4t-/?taken-by=charlotteasquith
https://www.instagram.com/p/BgAyIVijESy/?taken-by=charlotteasquith
4. Tatiana Home Decor
If your attic or loft bedroom is going to be tiny, like mine – then take inspiration from Tatiana's loft bedroom which is jam-packed with style ideas. The bed on packing crates is a easy alternative to a low futon, ideal if your ceiling is low. Then there in one corner she has managed to squeeze in a small home office/dressing table/display area. And then the other end a micro-walk-in wardrobe (my dream). By not having a door on her wardrobe, she has made the space feel open and roomy.
LOFT PLANNING TIP: In a small loft bedroom it's important to maximise the amount of daylight. Glazing should make up 20% of the roof area. A long, shallow room will benefit from windows spaced evenly along its length while a narrow room will benefit from one large window. The more natural daylight the better!
https://www.instagram.com/p/BlqU3uKHS2q/?taken-by=tatiana_home_decor
https://www.instagram.com/p/BmaJMQdnxYD/?taken-by=tatiana_home_decor
https://www.instagram.com/p/BmIKpUCnQNC/?taken-by=tatiana_home_decor
5. This Style Rocks
Growing up, my teenage bedroom was in my parents' loft. I loved the cosy corners, quirky shape and I felt that I was tucked away in the rafters. This clever bedroom in Amy's house was designed by her daughter – with a sunken bed and a mezzanine desk up above. The faux brick wallpaper gives the space an urban edge – and works so well with the exposed beams. I love the paired-back wood and the cubby-hole storage which prove that teenagers loft bedrooms are officially the best.
LOFT PLANNING TIP: Lofts make great playrooms or extra space for teenagers but it's important to keep them cosy so they'll get plenty of use. You'll need to insulate the roof instead of the floor, and cover it with plasterboard. They will also need smart, flexible storage for their all their stuff, as well as a desk for homework.
https://www.instagram.com/p/BlxHp6hgrNs/?taken-by=thisstyle_rocks
https://www.instagram.com/p/BmMMVipAPXD/?taken-by=thisstyle_rocks
There's my top 5 instagram loft bedrooms to inspire you. Make sure you give these talented ladies a follow by clicking on their photos above.
If you want more inspiration, advice or ideas for your loft conversion or planning advice then check out Abbey Lofts who helped me with this post. They have a super helpful FAQ page that is worth checking out.
You May Also Like
Tips and Ideas for Converting Your Loft
How natural light can transform an attic space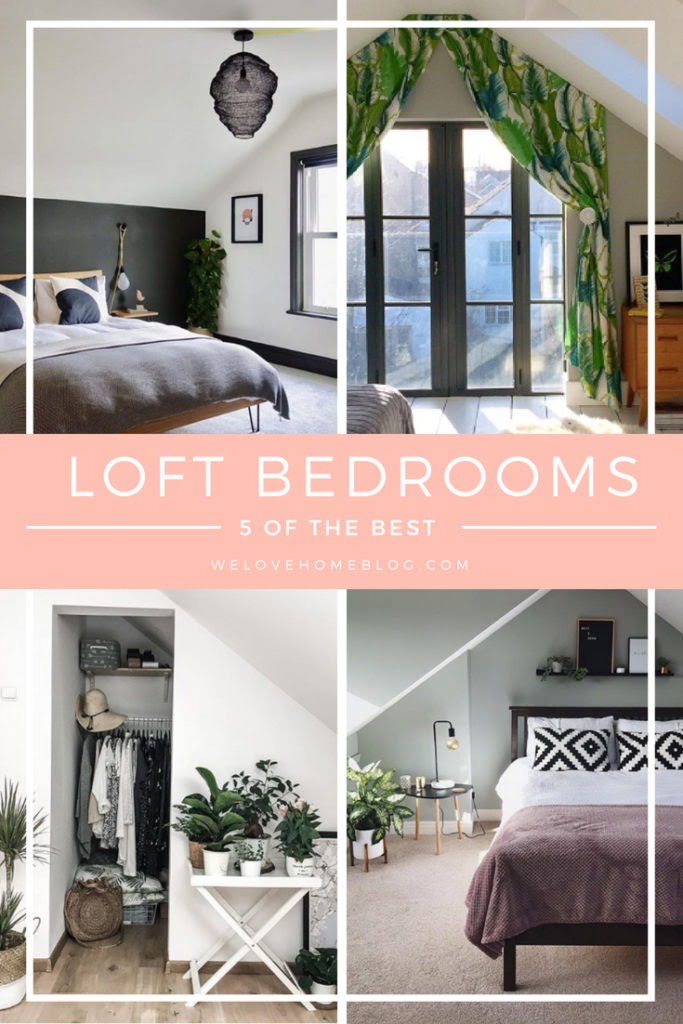 ** This is a collaborative post. All images are credited duly above. All thoughts, comments and opinions are my own.