**Sponsored Content**
Autumn is the perfect time to start thinking about updating your home with the latest flooring trends. In this post, in collaboration with Kersaint Cobb, I'm going to run through the top seven Autumn flooring trends that your home needs, craves and seriously deserves.
1/ Blue Hue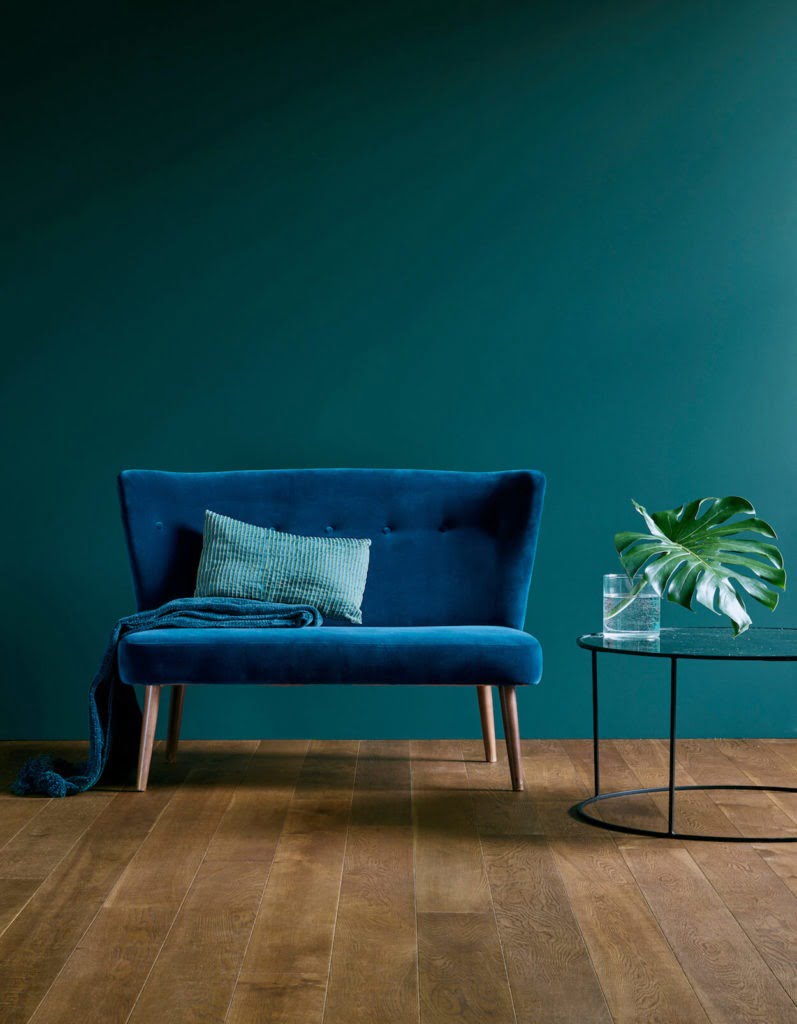 Vie Maison Rustique Fume / Kersaint Cobb
From calming cobalt shades to arresting azure hues, it's time to reach for the sky. Choose a vibrant shade of blue for your walls as the perfect tone for warming up our homes during the cold winter months.
Team these azure shades with a coffee-coloured wooden flooring to create depth to your interior scheme. For an instant update, make sure you go for a tongue-and-groove flooring which is quick and easy to install. Flooring trends can be simple and effective like this look.
2/ Nordic Pastels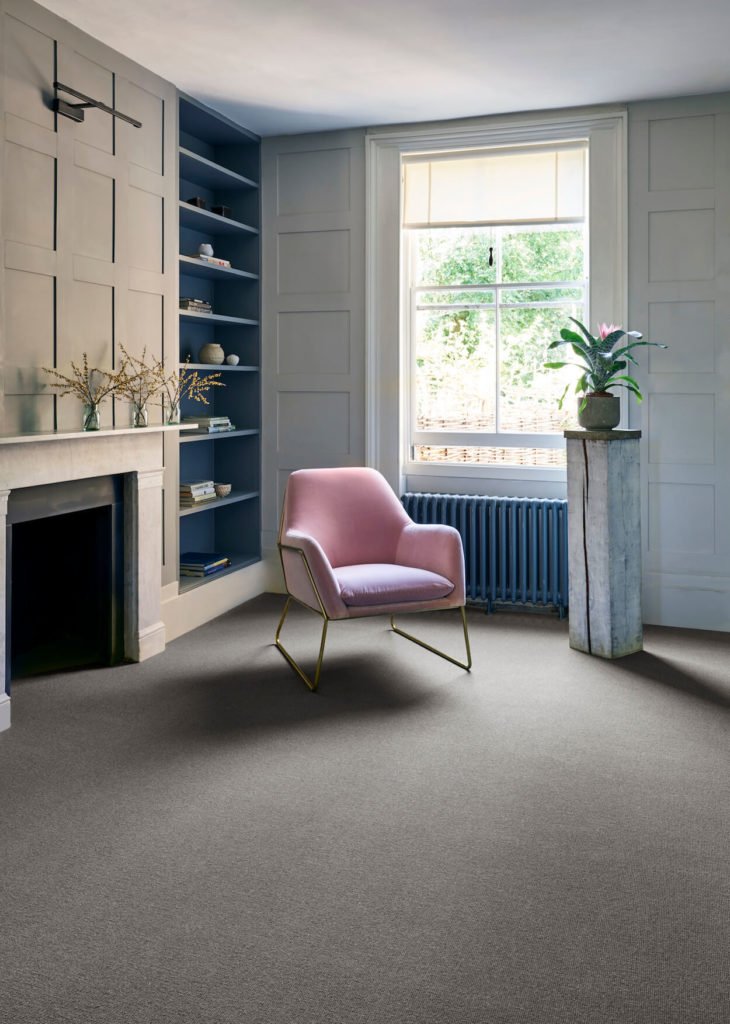 Pampas Nordic Skagen / from £22 sm / Kersaint Cobb
Pink has been an interior hit for the last few seasons. The room scheme above works so well as it has subtle layers of texture – with an upholstered armchair in a shell-pink velvet, lots of potted plants – and then to finish off the look the walls have been painted in warm putty colour with a turkish blue accent in the alcoves.
On the floor, the only way to go is with a wool carpet inspired by room designs seen in the pages of Scandinavian interior magazines. If you want something with a bit of texture, then  sisal flooring is a good alternative to wool carpet, modernising period properties giving them an edge.
3/ Moroccan Runners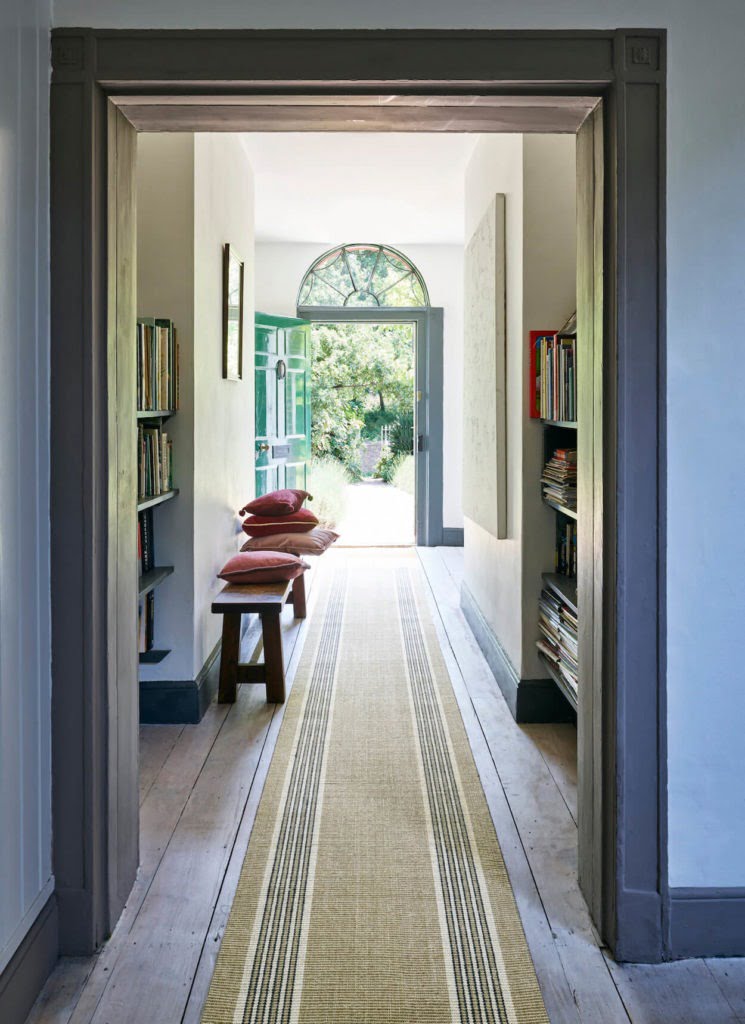 Tetouan Morocco Runner / £68 Lm / Kersaint Cobb
Bohemian, romantic and whimsical, this Edwardian country house is steeped in ethereal charm and more than a little rock 'n' roll glamour – with piles of design magazines, records and sumptuous cushions.
What draws your eye into this space is the flat woven Moroccan runner with striped pattern that leads your eye to the emerald door, and beyond.  Choose one with a latex backing – like the one above – to avoid slipping in this busy area of your home.
4/ Golden Woods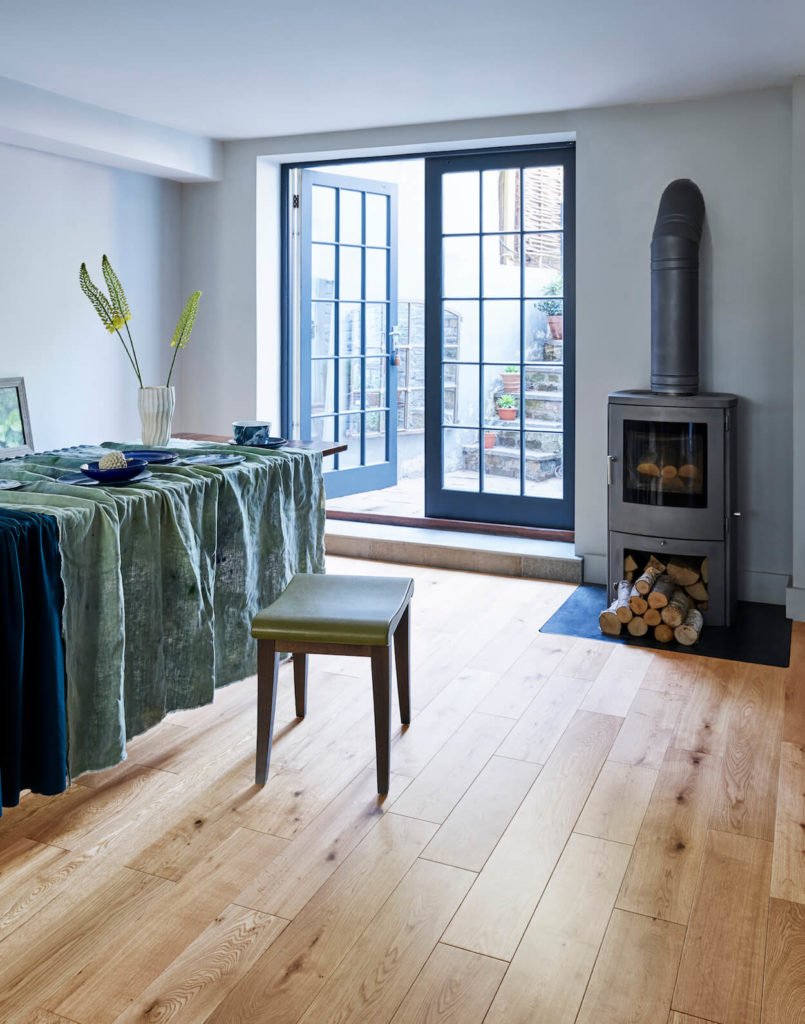 Simply Oak, Natural Oak SO21 / from £60.99 sm / Kersaint Cobb
This season we are going to say goodbye to pale flooring and instead welcome in golden tones of natural wood into our homes. If you find yourself being drawn of the natural glow found in woods oak, pine, birch and teaks, then this is the trend for you. These warmer shades instantly breath life into our homes and bring natural colour to our floors.
This style of flooring is perfect for larger rooms that need warming up. The engineered boards above when teamed with a wood burning stove give this dining room an ultimate hygge home-style.
5/ Shady Reds
Cascade – Light Cloud CAS101 / £66 sm / Kersaint Cobb
Too tricky? Too bright? Too much? Not at all. From scarlet to plum, it's time to rethink rouge. Decorate your home in a rich palette covering walls and woodwork in shades of plum to create an intimate mood, ideal for grown up living spaces.  Cool down the hot scarlet walls with blocks of pink and ice blue.
Underfoot, add a cosy wool carpet that has a subtle herringbone design, to bring drama to your floors without distracting from your colourful room.
6/ Noir On Noir
Big Boucle Noir carpet / £48.50 sm / Kersaint Cobb
Dark interiors are here to stay for time eternal. Vamp up your look by adding elegant touches like wooden panelling, furniture painted in glossy black and a deeply, delicious carpet. This moody colour scheme needs a carpet with big weave, like this boucle above.
This monochrome scheme makes the ideal backdrop for shapely accessories like glass vases and simple stems. Contrast decorative pieces against a wall with pops of acid yellow to let them stand out for this super-cool combo.
7/ Minimal Textures
Boucle Artists Monet / £45.50 sm / Kersaint Cobb
Give minimalism a spin by working sharp shapes into a dark, moody palette with paired back styling and a fuss-free decor. Create beauty out of utility with a simple display of G-Plan tables, a sheer roller blind and white washed brickwork.
Add grey tones to your floor with a sisal flooring that has a tightly woven texture for this simple room design.
7 Autumn Flooring Trends Your Home Needs Right Now
There is my pick of the hottest flooring trends that your floors (and feet) will love for Autumn 2018. Whether you go for dark black, rich textures sisal, golden woods or a vibrant red colour pallet – there is a flooring trend for every corner of your home.
I would love to hear which of these flooring trends you love the most. Pop a comment in the box below. Any questions on how to style this look in your home – just ask!
For more flooring inspiration, don't forget to visit Kersaint Cobb's website – click HERE – they have a fab blog with lots of helpful flooring buying advice.
Have a great week.
You May Also Like
Decorating with Skirting Boards
Styling The Purple Trend with Good Homes Magazine
How natural light can transform an attic space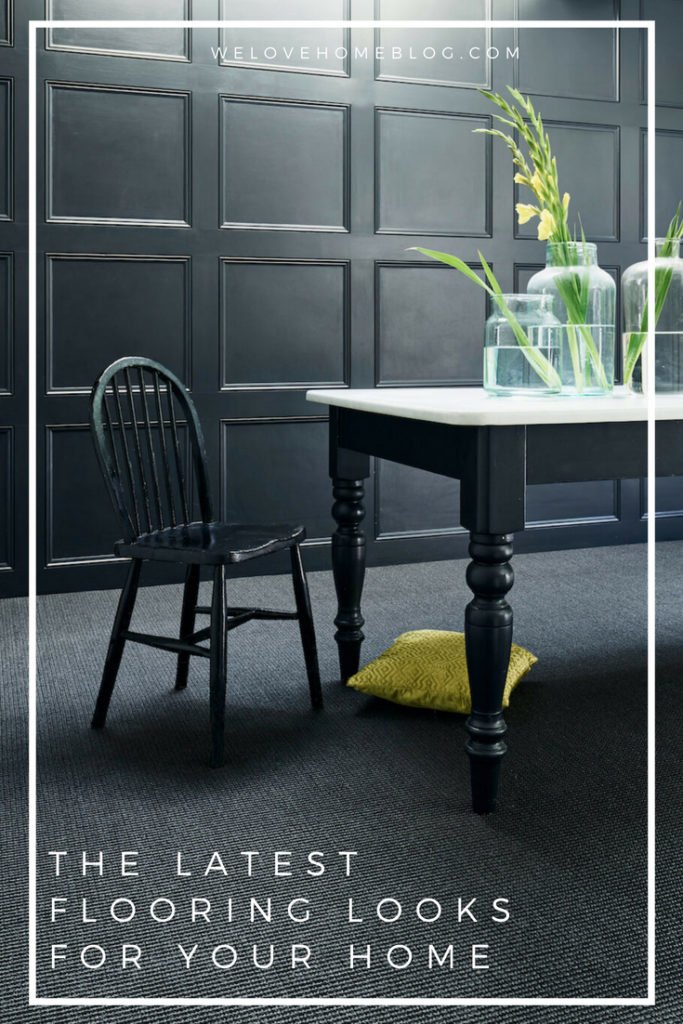 ** This was a collaborative post with Kersaint Cobb. All thoughts and opinions are my own.