Are you brave enough to paint your walls black? Today, in this post we're heading over to the dark side, showcasing 11 dark interiors in deep shades. I predict by the end of this post, you'll be thinking of painting at least one corner of your home in a dark and delicious shade.
** Collaborative Post with Swift Direct Blinds **
And as I love sharing my pro-tips, I've sketched out my own dark decorating 'rules' to help you nail the look. My aim is to inspire you to add darker colours in your home. Let's add blackmagic to our interiors!
Main Image | Paint from Paint & Paper Library
11 Chic Rooms That Will Convince You To Paint Your Walls Dark
On of my most popular Pinterest boards is called 'dark walls in small homes' and it was the inspiration for this post. I realised lots of you were asking the same question as me – 'Can dark walls work in a small space?' The answer my friends is a big fat YES!
While white is an easy and versatile wall colour, the way that light interacts with white can be very dull. There are a lack of subtleties in its hue because it reflects all the colors at once. This is where the dynamic color of a darker shade gets interesting. Why? As the light in a room changes throughout the day, so does a dark wall color. Even black can have cool or warm undertones. Next time you look at your white walls, consider the impact of a moody charcoal or luxe jewel tone on your home.
Below is a selection of to-die-for dark living rooms, decadent dining rooms and swoon worthy bedrooms. Each and everyone is filled with decorating tricks to try at home. I love the mix of colors here — from shades of grey to cool blues and greens.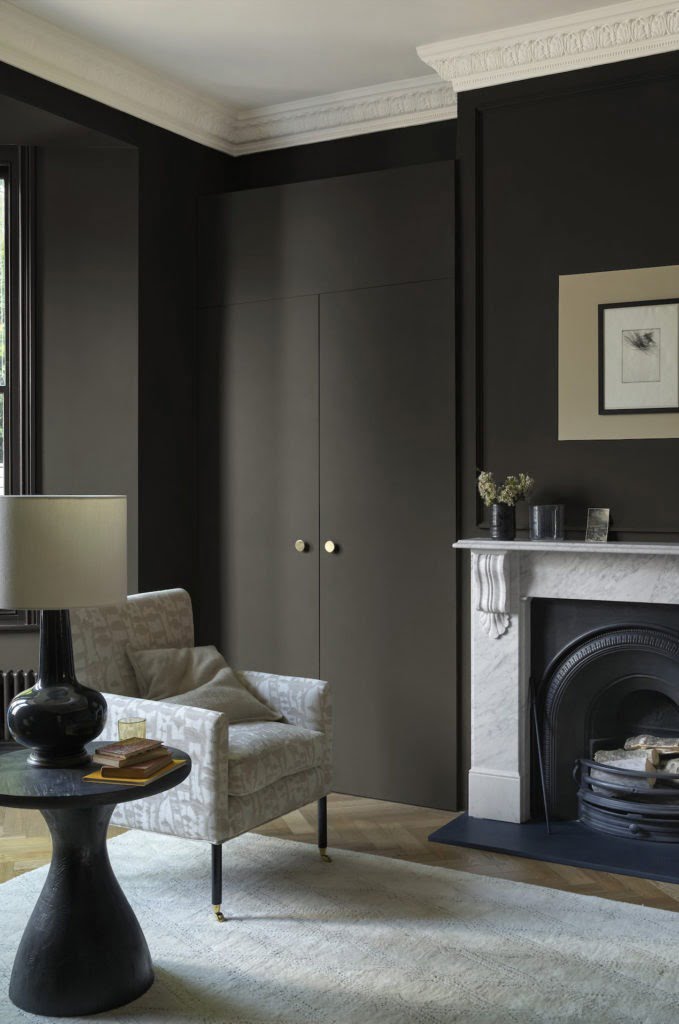 Let big things blend in
When it comes to larger, utilitarian furniture pieces — like bookcase, shelving or a dining table — paint them in a dark tone to match the walls. It allows them to blend in (and not stick out visually) and will make your walls look longer.
A beautiful chocolate brown tone is the cooler – more grown up alternative to black (just look at the living room of interiors journalist Mad About The House as the perfect example). Browns have 1970s vibe – which is totally on trend for Spring Summer 2020.
Pick your paint finish carefully
Hands up if you have trouble sleeping? Then go paint your bedroom in a dark shade. Mulberry shades, in particular, create a warm and comforting look. Don't forget to hang blackout blinds at your windows for the full effect. Swift Direct Blinds have a wide selection to create chic cocoon bedroom.
If your room is small, then avoid glossy walls! Why? The edges and boundaries of small rooms will be disguised by a matte finish which will also make the space feel larger than it is. Here the walls, wood work and radiator have all been painted in the same tone for a deep and inviting feel. Add depth with wooden panels which are easy and cheap to add to your walls with dowling.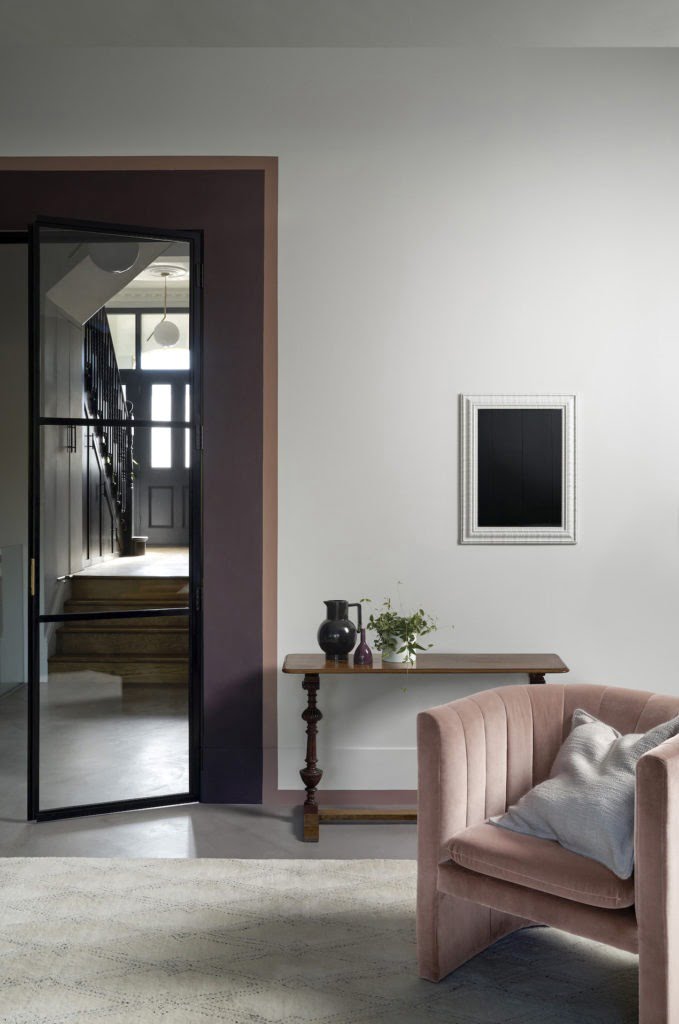 Door lipstick
One way to add a strong colour to an all white scheme is to give your doors 'lipstick'! What, you may ask, is door lipstick. The idea was coined by interior designers 2LG Studio who advocate the idea of painting your door frames in bold shades in the same way you would apply lipstick!
This is a very clever and arty way to make a space feel edgy and on point. Pick a tone as you would you make up, choose colours that complement the rest of your room's features.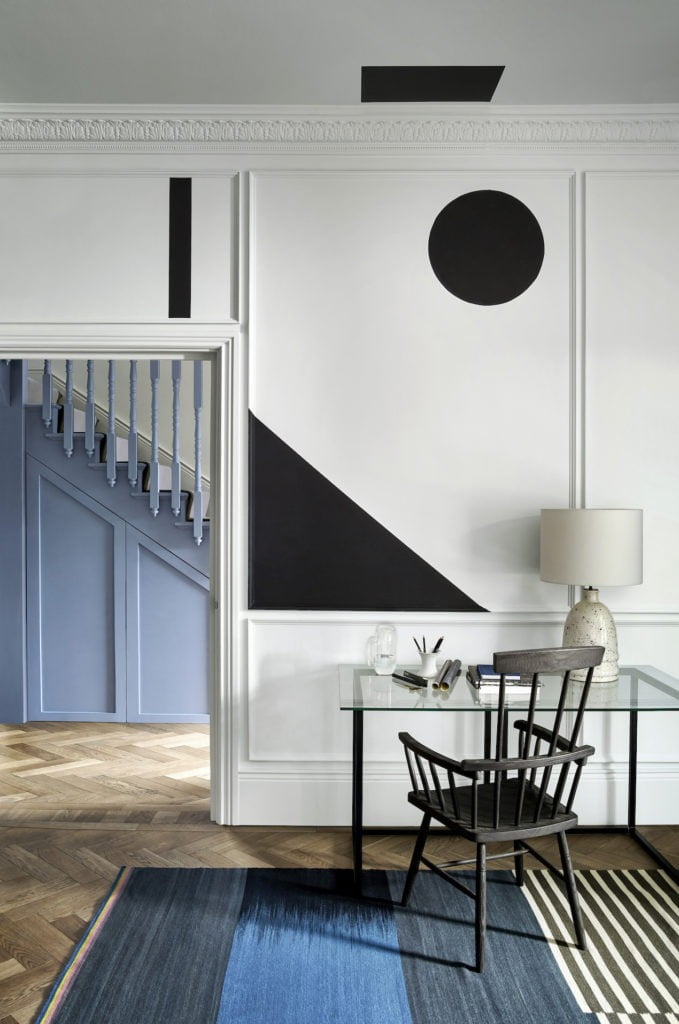 Start small
If you're intimidated by dark wall colours, then start small. Add a circle here, a square there and a stripe over there. Before the end of the year, your whole home will be black!
Rooms painted in dark tones turns your home into a glittering jewel box of colour.
If you need help painting your space then check out the Monochrome collection by Paint & Paper Library which has a range of six nuanced pairs of black and white shades that have been designed to be used together harmoniously. It takes the hassle out of picking paint colours. Lots of the images here are from their new collection.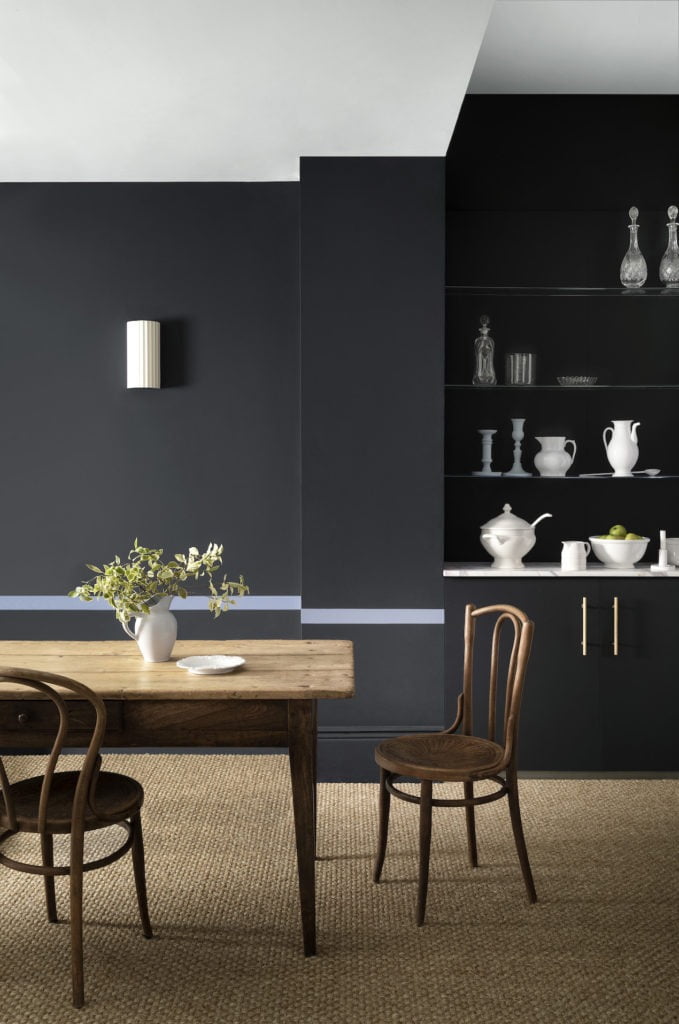 Add texture to your scheme
In more traditional properties (like above) natural materials like the wooden table and chairs and the textured seagrass rugs soften the dark walls. It looks modern but not uncomfortably so.
Don't let the size of a room stop you from using rich, bold colors. Deep colors blur the edges of walls, creating an illusion of an endless and expansive room. Above, walls have been painted in navy tone – then the expanse has been broken with a vivid stripe of baby blue at hip-height.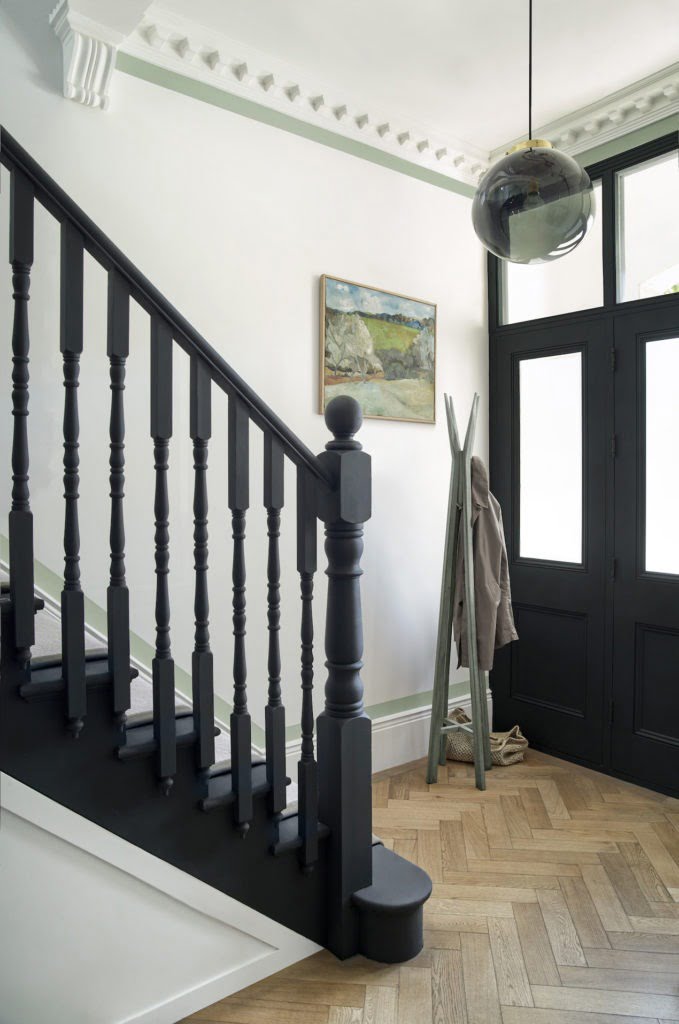 Paint the right surfaces dark
Dark paint tones are a fantastic way to add drama into a room BUT you don't have to paint the walls dark to capture the eye. Instead think about painting your woodwork, doors, architrave or picture rails to make them POP against white walls.
If you want evidence, just scan your eye over the hallway above which has ticked all the boxes.
I talk about the importance of these finishing touches in this post HERE.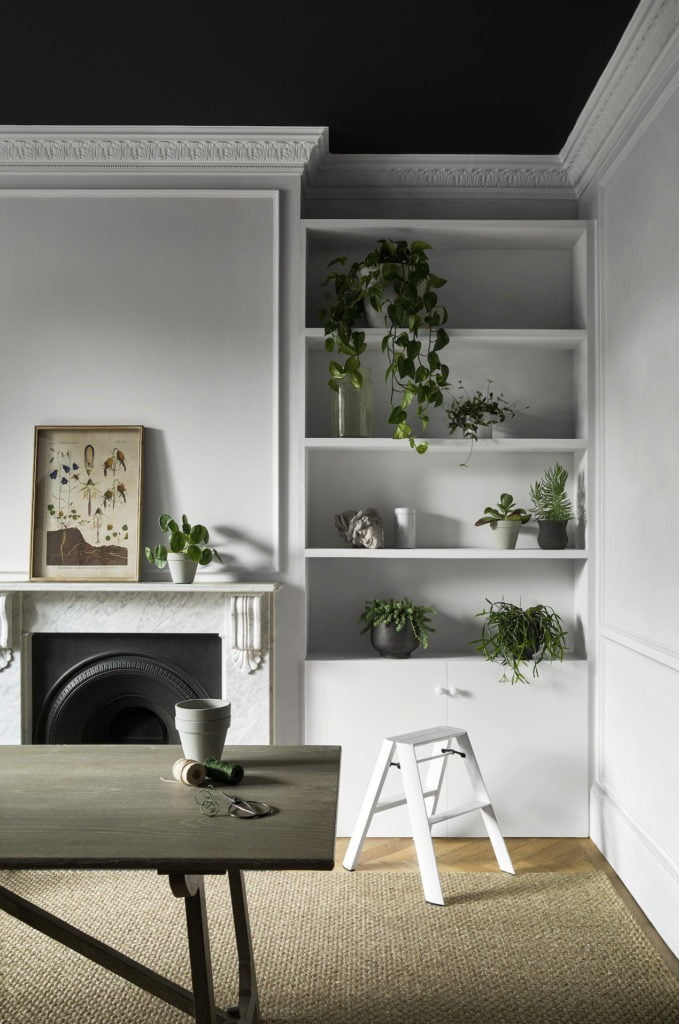 Paint your ceiling
Now, this is an idea that may make you take a big 'Gulp'! But how about painting your ceiling dark? Ceilings are called the 'fifth' wall in a room and are often painted in dull shades of white. Not any more, designers are grabbing their paint brushes and splashing blue/black, emerald greens and even rusty oranges.
This is so effective in small rooms with tall ceilings where you may want to make the space feel cosy without adding too much colour. Dark ceilings work particularly well when sitting next to detailed plasterwork that you want to draw attention to.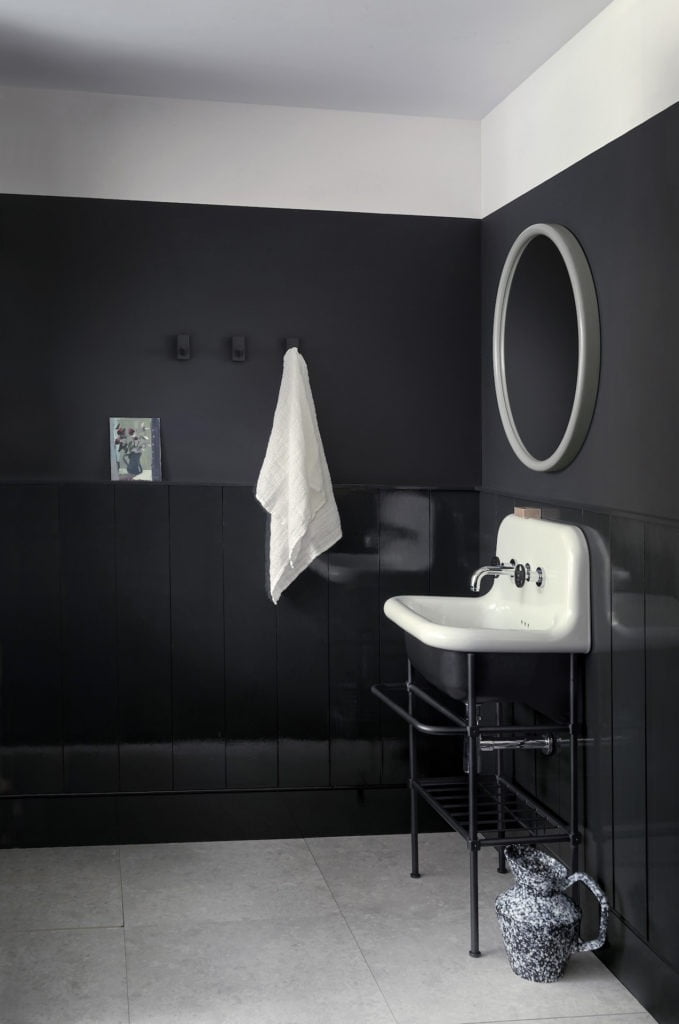 Reflect the natural light you do have
Bathrooms, especially in the UK, are notoriously dark and dingy. Rather than fighting against the dark, embrace it with tiling in dark tones. Team with a black ironwork bathroom taps and fittings. Above the woodwork has been painted gloss and the walls matt for distinction.
Placing a mirror in the middle of your dark walls opposite a window. This will the daylight pouring into a room and help spread the natural light a little farther.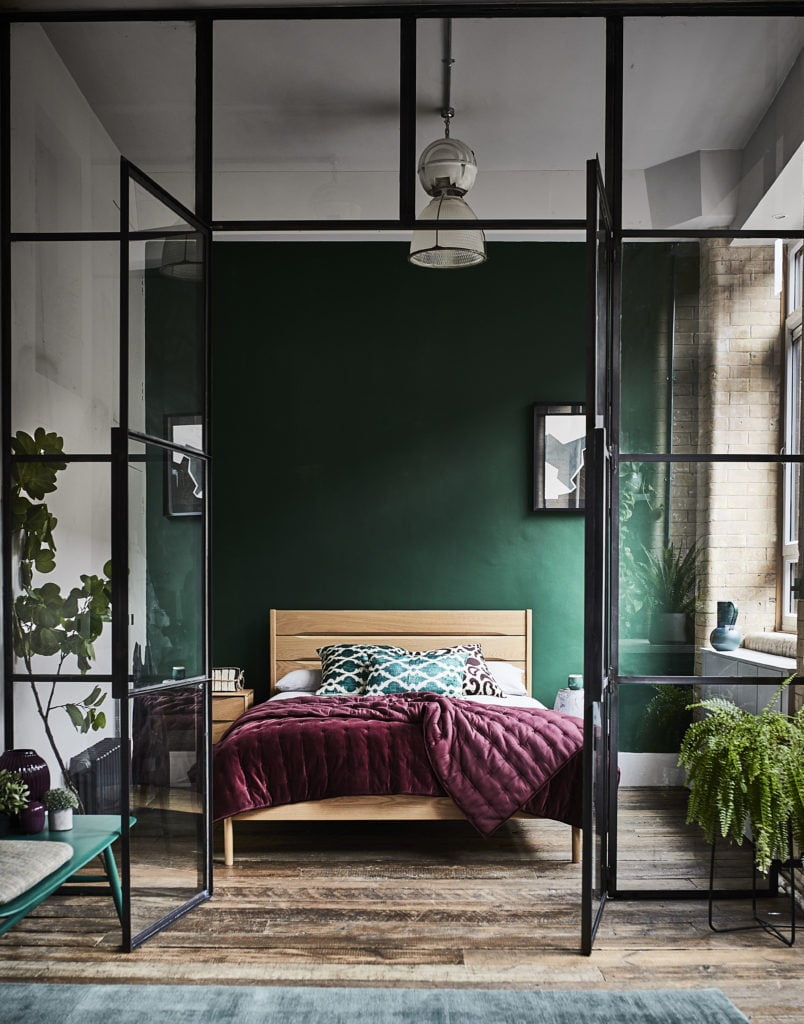 Add colourful accents for add dimension
Colour often tricks the eyes to make the room look larger. Whether it's a painted chair or a throw pillow, place a few bright-colored accents in a dark room will make for a happy space. This redirects the focus to the forefront, allowing the walls to disappear, acting simply as a backdrop.
Above the ruby red throw when set against the emerald coloured walls is the perfect finishing touch to this lush bedroom.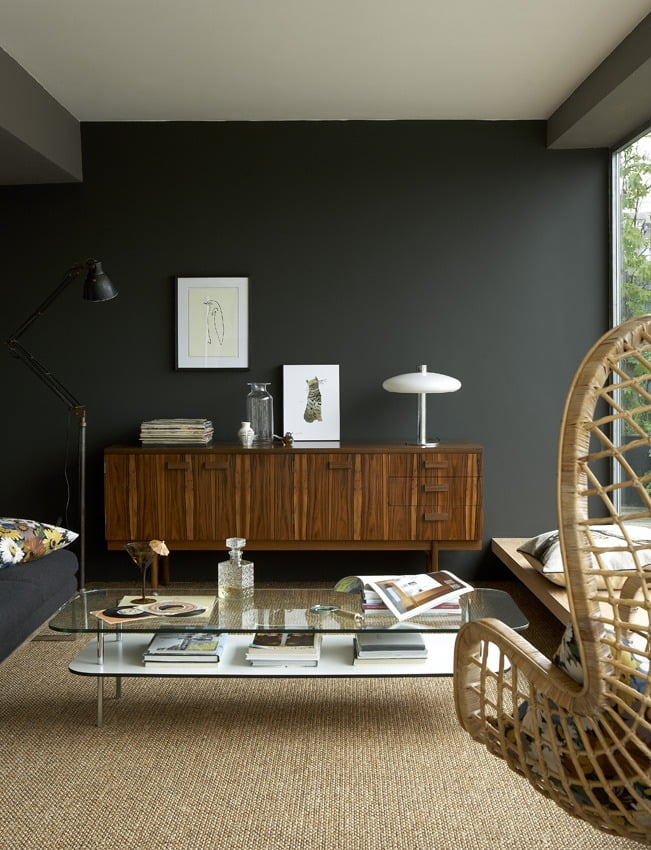 Low ceiling? Don't forget the trims!
When using a dark color on walls with a low ceiling, paint any trims or ledges the same color as the walls. This hides the trim and makes the wall appear taller. Break up the wall with prints and art to add an illusion of depth.
11 Cool Rooms That Will Convince You To Paint Your Walls Dark
What I hope to prove in this post is that dark walls don't make a room look small and poky. In fact, what these 11 beautiful rooms show is that dark walls can transform your home into an inviting, cosy, stylish and ever-so cool space.
Love to know if you have enjoyed this post. Pop your thoughts in the comments box below and I'll make sure to get back to you.
YOU MAY ALSO LIKE
4 STYLISH WAYS TO DRESS YOUR WINDOWS THIS WINTER
YOU'LL LOVE THESE 3 IVORY BATHROOM LOOKS
9 SIMPLE WAYS TO STYLE THE MINIMAL INTERIOR IN 2019