We all deserve a little luxury in our lives every once in a while, don't we? And what better time to spoil ourselves than at Christmas! That's why today, I'm sharing my 5 luxe styling ideas to help you create your DREAM Christmas dining room – all with the help of luxury interior brand Juliettes Interiors.
*Sponsored Post With Juliettes Interiors*
Luxe Christmas Dining Room Inspiration
Christmas is the time of year when sequins become part of our everyday uniform (well, that is true in my house!) So what better place to start adding luxury to your home than with an uber glam Christmas dining room?
I've had so much fun picking out designer furniture and accessories to create my ultimate luxury Christmas dining room. And I've picked out a gold dining table that is to die for, glittering furniture and drool-worthy accessories that you are going to pray Santa stuffs into your stocking. Well, a girl can dream (and I dream in GOLD!)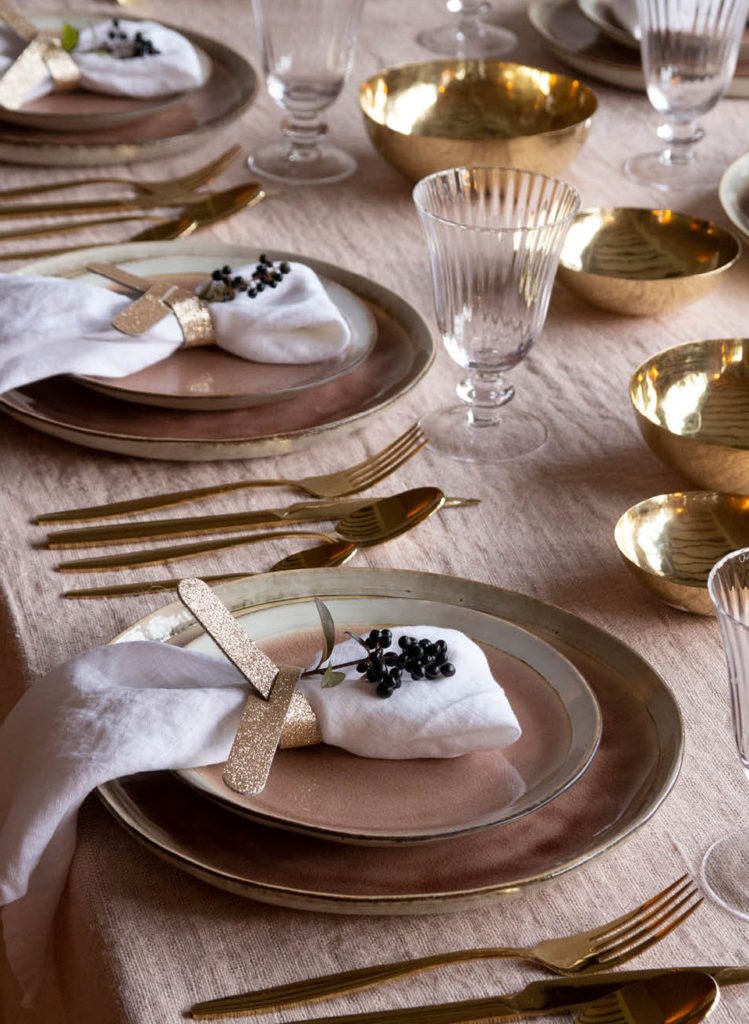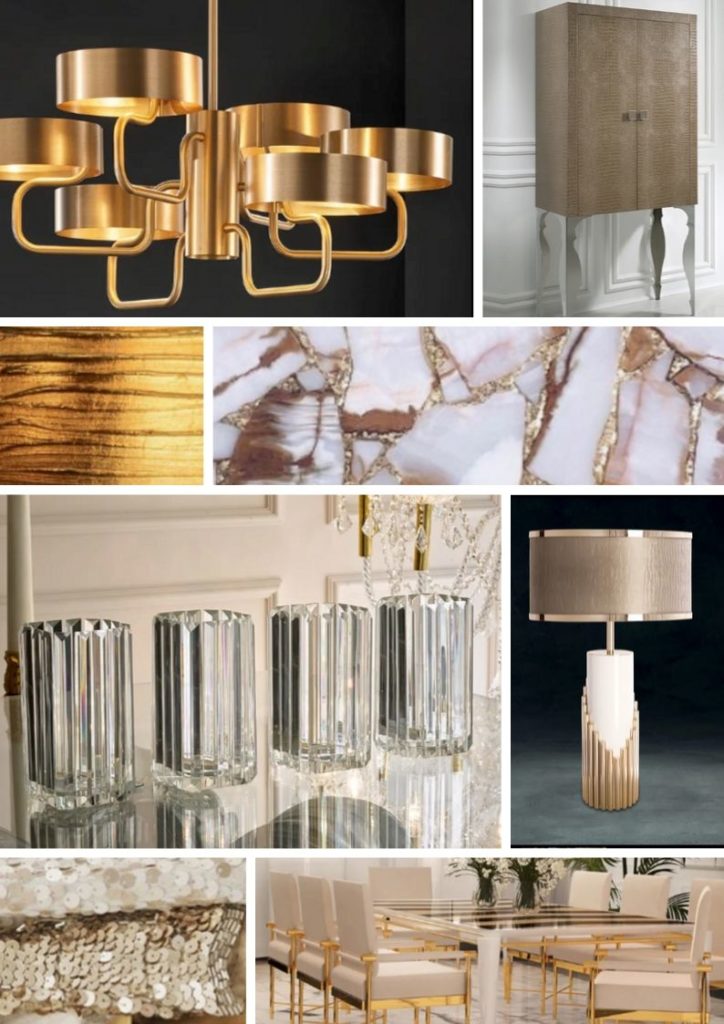 5 Luxe Styling Ideas For Your Christmas Dining Room
Creating the perfect festive atmosphere for your Christmas dining room doesn't begin and end with table decorations (although they are very important). It's about the whole room – and I mean the WHOLE room. Think about the lighting, the wall colour, candlelight and of course the accessories. All these elements make a Christmas dining room look and feel extra special.
In my own home, I love little luxe elements within my seasonal room scheme. I'll display bowls full of baubles, hang up strings of fairy lights and use my best sparkly table linens.
I've shared my top interior styling tips to help you bring luxury to your own Christmas dining room (especially for all you luxe interior hunters out there). Read on and enjoy! And don't forget to let me know what you think of my designs in the comment box at the end.
1. Choose A Glam Dining Table & Chairs Set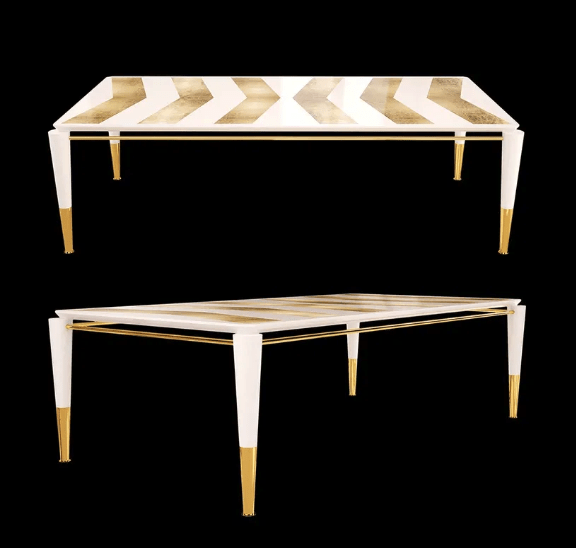 If money was no object, then this lacquer white and gold leaf dining table set would feature very high on my Christmas wish list. I'm particularly fond of the pointed legs.
Guests will swoon over the intricate chevron design of the table top and the gold chairs. Perfect for large gatherings, this dining set will make sure your dining room is party-ready at all times. Team with the matching gold chairs for sparkling meal times.
Dining Table Styling Tip:
With your own dining table, make sure you allow it to take centre stage in your room to create a great first impression when it's dressed to the nines in all your Christmas decorations. And gold is the perfect colour for seasonal celebrations.
2. Pick Lighting That Takes Your Breath Away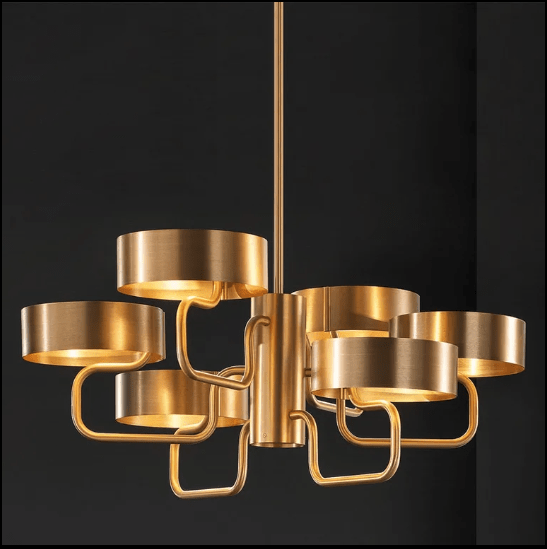 I'm obsessed with all things 1970s at the moment – from clothes, to art to movies. And the gold plated chandelier ticks all the boxes for me! Just imagine the ambient glow it would give to your Christmas parties at home.
Lighting Styling Tip:
Dot lamps around your dining room as they will make you room feel cosy, and inviting during meal times.
3. Opt For An Arty Mirror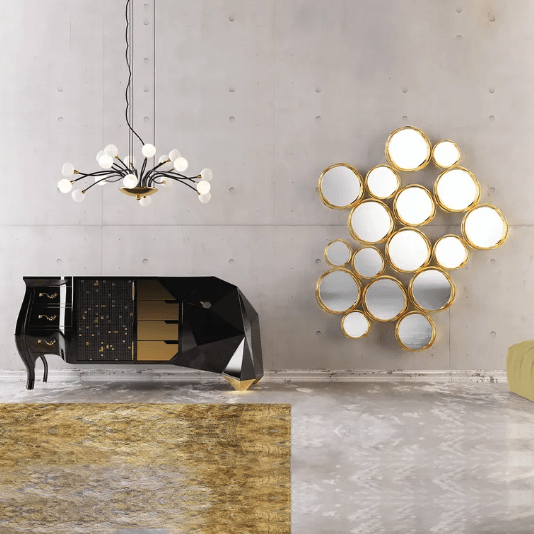 I love the idea of having a big, bold mirror in my dream Christmas dining room. There's something soooo decadent about using a mirror to reflect candle lights around a room (plus you can use it to check out your xmas party outfit is still on point). This one in particular has modern styling to it BUT it could work just as easily in a classic home.
Mirror Styling Tip:
In your own dining room, make sure you have a mirror positioned (either above your fireplace or on a mantle) to reflect your flicking candles. For extra sparkle, string fairy lights across.
4. Chic Storage And Display Furniture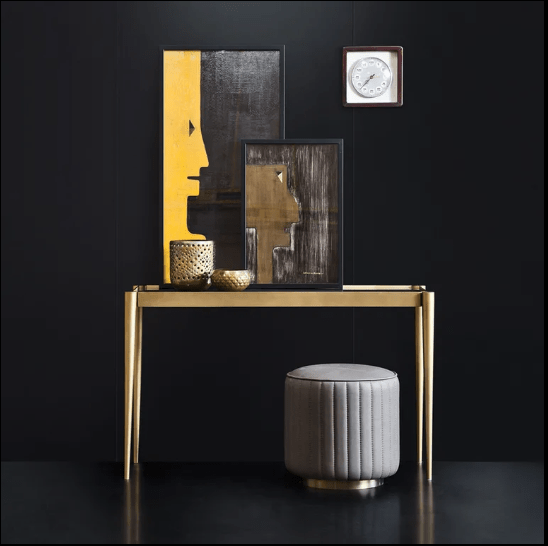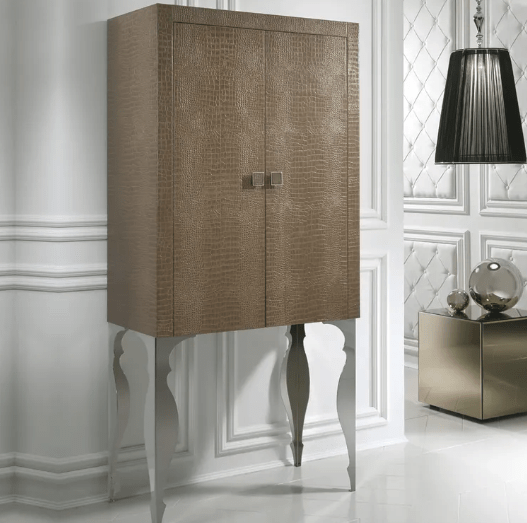 You can never have enough Christmas display space to place all your decorations, card and gifts upon. This beautiful marble and brass console table (above) is perfect as an extra serving space in your dining room in busy homes. Place your Christmas cake in pride of place on top for everyone to see.
You can't have Christmas without a cocktail! That is why I'm having a moment over this cocktail cabinet with it's sculptural legs and touchy-feely leather exterior. Pour me a glass of fizz right now!
Storage Styling Tip
At Christmas anything goes! Adding metallic furniture will give your existing room scheme glamourous look.
5. Dress Your Space With Glimmering Accessories
Christmas entertaining is all about the sparkling details. Serve special wines from this pretty reeded glass Decanter And Silver Tray Set. Imagine your table dressed with Kelly Wearstler's Donheny porcelain plates which are covered in 22K gold and the Adobe New York Cutipol Cutlery Set. Finish off with these Crystal Glass Candle Holders which you can place down your Christmas table. Candle holders and napkins both Rockett St George.
Make guests comfy when sitting at the table by keeping a couple of these Luxury Velvet Stars And Stag Square Scatter Cushion to hand. Under your table, a thick pile rug (like this High End Italian Art Deco Inspired Handmade Rug) will elevate your room.
Accessories Styling Tip:
Layer your accessories for a luxury look. Dress your table with linens, place plates on chargers, place lots of fresh foliage down you table, and fill your room with scented candles. More is more!
Make Your Dining Room Sparkle This Christmas With These 5 Luxe Styling Ideas
I've really enjoyed letting my creative side run free in this post with these luxe Christmas dining room mood boards. If you are looking for a little Christmas 'pin-ispration' then Juliettes Interiors have got it covered with their 'All Wrapped Up' board which is filled with so many inspirational images too (I've pinned so many images in here to my many Christmas boards).
Looking for more seasonal dining room inspo? Then Juliettes Interiors has asked 6 more of their favourite interiors bloggers to come up with ideas for a luxury Christmas dining room. Taking part is Olivia at Lust Living, Bianca at French for Pineapple, Holly at Holly Goes Lightly, Becky at A Beautiful Space, Jen from Love Chic Living and Elisabetta at Italian Bark. Give them a look and let me know what you think.
oh, and feel free to pin all the images below to your seasonal Pinterest boards 🙂
If you enjoyed this little taste of luxe style living, do check out my Pinterest board for more ideas and gorgeous furniture and accessories from Juliettes Interiors.
YOU MAY ALSO LIKE
FEELING THE LOVE FOR VELVET THIS CHRISTMAS
IDEAS FOR YOUR CHRISTMAS MANTLEPIECE
HOW TO GIVE YOUR HOME A NORDIC COUNTRY CHRISTMAS LOOK