Here's my styling tips on how to give your home a minimal look for 2019.
Looking to decorate your home in a simpler style? Then why not embrace the trend for clean lines, simple colours and soft textures that will transform your home into a calm and serene space. Say hello to the Minimal interior trend.
As an interior stylist, I've noticed a shift in the way we approach decorating our homes. There has been move away on Pinterest from maximalism (with it's love of bold prints and strong colour) to a simpler way of decorating, creating a minimal interior. You can see my Minimal Living board here and give it a follow for more interior inspo.
How can you do this in your home? Well, bring a relaxed effortless style to your life with these 9 inspirational rooms that will help you embrace the new minimalist home decor trend.
1. Simple and chic
Love to have that minimalist look in your home? Then start by asking yourself what can be eliminated, what can be stored out of sight, and what items aren't essential and then order according to your home's priority. Difficult I know but it will be worth it.
Be consistent with this process and come back to each room every few months with a fresh set of eyes. You'll find there's more you can simplify each time you go back.
Notice how above the whole room is almost one shade. The soft linen colour of this living room room is instantly calming and relaxing. By adding curves to your neutral room will bring interest to a simple colour scheme. I adore this sofa which brings modern shape the space.
Wouldn't you just love to snuggle up on that settee with a cup of coffee? That is what this look is about, creating rooms that instantly revive and nourish us.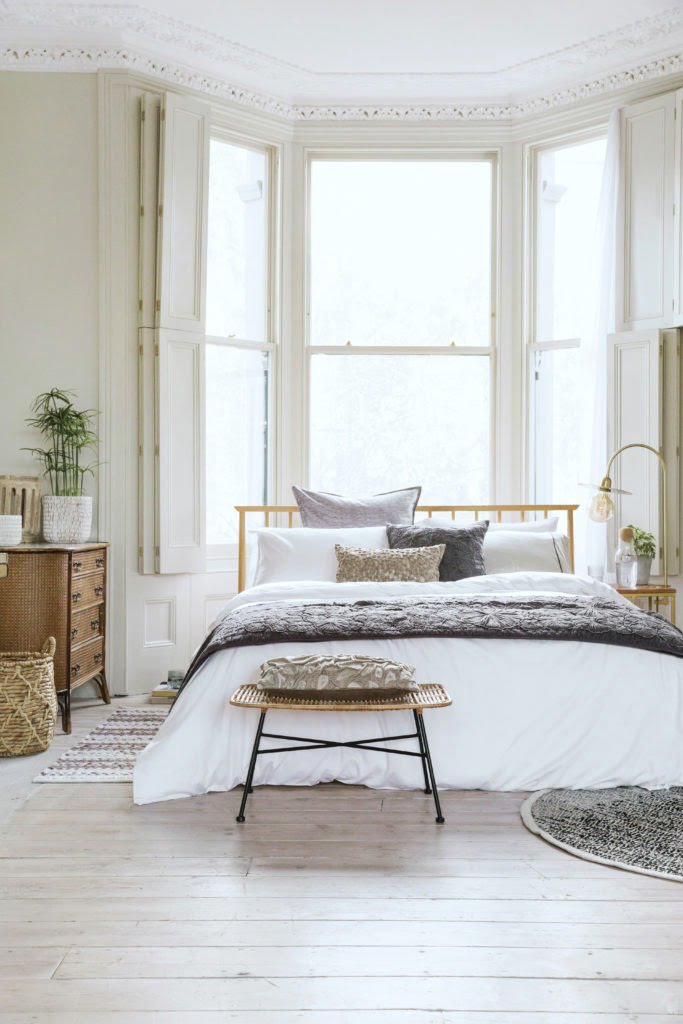 2. Expose your floorboards
Stripped wooden floorboards will give your home a effortless style. Keep your flooring cosy underfoot with a carefully placed rugs. The round ones here is just lovely.
If you have beautiful sashes like these, then why not try placing your bed in the window. It will draw your eye to the natural daylight outside while flooding your room with light.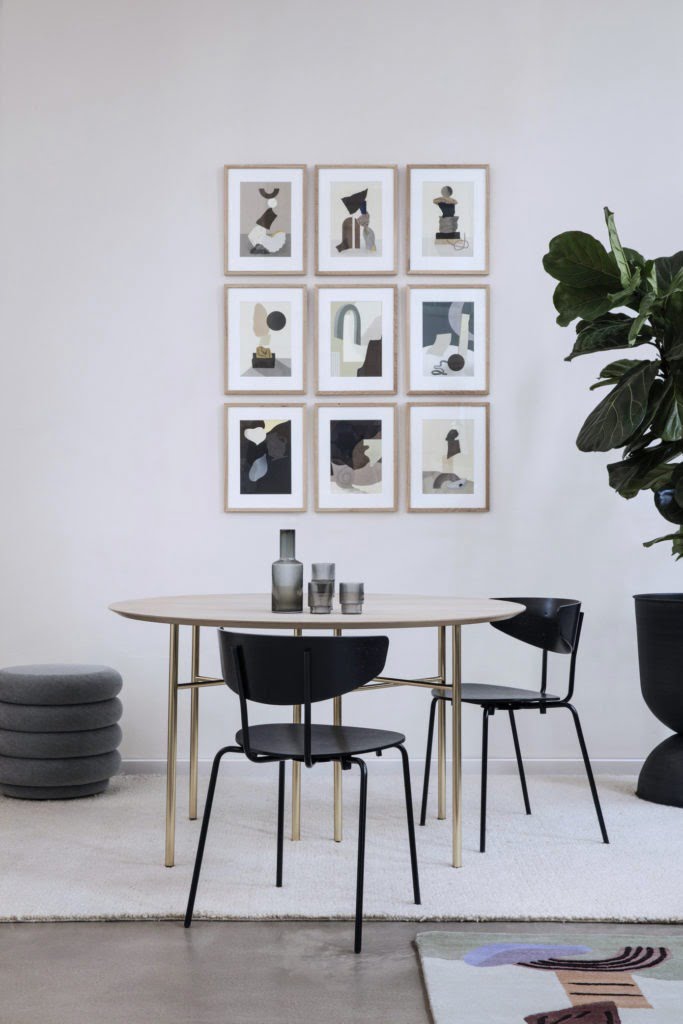 3. Create a contrast
Choose a natural colour pallet in neutral tones. Then add a black accent to bring the look to life. Here black dining table chairs that match the plant pot gives balance to this all-white space.
The grid gallery wall above is a creat visual trick to create order in your dining room. Remember don't be tempted to clutter up room with too much art on the walls.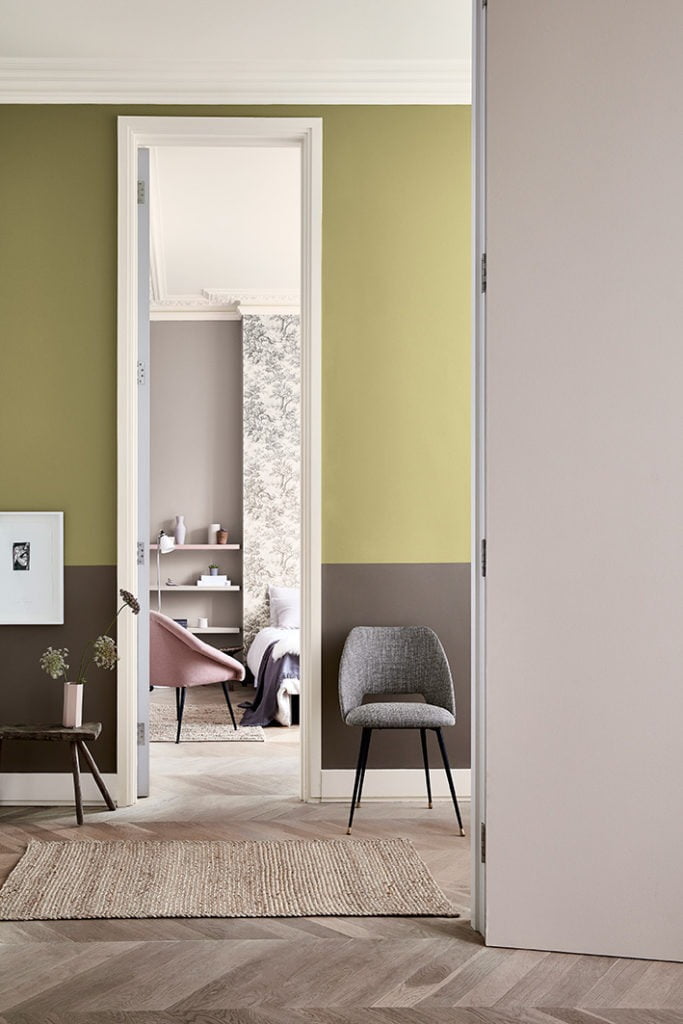 4. Use pastel shades
Have you noticed that the minimalism home decor trend doesn't have to be bland or boring? In fact, minimalism at its best is quite the opposite.
Don't think you can't use colour with 2019's minimalist home decor trend. Here – a strong stone colour on the walls with soft lime above, adds interest to this passageway.
When creating a minimalistic interior, it's all about the softer colors. Choose subtle hues from white, biscuit, cream, ecru, stone and even blush.
Upper hallway wall is painted in Boxington and lower hallway wall in Knightsbridge, door frame in Loft White and door in Perennial Grey, all Little Greene Paint Company.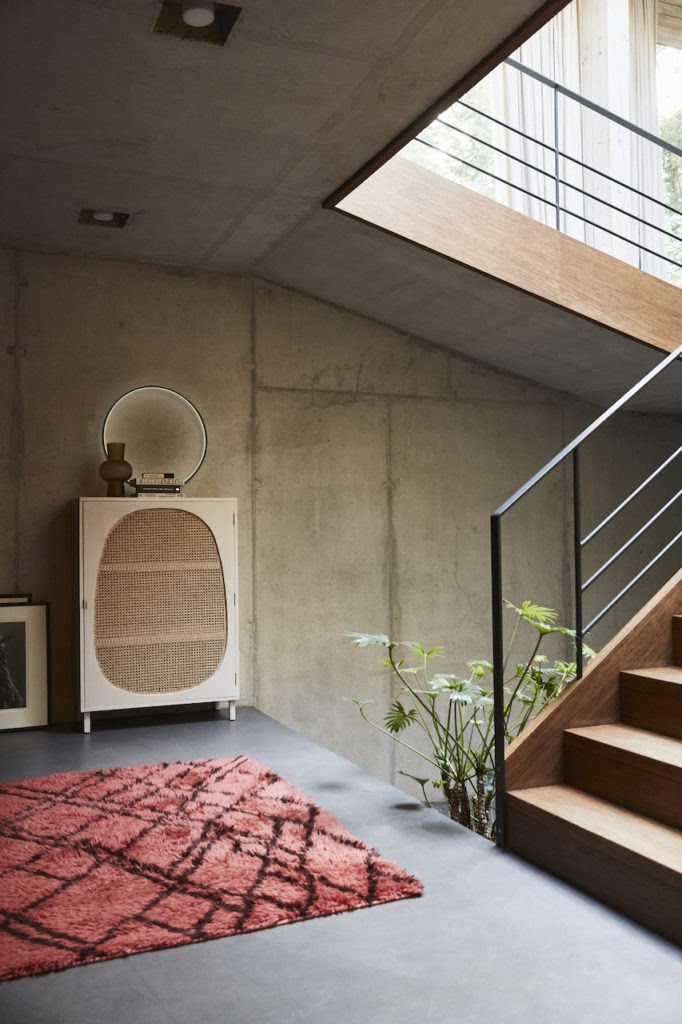 5. Love Your Architecture
Embrace your home's architectural details. That can be the cornacing, the concrete flooring, an open staircase, casement windows…
Choose furniture that compliments your home's details. Here a beautiful rattan storage unit adds texture to this 1970s home.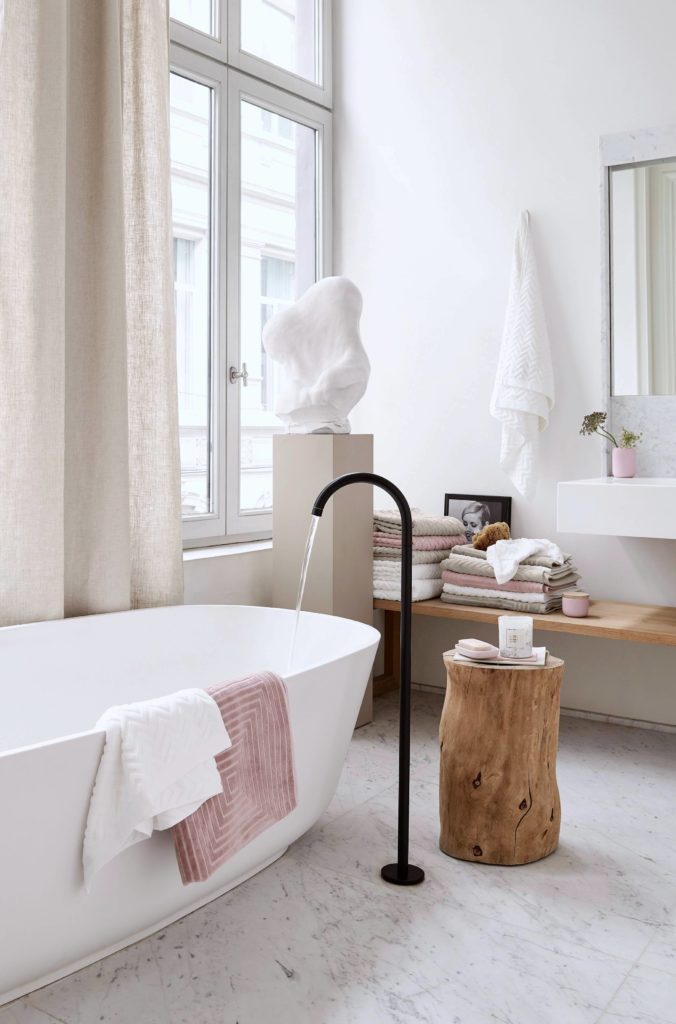 6. Enjoy form & function
This look is all about the details especially in the bathroom. This tap and bathroom is perfection!
If you love to copy this look at home, then also think about using natural materials in your bathroom. Soak in the clean straight lines of the marble floor, ceramic basin and a wooden side table of this room that mimic a fancy spa.
7. Choose quality over quantity
Less is more for the minimal interior trend.
Keep things simple by choosing accessories for your home that serve both a practical and aesthetic purpose. This beautiful towel rail and stool are so elegant but still have a useful function.
You really have to consider each accessory carefully before it enters each room. This will give you a more thoughtful and considered end result. Your aim is to create a space that anyone would want to spend time in.
PS The giant palm stops this bathroom from feeling stark.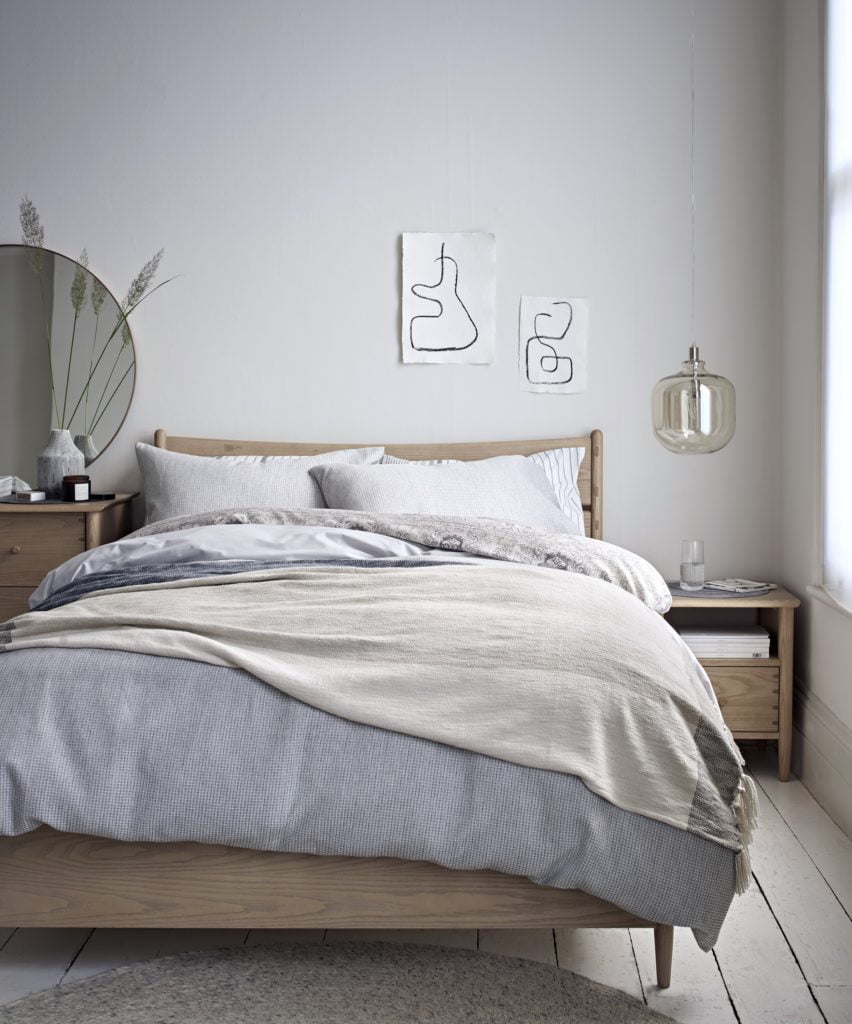 8. Create a calm vibes
In 2019 minimalism decorating is about creating the feel of calm and relaxing space. Nowhere is this more important than in the bedroom where sleeping is key.
In your bedroom, try to tidy away all your electricals like your mobile or TV to keep the space feeling calm. Banishing your electricals from your bedroom is known to help you have a better night's sleep.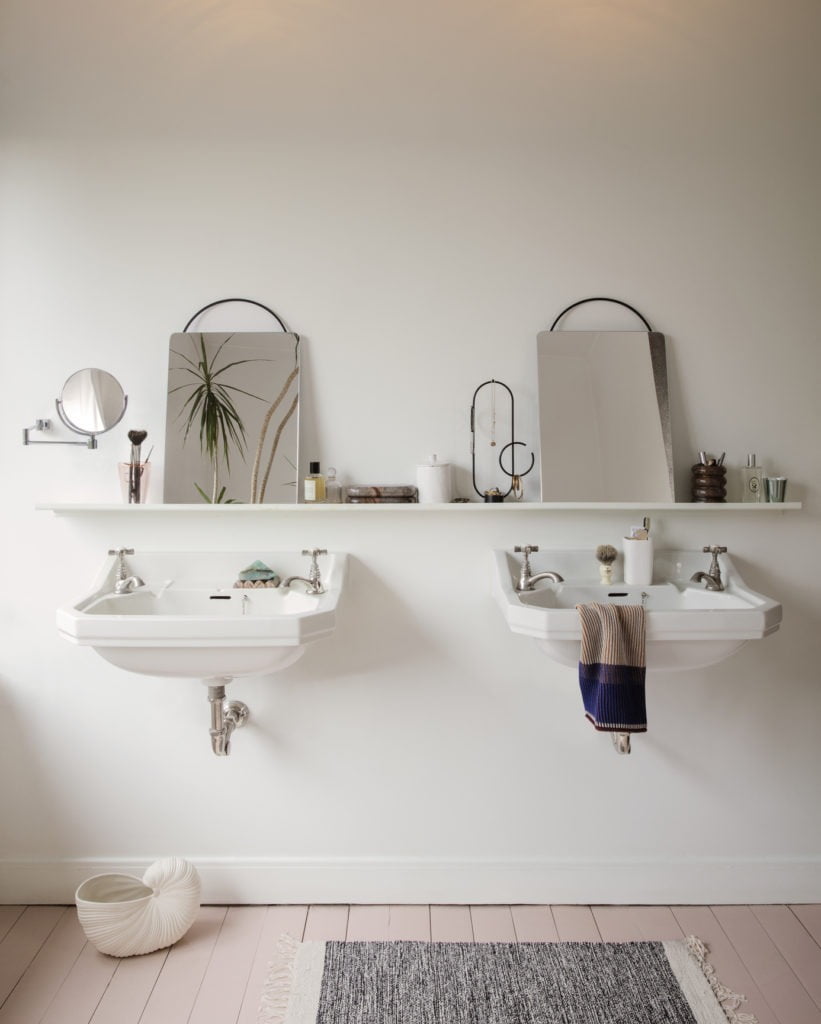 9. Simple styling is key
Once you have decluttered your space, and painted your walls in softer shades, then you'll want to style corners of each room.
Try to create balance with your accessories that create harmony in the home.
Here matching mirrors and sinks are so easy on the eye. Try copying this idea in your home on your shelves.
Will you embrace minimalism in your own home?
There you go. There are my 9 styling tips and inspirational rooms to help you achieve the minimal interior trend for your home.
After exploring this trend with me, how do you feel about bringing elements to your own home?
I'm keen to paint my walls in soft chalky tones. And I'm definitely would like to try to style my shelves in a more simple fashion. Not sure I'll be able to banish my phone from my bedroom – although I'm going to try.
I'd love to know what you think in the comment below. And remember, pin the images below to your Pinterest to share with post with your home decor loving friends.