This post charts one of my most successful home style projects (so far). I gave my £100 eBay sofa a makeover to make it look like expensive £2,000 sofa. Replacing the tired sofa covers was simple, cheap and quick. Wondering how you can give your sofa an £2000 overhaul? Well, guide complete with before + after photos.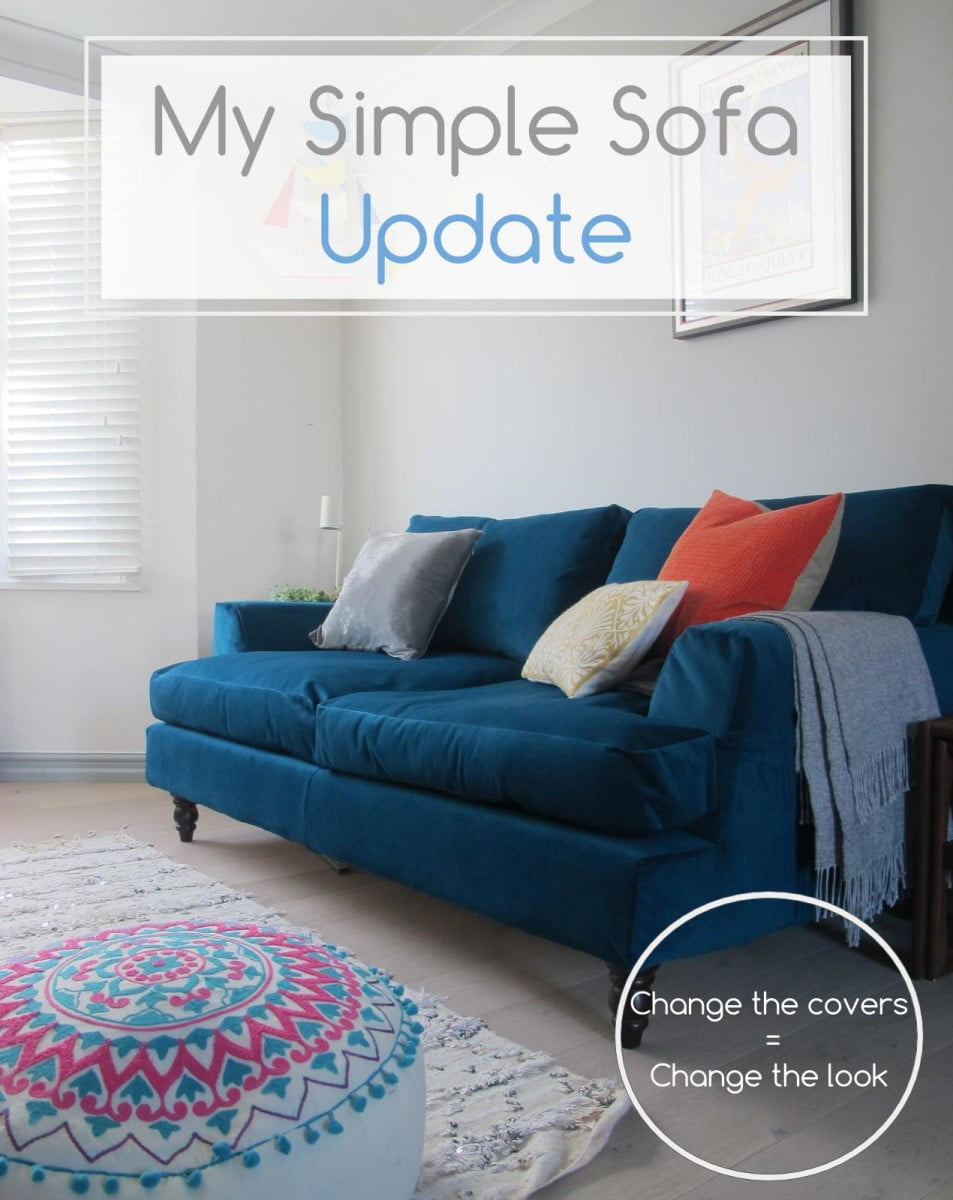 Before: Let's start with the sofa. When I moved into my house back in March 2015 I had no furniture. Zero! De Nada! I had a huge house to furnish and no money. This is why eBay is a life saver for newbie home owners. I bid on this one-year old beautiful sofa.com Bluebell sofa and won it for £100. It came with a set of cream beige-coloured loose covers which were tired looking. I wanted to replace them something with something a little bit more…..well, stylish.
Why not buy a new sofa? I couldn't afford to shell out for a new sofa as the ones I like cost about £2,000. And my eBay find was in perfectly good nick. The lead time for a new sofa would be about 6-8 weeks which is an age in my fast-moving world. Getting covers re-made seemed an obvious choice, especially as I could pick out a lovely fabric spotted through my day job as an interior stylist.

Why teal velvet? The toughest part of this whole process was picking a colour. I really wanted a library green or a cherished gold tone but in the end decided to go for a peacock shade. I've always loved Clarke + Clarke fabrics (a UK company set up by a husband and wife team in Cheshire). I set my heart on Altela Velvet Teal [130380] which is a rich shade with a tough pile. Velvet might not appear to be the most practical choice at first. But as this is a modern velvet fabric, it's very durable yet still soft. Also you can wash too at a low temperature too – handy in a house with a messy dog and owner.
How easy was it getting sofa covers made? I did a ton of research on the internet on sofa covers before I started this journey. I didn't want ones that were read-made. I've had that type before and they don't fit sofas properly, they always end up baggy and loose. I stumbled across Eeze Covers, based up in Yorkshire, and their prices for their bespoke covers were the best I could find. I sent them a photo of my sofa with the measurements, and they worked out I need about 13 metres of fabric. Eeze Covers arranged the collection of my old beige loose covers, and I got my Clarke + Clarke fabricsent direct to them. All I had to do was sit and wait for three weeks…..until THIS arrived in the post…..


Ta da! It's like a pop of colour in a box. I was freaking out TBH as this is such a bold shade. I know that was the whole point. But still. I was a bit unsure in my all-white scheme.
Fitting The Covers: I gave the sofa a really good hoover (I found £1 coin hidden in the back) and plumped up all the feather cushions so they were big and fat again.
Next, I fitted on the main body of the cover. I sweated over this bit as it was a wiggle to get it on as the covers fit snuggly. As they made these covers using my old ones as the template, they were an exact fit complete with velcro in all the right places so that it stays in place.
It took me a while to smooth out all the edges and wrinkles. I had really squeeze the cushions in to the seat pad covers. Honestly, it was a full body workout. Eeze Covers even made me arm protectors out of the left over fabric which tuck under the seat pad cushions. Now the sofa was done – the fun part – dressing my living room with the finishing touches.

Styling The Room: I have big makeover plans for my living room but in the short term, I hunted around my house to find a few things to hep the teal sofa covers blend into my scheme. The rug was bought on a trip to Marrakesh in Morocco for £80. It's a traditional wedding shroud covered in sequins. I put it on the floor to complement my UKFlooringDirect engineered oak flooring (blog post on that makeover coming soon). The Hand Embroidered pouf I picked up from Adsa with my weekly shop for £25. The side table is G-Plan I think (any mid-century modern experts out there know any better?) which is part of a set I found in the street. I wanted to UP the luxury factor with lots of cushions like this Regency velvet cushion by Habitat. Above, I'm putting up a glass light shade by Garden Trading. Finally my Riggad lamp from Ikea which I have decorated with my growing collection of succulents.


Adding Teal Touches: I've had this velvet parrot lamp from Abigail Adhern at Debenhams for yonks but no-one noticed it before. Now it is sat next to my sofa, it is the first thing every one comments on. It's a POP! of colour in my room. The cushions are from Habitat. I plan to stack indian or middle-easter embroidered cushions on the sofa eventually but at the moment the colours of these ones sit well against the teal sofa covers.

I was thinking of painting my wooden sofa legs white or grey? But now the covers are on, I think I'm going to keep the dark wooden as they sit so well with the velvet sofa covers. I'm also waiting for this beautiful handmade rug to arrive – a Beni Ouarain Woollen one by Sukhi – it so lovely. I'll then popmy sparkly rug onto my bed as a throw.
THE COST OF MY SOFA COVER UPDATE
My sofa covers cost me £390 to get made up.
The fabric I picked by Clarke + Clarke was £25 per meter = £338
If I had used
Eeze Cover
fabrics (FYI they have 1000s in stock and they send out samples free of charge) they it would have been around £799 including postage.
That's just £688 for my new sofa.
A new one on sofa.com in velvet costs around £2,000 so that saved me £1312
Doing My Bit: I want to stress here on a more serious note, that for me it's not all about the money. Although, obviously, costs are important to a new home owner like me. This glam up-cycle project is my bit for the environment. Why trash something that is perfectly fit for use and replace it with new, if I can make a simple change like this? It's my little way of reducing my decorating 'foot-print', reducing the landfill quota and loving the planet a little bit too.
The End Result:
Here it is my new sofa – all plumped and ready to sat on. Even if I do say so myself, it doesn't look like £100 sofa does it? It looks like one straight off the floor of a fancy showroom. If you'd like to see what else I have planned for my room, I did a little blog post on it
here
.
Do you think this was a good idea? Should I have trashed my old sofa? Or do love that I've saved it for a few more years? I'd love to know in the comment box below.
Don't forget to stay posted for more mini makeovers on my living room like my
window to back door makeover
or
my 9-hour speedy video
. Next on my DIY list is to finish off my new staircase, then a look at lighting ideas and a new front door. All that should keep me busy.