Life is so busy, right? I don't know about you but I like to escape away from the hustle of life by spending more time at home. It's my favourite place to kick-back and relax – and just be. Today, I'm explaining how to create a mindful home with these 6 interior design ideas. Give your space good vibes!
Main image | Nordic House
Time to turn your home into the ultimate chill-out zone with these simple but effect interior styling tips. Here's my guide to decorating your home to achieve relaxation and balance but with minimal fuss and bother.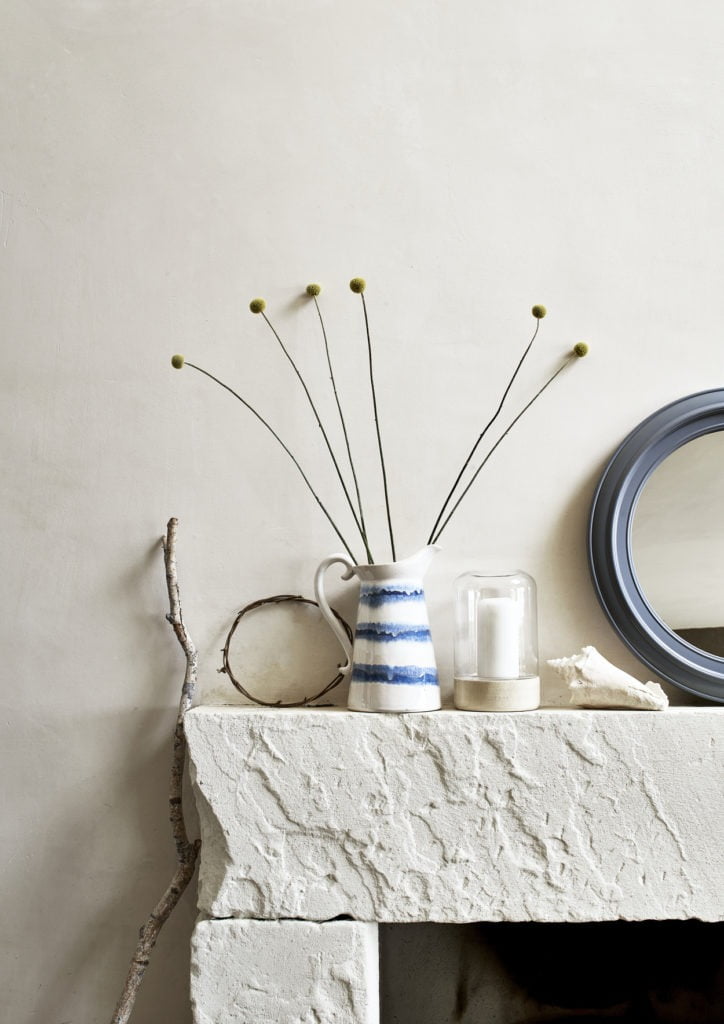 Accessories | Matalan
Create A Mindful Home With These 6 Interior Design Ideas
At this time of year, when it is cold and dark and we are spending more and more time indoors – it's a great opportunity to reflect on how we live our lives.
With over 74% of us in the UK saying we feel overwhelmed or unable to cope in our daily lives, there is a need to build balance into our every day to make us feel happier and smile more. Creating a sense of calm, unity and flow is great for our mental health. And a great place to start is in our homes.
Home is so important to us all. Why? It's our place to chill out, where we retreat to and the centre around which life is lived. When our homes are balanced then we all know that our lives feel more balanced too. As you all know, I've chatted lots on my blog about how styling our homes in new ways has a huge impact on our mental health.
Turn your home into a calming oasis with these 6 interior design tips
Velvet Sofa | Marks & Spencer
1. Choose Your Happy
What makes your heart sing at home? Personally, I love filling my home with treasures from my travels and eclectic art but for you it could be calm tones and white walls. Do you yearn to wake up in a room that feels cosy; maybe you hate clutter or you want to fill your home with art.
According to a study by Oxford Economics on Living Well, people who eat together more than once a week were happier than people who eat alone. That kind of make common sense really! Chatting about your day over a meal is so much better for us that eating food off our laps in front of the telly box.
So if your happy place is cooking and entertaining, then maybe it is time to makeover your dining room or kitchen to reflect your sociable nature. I'm going to try and host a meal at my house once a week with friends and family to help me bring balance to my daily life.
Dining Room Furniture | Marks & Spencer
Whatever it is that creates a sense of calm for you, it's worth taking your time to find out. Start by looking around your home home and taking note of the things you already own that make your heart beat faster.
Mirror & Hallway Table | Next
Do your research and see what lights up you inside! You could start by looking through interior magazines which are filled with beautiful homes jam-packed with ideas you can steal. Take your time pouring through Pinterest (I've got lots of lush boards HERE) or you could try Instagram to see what homes stop you mid-scroll. And of course lifestyle blogs are filled with tips and tricks (I have a whole section on Wellness & Self-Care on my blog).
It's so easy to get sucked into trends and newnes (I'm prone to do this myself). But a space that's is truly all yours, should start with a deep, emotional understanding of what brings you joy.
Start saving your ideas – either online or on a mood board – that you can add to over time as your tastes and expectations evolve.
Home Office Desk |Dunelm
2. Claim Your Space
With our busy lives, our homes are now serving many functions and roles. My home is the place I work in; it's also my photo studio for my instagram; it's where I relax in the evening; I love to entertain friends and family too. I even practice yoga in my living room!
Just because your home has many functions, it can still feel like a place to live, work and rest in. How? Well, transform your spaces by creating 'zones' that you can use for different tasks. One way is to use rugs in open-plan spaces to define different areas. Or try bamboo screens, which are really on trend, as a great way of sectioning off a space.
Be mindful of clutter taking over your home. If your dining table is also desk or where your kids do their homework, then make sure there is a place to store all your paperwork at the end of the day so you can sit down for a meal together. Set aside time to claim your home for R'n'R.
These little tricks will save your sanity, and help you create a calm house that you'll run home to at the end of a busy day.
Create a mood board for how you want your home to look | Furniture Village
3. Discover Your Colour
Colours is a great tool for lifting your mood. The right paints shades can make your feel filled with joy and love and the wrong colour can turn the mood of your home into dark and depressing.
I've even written a blog post on Choosing The Perfect Colour Pallet For Your Home which will help you hone down the finer details.
But as a starting point, get lots of paint samples and see which ones speak to you. You may be in love with sky blues that remind you a family holiday. Or charcoal walls tones that bring back memories of historic house. Or you love natural colours inspired from nature.
Image | Furniture Village
The colours in your home can make you feel happy, inspired and excited or calm, relaxed nad centres. Take your time to discover what colours most impact your moods.
If you want a lighthearted take what colour do to your mental health, then check out my – What Your Front Door Colour Say About You is runs down through all the positive phycology effects each tone has of you. Have fun picking a shade that makes your happy!
Image | Furniture Village
4. Touchy-Feely Fabrics
One area lots of us overlook when creating a calming space is texture. Lots of touchy-feely fabrics will transform a cold space into the inviting home of your dreams.
You'll need lots of layers that you can snuggle under when watching TV. Rugs are a great way to softening hard floors (I like to layer my rug up during the winter). Curtains are a great way of adding warmth to the room. Personally, I LOVE blankets, throws, pillows and scatter cushions to make my bedroom look sumptuous and super cosy.
Wall hanging are a fabulous way to add personality, colour AND texture to your walls. I love these one above from Oliver Bonas especially when grouped together and hung on an all white wall. Finish off the look of your room with a ton of embroidered cushions with cute birds that will make you crave bedtimes.
Living room furniture |Dunelm
Texture can come in many forms. For a luxe look you can't beat velvets and faux fur. For a more natural room why not add seagrass and pampas. My all time-fave is to mix metallics with woods for a contrast which I did in my dining room.
Doesn't matter if you go for silky fabrics, worn linens or woven grasses – go for what floats your boat!
Kitchen Stools |Dunelm
5. Shop Your Home
When wanting to decorate your homes, the first impulse is to go shopping. STOP! Instead, learn to shop your home instead.
That may sound crazy idea coming from an interior stylist where my job is to introduce you to the latest trends. But I bet you £100 that you have everything you need in your home already to give it a refresh. It may just need some styling magic to reclaim your space (and maybe one or two new things).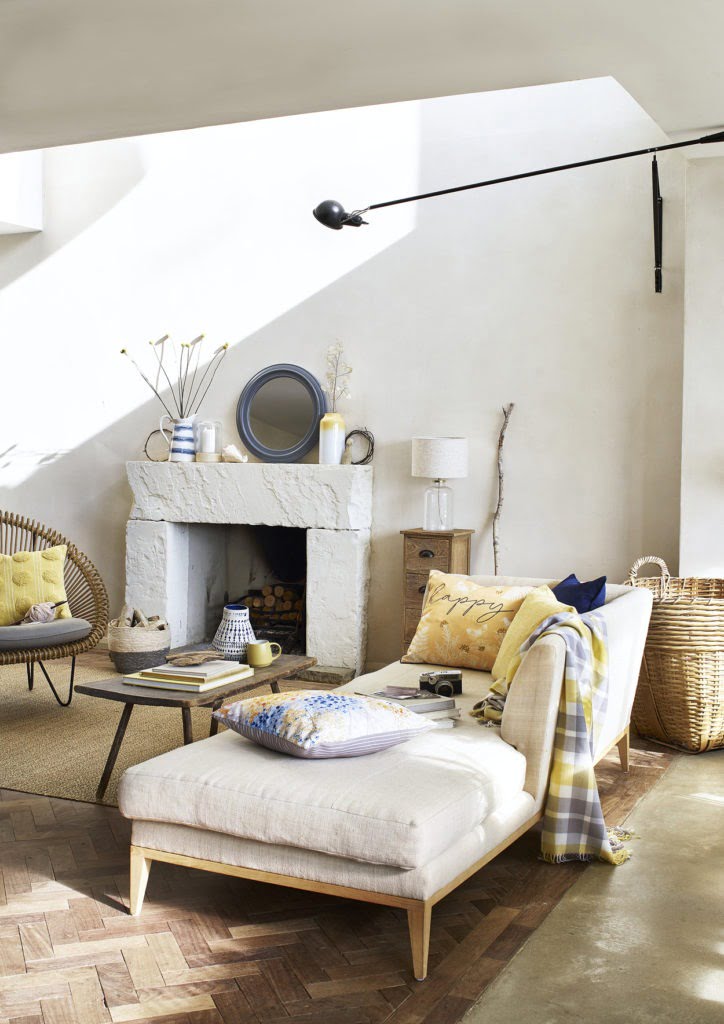 Living Room accessories | Matalan
Look around your room carefully and edit your belongings. Everything in your house needs to have an emotional or practical benefit, earning their space in your home. If it makes you feel great, then keep it. If it doesn't work for your space or it's broken, or it's doesn't suit your needs – they get rid. Sell it and buy something that really works for your home. Create a space for everything in your home for relaxed vibes.
Once your have edited your space, then start moving things around your home. A bedroom cushion can look great on your sofa. A table in the hallway could look amazing in your bedroom as a dressing room table.
Have fun styling up corners of your home. I love doing this! It's like having a whole new home just by switching things around.
Baskets // H&M Home
6. Take Your Time
The easiest way to create a sense of balance at home is to give yourself time to enjoy it.
Our lives are so busy! With cooking meals, running errands, people coming and going, bags and shoes piling up in the hallway and laundry drying in the house. Balance can feel like a far away dream.
Try to create a ritual at home that you look forward to. That way, when the world becomes too hectic and busy, you know that your home is the most calm, zen-like space that will restore and revive you
Bathroom accessories |Dunelm
Take time out to enjoy your space in whatever way works for you. Before I go to bed, I try very hard to tidy my space – put the dishwasher on, hang my clothes away, do a spot of ironing, fluff up the sofa cushions. Finding the balance for me is to have a calm space to wake up in the morning.
For you, it could be having a long soak in the bath with salts. Or listening to a podcast while cooking diner or reading a book in the garden. Discover what brings you peace and to a place of mindfulness
Are Your Ready To Create Your Very Own Zen-Den?
What I hope the above shows is that creating a relaxing space is unique to you. Finding out what makes you feel relaxed can part of the journey towards a balanced life. Knowing what you love and why you love it will fire you up.
Take your time, trust your style and enjoy your home. You deserve it.
You May Also Like
11 CHIC ROOMS THAT WILL MAKE YOU WANT TO PAINT YOUR WALLS DARK
5 STEPS TO PICKING THE PERFECT TILES FOR YOUR HOME
HOW I BECAME AN INTERIOR STYLIST